Marmot Equinox

The Equinox has been discontinued. If you're looking for something new, check out the best three-season tents for 2020.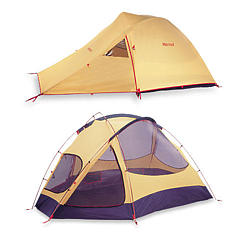 Specs
Price
Historic Range: $100.00-$233.06
Reviewers Paid: $130.00-$430.00

Reviews
3

reviews

5-star:

0

4-star:

1

3-star:

2

2-star:

0

1-star:

0
OK, so I got this on sale! This is still a great tent. The venting is incredible since the entire inside is mesh. I really enjoy spending time in it.
It is not too heavy for its payout. It has handled the rain and snow just fine and excells when you take the fly off and go "naked". It is really a one-person tent, though. The shape is not square and forces me to put my feet in the middle, between the doors. That excludes the second person but can also cause your gear to be jammed on either side of you. I only had this problem once (75 lbs of gear.) Otherwise, this goes up very easily and is sturdy. I would pay full price for it.
Design: three-season freestanding
Sleeps: 1
Ease of Setup: Easy setup, do not have to bend poles
Weight: ?
Price Paid: $130

Read review of "Trudel." Think it must be a different tent. Bought mine at REI for less than list. My fly is very tight and could be even tighter with the cinch straps, sits several inches off the tent mesh (resting on the poles which are in external sleeves. Have used this with girlfriend in all types of weather, including a driving thunderstorm in early spring in Michigan (30 degree temperature). Very minor condensation. Found the vestibule to be large enough for a significant amount of gear. My fly zippers were both in front of the pole and easily accessible and the fly has "windows" on each door flap. Have never seen anything about velcro attachments on the fly. My Equinox appears to be lower than Trudel's also since my girlfriend and I are both under 5'7" and kneeling upright is not likely. Also, the weight of my complete pack, which folds to the size of a large (long) loaf of bread, (tent, fly, poles, stakes, groundsheet, patchkit, and guying) is a little over 6 pounds. Have used this tent in the spring in the Upper Peninsula, and in summer heat and been comfortable. Only issue is in warm weather there isn't a lot of privacy available without the rainfly. Also, have found tree dirt and sap to easily wiped off with a damp sponge.
Design: 3 season "rectangular pentagon" 3-pole
Ease of Setup: extremely easy to set up, less than 5 minutes for one person, including rainfly
Weight: approx 6 pounds
Price Paid: List $289

I researched this tent on the net, and ordered it from CA. Set it up for the first time on my deck at midnight and had no problems. Very basic set-up. Overall quality of the tent is very good. It would no doubt last many seasons.
BUT: the fly seems to be about 5 sizes too big and sags worse than a pair of old men's underwear! All the huge mesh ventilation windows are completely blocked by the fly resting directly on top of them even after it's been cinched, and staked and guyed out (what a pain). Don't even want to think what would happen with heavy condensation. It has 2 doors and a small hatch to access space under the vestibule. Only 1 problem: what vestibule? There really is no usable vestibule space. The fly is about 3 inches above the tent door and the fly door zipper rests behind a tent pole. No matter what we did we were not able to get the zippers in front of the pole! Horrible for quick entry/exit. Apparently it was supposed to come w/velcro attatchments on the fly, we never found them on ours! Inside the tent is great. Lots of space, gear storage, upright walls and very, very tall. A smaller person can kneel no problem and it's a dream for my 6'3" husband. As I said the quality of materials, sewing, etc. is great.
BUT, I've sent it back. I would never want to use this tent in even a mild rain. (And we're on the west coast) Also, Marmot claims the weight of the tent, poles AND fly to be 5 lbs, 13 oz. Even after I called to confirm as this seemed odd for such a large tent. They outright lied. I have a very accurate shipping scale and it is acutally a pound and a half heavier for just those 3 items. And 1.5 lbs extra puts a lot of other tents in the running. Replaced it with a Quest Preying Mantis 3 season. Now there's a smart tent.
Design: 3 season "rectangularized" dome
Sleeps: 2
Ease of Setup: Very easy
Weight: anywhere from 5.75 lbs - 7.25 lbs!
Price Paid: $430

You May Like
Recently on Trailspace