Brooks Cascadia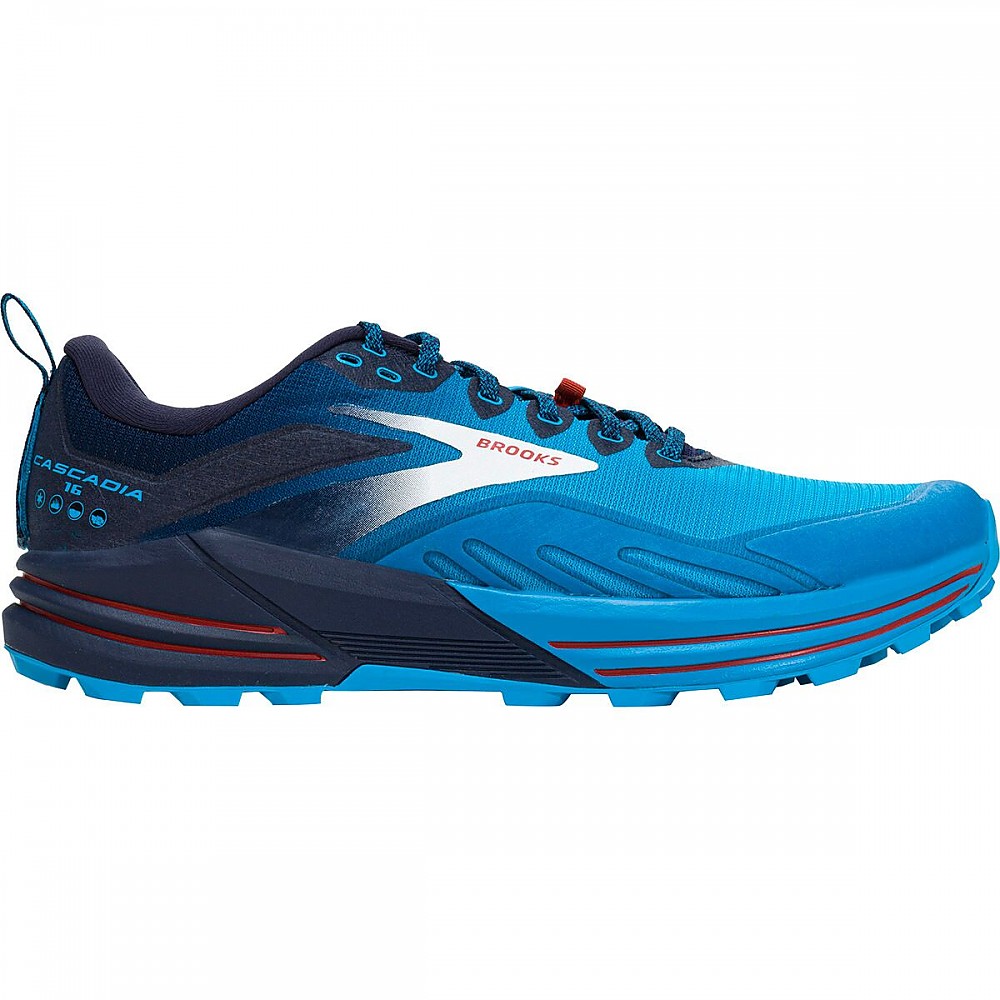 Version reviewed: Cascadia 16
Brooks continues to stand on the podium with this high-quality trail runner. Offering ample room in the forefoot while still holding perfectly secure, the Cascadia 16 provides the wearer with a lightweight shoe that has excellent under-foot protection. This lightweight shoe is best suited for the hiker/trail runner that needs great traction and support on groomed trails, rough terrain, or anything in between. The Cascadia 16 is available for both men and women as a waterproof (GTX) or well ventilated, regular model.
Pros
Outstanding rock shield
Stable/comfortable fit
Roomy forefoot
Cons
Not the best grip in wet/slippery conditions
Main face fabric may have questionable long-term durability
Although finding the perfect trail shoe may sometimes feel like chasing a "glass slipper," the Brooks Cascadia 16 checks many of the boxes… Without a doubt, the venerable Brooks Cascadia is one of the 'tried & true' products that has been around the block. Currently in its 16th generation, the Cascadia always seems to be reaching for new improvements.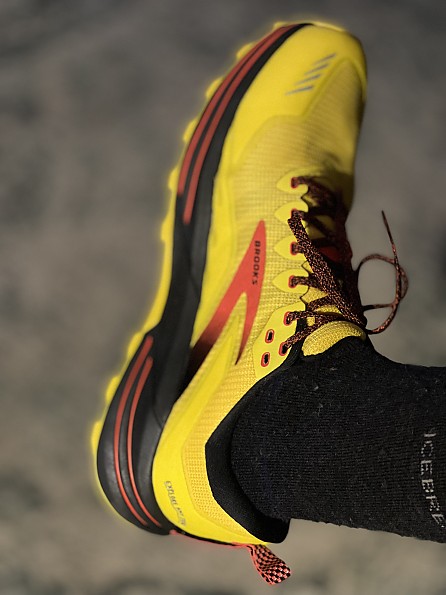 These trail runners are ideal for lightweight/ultralight backpacking, when saving weight is a priority. Using the Brooks Cascadia 16 under loads up to 25 lbs feels comfortable on a week-long summer backpacking trip. 
Specifications:
Price: $130 ($160 GTX)
Men's and Women's separate lines
Weight: 298g/10.5oz per men's shoe; 319g/11.25oz actually recorded weight without insole, men's size 10.5/44.5
Sizes Available: 7-15 mens, 5-12 womens
Midsole Drop: 8mm
Fit & Comfort:
The Brooks tested were men's 10.5 (44.5) size and fit very well with a normal width and high arch. Comparing to a zero-drop pair of Brooks used in the past, the fit was found to be true-to-size. No heel-slip has been noted at any point during testing, using the common runner's style heel-lock lacing method. These shoes were tested with SuperFeet Green insoles, as well as prescription orthotics by The Orthotic Group. Nearly out-of-the-box comfort, an initial 12-15 mile hike over rolling terrain allowed the Cascadia 16 to break-in with little effort.  
Brooks advertises a "softer, lighter feel," which is evident. The proprietary DNA Loft v2 midsole claims to "make the Cascadia 16 cushioning 5% softer and 20% lighter than the Cascadia 15" model. Nonetheless, this 8mm drop trail runner feels well cushioned, yet also feels very stable and grounded.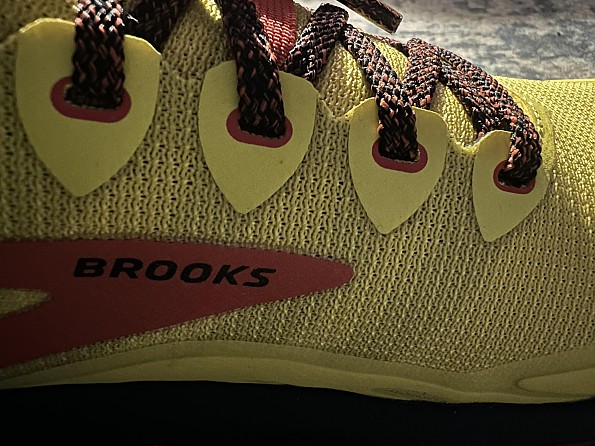 Support:
Ample room in the forefoot not only has allowed room for the foot to splay out, but also provided great forefoot stability over various terrain. Brooks uses an updated Ballistic Rock Shield which allows for side-to-side adaptability while still protecting one's foot from rocks and other hard terrain.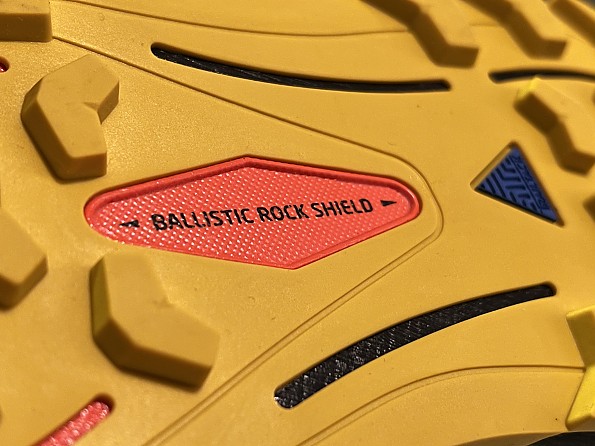 Temp Control:
The Brooks Cascadia 16 is an extremely breathable shoe, also designed with drainage ports to quickly allow water out. Although not designed to be water resistant at all (a GTX model is available), the synthetic outer material does not absorb any moisture. This is definitely noticeable after wading in creeks, or making water crossings. Aside from wet socks, these shoes appear to dry much faster than the typical constructed sneaker.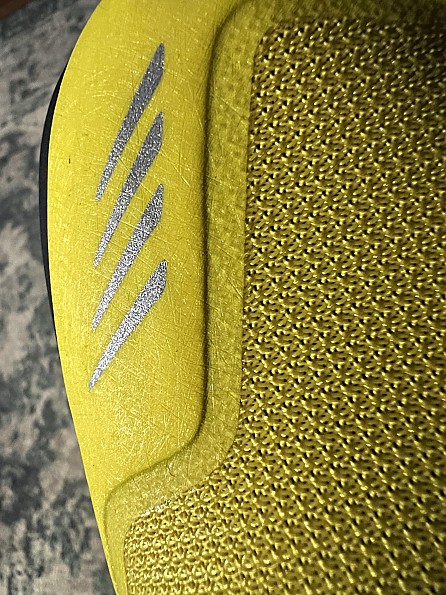 Traction:
The only place where any marks are lost is regarding traction. While the traction is by no means poor, the "slip-point" leaves room for improvement. The Cascadia 16 gave way on wet, mossy rocks when other shoes in similar conditions have held fast. Perhaps this limitation is balancing design where durability meets traction… Conditions in mid-Atlantic summers really put a shoe to the test—slimy and mossy rocks, near 100% humidity,  these factors determine just how much grip one has before slip!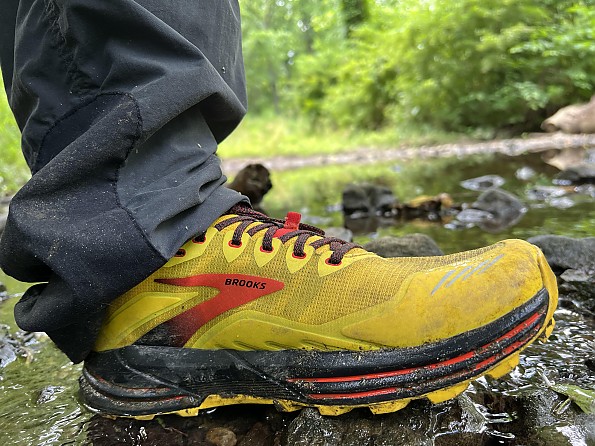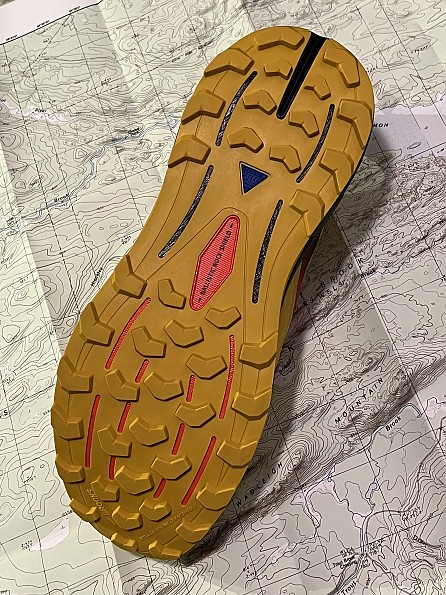 These trail runners are a great design for mixed-use outdoors, in warm and cool temperatures. Although not tested, a waterproof sock or vapor barrier may very well extend use into winter temperatures. 

Additional Features:
A few other details in the Cascadia 16 add up to make this shoe a truly great one.
The toe cap is surprisingly protective for being such a light trail runner. Although impacting roots and rocks is never a pleasurable experience, the added protection is far better than average.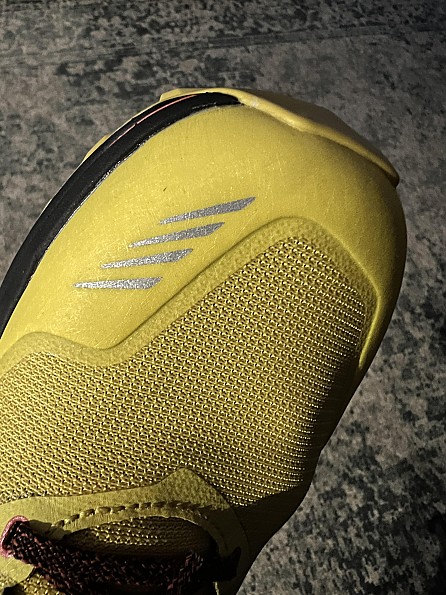 A sewn-in gaiter tab is included in the heel.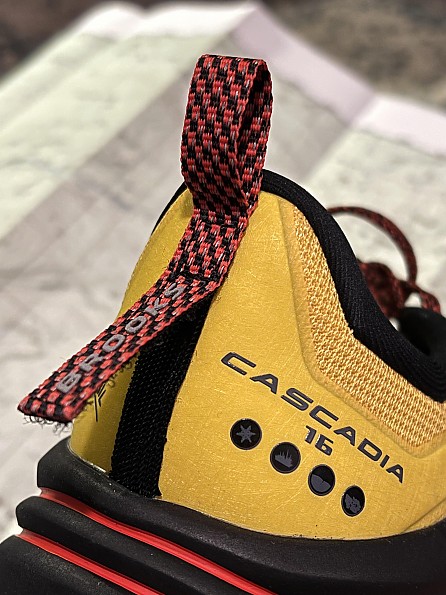 An elastic loop easily secures shoelaces.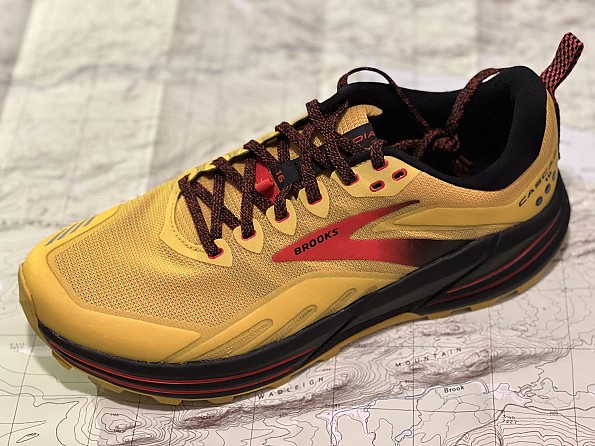 Multiple upper lace points are available for proper fitting/comfort.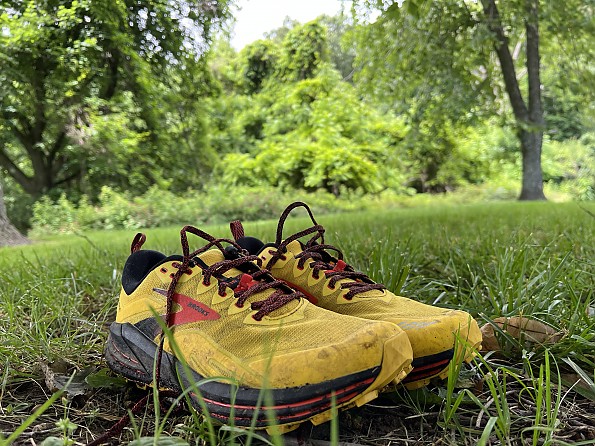 It should also be noted that the included laces are very textured and grippy; this makes for not only a secure tie, but an easy shoe to lace!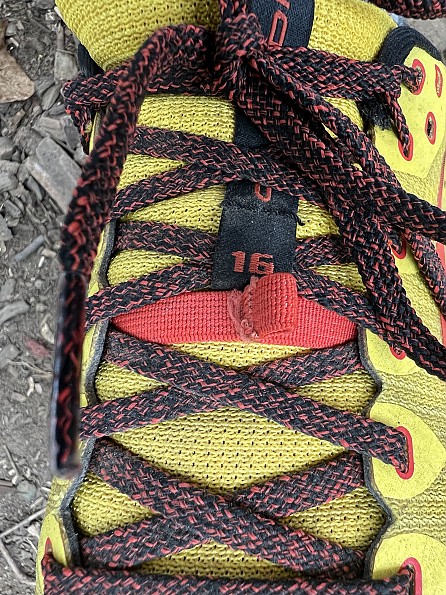 Construction & Durability:
Initial testing has shown the Cascadia 16 shoes to wear very well over the course of 70+ miles on the trail. Minimal traction wear has been noted, and only the slightest amount of pilling inside the trail runner are evident. Additional mileage will determine if the crease at the inner forefoot shows to be a weakness; an attempt of the Wonderland Trail in Mt. Ranier National Forest will be made with these sneakers in early/mid-September. Although no two feet are the same, it is expected that this type of trail runner is designed for annual replacement, or approximately 400-600 miles.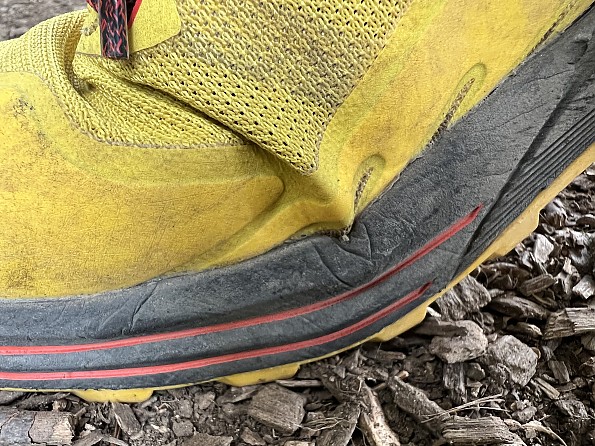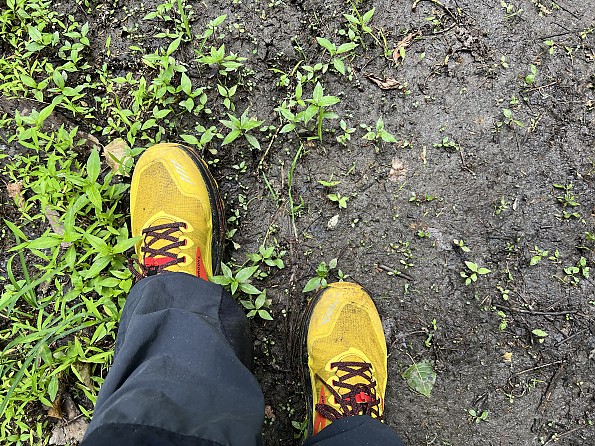 Conditions:
These trail runners have been tested for approximately 70 miles on the dirt, over rocky ridges, in and around streams and on canal tow-paths. Summer overnights on the Appalachian Trail, leading daytime outdoor adventure groups for 10-13 year olds, performing trail maintenance, and taking multiple day hikes in the mid-Atlantic USA have shown what the Brooks Cascadia are capable of.
Many thanks to the people over at Brooks for giving the Trailspace Gear Review Corps an opportunity to test the Cascadia 16 trail runners!
Background
I have been gear testing non-waterproof hikers for several years during the warmer months. Mostly trail runners, recent brands tested have been Lowa, Inov-8, Hoka One One, Altra, and Salomon. As previously stated, "You can never walk a pair of GTX shoes dry…"

Source: received for testing via the Trailspace Review Corps (Sample for testing and review provided by Brooks)

Version reviewed: Cascadia 7
Solid toe protection, stable platform, minimal arch, decent grip in dry conditions, but unable to handle too much weight.
Pros
Toe protection
Grip in dry conditions
Minimal arch
Stable platform
Cons
Can't handle too much weight
Less underfoot protection than I like
Color
Personal Usage and Background
I run trails in Southern California. Typical distances range from three to eight miles. Elevation changes are usually no more than 1000', but are usually much, much less.  Because of my SoCal location, the conditions in which I run are almost always dry, dry, dry. I have a low arch (technically, Morbus Ledderhose), so I favor shoes with minimal to no arch support.  I have attempted to backpack once with these shoes.
Fit and Comfort
I tried a 9 1/2 (my typical size) on in the store, but in that size the toes on my right foot were pressed too close to the front for me to trust that size to a long distance run. So, I bought a 10, and that has worked out fine except it seemed a smidge (and I mean a smidge) too wide in a 10. I end up cinching the laces very tightly.  That said, these were comfortable out of the box for me, with no break-in period. There was no rubbing whatsoever.
Trail Performance 
The manage good grip in dry conditions, but I haven't been able to observe them in wet. The lugs are fairly low, which is great for the occasional foray onto tarmac, but makes me think that perhaps they are not a star performer in the mud. I haven't had that opportunity, so I really wouldn't know.  However, they have made a better ad hoc soccer shoe than my street runners, which should say something about their traction.
These are a bit on the heavy side, but at a little over 12 oz., they certainly would not be confused for boots. This is probably due to the overall protection, including toe protection which is better than it looks and has saved me from more than a few pebble stubbings. However, I favor much heavier underfoot protection than most, as it gives me a little more confidence and allows me to not focus as much on where I'm stepping. 
However, this is definitely a bias I have: iRunFar has written that the Cascadia 8 rock plate makes it the "most protective shoes" that reviewer had ever worn. One might reasonably ask me if I expect steel.  At which I probably wouldn't laugh. 
The cushion underfoot is substantial as well; these are not minimalist shoes. This, bizzarely, may make me imagine I'm feeling more rocks underfoot than I am, as each rock impact impresses into the cushioning making me aware of the rock (as opposed to less cushioned shoes, but rock-plated shoes I've run in which make me feel like I am wearing armor).
I also like that they have a wide base which makes for great lateral stability. It feels like I am less likely to twist an ankle.  I haven't  yet, so that must prove me right, right? However, all that underfoot cushion and stability has made me wish I picked my feet up a little bit higher.
The venting is good, but the holes might be too large; occasionally I've had an aggregation of sand to dump.
Colors
I am, um...not the most fashionable guy.  In high school, sure, but as I've gotten older, I've actually learned to prefer the muted tones and non-divergent shapes which are the staple of the typical male shopping outing.  I have the bright green version of the Cascadia (they were on sale). Holy geez. At least the SAR Bird will be able to find me easily.
Backpacking
The one time I attempted backpacking with these, it was because my usual boots were about 400 miles away, comfortably at home (the wimps). After about 4 miles of wearing the Cascadias while carrying a summer overnight load for my 6-year-old son and I, the impact from rocks were way too noticeable, the lateral slippage was serious and would have probably led to blisters on a longer trip (could be related to the sizing issue I mentioned before?).  Worse, by the time the short trip was over the midsoles were seriously less supportive.  I think the extra weight might have squished 'em.  Or maybe it was just their time.
Overall Impression
I feel stable and protected without feeling like I'm wearing a tank. They are very comfortable and vent well and have provided me with the traction I've needed. Nothing that I've noted as negative has been a barrier to enjoying my runs. And I do enjoy running with these shoes.
Source: bought it new
Price Paid: ~$80

Version reviewed: Cascadia 15
Excellent shoe for backpacking, both on and off trail.
Pros
Lightweight for a trail, rough trail, and off-trail backpacking shoe, and steady enough when carrying loads upwards of 45 lbs.
Durable. Upper wears, but doesn't shred while hiking through extensive talus fields.
Protective. Has a rock plate for underfoot, toe guards, and welded appliques at the ball and outside foot joints.
Cons
For off-trail hiking these shoes are a "one and done". You'll return home missing lugs, and at least a hole or two in the uppers.
Cost. The cost of a single pair is not a deal breaker, but when you factor their lifecycle vs. a pair of leather boots the Cascadia will cost you more.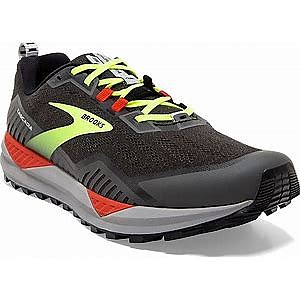 Brooks Cascadias are widely panned for trail running...too heavy, too stiff, no spring, too narrow, etc., but are routinely praised for stability, protection, durability, and traction. The negative attributes may be problematic for trail runners, especially at ultra distances, but they, with the positives, match up pretty well with the needs of long distance hikers. And in my case they provide the support and stability needed when my packs weighs 45 lbs AND the stability, tactile feel, protection, and durability I need hiking off-trail for multiple days through the Sierra Nevada.
Some key features:  
An engineered mesh upper for breathability and quick drying, with strategically located reinforcements that both protect and prevent blowouts.
A narrower-ish forefoot. Not tight or constricting in any way, but no slop for sure-footed performance on Class 3 terrain.
A solid heel counter, padded cuff, and well-fitted mid-foot. These shoes "lock on" to your feet. No excessive movement, but more importantly you get the security without pressure points.
Their "Ballistic Rock Shield" or more simply a mid and forefoot rock plate that protects feet against pointy things and provides stability and support to handle heavy pack loads.
Low stack height. With the rock plate there is no need to protect the foot with a massive billowy midsole. The result is better tactile feel; so better balance and the shoe concavely conforms providing near 100% contact and excellent traction through talus.
Their "Trail Tack" outsole. Basically sticky rubber that provides excellent traction on just about every surface.
For one- or two-week backpacking trips in the Sierra Nevada, on-trail or off-trail, these shoe perform well. On an 8-day off-trail Sierra backpacking trip in 2020 the shoes saw me through >60 miles of challenging Class 2 and Class 3 terrain. I lost a few lugs, and had three holes in the uppers. I'd call this pair, with that hike "one and done." 
On my two-week 2021 John Muir Trail thru-hike they performed supremely well with little wear on the sole and no holes (though there were a couple thin spots) on the upper. I've had this pair since on several less intense hikes.
My only complaint is the total cost of ownership of these vs. a full grain leather boot. Of the Cascadia I'll buy one, maybe two pair in a season. At $120 a pair (the Cascadia 16's are $130) I'll spend almost $2000 on hiking shoes in any 10-year period.
My last pair of boots, Scarpa Rios, I paid $230 and hiked in them for 6 years, and I still use them here in the Northeast when it snows. Sure, they would cost more now, but directionally speaking the Cascadia trail runners (or any trail runner for that matter) mile for mile cost a good bit more than boots.  
Background
I switched from boots to trail runners in 2007 after a few years of alternating between the two and figuring out what worked for me. The key element: a rock plate for stability and protection. I started with Montrails until their quality suffered with their purchase by Columbia, flirted with ASICs, and then for a better fit switched to the Brook Cascadia, 7's at the time, back in 2013. I've hiked in every version since, except the 12's, and this summer (2021) thru-hiked the John Muir Trail in the Cascadia 15's.
Source: bought it new
Price Paid: $120

Version reviewed: Cascadia 9
This may be the most comfortable shoe I've ever owned. Great for training, early morning walks, and light day hiking.
Pros
Super comfortable
Supportive
Excellent traction
Very breathable
Cons
Durability is a bit of a concern
My feet are notoriously difficult to fit. I have long toes... wide fore-feet (bunions)... narrow heel... no arches... and size 14. These all combine to make shoe purchasing a chore every time.
With the Cascadias, I have found the holy grail of training shoes for my feet. Fit is excellent, with lots of room for my toes and bunions, without having my feet slip around in the shoe. Break-in time was non-existent. With my Sole footbeds inside, I get excellent support for my over-pronating ankles.
For years I had some Vasque Blur trail running shoes. They fit quite well, but the traction was truly awful. No such problem here. These soles stick like glue to whatever surface I am on, wet or dry. The tops are mesh, which is wonderfully breathable in warm conditions. The other side of the coin is, that they are not waterproof... though with the drought conditions we are currently experiencing in Nor Cal, this has not really been an issue. When they do get wet, they dry quickly.
My only concern is durability when hiking in rugged conditions. After the first couple of Sierra Foothill hikes I took with them, they started to show an unusual amount of wear. But after a long hike in boots, it feels luxurious to put these on my tired feet at the end of the day.
So these are my go-to for training, going to the gym, and post-hike, and a pleasure to wear. If someone would make a hiking shoe this comfortable, I'd buy them in a heartbeat.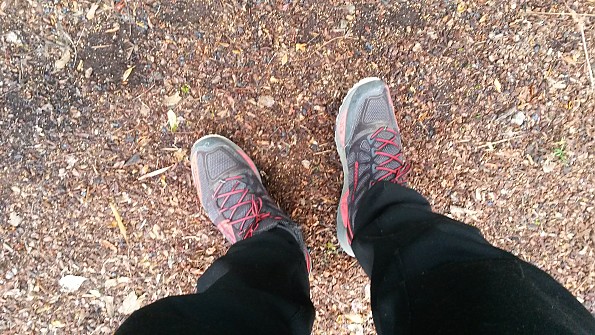 Source: bought it new
Price Paid: $120

Version reviewed: Cascadia 11
These shoes serve as my day hikers and trainers. Great stability and traction with solid support. The fit is true to size and they are narrow in the heel, which is perfect for my foot.
Cons
Heavier than many trail runners
I run mountain trails to stay in hiking shape and was looking for a trail shoe with support and durability. I am very pleased with the narrow fit which prevents the shoe from slipping on my heels. The shoe is durably built and very stable on the trail which was key in my purchase decision.  
The support may be part of the reason for the shoe's weight, but since I hike in much heavier boots, these are still light compared to my hiking boots. I appreciate the traction which grips on wet or dry surfaces. The sole offers great protection for my feet over rocky terrain.
Source: bought it new
Price Paid: $120

I bought these shoes due to the fact that they were said to be the "best ultrarunning trail shoe" around.
I beg to differ. These shoes are NOT designed for people who overpronate or weigh 200+ lbs. I happen to do both. I will say that these shoes feel great. It's like running in a pair of house slippers.
My problem is that I have had nothing but injuries ever since I put them on. I have had sharp ankle pain, also pain on the front and sides of my knees. However when I use my other shoes the pain goes away within a day. I will say that I'm upset that I can't use them. They are very comfortable and light and you can't feel a rock or root through them.
So if Brooks would "tweak" them a bit for us bigger runners (and over-pronaters) I would definitely give them another try.
Use: trails / gravel roads
Weight: 215 lbs
Price Paid: $85

Version reviewed: Cascadia 8
Great shoes. I use them for hiking not just trail running. Sturdy, lightweight, and dry fast. Great for those who don't need a whole lot of ankle support and like being light on their feet.
These shoes fit great and are super comfortable on a decent amount of miles. I like to hike in these rather than standard hiking shoes. They dry fast so I don't worry too much when crossing streams and they feel good because they are much lighter than hiking boots. 
Only after about 10 miles did I feel like I might want something with a little more support. I personally don't need a lot of ankle support so these work well for me, but the soles do feel noticeably softer than hiking books. 
I used my first pair for about a year and a half and quickly bought another pair (for cheap). Since it is the older model I figured they might not be available for much longer. Once my new pair is worn out, I will definitely look into the Cascadia 9. 
Source: bought it new
Price Paid: $70

Version reviewed: Cascadia 7
These shoes hurt so bad they didn't even make it to a trail. I wore them to work for a day and I was in pain for two days. Don't get me wrong I LOVE Brooks. These just did not work.
I bought these shoes because a friend of mine was raving about them. I wore them once and I had to return them. They seemed to fit my high arch okay, but my heel didn't feel supported. After just a day I had lower back pain and my knees ached really bad.
I retured them for the Brooks Pure Connect, which fit like a glove. I will write a review for them.
Source: bought it new

Version reviewed: Cascadia 2
Excellent shoe. I typically run off path through woods with thick roots and forest floor and I reach for these every time. I've tried them all -- Merrell, Adidas, Nike, Vasque, Izumi, TNF, Montrail, New Balance, and Salomon, but Brooks has found the perfect balance of plush but secure cushioning in the Cascadias.
They're a tad narrow but the mesh gives and breathes. Ran in a downpour today and while they were wet, they weren't soaked, and my socks and feet stayed warm in 35 degrees. They'll be dry by morning too.
As for trail debris stability, on wet roots, these roll predictably more easily than the triple density midsole bearing Vasque and Izumis. Otherwise they'd be 5 stars. Laces routinely untie every run at least 1-2x.
If only they'd add a Gore-tex layer, I'd stock pile. Still, I can't wait to see how they perform in snow.
Materials: meshy stuff
Use: trail running 3-4 miles/day
Break-in Period: none needed
Weight: Am I still wearing them?
Price Paid: 39.99 - Eastbay

Version reviewed: Cascadia 5
Brooks Cascadia is a well-designed and thought out trail runner.  I've had the Cascadia 3, 4 and now 5 and I have been really comfortable in all three models (though I am a die hard Brooks fan in general, normally run in the Adrenaline GTS and race in Racer ST-4). 
I've used the Cascadia for everyday use, trail running, hiking, backpacking, nearly everything.  Fit is true to size (running shoe size that is, not your dress shoe size) and has ample width for those with not-quite-a-wide foot. Durability has been in the normal 400-500 mile range, and these shoes look good dirty!  The outsole is extremely durable and the weight is nice and light.
Colors are also amazing ha ha...love the "loudness" of these shoes each year!
Price Paid: $0.00

Version reviewed: Cascadia 5
These shoes are the bomb! I've been running for 10 years and this is my favorite running shoe I've owned.
I have a women's size 8.5 foot with an arch a little higher than normal. I have somewhat narrow feet, but the toe box is still wide enough to provide comfort for your toes.
I have the turquoise color, which I love. I have gotten lots of compliments on them! Great traction on and off trail. My feet don't get tired or sore in them at all.
I've probably put about 180-190 miles on them and they still have quite a bit of life left in them. I'm thinking about getting the Cascadia 6 when these wear out.
Price Paid: $60

Version reviewed: Cascadia 9
Got these for Spartan racing. A solid shoe for running on the rocks of PA.
Pros
Solid shoe for rocky trail
Drains well going through mud/swim
Fit is right on for me.
I use the "heel lock" tie and the laces could be a bit longer.
Good for multi use and Spartan Race tough even for muddy slopes.
Source: bought it new
Price Paid: $90

Version reviewed: Cascadia 3
I'm on my third pair. They are comfortable on road and trail. I wore a pair for the Portland Marathon and also for my first 50K on Mt. Hood Pacific Crest Trail. I have a high arch and like to rotate my inserts--my rigid orthotics fit just fine. My foot is a little wider than normal, so I wear thin socks for the best fit.
I have 600 miles on my oldest pair and still keep them in my shoe rotation. They look less worn than other shoes with half the mileage, but then I use them mostly on soft surfaces.
Materials: Unknown
Use: Mostly track and trail, some road.
Break-in Period: None required
Weight: Unknown
Price Paid: $52

Version reviewed: Cascadia 8
Great all around trail shoe, grip is fantastic and the fit and stability are superb!
My favorite trail shoes to date! Comfortable and long lasting, with great grip, stability, and cushioning.
Source: bought it new
Price Paid: $139

Man, these shoes rock. Best trail runners I've ever had. I'm 180 lbs and a mild overpronator. I have about as normal a foot as you could get and the fit is perfect; plenty of room in the toebox but not sloppy feeling; they hug my heels.
I run trail and road in them they're so comfy. The only downside is that I can feel the occasional rock push in on trail runs, but I wouldn't trade a stiffer sole for the flexibility and comfort.
Break-in Period: short break-in time
Price Paid: $89

Version reviewed: Cascadia 3
This is my fifth pair of Cascadias. I run almost exclusively on trails. When I do run on the road, I still use the Cascadias. I never get blisters. Good cushioning, stable, low to the ground, drain and dry well. The Cascadia 2s would blow out on the outside where the small toe knuckle protrudes a little. It appears as if Brooks has fixed this problem in the 3.
Price Paid: $95

Great shoes... good for all types of trails and the best stability out there!!!
I bought these shoes after testing many of the highest rated shoes on a treadmill. The shoes were by far, the best in stability and did the best job with my stride (200 lbs overpronate).
Pushing 300 miles on the shoes and they are as good as the first day. Highly recommended!!!
Use: moderate to rough trails... lots of altitude
Break-in Period: 3 runs
Weight: 200 lbs
Price Paid: $85

Best fit I have ever found in any trail or running shoe. If you need some extra room in the toe box, these are the shoes for you.
However they are easily penetrated with dirt, dust, and sand. Your socks will look like the trail, and sand will wear out the shoe from the inside out.
Version reviewed: Cascadia 4
Great shoe. I run, backpack, workout and am a nurse on my feet all night. These are my only pair of shoes and they do it all for me. Great support, great grip, good ankle support for a low top and very comfortable. I have a large arch.
Use: trail running, backpacking, working.
Break-in Period: 2-3 days.
Price Paid: $100

Your Review
Where to Buy
Help support this site by making your next gear purchase through one of the links above. Click a link, buy what you need, and the seller will contribute a portion of the purchase price to support Trailspace's independent gear reviews.
You May Like
Specs
Men's
Price
MSRP: $140.00
Current Retail: $99.99
Historic Range: $49.93-$130.00
Reviewers Paid: $52.00-$139.00

Surface
Trail

Midsole drop
8mm

Support
Neutral

Weight
10.5 oz / 297.7 g

Women's
Price
MSRP: $140.00
Current Retail: $99.99
Historic Range: $42.73-$160.00
Reviewers Paid: $60.00

Surface
Trail

Midsole drop
8mm

Support
Neutral

Weight
10.5 oz / 297.7 g

Recently on Trailspace