Vasque Blur

The Blur has been discontinued. If you're looking for something new, check out the best trail running shoes for 2023.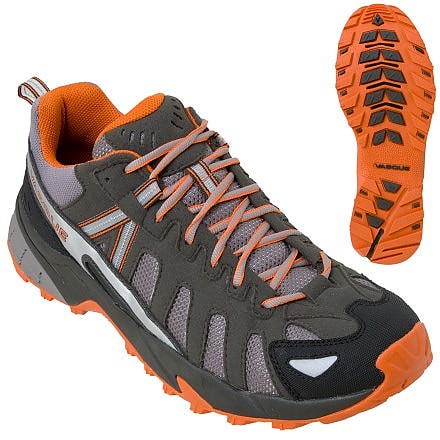 Based on the other review on this web site and others I've read, I decided to buy a pair of Vasque Blur as I'm training for my first Trailwalker run held next May in Japan.
I don't like these shoes, I LOVE them. The feel I got when I put them on is the same confortable one as when I put on my hiking shoes. But once I was on trail climbing faces, jogging up rocks, hiking stairs, running on pavement, blazing through trails, rumbling down sandy surfaces, or whatever, I still felt safe and comfortable.
Okay, it's the first pair of trail running shoes that I have ever owned, and this review is only based on a 18-20km hike/jog up - run down a 850+ meter mountain, but I was completely satisfied with the shoes. Also, I did not have to deal with any kind of wet terrain or conditions.
Usually, after a run like this one, my ankles and knees especially would be killing me. But only my calves were sore from the ascent and my knees barely bothering from the descent.
The whole way through I always felt in control with the shoes' traction. I did roll my ankle once, but with absolutely no damage. The sole gives ample support but it does not feel as if you're walking-running on platform shoes. You can feel almost everything under your shoes, while at the same time the cushions protect your joints.
Although I was worried about my pair being a little to big (I have large feet), the tight lacing allowed me the perfect fit, both in acents and descents. They fit like a glove.
I looking forward to shiggy-running at the Chiang Mai Interhash in 10 days.
On On
Use: hard pack, stone stairs, sandy surface, pavement, trails
Break-in Period: First time was okay
Price Paid: 14,000 yen

I have always been a huge fan of Vasque trailrunners, mainly the Velocity. Recently, the rep from Vasque recommended I try the Blurs after suffering a stress fracture I received while running in the Velocities. These shoes are EXTREMELY comfortable. I cannot take them off. Very well cushioned as opposed to the more rigid Velocities and Amps. If you are an ultra marathon trail runner, these are the shoes are for you. All of this, not to mention their excellent style, I am continually receiving compliments on my kicks. Still, their durability has yet to be tested, but so far, so good!
Use: Fast-paced long trail running
Weight: 1 lb 7 oz

I have had these shoes for about 6 months now and for the most part they have held together pretty well. I am very hard on shoes, which is why I decided to give these a try.
They are very comfortable but are falling apart quickly on the bottom of the shoe. I'm not sure if it wasn't strong enough glue or what happened, but the rubber started to come off the bottom of the shoe before I even wore it out...
Overall, a pretty good shoe.
Price Paid: $79.99

Like walking in Heaven. The shoe was just made for me. It fits well and is extremely stable.
I would recommend the gore-tex waterproof shoe if you run early when dew is on the ground. They get you wet fats if you don't.
As for regular everyday and dry runs, they are a dream. Well built and tuff as nails. I will buy another pair for sure.
My wife will have a pair under the tree this year!

Materials: non gore-tex
Use: running and walking
Break-in Period: 1 day
Weight: 206 lb
Price Paid: $79.99

I have been hooked to this shoe ever since the day I bought it. My type of running is mostly paved roads but I do a little trail running too. I have fitted the North Face XCR Gore-tex, but unfortunately, they didn't come in 1/2 sizes. I use 10 1/2 and this shoe fits me perfectly.
Materials: synthetic leather
Use: on and off road running
Price Paid: $85

Your Review
You May Like
Specs
Men's
Price
Historic Range: $30.00-$90.00
Reviewers Paid: $79.99-$85.00

Women's
Price
Historic Range: $12.33-$95.96

Kids'
Price
Historic Range: $29.99-$50.00

Boys'
Price
Historic Range: $24.98-$37.46

Girls'
Price
Historic Range: $26.97

Recently on Trailspace