Superfeet Green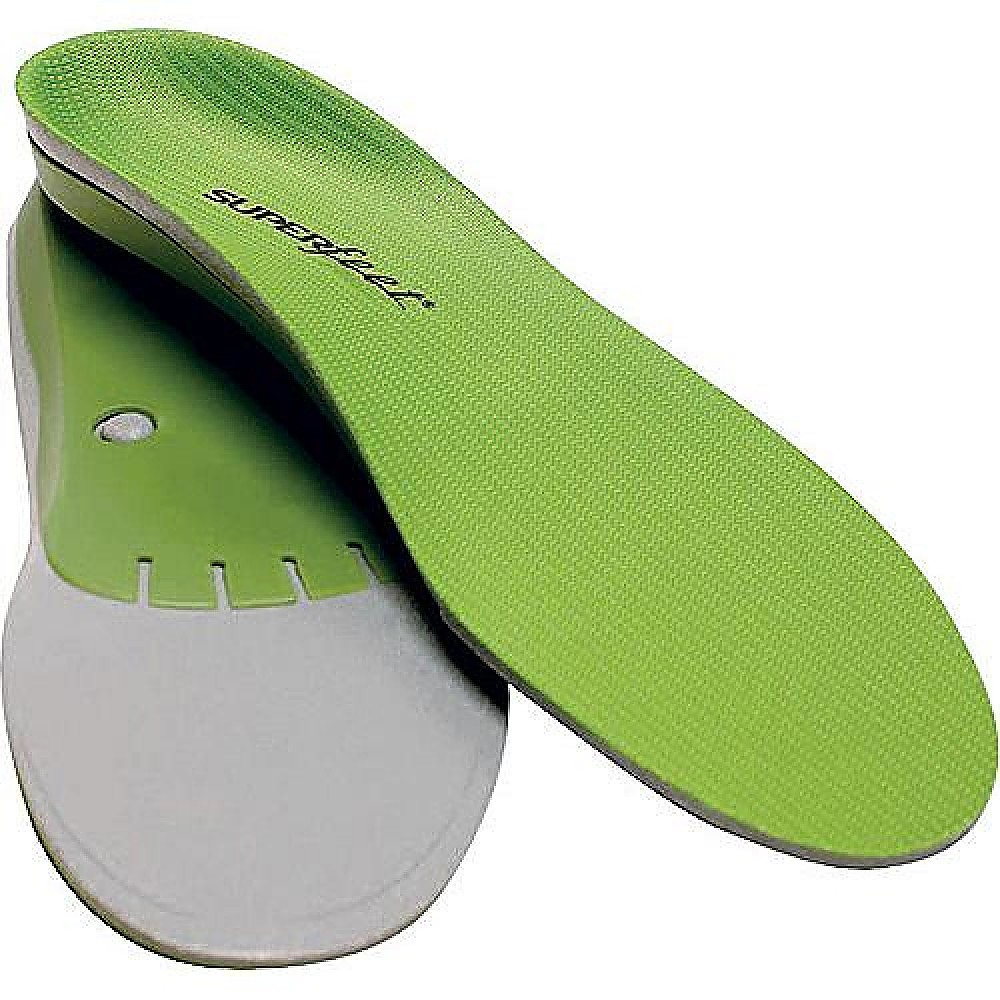 A nice option to have for those who are looking for an insole that provides great arch support. They are MUCH less expensive than shelling out the cash for custom orthotics. I have pretty severe foot problems and the Superfeet Green insoles have allowed me to continue my active lifestyle.
Pros
Great arch support
Fits in a variety of different shoes
Durable
A good option for those who have suffered previous Lisfranc injuries
Cons
I really can't think of any??
Back in 2008, I suffered a pretty bad injury to my left foot, commonly known as a Lisfranc Fracture. It is named after a French doctor who described the injury in 1815 when riders would fall off their horse with their foot stuck in the stirrup. It's a fracture of the midfoot coupled with the rupture of ligaments. The injury is also common in American Football, with players such as Dwight Freeney, Maurice Jones Drew, and Santonio Holmes having suffered the injury.
Sadly, I did not play American Football and could not have afforded the expertise of doctors such as Dr. James Andrews to operate on my foot. After surgery, I was in a cast for three months and a walking boot for a month after. I currently have three pins running through my left foot and experience some severe arthritic pain to my foot at times. I also don't have a full range of motion in my left foot which I suspect was because of the three pins.  
Using the Superfeet Green Insoles have helped TREMENDOUSLY in allowing me to continue my active lifestyle, which includes HIKING!!!!
Sorry for some of the gruesome/grotesque pictures, but I feel that in order to do the Superfeet Green Insoles justice, in my description of how amazing they truly are, I should show how bad my foot used to look, and continues to look today:
Pre-Surgery: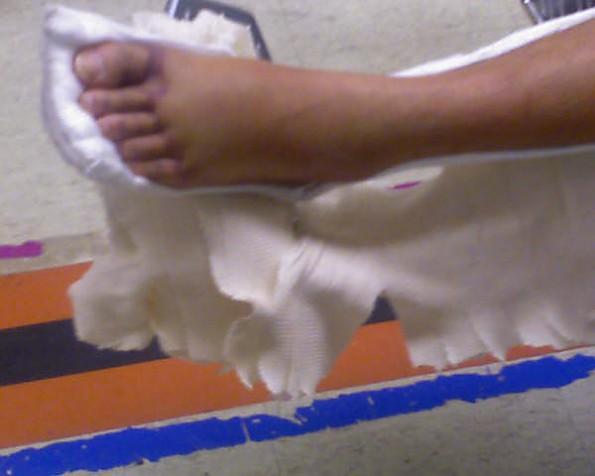 Post-Surgery: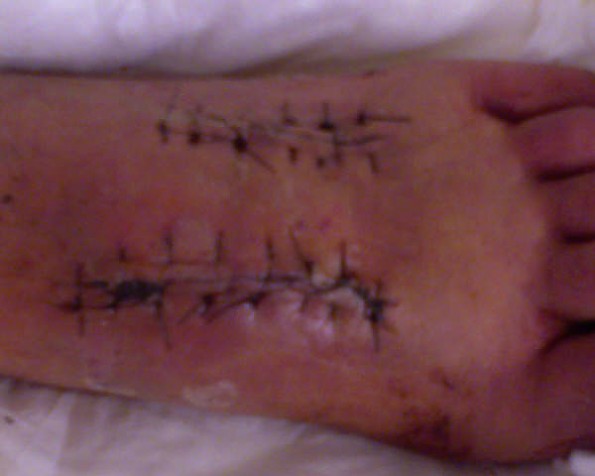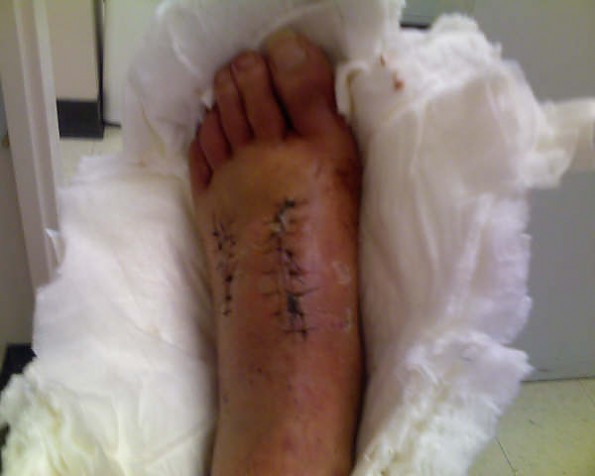 How it looks today (note the large "hump" and build up of scar tissue around the midfoot):
Fit: I've used the Superfeet Green insoles in a variety of shoes. I simply replace the insoles of whatever shoe I'm wearing at the time and simply place the Superfeet insoles inside the shoe. I've used them in soccer cleats, everyday walking shoes, and trail runners while hiking.  
Comfort: The Superfeet Green Insoles help immensely in terms of comfort. Immediately after shedding the walking boot, I tried a variety of various shoes and insoles and experienced tremendous pain. None of the Dr. Scholls inserts would work. I also previously used a Spenco insole that was OK. However, none of these were as effective as the Superfeet Green insoles.
Support: The arch support provides great relief to the pain felt in the midfoot area when I'm hiking/exercising/running/playing sports. The Superfeet has a plastic mold that provides firm support to my arch. After my Lisfranc injury, the main area of pain was felt on the top of my midfoot, surrounding the areas of scar tissue.  
Years after my injury, after subsequently feeling chronic pain in my midfoot, a podiatrist had recommended using rigid insoles which provide a high support of the arch. Such insoles would help alleviate some of the pain caused by arthritis. After my insurance rejected his referral for custom orthotics, he recommended the Superfeet Green Insoles.  They were much cheaper than getting custom orthotics.
In terms of use during physical activity, since I don't have a full range of motion in my left foot, the rigidity of the insole improves my ability to push off my left foot (especially when running, sprinting, or jumping). Also, since they alleviate pain, I feel that I'm able to hike farther and perform better with these insoles. 
Construction & Durability: I've had the Superfeet Green Insoles for about a year and use them daily. Whether its hiking up a summit in the Sierra or playing soccer, they've held up quite nicely. In terms of use on the trail, I've brought these along for all the trips detailed from my trip reports and I've never had a problem. I use them to play in the Los Angeles Municipal Park soccer leagues twice a week.
From the pictures below, you can tell where they have worn down, but they still are very effective.
In Conclusion...
I probably would not be performing the same tasks I perform today without the Superfeet Green insoles. There was a point after surgery where I had doctors telling me that I would not be able to play soccer again and my active lifestyle would be severely hindered. I'm glad I was able to discover these insoles and I continue to participate in a variety of activities ranging from running, hiking, and recreational sports.  
Source: bought it new
Price Paid: 35 bucks

Overall does the trick!
Pros
Durable
Actual stiff support structure
No oven hassle
Cons
Too wide of heel for those with ultra narrow heel
No additional cushion
Price
I own the Green pair and the Orange pair and preferred both over my experience with a pair of SOLE.  I wear them everyday in running shoes. I only run about two miles 1 to 3 times a week.
What I liked
They are durable and have lasted me through two pairs of shoes. I probably wear shoes way longer than most. These are going into their second year. I took them in to a very reputable high end running store and the sales person gave me a great tip in that they don't really recommend replacing them until white stress marks appear in the plastic support structure. My foot has not worn through the top weave at all and the plastic mold has not departed from the higher density foam.
I got these when I had patella tendinitis and other knee issues. Through these Superfeet and exercises my knee has improved considerably. It was probably more the exercise, but I think these did assist a bit as I could tell when walking around for a while without them in other shoes.
They really catch my arch right back tight against the front of my heel bone and I notice the locked in support.
They did not collapse under my 210 lbs at the time and still do not now that I am at 190. Losing weight, stretching and exercises help your lower body joints the most by far but these will help with your problems so you can work to lose the weight.
What I did not like
They are expensive and I do not look forward to having to buy another pair because of it.
I have abnormally narrow heels. A shoe such as an Asics narrow could even get a little more narrow for max comfort. I found that both the Orange and Green Superfeet expand the heel cup width when I use them in any shoe. This makes for a less secure heel fit even when you crank down on a "runners lock" style shoe tying.
Overall
These are made very well and they certainly last. Look for them on sale though as they are overpriced. They are more durable then the Orange ones, but do not have added padding like the Orange ones.
Source: bought it new

The best insole I've found so far... Great fit for a narrow foot with a high arch.
Pros
Arch/heel support
Good handling odor
Cons
A little pricey
Somewhat short lifespan
I've been very satisfied with the high arch SuperFeet. I think I've worked through about four pair. I keep trying for something better, but have not found that unattainable perfection... yet.
In my opinion,  give several sessions breaking them in, or they can be a little tough. Allow significant more time if you're beginning wearing high arch insoles!!! I've found they have about a 6 month lifespan before they get squashed, and become hard. I can't really expect them to last much longer, especially when fighting gravity and carrying loads. 
They do an excellent job supporting a very high arch and somewhat narrow foot/heel. They've always felt stable in any of the boots/shoes I've worn. These insoles have traveled deserts, mountain peaks, heat, and cold. I've found removing them after every day speeds their drying, and overall helping with boot/shoe odor. 
Source: bought it new
Price Paid: $35

I read a couple reviews on these, because my current insoles just weren't cutting it. Bought a couple pairs and put them in my issued army boots (2 pairs), I was on course for 6 months, never sitting down, always running it seemed like and these never let me down.
It's now been about 6 months since that course and the same pairs have graduated to a new pair of boots, and they still work like a charm. Hands down the best insoles I've ever used, and now any pair of boots I get, the first thing I do is pop a pair of these Superfeet in.
They provide the support where I need it, and aren't too stiff or too soft.
Also, if I'm ever not sure which pair of boots is mine, I just take a peek inside, and the green definitely stands out.
Thanks, Superfeet.
Use: running, long rucksack marches, general standing around
Break-in Period: a week
Price Paid: 30$

This insole has helped me be able to hike long distances (up to 12 hours) without the normal pain in the sole of my feet. It has reduced the number of blisters I was getting and making for a very comfortable hike in mountainous terrain and often wet conditions.
Source: bought it new

When I bought a new pair of hiking boots, these were suggested to me by the staff at the store where I bought them. They were great for around 6 months. At that point my feet began getting very uncomfortable even after short hikes and felt like I was sliding forward in my boots. I don't know what changed.
These insoles took up the extra space in my boots left by my small skinny feet, and I never got a single blister, but they took up too much space and I realized the arches were way too high for me. I replaced them with the Superfeet Blues and have been much happier since.
Price Paid: Around $30

Must have for anyone who uses shoes...so everyone.
Amazing for casual walking but also for sports and activities. I have a pair for inline hockey, ice hockey, golf, and running/gym. Before Superfeet, I had tons of blisters and just a lack of support.
Don't hesitate to buy these.
Source: bought it new

Your Review
Where to Buy
Help support this site by making your next gear purchase through one of the links above. Click a link, buy what you need, and the seller will contribute a portion of the purchase price to support Trailspace's independent gear reviews.
You May Like
Specs
Price
MSRP: $49.95
Current Retail: $49.95-$54.99
Historic Range: $17.99-$54.99
Reviewers Paid: $30.00-$35.00

Recently on Trailspace