La Sportiva Bushido II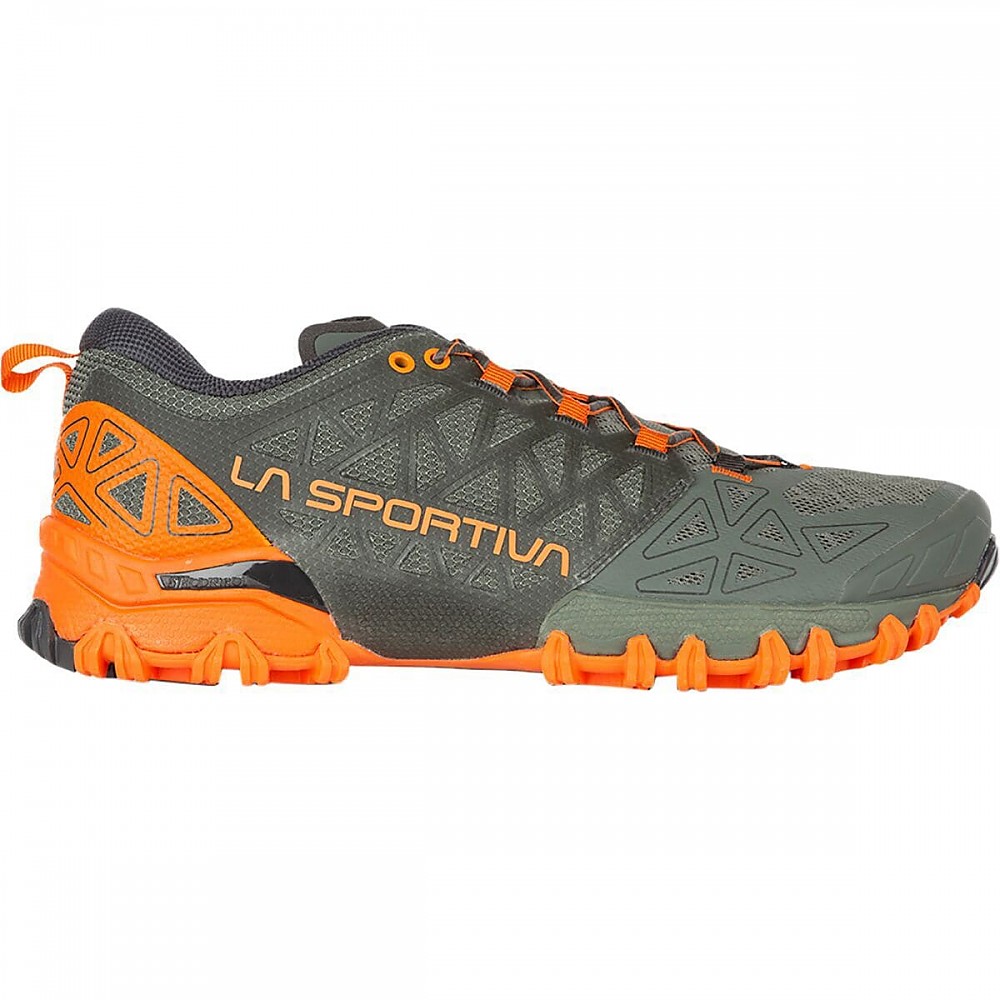 The La Sportiva Bushido II is a solid, comfortable trail running shoe for all-around, year-round use on trails and mountains. With excellent traction and fit, it retains everything I loved about the original Bushido trail runner with some minor refinements.
Pros
Comfort and fit
Traction
Durability
Works well for trail running or hiking
Comfortable in year-round temps
Cushion and stability adequate for most trail use
Cons
For technical runs and hikes, I'll switch to a shoe with more cushion and stability
No waterproof/GTX version
Costs $130, but the price has remained the same from previous versions and is comparable to other shoes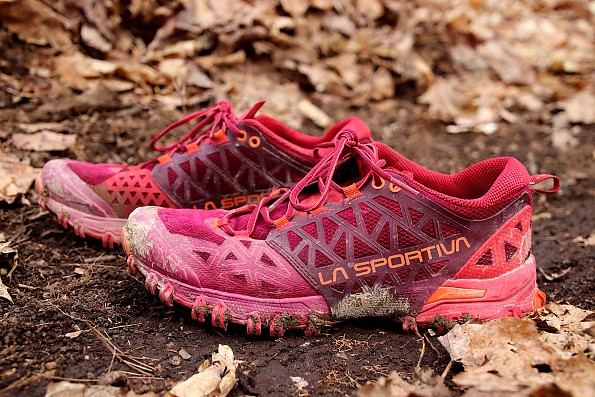 When I heard that La Sportiva was introducing an updated Bushido II trail runner my first response was "No!" What if they screwed something up?
I've worn at least six pairs, possibly more, of the original La Sportiva Bushidos over the five years since they launched. That totals well over a thousand miles, probably double, by my rough guesstimate. While I also have road running shoes for pavement and own a few other pairs of trail runners, not to mention hiking footwear, the Bushidos are my go-to, everyday pair for when dirt, rocks, mud, and snow are underfoot here in Maine. 
I rarely think about these shoes. I just put them on and go outside. So, I was concerned about potential changes.
Well, I've worn my first pair of Bushido II's for the past four months and (spoiler) I just ordered my second pair to add to the rotation.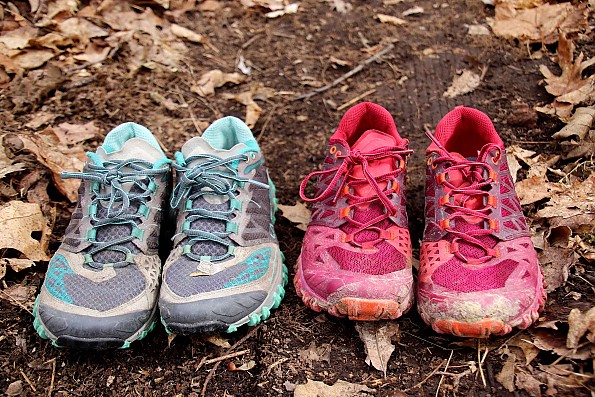 Original Bushido (left) and updated Bushido II (right)


What's New
So, what changed between the models? Not a lot. La Sportiva says the Bushido II is essentially a very similar shoe to its original. Here's what you might notice though:
Tongue:
The Bushido II has an updated, padded tongue to protect the top of your foot from the laces. I never gave the original tongue any thought. However, I noticed this one's improved comfort immediately the first time I put on the shoes—before I even knew it was an updated feature.
The tongue has a gusseted construction to stay in place. It's comfortable, with no need for adjustment and no lace pressure. La Sportiva also says it's highly-breathable with Stretch AirMesh. I've been using this pair in the winter and a cold spring, so breathability hasn't been an issue. Also, I've never been specifically concerned about the breathability of a shoe's tongue.
Suffice to say, I never thought about the old tongue, but I like this one better.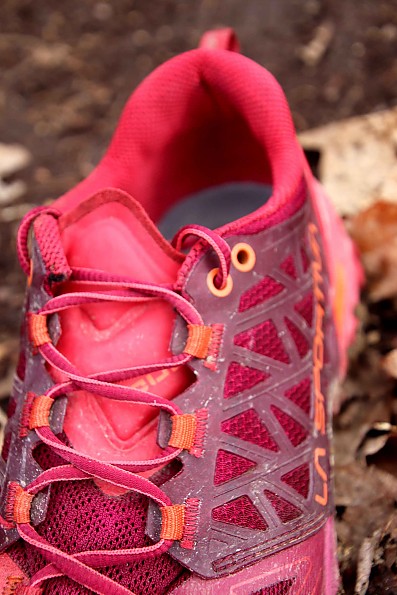 Heel:
La Sportiva updated the heel design for "increased comfort and fit." This is the change that worried me the most. Fit is entirely personal with footwear, and when I find something that works I don't like to switch it up, hence buying the same shoes for years.
I noticed no major difference in the fit of the new model. The heel still fits and cradles my foot well. There's no slippage, movement, chafing, or blisters. I was pleased with the fit of my original Bushidos, and the Bushido II's fit just as well. 
Cushion:
The Bushido II has a little more cushion underfoot than the original. It's slight and not noticeable to me while I'm wearing them. However, over the miles the shoes remain comfortable underfoot, so I think it's a benefit.
Loop:
The back of each shoe now has a loop for easy pulling on and off. It's a nice extra.
Fit and Specs
Fit is entirely personal, and the Bushidos work for my rather average feet. I wear a women's 7.5 / EU 39, typically with light to medium weight wool or synthetic running socks (Balega, Farm to Feet, and Darn Tough are favorites). The Bushidos wrap comfortably around my foot and there is no rubbing, chafing, movement, or pressure points. 
Weight: The Bushidos II's weigh 8.8 ounces (women's) and 10.5 ounces (men's) per shoe. My size 7.5 shoes weigh 9.6 and 9.7 ounces each, but that extra ounce may have been dirt. While they're among the lighter options from La Sportiva, I don't consider them ultralight.
Weight per shoe (published): 8.8 oz / 250 g women's; 10.5 oz / 298 g men's
Weight per shoe (tested): 9.6-9.7 oz for women's 7.5/EU 39
Drop: They have a 6mm drop, which, again, puts them in the middle of La Sportiva's offerings, which range from 2mm to 12mm drops.
Drop: 6mm (19mm at heel and 13mm at toe)
Width: La Sportiva classifies the Bushidos as medium width, and my average-sized feet agree. Most of La Sportiva's trail running shoes are classified as medium/wide or wide fit, so these are among its narrowest offerings and better for low- to average-volume feet.
Last: The Bushidos II's come in both men's- and women's-specific versions, based on the Racing Lite Ergo and Women's Racing Lite Ergo lasts. (Side note: I wish brands would let you easily search for shoe models by last.)
If you want to compare these specs between shoes, La Sportiva has a handy comparison chart of its mountain running shoes (last updated in 2017, but still useful). I wish all brands presented lines this way.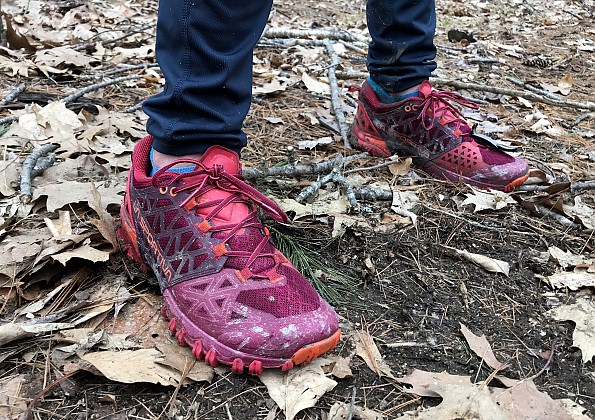 Comfort and Cushion
Except when I'm running on pavement free of snow and ice, I wear the Bushidos most times I run on trails, dirt, mud, rocks, and snow and ice. In its comparison of mountain running shoes, La Sportiva places the Bushidos in the middle for types of terrain you'll encounter—between even terrain and more technical, varied terrain. This middle rating is why I like the Bushido as a general, all-around trail shoe.
They have a rock guard in the forefoot (1.5mm dual-density compressed EVA), which provides a more comfortable run over rocky terrain. They also have a TPU toe cap to protect your toes from those rocks.
If you prefer a cushioned ride, keep looking. For more cushion and less ground feel, I've used the Akyra on technical, rugged terrain, such as four-thousand footers. For less cushion, more ground feel, and less weight, I've used the Helios for trail running races without much technicality. The Bushido also wouldn't be my choice if a run involves much time on hard pavement, though mine cover some on the way to trails or if conditions are sketchy in winter. 
I've worn the Bushidos for numerous ultra marathons and trail races and have been pleased with their comfort, fit, and feel after running for hours. They serve the majority of my everyday trail runs, which include some singletrack, and local day hikes here in Maine. 
Traction
The Bushidos have excellent traction thanks to a grippy dual-compound rubber (FriXion XT V-Groove2) and reasonably sized and spaced lugs with the Impact Brake System. I feel confident running up and down trails in these and rarely give the traction much thought. They grip and keep me upright on various terrain, including wet rocks, hard pack snow, slippery leaves, and other variable year-round conditions in New England.
In winter, I add Kahtoola Microspikes for traction, but beyond traversing ice the Bushidos maintain good grip on wet and dry terrain.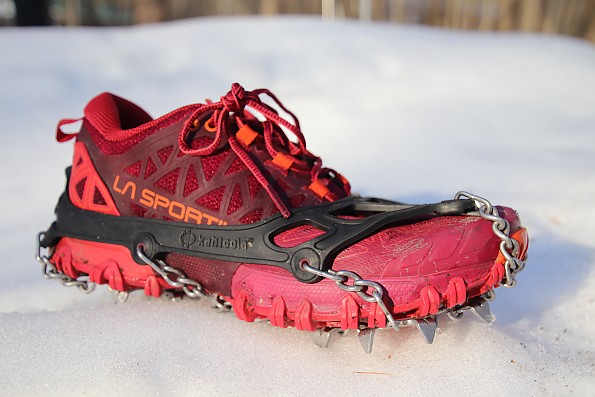 Breathability
I wear the Bushidos as my primary trail shoe year-round. The linings are made with mesh and have "highly breathable lateral mesh inserts" as well as "stretch AirMesh" in the tongue. Though my Bushido II's haven't encountered summer yet, I expect them to stay comfortable like their predecessors. If breathability is your priority, you can find even more breathable shoes, but I've never had concerns about it.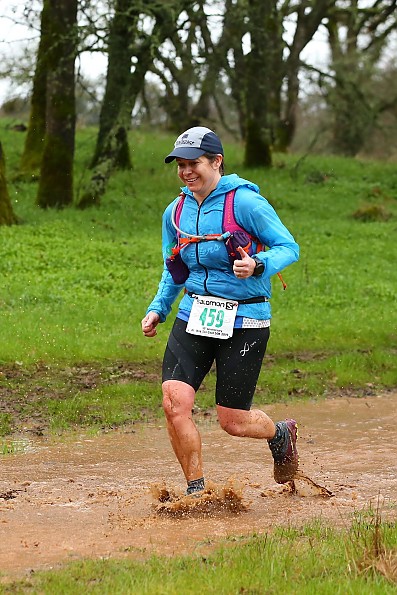 Breathable, but not waterproof

Weather Resistance
The Bushidos aren't waterproof, and that's fine by me. The uppers are made of "AirMesh, Thermal adhesive microfiber and high frequency welded ripstop." The material is marginally water resistant and sheds the typical small amounts of moisture one encounters running outside on trails.
If you step into a puddle your feet will get wet. Your feet also will dry out eventually. And if you step into water that is deeper than your trail runners you'll get wet anyway (see picture below). So, I prefer no waterproofing.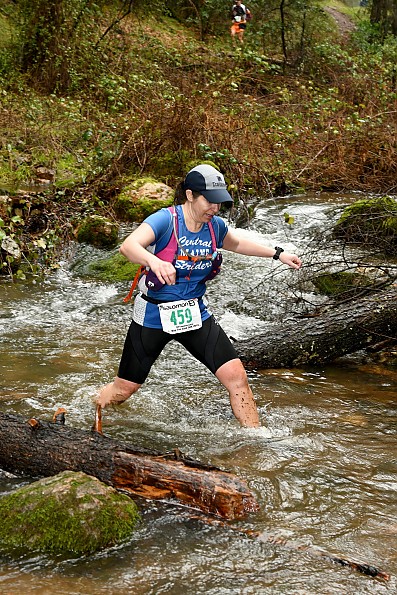 If water resistance is important to you, La Sportiva offers a number of its mountain running shoes in Gore-Tex versions (for example: Akyra GTX, Kaptiva GTX, Lycan GTX, or Wildcat GTX). They also offer the unisex, cold-weather Blizzard GTX and all-weather Uragano GTX—both of which I covet, but they only come in unisex fits. 
If La Sportiva made an additional waterproof Bushido model I'd consider it for winter running.
Durability
I've worn this first pair of Bushido II's for more than 100 miles so far. They have covered snow and ice, dirt, mud, and rocks. They're dirty, but they are still in good shape with no signs of wear or tear to the uppers' welded ripstop. The uppers on my previous Bushidos all held up well, and I expect to run and hike in these for a few hundred more miles.
Use
I've used Bushidos regularly for trail running, winter running, and day hikes for the past five or six years. Cumulatively my pairs have traveled hundreds, possibly thousands, of miles. I've worn them for trail races from 3K to 100 miles, and mostly on runs in between. I also wear them for easy and moderate day hikes here in Maine. For more technicality I'll switch to another trail runner or hiking boot.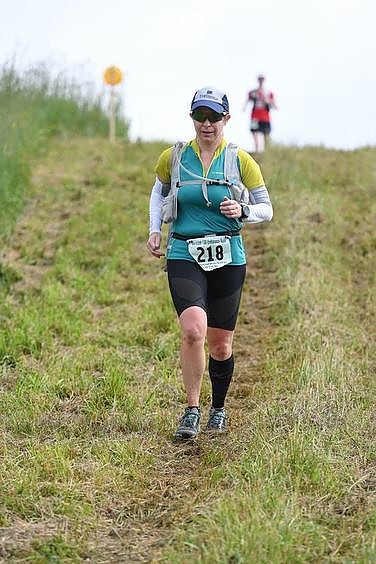 Best For
The Bushido II is a comfortable, solid trail runner with great traction on wet or dry terrain. I'd recommend it to other trail runners and hikers as an everyday, all-around trail shoe. If you want lots of cushion and protection or weather resistance look elsewhere, but I find them more than adequate for my regular trail runs and races in Maine. If you're already a fan of the original Bushido, don't have any reservations about switching to the Bushido II.
Despite some changes, the La Sportiva Bushidos remain my favorite trail runners after more than five years of year-round use.
Background
I've worn running shoes for three decades. I currently also have Brooks road-running shoes and several other pairs of trail runners from La Sportiva, as well as Altra. Brooks Ghost (for road) and La Sportiva Bushido (for trail) are my go-to running shoes.
Source: received for testing via the Trailspace Review Corps (Bushido II sample for testing and review provided by La Sportiva; all previous and future Bushidos purchased at retail.)

Your Review
Where to Buy
Help support this site by making your next gear purchase through one of the links above. Click a link, buy what you need, and the seller will contribute a portion of the purchase price to support Trailspace's independent gear reviews.
You May Like
Specs
Men's
Price
MSRP: $130.00
Current Retail: $92.99-$155.00
Historic Range: $88.81-$155.00

Weight
10.50 oz / 298 g

Sizes
38-47.5 EU

Last
Racing Lite Ergo

Fit
Performance

Upper
AirMesh / Thermal adhesive microfiber / High frequency welded ripstop / TPU toe cap

Lining
Mesh / Highly breathable lateral mesh inserts / Stretch AirMesh in tongue

Midsole
4mm LaSpEVA/ Compression molded MEMlex / 1.5mm dual-density compressed EVA rock guard in forefoot / TPU STB inserts

Sole
Dual-Density FriXion XT 2.0 V-Groove2 with Impact Brake System

Drop
6mm

Stack
Heel: 19mm/ Toe: 13mm

Cushioning
Midsole- 35A

Women's
Price
MSRP: $130.00
Current Retail: $95.37-$155.00
Historic Range: $69.75-$155.00

Weight
8.8 oz / 250 g

Sizes
36-43 EU

Last
Women's Racing Lite Ergo

Fit
Performance

Upper
AirMesh / Thermal adhesive microfiber / High frequency welded ripstop / TPU toe cap

Lining
Mesh / Highly breathable lateral mesh inserts / Stretch AirMesh in tongue

Midsole
4mm LaSpEVA/ Compression molded MEMlex / 1.5mm dual-density compressed EVA rock guard in forefoot / TPU STB inserts

Sole
Dual-Density FriXion XT 2.0 V-Groove2 with Impact Brake System

Drop
6mm

Stack
Heel: 19mm/ Toe: 13mm

Cushioning
Midsole- 35A

Kids'
Price
Current Retail: $63.75-$85.00

Recently on Trailspace