Kahtoola MICROspikes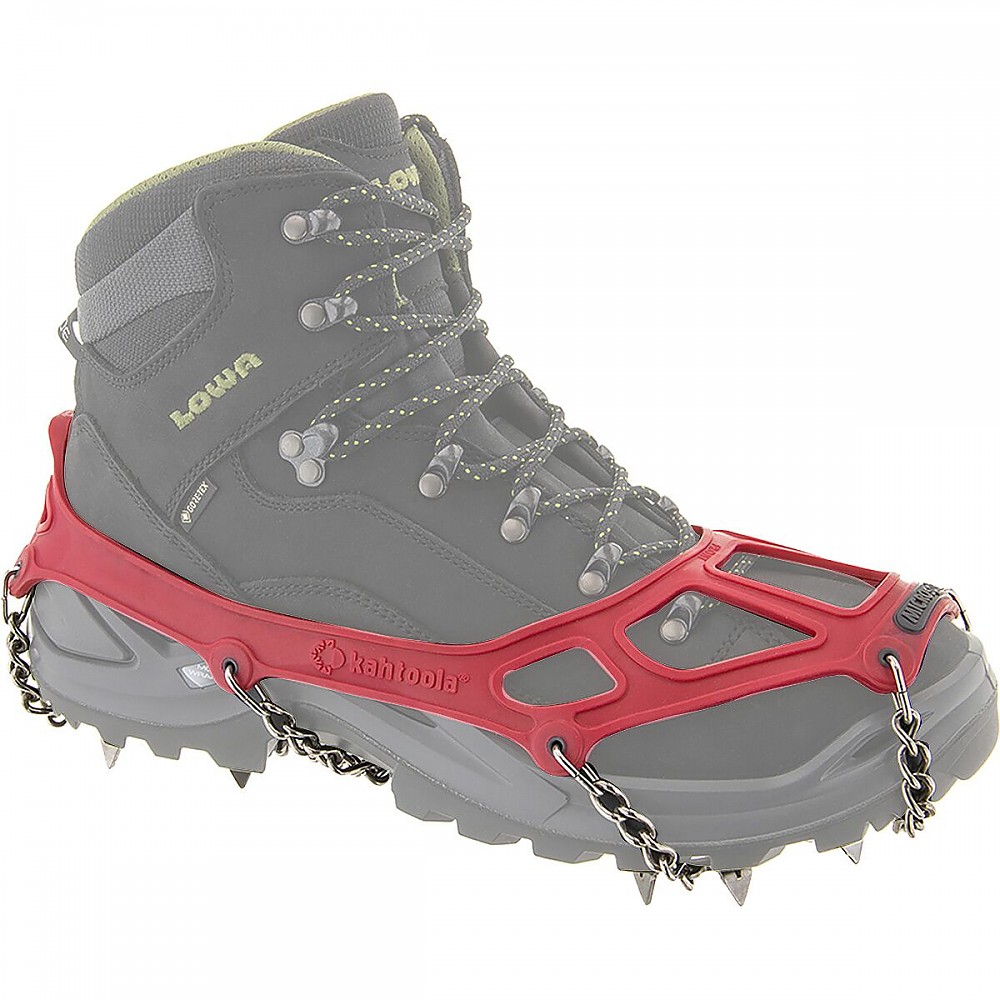 2020 UPDATE: For 13 winters and counting I've relied on Kahtoola MicroSpikes traction devices to keep me upright while running on snowy and icy trails and camp roads. The 12 stainless steel cleats under each foot provide confidence-inspiring traction on hard pack, ice, and snow; the devices are straightforward to use and easy to get on over my trail-running shoes; a pair is lightweight and small enough to take along for just-in-case use; overall MicroSpikes are durable and well made.

That said, the stainless steel cleats will dull over time, depending on how often they meet rocks and pavement. They do not replace crampons for technical hikes. In the right (or rather wrong) conditions, I occasionally get snowballs underfoot. While overall quite durable, my current pair suffered a break in its harness after two winters.

MicroSpikes are an essential part of my winter running kit that I take for granted. I recommend them as a solid, dependable choice for other winter trail runners, hikers, and walkers.
Pros
Reliable, aggressive traction (the entire point...so to speak)
Easy to put on and take off, even with cold hands and gloves
Secure, stay in place once on
Durable construction*
Wide size range from Small (men's 5-8/women's 6-9) to XL (men's 14-16) fits most people and footwear (running shoes to hiking and winter boots)
Cons
At $69 there are cheaper traction devices (but I think these are well worth it to stay upright)
Won't stay sharp forever (not a con, just a fact)
Occasional snowballing underfoot in warmer temps
*Not indestructible, the harness on my current pair broke after two winters, but that was due to a temporary quality issue which Kahtoola says has been resolved.
I received my first pair of Kahtoola MicroSpikes way back in the winter of 2007-08, and quickly became a convert to the new, stretchy, red traction devices. I'm now on at least my fourth pair and have run and walked thousands of icy, snowy, winter miles with MicroSpikes underfoot. 
MicroSpikes are super rugged, burly, and easy to use. Not only do they inspire confidence from the get-go, they deliver. I've recommended them to many people and bought pairs for myself and family members. Plus, you can now get them in red or black.
Construction
MicroSpikes have a rugged, aggressive design for a non-crampon traction device. They are well made and constructed with a few key parts. 
Elastomer Harness
The red or black elastomer harness that fits over your shoes is constructed from a durable TPE (thermoplastic elastomer), basically a strong, stretchy, rubbery plastic. Kahtoola says the material will remain stretchy in cold temperatures down to -22°F (-30°C). I've never had an issue stretching MicroSpikes onto my shoes, and have use them in temps below 0°F.
There is no left or right side, however, the front of the harness is labeled for proper orientation. A raised heel tab at the back makes for easy removal. The eyelets where the harness connects to the metal chains are reinforced to prevent tearing.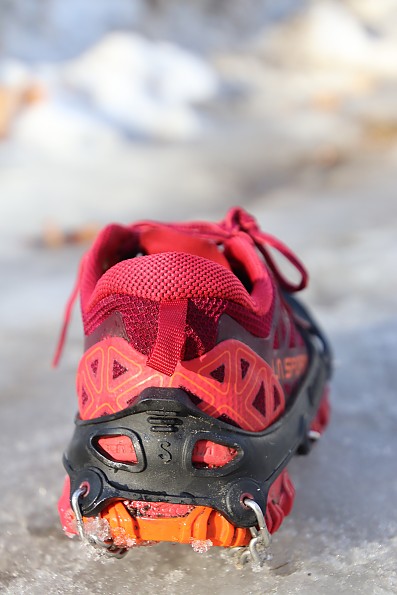 Spikes and Chains

MicroSpikes each have 12 stainless steel spikes per foot mounted on interlocking chains of stainless steel. Each spike, or cleat, is 3/8-inch long. I let mine air dry between uses and don't store them away wet, and I've never had any issues with rusting. At the end of their life, you can take them apart to recycle the stainless steel portion of the MicroSpikes. 
Each pair of MicroSpikes comes with a small tote sack for storage. I don't use the tote in-between outings since that would prevent the MicroSpikes from drying. I occasionally use it to stow a pair on the back of a running pack though or when packing them for travel. You also can buy the tote separately for $10, if you lose yours. It's good that Kahtoola includes the sack with the MicroSpikes, but I'd probably just look and see what extra storage sacks I had lying around before buying another.
Sizing
MicroSpikes are offered in four sizes from small (men's 5-8/women's 6-9) up to XL (men's 14-16). Kahtoola's size chart also has a helpful selection tool using your size, gender, and shoe type (running shoe versus insulated boot for example) to find the right size for your use. Each size fits several sizes of footwear, so they're somewhat adaptable.
I wear a size 7.5 women's shoe and have used size small MicroSpikes on numerous La Sportiva trail runners, plus Oboz hiking boots and even insulated Sorel winter boot (a tighter fit, but doable). I also have a pair of Sorel pac boots that are quite beefy; smalls go on with some effort, but are at their limit, mediums go on easily, though you'll want to make sure there's no looseness.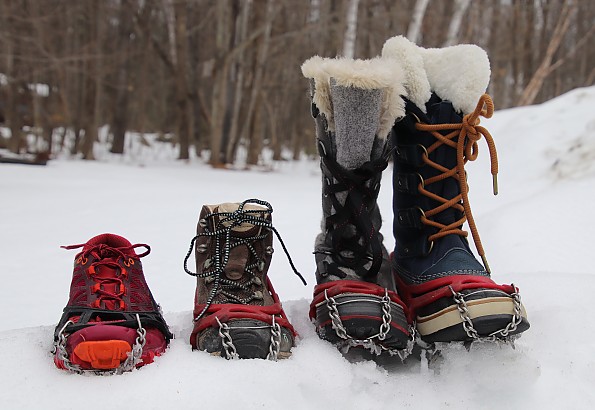 Small MicroSpikes on La Sportiva trail runners, Oboz hiking boots, Sorel winter boot; medium MicroSpikes on Sorel pac boot.


The size of the MicroSpikes is labeled on its heel tab, which is helpful when you have a pile jumbled together in a box by the back door. Having stopped to put MicroSpikes on midway during a run and finding that I've grabbed my spouse's mediums when I needed smalls is frustrating. There's no left or right, but you will want two of the right size. So check the label.
Fit
MicroSpikes are straightforward to get on and off, even with gloves on. Find the front (it's helpfully labeled), put it over the toe of your shoe, and stretch the device back around and over your heel. Make sure the harness is pulled up on the sides and everything is in place. Go forth and run on ice and snow.
The fit is low profile and secure and I rarely need to readjust or even notice the MicroSpikes once on, unless the terrain has become rockier underfoot (in which case you may want to remove them to protect the cleats and for your own comfort). They have stayed in place for hours of running at a time. A few times with older models, which had a metal toe bail (now gone), the front drifted an inch to the side and I'd realign it. That said, that slight movement never affected traction or comfort and it hasn't happened with my newest pair I've been using for three winters. 
I'm not quite balanced enough to put on MicroSpikes while standing with no support. It's quicker and easier to just take a seat on a snowbank or the ground. But, once the MicroSpikes are on I don't give them a thought.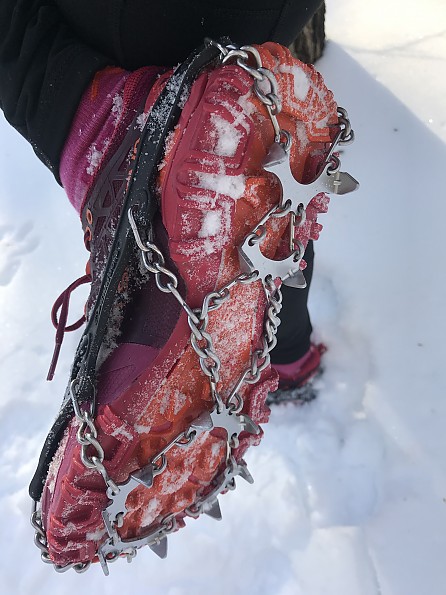 Traction
This is the entire essence and purpose of traction devices. And the MicroSpikes deliver.
MicroSpikes grip well on ice, on snow, on mixed ice and snow, on hard pack, and so on thanks to 12 aggressive stainless steel cleats. I have run across smooth ice covered with a dusting of snow, the ultimate slip test for me, and felt completely confident in my stride. I regularly use mine to run on snowmobile trails, hiking trails, camp roads that may or may not be plowed, dirt roads (which should be called snow roads in winter), and so on.
The very first winter I used MicroSpikes I was pregnant, and instead of running on icy trails and dirt roads, I walked a lot. Even in my last trimester of pregnancy I had no worries walking on ice or slippery packed snow in my MicroSpikes.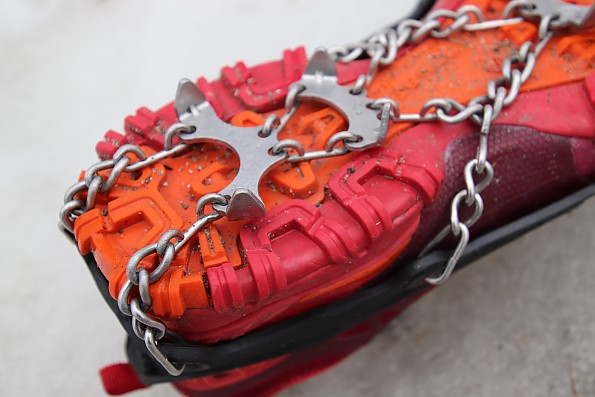 The only issue I have with the traction is that the cleats will not stay as sharp year upon year, which is not a flaw, just a fact. Avoid using them where there is pavement (naturally) and rocks (not always possible) and they will stay sharp longer, most likely at least several seasons depending on the conditions and terrain you encounter. Unfortunately, this isn't always possible with variable conditions. Sometimes you have to make tradeoffs (keep spikes sharp or keep on traction for intermittent ice patches).
Even though the cleats on my current pair are dulled after three winters, they still grip well enough for most running. I'll be ready for a new pair next winter, but will hang onto an older pair for times when I expect to encounter rocks and/or pavement along with ice and snow (they become my "rock traction," just like one has "rock skis").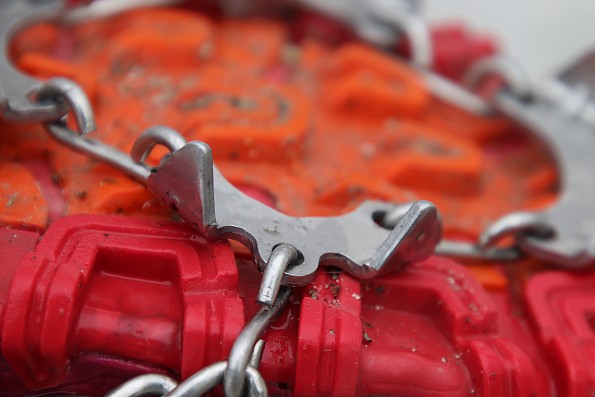 The spikes will dull over time; these are on their third winter.


Use
Kahtoola recommends MicroSpikes for hiking, trail running, and ice fishing when conditions include ice, packed snow, and rocky with mixed snow and ice. With the exception of ice fishing, that describes my use.
I use mine primarily for winter running in Maine on trails, snowmobile trails, plowed and unplowed camp and dirt roads, and occasionally on the sides of roads where there is slick ice and snow (again, keep them off pavement to prolong use or consider NanoSpikes). I also take them along on late fall hikes when crampons are unnecessary, but where I might encounter stretches of icy trail at higher elevations.
I think MicroSpikes are best for trail running and not-too-technical hiking where there is ice, packed snow, and mixed conditions. I also think they are a great option for kids, since they are easy to use, perform well, and go down to smaller sizes.
Below you can see my then 8-year-old son wearing an older pair of size small MicroSpikes over his winter boots. This was during a spring hike up a local mountain followed by a ski down.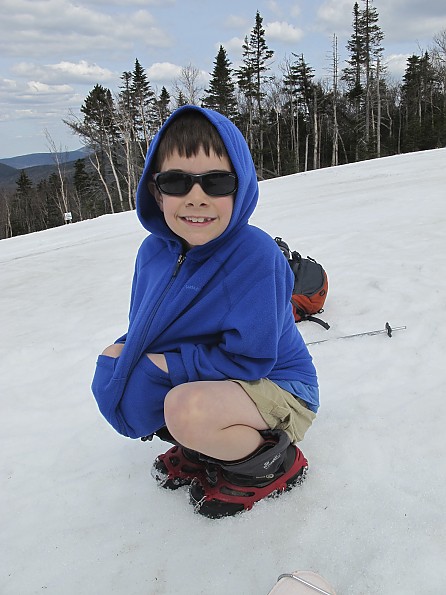 A quick note on snowballing and snow buildup: Every so often, when conditions are just right (or wrong), such as temps just above freezing with heavy wet snow, you can get buildup underfoot. It's not a common issue, especially if I stay in motion, but it is annoying if snow starts balling up. Whacking my feet dislodges the snow. If the snow is that soft, I could take off MicroSpikes and run back down the trail without the traction. It's usually not a big deal, but is worth noting.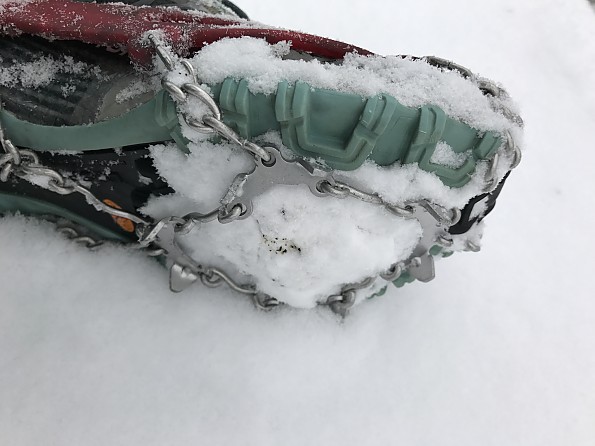 No snowballs yet, but the start of snow buildup on an older pair of MicroSpikes
Packability & Weight
At 11 to 14 ounces per pair (depending on size) you can find lighter, less aggressive traction devices or far heavier, technical crampons for hiking or mountaineering. MicroSpikes hit a sweet spot in the vast range of non-technical running, walking, and hiking. They pack down so they're easy to bring along if you might need them without weighing much or taking up much room.
If I'm running and don't need them right away, I strap them on the outside of my running pack. Make sure they're securely attached and that they don't jingle loosely and drive you nuts. Obviously, don't put the cleats near your hydration reservoir. If it's a short distance till I need them, I just carry them until I put them on.
If in doubt, I bring them. I've never regretted carrying MicroSpikes with me, even when I didn't end up needing them. I have regretted not having them though on a few occasions (ouch).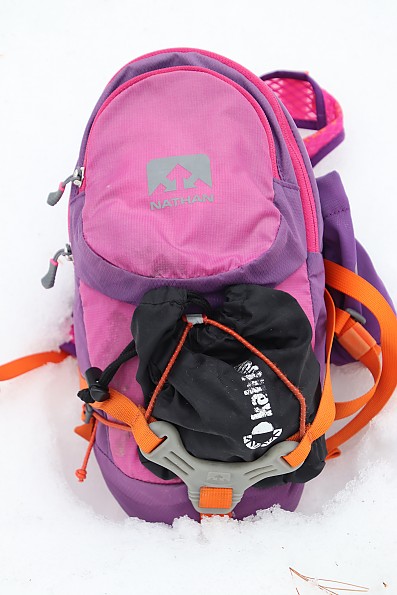 Packed in the tote sack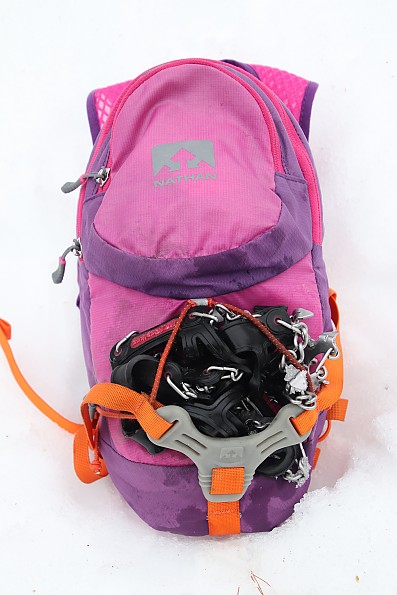 On the back of my running pack


Durability
I'm on my fourth (I think) pair of Kahtoola MicroSpikes in 13 years of use. Depending on winter conditions, mine get used multiple times a week over three to four months of the season. Each pair has had hundreds of miles put on them and overall they have held up very well. They are strong, durable, and well-constructed. The stainless steel has never rusted or broken apart.
For all of the abuse they take under my feet they continue to perform as expected.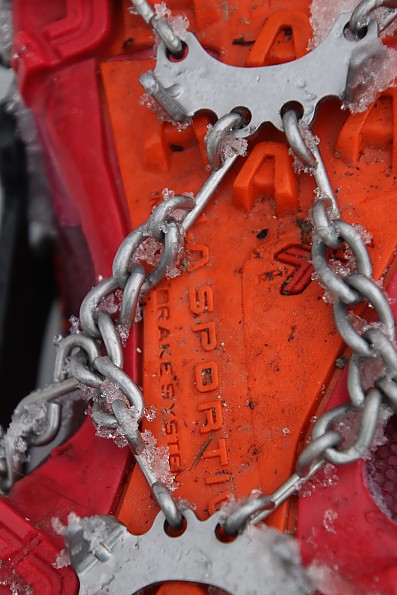 My current pair is my first to ever have a failure, and I'm still using them. As you can see below, the harness broke on the side behind an eyelet. At this point the MicroSpikes are still usable. Plus, I've worn this pair for a lot of miles over the past three winters, including numerous long runs in winter while I trained for a 50K.
Upon hearing about the break, Kahtoola confirmed that they had a temporary quality issue which has been resolved. Based on my long-time experience I believe this likely was an isolated incident and isn't typical of my MicroSpikes experience. At this point, with no other failures, I plan to keep using this pair and to buy another pair next winter. I'll keep an eye on durability though.
Comparison
In the past two decades the number of traction devices has increased. Runners, hikers, and walkers have lots of options, with various degrees of quality and aggressive bite.
Kahtoola has broadened its own offerings to include NanoSpikes for urban running and walking, as well as the K-10 and KTS crampons for hiking and non-technical mountaineering (see chart below). I purchased a pair of NanoSpikes a few years ago for when I'm on roads with chances of black ice. They have a fairly limited use for me here in Maine and are rarely used. However, I can see the appeal for urban runners and casual walkers for whom the heavier, spiked MicroSpikes would be overkill. (Check out more top-rated traction devices.)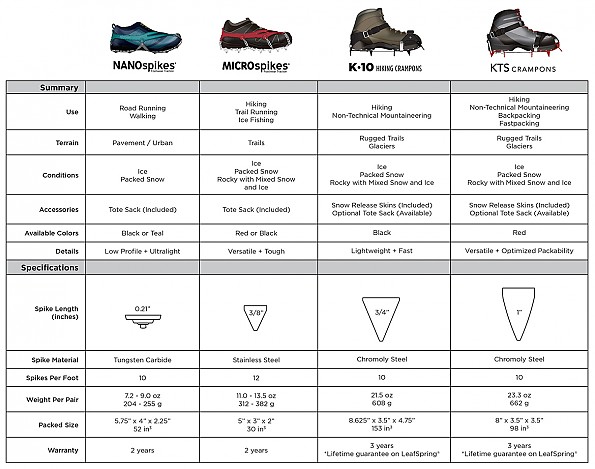 MicroSpikes do not replace crampons. I have crampons suitable for winter hiking, mountaineering, and ice climbing. These are not them. That should be obvious. If you think you need crampons get a pair. (Check out top-rated crampons.)
MicroSpikes are a great option for running, not-too-technical hiking, and carrying along in shoulder seasons for just-in-case use. Don't rely on them for traction on summits above treeline in mid-winter.
Conclusion
As mentioned, I've been using Kahtoola MicroSpikes for 13 winters and counting. I am still very happy with their performance and consider them an essential part of my winter running gear. I would buy a replacement pair immediately if something happened to the ones I have.
MicroSpikes provide great traction on ice and hard packed snow. They are easy to get on and off and comfortable to wear for long miles. They are lightweight and small enough to strap onto a pack for just-in-case use, and are durable and well made (despite my recent harness break). I've never regretted having MicroSpikes with me on a run or hike, whether or not I used them.
If you're a winter trail runner, hiker, or walker who encounters ice or slippery snow, but doesn't need crampons,  check out the Kahtoola MicroSpikes for their aggressive, secure traction and ease of use.
 Some past pairs of Kahtoola MicroSpikes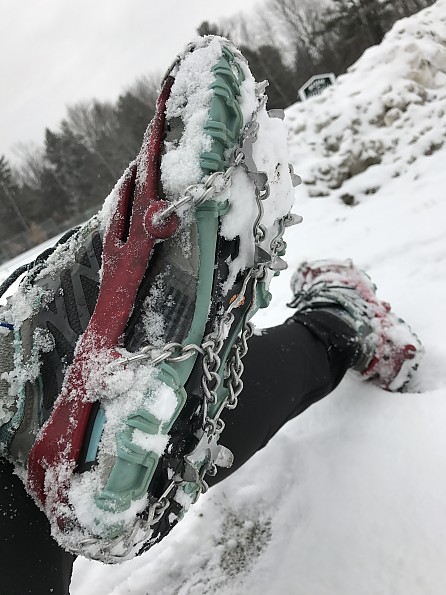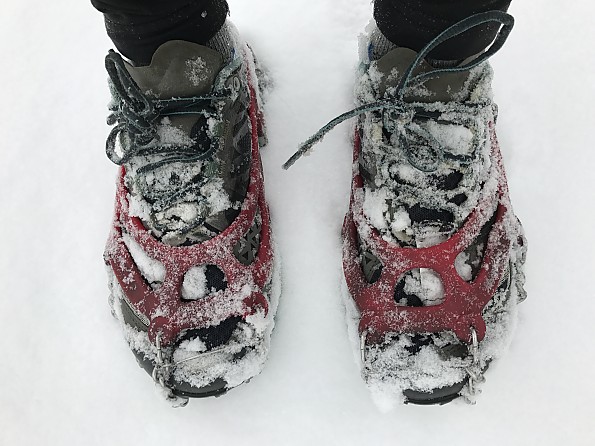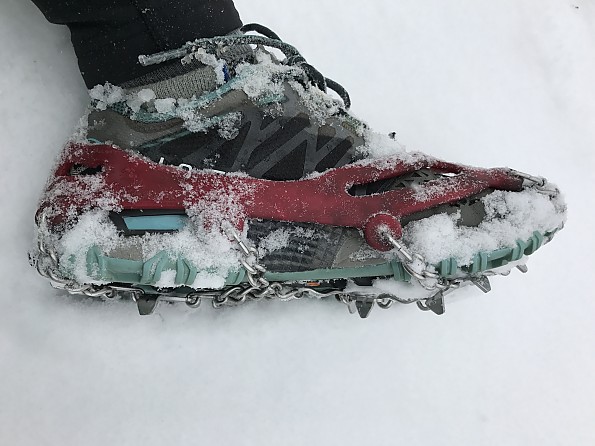 Here's another option...
Background
I've been using Kahtoola MicroSpikes since the winter of 2007-08. I used other traction devices previously and have tried other brands occasionally since. I've had at least four pairs of MicroSpikes so far and use them primarily for winter running on trails, snowmobile trails, and camp/dirt roads, as well as for non-technical hikes that might have snow or ice. They are my first choice of traction device for winter running and each pair has logged hundreds of miles. I also have and have used crampons for hiking, mountaineering, and ice climbing.
Source: received for testing via the Trailspace Review Corps (original sample provided by Kahtoola in 2007; have since bought numerous pairs)

Lightweight traction for winter hiking. A great solution unless you see enough ice or snow conditions that require crampons. Best worn with a boot that has a reasonably rigid midsole and/or partial or full shank.
Pros
Traction
Lightweight
Highly durable
Relatively easy to put on and off
When I threw these into my pack on Saturday, it occurred to me that I hadn't reviewed them. Though the snow held off and conditions weren't icy enough to need them, Kahtoola's Microspikes are like a security blanket—effectively one of the ten essentials for a cold weather hike that doesn't involve crampons.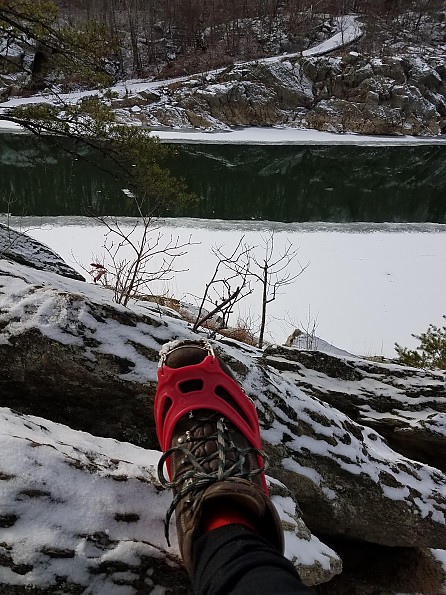 The concept is simple—these are like wearing amped-up tire chains on your boots. The thick red rubber piece stretches around your boot and holds them in place, and they have link chains that attach front and rear spikes that are under your feet. 
My pair is several years old. They are size large and weigh in at 14.4 oz for the pair.  (Kahtoola says a large pair today weighs 13.1 oz).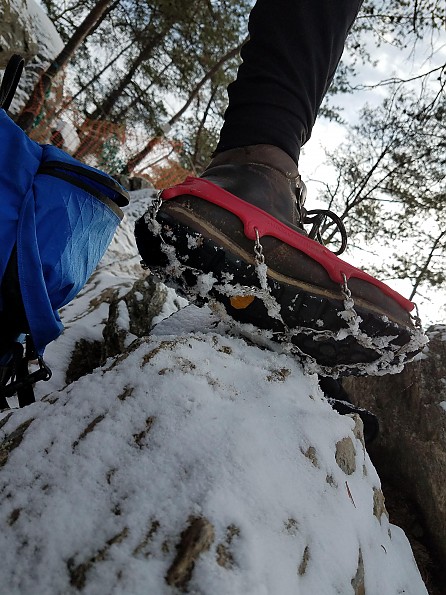 The photo above shows how the bottom spikes look. Note there are pointy spikes both at the ball and heel. I'm wearing them with a pair of Limmer lightweight hiking boots, which is a little bit of a misnomer, because their lightweight is a heavyweight for many brands.
I think the spikes work better with a boot that has a solid midsole and shank; I have worn the Microspikes with trail runners, and occasionally, if you step on hard rock, you can feel the spikes put some pressure on the ball of your foot, like treading on a pointy rock. Also, the rubber piece is quite firm and can feel a little tight worn over shoes with a lightweight upper. All that said, I'll wear them over running shoes on an icy day.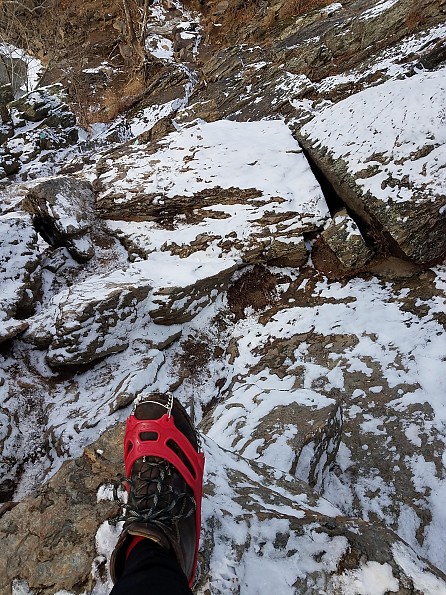 TRACTION is what defines Microspikes. Hiking a trail that's winter-hardened with some frozen patches? Freezing rain and sleet glazed everything over, and you were dumb enough to be out hiking in it? Want to avoid slipping and sliding on a trail with a fresh couple of inches? These are close to perfect. When I bought these several years ago, I compared them to Yaktrax, a somewhat similar product. The Yaktrax were lighter and less expensive. These looked like they would provide better traction.
P.S. Unlike a pair of crampons, you can throw these into your car and actually use them to avoid slipping and breaking your neck on icy days around town.  
These do have limits. If a steeper trail froze into a partial ice waterfall, these have no front points. They have limited value in steeper, deeper, and heavily crusted snow. They aren't designed for true winter alpine conditions.  
DURABILITY is important for anything you're walking on over and over. These looked like they would handle more abuse than the lighter-weight alternatives. If you think about how much abuse the bottom straps of your gaiters absorb, it brings the need for durability into focus. I have experienced no failures in years of use, nor have the points gotten ground up or bent.  

FIT is best evaluated by bringing a pair of boots with you, but Kahtoola's literature is accurate. These size larges fit my size 11-12 shoes and boots well.  
CONCLUSION: It's difficult to find anything bad to say about these. They're simple, they work exactly like you would expect, they're relatively inexpensive, and they are built to last.  
Background
Several years of shoulder season hiking and training.
Source: bought it new
Price Paid: cannot recall

When snowshoes are too much, but you need a little extra confidence on firm snow and ice, these provide the perfect bite.
Pros
Excellent traction on ice and firm snow
Easy on, easy off
Fits a wide variety of footwear
Very durable and well constructed
There I was at the Echo Lake Sno-park near Lake Tahoe. I hadn't been snowshoeing in a couple of seasons, and had vowed this would be a winter I would get out! And it was a beautiful day in perfect conditions. I pulled out my trusty MSR snowshoes, and as I put them on, I realized that the binding straps had some cracks in them, and all four of them snapped before I even got them onto my boots. Now what????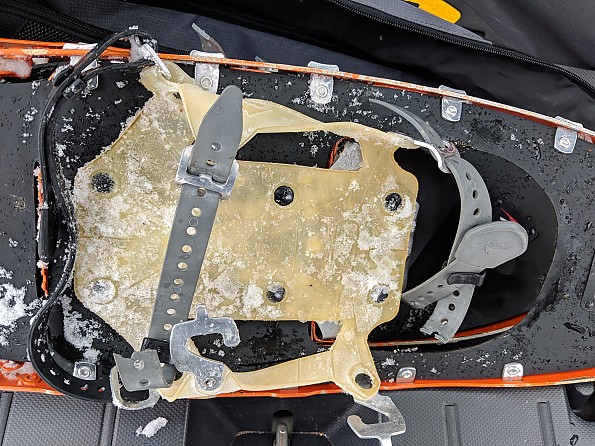 Micro-spikes, that's what! Fortunately, whenever I go to the snow, I take a snow kit, which includes powder baskets for my poles, my Snow Claw, an emergency shelter kit, and my Kahtoola Micro-spikes. The snow this particular day was pretty consolidated and firm, so I could easily substitute the spikes in for the snowshoes. They consist of a large "rubber band" which stretches around your footwear, and twelve 3/8" stainless steel spikes connected by stainless steel chains.
The Micro-spikes are super easy to use. The rubber strapping stretches right around your footwear, and is super flexible for an easy fit. I've had no trouble fitting them (size XL) around my big size fourteen boots, and once fitted they are pretty stable.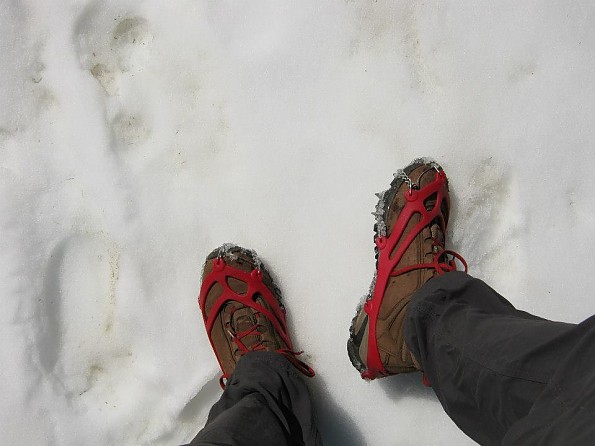 Traction is exceptional in all kinds of conditions. Walking across an icy parking lot, walking in crunchy, icy snow, they work fantastically and add a lot of confidence. Though not designed for full on mountaineering (get regular crampons), I have hiked up and down moderate slopes in them without worrying about slipping and falling.
The Micro-spikes come with a burly nylon carrying bag, so you don't have to worry about the spikes damaging anything else in your pack. The whole thing weighs less than a pound, so there's no excuse not to pack them, if conditions warrant.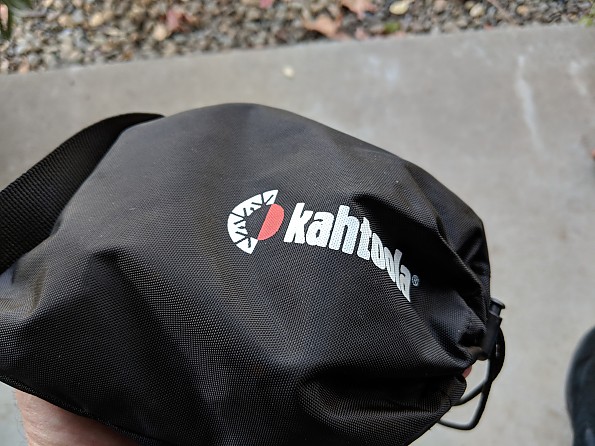 I have had these for about four years, and have used them several times in a variety of conditions, and they still work like new. The stainless steel shows no sign of rust, and the spikes are still sharp and ready to bite. I would totally recommend them when just plain boots aren't enough, but snowshoes or full crampons would be overkill.
So my snow hike at Echo Lake wasn't a total loss as I worried it might be. It turned out to be an exceptional beautiful day in the mountains, thanks to my Micro-spikes.
Source: bought it new
Price Paid: $35

In northern Vermont, our "between seasons" hikes can be marked by variable conditions, including frozen ground, ice, glazed snow, or anything else Mother Nature throws at us. Footing can be quite treacherous, even on local trail networks; the Kahtoola Microspikes have allowed us to hike longer hikes, more challenging hikes, and in conditions where without the spikes, we would have stayed at home.
Pros
Easy to put on
Reasonably priced
Seem durable
Choice of colors (2)
Cons
Largest size is still a bit small for a size 14 boot
Some clumping of snow underneath at a specific temperature range
The spikes are easy to put on; back is marked clearly, and the front has a bar (though sometimes I do not get the bar exactly centered). The size medium fits my size 9 men's boots; the largest size does not really fit a large size 14 men's boot.
The spikes actually exceeded our expectations; the traction they provide on even steep climbs is remarkable, for such a basic design. After a winter's use of over 40 hikes, they still look brand new.
The spikes are easily attached to my backpack straps with a carabiner, in case they may be used later in the hike. In the spring, we had some hikes where we started off in dry terrain, but then encountered ice or glazed snow. It was no effort to stop and put on the spikes. Since I have had knee and arm injuries from falls, it was reassuring to be able to confidently tackle sketchy conditions.
I did find that on two separate hikes, in temperatures around 40-45 degrees, that if the snow conditions were "just so," there was a lot of clumping and build-up. Instead of hiking on a 4-6 inch build up of snow, I just whacked the spikes with my trekking poles, and the snow dislodged. I know of others who have used WD40, but we have yet to go that route. It was such an infrequent occurrence, and not a particular fault of these spikes, that it does not change my opinion.
This winter was a particularly cold, and hence, icy one for our area. I encountered more people on Kahtoola spikes this winter, than in any previous year. We all raved about them!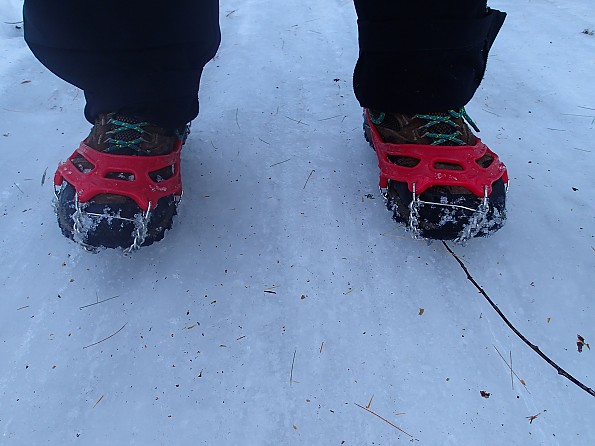 Source: bought it new
Price Paid: $60

Good device in between a Yaktrak and mountaineering crampon.
Pros
Stay in position
Very durable
Steel vs aluminum spikes
I used a pair of the very inexpensive YakTrax exactly one time and decided to find something more substantial after the YakTrax kept getting dislodged from my boots while hiking relatively tame trails.
In my search for a better traction device, but not a full-on crampon, I found the Kahtoola Microspikes.
I've used a set of Microspikes now for around three years. Lots of rough, steep, rocky, icy, and snowy off-trail stuff here in the foothills of Colorado. I'm also 190 lbs and pretty rough on gear.  
During this time I have had no failures, no unexpected wear, or really any issues at all aside from some balling in warm snow conditions.  
The spikes are steel which, while being heavier than aluminum, are far more durable when hiking on mixed, rocky, icy terrain. I haven't felt the need to sharpen them yet. 
The crampon stays put on my boots, even when trail running, jumping and climbing on really steep terrain. For context: Boots used have been Scarpa Kailash, Scarpa Mustang (backpacking), and Lowa Vajolet (light mountaineering). All sizes 11.5 (US). The Microspike size is Large.
The only issue I've run into is hiking in snow in warm conditions (around 50 degrees). I've experienced so much balling that I normally just remove the Microspikes in these conditions. I may experiment with some DIY anti-balling solutions.
I take these with me on all non-technical 14ers (when a mountaineering crampon isn't needed), elk hunting, and winter hiking. Great to have in a pack, just-in-case, for some sketchy conditions.  
Bottom line: These are FAR better than the standard YakTraks in both retention and traction and have proven to be very durable and very effective. Well worth the price IMO. It's a great device that falls in between a standard YakTrax and a lighter (i.e. flexible) mountaineering crampon.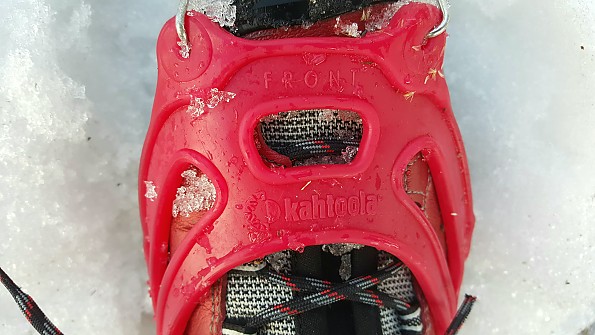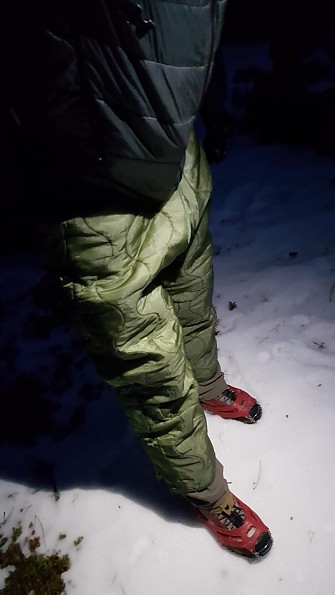 Source: bought it new
Price Paid: $70

I have tried many, many traction solutions to navigate our Rocky Mountain winters. For all around usefulness and dependability, I give the Kahtoola MICROspikes the highest score. 
The stretchable rubber frame is both its greatest strength and weakness. Like Yaktrax, the MICROspikes can shift on your foot on off-camber trails. The difference is that the MICROspikes only need to be readjusted into position every 30 minutes or so.  While the Yaks need it every 5 minutes when brand new and almost constantly when worn out.
The stretchable frame makes one pair work on my running shoes, hiking boots and snow boots.  The construction is much heavy and better quality compared to Yaks.  After one and a half winters on the MICROspikes, the fit is still true and tight on all my shoes.
Moist snow in near freezing temps has a tendency to clump and refreeze in the chains making a big lump of ice under foot. Same issue happens with cheapo strap on single cleat devices. The clump can usually be freed with a couple toe taps into a tree or the opposite heel. 
The MICROspikes are easy to get on even in very low temps (0 - 10 F). This is different than the Yaks which become extremely stiff in temps below 10 F and very difficult to pull on with frozen fingers.
Easily packed and clipped to pack exterior for storage they are light enough to always be included in the gear selection.  I can get them on and off with gloved hands quickly.
Traction is phenomenal with the MICROspikes:
Ice: the spikes dig in and hold confidently ascending and descending
Packed snow: can slip sideways on extreme (+45 degree) off camber steps but are generally stable for and aft
Loose snow: these don't really have any affect greater than good snow boot soles in powder but make the transition from powder to ice almost unnoticed
Rocks:  although not good for the spikes, they do grab well on occassionally exposed rocks and don't slip off as chain only devices can
Dirt and sand:  any moisture will cause loose soil to clump and refreeze in the chain cross patterns requiring a quick toe tap to remove
Overall, these are the best all around winter traction device I have ever used.  Yes, there are better solutions for specific extreme applications (crampons for deep and steep, sheet metal screws for ice running).  But MICROspikes are the only single device that I carry constantly during winter treks now. 
Price Paid: $60

Great for traveling trails that have iced over from being packed down by snow and turned to ice. The fit is snug, and construction excellent. Each size fits a surprising range of shoe and boot sizes without making your feet feel crushed by a binding system.
Pros
Easy to get on and off
Stays on in use.
Grip well when walking trails.
Cons
If you heel strike, there will not be initial grip.
But heavy
I bought these because I saw many on a mountain trail with them dangling from their packs. The trail had ice and snow (early season winter conditions) and I felt I would have had more confidence with some on as we scrambled up and down the snowy and icy rock strewn hike / climb.
I own Yaktrax Pros, and feel that these are superior for trail use. I think for running, the other brand would suffice. The actual spikes I think create odd pressure points under foot if you were running.
I really think these are well engineered. The plastic / rubber gasket that runs the perimeter of your foorwear fits well, and adjusts for a suprisingly wide range of footwear. My wife wears a women's 9 boot, and I wear a 9,5 men's boot, and we both use a medium Microspike.
Microspikes are like cleated snowchains for your feet. From the rubber ring, there are chains at various points for the front, sides and rear of the ring. The chains connect to spikes, and thus create flexible non-bunching mega traction under foot. Works for boots and runners. System type xc boots too, but not sure about my 75mm duck bill ski boots. Not likely.
Finally, they come in a choice of two colors; red or black. There's no left or right, so no need to pay attention to which foot uses which Microspike. Just look for the tab for the rear, or the funny metal spacer for the front, and you're good to go.
Source: bought it new
Price Paid: $54

Excellent, well-made, stainless-steel spikes. On securely. Rubber stays flexible. Sure-footed everywhere. Do not pop off.
Pros
Design
High quality
Stainless steel spikes
Cons
A little difficult to put on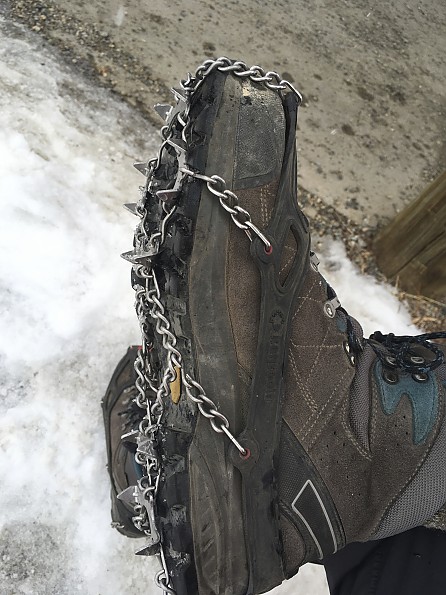 Well, winter's not done yet and you're not the type to hide in your cabin. Even spring on the mountain trails is icy.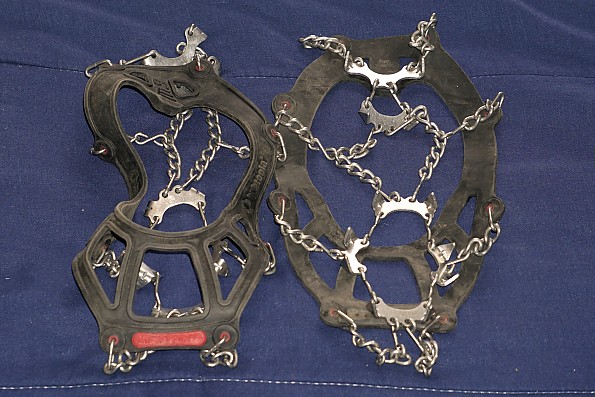 Buy the right thing—Kahtoola Micro Spikes.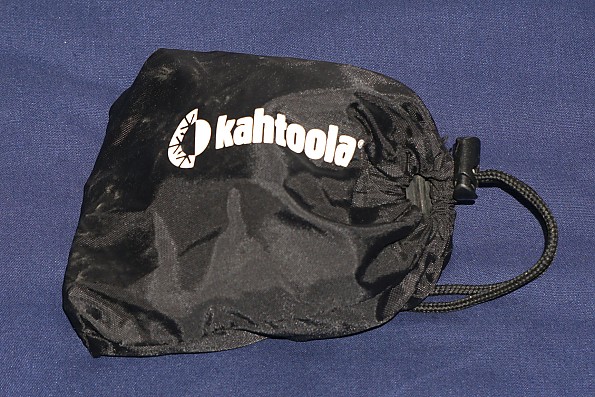 I tried others that seemed good, but they popped off and down I went. Never had a problem with these. A couple of weeks ago I hiked on a snowy trail and on the way back, my footprints were covered in three inches of snow. Even on the steep slippery parts, the Kahtoolas held well. They are a little hard for me to put on, but most folks will have better hand strength.
These are not crampons, but get you where you want to go on the trails or in the icy rain.
Background
I'll hike on the trails in almost any weather. Because they are popular they get icy.
Source: bought it new
Price Paid: $78

Best all around traction device for icy and winter hikes.
Pros
Good traction
Secure
Heavy duty
I bought myself a pair of Kahtoola Microspikes after moving to New Hampshire for school. There are many days where I find myself on hikes that require more than bare boots, but less than a full-on crampon.
Most summits here are coated with rime ice/snow for a good portion of the year, even while the trails are free of snow. For these situations, I find having the Microspikes is not only helpful, but an essential safety tool in the mountains.
The Kahtoola Microspikes are easy to put on and, if you put them on correctly, will not slip off your foot. After the first time I put on my Microspikes I felt like Spiderman. These things provide an amazing amount of traction, given their small packed size and ease of use.
After a winter ascent of Mt. Lafayette this weekend, I feel very confident in saying that these are an essential piece of equipment to carry when you are expecting ice and snow.
Although I have not owned my Microspikes for too long, they have held up well to the frequent day hikes and occasional overnighter, and I do not foresee any durability problems in the near future. One tip for purchasing is to make sure to pay attention to the sizing of these devices, as it can be a bit tricky getting it right. I don't understand how these simple pieces could cost so much, but they are most certainly worth it.
If you are live in an area where going for a hike means encountering ice and snow, I believe that everybody from stroller-carting parents to experienced mountaineers will find this a useful device. 
Source: bought it new
Price Paid: Around $60

My wife and I spent a week in the Smokies at the Wilderness Hike Week event January 23-28. The area received several inches of rain then snow followed on the evening of the 23rd, then it was bitterly cold on the 24th.

We led a hike up the Ramsay Cascades Trail on the 24th, which was very icy, especially near the cascades themselves. Others without spikes were having a lot of problem and one person slipped into the creek. Brenda and I had no problem at all. We had eight folks on that hike.

We also used the spikes on the next day's hike up the Alum Cave Trail. We had 17 hikers on that hike. Again, the spikes were great. Six folks without spikes turned around. All of us with spikes proceeded. I think we sold a whole bunch of Kahtoolas on those two days by demonstrating how well ours worked. Thanks.
Cons
On wet snow, the spikes build up a snow pack on the bottom and we have to scrape off the snow every once in a while. In dry snow, they work better.
Background
Only with this kind. We have had these spikes several years and have used them numerous times.
Source: bought it new
Price Paid: don't remember

Easy slip-on, easy slip off, won't fall off. Well designed and durable.
Pros
Silicone band makes it easy to adjust
Excellent traction
Comfortable to wear
I bought two sets of these. They are easy to put on, easy to remove, yet won't fall off thanks to the silicone band they use for the foot mount. Easy to learn how to put them on—I learned in seconds where the front and rear were, and there's a pull tab on the rear to facilitate this.
Silicone and all-stainless construction of the metal parts make these extremely durable for use. The spikes appear to be case-hardened, a necessity for ground contact. I've used these with Vasque, Asolo, and Tecnica boots, and even Merrells. They are comfortable and give you confidence.
The original MicroSpikes only had two spikes for the heel, that makes it slide around somewhat, but this has been corrected with the current version. This old tech with new materials—no need to reinvent things here!
I've had two pairs now for several years, and have used these in sub-arctic hiking conditions, on roads, through mud, just about everywhere you can imagine. A caveat though, don't use them on bare or slick rock for any amount of time. They'll give a false sense of confidence and may slip. And ice? No problem for these! Just another walk in the park!
I keep a pair handy in winter hanging on a carabiner from my belt loop. If I'm not using them, I just put them in a chalk bag or small nylon bag for long-term carry.
Source: bought it new
Price Paid: $55

I have been using the same pair of Micro-Spikes for four years now — winter on icy roads, trails and alpine windswept ridges. In spring or during winter thaws I wear them in areas where there may be mixed ice and mud. The great thing there is they never clog up and only rarely have they balled up snow on the bottom of my boot or shoe.
Pros
Light weight
Tough, stretchy rubber upper let you wear them on any shoe or boot
They are tough. Used in boulder fields, around sharp ice and nothing seems to cut the rubber
Cons
Price at $60 turns some people off.
One pair will fit all your winter shoes or boots.
They are stretchy rubber so they mold to the shoe or boot and you can hardly feel that they are there.
The 'spikes' and chains provide the kind of traction without fail that you can trust your safety and sanity too.
Since they are very stretchy they are easy on and easy off when you need them. They bundle up into a blob no bigger than a baseball so they are easy to carry in a pack or even in a pocket.
I have used them on icy parking lots and road surfaces, crossing or walking on frozen streams and rivers as well as in climbing-scrambling situations on ridges and summits where crampons would not have been the better choice.
Price Paid: $60

Easy to put on, good traction in snow and ice, stays put.
Pros
Easy to put on and stays put
Good traction in ice and snow
Comfort—can't feel the spikes through hiking boots
I love to hike during the winter. What I don't love is falling on the ice. Almost every time I have hiked in snow and ice, I have slipped onto my butt at least once. That is until I purchased the The Kahtoola MICROspikes.
My first time out on them, I had to pave a trail in the newly fallen snow. Not so bad until I got to the steep part. The Kahtoola spikes kept me from slipping even once.
I love how easy the rubber upper attaches to my Ahnu hiking boots. They stay snug even when hiking on uneven rocks. I didn't have any trouble with snow and mud bunching up in the spikes.
The spikes are really comfortable to walk on. I could not feel them at all through my hiking boots. The chains add needed traction. Works well for snow-packed hiking trails and ice. I also used them in mud and they grip really well. I even jogged on a muddy trail with them and had no problem slipping going at a faster pace.
As far as durability, I have hiked several times on them and have not had trouble with them coming apart or the rubber breaking but I haven't had them long enough to comment beyond that.
A great product well worth every cent I spent.
Product review also appears on my blog, Outdoor Adventure Gals.
Source: bought it new
Price Paid: $64.95 less 20% off coupon

The Microspikes are incredibly handy, easy to put on and take off. When they are on the snow, ice, scree are no problem nor do they slow down your hike.
Pros
Easy to put on
Great price
Very durable
Cons
No storage container after wearing
Heavy until you get used to wearing the Microspikes
Higher price than other traction wear
I never had a pair of track shoes or spikes, so I didn't know what to expect. I knew I had to get something because with only my hiking shoes on hard snow and ice I was sliding and falling. I had no traction nor was I having a good time on winter hikes. Even hiking in scree I had traction problems.
Several hikers I was with suggested getting traction shoes, many suggesting the steel Microspikes. They said the cost was a bit of an issue but they never had to buy another pair of spikes again. The pair with the highest review was the Kahtoola brand steel Microspike.
I had a very hilly hike coming up that I knew was full of ice so I ordered the Microspikes just in time. They were very easy to put on and once on I had NO problems with sliding or problems with traction. I was so impressed. We hiked farther than planned because we had the best ice hiking equipment available.
Great product!
Source: bought it new
Price Paid: $65

Great for ice or any hard pack surface. Wear with any boot—hiking, pac boot, and even big, bulky Muck boots. From flat trail walking with your dogs to light mountaineering to ice fishing with your pals, the MICROspikes will NOT disappoint.
Pros
Great traction
Easily fit many boot styles
Easy to put on/take off
Cons
Need to put on front facing forward
Difficult to pull rubber with gloves/mittens on
Outperform other traction devices in the class not considered 10 point crampons. I've used on a variety of surfaces from packed snowmobile trails walking my dogs to Maine/New Hampshire mountains where there is often ice on the trails at different times throughout the year.
Once you slap the MICROspikes on and take a few steps, your confidence soars that you are now solidly connected to the slippery surface. It's difficult to put into words, but you just know you are not going to slip.  Period.
Not to bad mouth other products, but if you've ever used any version of "creepers" or Yaktrax, these are by far superior in all categories: Ease of Use, Durability, Performance, etc. You will likely pay a little more for the MICROspikes, but you will never go back to the "other" products in this category. 
Source: bought it new
Price Paid: $59.99

Everything they're cracked-up to be!
Pros
Can be put on just about any boot
Excellent traction
I bought pairs of these for my wife and I earlier this year, after the disappointing results from cheaper imitators, purchased at big box stores.
We finally tried them out this past weekend. We were hiking to an ice climb, where the approach involves lots of bushwacking, rock scrambling, and walking across the ice from the frozen creek. We'd hiked there a month ago to check on the ice conditions and I'd put on my Black Diamond Cyborg Pro crampons because the mixed scrambling conditions were so sketchy.
After that trip, I ended-up having to sharpen my front points and touch up the bottom points because there was so much mixed scrambling involved. So this time out, we donned our Microspikes and did the approach. They did just fine and I saved my Cyborgs for the waterfall ice.
I was able to stretch my Microspikes over my La Sportiva Nepal EVO GTX boots and they never budged through all of the scrambling I put them through. I may choose to just haul my Microspikes (along with my trusty BD Raven Pro ice axe) to the mountains of South-Central MT this summer and leave my BD Serac Pro glacier crampons at home. I see no reason why the Microspikes wouldn't be just fine for anything that doesn't require front points.
Background
Scrambling on mixed snow, ice, and rock terrain.
Source: bought it new
Price Paid: $70

Kahtoola Microspikes are must have for any winter hiker. Superior traction on some of the iciest trails. Don't leave home without them!
Pros
Superior traction
Great fit on boots
Easy to put on and take off
Very durable
Cons
Some ice/snow build up between boots and chains
This is my first full winter using Kahtoola Microspikes. At first glance they don't look like much but it only takes a few steps to realize how much they help with traction.
I just came off a 13ish mile backpacking trip and I'm VERY impressed with them. I wore them the whole time I was hiking. For the most part we were walking through about 6 to 9 inches of snow but there was quite a bit of ice on the trail as well. Even on snow alone they helped out alot on the up and down hill sections. On ice they are second to none. You can stop on a dime with these things on.
They seem to be built very well. They feel very solid on your feet. After a full season of use, they show little to no wear on them. I would absolutely recommend them to any winter hiker.
Source: bought it new
Price Paid: $47

Kahtoola Microspikes are a fantastic tool to get you safely over light snow and ice. Very easy to pull on over any hiking boots. They also compact into a small space, though you might want to get a separate case to carry them safely in your pack.
Pros
easy to use
great traction
can be used with any hiking boot
Cons
can slip off in deep wet snow
I've used these for one season on snow hikes in the San Gabriel mountains where the snow was not too deep.  They really shine in icy conditions to keep you from slipping and allow you to climb steep slopes that otherwise would be too slippery.
They are light, easy to put on and take off, and collapse to an easily carried space.  They seem very rugged and well made, but I've only used them for one year.
The only problem I've had is when I've stepped in wet, deep snow, one came off my left boot and I had to backtrack to pick it up.
Awesome traction, stay put, fit varying footwear.
Pros
Fit well
Stay put
Durable
Cons
Snow will ball up in right conditions
I wear these on everything from backpacking boots to my minimalist trail runners.  I have run trails on hardpacked snow and ice and they have impressed me with their traction and how well they stay were you put them.  I have great traction on everything from mud and slush to hardpacked snow and ice. They are hardly noticeable on your feet as far as weight goes.  
The only downside is that snow will ball up on the balls of your feet if its the right conditions. This has only happened to me once when the temp was right around 32 degrees on fresh powder. Other than that they are great.
If there was a way to stop the snow balling in those rare conditions these would be the ideal traction aid, but it sucks to have to stomp your feet every few steps to stop from walking on a tennis ball sized wad of snow under your feet.
Source: bought it new
Price Paid: $65

No better traction device made, short of full crampons.
Pros
Amazing grip
Rubber rand stays put
Easy on/off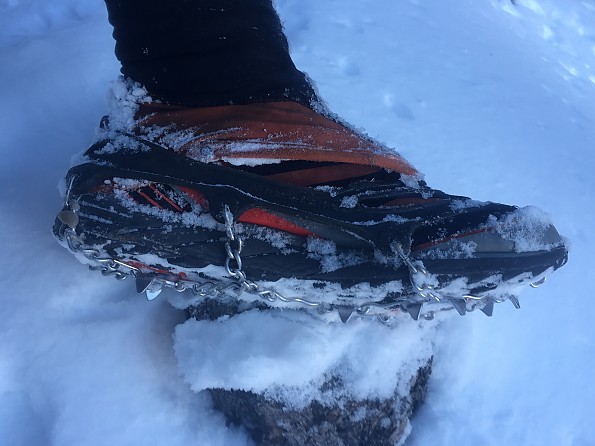 This is my fourth winter season with the same Microspikes and they are now approaching 2,000 miles of trail running. I get some great stares from folks slipping and sliding along the trails as I run by at full tilt :)
I've never had them come off. They easily pull on and off. The only maintenance I do is touch them up with a file about twice each winter.
In addition to trail running they go in the pack for early season hiking when there is a good chance of encountered packed snow or ice.
One of the best products I've ever used!
Source: bought it new

Superior grip and stability
Pros
Spikes really grip
Easy on
Easy off
Cons
Hard to tell left/right
Can gather ice
This product really saved me on my recent trip to the Long Trail, Vt., in January.
Slipped right on, in the dark, -5 degrees with cold numb hands. Just make sure you practice putting them on and off a few times at home so you get the drill.
Once they were on, I didn't slip once on snow, ice, or rock... and this was up Mt. Mansfield for the first 6 miles.
Apply some Maxiglide or other wax to the spikes so as not to gather ice and debris. Also, there is a left and right side, which can be hard to determine when putting them on in the cold/dark.
Great and reliable product.
P.S. 4.5 stars because I never give 5 stars to anything unless it was crafted by a 1000 year old hermit master on a mountain and has mythical super powers enchanted onto it. Nothing is perfect.
Source: bought it new
Price Paid: $60

Would I buy them again? Without a doubt! Would I recommend them? Absolutely!
Pros
Lightweight
Easy to use
Easy to store
Cons
A bit pricey on the front end
I've been using MicroSpikes for about 8 years. I'm a police officer in an area where sudden freezing rains occur and in the span of 30 seconds you go from wet pavement to black ice. They are a life saver. They stow away in my gear bag and take seconds to put on. You can drive in them, which makes rendering aid to stranded motorists quick and easy.
Although a little pricey when compared to other traction aids initially, they last many times longer, which in the long run makes them much more cost effective. Many of my co-workers have bought Yaktrax two or three times while I've been using the one pair of Kahtoolas.
Source: bought it new
Price Paid: $45

I thru-hiked the PCT last year and bought the Kahtoola Microspikes in Lone Pine at a known gear shop. These were amazing.
Pros
They taught me to have confidence in myself and gear.
They were amazing on Forester Pass, Muir Pass, and several others.
Yes, they work great on hiking shoes. I don't know about boots.
Cons
The only concern, as was mentioned before, was if weather warmed up some. Snow would clump underneath. Wasn't too much of a problem. I just needed to tap my shoes against a rock or use my trekking poles.
Be sure to buy the correct size. I learned at the gear shop that the cleats should not be loose. This means that they may be a tight fit, but things wear in over time. Also, they should last around four seasons.
When putting them on start from the top of your shoe and pull/follow the bands on both sides with your hands to the back of the shoe. Do not allow the red band to be below the bottom of the shoe. If it's somewhat difficult to put on, that's normal.
Background
Hiking in the Sierras and Cascades on the Pacific Crest Trail.
Source: bought it new
Price Paid: ~$60-70

Absolutely the best for icy trails or on an ice walk in a frozen canyon.
I've had mine for a few years, and they're still not wearing out. The crampon spike are a good 1/2" long, and they stay sharp for quite a while. These are required when I take groups to do the Ice Walk at Maligne Canyon in Jasper, and they work both on the ice itself and on the steep and icy trails at the top on either side.
The other choices are to either go to a full crampon (okay but heavy) or lightweight traction devices like Yaktrax. Unfortunately Yaktrax have zero traction on ice — the springs just roll over flat on a hard surface. They also fall apart.
Since most winter trails have already been walked on, leaving frozen footprints to stumble over, I find I use my Microspikes more than my snowshoes on level terrain as well.
Price Paid: $55

ALL SEASONS. Keep exploring and protect yourself on snow, ice, wet leaves, steep bushwacking...
Pros
Strong
Lightning quick application
Ease of use
Versatile. I use them on many different boots or shoes. Recently started including them in my rig for glade cutting in the Northeast. Running a chainsaw in steep wooded terrain is dangerous. Now my PPE includes MicroSpikes.
Cons
I have not found any yet.
You can look around and price shop. Or just go get the best.
I love mine and bought them for the whole family. Noticed it's a mandatory piece of equipment for some on hill employees at some larger resort. I saw them clipped to packs and belts all over the resort. The quick, just in case, footing protection.  
Background
Many alpine ascents, plenty of other applications. I keep them in the car and truck in case roads get glare ice, I can escape the highway if things get crazy.
Source: bought it new
Price Paid: $60

I received the Microspikes for my birthday a few years back. This has been one of the best gifts ever.
These things are magical on ice. I used to slip and slide and just tread slowly and carefully, but with the Microspikes on I have no hesitation whenever I take a step. These things give you a super solid and secure grip with every step.
If you hike in the winter or shoulder seasons I strongly recommend the microspikes. They are super durable, mine show very little signs of wear after 2 years of use. They also stay on extremely well, and require little to no adjustment throughout a day of hiking.
They are ok in snow, but are SUPERB on ice. Ice is what these are meant for.
A great product!
Price Paid: gift

Top notch outer foot gear with outstanding customer service.
Pros
Easy to put on and take off
Durable
Easy and simple Storage
No unit adjusting or slippling
I use mine during ice fishing season. They're part of my ESSENTIAL GEAR LIST. I wouldn't consider venturing onto the ice without them. They've saved me from slipping and falling dozens of times. I've been ice fishing for decades and have tried a number of other brands. All were disappointing, but hands down, these are the best.
Source: bought it new
Price Paid: $70

I had been using Yaktrax Pro for about a month here in snowy Michigan when I found that they were wearing out. Switched to the Kahtoola Microspike and thought that I was in heaven. I felt so much more secure on ice/black ice, etc. in my Microspikes! Even on an icy/muddy trail, I didn't have one moment of instability.
I do have to say though, that just over a month later (about 3-4 miles a day, 3-4 times a week, sometimes running, sometimes walking), I have worn the chain just behind the last spike on both feet to the point that I am now putting them back together with anything I can find -- paper clips, wire, etc.
Today I am trying new chain completely on both of them. Hoping that I can make it through the icy season before I have to send them back for repairs! I guess I didn't expect that for the price.
Price Paid: $59

After carrying these in my day pack on every hike here in New Hampshire for the last month - yep, they are so light I didn't care - I finally got a chance today to try them out. I climbed a small mountain near my home: snow and ice, including glare ice on quite steep ledge. I am amazed! (and I am not that easily amazed.)
These things are great. Dead certain traction on the way up and darn near the same on the way down. They made what might have been a slow tentative walk (I am in my sixties.) into as near a romp as I ever get. You forget you have them on and forget the ice too. It was as if I were going for a summer walk.
I know this is a bit gushy, but honestly I have not been as satisfied with a purchase in years. I used to have a pair of the Yak-trax: no comparison - fragile and not nearly the traction. Get the Microspikes.

Price Paid: $50?

Well worth having for any type of hiking! I use these 100% of the time and they are a necessity for winter hikes.
Pros
Ease of putting them on
Grip on leaves, rocks, and ice
Durability
The Microspikes are not only a necessity but imitation spikes absolutely do not hold up to these. The benefit of having these on during a winter hike or even just around the campsite is tremendous. I suggest everyone has a pair and don't debate whether you should wear them or not, just put them on! Great product.
Source: bought it new
Price Paid: $65

Pretty sure these saved my life numerous times.
Pros
Lightweight for spikes
Easy to put on and take off
Durable
Used these on many snow covered cliffs and steep mountainsides. These spikes give you sure footing when crossing sketchy areas.
Source: bought it new
Price Paid: $70

I run on small rocks and dirt and in snow drifts. I have used YakTraxs (3rd pair in two years) previously but they do not hold up running where I run. I just purchased the Microspikes and I was in love with them the first run.
I was amazed at the traction. You do not realize they are under your feet. They are light weight. Easy to take on and off.
I was lucky and found them on sale at basegear.com. But at regular price they are well worth the investment for those than run in the winter.
Price Paid: $49.95 @ basegear.com

Easy off and on and great traction, especially down hill.
Pros
Easy on and off
Great traction
I was stopped on the way down by two hikers to ask me about my spikes because I wasn't slipping like they were. They were amazed by the traction from my Kahtoolas.
Easy to put on and take off even with cold fingers.
Source: bought it new

The Kahtoola Microspikes made running in the snow and ice feel as natural as running on a dry road. I love them -- and they're easy to put on. (I shot a short video and included some add'l details at my site, therunnerstrip dot com, if you want to see more).
My only caveat is they wouldn't work well in deep powder, or on surfaces such as plowed roads that will have significant stretches of pavement. You need a minimum amount of ice/snow underfoot to make them work.
Price Paid: $59

What can I say that hasn't been said already, these are the best non-crampons you can buy.
The spikes stay on your boots. They grip ice and snow with ease. They really are the best non-crampons you can get. A must recommend.
Source: bought it new

Microspikes are in my pack every winter. The rubber stays flexible in cold, the spikes are good and long, and they fit over my size 14 boots. A bit hard to pull on, but that means they don't shift on inclines either.
Would I go up really steep snowfields? No, probably not, but for scrambling and iced up trails when snowshoes are overkill.. these things are worth the price.
Great product for winter enthusiasts.
These are awesome. They give you such good footing on very slippery ice and they're easy to put on over a boot with the stretch of the upper material.
Very good piece of gear. Highly recommended for anyone that hikes in the winter.
Source: borrowed it

Excellent product. I have used it in deep snow where boots tend to spin out and they provide good traction. The weight isn't a big concern but I can see if you're a "Minimalist" you might find them a bit heavy. The trade off is worth it.
Price Paid: $53.55 CAD

Your Review
Where to Buy
Help support this site by making your next gear purchase through one of the links above. Click a link, buy what you need, and the seller will contribute a portion of the purchase price to support Trailspace's independent gear reviews.
You May Like
Specs
small
medium
large
extra large
Price
MSRP: $69.95
Current Retail: $59.96-$75.00
Historic Range: $15.93-$75.00
Reviewers Paid: $35.00-$78.00

Spikes per foot
12

Spike length
3/8 in / 1 cm

Spike Material
heat-treated 400 series stainless steel

Weight per pair
11.0 oz / 312 g
11.9 oz / 338 g
13.1 oz / 372 g
13.5 oz / 382 g
Fits Shoe Size
M5-8/W6-9
M8-11/W9-12
M11-14/W12+
M14-16
Pack size
5 x 3 x 2 in

Use
hiking, trail running, ice fishing

Terrain
trails

Conditions
ice, packed snow, rocky with mixed snow and ice

Recently on Trailspace