SnowClaw Guide

#4 in Avalanche Safety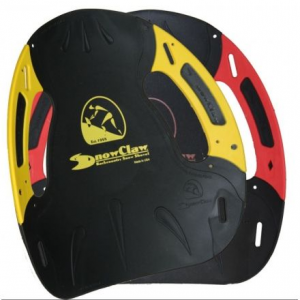 Specs
Price
Historic Range: $12.95-$25.00
Reviewers Paid: $18.00-$20.00

Reviews
6

reviews

5-star:

4

4-star:

1

3-star:

0

2-star:

1

1-star:

0
I find the Snow Claw an essential item for backcountry snow play. I am going to disagree with it not being an effective avalanche rescue tool. I researched these long and hard before buying one.

Some rescue crews report having tested them directly against standard $75 portal avalanche shovels. They were in fact surprised to find them more durable, faster at moving snow, and easier to carry. Furthermore they were found to be the superior tool at getting cars and trucks dug out of snow banks.

Typical portable avalanche shovels are not strong enough out here in our heavy often icy snow! Those long handles cause leverage allowing them to be easily snapped off. In the summer I have found broken off avalanche shovel blades here in the PNW.

Having said this, note that the Snow Claw does not effectively replace a well designed, quality avalanche shovel for snow that is wet and refreezing quickly after falling, as happens in many avalanche conditions. In avalanche country, I would pre-test equipment and talk with local suppliers familiar with your area!

My main use for the Snow Claw is in snowshoeing for potential tree well rescue, snow shaping for seating, and for some help if I or someone else gets stuck in a snowbank or the parking lot when getting to the play zones. Might it be in your best interest to not go alone, and carry both kinds of tools on your outings? I think my Snow Claw should aways be with me, under my car seat, while driving in snow country, for roadside safety.
Pros
Capable of moving large quantities of snow quickly
Two digging surfaces so built in backup
-- Soft snow edge digging surface to move large quantities quickly
-- Hard snow edge digging surface to leverage bite on hard snow
No long handle to be leveraged against and broken off
No long handle to leverage snow weight and digging angle against your arms
Natural intuitive digging action, with symetrical two handed digging actionveasy on your body
Comfortable rubber covered handles (recommend using gloves)
Two handed, strong easy snow packing ability
Flat flexible water proof surface makes it useful for dry lunch seat
Very light weight, thin profile makes for easy storage
Strap eyelets are provided, giving flexible options for attachment
Other outing and survival uses, e.g., butt strappable snowy hill slider seat, carrier for kindling and moss, useful as kindling if essential for survival, or you don't like it
Cons
Ease of use and lower price might lure one to get this instead of an avalanche shovel. Decide on your use and research carefully (you might decide that you or your group needs both!)
Not as capable at working with hard ice snow composites or packing and leveraging blocks in igloo building
Lack long handle so may be harder throwing snow out of a deep hole.
Might need to put down a coat or rest pad so knees stay dry in wet snow.
Need to have body closer to where you are working.
Not as good of a deterrent or defensive tool against predator/foe attack
Won't work as Frisbee or Boomerang (ditto for a shovel)
No rescue tool is perfect, but for coping with snow storm challenges, or fresh avalanche fall, this one comes closer than many! With their hard metal edges, and leveraged pressure made possible by the long handle, avalanche shoves can dig through icy settled avalanche snow.
The blade shape and leverage effect of the handle also helps in forming snow bricks to make survival igloos. However, avalanche shovels are expensive, bulky and add significant weight to your pack. Thus, many do not carry them.
Because the Snow Claw is light, easy to carry, useful and also even superior to standard avalanche shovels in some circumstances, my advice would be to recommend that both be carried in a team! A Snow Claw would be a good item to keep under the seat of any vehicle used in snow country.
What stops many groups from carrying more than one rescue shovel is the cost eg $75, weight, and to a lesser degree, the packability of a shovel.
A single strap keeps my Snow Claw strapped to my day pack. The Claw can be oriented up or down, as works best for comfort.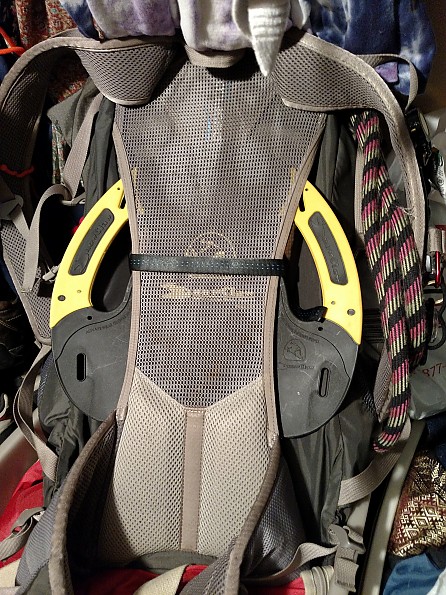 Two digging edges are provided. The shape of the upper one shown here can be focused with the handles into a strong biting edge for icy snow. The angle of the side handles assures this.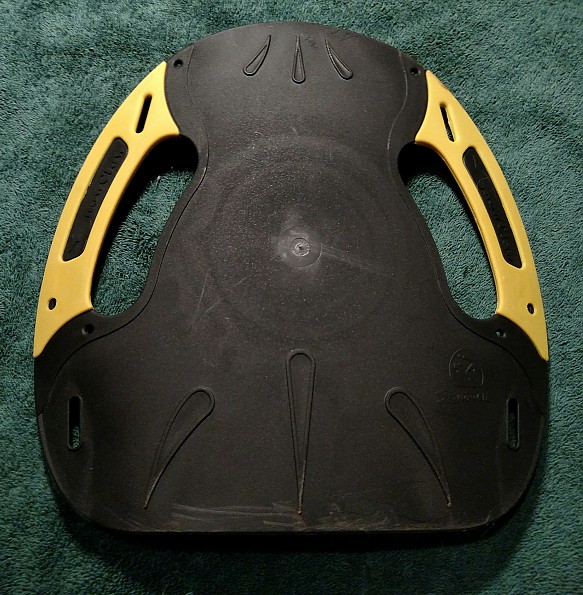 The "Hard Snow Edge" is labeled on the Claw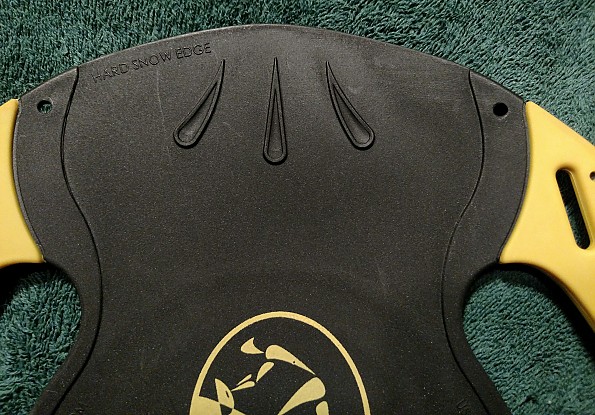 ... as is the "Soft Snow Edge"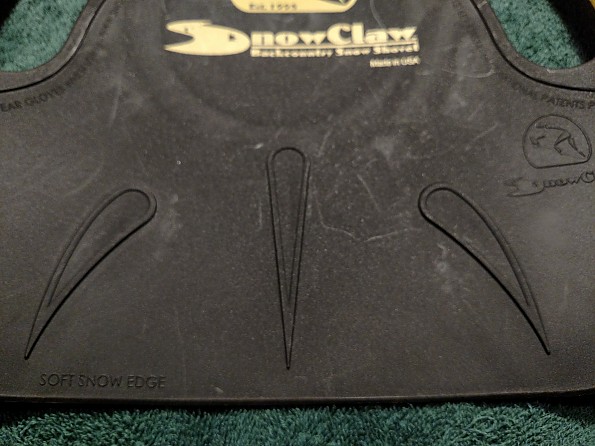 Snow Claw easily inserts behind my backpacks mesh support and it is secured there with a strap.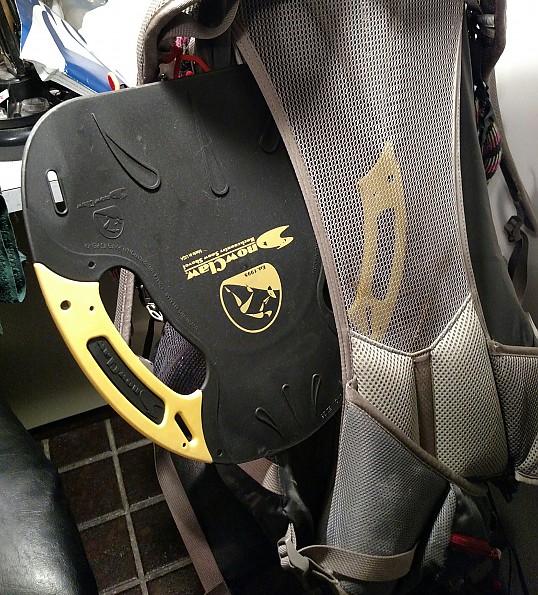 and ,
It is comfortable there, conforming to my shape.
Handy to move, direct and pack snow, such as when making this snow seat at the edge of Lanham Lake. After digging and packing it became my water barrier snow seat.
In using the Claw, all I can say is awesome! It is great at what it does. The concept is so good in fact that I'd like to see a "Snow Claw Pro" or "Snow Claw AV (Avalanche)" model, whose core digger is made of from thick, flexible, hard aluminum metal sheet rather than plastic. I'd still wrap at least the handle area in rubber.
Source: bought it new
Price Paid: $20 REI

When I was a kid growing up on the beaches of San Diego, I would always use a strong frisbee to dig holes on the beach. It was much faster and more powerful than any of my friends using a shovel.
I was in the market for a shovel this winter, and noticed this innovative item as an alternative to a snow shovel at REI. I was able to test this powerful tool in crusted snow and 4 feet of powder alike last weekend on a snowshoe trip. It is so much easier to use in all but the most icy of snow conditions.
You use a simpler overall sweeping motion (overhand, sweeping in a forward arc downward, like a "hammer throw" weight machine motion). Fast digging is more productive and more accurate because your shovel blade is between your hands. With a shovel the blade is 2 feet away from the fulcrum (your hands) and any non-linear motion is exaggerate at the blade's tip. In powder, you can remove several times more snow per scoop than with a traditional design. It's amazing.
The weight of a scoop of snow with the claw is right at your hands, so effort is more efficient and less taxing (no "lever effect" of weight at the end of a long handle). Manuvering within a hole to continue digging is much easier because you don't have to contend with the length of a typical shovel handle and blade in confined space. My back does not get sore using this item.
The flexibility of the blade itself makes for fantastically fine carving. The "icy snow" side of the blade was highly effective in cutting through the 4-6" crust I experienced in the backcountry. DO NOT use this item without gloves, as you could easily get blisters.
It weighs less than 7 ounces! I can pack it any way I like: folded, flat, curved around other items, up against my daypack's back panel to create more support, or strapped to the outside. It has countless other uses (see "description") and also works well as a seat on snow to insulate your rear from the cold of snow. I can't see owning any other shovel type for snow unless I was going to consistently exist in temps below -20F, where the copolymer becomes brittle and runs a risk of cracking.
One might argue that you have to get on your knee(s) to use the SnowClaw, but that is not always the case. And besides, if you are in the backcountry and are not wearing clothes designed to protect your knees from 5 minutes (at the most) of exposure to contact with snow, then you are ill-prepared. The SnowClaw is simply a top notch model of efficiency and versatility!
Price Paid: $18

A great must-have tool, for snow travelers of every kind.
Pros
Inexpensive
Easy to use
Portable
Makes a great snow seat
Sturdy
Cons
Not very effective in hard icy conditions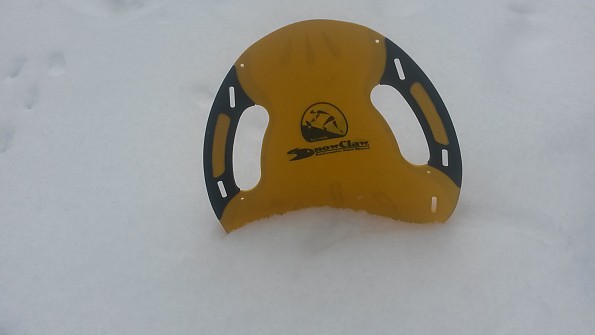 When I started doing a little bit of front and back country snowshoeing several years ago, I saw this and thought it would be a great thing to have. And for twenty bucks, why not??
It is a very easy to use "shovel," and moves a fair amount of snow easily and quickly. It is effective in most snow conditions, except for really icy situations. I have had it since they first came out, and it is still in like-new condition. 
I especially like that I can easily strap it to the back of my pack, so can take it on the trail. And it makes a great seat, for that snack break in the snow. I have even used it to remove snow from my car, when we had snow overnight. 
All in all, easy to use, portable and inexpensive. And while it wouldn't replace a "real" snow shovel for the hardcore backcountry user, for most of us it is a great practical tool.
Source: bought it new
Price Paid: $20

It's easy to carry. It does work. I had two, gave one to another rescue worker.
Cons
For what it was designed for I had not had one problem as of yet
I like it very much. No problems, easy to carry, almost forget it's in my pack, but when I need it it makes any digging much quicker.
Source: bought it new
Price Paid: don't remember, was not a lot

YES! Long story turned short, I dug out a snow cave with one of these.
It is awesome. Moves a lot of snow, but not as much a conventional backcountry shovel. Totally worth it though.
Price Paid: $20

Having seen but never owned a Snow Claw this is not a review but a warning:
NEVER substitute a Snow Claw for a shovel when traveling in avalanche terrain. There is simply no comparison in the amount of snow moved.
You May Like
Recently on Trailspace