Crampons
If you want to hike up steep hills and mountains with standard hiking boots, there are a number of different options available. Strap-on crampons attach to your boots using nylon or plastic straps that loop around your toes and ankle. They can be used interchangeably with many different kinds of boots, making them an economical choice if you switch to heavier boots as the weather gets colder. Many models are made of steel, or the lighter, but less durable, aluminum.
If you plan to do general mountaineering or ice climbing with mountaineering boots, you want a step-in crampon. Step-in crampons lock onto heel and toe welts on the rigid soles of mountaineering boots, providing a more secure connection than a strap-on binding. Usually made out of steel for durability, these crampons are very heavy and often weigh more than one pound each. Crampons can be dangerous, so seek training on how to use them safely.
If you need simpler traction option for less-demanding conditions, consider a lightweight traction device.
Top Picks
Petzl Leopard FL

(1 review)
The Petzl Leopard FL is an aluminum crampon featuring a Dyneema cord adjustment system. The crampon is so light you won't hate yourself for carrying them when you didn't need them. They are so easy to use and so effective you'll be glad you have them when you do need them.
Reasons to Buy
Lightweight
Compact
Ease of use
Reasons to Avoid
Limited size range
Possible wear on dyneema cord
Aluminum subject to wear/breakage
Specifications: All aluminum construction optimized for snow travel Ten points (with dual front points) assure traction on icy terrain Very lightweight 360 gm/12 ounces for pair CORD-TECH optimizes volume when packed in their included bag  Tool free adjustment assures secure fit  Binding system suitable for use with hiking and approach shoes, without heel or toe welts Boot sizes 36-46 EU/6-12 US MSRP $169.95   Adjustment: The holes on the front piece allow for length adjustment of front points.
Read more: Petzl Leopard FL review (1)
Petzl Vasak

(4 reviews)
Other crampons I have used: Grivel G14 Grivel Rambocomp Stubai Ultralight Black Diamond Sabretooth Grivel G10 The Bad: The anti-snowballing plates on the bottom become damaged fairly easy when mixed climbing. The Good: Great performers on mixed terrain. A good variety of options for the binding systems. Light for a well built steel crampon. Broad and forward directed front points. Good for snow climbing. Easily adjusts to many sizes. Price Paid: $139.95 Review 11-23-2006 (by Ray Borbon): I picked these Petzl - Charlet Vasak crampons up in 2004 from Pro Mountain Sports in Seattle.
Read more: Petzl Vasak reviews (4)
Black Diamond Sabretooth

(3 reviews)
Great versatile steel crampon for hard snow and icy conditions, in flat terrain, mountain uphill, and vertical faces.
Reasons to Buy
low weight
secure binding
manufacturing quality
resistance
anti-balling plates
I had initially chosen the Black Diamond Serac Clip for my first pair of crampons, but they had been unavailable for quite some time up until a few days before my outing, and amongst available options I chose the Sabretooth Clip (Hybrid). I am glad I did, as I got a lot more versatility for the same price and weight. Bindings, compatible boot types and suitability for flat, uphill and vertical ice These crampons (C2) are more technical without sacrificing suitability on easier terrain, due to the shape and orientation of the secondary points which allow to climb on icy vertical faces.
Read more: Black Diamond Sabretooth reviews (3)
Grivel G12

(3 reviews)
The benchmark mountaineering crampon that most people need. This will get you up any mountain in the world.
Reasons to Buy
Durable
Fit most boots,
Forward pointing secondary points allow this to climb quite technical terrain
Easy to put on and adjust
Reasons to Avoid
Frontpoints could be longer
Older design (not as curved) is lagging behind modern boots, though it still fits fine.
This is the crampon 90% of people need. I have climbed vertical ice, steep snow, and even dry tooling. Sure, there are better crampons for really steep stuff, but if you only want one crampon, this is a good one. Steve House climbed Nanga Parbat Royal Face in this. Stevie Haston climbed Scotch on the rocks in this. I find it fits my boots well (La Sportiva and Hanwags models) and the Newmatic (toe strap, wire heel) gives a totally secure fit. If your boots are extremely asymmetrical you would want a different linking bar.
Read more: Grivel G12 reviews (3)
CAMP Stalker Universal

(3 reviews)
I bought these during a promotional sale at EMS. EMS by the way has the cheapest price on these even though it isn't listed here. They go for $99 I think on EMS.com The only reason these get 4.5 stars instead of 5 is that if you pack them incorrectly, they are literally almost impossible to adjust for size when putting them back on your boots. It has the typical peg adjusting system. In order to fit them into the pack they come in, they must be adjusted to a smaller size. When doing this, make sure the metal piece that slides and the peg goes into, goes UNDER the antibot plate, not over it.
Read more: CAMP Stalker Universal reviews (3)
Hillsound Trail Crampon Pro

(5 reviews)
Excellent performance on ice, packed snow, or greasy logs. Easy on and off boots. Solid connection to boots for great control on flats or slopes.
Reasons to Buy
Rock solid pieces of steel
Fast and firm mount to boots or removal
Anti-snow "bots" work very well
Points are large and strong for great traction on snow, ice, wet wood, etc
Reasons to Avoid
Not good in any kind of gravel or rocks
Made of carbon steel, not stainless steel, so subject to rust where the paint is rubbed off
Somewhat more volume and weight than rubber-mounted pegs
We bought these after trying snowshoeing on the mountain trails on the North Shore of Vancouver. The trails get packed down pretty hard very quickly and only the crampons of the snowshoes really do any work. So we decided to drop the snowshoes and go with spikes. We looked at many different varieties including the rubber mounted carbide pegs, chain and rubber spikes, etc. and decided to go with these. We have used them for four long day hikes on mountain trails covered with packed snow and ice.
Read more: Hillsound Trail Crampon Pro reviews (5)
Black Diamond Serac

(1 review)
12-point stainless steel crampon that does the job.
Reasons to Buy
Stainless steel
12-point
Anti-balling plates
Reasons to Avoid
The points feel dull
Not for ice climbing
I bought these a couple of years ago and I've used them only in snow ranging from powder to crust with my flexible hunting boots, but never on solid ice.After some mixed rocky trail hike, a fellow hiker advised me to buy a knife sharpening stone to sharpen the edges from time to time. I came to no result since stainless steel is VERY HARD to sharpen. Not that I needed any sharpening because till this day they are as sharp as they were when I first unboxed them. The fit is excellent and once the adjustment is done there is no need to re-tighten since they stay in place for the rest of the hike.The anti balling plates work like a charm and never had any issues whatsoever.
Read more: Black Diamond Serac review (1)
Petzl Lynx

(1 review)
Great crampon for ice and mixed climbing.
Reasons to Buy
Interchangeable front points
Fit any boot well
Reasons to Avoid
No horizontal front points available
Heavy
Poor purenow performance
The Lynx is a pretty classic technical crampon. It fits most boots very well, and cinches in well. I have not had any problems yet with getting it to fit my Scarpa Mont Blancs. I have also lent it out to people to use on Sportiva Trango Extremes, Trango Evos, and even ski boots. They fit all well. I have climbed on these up on WI 4 and on M6. They proved able on both. Switching to mono points was a little annoying and my hands got cold, but that is expected. Once properly set up they performed admirably.
Read more: Petzl Lynx review (1)
Black Diamond Contact Strap

(3 reviews)
These are great crampons for what they are designed to do, which is carry in your pack on a winter hike, and put them on your non-crampon compatible boots when needed. I use these when I go on early or late winter hikes where I am likely to encounter some ice and snow, but nothing that would warrant a full mountaineering boot. I strap these to my pack, and when I hit ice I stop and put them on.These strap-on crampons are designed to work with boots that are not step-on crampon compatible. This is good, since for this type of hike I just want to use my regular backpacking boots and not a mountaineering monster boot.
Read more: Black Diamond Contact Strap reviews (3)
Black Diamond Neve Strap

(3 reviews)
I used these climbing up Mt. Whitney. I went with aluminum over the steel to just to save weight. I was careful not to step on exposed rocks. They held up fine. I used a non-mountaineering boot which they are made for and they fit pretty well, never came loose. I used a Sorel Conquest boots and they actually fit. The boot is wide in the heel so they fit snug on the sole but got they job done. The boot is flexible and the crampon flexed with the boot and never slipped off the soel. I kept them tight.
Read more: Black Diamond Neve Strap reviews (3)
More Crampons
Trailspace reviewers have shared 96 reviews of 27 different crampons.
Other Types of Winter Traction
Find more winter traction reviewed in these related categories: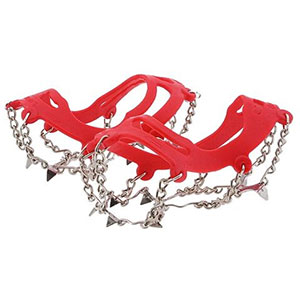 Traction Devices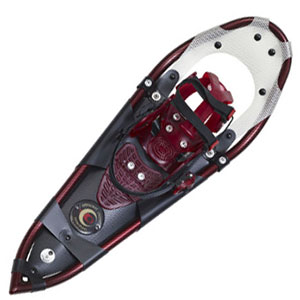 Snowshoes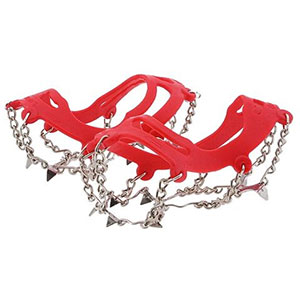 all Winter Traction
Review Your Outdoor Gear
If you've found this site helpful — or if we've missed something important — please consider paying it forward by some of your favorite (or least-favorite) outdoor gear.
Why? From professional gearheads to outdoor novices, everyone has an important point of view to contribute. will support the outdoor community and help others find the best gear.
Trailspace reviewers are outdoor enthusiasts like you: hikers, climbers, paddlers, backcountry skiers, and trail runners who share our experiences with the gear and clothing we rely on to get outside. Learn more about Trailspace