Hillsound Trail Crampon Pro

Excellent performance on ice, packed snow, or greasy logs. Easy on and off boots. Solid connection to boots for great control on flats or slopes.
Pros
Rock solid pieces of steel
Fast and firm mount to boots or removal
Anti-snow "bots" work very well
Points are large and strong for great traction on snow, ice, wet wood, etc
Cons
Not good in any kind of gravel or rocks
Made of carbon steel, not stainless steel, so subject to rust where the paint is rubbed off
Somewhat more volume and weight than rubber-mounted pegs
We bought these after trying snowshoeing on the mountain trails on the North Shore of Vancouver. The trails get packed down pretty hard very quickly and only the crampons of the snowshoes really do any work. So we decided to drop the snowshoes and go with spikes.
We looked at many different varieties including the rubber mounted carbide pegs, chain and rubber spikes, etc. and decided to go with these. We have used them for four long day hikes on mountain trails covered with packed snow and ice. We have never regretted it!
These are a light version of a real mountaineering crampon. They are solidly made of steel with strong bindings that allow for rapid and positive connection to your boots. After a bit of practice, they only take seconds to mount and dismount. On or off, we finish well ahead of our friends who are struggling to get their rubber-mounted cleats over their boots.
The bindings lock on solidly so you have great control and good feel when climbing, side-hilling and descending. Just make sure you have nice solid boots. They will probably work on floppy snow boots, but not as well as real boots.
These crampons are easily adjustable and fit a pretty big range of boots. My wife and I both have the "regular" size. I wear Meindl heavy backpacking boots size 10 1/2 and the pair I have just fit on the maximum opening. Width-wise they fit but are also at the limit. Hillside's website says the R fits up to mens 12, but if you have bulky boots and feet larger than 11, make sure to get the XL size.
The anti-snowball bots work amazingly well. We were following a couple of people wearing the rubber mounted cleats and watched them have to stop regularly to knock off big lumps of packed snow. We never had any at all.
Being made of carbon steel, they will rust where the paint is knocked off. When we get home, I dry ours down, then give them a quick wipe with some WD40 to remove any rust and coat them so they don't corrode.
They are a bit heavier than the rubber cleats (0.7kg per R pair, but they are fairly compact and easy to toss in your pack. My wife sewed up a couple of stuff sacks to keep the spikes off our other gear. Otherwise, they would be pretty unforgiving in our packs.
Background
This is our first experience using crampons. We bought them in early 2020 and used them for four long day trips in the mountains on packed snow and ice. We also found them useful for climbing slopes with a lot of wood detritus and fallen logs.
Source: bought it new
Price Paid: $80 CAD

A welcome necessity to any slippery slope!
Pros
Amazing traction
Lightweight
Ajustable
Easy to take on and off
Cons
Pressure points on the soles of the feet
Storage sack not included
I like these crampons so much that I am willing to post a somewhat embarrassing photo of myself scampering up a section of steep terrain, butt in the air. I'm not sure what I would have done without them on the hike in which this photo was taken. There was a layer of powder covering a thick sheet of ice, and as you can see, the terrain was pretty steep in terms of hiking trails.
The crampons were lightweight and easy to put on. My feet gripped without any trouble, allowing me to enjoy a potentially frustrating and somewhat treacherous hike. Although there was a layer of snow over the ice, I had no difficulty with snow packing in around the crampons because of the anti-snowballing design. The only challenge I had was occasionally catching the toe spike, but I'm sure this was operator error and will resolve as I adjust to having them on my feet. 
Full disclosure, this was my first experience with the Hillsound Trail Crampon. In my enthusiasm to get moving, I neglected to fit them as precisely to my boots as I should have. As a result, I noticed that on this hike they were a bit too long for my boot, requiring me to tighten them down more than I should have. Over time, this resulted in extra pressure on my foot. I am guessing that this would not have been an issue if I had fitted them properly. As soon as I got them home I fitted them over my boot more precisely, but have had no opportunity to test them, as we have had a lot of snow since then and no need for crampons. I mention this to caution anyone from making the same mistake as me.
It would be nice to have had a bag included to protect other gear when stored in a pack. My husband owns a previous model and his came with a storage bag, so he was surprised when one was not included. This may sound petty, but it could make a big difference if you were to tear a hole through a valuable layer while out on the trail.  
Overall, this has been a valuable purchase that has already saved the day on one outdoor excursion for me.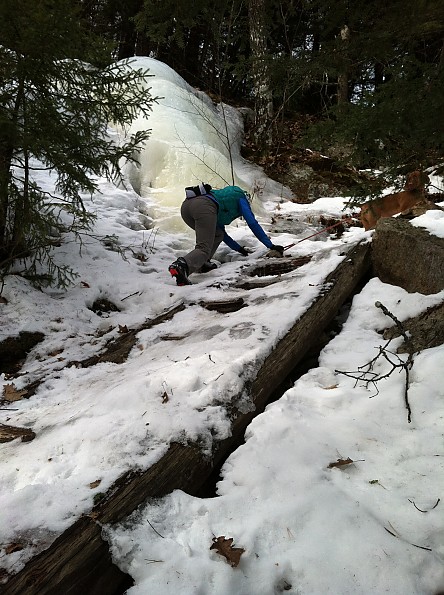 Source: bought it new
Price Paid: $80

Lost one in the snow on my very first use because the strap mechanism meant to keep them on your feet just plain doesn't work. The traction they provided was helpful for the few hours that I owned them, but obviously that does no good if you don't have it. Also, customer service was unhelpful.
Pros
Good traction and snow doesn't ball up underneath due to the plastic plate.
Cons
They literally get lost in the snow as soon as you try to use them because the mechanism meant to keep them on your feet does not function as intended.
Bought these to try them out. At first they seemed pretty good because they appeared to provide good traction. However, I soon found that they are, in fact, a fatally flawed product.
The straps that are supposed to hold them onto your feet are unreliable as soon as you get into any depth of snow (which is literally what you have them for).
I'm sorry to say I lost one in the snow on Mt. Washington on my very first hike with them, and once I realized it was gone it was impossible to find (it was dark, and there was weather—precisely the conditions in which you need to be able to rely on your gear).
A few days later, I contacted the company's customer service. They would not replace the lost one, nor would they sell me an individual trail crampon to replace it; instead, they told me tough luck and to buy another pair.
Apparently, others have reported a similar experience online of losing one of these in the snow when they need it most. Nice try, Hillsound, but you only get 1 star.
After a bad experience with the product and a lack of help to make it right, guess whose products I haven't bought since. 🤷‍♀️
Background
I've had much better experience with plain old Microspikes, which I can count on to stay on my shoes. They're also cheaper. Crampons that attach with straps also stay on my hiking boots, and it takes a LOT of heavy use to cause them to loosen. This is the first time I've lost a traction device in the snow.
Source: bought it new
Price Paid: $80

I tested the Hillsound Trail Crampon Pro on a small icy mountain in the Adirondack Mountains.  They packed well and are very compact not taking up too much space.
The rachet system on the binding makes it easy and fast to take on and off — very important in cold conditions. With a few 'clicks' the binding was nice and snug against my boot and stayed that way for the whole time. It was nice not to have long straps to wrap around your ankle, etc.
The teeth on the crampon are shorter than I am used to, a feature that I like as you don't feel like you are walking on high heels and I feel less likely to turn an ankle. The grip on the ice was fantastic.
I also have a pair of Microspikes that I usually take along on a hike, but now feel that I will carry only the crampons as they feel almost like the Microspikes but with much more grip. This would lighten up my pack and eliminate time switching back and forth.
These are not to be mistaken for technical climbing crampons, but these will be perfect for icy trails and those sketchy spots where you need to pull yourself up over an icy ledge.
The price is more than fair and worth every penny.
Price Paid: $80

I have had these for three months and have used them during my quest to complete the winter 46 in the Adirondacks. First the pluses: quick on and off, length of teeth, carbon steel, anti balling plates.

The negatives: the attachment system although quick is ill designed; the 4 alpine stoppers are a solution to a design problem that is inelegant and frustrating when having to use in freezing temperatures.

I have lost a crampon on the trail without these stoppers and find that the ratcheting system is doomed to fail on every outing. In addition, in order to attach these crampons securely requires an over tightening that places pressure on the toes resulting in blisters.
Pros
Quick on and off
Length of teeth
Anti balling plate
Carbon steel
Cons
Inelegant design
Alpine stoppers bad solution to inelegant design
Pressure points on toes and balls of feet
Source: bought it new
Price Paid: $87

Your Review
Where to Buy
Help support this site by making your next gear purchase through one of the links above. Click a link, buy what you need, and the seller will contribute a portion of the purchase price to support Trailspace's independent gear reviews.
You May Like
Specs
Price
MSRP: $79.00
Current Retail: $89.00
Historic Range: $49.44-$89.00
Reviewers Paid: $80.00-$87.00

Weight
680g per pair

Plate Material
Heat-treated S50C Carbon steel

Harness Material
Polycarbonate

Compressive Strength
18,120N

Tensile Strength
1,383N

Rockwell Hardness
45HRC

Recently on Trailspace