White Box Stove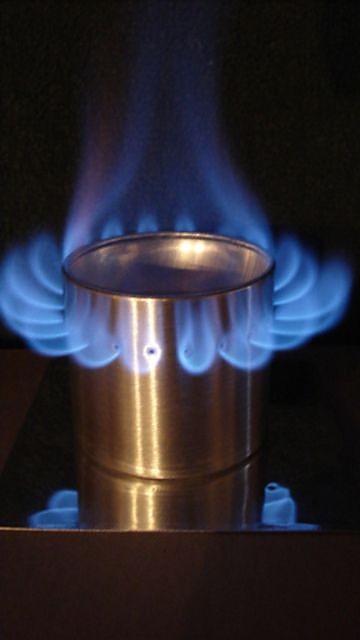 A lightweight, dirt simple alcohol stove that does what it's supposed to do (boil water) but not a bit more. Best for making hot drinks and simple meals on weekend or slightly longer trips in summer and shoulder seasons.
Pros
Simple
Lightweight
Inexpensive
Quiet
Cons
The usual drawbacks of alcohol stoves: good for boiling only, not for use in cold weather, low energy density of fuel cancels weight advantage on longer trips, gauging correct amount of fuel
Fuel consumed during priming
A little pot black (not too bad)
Tippy
After building a variant of the penny stove and having it come out OK I wanted to try a side burner, mostly because they don't require a pot stand. I decided that the 20 bucks for the pro-built Whitebox was a pretty fair price considering the time I'd have to put into building my own, including coming up with a wind screen.
Here's a video of the stove in operation, followed by some commentary.
It did indeed come in a little white box. I found I can fit the stove and one or two 50 ml tubes of fuel inside the smaller pot of my cookset, along with a plastic bowl, spork, and matches, so that a mini-kitchen doesn't take up much space in my pack. The stove, wind screen, and ground protector weigh about 60 grams or a little more than two ounces, and my little cook kit with the parts listed above but no fuel weighs 640 grams or about 1.4 pounds, not exactly lightweight because of the steel pot.
I have used it to cook simple, soup and pasta or rice-based meals and it does that well enough. It took some experience to figure out the right amount of fuel -- 20 ml is the bare minimum to boil a half liter of cool tap water, 25 ml for colder water of for a full rolling boil. For one- or two-nighters I carry fuel in calibrated 50 ml centrifuge tubes, but I'll admit they're a bit drippy for controlled pouring so I should probably just carry one as a measure and carry the fuel in a bottle.
Starting up is simple enough, except that you can't see the flame at first so I wave a hand over to feel the heat just to make sure. I use discolored 96% ethanol that has been used as a coolant in my lab freezing system and just gets thrown away or recycled after a year's use. With 20-25 ml of fuel (about 60 to 20 grams) it takes about 2 minutes for the fuel to start vaporizing and the jets to ignite so you can put the pot on.
The stove is the pot stand, and the pot has to sit right on it to seal the center and force the fuel out the jets. That's nice and simple, but you have to be sure the stove is good and stable so that it doesn't tip over. It's best to use a wide pot to capture the heat -- this isn't the right stove for one of those ultralight tall aluminum pots made out of giant beer cans.
It takes another 5 minutes, or 7 minutes total from ignition, to boil a half liter in good conditions, so it's not going to win the speed competition, but that's not the point. It's OK in a moderate breeze, but I wouldn't take this stove if I was expecting really open windy conditions. And it's my understanding that alcohol stoves are not well-suited (at best) to cold conditions, so I haven't even tried.
Like many alcohol stoves, this one has one speed -- no simmer ring -- but that's just part of the low-weight, low-price bargain. It's made out of recycled heavy duty aluminum bottles that are thicker aluminum than soda cans used for most alcohol stoves, and the construction is very nearly seamless so I expect it to have a very long life.
It does burn a little yellow and blacken pots a bit, but it's not sooty so it's not the kind of pot black the rubs off and gets everywhere.
A recent and very thorough test/comparison of alcohol, gas, and liquid fuel stoves in the Norwegian magazine Friluftsliv tallied the total weight of stove, pot, and fuel for boiling up to 100 liters of water. The weight advantage of a basic alcohol stove was good for up to about 10-15 liters (although the Caldera Keg-F system held on until about 30 liters). Liquid fuel stoves ruled in the long run. So in IMO alcohol stoves are best for shorter trips in warmer conditions with simple cooking needs.
Although I don't have much experience with other types of alcohol stoves, I think the Whitebox is a good choice based on its weight, price, and overall simplicity.
Source: bought it new
Price Paid: $20

Incredible "Bug Out" stove for day, weekend, and extended excursions. Reduce your pack weight, increase reliability (no moving parts), bomb proof, quiet, and "GREEN". PLUS, it's made from recycled beer bottles — what's not to like about this product!
Pros
Low weight
Ultra reliable
Bomb proof
Cons
Cold weather can make lighting "an art form"
Harder to control a simmer
Making S'mores is a little problematic
When I first saw a friend's White Box Stove (WBS) during a 7-day fly-fishing expedition, I literally laughed out loud. How could a small recycled beer bottle outperform my Coleman multi-fuel single burner backpacking stove? The White Box looked more like a toy than an actual piece of camping/cooking equipment.
OK, after the second day on the trail, I had a catastrophic failure with my stove and it almost morphed into a white-gas bomb ... the pump gasket failed and the whole unit burst into flames (along with my meal). I was left with a heavy pack-anchor instead of a backpacking stove. Suddenly, I had a new appreciation for an alcohol stove with NO MOVING PARTS.
The WBS is not a "cure all" for a camp chef/epicurien or wood-fire purist, because the stove does not allow precise temperature control (no simmer setting). However, if you want to easily boil water and quickly heat up easy-to-cook meals, the WBS cannot be beat. As long as you can strike a spark or light a match and know how to use a wind screen, you can boil water!
Needless to say, as soon as I got back to my office, I ordered two WBS units — one for my vehicle and one for my pack. That was over 6 years ago; I've easily used them over 200 times and both are still alive and doing VERY well ... and I've never had to replace a gasket, pump, pressure knob, fuel vaporization tube, or missing fill-cap.
P.S. - Lewis and Clark would have "killed" for a few of these beauties!
Source: bought it new
Price Paid: $20

I've been using my little White Box alcohol stove for two years now. I bought it in an attempt to reduce my pack weight and simplify my gear. Mission accomplished!
I've used my stove year round and it performs like a champ. It won't simmer, so if you're a mountain top gourmet chef then this stove probably isn't for you. If you're only interested in boiling water for meals and drinks, then this little stove can't be beat.
I use Litech and Primus tea kettles for efficient boiling. I can easily boil a quart of water with one ounce of denatured alcohol. Even when the temps are in the teens, the wind is forcing its way past the wind screen, and the stove is sitting directly on top of the snow, I've packed the Primus kettle with snow then brought it to a boil on one fuel filling. No small feat!
A quart of boiling water will easily provide me with a hot meal and hot drink. I calculate one ounce of alcohol per meal(it requires less in warmer weather if I'm really trying to scrimp). If having two hot meals a day (breakfast and dinner), I can then safely plan enough fuel for a ten day trip by packing just one 20oz Pepsi bottle of denatured alcohol. The bottle gets lighter during the trip, and weighs next to nothing once empty--unlike metal fuel canisters. It doesn't get any better!
Forget the exact weight, but the stove, windscreen, and reflector weight somewhere less than two ounces. The stove is constructed of thick aluminum, so crushing it could only be accomplished by someone who was really trying hard to do so.
I could ramble on forever about the stove--in fact I've converted a few friends with my rambling, and they love their stoves too! Try the stove. It's likely the best $20 you can spend on hiking gear.
Price Paid: $20

This stove is a little flame thrower. It does not have any type of adjustment for simmer or a way to save your unused fuel. It is not very stable with a pan on top. It needs to be used in some type of stable base. This stove is very light, sturdy, and works great to heat water if that is your only task.
Pros
Very hot flame
Light weight
Sturdy construction
No moving parts or pressure build up
Works well with large pots since it is a side burner
Cons
Skinny base — not stable with a pan on top
Does not have a screw top or way to save fuel
Does not have simmer capability — throws a hot flame and then throws more of a hot flame
Have used this stove with a combination of pots and pot stands. Find it almost too hot for some applications when I do not want flames shooting up the sides or trying to cook anything but water. It is a great little flame thrower for heating water though. Would say it is a single purpose stove.
Source: bought it new
Price Paid: About 20 dollars on Amazon

I have used my White Box stove now on my AT thruhike 150 miles and still ticking.

It's a great stove to eliminate weight and just use for heating water for freeze dried foods and dehydrated meals and drinks.

If your a gourmet backpacker and want more from a stove, this is not it. This is more for a minimalist.

I wanted to shave weight in my pack. This stove and a 4oz titanium pot is a total of 5 ounces.
Pros
Weight 1oz
made from Recycled aluminum cans
Came with an aluminum windscreen
Came with aluminum heat pad to reduce ground scare's. LNT principals of camping
Fuel is plentiful (denatured alcohol or Yellow Bottle of heat)
Cons
Flame is hard to see in daylight, have to run your hand across the top to feel it's lit.
Can't overfill. You need to learn how to measure your fuel.
Can't regulate flame strength or duration.
Price Paid: $20 plus shipping

I received this as a Christmas gift. I was looking for an ultralight alcohol stove, and the White Box looked great. Received right from White Box.
I use a Primus LiTech 1.5L kettle (7 5/8oz) with it. The stove weighs 1 oz., the wind screen and heat shield weigh 1 1/8oz., the small priming pan I use weighs 3/8oz, for a total of 2 1/2 oz. without fuel.
The Heet fuel I use weighs about 1oz. per 1oz. of volume. I needed 2oz. of fuel to bring 48 oz. of water to a boil in the kettle. The temp. was 32F., and there wasn't any wind.
I poured a smidge of fuel into the priming pan, the remainder of 2 oz. into the stove (you could still add more fuel to the stove if needed...up to 3 oz. capacity). It blossomed at 1:08, boiled at 15:03, and burned out at 15:50. If it was windy I would have had to add more fuel.
It isn't a race car and you can't simmer with it, but it sure is ultralight for boiling water. The stove is rock solid, silent, and very stable. If you are stealthing then this might just be the ticket. I have just about every stove that you can think of and love this White Box as much as any other of my fav's.
Price Paid: $20

I have the stove with the Cope Roll and not rivets.
I've only used the stove once. Or rather tried it on the back stairs. The conditions were probably worse than they would be under normal circumstances for me. 4-5 degrees C (40F) and a steady wind with gusts of up to 8-10 m/s. The stove is made to take about 3 oz of fuel, but I put in about 1.8 oz, which made it spill a bit through the side holes. According to Whitebox it should take about 3oz. I might have done something wrong in my calculations from oz to mL though...
Lit it without the windscreen or heat reflector underneath. It took 3 minutes for the stove to get going, but I suppose it would take less time if I had used the screen and reflector. Put the pot on, a 1l lightweight pot from Trangia, with .75liters (25 oz) of 7C water.
After a minute or so I figured the screen would be a good idea, but because I had placed the stove on the edge of a step I could only fit half of it. I hadn't put a lid on the pot either (I didn't have one) so a fashioned one out of aluminium foil that didn't quite fit. 8 minutes after placing the pot on the stove the water started boiling, and after 9.5 minutes it got to a rolling boil.
Removed the pot, and replaced it with a Optimus Terra HE Weekend .9l pot with a heat exchanger. Added .35l (12 oz) of water and 4 minutes later had a rolling boil. Put the stove out, with 5mm (3/16") fuel left at the bottom, about 21 minutes after lighting it. Not sure how much longer it would have kept going. According to Whitebox the burn time is about 25 minutes, which seem right.
Pros: lightweight and obviously fuel efficient. I stood on top of it to see if it could take it, and it carried my 200 pounds without problems, so it is sturdy as well :)
Cons: a tad shakier and slower than the canister stoves I'm used to. It also left some residue on my pots, but I guess that is common for all alcohol stoves.
Tried the Optimus pot first, but it put the stove out. But after it got really going it had no problem staying lit. The Primus EtaExpress pot has a slightly larger diameter exchanger, it is also lighter than the Optimus, and might work better. Not sure if a pot with a heat exchanger is really faster than a wider diameter pot. Need to do a bit more experimentation first.
Price Paid: $20

After attempted cat/soda stoves myself (can't make one that boils water, grr) I picked this up - what a little wonder it is.
I don't imagine I'll be doing anything but boiling water, and this does it very well. If I'm going to actually cook I have a canister stove, but on those freezer bag only trips this stove is a winner and it takes away the need to guess at how much is left in a canister. Very light and love the windscreen.
I have one of the newer rivetless stoves with the rolled top - it holds my GSI soloist pot (5" across) full of water, but I wouldn't use a smaller pot with it as the side burners just fit within the pot bottom.
Price Paid: $20

This alcohol stove is about as good as they get. I've used it for over a year now and the thing is fool proof. Never has it let me down when I need a quick boil. The stove is advertised as being made from recycled aluminum bottles.
I've used it up to 11,000 feet elevation and 28 degrees temps and it performed flawlessly.
Because it is not flimsy like all the rest of the "pop can" stove this is one piece of gear I will carry for years to come. The manufacturer also offers a lifetime guarantee if it fails to work. Can't beat that.
Do yourself a favor and get a White Box Stove.
Rob Smith
Price Paid: $20

Stove is very strong. Boils water fast for a stove that makes it own pressure. Can be carried without protection of bending.
Being made of thicker aluminum stove takes a little longer to preheat. About 1 to 1.5 minutes according to outside temp. Can solve this with a wick to prime stove. Test with wick was 20 to 30 seconds to preheat.
This stove works best with 4 inch and bigger dia. pots. Takes about 1 to 2 minute to cool after flame goes out. This is a very good stove but being thicker aluminum it uses a little more alcohol.
Price Paid: $25

I have been using the white box stove now for a year and absolutely love it.  I bought it looking for a lightweight stove to take with me on a two week wilderness trek and now use it for everything even weekend getaways. 
I find that two ounces of fuel a day is sufficient for my simple meals of boiling water for a cup of coffee and oatmeal for breakfast and noodles for dinner.  I love being able to measure out the exact amount of fuel needed for my trip so as not to waste valuable space and weight in my pack. 
I probably would not rely on this stove in the dead of winter but for the shoulder seasons it works just great.  I would definitely recomend this to anyone looking for an alcohol stove.
Price Paid: $20

I got this stove for $25 shipped off ebay. I won't lie, I was skeptical at first. Got it, unwrapped it and it was very small. I was thinking it would be a bit bigger. Overall looked to be a nice piece. Crossed my fingers and decided to test it out.
Put a splash of Heet in it. Lite it, and in 45-60 seconds the side burners were going strong. Put on my pot of 3 cups of water with rice and vegetables in it, and it was boiling in no time.
I was amazed at how simple yet effective this stove really was. I would recommend this stove to any camper/backpacker that wants a small, reliable, and effective alcohol stove. I gave it 5 stars. It works great, plain and simple.
Price Paid: $25

my white box stove is really bad in a slightly cold wind. it is january here in the uk and i  am testing the white box solo in my back yard with various pots and pans. well put it this way, it is testing my patience.
i started with 1oz of meths then 1.5 oz of meths then 1.6 of meths with the primer pan. it went out 8 times.
I do not want to  knock this stove as i think the duo was a great stove, although i never tried it in the winter and bill ballowe is a really nice man who cares a lot about his product. But i will not be using this stove again.
Price Paid: £20

Your Review
Where to Buy
Help support this site by making your next gear purchase through one of the links above. Click a link, buy what you need, and the seller will contribute a portion of the purchase price to support Trailspace's independent gear reviews.
You May Like
Specs
Price
Historic Range: $19.95-$20.00
Reviewers Paid: $20.00-$25.00

Fuel
denatured alcohol or methyl alcohol

Capacity
2.5 oz of fuel

Water Boiled
up to 8 cups of water on one fill of fuel

Dimensions
2.25 x 2.25 in

Weight
1 oz

Recently on Trailspace