Esbit Alchohol Burner

The Esbit Spirit Burner (Alcohol Burner) is a nice alcohol stove with simmer control. It is lighter than the comparable Trangia and comes with a handle on the simmer-control-plate / snuffer.
Pros
Lightweight
Fuel is cheap and easily available
Burns clean (no soot)
Comes with simmer-control lid with handle
Screw-top seals in unused fuel
Cons
Flame is invisible in daylight
Cooks slowly
Requires windscreen
Requires pot stand
Doesn't work well in cold environments (below ~14 F)
Methanol fuels are toxic
I picked up the Esbit Spirit Burner (alcohol burner) as an add-on when I got my Emberlit FireAnt wood-burning stove. In my mind, it was (and still is) more of a novelty item. My thinking here had been that it's a pain to go hunting for dry fuel on a wet day. Why not simply pick up an alcohol stove for those rainy-day (or post rainy-day) hikes?
While I'm still not likely to give up my wood-burning stove in favor of an alcohol stove, this little Esbit stove has performed admirably both in tests and on the trail.
DESIGN: The Esbit Spirit Burner uses almost the exact same design as the well known Trangia Spirit Burner. However, when placed side by side, you will notice a few small differences. The Esbit is very slightly lighter than the Trangia (the Esbit comes in at 3.3 oz while the Trangia comes in at 4 oz). This alone isn't really enough to sway me one way or the other.  
The Esbit's handle, on the other hand, is a defining feature. Like its doppelgänger, the Trangia, the Esbit Spirit Burner comes with a simmer-control-plate built into a second lid. This second lid and simmer-control-plate allow you to control the intensity of the flame from full-open all the way down to a simmer or (if closed completely) extinguished. The real beauty of Esbit's design is the small binder-clip style handle on this second lid. It allows you to easily add or remove the lid without burning yourself.
One major design flaw, in my eyes, with most alcohol stoves is that they require a windscreen and a pot rest. The Esbit stove is no different. It needs something to act as a wind screen and needs a separate pot support as resting pots directly on top of it will extinguish the flame.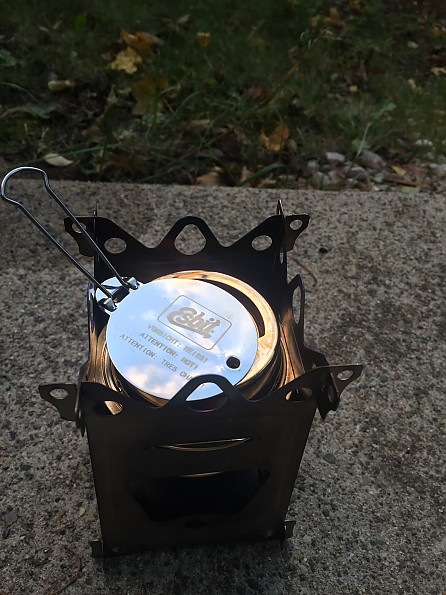 FUEL: Alcohol stoves are one of the easiest non-wood-burning stoves when it comes to finding fuel. Any alcohol above 80% will work well as fuel for this stove. However, I have found that the cheapest and best option is the "HEET Gas-Line Antifreeze and Water Remover." You can find this little yellow bottle in just about any gas station / truck stop across the US for around $3. One thing to bear in mind is that HEET is a methanol solution, which produces toxic fumes (you should be fine outdoors, but don't use this stuff inside) and is toxic when brought into contact with the skin.
I have been told that ethanol will burn longer than methanol (HEET is a methanol solution), but haven't actually put this to the test.  
BURN TIME:  In tests, I found that 1 oz of HEET burned for 10m and 57s. In theory, ethanol would burn longer as it has more calories per ounce.
BOIL TIME: For my boil time tests, I placed my Esbit Spirit Burner inside my Emberlit FireAnt (in the secondary notches near the top of the FireAnt) so as to provide both wind protection and also pot support. Once again, I used HEET brand as my fuel source. I then filled my Snow Peak titanium pot with 1 cup of water and sat down to watch and prove my grandmother wrong (it DID boil!).
I found that the Esbit Spirit Burner was able to bring 1 cup of water to a low simmer in 6 minutes and 5 seconds. It was able to achieve a rolling boil in 7 minutes and 25 seconds.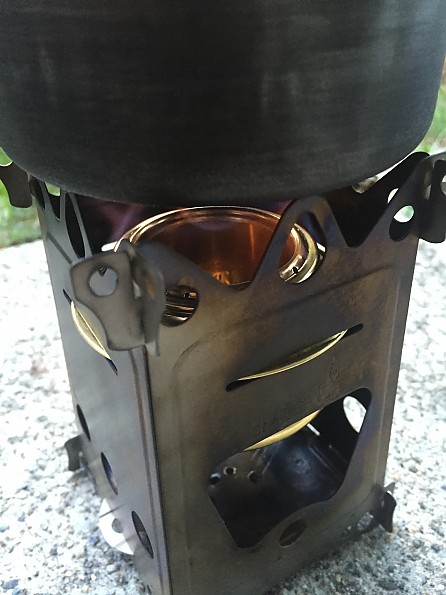 SIMMER AND FLAME CONTROL: Once I had boiled my cup of water, I wanted to see how easily I could adjust the temperature to get back to a simmer. It turns out that this was harder than I had anticipated. While the simmer-control-plate can be adjusted to any aperture, only some will still allow enough oxygen to support the flame. Upon placing the secondary lid on the stove, I immediately extinguished the flame.  
After re-igniting the stove and adjusting the simmer-control-plate, I tried again only to find that my FireAnt was too small and my secondary lid now sat half on top of the FireAnt itself, thus creating an unstable platform for my pot. One final adjustment allowed me to situate the secondary lid and still maintain a small flame.  
While the Esbit stove comes with a nicely designed simmer-control system, you'll need to ensure that your wind screen and pot stand don't get in the way if you intend to do anything more than boil water.
Once I was finished with all my tests, I attempted to extinguish the flame using the secondary lid with the simmer-control-plate completely closed. It did work, but it took 11 seconds for the flame to vanish entirely. If you're cooking at night, you'll still be able to see the flame. If you're out in daylight, on the other hand, the flame will be invisible. Be sure to give this stove plenty of time to go out and cool down before attempting to pack up.
IGNITION: Ignition couldn't be easier. Much like gasoline, liquid alcohol won't burn — it's the fumes directly above the alcohol that are so flammable. As soon as you remove the lid from your Esbit, it's ready to go. Those fumes start rising from the surface of the alcohol and any stray spark will ignite your stove.
WIND: I hadn't expected much from this stove when it comes to wind resistance, but it actually stood up quite well! To test this, I took it out to a local lake and sat on the shore to cook my lunch. The flame guttered a little bit, but the wind screen I had set up did a good job of keeping it at bay. After lunch, I removed the wind screen and used the stove to dry my pots. Again, the flame guttered in the wind, but never once did it go out.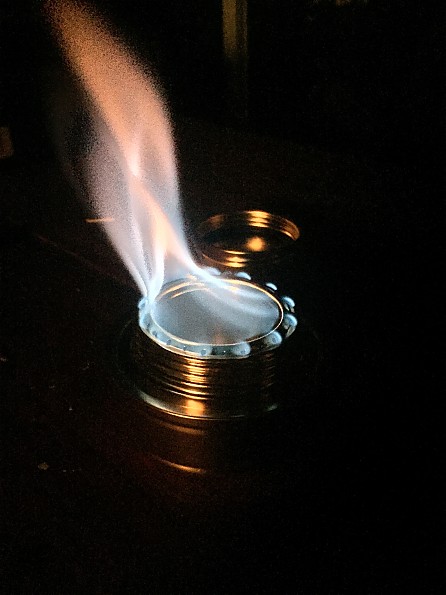 PACKABILITY: When it comes to weight, this stove is a winner. At 3.3 ounces, you won't even notice it in your pack. However, its shape makes it a little awkward to pack unless you can fit it inside your pot.
OVERALL: Overall, I'm very happy with this little stove It's really more of a backup for me as I still prefer my wood burning stoves, but is a nice option for wet weather. It is fairly slow to boil water, but gets the job done so long as you don't need to boil more than a cup at a time (It isn't safe to add more fuel while the stove is burning).  
Source: bought it new
Price Paid: $20

This super lightweight burner is the perfect companion to the stove and has an amazing blend of great features that make it easy to pack, easy to use, and easy to recommend.
Pros
Lightweight — 1 pound packed
Ready to use out of the box — just add fuel, water and food
TWO pots included, and one doubles as a lid for the bigger pot
Uses alcohol AND solid fuel tabs
Cons
Solid fuel tabs burn dirty, but they DO work, if needed
**I bought the full stove kit that includes the alcohol burner listed above. So this review is for the entire set, that includes the burner.**
I did a lot of research before settling on this stove. I know many, many folks go for the "cat food can" version or "soda can" version. This is a more modern approach/pre-fab version of that same kind of stove. You just don't have to "do it yourself". I have run trials on this many times and love it each and every time!
It comes with a storage bag, stove stand, fuel stand (for the solid tabs, if used), alcohol burner, simmer ring (not many have this feature...for controlling the "simmer" of food a little bit), a large pot (one quart capacity) and a smaller pint sized pot. All of that for around $50. Denatured alcohol is my choice for it, but it burns other things as well. Many use HEET, as it's cheap.
The best part about this kind of stove is that you don't have any canisters to try and pack out when they run dry. And if you need a re-fill, you can find the alcohol as most any gas station, drug store, hardware store, etc. Although this stove takes more time to boil water than a propane stove or something similar, I'm not in the woods to rush things, so I don't really care.  
Not to mention that if I run out of alcohol, I have my backup fuel tabs that work just as well (although WARNING: They burn dirty. The box says "clean burn", but they leave soot behind). 
I can get two cups of water to a nice high simmer/low boil in about 10 min. I have tested this with ice water in zero temps, room temp with tap water and many other circumstances, and the longest boil time was about 14 min. I'm still not worried about it...again...I'm in nature for the simplicity of the situation, not how fast I can make coffee.
On a full tank of alcohol (about 2.5 ounces), I can get around 2 full boils of 16 oz each. And the reservoir has a sealing lid, so you can actually store about 2.5 ounces in the unit itself with spilling. 
Bottom line...I'd recommend this to anyone. It only weighs a pound, comes with two pots and everything else you need to cook. Just add water! (and alcohol, of course).
Source: bought it new
Price Paid: $50 (burner AND stove set)

Light, efficient, cheap.
Pros
Light
Nothing to break
Cheap to buy
Fuel is cheap
Fuel is easy to find
Fuel will not explode
Unused fuel in the burner can be saved
Idiot proof
It fits inside some wood-burning stoves
Can be used as a back pressure stove by removing the simmer ring.
Cons
Not rapid to cook, but if that is an issue why are you hiking?
Not for winter or really cold temps (but I am not stupid enough to camp in winter)
A couple/few years ago, when returning to backpacking, I rapidly realized that I needed to both modernize my equipment and lighten my load. This stove was part of that move. So far it has been a success.
I was initially moved to try an alcohol stove by a book about equipment used on the Appalachian Trail. The book was done by giving and collecting surveys from hundreds of successful AT hikers. I was astounded to learn that of the hundreds of hikers, no one person with an alcohol stove was disappointed with it. In addition, it was the only type of stove that did not have a single critical failure from Georgia to Maine. Not one alcohol stove failed to function at any time.
This stove (and an inexpensive tiny canister stove burner) have replaced all my other stoves for general use. This is the one that I would use for a thru hike should I ever be fortunate enough to find the time for a long trip on the Long Trail. 
Fuel can be had ANYWHERE.  Gas stations, Wally World, discount stores, auto stores, many grocery stores, convenient stores,even some drug stores. And the fuel is stone cheap and non-polluting. How much of this can be said for a white gas stove or a canister stove?
Yes, you can make alcohol burners. I played with them and made dozens, some really high tech but the machining of this item is beyond the normal machine shop, let alone a home handyman. (And at this price, why bother?) Some strong points are the ability to simmer, the ability to "turn off" the burner without wasting fuel and the ability to retain a portion of fuel in the burner when necessary.  None of this can be done with a home made stove or burner. 
The pot stand is aluminum and does not in any way function as a wind screen. You really need an aluminum foil windscreen for even a gentle, warm summer breeze. This is interesting, because if the pot stand was made of light weight stainless steel and designed ever so slightly differently, it could also be used to burn wood and other found solid fuel.  I have not been able to find the material to make one, but should the material appear, I will make the attempt. If successful, it would make the perfect thru hiker stove.
Low tech? Yes, but isn't that a strength? Nothing to break.
Source: bought it new
Price Paid: Something like $12 delivered from China

This is the Chinese version of a Trangia.
Pros
Fuel available everywhere
Very quiet when burning
Simmer/snuffer cap
Lid with o-ring saves unused fuel
Cons
Not the lightest of alcohol stoves
Fuel needs to be kept warm in cold temps
needs a pot stand
This is the Chinese knockoff of the Trangia. The only difference I can see is the hole pattern and that the simmer/snuffer lid has a handle where the Trangia does not.
I have both and cannot discern any difference in the burn pattern nor efficiency though the Trangia seems to "bloom" a slight bit faster. The caps and lids are interchangeable. I do like the "handle" on the simmer/snuffer lid better than the Trangia though as you don't need pliers or other tools to install, remove, or adjust the simmer. 
Both stoves will SIMMER if that's your style of cooking.
There are no moving parts which IMO makes it bullet proof.
Source: bought it new
Price Paid: Don't remember exactly but about what they sell for today

Works well and very packable.
Purchased this to put in an emergency car/hiking kit to be used with equipment I already have. Works very well and compliments the items I already own.
The best thing is the O-ring seal. Not having to empty the fuel out if you don't use it all is a real advantage. I have used this several days in a row on short hikes to become familer with it. Performs well heating soup and coffee.
Source: received it as a personal gift

Your Review
Where to Buy
Help support this site by making your next gear purchase through one of the links above. Click a link, buy what you need, and the seller will contribute a portion of the purchase price to support Trailspace's independent gear reviews.
You May Like
Specs
Price
MSRP: $19.99
Current Retail: $26.99
Historic Range: $18.29-$26.99
Reviewers Paid: $12.00-$20.00

Weight
3.25 oz / 92 g

Dimensions
1.8 x 2.9 in / 4.6 cm x 7.4 cm