Trangia Spirit Stove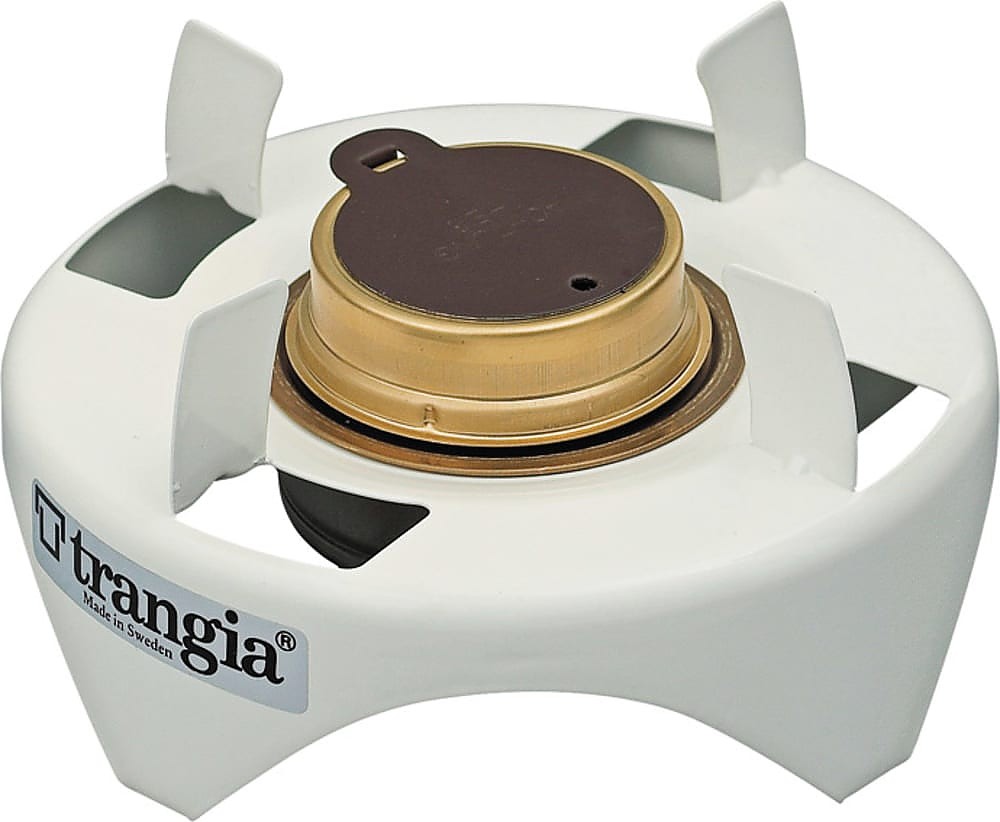 Although the Trangia Spirit Stove is heavier than the traditional pop can stove, it is far more versatile and the user is able to conserve every drop of fuel being carried.
Pros
Heavy-duty (nearly indestructable)
Simmer ring allows for more versatile cooking
Lid allows unburned fuel to be stored in the stove
Maintenance free
Cons
Heavy (compared to pop can stoves)
The Trangia Spirit Stove takes the alcohol stove to the next level. At 4.2oz, it's heavier than a simple Pepsi-can stove. However, the durability and versatility of this stove surpass anything you'll get out of a pop-can stove.
In terms of quality, this stove is meant to last for years without any problems. It's maintenance free--as long as you don't put the lid on when the stove is still hot (you'll ruin the O-ring). I have known guys who have been cooking on the same stove for more than a decade.
One complaint of alcohol stoves is the inability to control the heat. Trangia addresses that complaint with the simmer ring (included). The simmer ring allows you to control the intensity of the flame, and put it out completely, when you are done cooking.
The lid addresses another draw back of alcohol stoves. With the lid, I don't have to measure out every drop of fuel. I can fill the stove up, cook what I need, and then (after the stove cools down) screw the sealed lid to the top. Any unspent fuel is ready to be used the next time. There's no need to worry about wasted fuel.
The Trailspace pic shows a pot stand with the stove. I haven't seen it sold with that set up for awhile. You can buy some add on's—pot stand and windscreen. I was able to construct my own for $2, using some aluminum flashing and 3 old bicycle spokes (use stainless steel, not aluminum spokes!).
The entire setup—stove, windscreen, stand—nestles nicely into my cooking pot.
This stove is definitely worth the money! I'm currently seeing it sold for around $11 on some sites. If you've been interested in trying an alcohol stove, then I recommend starting going with this one.
Picture: My Spirit Stove, with homemade wind screen/pot stand.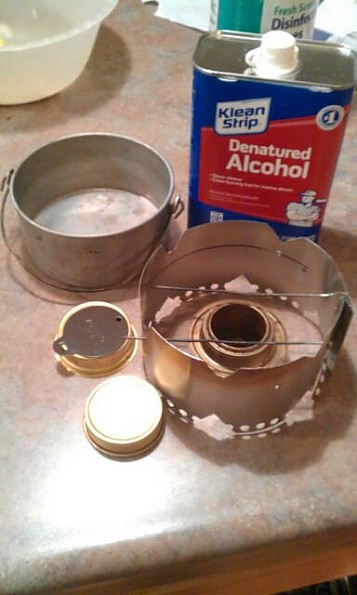 Source: bought it new
Price Paid: $17

I've made a few pop can stoves. They last a while but the Trangia will last many years.
It is solidly built, and light for back packing. The simmer ring is nice. I was able to boil 1.5 liters of water then put on the simmer ring for another 20 minutes of cooking. This was a big plus over my pop cans. Plus it is nice to put on the lid with fuel still in the stove, less mess and less fuel wasted.
4.5 stars because the simmer cover is stamped on. This will have to be fixed. As it will break in time.
Overall very nice for the traveler.
Update: November 17, 2011
I have now had this stove for many years. In my first review I mentioned that I thought in time the simmer ring would have to be fixed. I was wrong.
Last year I had bought a canister stove. I gave it all my attention. On my last trek I took my little Trangia. I had forgotten just how much I love this little thing!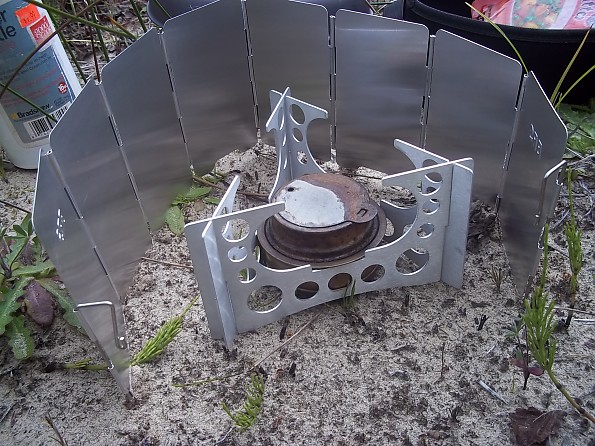 As you can see. It has been well used.
In conclusion; I well use it all spring, summer and fall. As there is nothing that can fail.
Price Paid: $14

Very nice stove. Gets water to a rolling boil in an efficient manner, and fits inside my Solo Stove. Highly recommended.
Pros
Efficient with fuel
Very light/ packable
Seems quite durable
Holds leftover alcohol without leaking
Fits in the Solo Stove
Cons
boil time (canister & evernew much faster)
simmer ring can't be adjusted in solo stove
doesn't work well when its cold
Setup: The stove is extremely easy to set up. Pour in alcohol, set simmer ring to desired level. 
Ignition: I use a ferro rod with the back side of my knife, it works really well. I'm sure a lighter would work too, just be careful not to toast your hand when you light it.
Flame Control & Cooking: The burner is adjustable, but I haven't really used it much, because all of my meals just require boiling water. After I cook some more things on it, like pancakes and noodles, I will update this review.
Boil Time: The Trangia stove will boil 1 liter of water in about 7-10 minutes from my experience. it normally only takes about 1-2 ounces of denatured alcohol to get water boiling which is more efficient than any pop can, or kitty food alcohol stove I've made or used. 
My Setup: I put my Trangia right inside my Solo Stove to cook/boil water. This way it is sheltered from the wind, has a lot more stability and can be easily stored inside. I've used it for three hiking trips and its worked very well on every occasion.
I carry a 20 oz or 1 liter bottle with denatured alcohol depending on how long the trip is. It's a compact and easy solution to buying a fuel bottle from a company, plus when you empty it, you can crinkle it up and it takes up almost no space.
Before this setup I used a PocketRocket from MSR. It truly is a great stove with awesome features, I just got sick of buying canisters and carrying extra ones. It's heavier, that is the only reason I switched.
Bottom Line: For 18 bucks, there isn't another stove system that will treat you better. Cheap fuel, easy setup, durable and light, truly a backpacker's dream.
Source: bought it new
Price Paid: $18 (just stove)

The Trangia stove performed exactly as promised. This is an excellent supplement to my wood-gas stove that I made out of paint cans and hardware cloth (fits nicely in the pint inner can), or a fine stand alone. 
This stove does needs a pot stand and the one that comes with it (seen in post picture) is ridiculous.  It is made of pot metal and is 6" across by 3.25" tall, not suited for travel. 
For fuel I am currently using yellow Heet(R) for fuel and it burns clean, no soot or smell.  I intend to give Everclear a try given it's multipurpose qualities like sterilization and mixing;).  I know it will cost more but really in the big picture it should be insignificant.
If you are shopping alcohol stoves I would also suggest you investigate the Esbit alcohol stove.  It tends to be a few more bucks but appears to be more refined.
Price Paid: $15

Light and simple burner.
Pros
Makes very little noise
Inexpensive fuel
Simple
Bomber construction
Cons
Slow
Doesn't work well in cold
I discovered this stove in a box of gear while cleaning out the garage, so I started using it again and wow. I enjoy the lightness of the stove and the simplicity of the burner. It takes awhile to get used to using an alcohol burner but well worth it.  
Source: bought it new
Price Paid: $15

As a car camper, space is important, but weight is not. I have several backpacking style stoves, rigged with Trangia burners, and they work well. However, I just don't like the wobbly pot stands.
This Trangia with the burner/pot stand works very well; although you would need to fashion your own wind screen. Made of steel, it does retain some heat from the flame, but does not heat up to the point of burning the table top. The entire set up is heavy by backpacking standards, but perfect for car camping.
Price Paid: $18

I have pop can stoves but this one is much more durable and you can save unused fuel. The pop can stove you pretty well have to let it burn out. I would recommend a windscreen. Once you use an alcohol stove you may never go back...although I still really like my Whisperlite International.
Your Review
Where to Buy
Help support this site by making your next gear purchase through one of the links above. Click a link, buy what you need, and the seller will contribute a portion of the purchase price to support Trailspace's independent gear reviews.
You May Like
Specs
Price
Current Retail: $17.49-$17.99
Historic Range: $12.55-$39.95
Reviewers Paid: $14.00-$18.00