Vargo Titanium Alcohol Stove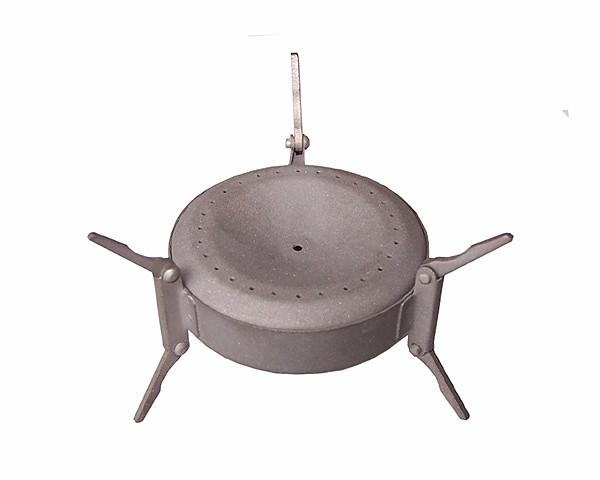 Indestructible, ultralight, stable, all-in-one.

Pros
Indestructible
Ultralight
Fuel efficient
Fuel predicable
Rock-sold stability
Integrated pot stand
Cons
Learning curve (fuelling, blooming)
Inefficient for just one quick hot drink
Setup: This stove requires special measures to fill because the fuel hole is pinhead sized. I was fortunate when purchasing the vendor (BackPackingLight UK) had a demonstration video that emphasised the need for a drip-capable fuel bottle so I bought one from them at the same time; with it fuelling is slow but straightforward. Pouring from an open bottle neck is an exercise in frustration and futility. For use as intended the stove must be filled completely (1.5 fluid ounces) to ignite; however it is possible to ignite with less fuel if it is primed (heated from underneath).
Ignition: I mainly use a Light My Fire brand firesteel and have no problems. Standard alcohol stove procedure should be followed, for example warming the fuel bottle with bodyheat in cold weather (or using a priming pan). Cold fuel is the bane of all alcohol stoves. Ensuring a sizable puddle of fuel above the pinhole assists ignition.
Bloom: Pot should be placed once the stove is lit; the heat reflects from the pan above, this helps to warm the fuel and to bloom. Most alcohol stoves work the opposite way: early pot placement extinguish them. The Triad struggles to bloom if no pot is placed on it as a few Youtube boil-tests have noticed.
Flame Control: Limited. Works at maximum efficiency with the pot-stands up, with them folded down it is less intense but is not an adjustable simmer.
Cooking: A boil-focused stove intended for dehydrated meals and hot drinks.
Boil Time: Between five and ten minutes depending on environmental conditions.
Wind: As with other alcohol stoves a wind-shield is essential in all but placid conditions.
Efficiency: The downside the stove requires to be completely filled (unless you experiment with using a priming pan). It is possible to blow-out the stove and return unspent fuel to a container but I have found that too much hassle for the amount actually returned. The upside is this stove, once going, goes on and on and on. I do a freeze-dried meal, a coffee, and coffee, and still have a ten minute miniature campfire. By comparison my Evernew Titanium can start with more fuel, get the meal water boiling, but fail to bring the coffee mug to a boil (though usually warm enough).
Stability (Ground): The legs, pressed into the ground, are a godsend. The Evernew Titanium DX "tower" has fallen-over on me as has the plain Evernew Titanium stove with Trivets (once the pot got to a rolling boil).
Stability (Pots): The pot-stand struts, when fully open, are not accommodating for the ubiquitous, narrow "cannister-width" pots such as the Evernew Solo, but they are strong enough to point vertically and hold them. Wider pots and kettles are rock solid.
Packability: Ridiculously small. Ridiculously light. Legs and struts fold in. No trivets or pot stands required.
Ease of Use: The filling issue has been mentioned, a drip-capable fuel bottle is essential in my opinion. Priming (a few drops of fuel lit on a pan underneath) can be used to ignite the Triad when under-filled, or with cold fuel, but this negates the legs-in-ground stability.
Features: The integrated stability legs and pot stands are a superb design idea. The small fill hole is a hassle but rewarded by a very lengthy, efficient burn.
Construction & Durability: The art-quality titanium construction is obviously all-but indestructible. One might worry the hinges of the struts might loosen or even fail, but mine are strong after three years of use. The lack of an access hole (all holes are pinhead) might make cleaning difficult if sand or dirt entered the chamber, for that reason I have made a focused effort to keep it in the cook-system pot when not in use.
Conditions Used: Hiking and camping in Scotland, used in good conditions, in wind, rain, and snow. Used at sea level and summits, but no Scottish mountains have thin-air altitudes.
Experience
I have owned this stove three years. I've used it year-round hiking and camping in Scotland. I can guarantee how much fuel it will use and it will not 'drink' more, and it has guaranteed stability for vestibule use. It is my primary hiking stove.

Source: bought it new
Price Paid: £24.99

When I first saw an alcohol stove this size it was made from a Pepsi can. I built one, and can say from experience they never hold up, leaked and always created a mess, and not stable.
Why bother anymore after Vargo came out with this little gem. It is as tiny as a Pepsi can, has better stability, much safer, light weight, easy to empty fuel back into a container, an works every time unlike the homemade Pepsi can.
It is so small you can lose sight of it because of the color. It weighs next to nothing. If you are a light traveler as I am at times it can be snuggled away in the smallest of places. Just a few ounces of fuel will take you for days.
It will cook as advertised, I get anywhere from 15 to 20 minutes. It all depends on the weather, and how accurate you measure out the fuel. It holds heat very well, and will do well for the average hiker. It is not meant to cook for many, it suits the needs for a single person or hiker for a few days on the trail.
Durable as anything I have eve used. I have used it many times now and it shows no real sign of wear other than some staining from heat. It will be around long after I am gone. It might even survive another ice age.
Price Paid: $27.58

I have hiked on the AT, OT, CDT. I would say I am an ultralight backpacker. I love this stove for many reason if for no other than a second burner to main stove that I may be cooking on. I bought this stove from Prolite Gear.
Price Paid: $30

Your Review
Where to Buy
Help support this site by making your next gear purchase through one of the links above. Click a link, buy what you need, and the seller will contribute a portion of the purchase price to support Trailspace's independent gear reviews.
You May Like
Specs
Price
MSRP: $29.95
Historic Range: $29.95
Reviewers Paid: $27.58-$30.00

Weight
1.0 oz / 28 g

Burner Diameter
60 mm

Diameter when pot support is open
85 mm

Fuel Capacity
1.75 oz

Collapsed height
27 mm

Recently on Trailspace