Evernew Ti Alcohol Stove DX Set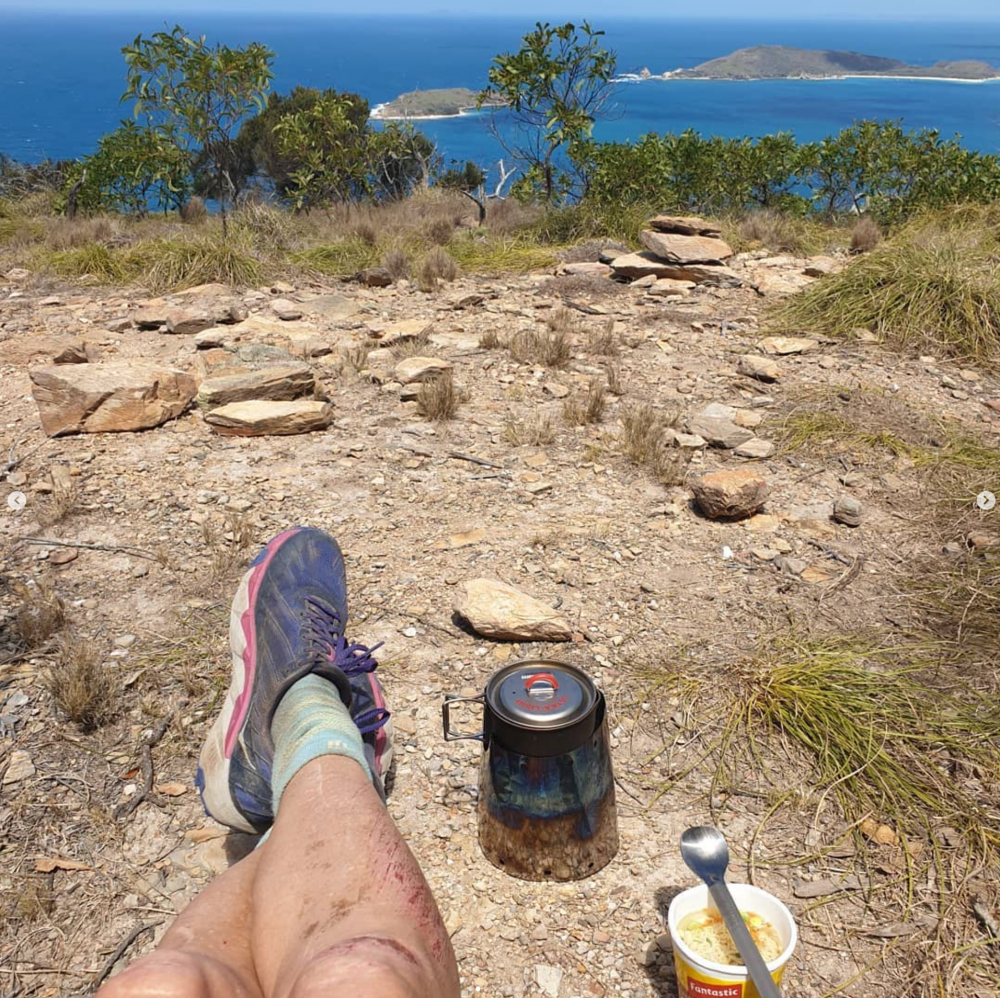 Best for solo hikers and shorter trips. Having said that, I use it for every trip because I abhor the container and fuel waste of canister stoves and am sure I'll blow myself up with one anyway. Yes, alcohol fuel is heavy for long through-hikes, but the ease of obtaining same at supply points is gold.

This is a stove that will outlast me: phenomenal build quality, always reliable, and a well designed set. Have used it in conditions ranging from tropical summers through to -6'C mornings (must warm stove and fuel in hands first for five mins, but thereafter lights in 1-2 ferro rod strikes). You will prise this from my cold, dead hands... but only if you get to me before rigor mortis does.
Pros
Build quality
Non-corroding titanium metal
Hot burn temperatures
Internal wick for safety
Stable and compact (used with and stored within recommended Evernew 500mL pot)
Simple to warm stove and liquid for use in freezing temperatures
Can take *just enough* alcohol in a small bottle with you for your short trips, without additional weight of unneeded fuel in a metal canister
Very safe
Cons
Weight of fuel required for longer hikes
Slower than canister stoves to boil water
Limited to drinks and hot-soak meals; no simmer capability
Still requires a wind shield despite fancy-ass pot stand thingy
Bloody expensive
The stove is very simple to fuel, and volume markings internally embossed within the stove mean that I never over- nor under-fill. The embossing also means that these markings will never disappear over time. The entire system is in itself a thing of beauty, and I am always happy to use it. It's just lovely to look at, and I deeply appreciate good quality and considered design.
The pot stand assembly took a bit of playing to initially determine the setup options and intentions for each fuel type, but I could set it up in a flash after a bit of reading and a play. In four years and countless hundred uses, the stove still always fits together beautifully and has not deformed or degraded in any way. The blue discolouration is beautiful, though mine has been used so much it's much darker than it used to be; the patina anyway has been wonderful to watch develop and a nice marker of the time I've spent relying on this stove in the wilderness.
The pot holder assembly comes with a "Power Plate", which sounds magnificent and intense, but other folks' tests largely show that it prolongs boil times. It's basically a heat sink and flame disperser. I always use it because the instructions said so, but perhaps I'll try leaving it off. In solid fuel (any type) mode, this piece is the base of the assembly. The Power Plate component warped slightly with early use and stayed that way, but this is the nature of thin metal and it seems designed to accommodate this change. I store the system within the 500mL pot with a Chux wipe wrapped around to stop it rattling (double duty as pot cleaner). 
I use this stove to cook with alcohol 99% of the time, though have used both wood and solid fuel in the past both as experiments and in extremis (desperate for a cuppa and out of metho!).
Alcohol ignites with one strike of my ferro rod in warm temperatures, and I have used it in conditions ranging from tropical summers through to -6'C mornings. In the cold one must warm both the stove and fuel inside within cupped hands first for five mins, and only remove your top hand immediately before lighting so that vapours aren't lost, but it will thereafter light in 1-2 ferro rod strikes. (Best to put fuel and stove into bed with you so they're warm to start with, but do still perform the cup'n'cuddle manoeuvre so that you build up vapours for easy ignition.)
Ignition is beautiful. The upper jets kick off first, and these in turn ignite vapours from the lower jets, where the fuel is partially held within the internal wick. This wick reduces fuel loss (and therefore improves safety) in the event of knocking it over, and I think is more efficient perhaps too? May make it easier for the volatile liquid to vaporise, being held upon the wicking material and exposed to more air than just the surface of the liquid, but that's just a supposition there. The flames will ALWAYS whooosh up the side of the pot, so do ensure that you purchase a windshield with a notch in it to place around the pot close to the handles. Keep the handles out of the flames; this baby gets H O T.
Using wood to boil water in an experiment took around ten minutes, and required very close attention. Definitely gather all your little sticks together first, because the small size means that you are constantly poking them in and you must avoid the desperate rush to find more when you run out! The sticks must be snapped to a small size to fit within the pot holder. It's a fussy, messy way to cook, but you can also use the stove to hold an open-topped fire without a pot on top if you just want the flames for light, warmth, and a nice atmosphere. 
Solid fuel tablets work well and are exactly as sooty as you'd expect. Not much else to add here.
I only use this stove with the Evernew 500mL pot, and have a separate mug for drinking (Snow Peak double-wall Ti mug). It's a bit precious of me, but I'm crap at cleaning and don't like my tea to taste of bolognaise. There are larger pots you can use with the stove, but the fuel volume of 70mLs means that in the wild you'll struggle to boil 1L in one go.
This really isn't a two-person stove, but is perfect for the soloist who likes to use lack of cooking facilities to keep people from accompanying them on hikes. The stove is stable when used with my pot, but given the small overall diameter of the pot stand you will need to take care if using it with larger pots (more top-heavy) or wider pots and pans (easier to slip off the top). Evernew pots are a mixed bag; some have the ridge underneath to fit firmly into the stand diameter, some do not. Ensure you check this when purchasing pots for this stove.
My experience is four years of solo hiking with this stove. I fastpack, through-hike, and run ultramarathons, and have used this stove on trips up to three weeks long and in temperatures from -6 to 40+'C. I've just returned from my coldest-yet trip where I did need to proactively warm the stove and fuel to enable lighting, and did some research on stove systems, thinking alternatives might be better for such circumstances. I learnt that canister stoves, whilst more convenient and faster, are no happier in the cold than ye olde metho, and liquid fuel is the only way forward for better performance in sub-zero temps. Until I plan a hike somewhere super-cold, I'm sticking with my faithful friend.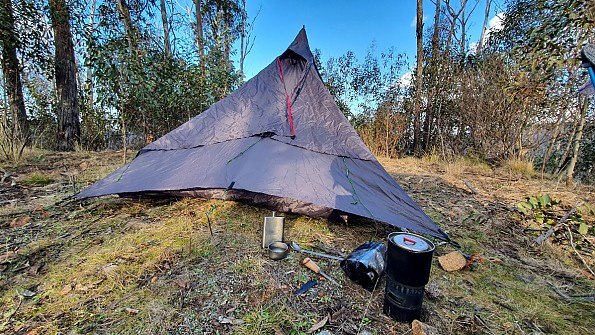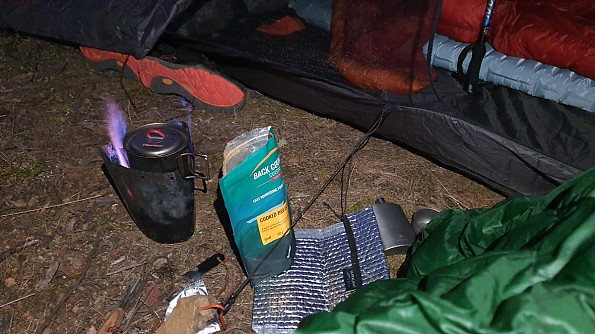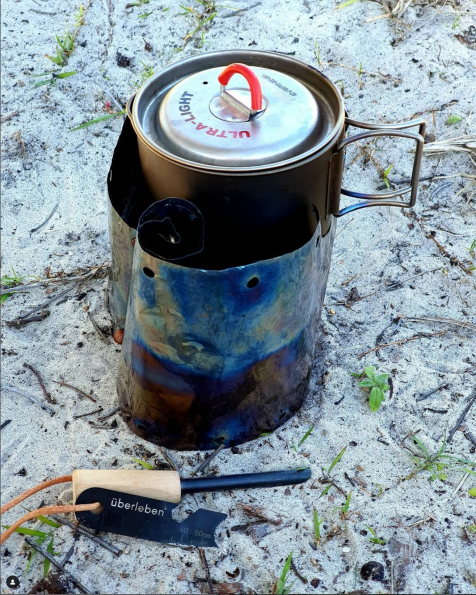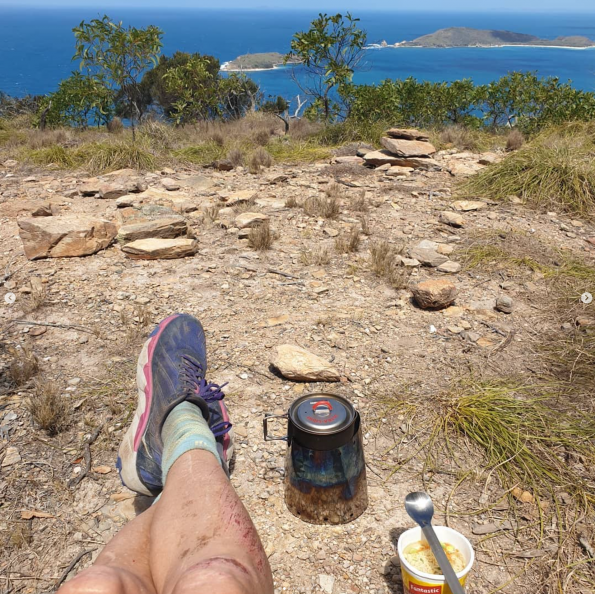 Experience
Used this stove for four years, ~1000kms hiking/year in conditions ranging from tropical offshore islands (where I live) through temperate rainforests down to sub-alpine winter hikes. I always take the stove, even for very short and very long trips. I used a solid fuel (Esbit type) trivet for my first hike and did not like the mess, so after a lot of research chose this for its versatility, lightness, and quality.
Source: bought it new
Price Paid: Retail; expensive, but purchased from UK so saved on VAT

The set is a thing of beauty and joy, but maybe not for a long hike (but the stove with a trivet may be 4-5 stars).
Pros
Light and fairly robust
Multi-fuel
Cons
Expensive and not that efficient
This kit is simple to carry, set up, and use. It is a joy to play with but not that great to use compared to similar alcohol stoves like a Trangia or Trail Designs (TD)
You can use it with different pots (with a lot of care and balancing) unlike the above, but it is a bit useless in a breeze. Imagine adding a breeze to the image of flames coming out of the stove from any web store and you will understand.  Another foil screen helps a bit but you can't just leave it outside your tent in the rain like the other two setups.
It will burn dry twigs fairly efficiently, but it has a small combustion chamber and you need to almost watch it boiling to keep it fueled. It is also a bit hard to use a second windscreen in this mode as you need to keep space to feed wood but not set fire to any fixed pot handles. 
In alcohol mode it is noticeably less efficient than the TD (which also has more room for wood in the wood mode). Evernew breathes and burns well (TD will run 50% longer...heating slower but to a significantly higher temperature). A titanium TD is a lighter stove (even including the two tent spare tent pegs) and with less fuel to carry means TD wins for long hikes. It may seem petty but while the DX kit only weighs 86g, most people will use 50-60g per day of alcohol...efficiency becomes a relatively important issue.
It will burn solid fuel tablets but is messy and much lighter options abound. I would probably to resort to this for fun or if I couldn't find alcohol (wood mode probably makes more sense if you lack fuel mid hike).
The burner itself is half the weight of the Trangia and will slot in the Trangia set. It lacks the screw cap (but often the residual fuel has burnt off by the time you can close it without melting the o-ring). This burner has engraved volumes on the inside so you have little excuse for over fueling it.
Personally I am too old to carry a second pot so I have learnt to live with the limitations of the single pot Trail Designs options. My unbreakable lonely Trangia has been alcohol free since the turn of the century. The DX set is fun to play with, but I choose not to hike with it. The burner alone with some foil is compelling for very short hikes,  but unfortunately a couple of grams of tablet stove, some foil, and some solid fuel tablets wins in this situation.
Add on review.....brought the trivet on special and paired with with  a titanium wrap....probably better than using the expensive  DX setup. 10ml of alcohol took 400ml of water with the  DX setup to 66deg C in just under 4 minutes with the wrap it was 83deg at 5 and half minutes.  This was in a well sheltered spot ..... the DX gets a lot of fresh air burns fast but wastes heat/alcohol. 
The trail designs is probably still more efficient but a loose titanium wrap and the trivet was only 25g.  This setup is a tad lighter than a TD but with a robust stove you could accidently stand on that is not limited to one pot size. 
Experience
6-7 alcohol burners over the years
Source: bought it new

Although lightweight and compact, it is over-engineered and inefficient. Limited with what it can do and unstable on uneven ground.
Pros
Very light and portable
Eye catching
Rapid boil time
Versatility
Cons
Very expensive
Inefficient and limited in use
Unstable
I have a number of alcohol burners (including homemade can stoves) and whilst it is well made and has an eye catching design, it is very expensive for what it can do. There are much cheaper, simpler and more efficient ways to boil water. 
Yes, it is very light, but for gram counters there is even lighter. Just the titanium burner with an Evernew trivet and a simple homemade wind shield would be a better cheaper option. 
It is a very expensive way to save weight just so water can be brought to a rapid boil. Compared to my own can stoves and a Trangia, it is very thirsty, so weight saved by using titanium is then lost by needing to carry more fuel for longer trips. Added to which, the design of the stove and the stand mean a simmer ring cannot be used. If lightweight simmering is required for more flexibility in cooking beyond dehydrated meals, use a Honey Stove Ti (or stainless) and a Trangia. It is lightweight, compact, and much more stable.
This is the final issue with the stove. Yes, it can be pegged down on uneven ground, but it's centre of gravity is still too high and it is easily knocked over or simply tips over if on a slope or uneven ground.
That said, unlike a Caldera cone, it can be used with a variety of pots which means a variety of food can be prepared. Just bear in mind unlike a Trangia burner, it has no simmer ring. If needs be, it can be converted into a wood burning stove. However, its size means it is limited to fairly small twigs. Boiling water takes much longer and this method can be very messy not to mention virtually useless in heavy rain. 
In summary, it will do the job perfectly well and it is very compact but it is an expensive way of saving a few grams and there are better ways to cook using boiling and or simmering methods. If bringing water to the boil is all that is required, buy a Caldera Cone by Trail Designs. They have one to suit just about every pot. It is much simpler, more stable and way more efficient. For simmering, use a Honeystove. It folds down flat so is just as compact and is a much better wood stove.  
The only situation where I can see it being of any real use is above the snow line as getting the stove set up with cold hands should be simple enough. Just make sure the fuel to be used has been prewarmed. 
Source: bought it used
Price Paid: £40

One has to experiment with setting it up with both the base and windscreen, just the base, and just the windscreen to get the best of all possible worlds. (This is best accomplished at home instead of on the trail.) I use both to boil water with my Fire Maple heat exchanger pot. It will boil a liter and a half of water faster than my microwave. I use the burner and just the base to make espresso coffee in two minutes.

If I want to simmer a pot and cook something that takes medium heat (like pancakes), I place the burner into the windscreen and the combination of stove and windscreen works perfectly to simmer. The Ti Dx Set also works with my Trangia, Alocs, and other alcohol burners. This product is so good that my hoarding gene kicked in and I purchased two of them.
Pros
Does not use much fuel when combined with a heat exchanger pot
Flexable, can configure the Ti burner into the base, the windscreen, both, or with the power plate
Flexable, can configure the stove to work with practically any alcohol burner, esbit tablets, or wood (it is small for wood)
Do not need a windscreen with this stove unless in gale force winds
Light, packs small, and fits into a pot for storage
Cools quickly so you can put it away before your freeze dried food is rehydrated
Blooms quickly
Will simmer for a long time when configured for simmer (see notes above)
Cons
The cost is high for such a little device
Need to put it in a pot or into a light weight plastic canister (I use a Zip Lock disposable) in your pack so you will not mash it flat in your pack
Have utilized this stove for 9 camping trips so far this summer and it is now my go-to stove for everything. Used to swear by my Trangia until I had fuel boil over twice on one trip.
Once I got back from the trip in which I had the incidents, I investigated further and found out that if one traps heat (by utilizing a very big pot or a flat griddle type of pan) over an alcohol stove for extended periods of time (longer than 8 minutes) that does not have cooling provisions at it's base, then fuel boil over is possible. Those incidents starting my search for a stove set up that has cooling holes at the base of the stove for cooling the burner.
Once I purchased this one, I have never looked back. It is engineered well as a package and I feel safer using it. There has not been a camping product that has impressed me more than this stove in years. I highly recommend it.
Source: bought it new
Price Paid: About 80 dollars including shipping

This is a lightweight stove. The burner comes to bloom quickly and it burns hotter than a Trangia stove. For boiling water, the burner is probably one of the best alcohol burners available.
Pros
The burner is durable, light, burns hot
The stove does double duty as a wood stove
Compact
Cons
Alcohol stoves are not legal right now in some portions of the U.S.
The burner can not store fuel, it all has to burn out
Simmering is problematic
The stove is relatively light, very packable, and sets up easy. There is what appears to be fiberglass on the inside of the titanium burner (you can see it through the seep holes) that allows the burner to come to bloom quickly.
The design of it is kind of neat. It has two sets of jetting holes, at the top ring and then the "shoulder", or the "outer shelf", however you feel like describing it. Once you light the inner alcohol, the gas escaping out of the upper holes ignites, and then lights the gas escaping from the jets on the outer shelf.  
Boiling two cups of water took about five and a half minutes.
The burner itself does not have an adjustable flame. There's no simmer ring like on a Trangia (there's also no way to store alcohol in the burner. You're supposed to just let it burn itself out). To simmer, you have to use the burner alone, and rest your pot directly on the burner's top ring.
The stove portion itself is possibly a bit over engineered in comparison to the burner. It's a three piece consisting of the pot stand, the burner holder, and a circle with holes in it that's supposed to "magnify the heat" but really just acts as a heat sink. Using it slowed down the boiling by a minute. It works passably as a wind screen for light breezes.
Or if you'd like, the stove part can be put together as a wood stove, with the holey disc as the bottom. It works, technically, but it's not a big fire and I didn't try to cook on it, as I didn't feel like getting my cup so darn sooty.
I'm not that confident in it holding any full size frying pan, but I don't think that's what this was made for. This is really just a single person backpacking stove that's great for boiling water on the Appalachian Trail.
Source: received it as a personal gift

It's light and boils fast. Well made and tough. Fits in a tiny solo kit. Lacks some features that minimalists can do without.
Pros
Lightweight
Small
Fast boil time
Cons
There are more stable stoves
Not very efficient
No simmer ring
Doesn't store fuel
As a minimalist, I generally obtain the lightest and simplest gear item available—if that doesn't hold up, I move on to the next lightest. This stove is light, even with its four pieces, and it packs up into a tiny solo pot with room to spare. I've used it about 100 times now, mostly fair weather bicycle touring.
It lacks a simmer ring—I can do without a simmer ring.
It lacks a lid—I enjoyed learning to put just exactly the right amount of fuel in to boil my water. Volume marks on sides of the reservoir helped. Rarely do I overfill any more. 
It could be more stable—not a deal-breaker, just be careful. 
It requires a wind screen sometimes. I use tinfoil, replaceable and cheap. 
I have twice boiled water using pine twigs (once in rain)—it was easy and relatively fast, but messy. 
Perhaps a heavier, more efficient stove would reduce overall weight (more stove, less fuel in the pack) but I haven't done the math. 
As for the price: you only pay once, and use the thing perhaps hundreds of times, long after the price is forgotten. Or else you learn that it is not for you, and you may call that an expensive lesson or a cheap one. I call it cheap and resume the search.  
Experience
I used this unit on a round-the-world bike trip of 11 months. Alcohol was easy to obtain everywhere but Russia (but only because I didn't wish to use isopropyl). I have had other alcohol stoves, a Trangia and a Trangia-like Svea. Compared to this stove they were heavy and big, but they worked pretty much the same.
Source: bought it new
Price Paid: I forget. Retail price.

Ok, let's get this part out of the way: Yes, it's expensive. And I'm spoiled, but consistently rarely—and this was one piece of Ti I had to possess. I love to cook, what better excuse. From the looks at first I said hmm... did they test out where every hole was punched, what shape, and how many? Probably.
My Test.
65 degrees no wind 50 percent humidity in San Francisco
Set up with only the pieces provided-, power plate resting under stove as storage
My 1.5 litre MSR Titan pot.
Markings on the inside of the stove (max line is a smidge over 2 oz.)- hit it.
-Insert 6 cups cold tap water( 48 oz). 13 degrees Celsius, no lid.
Hit stopwatch at flick of bic. (including prime time on this test) and two seconds later pot goes on top centered carefully.
@ 11. minutes. arrive hard rolling boil. (simmer was back over half a minute ago) its almost out of the pot. but no.
13 minutes. - rolling boil starts to begin settling.
13.5--flickers
So.
What are the practical purposes for such a well engineered get up?
You can set it up to burn forest snippets or esbit tabs—one reason I got it.
You can feel guilty because that money could have gone to a homeless shelter
You can rest assured that by the feel of it, with the exceptions of befalling a sleepwalking foot/ knee, you will be very fond of it fortnights.
At 3 oz, it's not a cat food can, and at almost ninety dollars it could be a Garmin 24K DVD shopped well. But it's not, it's delicate on the eyes, easy to figure out after 5 minutes of Rubiks cube work, and a standalone target for envious criticism. With modular capabilities from simmer to rip, (do experiment with configs), it puts out enough for two hip campers easily, or more. I'm taking it on the CDT for the occasional* sponge bath.
Price Paid: a lot

Okay, it certainly is expensive. If you calculate the difference between conventional gear and titanium gear and price your ounces saved, you will understand that air has become the most expensive commodity in the outdoor world.
But as a piece of kit, this is just fantastic and worth every penny. It is superlight, the stove is efficient, and with the trivet cross-stand it permits multiple permutations.
One thing to say is that Evernew's guidance is that the trivet cross-stand can not be used on top of the stand / windscreeen. This is incorrect — it can be done and is my favourite setup for boiling water. I own a Trangia too and after one year in a dry storage environment have noticed corrosion setting in. The Evernew will never corrode.
I've used my Evernew set for summer camping and will be taking it winter camping too. I love it so much I even use it to boil up water for coffee in my kitchen. On a full stove of alcohol, I can boil enough for 4 to 6 cups within 15 minutes (refilling my small pot between boils). The stove is fast and blooms every time, unlike some titanium stoves out there. I like having the versatility to burn wood if fuel runs out on a hike.
Downsides:
Price, but then multi-fuel setups are even more expensive and are not environmentally friendly.
Be careful to set the burner up away from long grass - in windy conditions this is a necessary safety precaution.
No simmer capacity, but the build quality and corrosion proof materials edge the Trangia by a long way.
All round, I love this piece of kit and would pay the money for it again if I ever had to.
Price Paid: A lot

Your Review
Where to Buy
Help support this site by making your next gear purchase through one of the links above. Click a link, buy what you need, and the seller will contribute a portion of the purchase price to support Trailspace's independent gear reviews.
You May Like
Specs
Price
Current Retail: $95.99
Historic Range: $84.96-$99.95
Reviewers Paid: $80.00

Model
EBY255

Weight
86 g / 3.03 oz

Material
Titanium

Fuel
wood/solid fuel and alcohol

Size
Upper 8.2 x 6 cm / 3.23 x 2.36 in / Lower 8 x 5 cm / 3.15 x 1.97 in

Includes
DX Set includes alcohol stove and pot stand/windshield

Country of origin
Japan