Trail Designs Caldera Cone System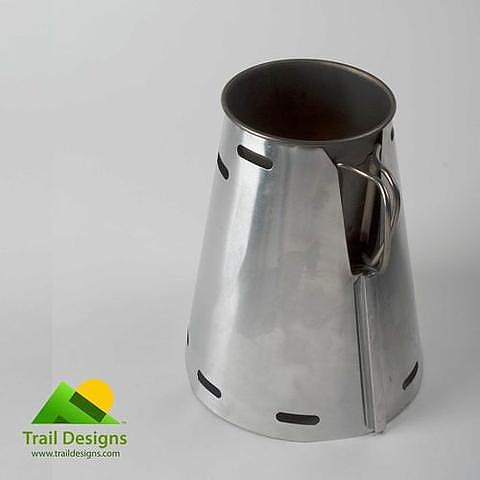 You cannot beat this for performance. Only a Trangia offers greater stability. Its simplicity is genius.
Pros
Stability
BTU performance
Weight
Price
Cons
Pack size
Easily damaged/ metal fatigue
Pot slips occasionally
Harder to operate in the cold.
Limited to one pot
I have many alcohol stoves but this beats them all, though not hands down. Foremost, it out performs a Trangia for a fraction of the weight and for much less cost. Its simplicity in design and use mean it is extremely well suited to extended trips in more remote areas. No moving parts and its simple design mean there is very little to go wrong.
It is an extremely stable system that eliminates the need for a pot stand as the cone acts as both wind shield and pot support. This is where the cone comes into its own. It operates well in all but the windiest of conditions and it is a fraction of the weight.
At $34.95 it costs a great deal less too. The cone completely encloses the pot being used (Trail Designs manufacture a cone to fit just about every pot out there) so the heat generated by the alcohol stove is not wasted unlike most other alcohol stands available. Instead, heat is channelled and reflected back towards the side of the pot. This makes the Caldera Cone much more efficient than other alcohol based systems meaning less fuel needs to be carried. 
It is incredibly easy to set up and this is well worth taking into account. Elaborate systems are so much harder to figure out when it is cold and or dark and the user is exhausted. Simply slot the cone together, slot the pot into place at the top and place over the alcohol burner. Wait 4-6 minutes for a rolling boil using next to no fuel. There is no need to wait for the burner to bloom. In fact, placing the cone and pot over it will speed this process up.
As I said it does not beat the competition hands down. It needs to be stored carefully when not in use as the aluminium is much thinner than a Trangia system and is prone to fatigue with constant use. The storage canister adds weight and, more crucially, valuable space in a rucksack. This is not a big ussue as the container can also store a few odds and ends. I do not recommend using the supplied carry case as a cup and bowl (as suggested by Trail Designs). 
Being an alcohol burner it will not perform as well in low temperatures and or high altitudes. It will be harder to prime and cold fuel dos not take a spark well so more thought will be needed compared to a canister with a 4 season gas cartridge, for example. 
My only major criticism is that the MSR Titan pot I use slips occasionally as it no longer sits neatly in the top as the diameter of the cone is very slightly too wide. I cannot explain this as it did not happen when I first got the cone. Perhaps the metal is expanding through being heated? The first time it happened I lost a pot of boiling water and narrowly escaped a serious burn. I am now much more mindful of this when using it. Additionally, the cone will only work with the pot it is designed to fit so cooking is limited to that pot which means it is not the most versatile cooking system. 
'Ultralites' may find the bulky storage canister annoying but it can be stored flat (just mind the sharp edges, if it is anywhere near a hydration bladder it will slice holes in it). Look after it and it will certainly look after you. 
I would recommend this product for anyone looking for an efficient easy to use alcohol based cooking system whether it is for a weekend or a long distance journey over several months. It is primarily suited to boiling water for drinks and dehydrated meals. It is possible to cook other meals but other systems will do this better. It is well worth the asking price. 
Source: received it as a personal gift

This is a lightweight 12-10 alcohol stove with a custom-made cone-shaped aluminum windscreen that serves as a pot stand for your specific cooking pot. Along with a fuel bottle and a Nyquil-like measuring device, the system is all packed into a plastic caddy for easy storage and transportation
Pros
Lightweight
Efficient
No "fiddle factor"
Durable
Wind resistance
Cons
Not flexible; can't use with multiple cooking pots
About 2 years ago, I made the switch to an alcohol stove – for several reasons:  1) wanted to reduce my base weight; 2) tired of gas canisters; 3) my old canister stove was in need of replacement; 4) I saw other backpackers having good experiences with their alcohol stoves; 5) wanted to go a little "greener" (what happens to all those empty gas canisters, anyway?).
So I did a bit more research and went with the Caldera Cone. I consider it one of my best gear purchases ever.
I've used this stove exclusively since I got it. That includes almost 100 nights on the trail or in the back country, in varying terrain and weather conditions. I pair it with my cooking pot, an MSR Titan Kettle. The plastic caddy screws apart and yields 2 pieces:  the smaller upper portion that can be used as a cup and the larger lower portion that can be used as a quasi-bowl.  I do use the smaller caddy piece as my coffee cup; I've never used the lower caddy piece as a bowl.  Note the little bonus there:  you can ditch the cup you were carrying and use the upper caddy instead. Genius, right there.
It's lightweight. The 12-10 stove, cone windscreen, measuring cup and fuel bottle nest inside the caddy.  When weighed all together, it's 4.5 ozs.
 It's easy to use. First, assemble the cone windscreen by sliding one dovetail into the other. Measure and pour your fuel into the stove.  Light the fuel and place the windscreen around the stove, and then place your pot inside the top of the windscreen, where it fits snuggly.  I usually put the lid on my kettle to help the water boil faster.  In about 6 to 7 minutes (on average), 2 cups of water reaches a full boil.
I know from using this stove exactly how much fuel is needed to achieve a full boil (exact amount, right down to the milliliter).  This is useful because it eliminates wasted fuel, and you can plan to carry precisely the amount of fuel you'll need for any trip.  No more messing around with gas canisters, wondering how much fuel is actually inside and invariably carrying an extra canister "just to be safe."  I use the 5.5 oz bottle that comes with the stove, and supplement it with another plastic bottle of the same size, or a bit larger if I'm going to be out for longer.  Again, I know how many meals any trip will entail and can plan to bring the exact amount of fuel I'll need. 
There is no "fiddle factor" with this stove.  No moving parts.  Nothing that can rust, corrode, or wear out.  It is about as simple as a stove can be.
It's sturdy. No need to worry about the pot being accidently toppled over, or balancing a pot on the 3 prongs of a typical canister stove.   
It's efficient. The cone windscreen has ventilation slots on the bottom for good air flow.  The snug fit of the pot into the cone creates an ideal heating environment that maximizes every BTU generated. 
I'm a simple man when it comes to backpacking cooking. I only cook meals that require boiling water.  I'll usually use a combination of  pre-packaged Mountain House meals and very simple freezer bag meals of my own doing.  I don't need a simmer function with my stove – I just boil water and add it to my meal.  For breakfast, it's usually some oatmeal and coffee.  Simple. 
I don't miss my old canister stove one bit and am very happy with the Caldera Cone.
Source: bought it new
Price Paid: $34

The most efficient, lightweight, simple stove option out there. Though, there is a slight learning curve, and keep it out of the wind.
Pros
Lightweight
No moving parts to repair
Super efficient
Cons
Alcohol burns clear so can be difficult to tell if lit or not
Takes a little experience to know how much alcohol to add each time
Must keep it out of the wind
No flame control, but great if just boiling water
I've been doing more solo backpacking so I needed a lighter weight stove option. After significant research I decided on the Caldera Cone. It is the lightest, most efficient option out there, as long as you are just needing to boil water.
The pot stand/wind screen/heat concentrator fits my solo titanium pot perfectly. However, keep in mind it is sized to a specific pot or cup so you need to know exactly which pot you have in order to purchase the right one.
It took a couple of uses for me to feel proficient at adding the right amount of alcohol each time, not too much and not too little, and to consistently light it correctly each time even in windy conditions (I've used my Crazy Creek chair as an added wind screen when it's been extra windy).
I really like the fact that alcohol stoves have no moving parts so there is nothing to go wrong as long as you don't ever crush the stove. However, the super simple design also means there are limits to what it can do. You won't be using this stove to cook eggs and bacon; it is a water boiler. They do sell a simmering ring but I've never used it b/c I am only interested in using this stove for its strengths: boiling water efficiently. 
In calm conditions I can usually boil enough water for a solo dinner with only 15-20 ml of alcohol. I've never timed it, but I estimate it takes maybe 5 minutes to bring my water to a boil. Add more time and alcohol if it's windy.
I am very happy that I found the Caldera Cone for solo backpacking and like it so much I have considered buying another to fit our larger water pot so I can use one when backpacking with my wife. Great design and very happy with my purchase.
Source: bought it new
Price Paid: Don't remember

Version reviewed: titanium cone
I have the titanium cone and have used it for about 10 yrs now. Still works great. Very stable and works well for either wood fire or alcohol stove or pot stand windscreen for small non-alcohol stove.
Pros
Versatility. It a pot stand, windscreen, and wood stove if you're out of alcohol or on a longer trip and want to conserve fuel.
Rugged and lightweight
I use the Caldera Cone system about 30 days per summer (breakfast and dinner) for about 10 years and it has a nice blue color and signs of use. It works as well as on day one.
It also works well with other stoves—12-10, Koren, Trangia, Toaks
Cons
It's a lightweight system and could be damaged if you accidentally stepped on it, but that would probably apply to most stoves.
I've used the Titanium Caldera cone with different stoves and basic design function works with them all. It is a very stable pot stand and windscreen. The pot sits inside the cone with the weight down low an inch or 2 above the stove depending on which one I use. My go-to stove for the last 3 years is the Toaks siphon. Primarily because it's easy to put unused fuel back in the bottle. 
The Caldera Cone also doubles as a good wood-burning stove. For wood burning Trail Design recommended the Titanium rather than the aluminum version. I've used the cone for a wood stove numerous times. The cone has glowed red hot but has never deformed.
As a wood burner the pot rests on tent pegs (included) and leaves space to continuously feed wood without needing to move the pot. With the inferno insert, the efficiency is improved and the evidence is less smoke and a cleaner pot with almost no sooting. 
Experience
Over the last 30 or 40 years I've used a few Coleman stoves, several MSR stoves, and others. I probably still have a dozen stoves. Since starting to use the Caldera Cone I've used it with different alcohol stoves, but unless I'm car camping the CC is what I take, kayaking, motorcycling, backpacking.
Source: bought it new
Price Paid: I bought the system with inferno insert and pot. ~100$

Look for the model that allows the windscreen to be used with a wood fire. Burn wood in the aluminum model and the sides will melt.
Pros
With some practice you can gauge how much fuel you need to prepare your meal. Then just light it, do other tasks. When the flame is out your food is ready.
Cons
For week+ outings your fuel weight will be substantial. A lightweight gas stove and fuel will be less weight and more convenient.
On a 10-day hike I found the titanium Snow Peak stove with a canister weighs less than 10 days worth of alcohol. I have used esbit, alcohol, and wood, but the most convenient and easiest to get going is the canister stove.
As far as alcohol stoves go (I have a least a dozen homemade jobs) the Caldera Stove system works very well, just be sure to get the right size for your pot.
Pros
Easy to use.
I cook meals that require 7 minutes sometimes, and one fill of the can that you light on fire will do about that much cooking time plus a little more for a hot drink.
Greenery cooking, no canister to throw away
I feel that liquid alcohol is safer than a pressurized canister.
Cons
Not all hostels carry the stove alcohol, but hardware, auto stores, and home improvement stores usually do.
Love its simplicity. No breakdowns, no moving parts to replace.
I always do one-pot cooking, starting with a hot drink. The plastic canister is handy for holding extra water. The Cone holds in the fire's heat, making it very efficient.
Experience
Half the AT. Then car camping and section hiking the AT for four years. The original stove still working.
Source: bought it new
Price Paid: About $35

Your Review
Where to Buy
Help support this site by making your next gear purchase through one of the links above. Click a link, buy what you need, and the seller will contribute a portion of the purchase price to support Trailspace's independent gear reviews.
You May Like
Specs
Price
MSRP: $34.95
Historic Range: $27.96-$52.76
Reviewers Paid: $34.00-$35.00

Min Weight Caldera Cone
28 g to 78 g

Min Weight 12-10 Stove
16 g

Min Weight Fuel Bottle
20 g

Material
Aluminum

Warning
Not for use with wood or petroleum fires.