Six Moon Designs Skyscape Trekker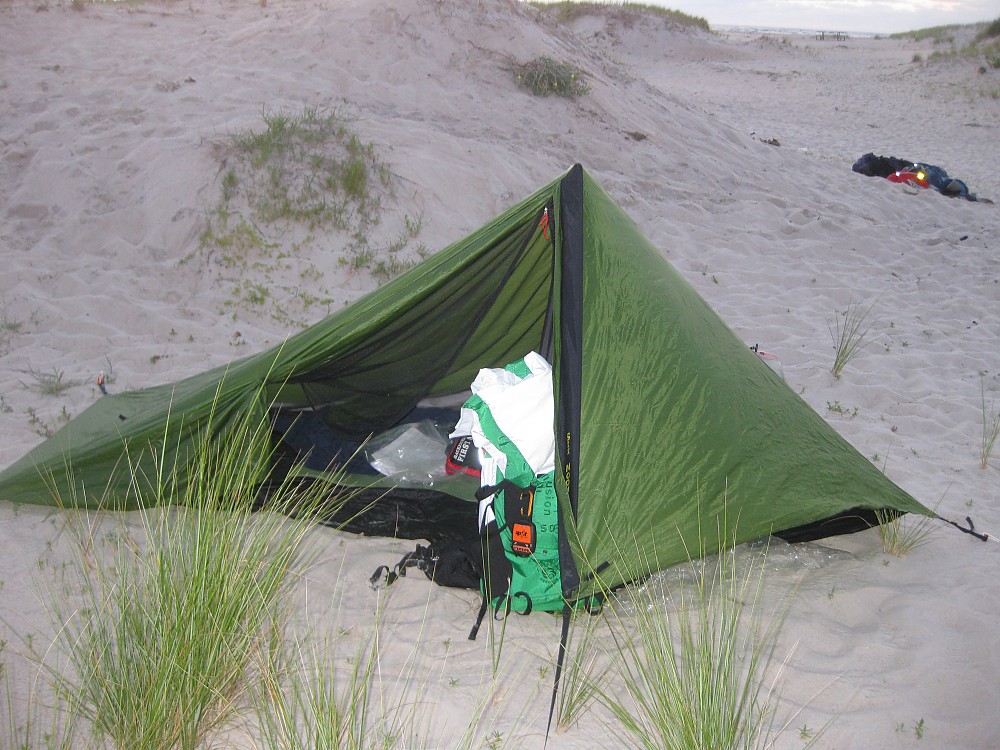 Here it is...I finally found my tent. Kinda went crazy this year in my search for the right tent, but finally found it.
Pros
Lightweight at 36oz**
More than enough room for one and gear
Ventilates great, yet provides excellent protection
Cons
I wouldn't say "delicate', but I wouldn't let kids in it
About me:
55-ish year old, 5'10" tall, overweight (190 lb and all in the beer belly), upper-intermediately experienced backpacker. Been backpacking all my life since before Boy Scouts in the early '70s to present.
Due to injuries and some physical issues (read: fat, old and lazy, mostly) I don't get out as much as I used to or would like to and have been transitioning from "Old Style" backpacking where I'd carry between 40 and 60 pounds (sometimes more) for a 3-7 day trip to "Lightweight" backpacking.
My 4-day, summertime pack which includes a complete tent (not just a tarp) and food, is now down to just about 20 lbs and I'm hoping to get that down by another 3-4 pounds in the next year or two.
Most of my backpacking is done between late-April and late-October in the high Sierras in central to northern California between Yosemite and Tahoe.
So, here we go with three mini reviews and a good one (I hope) of "MY NEW TENT".
The SMD Lunar Duo is HUGE. That's OK though. Even with the extra groundcloth and a ton of stakes (not all needed), it still comes in under 4lb. and compared to the 6+pounders I'm accustomed to carrying...  Four grown men cal literally sit up comfortably inside it (one is 6'6"tall) and play cards when the rain starts or the mosquitos get too bad. Two can spread out to sleep with gear strewn recklessly about and there's still the vestibules for more. Did I mention it's huge? I love it, but I'm trying to get under 2lb, so...
The BA Copper Spur UL2, at 3.5+lb with groundcloth and stakes is really more like a one-man+ tent. It sets up so easily and, being freestanding except for the vestibules, is easily adjusted post-setup. I liked that and the livable space inside (read—lots of room around your head and shoulders when sitting up), but wasn't so fond of the interior length (I measured it at only 85", not the 90" BA claims, but maybe the repair had something to do with that...damned dog), the "drop down doors" that, when unzipped to get out just fall on the ground, the weight (remember, I'm trying to get under 2lb) and the "Here I AM" color.  
Maybe I'm just getting old, but I don't want to stand out that much any more.  The orange and cream colors DO make it bright and cheery if you're still in the tent after sunrise, though. Don't get me wrong, this is a GREAT tent, but I guess it's just not for me.
Wow, is the SMD Lunar Solo LE a nice tent! At just well under 2.5lb with Tyvek groundcloth and all the extra stakes I carry, it was a dream come true. Held up extremely well in 20-25Mph sustained/40-45Mph gusty winds without so much as a flap. And that's staked into decomposed granite sand with 6" Groundhog-like stakes. I was impressed.
Floorspace was fantastic and it actually felt just as roomy as the Copper Spur despite being 3 square feet smaller...at floor level. The livable space (room around head and shoulders when sitting up) was definitely at a premium as I had to sit with my back to the one trekking pole that holds it up in the middle to "organize" or change clothes and my head and face would touch the inner walls.
Not a big deal as I usually change outside the tent where it's easier anyway, but.... Condensation was minimal with only a square foot or so barely damp just above my face in the morning.
That brings me to the SMD Skyscape Trekker. At another 3 square feet less than the Lunar Solo (that's 6 square feet less than the Copper Spur and about an acre less than the Lunar Duo), this is definitely the smallest of the tents I picked up to try this year and that concerned me as accustomed to lots of "real estate" as I am in my tents. At under 2lb with groundcloth and stakes (I brought 8, but it only takes 5), it was definitely the lightest. The length inside is impressive. I couldn't touch my toes and fingertips to each end of the tent at the same time.
I was originally concerned that I'd feel claustrophobic when sleeping with my head crammed up into the little triangle at the head of the tent, but I was a good 22 inches away from that leaving an impressive amount of room there to put my wide brimmed hat with my "pocket stuffins", flashlight, TP kit, and extra clothes (in a bag). There was enough room at my feet to lay my pack under my sleeping bag pad and nothing touching the walls or bathtub floor down there.
My shell jacket and pants stretched out along beside me and I still had a few inches on either side of my wide bag. My shoes, dirty clothes in a bag, and water bottles stayed in the vestibule. Plenty of room and I still had another unused vestibule to go. Yes, that's a chair with headrest next to the tent. Hey, for only 21oz, I'll take that much needed and much used little luxury.
Night one had the tent set up high, allowing lots of ventilation inside from every angle. I'm sure that, had it rained, I wouldn't have had an issue with rain splashing up and over the rim of the bathtub floor. I've since tried it at home under the sprinkler (oscillating sprinkler) for about an hour and it was dry as a bone inside. No condensation on night one.
On day two, I needed a nap, and what a nap I had. I opened up the tent flaps into full-ventilation mode and was able to get away from the mosquitos while still being cooled by the gentle breeze blowing across the high Sierra lake next to which we'd set up camp. Later that night, I battened down the hatches just to test it out and found that I should have stayed dry (it didn't rain, darn it) without a problem as when that tent's slammed to the ground, nothing's getting in or out.
It kinda got stuffy in the middle of the night, so I first checked for condensation and found none, unzipped and folded back the flys on either side and watched the sky for shooting stars. Didn't see any as we were in the trees, but hey, I coulda.
I never thought I could like a one-man tent, but the Lunar Solo LE changed my mind about that and now the SMD Skyscape Trekker has me absolutely loving one. I've found my tent and will soon be ordering another for my son.
***** UPDATE : 9/21/16 *****
After spending MANY more nights in this tent since my last review and after picking up another for my son, as I said, and after loaning these two tents out to friends to try out who've immediately purchased their own upon return (one a Trekker and one a Scout), I am more convinced than ever that this tent is too close to perfect as a one-man tent to bother looking further.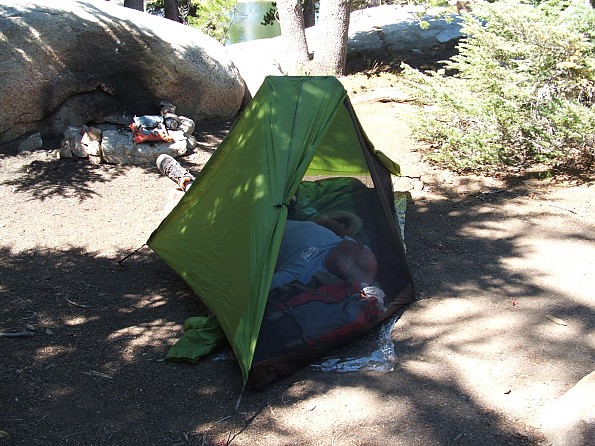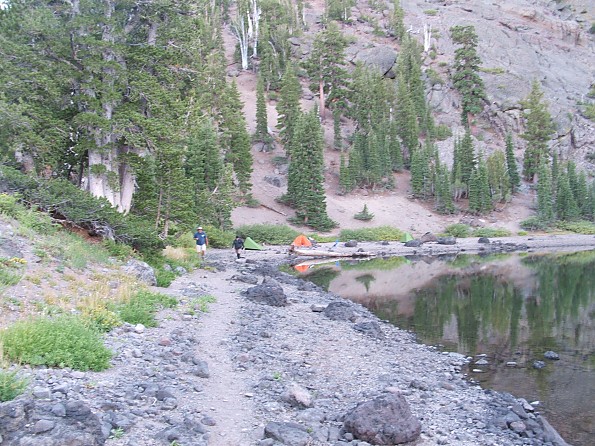 A quick note on the Scout model. Yes, it is half-a-pound heavier and has only the one door, but at only $125, it's a steal! Not that the Trekker isn't. You'll be hard pressed to find another tent as roomy, yet light for the price @ $235 and I consider it a steal as well.
I'm just saying that the Scout's heavier fabric gives it more of a "bomb proof" feel and I'd certainly be less anxious about my ground cloth, where I set up, and how gently I treat the tent with the Scout than I am with the Trekker. Not that I've had any issues with durability with the Trekker and am constantly amazed by how such lightweight zippers can operate so smoothly and flawlessly, but I'd just be a little less anxious with the Scout.  AND, I've only ever used one side of the tent or the other and never had to use both vestibules, so...

If I were going to start from scratch getting into lightweight backpacking, I'd DEFINITELY go with the SMD Skyscape tent...either the Scout or the Trekker...they're both just SO GOOD.
UPDATE 9/28/22 - Still using this tent and love it as much now as I did when I got it 6 years ago.  Yes, it's showing the wear and you'll find a small tear in the netting (that was easily enough fixed) and another low on the skirting that hasn't affected anything.  Yes, it's begun to stretch a bit and that required re-sealing.  That being said, all the stitching is still perfect and the zippers still work nearly perfectly.  Yes, I'm pretty careful with them, but hey, they're still working.
    Seen some storms with wind, rain and both (even a little snow one early June) and the only time I've had issues with dampness was when I had to slam the skirting to the ground for some rain storms with particularly heavy winds.  Got a bit of condensation inside since the ground was soaking in around the edges, but nothing unmanageable.
    Still my go-to tent and I'm still as excited about it as I was after the first season using it.
Source: bought it used
Price Paid: $160

Beginning to bridge the gap to light weight with this fantastic, well ventilated, hybrid tent. Packs down smaller than any one-man tent I've seen and uses your trekking poles. Extra room is good for larger person or like me usually claustrophobic in tight spaces.
Pros
Easy setup
Ultra light weight
Excellent ventilation for warm weather
Roomy for one person
Nice color for blending into woods
VERY small package size
Cons
More moisture than I preferred in rainy conditions
I watched the setup video on SixMoonDesigns.com website several times before pitching and it is relatively straightforward, simple. Using your trekking poles, need to adjust it to get even, symmetrical pitch. Material does stretch out after a few hours and needs to be tightened down as manufacturer states; this is done in a minute. I used a polycryo footprint that I cut out in my yard for ground cloth.
It is considered a hybrid because the 'roof' is single wall and all others double with large mesh screens that can be exposed for massive air venting. The diamond shaped floor and 45" tent height give interior a relaxed, spacious feel that I very much appreciate. At 5'4" 145 lbs. I can bring my pack and all gear inside with room to spare. I think this would be a great tent for camping with a dog if neither you nor fido are large in size. 
For first use I had it set up in a campground and it started pouring rain, so we went for restaurant dinner and social time. When I came back several hours later the tent was sagging and needed tightening up. Also my sleeping bag was wet enough I was alarmed that there may be leaking. After close inspection I found this was just the ambient moisture collecting on my gear from the air and ground.
This is the downside to VERY well ventilated. I would assume this is similar to tarp tenting. I think next time in rainy conditions I will lay my rain skirt out over the top of sleeping bag to collect the moisture. During the windy and rainy night no leaks, no water seeped through floor, no puddles, no rain blew in from under rain fly flaps.
Can't wait to use it backpacking next time. It packs up so small it doesn't seem possible to be a full tent. This is due to no tent poles of course and all one piece sewn together (no separate tent body and fly). And the weight at 1.5 lbs. is really hard to comprehend. You have to add in your own stakes too, it only adds a few ounces more. 
Overall I am thrilled with my new tent and it feels substantial for protection and sturdiness. My tent did come already seam sealed. When buying new you either have to do it yourself or pay a little extra for them to do this chore. I purchased used and it had been applied. Many thumbs up!!!!!
Source: bought it used
Price Paid: $175

I bought the previous model with only one door when it was on sale. Held up wonderfully in heavy rain. It pitches with trekking poles and does not require guy lines.
Pros
Light 24 ounces!
Fully enclosed
Great weather protection
Only needs 5 stakes
Roomy
Cons
Netting is extremely delicate and prone to runs
Takes some practice to pitch properly
Setup:
Setup took some getting used to, but once I got it right, it seems like it should be pretty easy to repeat. It doesn't include a footprint.
Weather Resistance:
I used this tent for two nights with heavy downpours. It requires seams sealing, though I didn't have a chance to do this before my trip. After being out and about during some really heavy rain, I finally got to the tent and was amazed to find it completely dry inside. After the second night, I only found a couple drops below the double door closure clip.
Condensation:
This review is still being worked on...

Source: bought it new
Price Paid: $175 on previous model clearance

Light, good cost-per-weight ratio, strong, large.
Cons
Small-ish vestibules
One vestibule hard to access
I used this tent in the Sierras on a Rae Lakes Loop for 5 days. The tent is very light but feels very solid once pitched. Pitching the tent is easy once you get the hang of it. The area above your head is a double-wall and above your feet is a single wall, so condensation was a slight issue with it dripping down at the edge where your feet are.
One vestibule is behind a wall with no entrance, so it is impossible to access from inside the tent. It is great to be able to open up both sides to the sky.
Source: borrowed it

Your Review
Where to Buy
Help support this site by making your next gear purchase through one of the links above. Click a link, buy what you need, and the seller will contribute a portion of the purchase price to support Trailspace's independent gear reviews.
You May Like
Specs
Price
MSRP: $160.00
Current Retail: $270.00-$275.00
Historic Range: $270.00-$275.00
Reviewers Paid: $160.00-$175.00

Weight
28 oz / 790 g

Material
100% Silicone coated Polyester