Six Moon Designs Lunar Solo LE

The Lunar Solo LE has been discontinued. It was replaced by the Six Moon Designs Lunar Solo.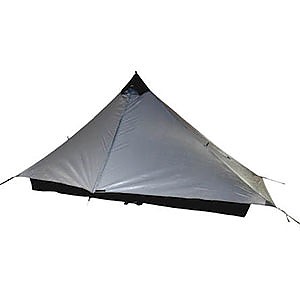 Simple to set up, very light and roomy tent for one.
Pros
Very light
Rock solid sturdy in the wind
Simple to set up
Plenty of floor space
Cons
A little short on "livability" (see "Cons" in review)
Used it on a three-nighter in the Mokelumne Wilderness (lower elevations). Temperatures ranging from highs in the 70s during the day to mid 30s overnight. Some very minimal rain one night, but windy during the day with sustained winds of about 20mph and gusts in the 40-45mph range with the wind letting up between 8 p.m. and 10 a.m. I can't believe I got pictures of everything associated with this trip EXCEPT this tent!
The tent was set up on a peninsula of a lake with the 6" MSR Groundhog tent stakes in decomposed granite.
I set the tent up sideways in the wind and pitched low (with the edges only an inch or two above the ground as the winds in the canyons of the Sierra Nevada drive uphill during the day and downhill at night. The vestibule, even when pulled all the way down was still at least 6" above the ground. Despite the sustained and occasionally gusty winds, the Lunar Solo faired exceptionally well with hardly a flutter.
That, of course, would change when the door to the vestibule was opened as the wind would catch inside the closed half and cause quite a bit of movement in the fabric, but no more than would be expected and never enough to cause the pitch of the tent to degrade. About an hour after initial setup I checked the stakes and the guylines and made some adjustments, but that was the last time it was touched before the trip ended.
There was some minimal rain in the middle of the night on one night, but it was easily shed by the tent.
This is a roomy tent for one person. After setting up my sleeping bag and pad there was plenty of room (read "floor space") for my empty pack under my feet and my other gear (clothes, first aid kit, etc.) in the little triangle of room towards the back of the tent and my shoes, big knife and water bottle in the vestibule area. Sitting up with my back towards the trekking pole allowed enough headroom to change clothes with minimal contact with the tent wall itself, but even for someone of my stature (5'10") there's no way to avoid some contact if you are forced to change inside the tent.
Condensation was minimal, as would be expected with so much wind, and contained to the wall area near where my head was as I slept...maybe a 3 square foot area...and was easily wiped up with my handkerchief as it wasn't even enough to bead up.
The zippers DO feel a little delicate, especially when zipping around the corner in the transition from horizontal to vertical, but I had no problems with them. I most definitely wouldn't allow a child to use the tent though, if only for that reason.
Pros:
Lightweight – at under 2lb with stakes, it's much lighter than anything I've yet carried and little more than a comparable tarp alone.

Roomy – With advertised floorspace of ~26 square feet (90" long x 48" wide at the widest point) there's plenty of room for one person and gear that needs to stay dry.

Adaptable – Can be pitched high or low to adjust for differing weather conditions...high for fair weather, low for windy weather. If it's rainy, but not windy, I'd leave it pitched higher in an effort to get as much ventilation as possible to avoid as much condensation as possible.

Waterproof bathtub floor

Good protection from bugs

Color – The grey color of the tent blends well in any surroundings and doesn't take away from the view when in the wilderness. Some tents are just too brightly colored for my taste.
Cons -
Although the tent can be set fairly high and the headroom is adequate if you sit with your back to the pole in the middle of the tent, there's not much room to move around without rubbing up against the inner walls of the tent when you're sitting up. Not that big a deal if the weather's decent, but it makes it difficult to keep things dry if there's condensation inside the tent.

Delicate zippers – not really a "Con", more just something to be aware of.
Overall, this is a great tent! As kind of a gearhead, I've owned and tried nearly a dozen tents in the last 20 years and this is by far my favorite as a three-season, one-man tent. To be fair, it's also the first "one-man" tent I've used. In my experience, most manufacturers' "two-man" tents are really only one-man tents, though. I HAVE used tarps and bug shelters before and this is definitely the best of both worlds. No more carrying 4lb of tent, fly, poles and stakes for just me...this is my new tent.
Source: bought it new (Purchsed "never used" through online auction)

With protection along the "skirt" and the screen door, there is no need for the extra weight of further mosquito netting. If a wind shift is encountered during the night, the tent can be turned around without much effort.
Pros
Weight
Room for gear inside
Take the time to learn the best way to set the stakes before you try to do so in the wind and rain!
It only takes one pole to pitch (this turned out to be a big plus after I broke a pole on an extended day hike).
Cons
Consider using some sort of rain protection for the feet end of your sleeping bag. The end of my bag as slipped out beneath the edges which is not good in the rain. Checking for level ground will help!
Memorize the best way to set up this tent to prevent a low sag between the ties. Once you learn the system, a taut pitch is one of the nice features. To help out, I added two more tie-out points along the longest edges. Look online for ways to make tie-out using elastic tubing or shock cord.
For flooring I use a piece of lightweight waterproof nylon just the width of my the sleeping pad and with about a two foot or so "pocket" at the end to protect the foot end from wetness in case the feet slip out from under the tent edges, which has happened to me.  (I am 5'9".)
Condensation is no different than other tents.  Do not worry about it!  I have had ice on the roof in the Sierras! This is my go-to solo shelter that has been with me on my hike of the JMT and many nights along the AT.  
This replaced my Gatewood Shelter.  For the Gatewood be sure you are comfortable hiking in windy rainy conditions wearing a poncho. NB if you use hiking poles, your arms will not be well-protected by a poncho. Devise a way to wear a belt in the wind. Think hard about and prepare for setting up your only rain gear as your only shelter when it is pouring rain.  
For a while I used tyvek as a ground cover, but it has small hook fibers that pick up small debris and twigs that are hard to get rid of once they are stuck on. Usually if the ground is dry, I don't use a ground cover.
P.S. My model of this shelter is at least 10 years old.
Since writing the above, I realize that the newer model of this shelter does have a floor. No ground cover needed.  So, it is a trade-off of convenience....the luxury of a floor, but some added weight.
Source: bought it new

Good tent, poor customer service.
Cons
Old design and Six Moon Designs doesn't care to send new tents to customers
I'm preparing to hike the PCT and got this ultralight tent for my journey. I've set up the tent a few times in my backyard and used it on overnight hikes. The tent is a good tent and performs well (I wouldn't say it's an above and beyond tent) but it's good quality and I will certainly take it with me on my thru hike.
The biggest downside for me has been poor customer service from Six Moon Designs. When I first received my tent I noticed two deficiencies: 1) one of the corner straps has hard-sewn into the fly and could not be tightened guy lines, and 2) the vestibule flaps were missing a hook that allows you to secure them to the main guyline so that the tent maintains its integrity in the wind.
I contacted Six Moon Designs about this and they were only responsive after three days of emailing and calling. Their response: it's probably an older model of the tent that they had in the warehouse and they have a no return policy. In fixing my issue, they suggested I cut out the corner strap and put a new one in myself and they never responded about the hooks for the main guyline.
Fortunately, these are two things that I can solve myself, but it shows me that Six Moon Designs is not a very reliable company, especially if you are out in the wilderness and your tent/pack/etc. breaks down and you need prompt assistance. Not sure I'm buying any more of their products.
Source: bought it new

This is the tent for you if absolute lightness is your only criteria.
Pros
Light weight
Floor space
Sheds wind well
Cons
Difficulty pitching
Low ceiling
Need large flat site to pitch it
I used this tent a few times, and moved on to slightly heavier tents that are easier to set up, need a smaller site, and have a higher ceiling. 
The core problem is that if you're relatively tall, like me, it's absolutely impossible to sit up in this tent without brushing the ceiling. It cannot be done. And because like all single-wall tents it does condense, this means that my head got wet. Every. Single. Morning. I think you really have to be 5'6" or shorter to be happy with this tent, anybody taller will feel like their head is being used as a mop every morning. 
Now, add in the fact that it's very "fussy" about its site. The site must be fairly large, and fairly level. If the site is not level, you cannot get a decent pitch. And forget about pitching it someplace where you cannot use stakes because of rocks or extremely hard desert pavement, the trick used with some tents of tying out corners to rocks or piles of rocks simply won't get you a usable pitch with this tent. 
The good parts: It's very light — 24 ounces on my scale. Also, because it's so low-slung, it sheds wind very well. Winds that will have tall dome tents blowing across the campground might at worst set up a minor flapping.
Still, because I'm tall, I ended up going to a Tarptent Rainbow, where you'd have to be a giant to brush your head against the ceiling in the morning.
Source: bought it new

Your Review
You May Like
Specs
| | |
| --- | --- |
| Price | MSRP: $180.00 |
| Weight | 30 oz |