Six Moon Designs Lunar Duo

The Lunar Duo has been discontinued. It was replaced by the Six Moon Designs Lunar Duo Explorer.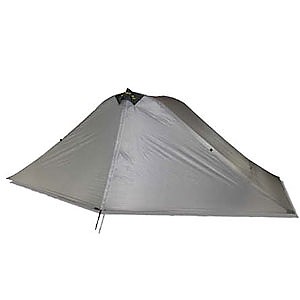 VERY roomy, lightweight two-person tent.
Pros
Light
Packs small
Weather-proof
Spacious — great for tall people
Bug-proof
2 doors and 2 big vestibules
Cons
Condensation in worst-case-scenarios is not ideal
I've had this tent for about a year now, and I'm very happy with it. I previously had a Mountain Hardwear Hammerhead 3, which was bombproof but huge and heavy. The Lunar Duo does the job at less than half the weight (3 pounds vs 8). I bought the "Explorer," the sil-nylon version.
Setup: Pretty straightforward, but it takes a bit of practice, especially if you're doing it alone. I usually have to take a couple passes at the stake-out points and guy lines before it's well pitched. If it starts raining after the initial pitch, you'll want to tighten things up before turning in for the night.
It will tend to sag a little in rain. You can either re-adjust the stakes, or just pull in the straps at the stake-out points. The two lines that run from the peak of the tent down to each vestibule can be adjusted from inside the tent. Very nice. Two guy-out points at the head and foot of the tent create even more head/footroom, and stability. 
Stability: I haven't been camping in any hurricanes, so I don't know how much wind it can handle. Obviously any tent has its limits, but if you set it up well, and double check it before turning in (tighten things up if needed), you'll be just fine. If you don't pitch it well and you get rained on, water can tend to pool on the tent, which can further mess with an already bad pitch. Haven't tried it out in winter yet.
Weather Resistance: I've been rained on pretty hard in this tent. Turns out it's waterproof. The bathtub floor saved my ass one time in particular when the tent pad I setup on turned into a mudhole overnight. If I had been rolling with just a tarp, I would've been soaked. The vestibules can be lowered almost to the ground which will keep things dry in rain, unless it's blowing sideways and upwards. 
Ventilation: Condensation is most often not a problem. Sometimes you'll get a little. If it's a little breezy and you leave the vestibules at least partway up, you'll have none. I only had a problem with it once — it was cool (40s) and raining hard. I'm not sure exactly what sort of conditions caused this to happen, but condensation was forming inside the tent in a bad way. There were large droplets forming on the inner surface, and the rain that was coming down knocked it off right on to my buddy and I. If it wasn't raining so hard, most of it would just roll down to the ends of the tent. That was less than ideal, but we lived to tell the tale, and it hasn't happened since, even in seemingly similar conditions.
Packability: Magic. For how roomy this tent is, it packs down to a large loaf of bread, and could be compressed smaller. I use my trekking poles as the main supports, and the only other poles are the arch supports, which pretty much disappear in your pack when collapsed.
Room and Storage: Great for two people, palatial for one. You could indeed seat four adults comfortably for a game of cards or whatever inside. Each door has a small mesh pocket, good for glasses, headlamps, etc. Having two doors and vestibules is huge in my book. Nobody has to crawl over anyone to get out and pee in the middle of the night.
Ease of Use: Good. The zippers all work well, they don't get hung up on themselves. Getting in and out can be a little cramped, not worried about it.
My good friend, who is a more experienced backpacker than I, was skeptical about this tent when I bought it. He has since proclaimed it to be "bad-ass" which means a lot to me, coming from him. It is indeed all that and more. It has so far lasted a year with no signs of wear.
I paid about $430 all told, which included factory seam-sealing and carbon fiber poles. If I take trekking poles the carbon fiber stays at home.
It is bug-proof, if that wasn't obvious.
Here it is with the vestibules pulled up: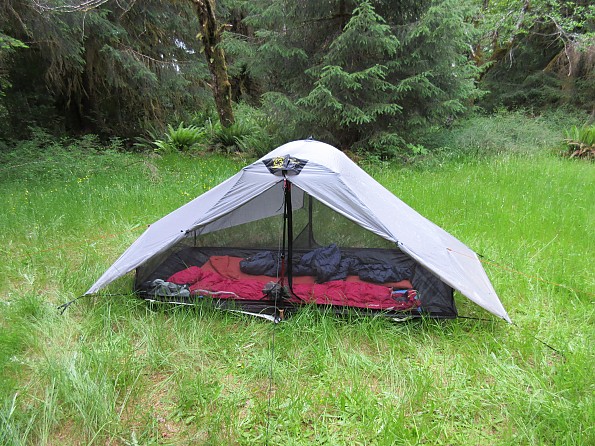 And partly down.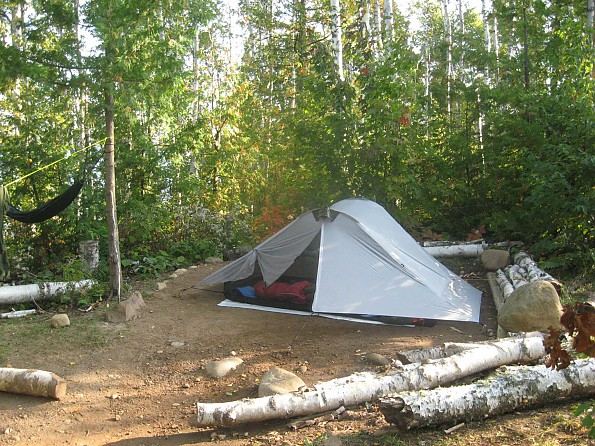 Source: bought it new
Price Paid: $430

A very light and versatile tarp tent that is roomy for two, and keeps out bad weather and bugs.
Pros
VERY light and compact
very weatherproof
keeps out bugs
no condensation
This tarptent is a winner. It has two doors, two vestibules, and lots of storage. It has a roomy floor and easily allows to people to sleep. It keeps out the rain and bugs perfectly. 
It is EXTREMELY light at 3lbs. This is with 6 stakes and the 2 optional poles for pitching. If you want, you can pitch with your hiking poles, and you don't need tent poles. This saves a few ounces more!
To set up is not difficult at all. Very straightforward, and I can do it by myself in the dark in several minutes.
I've been in this shelter in some very heavy rain. I stayed dry. My down sleeping bag stayed dry as well. So did my tent-mate and his bag. What's even better, is that tarptents don't get condensation problems like most other tents to.  So there's no dripping on you while you sleep.
If you like lightweight, but don't want to compromise on weather-proof-ness, then I strongly suggest this shelter.
Source: bought it new
Price Paid: $275

It is light, easy to pitch, and very roomy- length, width and height.
I bought this tent because I was backpacking with kids and needed more room, but couldn't take any more weight. I'm 6'4" and when I first got it, was backpacking with an 8-year-old, a 12-year-old, and a 14-year-old. I slept in my tent, and they got this one. They set it up and slept on very rainy nights.
Last year I went with the (now) 14-year-old and 16-year-old (now 6') to the Gaspesie. We hiked for two weeks from in the Matane to Gros Morne on the SIA. It rained most of the days. I was in my hammock, except for a few nights when there was no good spot to hang it. The three of us slept in the Duo, dry but crowded side to side.
Length and height are also great! The tent was set up in a variety of places and ways, but always worked. It does condense inside, but also dries out quickly. NO buyers remorse!
Source: bought it new
Price Paid: list

Your Review
You May Like
Specs
| | |
| --- | --- |
| Price | Reviewers Paid: $275.00-$430.00 |