Mountain Hardwear Hammerhead 3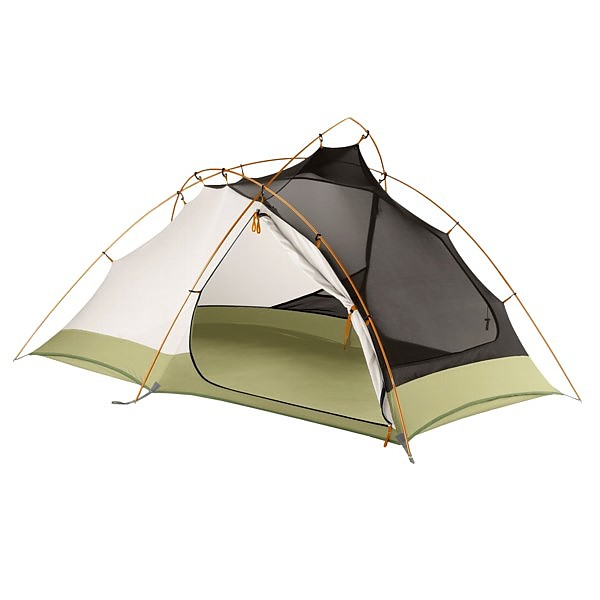 Heavy, but bombproof, well-designed and useful year-round.
Pros
Absolutely waterproof
Very comfortable for 2
Easy setup
Best 3-season tent for 4 seasons
I've had this tent for 2 years now, and have used it in winter and summer. It's advertised as a 3-person, which of course means it's very comfortable for 2 with gear. I have slept 3 in it, which is doable, but not ideal.  
The Hammerhead features 2 doors, which is great for the aforementioned party of 2, in that no one has to crawl over anyone else to get in or out. Each door has mesh pockets next to it inside, and a vestibule big enough for boots and a pack but not much else. There's plenty of room inside to sit up comfortably, or even stand if you're under 5 feet. Setup can be done pretty easily by one person in a few minutes, and is a breeze with another pair of hands. Getting the fly on for the first time was a little confusing but was not an issue after that. 
I can safely say that it's completely waterproof. It's been rained on HARD for 6+ hours with not a trace of moisture inside. I recall reading on Mountain Hardwear's website that they test their tents under 1200" of simulated rain over 24 hour periods. I don't have one of those camping stories about getting rained on for DAYS (yet) but I think it would hold up fine.
I haven't used it in really high winds either, but it seems to be very sturdy when set up. I have seen several inches of heavy snow on it with no problems, and in cold weather the vents can be completely zipped up. The fabric over the vents adds weight, but also warmth. I have used it down to about 10 degrees comfortably. Condensation has not been a persistent problem- sometimes it's there, other times not. 
This tent is kind of a beast, packing-wise. It's heavy and it does take a lot of space. Between 2 people it's  more manageable. There are lighter tents out there, but many would not be as winter-friendly as the Hammerhead. 
It can be setup with only a footprint, poles, and fly. While this saves weight (not a whole lot), I can't think of many days in my neck of the woods (MN) where this would be a good idea. Maybe it could be used in winter of you piled snow around the sides. But, as soon as it's warm enough to not have to worry about that you have to deal with armadas of mosquitoes AND ticks. I haven't tried using this setup yet. 

So yeah, It's bulky, but good for well below freezing, snow, torrential downpours, etc. I'll be getting a lighter warm-weather tent at some point, but I'm still happy with this purchase. Climbing into it at the end of a day on the trail has always been a good feeling.
Source: bought it new
Price Paid: $300

Absolutely bomber tent that is extremely versatile! Good for two people with some room for gear if needed inside. Nice vestibule size.
Cons
Heavy
Does not pack small
My girlfriend and I bought this tent after being drenched in a cheap tent we were borrowing during a thunderstorm. Fed up and wet, we looked for something that would for sure protect us from Mother Nature. Settled on the Hammerhead after hearing a ton of great things about it.
We've used it several times for car camping/sleeping outside the cottage in Ludington/Pentwater, MI, and also on North Manitou Island for backpacking. Biggest gripe on the tent is the weight, and how it does not pack small. We split the tent up between the two of us, but the body and fly took up quite a bit of real estate in my pack (65L).  Also, replace the cheap stakes that come with this, that makes a huge difference in its stability.  
This tent vents spectacularly in the warm weather, and can also handle temps down to 30F (as cold as I've taken it down to). The ability to close up the mesh helps regulate temp within.
Setup: Easy enough for one person to do, done easily in under 10 minutes.
Stability/Weather Resistance: Did great in a huge thunderstorm coming off Lake Michigan. High winds didn't phase it and we were dry and comfortable riding out the storm. With the amount of water coming down around, I was a bit worried about it coming in through the floor but the tent held up great! Have not encountered any surprise snowfall yet, but I expect it would be fine in it as well!
Room and Storage: Fits two people comfortably with some gear. Three people would feel really cramped.  
In the end, this is a great tent to have in your quiver. Handles bad weather fine and keeps you comfortable. Only issue is weight and packability.
Source: bought it new
Price Paid: $160 (SAC)

Ok so there's 10 of us guys. We all have tried numerous tents over the last 10 years. We've been hard core Island Campers. You name it all the cheap brands, even back to some old 350 lb. army tents we used!!
I will say this Hammerhead 3 was my ticket, held up thru 3, 2 hour pouring rains and wind across the water around 40mph + and no one problem!! Not so quick to pop up in pitch black night, but if you "feel it" this sets up in less than 10 mins..
Design: 3 person
Sleeps: 3
Ease of Setup: it's easy after you set it up 4-6 times
Weight: 10--20 lbs if that much?
Price Paid: 225

Purchased the Hammerhead 3 for the two of us and two dogs. It is spacious, easy to set-up and take-down, and sturdy.
We camped in it for the first time this past week in northern Wisconsin with intermittent snow and rain showers, plus a little mixed-in small hail with 30mph wind gusts. We awoke one morning to the tent glazed with ice. The tent was rock-solid, kept us bone-dry, and relatively warm for a 3-season tent.  
I'd rate it effectively a 3.5 season tent. Praise for the height and all the venting options.  
My only criticism regards the size of the doors and vestibules - a bit small. We had difficulty getting in and out, usually resulting in some water getting into the tent, and the vestibules each hold a medium-size pack plus maybe a pair of boots at most.
Price Paid: $259

This is a great tent! Picked it up on clearance due to floor model. Have used it numerous times in weather ranging from below freezing to lower 90s (fall-early summer) without problems. With the rain fly on it's tight as a drum. I had one trip where it rained two days straight with hard downpours at times and not a drop inside.
While the vestibules are small they're enough for shoes and similar sized items. Interior is good for two people with light gear (wouldn't recommend three even w/o gear). A tad on the heavy side for long distance hiking but very manageable for everything else. I highly recommend it and would buy another one at full price if this one ever gets damaged.
Design: Three-season freestanding modified dome
Sleeps: 2
Ease of Setup: easy, 1 person can handle in about 5-7min.
Weight: about 10lb w/fly
Price Paid: $150

Yes, I lucked out and got the Hammerhead 3 at the last as-is sale at REI for $69. Obviously this makes it an amazing tent for the money. It was returned because the original purchaser felt it was too heavy. For a three person tent it is not that bad. I would not want to hike the entire John Muir trail with it on my back but for a solid weekend of backpacking it is reasonable. It is really easy to set up/take down. I have not had to use the rainfly yet so no knowledge if that works or not. I am not sure if I would pay $275 for this tent but for $69 it is an absolute steal.
Sleeps: 3
Ease of Setup: Very simple
Price Paid: $69

I have owned many tents over the years, and the Hammerhead is by far the best. It is a very roomy 3-person tent and has plenty of headroom. My seven-year-old daughter can stand up without hitting her head. Recently backpacked the Salmon River Trail where it was to rain all night and sure enough it did, and the Hammerhead stayed dry all night. The vestibules are big enough for your bags and boots, that's about it. It is not the lightest tent in the world but if you split it up with a partner it is well worth it.
Design: three-season 3-person
Sleeps: 3
Ease of Setup: little confusing
Weight: 7 lbs or so
Price Paid: $350

Although difficult to pay so much for a tent, I was thrilled at its performance, especially when it poured on us in the middle of the night! We didn't get a drop of rain in the tent!
Flexibility when it comes to venting options with the convertible roof and venting panels are outstanding. I can't wait to try it this winter.
Materials are top notch, vestibules are quite roomy and the tent overall is extremely spacious for two people. It may be a bit heavier than some other tents, but it's definitely worth the extra pound or two.
Design: 3-4 season freestanding
Sleeps: 3
Ease of Setup: Quick and easy
Weight: Approx. 9lbs.
Price Paid: $495 CAD

Love it! Favorite tent ever for my wife and I to backpack in comfort. Roomy, dry, warm, excellent versatility for hot through cold temps and bug escapes. Great star viewing.
Cons
Needs two-way zipper on main zip-out panel.
Needs better mesh storage on sides. Gear falls out.
7lbs.
We needed a good tent to get away from bugs, rain, sleet, stay warm, stay cool, lounge and reading space, room to move and change clothes. Hammerhead 3 does all of that for the weight of an all season 2-person tent.
My wife and I backpack and love our comforts. We spend 4-5 days out a few times a year in three seasons. She sleeps cold, I sleep warm. The main panel zips off to expose the great outdoors bug-free or zips on for another layer to help with air gap insulation. This panel would be more versatile with a two-way zipper but functions well as is.
The side vents could be bigger for better visibility too, but that would add weight. The side mess storage pockets are a little funcky and gear falls out sometimes. Perhaps a fold in the mesh near the opening would alleviate this?
But overall, my favorite tent ever!
Source: bought it new

Your Review
Where to Buy
Help support this site by making your next gear purchase through one of the links above. Click a link, buy what you need, and the seller will contribute a portion of the purchase price to support Trailspace's independent gear reviews.
You May Like
Specs
Price
MSRP: $300.00
Historic Range: $177.00-$330.00
Reviewers Paid: $150.00-$350.00

Capacity
3

Minimum Weight
7 lb 7 oz / 3.36 kg

Packed Weight
8 lb 1 oz / 3.66 kg

Floor Area
45 sq ft / 4.2 sq m

Number of Doors
2

Number of Poles
3

Number of Vestibules
2

Vestibule Area
12 sq ft 1.1 sq m / 12 sq ft 1.1 sq m

Interior Height
54 in / 137 cm

Packed Diameter
7 in / 19 cm

Packed Length
23 in / 58 cm

Pitch Light Weight
6 lb 9 oz / 2.98 kg

Recently on Trailspace