Trangia 27-8 UL/HA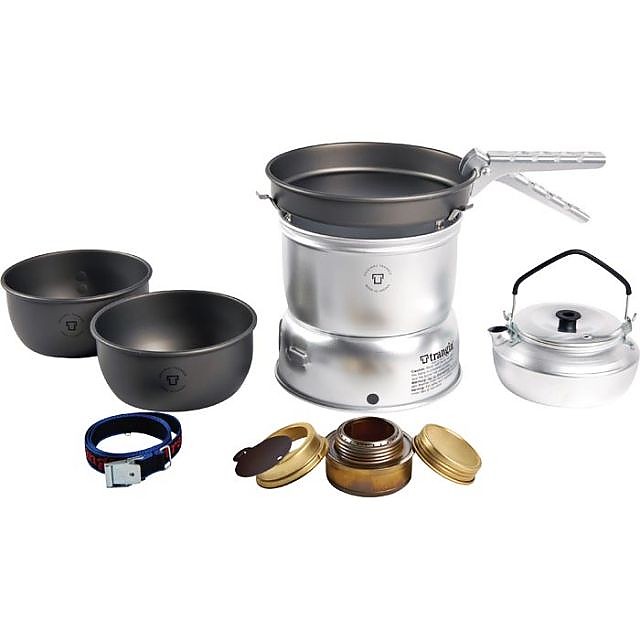 An ideal, reasonably lightweight cooking system for those who are willing to carry a bit of extra weight in order to have everything, but the kitchen sink! Well-suited for back country individuals focused more on comfort camping than long-distance backpacking.
Pros
Offers a variety of cooking options for fuller menu choices
Entire cookset with stove—30.34oz.
Virtually maintenance free
Cons
Takes up a fair amount of pack space
Expect to use (and carry) much more fuel for gourmet meals
Slower cook time than with a white gas stove
Frying pan was teflon (this was not listed when ordered)
BACKGROUND OF REVIEW:
On a 7-day September backpacking trip to Isle Royale National Park, three adult males used the Trangia 27-8 UL/HA as their sole cooking system. Our focus was more camping than hiking. We only averaged 6-8 miles per day, and our 45-50lb packs carried nearly all the comforts of home (including, books to read, cameras, and one guy had an 8lb tent!).
Food was a significant focus on our trip. We had a hot breakfast every morning and a hot dinner every night. Lunch was on the trail, snacking along the way.
CONDITIONS:
The stove was put to the test in high winds, steady rain, and light snow.
Winds on our second day, held steady at 25-30mph, with recorded gusts of 50+mph. (It was a terrifying day and night, as, even on the lee of the island, paper birch trees crashed to the ground around us. The day we were dropped off, we were told all boat traffic to the island would be suspended for 3-days, leaving some hikers stranded from their pick up time with not enough supplies!) The cookset's wind screen was thoroughly tested throughout the trip.
Temps held daytime averages between 37-50°F. The highest temperature was 57°F. The lowest was 28°F.
Rain and light snow occurred regularly for 5 of our 7 days on the island.
REVIEW:
The Trangia 27-8 UL/HA is a cookset implementing the Trangia Spirit Alcohol Stove (which I have reviewed previously). At 30.34 oz, the set includes:
Spirit Alcohol Stove

Aluminum windshield

1-liter

hard anodized aluminum sauce pans

7-inch hard anodized aluminum frying pan (ours unexpectedly had non-stick coating

0.6-liter tea kettle
We carried and used all parts of this cookset during our seven days on the island.

Menu Versatility

Using all the components of the cookset allowed up to have elaborate meals each evening. The sauce pans were used to heat pasta and rice items.
The frying pan allowed us the luxury of heated tortillas (soft shell tacos), pita bread (pizzas) and toasted bagels.

Other meals included scrambled eggs with hashbrowns, rigatoni pasta, Broccoli-cheddar Rice/Pasta, and even pancakes.
Our general meal routine went something like this:
Heat the kettle with water for coffee, tea, or instant soup while dinner cooks.

Heat the ingredients of the sauce pan.

Cover sauce pan items, while frying pan items are warmed (or toasted)

Thoroughly gorge ourselves, while the kettle is warming water for more hot drinks.

Heat water for dishes/clean up.
The entire system worked wonderfully.
The Stove:
The Spirit Stove is meant to last for years without any problems. It's maintenance free—as long as you don't put the lid on when the stove is still hot (you'll ruin the O-ring). Trangia's innovated simmer ring allows a person to control the intensity of the flame, and put it out completely, when he is done cooking. The lid addresses a draw back of alcohol stoves.
With the lid, I don't have to measure out every drop of fuel. I can fill the stove up, cook what I need, and then (after the stove cools down) screw the sealed lid to the top. Any unspent fuel is ready to be used the next time. There's no need to worry about wasted fuel.
A word on fuel consumption: I can bring 2 cups of water to a rapid boil using 0.8oz of fuel. Hiking solo with my own Spirit stove and homemade windscreen, I can go a week of dinners and morning coffee on 10oz of fuel. With our elaborate meals and clean up, we used nearly 2-liters of fuel on this trip. While Trangia refers to this set up as "UltraLight," I would challenge that marketing term. The Trangia 27-8 UL/HA is for the hikers who want to put comfort ahead of weight.
The Windscreen:
Despite rain and (terrifyingly) high winds, the windshield full protected the stove, allowing us to have hot meals. The windscreen serves the double purpose of a pot stand. With its wide base, there was little concern that our meal might dump over. I did feel this set up was a bit bulky and complicated, but as we were hiking for comfort, not distance, this was not a big deal.
The sauce pans are what you would expect from hardanodized aluminum. The efficiently transfer heat, and nestle neatly within the windscreen/pot stand.
The frying pan: It was a surprise to find this pan was non-stick, Teflon coated. This is not in Trangia's description of the item. Not being a fan of Teflon, we went ahead and used it anyway. The pan serves as a lid to contain the cookset and to cover the pans as rice is cooking.
The kettle: This is a nice, but unnecessary addition to the set. It weighs 5oz., but only provides 0.6-liters (2.5 cups) of water.  This would be the first thing I would jettison from the cookset if I were carrying it on my own. However, given we were using both sauce pans for many meals, it was nice to have a dedicated water heater.
SUMMARY:
Trangia doesn't make junk. Their Spirit Stove and the accessories that go with it, are some of the best pieces of equipment you can buy. While I would challenge the "UltraLight" claim on the Trangia 27-8 UL/HA, I would not challenge its quality or versatility.
If you are willing to carry a bit more weight, then I would highly recommend the Trangia 27-8 UL/HA.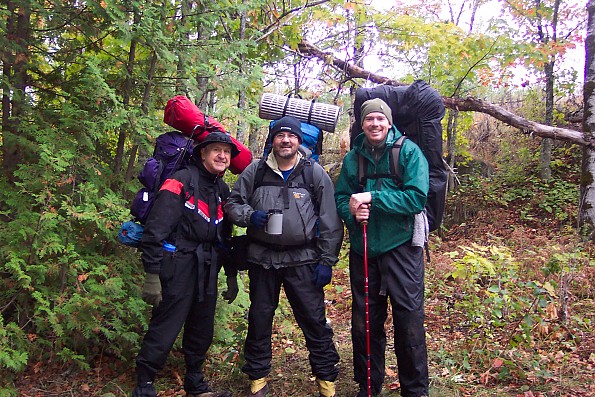 Rest In Peace, Terry Carter (at left). Terry's trail name was "Caterpillar."
He gave me the trail name "Goose."
Source: borrowed it

Such a great stove for everything...except high altitude mountaineering.
Pros
Easy to use
Quiet
Simple to maintain
Cons
Poor performance above 14,000 feet
I'm an "Outdoor Professional" having worked as an Outward Bound instructor, Park Service Backcountry Ranger, and program logistician since 1985. I've been using the Trangia Stove System as my only backpacking and expedition sea kayaking now for more than six years. In other words, this is not a "I just unpacked the product and it rocks!" type of review.

Pros:
Very easy to use. No pumping, no toxic fuel spills, no clogging

The most quiet stove system I've ever used. I really appreciate being able to hear the sounds of the beautiful places I get to visit and work in.

Extremely simple to maintain. In fact, about the only maintenance I ever do is to replace the burner cap O-ring every couple of years (and only because its failure would compromise another pro which is...)

Unlike most homemade alcohol "Tuna Can" type burners, the Trangia burner can have its flame snuffed with the "snuffer lid". Then the sealed lid is screwed on retaining the unburned fuel in the stove.

Uses fuel readily available on most countries. No more searching for White Gas (Naphtha) when visiting remote locations.

When comparing the total weight of the system with other complete systems — stove, windscreen, pots and pans, fuel, fuel bottles — the Trangia beats them all.

Flame control is simple and effective using the "snuffer" in a partially open position

Extremely stable design - haven't spilled a meal once.

Unlike white gas stoves, it can be transported on commercial flights.

Designed in Sweden for the Swedish military. Made by happy, well-compensated workers who use the product themselves as they enjoy their 6 weeks of annual vacation time.

Very, very well made. Always a pleasure to handle and be around.

CONS:
Lower heat output (BTU's) than white gas or Isubutane camp stoves. One should add 30% to boil times. But unless you're trying to melt snow to make water, why is the "boil time" a useful metric? So I sit QUIETLY a minute longer waiting for my coffee water than the guy with a filthy, noisy, smelly (not to mention toxic) White Gas stove. Last time I checked, enjoying the wilderness was the reason I was there in the first place...

By design, the O-ring in the lid is slightly loose and has been known to fall out when the lid is off the stove. I always carry an extra O-ring. Its only happened to me once in six years. Nothing that can't be remedied by simply paying attention to detail.

Performance drops off markedly above 14,000 feet. This is not a mountaineering stove. However, it works very well for Grade V Big Wall climbing as a suspension system is easily fabricated for the system.

I believe I've probably used every backpacking/mountaineering stove design commercially available in the U.S. The Trangia is superior in all but the most extreme cold or high altitude environments.
Source: bought via a "pro deal"
Price Paid: Can't recall

The Trangia system is widely used in Europe, even in extreme cold temperatures and high altitudes. It is simple, reliable (no moving parts) and very well made. It uses common denatured alcohol for fuel. The Hard Anodizing on the cook pots cleans up easily and does not tend to flake off like non-stick surfaces. It is a 1-2 person kit weighing in at 1.8 lbs, excluding fuel.
Pros
Quality
Reliability
Simplicity
Cost effective
Cons
Cooks somewhat slower than canister gas or naphtha stoves.
I have been a fan of the Trangia system for years. My first kit was a Swedish Army Mess kit of which I now have three. They cook very well and are somewhat safer than naphtha bases fuels.
While not a minimalist fly-weight system, they are light and compact enough for easy trail use. The system includes the upper and lower wind screens, two 1-liter pots (one is marked for volume level), a 7" fry pan, a .6 liter kettle, pot gripper, and strap.
At the heart of the system is the Trangia alcohol burner. This is a solid brass burner that burns quietly and efficiently. It includes the adjustable simmer ring for controlling the burner output. Burn time for a single fill is quite sufficient to prepare a meal. The wind screen channels the heat up into the cooking pots but does not create hot spots like some small butane stoves do.
You would do well to invest in a Trangia fuel bottle (do NOT use an aluminum bottle. Alcohol promotes rapid corrosion of aluminum). The optional cutting board/strainer is also a good investment.
The 27 system is on the small side, being aimed at use by one to two people. If you need more cooking capacity, opt for one of the 25 systems.
With readily available fuel, quality construction, proved design, and many available accessories, this is rapidly becoming my "go to" stove system. Because, it heats somewhat more slowly than some stoves, it may not be the best bet for snow melting but at all other functions it is exceptional.
Source: bought it new
Price Paid: About $100

Your Review
Where to Buy
Help support this site by making your next gear purchase through one of the links above. Click a link, buy what you need, and the seller will contribute a portion of the purchase price to support Trailspace's independent gear reviews.
You May Like
Specs
Price
Current Retail: $136.79
Historic Range: $107.99-$136.79
Reviewers Paid: $100.00