Eureka! Timberline 2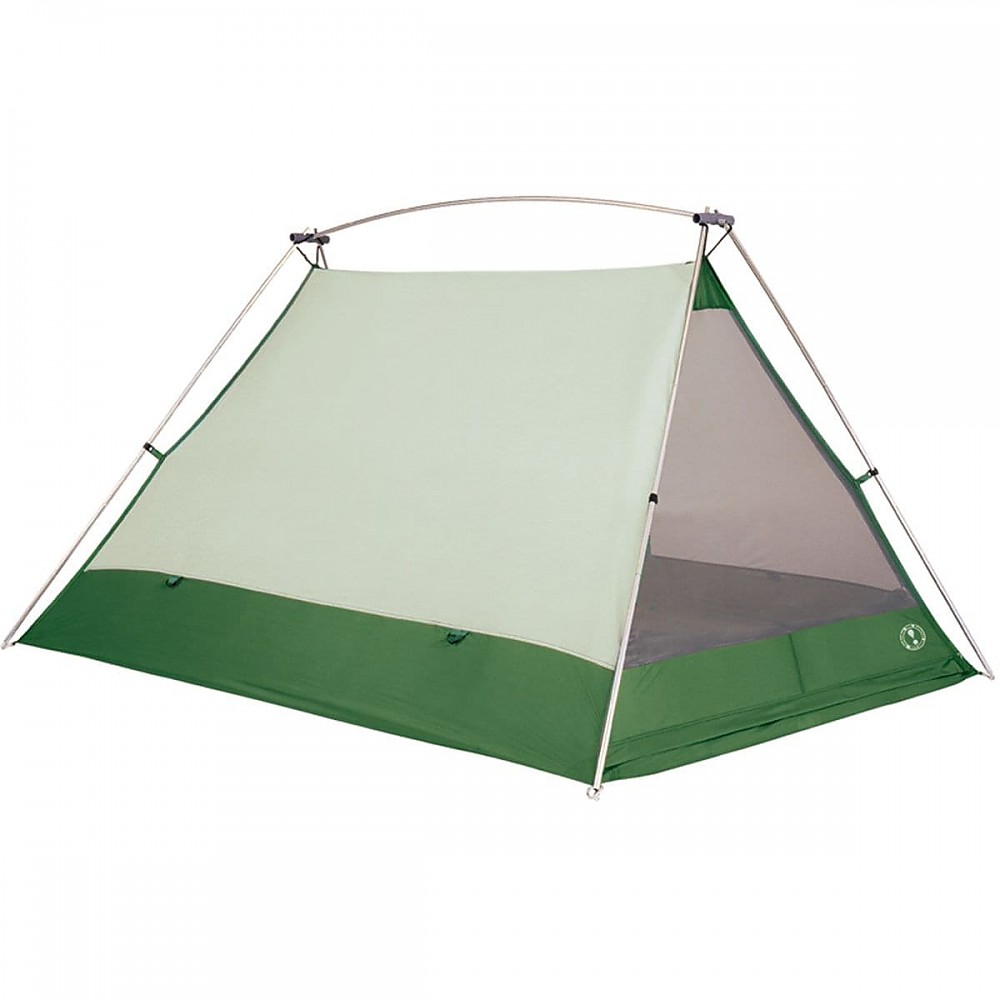 This is an affordable, surprisingly good tent. Roomy, easy to set up, and weatherproof, if heavy by modern standards.
Pros
Amazingly storm proof, easily a 3.5-season tent.
Simple to set up
Well made of solid materials.
Roomy. The floor is 63 inches wide by 86"
Inexpensive as such things go.
Solid fabric inner makes this a warm tent, impervious to spin drift and wind driven dust.
Comes with rings for interior clothesline.
Best ventilated rain fly I've seen.
Cons
Heavy: 6-1/2 pounds for a two-man tent is a bit much.
Separate rain fly means inner tent will get a little wet when setting up in a downpour.
Over twenty years ago I broke down and got my first ever tent. No more sleeping with the bugs on canoe trips, where yer always next to water and mosquitoes.
I went to a "mountain shop" and looked at all the colorful, complicated domes. Then I spied a neat little A frame that reminded me of the canvas tents I'd used as a Boy Scout in the 1970s. It was even green. It was also the cheapest tent there, so I bought it.
That tent was a Eureka Timberline 2. 
The very next Friday after work I drove up to my favorite lake, put my canoe in and started paddling. Around midnight I landed somewhere, took the Timberline out of the stuff sack for the very first time and set it up. The dark of night after a very long day isn't exactly the best of times to pitch a new tent for the first time, but I don't remember having any difficulty. 
On solo canoe trips this tent was like having a portable cottage. Room inside to spread everything out, a clothesline overhead for wet stuff and my candle lantern, it even had a little overhang in front to cook under in foul weather. From the first I was happy with this tent.

Unroll the tent, assemble the rather stout shock corded aluminum frame (new style pole joiners shown), and stick the pins at the corners of the tent into the bottom of the poles.   

There are two shock corded loops in the top corners of the tent body that get stretched over the apex of the poles, and four clips lower down that fasten the body to the frame. Kinda odd, but it works well and is fast. At this point the tent can be picked up and moved about, or held up and the dirt shaken out of it.

Then throw the fly over. It gets attached to the body with four clips, then stakes out. The Timberline comes with eight steel stakes. Eight stakes for a "freestanding" tent? Yeah, one goes in each corner to pull the tent out and nail it down good, the next four go two to a side to pull the fly ( and the tent side walls ) out. I have non-freestanding tents that use only four stakes, go figure...

The stakes are steel and at least an ounce each. Replacing them with inexpensive aluminum shepard hook stakes would reduce the weight by four ounces. An Easton aluminum frame would cut the weight of the poles in half, the poles with the tent are thick and very robust.
Once upon a time Eureka did make a lightweight version of this tent, and I wouldn't mind seeing them introduce it again. Would people buy the lighter and more expensive version? Maybe not, given the flood of lightweight tents on the market today and A frame tents are "old hat".  But the design itself is very sound and every time I use this tent I can't help but wonder "what if..." 
You can squeeze packs between the tent body and fly if you have to -

It was heavy at 6-1/2 pounds, but then all tents were back then (or so I thought) and it took up a lot of space in my backpack, so I still used tarps and ponchos backpacking...Until I met a girl!
Amazing how that can change yer priorities overnight, eh?
My wife quite liked camping in that tent, so I simply sucked it up and started carrying it backpacking. We evolved a system where she carried all our bedding, and I carried the Timberline, our stove, and the bulk of the food. She carried everything else, which made for a bulky but reasonably light load. We divide our loads the same way to this day.

It certainly is a bullet proof shelter. We slept soundly through some terrible storms and snow that flatten other tents. As the other reviews point out, the storm worthiness of this design is legendary. We never had any troubles with condensation. In nasty weather my wife would sit up inside in the back while I sat in the entrance and cooked hot meals over my stove. It was a great home away from home and that tent had a great many fond memories stored in it.
It was the only tent I owned and used fer close to twenty years. Can't say how many nights I slept in it but it was a heck of allot!
The only condensation I have ever experienced inside is a little frost on the inside of the door and back window when conditions are just right. 

I believe it is so dry because the fly is held well away from the tent over its entire surface and is open front, back and sides for maximum airflow under the fly.
Most tents these days have rain flies that look like upside down bowls placed over the tent. Ya know what happens inside a bowl placed upside down on damp ground at night? The inside surface will be slick with condensation by morning.
Ventilation between fly and tent -

The fly extends below the high bathtub sides of the inner tent and there is a generous overhang in back and front, plus the door and back window have waterproof doors to block anything that might blow past.
I always leave the top of the door and back window open a bit, at least a few inches. Guess what? Hot moist air from the bodies within rises, is concentrated by the slopping walls and vents very well out the top of these vents. A frame tents work.
The inner body is solid breathable fabric, not mesh. This makes it a warmer tent than most, and windblown dust or spindrift never gets inside.

In 2010 I set off on a cycle tour of Iceland. The guide book said: "You should be prepared for some harsh conditions along the way. Gale force winds, driving rains, sandstorms, sleet and sudden flurries of snow are all possible at any time of the year." So guess which tent I took?

On the tundra in Iceland - A modern low lying dome and the Timberline 2. Care to guess which tent had more room and was easier to set up? And the Timberline was probably less than 1/2 the cost of the dome.

Another camp in Iceland. The sandy soil didn't bother the essentially freestanding Timberline, 8 stakes or not -

It was on that trip that the seam tape peeled off the inside of my trusty 'ol Timberline. I never got wet but it was getting time to retire it from active duty. When I got back I cast around for a replacement. I needed one fast because my wife was due to set off on a week long car camping trip with some of our nieces and nephews. So I simply bought another! The price had gone up about 30 dollars in twenty years!
Old and new   -
I heavily seam sealed the 'ol tent and both went with my wife on that trip -

The new tent is marked -

Introduced in 1973? This design is 41 years old now! The Timberline is probably the oldest tent in continuous production. Despite the weight, I can see why. It simply works.  

Source: bought it new
Price Paid: $120 in 2010, $90 in 1992

Heavy tent, but will handle anything nature throws at it.
Pros
Strong build
Roomy
Can handle snow
Stays 95% dry
So this is the first tent I ever purchased in my outdoor career. Since then I've purchased and used many more tents. All of them are dead, but the Eureka still keeps on chugging.
For 10 years I've abused this tent and have backpacked and used it almost 20 days a year within the back-country setting and about as much in a front country setting since its purchase. I've tried many UL tents in the meantime and the longest one would ever last for me was a season. Yet, freakin Helga over here is still my main, strong, and loyal gal. Thank you, Eureka; I mean Helga.
Setup: Pretty easy and straight-forward to set up. Not as smooth of a setup as most other tents, but I don't care if I look cool setting a tent up. Regardless, it goes up quick and even without the rain tarp it's pretty weather proof so there is no urgent rush to get the rain fly on. (Weather resistance is GOOD, camped in Michigan negative degree snowy nights many times.) THE ICE DOESN'T RIP THE TENT, THE TENT RIPS THE ICE!
Stability: Used in in 60mph winds, rain, and hail. Still alive, no holes. Will try near the U.S. nuclear testing site and let you know how it goes.
Room & Storage: Plenty of room to fit two people COMFORTABLY (that's with both packs too!) 
Packability: Split between your partner or strap it goofily to the back of your pack in its green bag. It's not pretty or too convenient if you want a sleek look. 
Durable as hell.
I've used it from 10,000+ foot volcanoes in the PNW to -20° nights in snowy Michigan, North Carolina hailstorms, and it's still here. I lost one of the entrance canopy poles though.
Got it off amazon for around $200 back in my senior year in high school before the AT. 
With the heavy cons why 5/5 though? Shouldn't that be for perfect products? I gave it a 5 because I'm a money grubber now these days and will never buy another tent as this one will probably last another 10 years. It will save you money in the long run and add some extra gains to your leg muscles. 
Source: bought it new
Price Paid: $200

Simple, effective, and functional.
Pros
Waterproof
Gear loft
Screens at both ends
Warm
Cons
Needs to be seam-sealed
Junction tubes tough to manage in darkFfloor is kind of thin
I've had two of these: both an American-made one bought in 1987 and an Asian one that I purchased around 2002. The only difference is that the Asian one seemed like it had different material for the tent floor. I didn't have a problem with either tent.
If you prefer a longish tent, rather than a dome, the Timberline is one tent you should look at. The fly is good-quality and will keep you dry in a driving rain, but make sure you seam-seal the circular re-inforcement that goes over the junction tubes. This is where the greatest tension will be on the fly, and it can leak from there. Make sure you put a tarp down underneath the tent, too, because the floor can be punctured easily.
After owning my second one for about 7 years, I put a 20" rip in the tent wall by briskly running the end of one of the fly rods against it in the cold. It shouldn't have torn, but I guess nylon behaves differently in the cold (there were no burrs on the fly rod end).
This tent, unlike the Eureka Taron and other recent tents, does not have a mesh roof, but instead, has a roof material that is thinner than the walls. This is perfect for ventilation, illumination (from sun) and for protection from cold and wet.
The price on the Timberline is very reasonable, and is usually less than other tents in its performance/feature category. It's not fancy, but you will appreciate its simplicity. Though it looks like a "pup" tent, it is no "pup" tent. It is a modern, roomy A-frame tent that will withstand anything short of a hurricane or tsunami.
Optional gear loft is available, as well as an extender fly (XT) that has a vestibule in front of your door.
I've seen orange Timberlines and camouflage ones, too. The heavy-duty, U.S-made Timberline Outfitter, with doors at each end, is the rare, coveted, 4-season version of this tent, but the regular Timberline is a tent you can rely on, year-after-year. It's been twelve years since I bought one, though, so I have no idea what kind of quality control Eureka has, now. I'd take a chance on them, though.
Source: bought it new
Price Paid: $129

I have been in Boy Scouts my whole life, got my Eagle, and now I am a leader with my troop. Since I joined, my troop has always used the 2-man and 4-man Timberlines. I have used them any where from torrential rainstorms, to snowstorms where we have gotten 6 inches of snow overnight. I find that they vent very well in the summer, and retain heat well in the winter.
They also have a very long life, I know that after VERY hard use some of our tents are still trucking at over ten years. They are heavy though, so the Scouts must divide the tent parts in two to share the weight while camping. And you MUST stake out the fly and use the guidelines, if you want to stay dry. I wouldn't want to trust our scouts' wellbeing to any other tent.
This is possibly the most popular backpacking tent ever, and for good reason. It is free-standing, easy to set up, has good ventilation, and gives good weather protection.
As with all A-frames, the steep sidewalls mean you must sit up in the center. Also, it is a little heavier than dome tents or hoop tents with equivalent floor area. With the optional vestibule it can be an adequate winter tent.
In my opinion it is the best backpacking tent for the money.
Design: 3 season modified A-frame
Sleeps: 2
Ease of Setup: Very easy
Weight: 6 lb-15 oz
Price Paid: $99.99 (Campmor)

Camped from CO to AK in 1996. Never got wet—snow, wind. Put a tarp inside the tent.
I drove 9 hours each day from Denver, CO, to Talkeetna, AK, in 1996. I camped out every night following my drive during my drive. I never got wet, nor hampered by wind, etc./ snow
I have camped in my Temberlline 2 tent in many conditions (i.e. backpacking, car camping, etc.). A great tent.
Experience
I have camped for many years.
Source: bought it new
Price Paid: $150

Quality tents that will stand up to use and abuse for decades.
Pros
Affordable
Quality construction
Durable
Proven designs
Easy to set up
Cons
Not the lightest weight tent for its size
Not the most compact size
Eureka tents have performed well for me for 30+ years. I have used a Timberline 2 and a Flashlight (?) for years.  Was introduced to Eureka tents working at a backpack/canoe camp in Maine, where they stood up to heavy use/abuse and lots of rain and bugs. So when I could finally scrape together some $, I bought a Timberline ('85) for post-college geology field camp summer course. 
While too heavy for backpacking, I still use the Timberline occasionally for car and canoe camping with people and dogs; replaced the sun damaged fly in '04 (at that time could purchase separate replacement fly from Eureka/Johnson).
Bought the Flashlight in ~'90 as the first backpack-weight tent I could afford; still use it occasionally for colder backpack trips, including a couple of windy snow trips—much warmer (and more rugged) than my newest $$$ single-wall ultralight, ultra-delicate exotic fabric tents. I think double-wall design still performs better than $$$ single-wall quasi-"breathable" tents to minimize condensation and allow ventilation while keeping out the rain.
Experience
Have used Eureka tents for car and canoe camping and occasional backpacking for 30+ years in Appalachians and Rockies.
Source: bought it new
Price Paid: ~$80 - $120 decades ago

This brought back fond memories, mine was over 30 years old and been through all sorts of adventures including a 4-foot snowstorm that required tunneling out of. While heavy compared to what I now carry, it was like an old friend. It finally gave up the ghost due to UV.

Thanks all for the memory.
Pros
Just works
Was not too heavy when I was 20
Was probably my favorite tent that I probably paid $40 for back in the '70s. Has been solid in all types of weather and being able to stretch out was wonderful.
Being older, everything is about getting lighter gear that is $, but nothing I currently use will ever see 20 years of hard service, well maybe my old North Face Bull Frog that I took out a few years ago and survived the mother of all rainstorms.
Source: bought it new
Price Paid: $40

This has been the simplest, roomiest, and toughest tent I've ever used. The frame can be set up under the fly allowing you to pitch a dry tent in the pouring rain. Finally, the fly, floor, and zips have survived the hard use by dog and children season after season, and it's still going strong.
Pros
Strength
Easy to set up
Roomy: relatively high roof, broad floor space
Cons
If you lose a part (the cross pole connector) you are in big trouble.
The connectors are hard to replace in the bush.
Midweight tent (not lightweight)
The price point is fair. The quality of tent is unbeatable and the weight of the tent is reasonable, particularly hunting or canoeing. The outfitter's edition (heavier zippers and flooring material) is a little heavy for backpacking. 
Love it. Not for the ounce counter. It is my oldest price of gear but I can't get rid of it—great shelter.
Most secure tent. I have used it in the dead of winter with no issues even though it's a 3-season. Indestructible. Love it.
Source: bought it new
Price Paid: $200

Bought a used timberline 2 about fifteen years ago at a garage sale for $7. it makes a great winter tent if you set up in the woods, wind and rain can cause problems. 
i sewed a couple of loops on the fly and use it alone in the summer. 
all and all a real classic and the best 7 dollar deal ever!
Price Paid: 7 dollars

Perhaps the most recognized tent in the US for a reason. I bought an extra fly with vestibule at both end to use when the weather forecast looks like rain. 
I have owned mine for about 15 years with no breakdowns. I am rather anal about using a groundcloth both inside and out as well as seam sealing. As a result the only rain to ever get in was when I went for a short hike and left the screen open and the rain blew in. 
I just wish that it were about 2 pounds lighter, but I suppose that weatherproofing comes at a cost in ounces.
Price Paid: $80

This tent is THE Gold Standard for A-frame shaped tents.
During my college days I spent two months with thirty others on a geology-focused camping trip through Alaska. We had about ten different types of tents, including several sizes of the Eureka Timberline. Everyone had a chance to set up and sleep in the various tent brands. The college kids did a lot of "sleeping around" AND tent testing on that co-ed trip!
CONCLUSION OF ALL THIRTY PEOPLE: Timberline is best tent by an order-of-magnitude. It vastly outperformed every other tent we had on that trip. I'll always remember that experience. When you spend 60-days straight sleeping in a tent through wind and rain, you LEARN it really makes a difference to have a quality tent!
Design: A-frame freestanding Gold Standard tent
Sleeps: 2
Ease of Setup: Super Easy!
Weight: 7 lbs
Price Paid: $100

Good Scouting starter tent.
Pros
Affordable
Easy to set up
Looks like what a scout would but
Cons
Heavy
Not well thought out
Weather protection not all good
To put it short, I learned how to camp in one of these for a couple years. Once taught how to set them up from an older scout I felt like a camping pro.
These tents are easy for a small troop to buy and last a decent amount of time. They fare OK in inclement weather, but not so much in the tornado warning 3 inches of rain type of campout. 
Again, it's a great little tent to start in, but you'll eventually find better ones out there that can handle the weather and comfort better.
We have purchased Timberline tents for our Boy Scout troop in the past and found them useful, easy to set up, and good quality (lasting many years).

However, the last purchase of eight tents in 2013, was a disaster. Eureka changed the zippers — and they won't stay closed. The teeth on the zippers don't hold, and if you pull the zipper just right, and manage to close the zipper, it pulls open with a very light pull (even the wind will open it). Simply, they won't stay shut!

We're now looking for an alternative. It's too bad, because we have tents that are 15 years old with zippers that work better than the new ones!
Pros
Easy for Scouts to set up
Overall - this product is a good design, easy to set up.
However, the recent change of zipper, to VERY poor quality makes this a product you should not purchase. What's the point of having a screen and the zipper won't close?
The Zipper doesn't stay closed. If you do manage to carefully close the zipper, it easily pulls open — and becomes a problem to move to open/close again. 
Eureka didn't stand behind their product, and we now have to replace all the zippers - in their first year - which will cost almost what the original tents cost.
We're now looking for an alternative for our next round of tents — and will be avoiding Eureka until they improve. It's too bad, because we have tents that are 15 years old with zippers that work better then the new ones!
Source: bought it new
Price Paid: About $140 when we bought many

Just purchased another Eureka Timberline. My last one survived 25 years. It is easy to set up and long lasting. I have survived many a rainy night with no problems.
Pros
Durability
Ease of setup
Water tight
I find this tent easy to set up. I have done it in the dark many a time.
Wind, rain have no effect on the tent at night. It is stable, and water tight.
It can get a little warm even with the vents open, but I have found that if there is no chance of rain, without the rain fly it is very comfortable.
There is plenty of room for two adults, gear can become a little tight if the adults are large and there is a lot of gear. Standard backpacking or climbing gear fits fine.
It is a little heavy for backpacking if I am traveling alone, but split between two it is fine.
This is my second tent. I used the first for 25 years but my damp basement made it a little funky.
I have only used this new one for 1 year, but it is mostly the same as my first..
Source: bought it new
Price Paid: about 170

Heavier than others by a pound or two BUT, if there are two of you going split the weight. You won't be sorry you've got a Timberline when the weather gets bad!
Since 1975 I've weathered pounding, unrelenting, torrential rain, driving snow, wet snow, light snow and temps to the single digits in mine and other people's and they are, without a doubt, the most weather proof tent you can backpack that I've ever seen PERIOD
They are easy to set, can be set in the rain without getting the interior wet, are easy to tear down and pack. Yeah, you can get a lighter one but, I'll bet it's a lot smaller, not nearly as durable and you'll probably wake up wet more than once. I've actually woken up with the tent in two to three inches of rainwater runoff and not one drop came into the tent. You could poke the floor with you finger and it resembled a water bed.
It is easy to ventilate, has good breathability but, manages to hold heat in the cold. A candle lantern makes a noticeable difference in interior temperature. I don't know how to rate it any higher. The only way I think the tent could be designed any better (other than with an automatic setup and tear down feature and built-in wetbar) would be to keep the exact same size and weatherproof qualities and make in two pounds lighter. It's simply the best I've experienced for two people.
If you are a diehard, purist who cuts the handle off their toothbrush and drills holes in whats left to save weight you probably won't like it. If it never rains, snows or sleets when you camp then, you don't need it. If you camp where I do, you'll never do without one.
They were $126 in 1975. Now, Campmoor has them for $119! I just ordered a new one because my youngest daughter wants me to take her and some of her college buddies backpacking, we'll need the space and I don't want to throw my money away on junk.
Design: 2 person A-frame
Sleeps: 2
Ease of Setup: easier than domes by long shot
Weight: 6lbs 8ozs
Price Paid: $119.95

This tent is simply awesome. My dad and I bought this tent almost 10 years ago to backpack into high lakes and meadows in late September during elk season.
We rarely camp below 7000' with this tent. Setup is quick and easy. We can set it up in 10 minutes in the dark. Keeps the rain and snow out. Warms up nicely for an afternoon nap. Quick takedown and easy to take care of.
I'd buy another without thinking about it.
Ease of Setup: Super Easy!

Bomb-proof! It is not light, but it is tough. I have slept 3 in a pinch. With the vestibule, I feel like I have a fabric house. My husband has one from the 70's from his scouting days our kids still use! Just this year, we discovered a hole in a corner that is fully repairable.
This tent kept me out for extra days in rotten rain this summer. The only real wet came when I did not set up the ground cloth right, and I was able to take care of the water easily. While I am looking for a lighter "fair-weather" tent, one cannot beat this tent for great features at reasonable split weight.
Design: 3.5 season free-standing
Sleeps: 2
Ease of Setup: It is probably a 5 minute job, but it will take 20-30 mile an hour winds without guyouts
Weight: 7.5 pounds
Price Paid: $100

I bought this tent to help my son (10 yrs) with a Cub Scout requirement of setting up a tent by himself. My son quickly understood how to setup the tent and can do it by himself. He can set it up within 15 minutes. Broken down the tent is slightly bulky.
We bought the pad that was designed for the tent, which fits perfectly under the tent.
I have not had the opportunity to use the tent in adverse weather, so I can't comment on that.
The interior space is tight and doesn't have much room for additional items. So, if you get this tent, you will have to plan on leaving some items outside of the tent.
Pros: Price, ease of setup
Cons: Limited interior space, broken down the tent is slightly bulky
Design: 3 season, "A"-frame with exterior supports.
Sleeps: 2
Ease of Setup: Very easy.
Price Paid: ~$100

A solid cabin in the woods. I have owned my Timberline for more than 25 years, buying it after a budget tent blew down in a storm. I have used it for backpacking, canoeing, biking, and skiing. It sets up easily in less then 10 min, once you figure it out. (Set up the frame first, attach the bottom of the frame to the tent pins, loop the peak elastics around the top, then add on the fly and frame end pieces). It has shrugged off storms, wind and snow. Although at 7+ lbs it is a little heavy, I am pretty big, and I soloed in it until I got married. Then I added the vestibule for our packs and my wife and I used it. Now my son has gotten into Scouting and I am an ASM. Guess what is the most common tent at Scout outings?
This tent has been very reliable for me. It flexes some in the wind, but I usually am in the woods and have not had any problems. I waterprrof and seam seal it about once a year, and am careful about drying it after each trip.
I recently added the annex, but my old tent is missing a hook that is on the newer ones, so I may have to get out the needle and thread. At the same time, I am getting older and less flexible. Maybe it is time for something a little bigger... If so, it will probably be a Timberline 4XT.
Design: three+ season free standing external frame wedge
Sleeps: 2
Ease of Setup: easy, but there are tricks
Weight: 7.5 lbs
Price Paid: about $75

These boy scout stalwarts have earned their stripes in terms of durability; anyone will tell you that. I admire them for other reasons. The Eureka Timberline is absolutely, positively the most practical tent to have in a multi-day rain-drenched trip, and that's the benchmark I use to judge my tents, bcs 80% of the time, those conditions are the kind that *could* make your trip miserable. The Timberline is pretty much built like a *boat*. But that's not where it really shines. The freestanding A-Frame is *totally* self-supported. Unlike curved pole designs, and tension pole designs, the Eureka! freestanding a-frame stands up with *absolutely* nothing else. And the fact that the tent attaches with clips rather than pole sleeves, means you can put up, and take down the tent in the relative dryness and mud-free environment under the rain fly. The tent doesn't get soaked...or nearly as muddy...and neither do you. Go out on a 4 or 5 day trek, and you'll really appreciate it when the top of your tent isn't soaking wet when youre packing it, and isn't soaking wet when you're putting it up agian for the 3rd time. Try that with a $5000 geodesic dome, and I guarantee you, you will be cursing those pole sleeves out. Come on...when was the last time you were camped out at 40,000 ft?
I've been camping for 25 years, in all sorts of tents, all sorts of weather, and all sorts of terrain, and the Timberline line of tents is *still* my all-around favorite for 80% of the camping, and even longhaul hiking (where I'd probably go for the xt if I decided to blow the cash).
Design: A-Frame Alum Poles
Sleeps: 2
Ease of Setup: Easy once you are familiar with the parts
Weight: 7 lbs

Although not a "light" tent for backpacking, I'm impressed with the quality of the tent (I've used mine for 15 years). It sleeps 2 adults OK, but need additional room for packs. I've been in 60 MPH winds in this tent and it held up very well. Stakes required on sidewalls to maximize interior space. Makes a great one person tent - just wish it was a little lighter.
Design: 3 season
Sleeps: 2
Ease of Setup: Moderate - 10 minutes
Weight: 6 lbs, 6 oz.
Price Paid: $100 US

I've owned a 2 man Timberline for over 8 years and simply love it. It's not the fanciest, not the lightest and definetly not the latest high-tech whizbang tent, but it's tough, durable and keeps me dry constantly.
My Boy Scout troop uses Timberline 4 man tents and they seriously go thru hell on a regular basis. Boys are rough and careless.
The current tents are around 5 years old, and other than bent poles and broken shock cords due to carelessness, we've had no problems at all with them at all.
Two thumbs up!
Design: 3 Season (but used year round)
Sleeps: 2
Ease of Setup: 2 minutes max
Weight: 6-8 lbs
Price Paid: cheap!

Have had this tent since 1977. Been through torrential rain, snow, heat (have thrown the worst at it). Never any problems whatsoever. Sleeps two fine, but cramped with gear. Excellent heat retension in winter, never froze even at 12k+ feet in the eastern sierras. Lightweight and easy to arrange on the backpack. Highly recommended.
Design: 3 season
Sleeps: 2
Ease of Setup: 10 minutes
Weight: around 6 pounds
Price Paid: $150

We've owned our Timberline for six years and we are very pleased with it. We are about to embark on a month-long backpacking excursion and are wondering if we should reinforce its waterproofing with a 13% silicon heavy duty water repellent. The tent has never leaked, but with its age and the duration of our trip we were trying to figure out if it would be a good idea. If you can give any input on this it would be greatly appreciated. Thanks!
Design: 4 season A frame
Sleeps: 2
Ease of Setup: easy
Weight: 6lbs+
Price Paid: $100

Your Review
Where to Buy
Help support this site by making your next gear purchase through one of the links above. Click a link, buy what you need, and the seller will contribute a portion of the purchase price to support Trailspace's independent gear reviews.
You May Like
Specs
Price
MSRP: $229.95
Current Retail: $229.95
Historic Range: $63.99-$229.95
Reviewers Paid: $7.00-$200.00

Sleeping Capacity
2

Floor Size
86 x 63 in / 33.9 x 160 cm)

Floor Area
38 ft² / 3.5 m²

Interior Peak Height
42 in / 106.7 cm

Total Weight
6 lb 9.6 oz / 2.98 kg

Minimum Weight
5 lbs 13 oz / 2.6 kg

Pack Size
6 x 24 in / 15 x 61 cm)

Doors
1

Storage Pockets
2

Inner Body Fabric
75D 185T polyester taffeta breathable

Rainfly Fabric
75D 185T polyester taffeta 800 mm

Mesh
40D polyester no-see-um

Recently on Trailspace