Eureka! Spitfire 1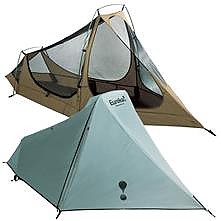 A lightweight 1-person shelter with adequate room for the average person and gear, with very durable materials that appear to be a long-lasting product in a very affordable 1-man shelter. Very weatherproof and quick setups and a small footprint to fit in tight spots!!
Pros
Quick setups
Very weatherproof
Durable and affordable
Cons
Packs up a few inches longer
Not freestanding and stakes need to be lighter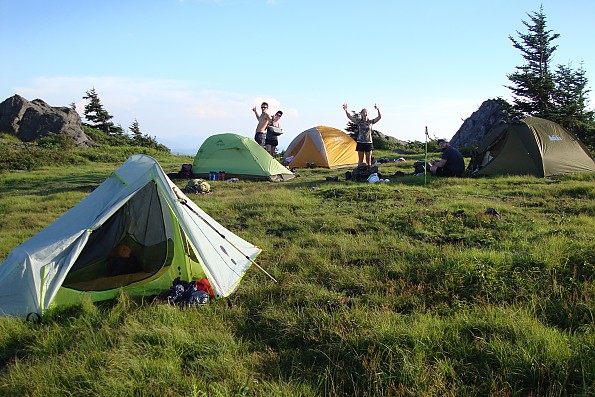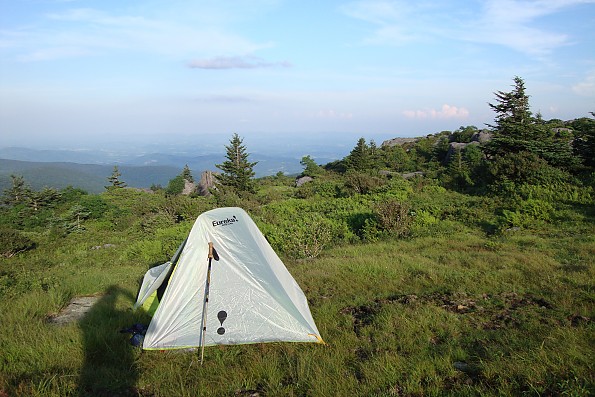 The number one reason that backpackers will carry the extra weight of a tent is for rain and snow protection. The Eureka Spitfire does just that and with an affordable price and it does it very well with a respectable packing weight at just over 3 lbs, after replacing the stakes. It does not compete well with the ultra-light shelter weights, but compensates with what appears to be a very durable weather-worthy, long-lasting shelter.
It's not a freestanding tent, but it has a quick setup with two poles and deals with wind and rain almost flawlessly. There is ample space to sit up in the tent and room to stash your pack in the front of the tent with room still outside under the vestibule for boots and such.
I have had this tent out twice now on the AT and experienced torrential downpours during the night on both outings. The tent performed flawlessly on both occasions. The first storm was not forecasted and lasted almost two hours with heavy rain and steady high wind including heavy gusts. The second outing was an all-nighter that absolutely pounded the tent with rain and strong gusts through out the night. Both storms produced no leaks and a completely dry night's sleep.
In both storms I did not guy the tent and only staked the tent body and fly down. The stakes are cheap chromed steel and need to be replaced with something much lighter (titanium is my recommendation), but other than that the only other thing is that the tent poles, although they are lightweight and high quality, don't break down evenly so the tent packs bit longer. You can work with the poles to get them a little shorter but it doesn't appear to be worth the time and effort to get them an inch or two shorter. That seems to be the only drawback, which for the price of the tent is not a huge issue at all.
There is a vent in the fly that was great to help with ventilation during the rain and it can be accessed from the inside of the tent body by a zipper to manipulate opening or closing. The entrance of the shelter is on the side which keeps you from having to crawl out the front, making it much easier to exit and enter the tent in an upright position.
Overall I have no idea how you could purchase a better lightweight 1-person shelter for this price as the other 1-person shelters usually run $300 and up. You may get a lighter shelter, but this shelter without a doubt will keep ya dry and last a long while with plenty of room and vestibule space at a great price!
Source: bought it new
Price Paid: $105

If you wake up wet in this tent, you pee'd the bed.
Pros
Lightweight
Simple setup
Keeps me very dry
Very breathable all mesh body
Tall enough to sit up in
Good rainfly coverage
Possible to set up with 4 stakes (including rainfly, 2 stakes w/o)
Cons
Very thin rain fly material (helps with the weight though)
Exiting with a wet door is tricky
Foot box is a little narrow for some (not me)
Small vestibule
I wish the rainfly was green
Not free standing, Takes up to 8 stakes (w/o guide lines)
I've used this tent a handful of times in the relatively short time that I've owned it, and I've decided that I wholeheartedly love it. I've used it in temps down to about the mid-upper 40s and the temp inside the tent stayed very comfortable all night long, despite the very breathable mesh walls.
I've used it in three rainstorms and in one very foggy field, and have stayed completely dry inside thus far. The rainfly completely covers all corners all the way to the ground, except for the very tip of the tent by the head area, but VERY little is exposed.
The rainfly is made of incredibly thin material, and the first two times I used it in wet environments it became saturated inside and out, with the roof vent being open. But the very wet rainfly never came into contact with the mesh walls of the tent, and I stayed completely dry and comfortable all night, until I went to get out of the tent.
The vestibule area is very small, and does not protrude away from the tent at the top, making it just lay on the mesh walls when unzipped. This is the only time I've had water hit me when inside of this tent. I try to hold it away when I unzip it, then throw it over the top of the tent, but it usually just falls back down and gets me wet. I think adding a little weigh to the bottom of the zipper would make it stay on the back side of the tent when I throw it over, and eliminate my only issue with this tent.
Like I said earlier, the vestibule is very small. You can fit a pair of boots all the way under it if you stagger them sideways, but there's no room for a pack. Both sides of the vestibule are the same size, but only the door side has a zipper. The other side must be accessed from the outside.
The interior is spacious enough to comfortably sit out rain storms in. It has two mesh pockets on the opposite side from the door. My model came with a zipper in the roof to access the vent in the top of the rainfly. I've read online that some people didn't get this feature. I like it. When setting up inside, I unpack my bag and push things to the pointed ends that my body doesn't occupy, and sleep next to my pack. I also try to sleep with my head up almost as far as it can go to avoid my feet pushing the walls of the tent into a potentially saturated rainfly.
I'm not sure if the rainfly gets so wet because I need to waterproof it more, or if it's because the material is so thin (probably a mix), but the thin material is part of why this tent is so light, and that was a big factor in me buying it (along with price, and the all mesh body).
The fact that my gear and I have stayed completely dry in several wet environments, and under a saturated rainfly, makes me really like this tent. I don't know if you could find a more functional lightweight tent for $100.
EDIT: I left it up in my yard for a week of constant rain storms, and several very heavy downpours. The interior of this tent has remained completely dry over a period of 5 days and nights of rain. There was 5 inches of water on the ground all around my tent, but not a single drop inside. I'd highly recomend this tent to a friend.
UPDATE: JUNE 2015
I've owned it for a year so far and almost every single time I've needed to use the rainfly because of weather. I've used this tent in sub 30 degree temps a couple times. The all mesh walls are a little drafty in high winter winds, & snow can blow under the rainfly and get onto the mesh body in powder snow.
It is a 3-season tent and not recommended for winter, but it stayed afloat and I survived. I wouldn't wanna do it a lot though.
Source: bought it new
Price Paid: $100 +/-

More tent than I expected for the price. Redesigned 2012 Canadian model has good improvements.
Pros
High ceiling and vertical walls, feels roomy
Quick and easy pitch
Very well ventilated
Cons
Not for blowing snow or sand, mostly mesh walls
Just-barely-enough vestibule space
I spent six months with the 2012 Spitfire (Canadian model), and liked it quite a lot. The new model has a dark green fly, with a rust orange panel, quite stealthy. Instead of an inside zip access to the roof vent, there are now two vents on the front panel, which can be closed only from outside. That zipper weight went instead to a 'rear vestibule', a drop-down panel for access to space beneath the fly on the opposite side from the door. Pretty handy little shoe closet/water cooler. Useful indeed when the main vestibule is just about pack-sized. You won't be cooking under cover unless you pack a tarp.
The two end pegs hold the whole thing up. The poles are just hoops, end-to-end tension is required. Tight sturdy pitch is not difficult. I did, however, notch a stick to put between the tent-body grommet and the fly grommet at the nose, because the fly has a tendency to sag into the netting there in heavy rain. Just drip prevention, never was a problem. (The included stakes were, as seems usual, unnecessarily heavy and replaced.)
Ventilation is excellent, and I camp in damp. The walls are mesh right to the bathtub floor, and the two high vents in the fly let all the moisture out. Downside: had I taken this winter camping, I'd have had to modify the walls by putting fabric over the lower mesh. Rain didn't blow under the fly, but snow would.
The Spitfire held up well to windy rainstorms, and was very pleasant to be stormbound in. The ceiling is 3'4" high, the sit-up space is about five feet long. The floor is measured at 9' long, but the pointy ends take up a couple of feet of that (good storage spots, though). Very easy entrance and exit, the door is pretty much the entire side of the tent.
It's a lot of comfortable living room, for just over $100, in a package that measures about 6" by 16" and weighs 2lbs 6oz!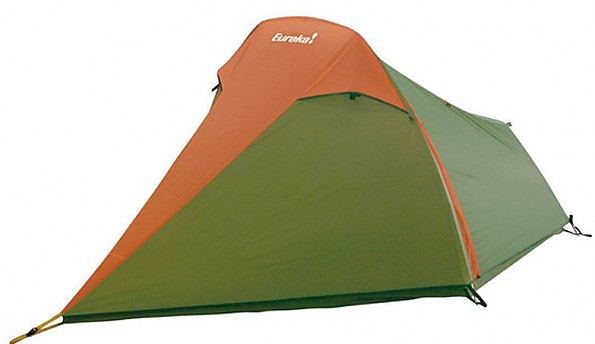 Source: bought it new
Price Paid: $109

Great and stable well vented little tent. With added guylines it takes pretty much weather, though not for winter. At 6'3" I'm probably taller then this tent allows. Regular size sleeping mat shown. Green color is nice for a summer shelter.

By tying a string between the pole ends, the inner tent can be released to create a nice vestibule. Also a picture of the inner tent inserted diagonally under my poncho, a perfect fit !
Design: Hooped tunnel
Sleeps: 1
Ease of Setup: Very easy, but inner gets wet from inner first pitch
Weight 3 Lbs
Price Paid: $125

Gen 1 Spitfire — Has performed far beyond what the cost would have you believe.
Pros
Lightweight
Durable
Dry as a bone
Simple
Cheap
Cons
Not free-standing
Included stakes are terrible
Vestibules are small
I purchased my gen-1 Spitfire 7 or 8 years ago. It has endured wind, soaking rain, thunderstorms and sleet without a problem. I've used it to canoe camp, backpack, motorcycle camp and car camp.
My tent has the vent zipper, which is quite useful. Given how small the vestibules are, I'm not sure I'd want to sacrifice this feature for inside access to the other side as the newer versions do. It's easy enough to cram a few items under the "dead" vestibule from the outside. The zippered side is large enough for a pair of shoes and a few small items. Since I generally pack using drypacks and keep a backpack cover with me, leaving my gear outside isn't a problem.
I don't understand complaints that one needs 8 stakes to pitch this tent. Yes, you *can* use that many, but only 4 are required to erect it: one at each end to pull the tent taut and one at each side to pull the fly out.   If I expect heavy wind, I do stake down the sides, but only once have I ever used the guy lines. I should note that except for retaining 2 of the original stakes as spares, I ditched the rest for MSR Groundhogs, which are indestructible and cheap. I've used the same home-made footprint I cut from 5 mil plastic all this time as well.
The Spitfire is not a portable estate, but there is ample room for this 5" 11" person to stretch out and sit up. My standard size Big Agnes Air Core pad fits perfectly leaving room at my sides and feet to store clothing, books and other small items.
Ventilation is adequate, though muggy, windless summer nights are not terribly pleasant unless one folds the fly back or removes it completely. A bit of condensation can build up on the the fly depending on the conditions, but I've never had it drip. I consider the Spitfire a 3.5 season tent here in the Ohio valley and surrounding areas. With a good down sleeping bag, I've been comfortable into the teens (Fahrenheit) — I'd rather battle cold in it than sweltering summer nights.
The only complaint I could lodge is that since it's not free standing, foregoing stakes simply isn't an option. Also, though the off white color doesn't bother me most of the time, during a full moon, it's like trying to sleep inside of a light bulb — light sleepers beware. Otherwise, I can't imagine finding better performance at this price point.
Source: bought it new
Price Paid: $89 in 2007

Lightweight and robust tent. Good waterproofing.
Pros
Very lightweight and packable
Enough room for my 6'2" frame
Aluminum poles
Good ventilation
Cons
Stakes are horrible
Needs more vestibule space
Poles are rather long collapsed
I have nearly a month of nights carrying this tent on backpacking outings in the Carson National Forest in northern New Mexico during the fall and early winter as well as canoeing trip on the Brazos River in east Texas during the summer heat and humidity!
This little tent has seen some big climate differences and adapted very well to the situations.  It has been through sweltering sun on 100 plus degree days, 50 plus MPH winds and torrential downpours in thunderstorms. I have no gripes about this tent's performance given the price point.
I am 6'2" and very broad shouldered. At nearly nine feet long, there is plenty of room for myself, my sleep system, boots, a spare change of clothes, water, and a few other assorted items in this tent.
My only gripes are the stakes suck. That is easily fixed with MSR Groundhogs though. The way the poles fold down does make them a bit long, so I have to store mine in the main compartment of my pack. That is just a personal gripe, your mileage may vary. The vestibule could stand to cover a touch more square footage. Your pack will fit in there, but beware, it will be tight and will require some finagling to get it to fit just right.
All of that being said, it is a great tent with plenty of shoulder room for us bigger folks, and a very robust little utilitarian tent.  
Source: bought it new

Great for the $$, and reliable.
Pros
Lightweight
Reliable
Great price
Cons
Top vent questionable
Very small (true 1-person)
Aside from going to a hammock, you cannot beat the size/weight of this little killer.
It is pretty darn reliable. I took this backpacking on a few occasions where I needed more security than a hammock could offer, or needed room for my dog. Goes up super easy, and has a very simple design.
Has enough room for your pack or your dog, as long as either isn't too big. Top vent is a little questionable, as it is a semi-rigid piece of material that secures upward to Velcro  allow air flow.
The only thing I am concerned about is after stuffing and folding this tent for years, how will this material stay rigid enough to hold the vent open? Will report back if info in a few years.
A buddy and I each took one of these tents for our 70 mile trek in the Arctic Circle of Sweden in August, where the weather can be a little unpredictable. Not only did this guy impress me with its function and weight, people commented on its looks. 
Overall good tent, can stand up to a multitude of environmental changes reliably. It will not disappoint.
P.S. 4.5 stars because I never give 5 stars to anything unless it was crafted by a 1000 year old hermit master on a mountain and has mythical super powers enchanted onto it. Nothing is perfect.
Source: bought it new
Price Paid: $110

I bought the Eureka Spitfire and have been very happy with it so far. Like all of the one person tents there is not a lot of extra space and I would not recommend it for someone much over 6 ft. I'm 6'1" and think that is about the max for its size.
The vestibule is not as large as the distributor would like you to believe, but when the weather hit I had no problem storing my pack and other gear in it. It was just a little tight. There is a little extra room inside next to my bag for a few things and plenty of room to sit up and change cloths. I've had it in some very wet and cold conditions without any condensation problems.
Last October on a pack trip it had rained most of the day then cleared off after the sun went down and the temps dropped hard and fast. When I woke up in the morning the entire outside was frozen over like an igloo and our water bottles that were left out had frozen solid but the one stored in the vestibule was still drinkable. I have not had it out in a really bad snow but I think that its design and sturdiness should hold up well.
Gary C.
If you shop around the net you can usually find them for $60-80. You can find better tents, but for the money I think this one is an excellent choice.
Design: three-season
Sleeps: 1
Ease of Setup: easy

I used to backpack with a hammock for a shelter, but after it had a major equipment failure, I decided to switch to a solo ultralight style tent.
I went with the Spitfire for several reasons.
1. Price was easy on my budget and very affordable.
2. Material is lightweight and durable. My total carry weight is 2 lbs.
3. Quick and easy setup, with minimal accessories required.
4. Compactness was small and suitable for my smaller pack.
5. Reviews were agreeable and very favorable.
I have used it since I switched from the hammock style and really love it. The Spitfire does not have a condensation problem. It is very breathable. The room inside is perfect for one person, but on the tight side for two persons. It will work but I guess that is why it is called a solo tent. Spitfire does come in a two person model, however. The two person model is a little heavier and wider.
The footprint of the Spitfire is consistent with the outline of a person, plus has the room to stow a little equipment to keep out of the elements.  So I would have to say this tent does very well with my requirements.
When setting up, it is up and ready in less than 2 minutes. The setup is great, easy, and with minimal effort.
All in all, I would highly recommend this tent to anyone wanting to solo backpack or camp.
Price Paid: $60

Weight-savings goes without saying. Packability very competitive with all other tents of this type. A breeze to setup, even in the dark. Not self-supporting! Must set up in an area where you can place head/foot stakes, or at least tie-down with a few rocks. the tension from these stakes provides your 3rd dimension of support(longitudinal axis). Recommend setting feet into the wind for best results.
Holds up to heavy rain, and light sleet and snow without batting an eye. The ventilation provided by the mesh screen serves to diffuse your body heat very well, however, in the colder weather plan appropriately with your sleeping system. No issues with noise such as flapping, whistling, or clacking of clips in high winds. Watertight integrity of the rainfly is excellent. Zippers and fabric are extremely resilient for their apparent light-weight construction.
Although a little cozy, it is spacious enough to accommodate my 6'/190lb. frame, plus my 75lb. shepherd. Plenty of headroom. Lacks a vestibule area so I chose to keep my pack inside and utilize as a headrest.
I recommend this tent to anyone conducting solo camping who desires to keep packing weight to a bare minimum while still enjoying the luxury of a reliable tent.
Design: three-season, solo tent
Sleeps: 1
Weight: 3.4 with all accoutrements
Price Paid: $109

I found this tent to be quite nice. It is very light weight, very easy to set up & take down. It gives adequate elbow room so you don't get that closed in feeling unlike some solo tents that are very narrow.
The ventilation is more than adequate but when the wind blows it doesn't blow in on you so you won't get a draft on those chilly nights fall nights. The vestibule area is small but usable and there is room on both sides of the tent that can be used.
The tent without guy lines needs 8 stakes and has 4 guy line anchors. You only need 2 stakes to set up and use. I also doesn't need much space to set up the tent so it won't be to tough finding some place in between 2 tree roots or rocks.
Pros:
Light Weight
Good Ventilation
Easy To Set Up
Cons:
You need to seam seal the lower perimeter seam that attaches to bottom to the tent body.
In the end I am very happy with this tent.

Design: Three-Season Non Freestanding
Sleeps: 1
Ease of Setup: Very Easy
Weight: 2lb 12oz
Price Paid: $80

Good lightweight ultra-affordable hiker's solution. A few luxury extras, and very little to detract from it.
Cons
Requires SO MANY stakes
Splatter in heavy rains up at the head end
ZERO storage space in vestibule
So the weight is nothing, the simplicity is great, and the weather-readiness is pretty good.
The "vestibule" is NOT storage-sufficient for anything other than a frizbee and coffee mug. Really????? Dunno what other reviewers said they "store" out there ... but, I put everything inside (65L Osprey pack, boots, etc. ... and I'm 6' / 180lbs) and was snug but fit fine.  I tied out the fly as far as possible, and there just isn't really space in there.  You can put a couple things, but not much.
They could make the bathtub bottom sides a little higher up at the head end. I took it on a VERY VERY rainy outing to Mt. Cabot in the Whites to try it out after I seam-sealed it. Quite pleased. But this thing is a SERIOUS stake hog. Wow ... I was staking ... and staking ... and staking ... and staking ...
You get the point. I recommend packing it with fly pre-attached, so if you pitch it in the rain, you can maintain its otherwise pretty good water integrity. Like I said, but for the splash-overs up at the head end, darn nice and effective for but a mere 3lbs. And for the price, impossible to beat.
For perspective, this was a lightweight alternative to my 9lb Rolls Royce, a Marmot Swallow ... so -- take that as the delta from which I'm coming.  The Marmot is roomy, awesome vestibule, fast setup, free-standing, etc. etc.   And this Spitfire is still a suitable alternative.  I was surprised at how little I was "giving up".
Source: bought it new
Price Paid: $120

First of all, I picked up the Spitfire 1 for $80. That's not bad for a ultralight solo tent, thus explaining why I bought it.
I've camped in it in all weather except heavy snow. It kept out water in a heavy downpour, except for one spot. It leaked where the hold open for the rain-fly vent is sewn through the fly. A heavy dose of seam sealer should do the trick.  
(Always seam seal your tent, even if it is advertized as already seam sealed.) The "bathtub" bottom design kept everything else dry. 
This tent is fairly easy to set up with some practice. The vestibule is very small, though. A backpack can barely fit in this space. I am 6'-2" and I just fit into this tent. Anyone taller than this could have problems. 
Price Paid: $80

This is my second year using this tent and I can say nothing bad about it. Sets up and takes down easy, kept me dry and warm in some pretty bad weather and was able to accommodate me and my 105 pound, 30 inch tall Doberman...he's a tent hog and yes it was cramped.
For the price you can't go wrong with this tent. I use this tent backpacking and need to keep weight down. If I take only the two pegs needed on the ends for set up the weight is down to 3 lbs, 2 ozs.
I've looked at hammocks and other tents and have yet to find a lighter, better alternative.
I bought this over the winter months and waited until last weekend to get out and give it a try. I must admit I was unsure of the amount of ventilation this thing has, especially when the night I stayed in it it was only 48 degrees, and about 25 mph winds. I figures I would be cold from the gusts coming under the rain fly, but surprisingly, I never felt the wind!! And with the vent on top, there was no moisture trapped inside either!!
I love this thing for backpacking, and will probably only sleep in a hammock when backpacking, if I don't bring this along!!
Sleeps: 1
Ease of Setup: fast, easy, no-brainer set-up
Weight: 3 pounds
Price Paid: 100.00

I bought this tent to use while bicycle touring so size and weight were my main concerns. I'm pretty satisfied with the tent as it came as advertised. It is however quite tiny and at 6'1" I'm at the absolute maximum height I feel would be comfortable in this tent. Also, the vestibule is so tiny as to be almost non-existent. I kept a pair of shoes, a bottle of wine and a box of cereal in it but there is no way it could fit my saddlebags let alone a large pack. Aside from that, small light and sturdy. Kept me dry. Solid tent.
Sleeps: 1
Ease of Setup: fairly easy
Weight: just over 4 pounds w/fly and stuff sack
Price Paid: $100 (Cdn)

This is a great solo tent with lots of room. Very light! Quick and easy to set up and break down. What's nice about this tent is that I can set up and get dressed; eat, etc. inside the tent. The tent has a very large opening to enter and exit. The vestibule is big enough to cover my pack, boots, and other gear at night. I looked for a long time for this tent...I already own a Eureka tent that has served me well...Now I have two that are serving me well.
Design: Three season solo
Sleeps: 1
Ease of Setup: Quick and easy
Weight: 2 lbs
Price Paid: $79

If you're less than 6' tall, like ample peak height, quick setup, easy in and out, good ventilation, and are on a tight budget, take a close look at the Spitfire 1.
I've used one for 4 years on long bicycle tours. Set up and taken down a 100 times. Been thru strong wind, heavy rain, and hail. No significant problems. Very durable.
Vestibule space is small so I bring bike bags inside. Tight but it works. Have also cooked inside when weather was awful. Minimal set up requires only two stakes.
Design: three-season rectangular
Sleeps: 1
Ease of Setup: super easy
Weight: 3 pounds

Great little tent, especially for the $$$. Great ventilation (perhaps even a bit much at times). It's small, but no smaller than it's competitors. Nice head height allows changing inside. Should come with lighter stakes, but that is a small complaint and easy fix. I've slept facing both ways and they both work well. It's nice to have the netting inside and the separate fly as no matter what amount of condensation or icing you may have, you never actually touch the fly.
Highly recommended solo tent.
Design: three-season freestanding solo
Sleeps: 1
Ease of Setup: Very easy set-up. Can be put up with as little as two stakes. 4 for all practical purposes.
Weight: Packs small and light.
Price Paid: $100ish

Great value, light, sturdy, water tight. I find it hard to believe that a previous reviewer shared it w/ his Siberian Husky, as I found it barely adequate for my 6' 0" 190 lb. body. Had to hang my backpack on a tree, because in spite of Eureka's claim, there is NO vestibule. The fly fits quite close to the tent body, which makes dry entry/exits when raining impossible. I would gladly tote an extra 6 ounces for a vestibule.
Sleeps: 1
Ease of Setup: typical: non-freestanding set up
Weight: 3 lbs

I have been using this tent for about two years now. It has not let me down yet. I am 6-01 and I fit just fine. In fact the last trip I went on I brought my Siberian Husky along. he stayed inside the tent at nights right beside me. Not recommended if your dog is not trained very well. Held up fine in some serious wind and snow.
Sleeps: 1
Ease of Setup: Very easy

This is my 3rd Eureka tent, smallest of them all, 3.25 lbs. Perfect for solo. Many nights camped in Allegany Natl Forest, Pa.
Very water tight, easy to set up, roomy for a solo. ample head room to sit up and read. Ventilations is superb. Performed equally well in hot and cool seasons. Held up to 50-60 mph winds along the Kinzua reservoir. Even camped in the snow, 25% weekend.
Design: not free standing utralight solo
Sleeps: 1
Ease of Setup: very easy
Weight: 3lbs, 4 oz
Price Paid: $89

Awesome tent. I have used it in the rain, snow, ice, you name it and this tent holds up. Very light and super ventilated. I was able to quickly set it up even in 6 inches of snow. Not too much space inside, just enough for me and I am 5'11", but if you are going light it is a good pick.
Design: three season hoop
Sleeps: 1
Price Paid: $90

You just can't beat this tent for the price. Super easy to set up, relatively roomy inside for an ultralight, and nice high ceiling.  
The only thing I don't like is the smaller vestibule. I can fit my pack and boots under it, but just barely.  I got nicer stakes from REI, but the ones included are okay.  
Price Paid: $80

This tent is a great value. Very roomy for a solo tent, easy set up, durable, and under 3 lbs.
Under $120.
Pros
Easy setup
Light weight
Great value
Durable
Cons
Crummy stakes – replace with titanium
I love this tent! Many tents claim to be lightweight, but this is the real deal. Nice mesh, plus a good fly protects well. 
It has a good ventilation window up top to reduce condensation.
It has an easy setup. I use 4 stakes only including a stake out for the vestibule.
I am pretty short (5'), and I don't even need the vestibule. I can get myself, and all of my gear inside with room to spare. I can also sit up easily, making dressing a snap.
The floor layout makes this a good tent for taller people too.
Source: bought it new

The best tent I have ever owned, when times used, ease of setup, pack-ability and cost are factored in. I have nicer two-person tents, but for backpacking this my favorite.
Pros
Easy setup
Packs relatively small
I have used my Spitfire for years, and it still performs well. Not freestanding but very easy to set up. Still waterproof, and well ventilated.
Will want to replace the Eureka stakes with a more sturdy stake, I added the Kelty No-Bendium. I am 6'1", and I fit nicely in this tent.
Recently went hiking in Harriman State Park, N.Y. I pitched this tent in sub 40 degree weather, and with an old Lafuma 35-degree bag and a Big Agnes Two Track pad. I was very comfortable. 
Source: bought it new
Price Paid: I think around a $100

Writing this review for my backpacking buddy steve.
Pros
3 lbs
easy setup
side entrance is nice
weatherproof
Cons
if you're over 6 ft might not be the tent for you
I don't own this tent but my buddy steve does. He loves this tent. Lite, been through lots of rain with no problems, easy side entrance, tent height tall enough to sit up.
On our last trip to the Smokies a guy staying at our backcountry campsite said he had owned a Spitfire years before that was so old the Eureka logo had faded from the sun where you couldn't read, it but the tent was still going strong, thanks.
Source: bought it used
Price Paid: $85

I own two Eureka! tents - The Spitfire 1 for backpacking and a Tetragon 9 for short family outings. I am well satisfied with both tents, no real problems with either of them.
If I had to say anything negative...very minor cosmetic flaw on the Spitfire which doesn't affect performance, and the tent stakes they send are cheap ,but no worse than what you get with other tents.
Price Paid: $78.95

When I bought this tent a few years ago I thought "just a cheap tent, I might get a season out of it then get something better," but for the price this is a superb tent. Lightweight, Ray Charles could set it up.
Nothing has ripped, and I haven't exactly went easy on it. For the price, I can't say enough good about it.
Your Review
Where to Buy
Help support this site by making your next gear purchase through one of the links above. Click a link, buy what you need, and the seller will contribute a portion of the purchase price to support Trailspace's independent gear reviews.
You May Like
Specs
Price
MSRP: $139.95
Historic Range: $71.92-$139.95
Reviewers Paid: $60.00-$125.00

Sleeping Capacity
1

Floor Size
9 ft x 3 ft 6 in

Interior Peak Height
3 ft 4 in

Minimum Weight
2 lbs 12 oz

Pack Size
5 in x 21 in

Floor Area
18.1 sq ft

Vestibules
1

Vestibule Area Front
4.4 sq ft

Doors
1

Storage Pockets
2

Recently on Trailspace