MSR Groundhog Tent Stakes

Lightweight, strong tent stake with good holding power. A tent stake is a low-key, basic item that just needs to work. These do.
Pros
Light weight
Holding power
Design features
 A tent stake is a lowly item that just needs to address some very basic issues:
Easy to drive into the ground;

Stays put when in the ground;

Easy to remove from the ground;

Light and small enough to be carried;

...yet durable enough to do its job when replacements are not readily available.
With such a basic list of requirements, you'd think that this would be an easy job to fulfill. Well, anyone who has ever set up a tent more than once already knows that this is not necessarily the case.
First, a glance at the commonly available competition:
Molded plastic stakes:


Lightweight, relatively inexpensive, but bulky and brittle (by far the most common stake that you'll find left behind by litterbug campers before you... In pieces.



Stamped steel stakes:


Heavy, moderately bulky (when not carefully stacked), relatively robust, but may be bent if the tip strikes a rock or tree root (although easy to bend back and keep in service.)



Bent aluminum rod stakes (comes standard with most tents):


Really light and compact, but poor holding power in all but the most benign conditions. Will bend into a pretzel if you so much as look at it funny.



Enter the MSR Groundhog stakes. These have a "Y" shaped cross section, and are made from lightweight aluminum.
This equal-sided "Y" shape, with guy line notches on all three legs, are lightweight, fairly compact, offer better than average holding power, and drive into and come back out of the ground without much fuss.
This non-directional shape is handy in the dark, since you don't have to be sure that the guy line hook is properly oriented when driving it into the ground. While this isn't exactly a difficult task to get right with your eyes closed, once you realize this feature it does become a nice touch.
While they do drive nicely into hard or rocky soil, if it doesn't go in with moderate tapping of the hammer, hatchet, or rock, don't force it! They will bend or break, which I have done.
Also, if using your foot to push these into the ground, stop pushing when you meet any resistance beyond that of soft soil, otherwise you risk bending them (which I have also done).
Which is not to say that these stakes are not durable; they are. There are just a couple of things to look out for.
Another nice feature is the pull loops, which are made using guy line cordage with a reflective tracer. I actually found this to be extraordinarily helpful in locating a stake still in the ground after dark. Just be sure to retie the knot when you first get them; they're a little loose from the factory. This is just a tip, and not a mark against the stakes. It's easier than tying your hiking boots.
The downside? The price! They are made from extruded aluminum. For those of you who don't know, the extrusion process can be thought of being similar in concept to a pasta maker... only you're squeezing out aluminum instead of pasta dough. This is a decades old technology, and is an inexpensive way of forming thousands of feet of aluminum into your desired shape.
The machining cuts to finish the product are very simple, and with aluminum being as relatively a soft a metal as it is means that tooling costs are also low. To top that off, these are being currently made in China. While I do prefer a U.S. made product, I'm not adverse to purchasing overseas goods. It's the cost I'm talking about here.
They — are — overpriced for what they are, and for the low cost of production that they have. That being said, I do still recommend a set of them for your tent. At about $2.50 each, 25 bucks for an average tent will not break the bank... Especially when you consider that you'll get to use them for years to come, and can be moved from tent to tent.
The bottom line is that they are a superior product, and with a little care in using them should last indefinitely.
Now go camping!
Source: bought it new
Price Paid: $2.50 each

Ditch those cheap stakes that came with your tent, and replace them with these bomber stakes!
Pros
Lightweight
Nearly impossible to damage
Hold tight in every kind of ground
Easy to remove
If you've ever bought a tent, you know the drill. You open it up and they've got those cheap wire stakes which are a waste of time. After one or two uses, they may be bent so badly you can't even use them. The stakes in the picture below came came with my new REI Camp Dome 2, and this was their condition after two uses. The ground wasn't that hard, and they still didn't hold up.
Ditch those old stakes, and get some MSR Groundhog stakes. I have replaced the stakes in literally the last four tents I have purchased, with these bomber stakes. They are lightweight, easy to put into the hardest ground, and the Y shape holds like crazy. The 7000 series aluminum is burly strong despite their light weight, and even using them on the hardest ground, have yet to damage one in several years of use. There is a nice notch at the top, if you need to make guy lines extra secure.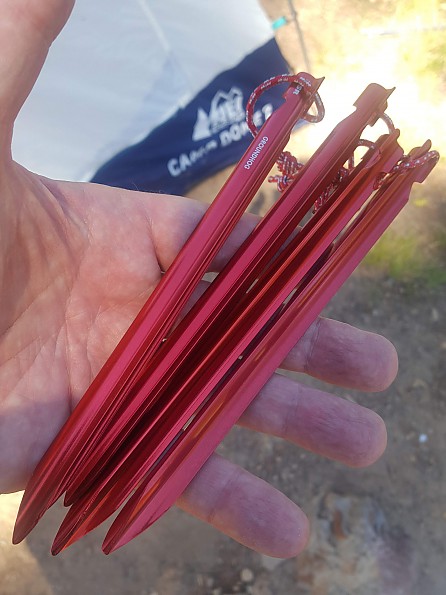 I noticed that the set I recently purchased to replace those picture above, and notice that they have a slight "twist" to the profile, which my older ones don't. My assumption is that it helps with holding power, but I have no facts to back that up.
On a recent trip to in Lassen Volcanic NP, they went into the hard volcanic soil without any problems. Despite sometimes windy conditions, they held solidly for three days. With a nylon corded loop which comes attached to them, they are easy to remove without hurting your hands (I have had this happen with other stakes).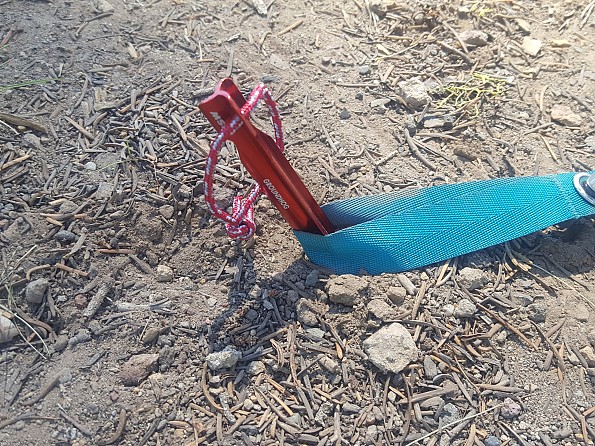 These stakes are 7 1/2" long, and weigh a half-an-ounce each. 
MSR also makes a Mini Groundhog stake, which is slightly smaller and lighter. I bought some of these to replace the stock stakes which came with my Big Agnes Fly Creek UL1 tent, and they have performed great for years.
This is such a simple upgrade, I don't know why tent manufacturers continue to supply sub-par stakes with their tents. Bottom line, I suppose. But these are a great and inexpensive upgrade to your shelter system, and highly recommended. 
Source: bought it new
Price Paid: $2.95

These stakes do a nice job staying secure in the ground due to the design. They are also very light and easy to remove with the attached loop of cord. They are much better than the factory stakes that come with most tents. Do yourself and your tent a favor and purchase the MSR Groundhog Tent Stakes.
Pros
Secure
Durable
Lightweight
These stakes are very easy to secure in the ground due to the design. They seem to cling to the earth much better than your typical tent stake. The bright red color and reflective coating on the cable make them easy to spot at night with a flashlight or headlamp.
These stakes are also very light and seem durable as well. I pitched my tarp using these stakes and they seemed to work well.
My main concern is how they might perform in soft, wet ground or very hard ground. I haven't tested them in extreme conditions yet. They aren't very long which could mean the stakes could get uprooted in extremely, harsh weather if not anchored deep.
I am optimistic that the "3-pronged" design will continue to perform well. I also like how easy they are to remove from the ground with the attached cord loop.
Source: bought it new
Price Paid: $2.50 per stake

The MSR Groundhog Tent Stake is a lightweight, reliable stake that holds in all, but the softest of soils. It has held my hammock tarp in extremely high winds.
Pros
Lightweight
Holds well
Have never bent one after more than a year
Reflective loops making them visible at night
Cons
After more than a year, I haven't noted any.
I purchased these over a year ago. After camping in everything but deep snow, I am doubtful another stake can beat the combined quality and weight of these stakes.
My Grand Trunk Funky Forest Tarp is like a sail in high winds. The only time these stakes have not held was in high winds, while camping in a pine forest, where the soil was more pine needles than dirt. A dead branch  placed on top of the stake, solved this problem.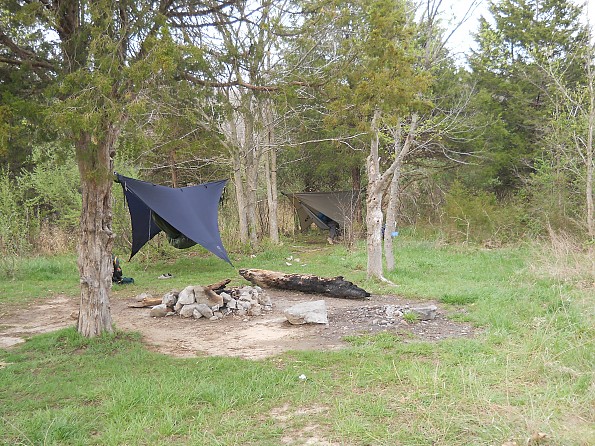 In this photo, both tarps are being held by Groundhog
Stakes. Wind is steady at about 10mph. Soil is damp.
Toss the cheap stakes that come with most tents and upgrade to the Groundhog!
Source: bought it new
Price Paid: $19 for an eight pack

These strong, triangle shaped stakes are easy to drive into hardened surfaces and easy to remove when breaking camp. Love the attached reflective pull cords. They instantly upgrade your equipment the from steel stakes.
Pros
Lightweight
Attached reflective cord
Ground gripping shape
Rasy removal
Cons
Non-DAC construction
Don't hold well in snow or sand
They came standard with purchase of my MSR Hubba Hubba tent. These babies are as advertised—light and efficient. Held tent securely in wind gusts of 40+ mph. They are strong as long as you aren't hammering them into hidden ledge rock, in which case they will bend.
Over time, I have replaced them with lighter DAC stakes, but still use them for larger tents and tarps.
Source: bought it new

Very tuff stake! Beat em' in with a rock, if ya hit another rock on the way down go ahead and hit it a few more times to try and power thru, even if ya don't get thru the stake won't bend!
Has great hold on angled guy outs. Lines hold tight in the notches and stakes come out easily with a pull on the retrieve cord.
I carry six of these along with a few cheap aluminim stakes, I use the GroundHogs on the vestubile entrance since that gets alot of pulling around, and on the main guy out lines to keep things tight.
Well worth the few dollars I spent.
Price Paid: $1.95 ea.

Awesome stake for various conditions!
I've used these stakes several times now. They hold well in regular dirt, wet dirt and stand up to hard frozen ground as well. Icy New England soil bent up a few of my standard steel stakes, and then I wised up and got a set of these. They didn't show any signs of distress as I stomped them into the ground!
Source: bought it new
Price Paid: MSRP

Great tent stakes!
These are my go-to tent stakes. Very solid aluminum. I have used these stakes for over 4 years now and have not bent one yet.  They are still straight and solid.  The tops of the stakes get banged up a bit from using rocks to slam them into the ground, but that is to be expected.  
I highly recommend replacing the cheesy stakes that come with most tents with these ones.  
Source: bought it new
Price Paid: $20

These are as good as it gets in the Y-stake department. They are sufficiently light considering their legendary strength. The cord-loops make removal easy, and they scoff at my feeble attempts to brutalize them with rocks and hardpan.
I bought 6 to compliment my 6 GoLite Y-stakes.
Price Paid: $1.15

Small tent stakes best for lightweight backpacking. Powerful for such a small package, but sharpness of points and tips makes for challenging packing.
Pros
Small
Lightweight
Did their job
We used these stakes for a 10-day backpacking trip. They were great because they were light, but they were sharp to a fault. The tips of the stakes ripped the tent bag, and eventually the sides of the stakes started to rip the bag too.
They are also very sharp on the tip that extends out of the ground and I had a painful lesson when I stepped on one. They would be better if they had a flatten top to avoid ripping bags and feet.
They are incredibly lightweight and did a great job of holding our tent down even in some very windy conditions.
Source: borrowed it

Broken stake.
Pros
Reflective rope
Easy to hold tent down
Let me start off by saying I love MSR products. I really wanted to like the Groundhog stakes but I just couldn't. 
I was pressing down on one of the stakes last weekend and BOOM! Snap. Broke it right in two.
To justify, I was not pressing with such force that it should have broke. I was shocked, disappointed...then angry! Luckily I carry extra stakes. Like another user said, no stake is indestructible but for the amount of pressure..or lack thereof...I'm shocked that it broke. 
Again, I will always use MSR products, but I won't be picking anymore of these up in the future. 
Source: bought it new

AWESOME. super lightweight, super heavy duty. easy to pound, angle, and guy out with, easy to remove as well w/attached cord. color is easy to see.
The TRI-design makes them very resistant to pulling out 'sideways' through loose soil when you pound them in diagonally.(I use mine to guy out the rain tarp for my ENO hammock)
The only downside is the volume, they take up more space than traditional stakes.
Seem INDESTRUCTIBLE (by normal use that is!)
Design: tri-point tent stake
Ease of Setup: super easy
Weight: less than 1 once a piece
Price Paid: $3.95 / per

Tough, lightweight and never pull out of soil (snow is a different story).
I would replace these in a minute if I lost them.
Your Review
Where to Buy
Help support this site by making your next gear purchase through one of the links above. Click a link, buy what you need, and the seller will contribute a portion of the purchase price to support Trailspace's independent gear reviews.
You May Like
Specs
Price
MSRP: $24.95
Current Retail: $4.40-$36.95
Historic Range: $1.95-$36.95
Reviewers Paid: $1.15-$20.00

Weight
0.46 oz / 0.01 kg

Length
7.5 in / 19 cm

Materials
7000-series aluminum

Recently on Trailspace