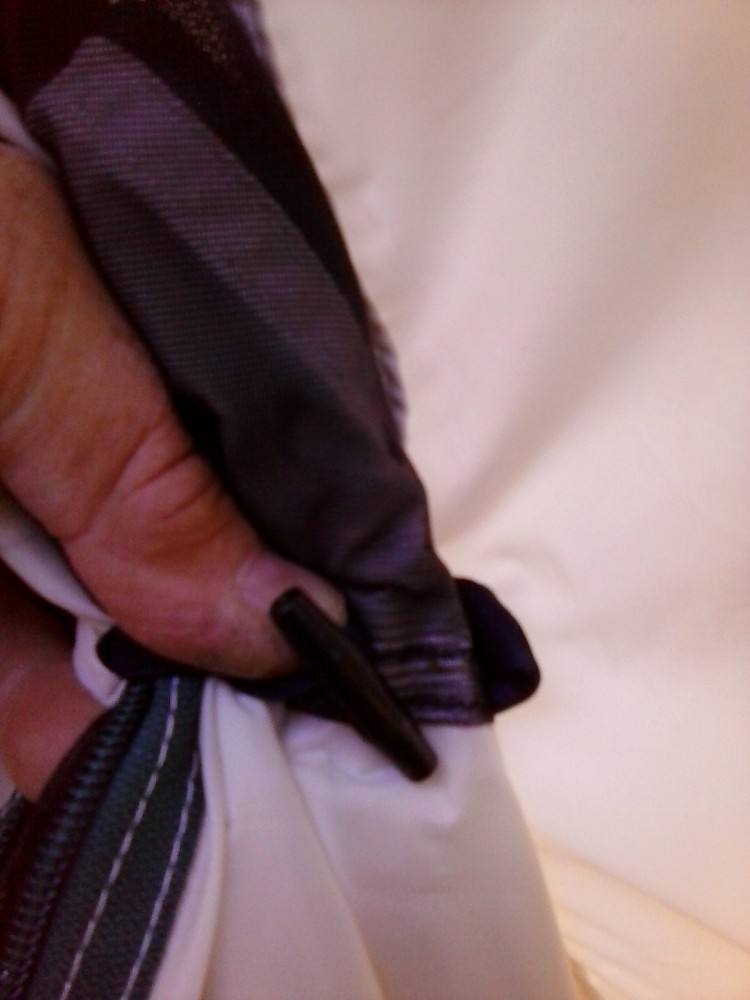 Specs
Price
MSRP: $99.50
Historic Range: $59.93-$199.00
Reviewers Paid: $80.00-$140.00

Reviews
10

reviews

5-star:

2

4-star:

7

3-star:

1

2-star:

0

1-star:

0
Cute and cosy.
Pros
Cute
Cosy—once your nest was assembled, it was goodbye world until the next morning
Waterproof
Very easy to set up and take down, 15 minutes max
Smart things, like the clips and fly de-tensioner
Two doors
Very good price for the quality, especially when on sale
Cons
Too short
Extreme condensation in any weather under 40° F
Pegs that collapse under any force whatsoever
Door zippers snag easily
Door tieback loops are too small for ease of use
I should confess I started out ready to return this tent due to its short length. That was in summer. The other major problem emerged when fall hit: extreme condensation that made the inside as wet as the outside in any humidity when the temperature headed towards freezing.
However, the more I set it up, the more I liked it. First of all, it's so CUTE: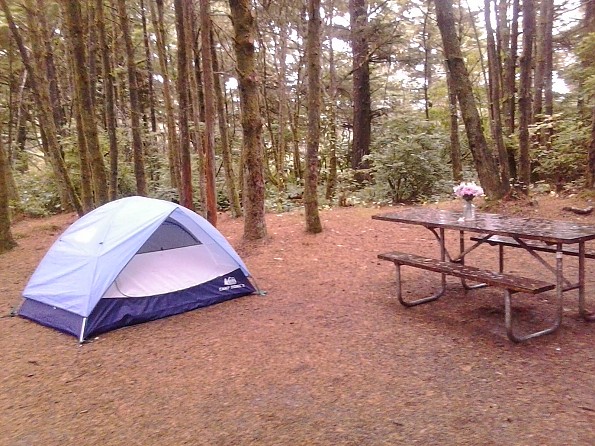 Then there's the ease of setup. Three poles, NO HUB. The clips twist on and twist off in one motion. Poles fit instantly and securely into either the footprint or the tent base. Those ultra smart fly tensioners—just pull up on the plastic loop to tighten the fly or release the base to loosen it.



The quality was very good. No leaks at all in many nights of rain during the summer.
However, there was a huge condensation problem that became apparent once the weather turned cold and rainy. I spent several mornings wiping off the inside of the tent as much as I had the outside, in order to pack it up to go home. This was even with the windows open as far as possible to still keep rain out.
I called REI to ask what to do about this and their response: "Well, it -is- one of our least popular tents. You'll just have to live with it" (one store) and another confirmed that it was a problem and said I could bring it in for a refund. For less than $100, including footprint, I just decided to keep it.
Ease of entry/exit: It fulfilled everything about why I'd bought a non-vestibule tent in the first place. I could get in and out without gymnastics and without dumping quantities of rain onto the tent floor. For this elderly person, that was a prime consideration.
Interior space: Generally very good, but too short. The square shape at both ends and the height in the middle let me sit up to do in-tents things easily. However, it was too short for my 5'9" frame. As I told numerous folks who asked about it, if I had been in bear country, I'd've had to decide whether I wanted my feet or my head chomped on (bears being known to do that to anything touching tent walls to find out if it's edible). Even laid out catty-cornered, my Klymit pad and bedding would touch one end or the other. This was also a problem once condensation became one: anything touching the walls would get wet.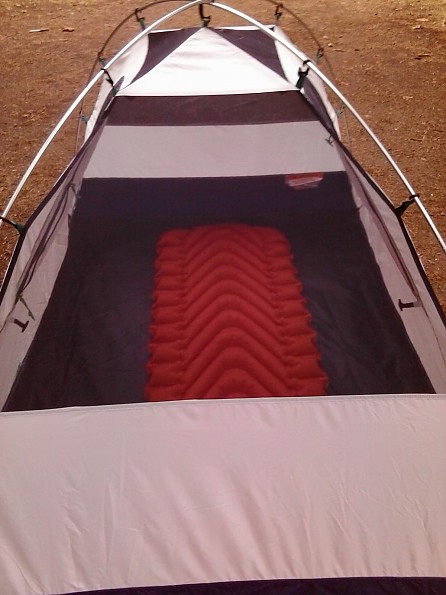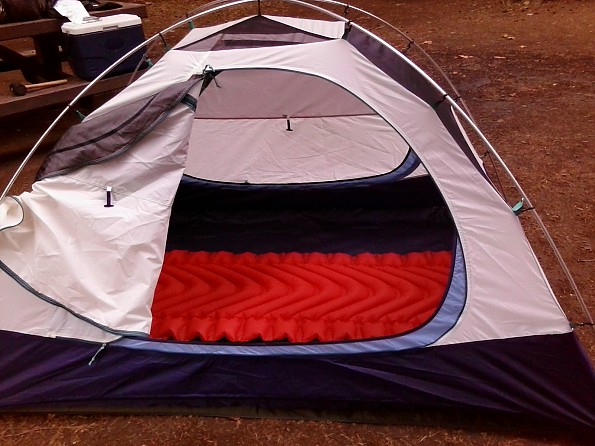 Flimsy tent stakes: for a tent this smart, I can't understand why these things were there.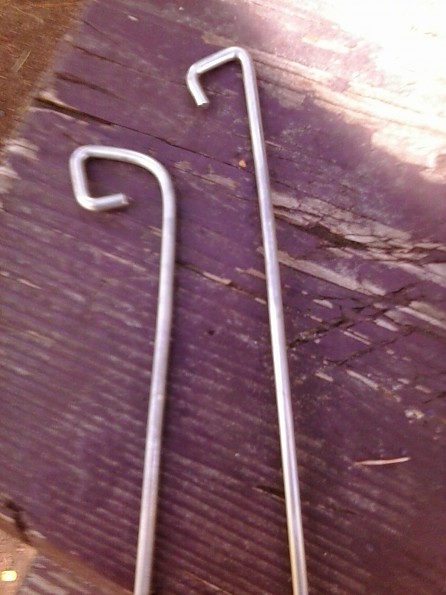 Another stake issue was that, although there were four lines and corresponding tent loops to stake out the tent in high winds (I did use these once and they worked well), only four stakes were provided. Given the poor quality and insufficient quantity of these, I usually used the stakes from another larger tent instead.
Another small but annoying thing: the loops and toggles for holding the open doors back were too small and tight, making it difficult to get the toggle through the loop and turned to secure it. I ended up not using these most of the time and tucked the door behind the nearest tent pole instead.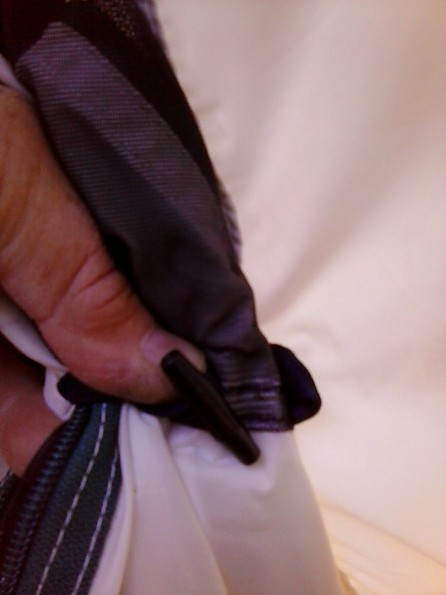 Weightwise, it came in at surprisingly less than corresponding vestibuled backpacking tents, but probably more than UL backpackers would want. It's also smallish (that's an REI flask, didn't have the conventional Nalgene bottle that time):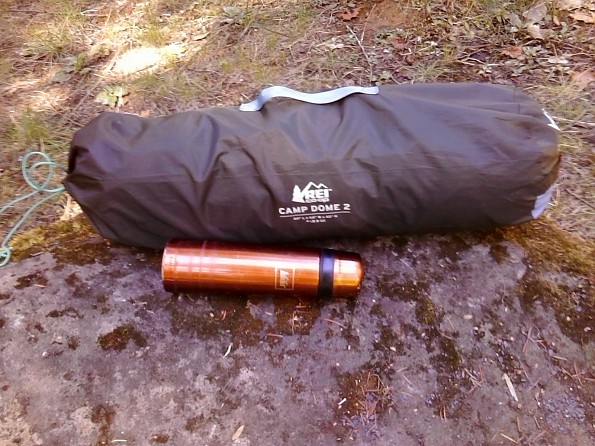 I liked the large stuff sack and the ease of getting the tent back into it, with room enough for the footprint as well. 
As a previous reviewer mentioned, the door zippers snag too easily on the guard flap at the bottom.
It has four corner and one center loop on the ceiling, great for stringing lines and hanging a lantern. Also, two large pockets on one end. I would have liked pockets on both ends, but eventually learned to make sure I set it up so that these were at the head, not the foot.
Overall, I would say this is a good tent for summer car camping, and would be especially good for families with kids who wanted them to have their own tent, given how inexpensive, leakproof, and sturdy it is and how easy it is to set up. For short backpacking trips (in non-bear country) in above freezing weather, I would also think it would do well. However, given the fact that one has to touch one tent wall or the other, and with the condensation problem, I would not recommend it for other than summer, non-ursine backpacking.
More pictures, just cause it looked so at home wherever it was: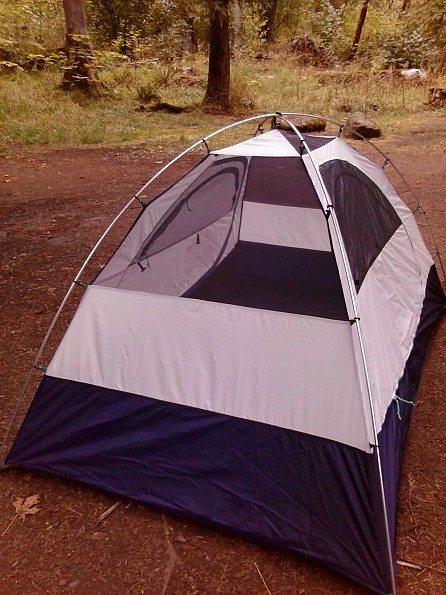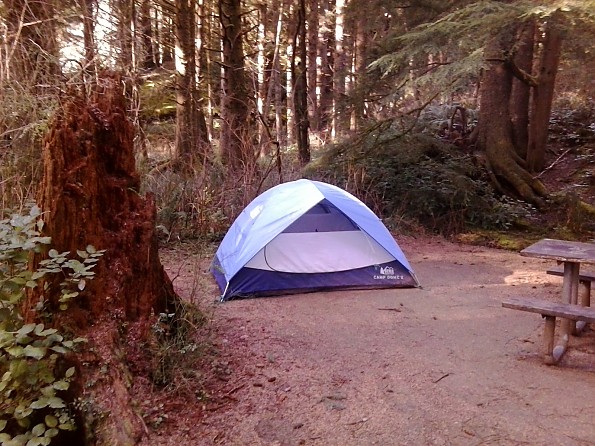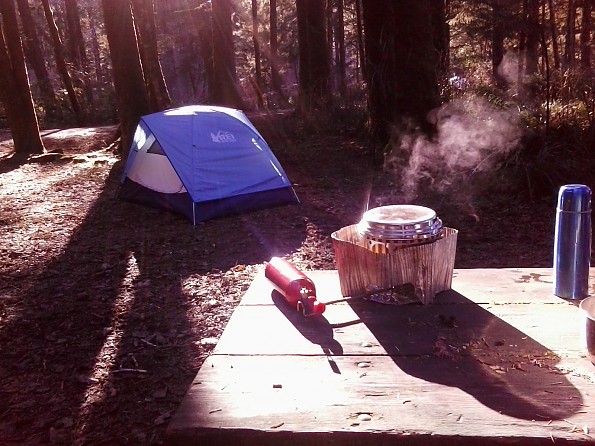 The reason for the past tense in the above is that ground squirrels got it this past spring. I had gotten too used to not camping in bear country and somewhat lax about all the automatic precautions I took when around bears, such as not sleeping in pj's I'd eaten breakfast in, etc. Or maybe it was just those critters' vendetta against me for chasing them off site. Whatever the reason, this was how this little tent ended up: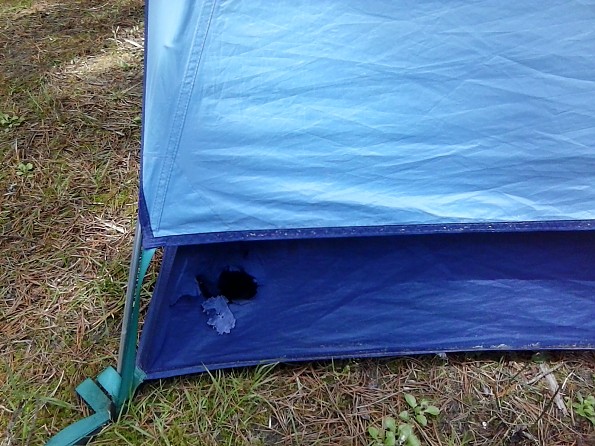 on the other side: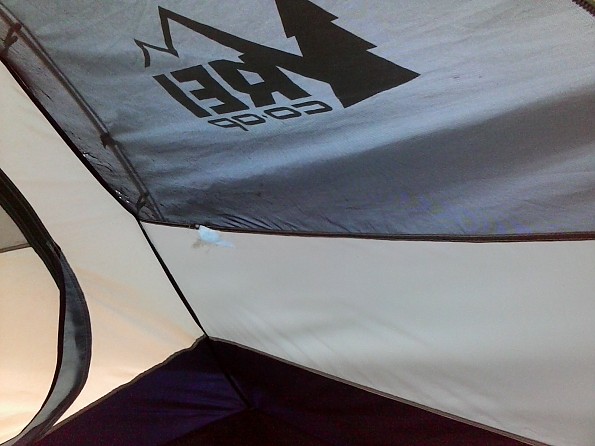 and inside:
Updated August 23rd, 2019: It's on sale again at REI through September 2nd! 
$63.99 for the tent, $19.99 for the footprint.  So 2 cents less than $84 for the whole thing.
I've already bought a replacement tent, but a backup tent for this price?  Decisions, decisions...
Source: bought it new
Price Paid: Around $90 USD for both tent and footprint, at REI on sale

A terrific value for the budget conscious camper.
Pros
Exceptional price
Mostly easy to set up
Nice spacious floor
Cons
Rainfly is a pain to install
Door zipper sometimes snags on storm flap
Cheap stakes
While I love taking my Big Agnes Fly Creek UL1 tent on backpacking trips, it is a bit claustrophobic for car-camping trips, where weight and bulk isn't an issue. So when REI dividends and discount coupons came out, I decided on this tent from REI. A post-Easter trip to Yosemite provided an excellent opportunity to test it.
At five pounds, and with a huge stuff sack, this would be stretching it for backpacking. The stuff sack is pretty roomy, so the whole thing is very easy to remove and repack before you head home.
The set up of the tent body is pretty straightforward, with the classic two-pole dome setup. That part only took a few minutes. There are four wire type stakes included, which go into the ground pretty easily. But after taking the tent down the very first time, one of them was already bent. You should consider getting some better stakes to use with this tent. All in all, this tent feels pretty stable, though the weather on this trip was pretty benign, so we will have to see over time. The aluminum poles seem pretty sturdy, and there are lots of clips on the body.
The rainfly was a different story. There is an aluminum pole which fits across the top of the fly, to spread the door awnings over the door. Then the fly has to be clipped to the ends of the body poles via the same type of metal grommets as the tent body. If you've already staked the tent down, it means un-staking each corner, and then snapping them in. The last two tents I've owned used a small nylon buckle to clip the fly on, which is much easier to deal with.
The awnings protrude about eight inches over the doors on either side. This makes for GREAT ventilation, but I'm not sure how it would fare in a full-on storm.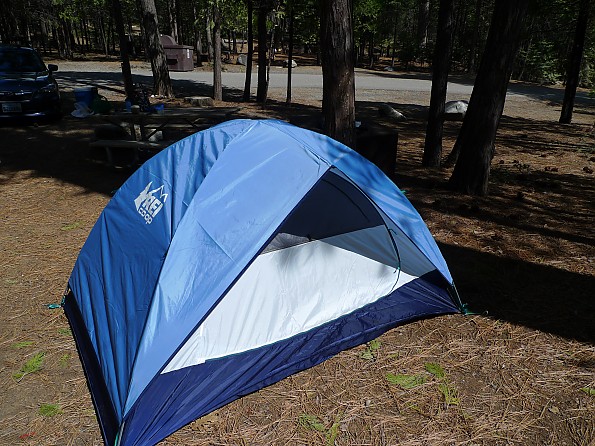 At 31.5 square feet, the tent is very spacious for a single person. With two people, it would be a little cozy (though some won't complain about that!). The peak height of 40 inches made it easy for me to sit up and change clothes, adjust sleeping bag, etc. There are two spacious mesh pockets at one end of the tent for your stash, and hooks in the ceiling which I used to hang a small LED lantern.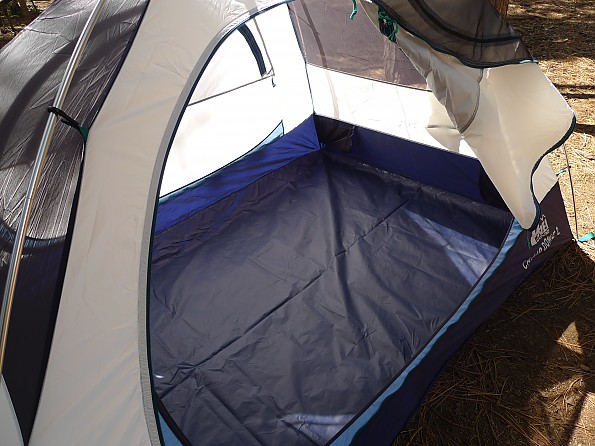 The two-sided entry is great, especially if there are two of you. There is also a mesh window on each, for good cross ventilation. I got absolutely no condensation on this first three nights) trip with it. Ding: The door zipper sometimes snags on the storm flap.
The price: for a hundred bucks, this is a KILLER deal! And with the REI 20% off coupon, it was even a better deal. If you are looking for a tent for casual car camping for one or two people, this is a winner. (Note: the tent comes in three different colors... blue, as shown, green, and a kind of weird blue camo design.)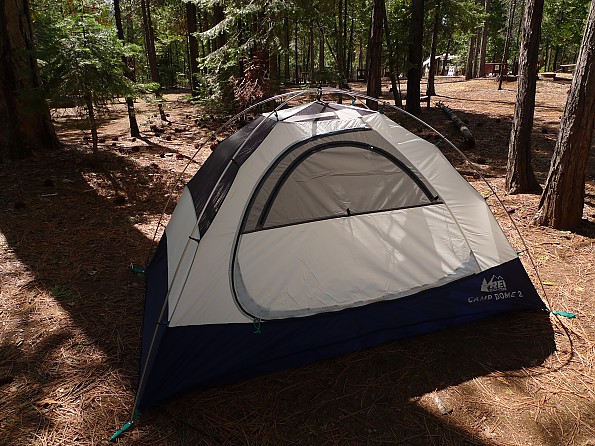 Source: bought it new
Price Paid: $80

I use this tent for car and motorcycle camping and, as many do, I use a two man tent as a one man tent. Thus the absence of storage under the fly is not really an issue, as there is plenty of room inside for one person and all his gear. The lack of a real fly translates into small pack size and relatively light weight.
The quality seems good. The tent sets up and strikes quickly and easily, and the windows, doors, and vents make it comfortable in use. Plus, the price is a bargain.
Price Paid: Less than $100, with footprint, on sale

Nice basic tent for car camping. Easy to set up and take down. Easy access with two doors. Fairly lightweight.
Pros
Ease of setup and take down
Easy access with two doors
Moderately priced
Cons
The overhang in front of doors will not keep light rain out
This is a good basic tent for camping in good weather. It sets up in minutes and requires only one person to achieve this. The take down is just as fast and the tent storage bag is adequate for the size of the tent. No struggling to put the tent back in the bag.
This tent can be picked up, shook out, and moved to another place in the campsite without having to take it down first. The poles are that strong.
The Camp Dome 2 has a roomy feel. Both sides of the tent open and so both sleepers have their own door. NO crawling over your tent mate. 
The only downside to this tent is that it does not have  adequate protection over the doors. When it rains, water come right down onto the doors.
This tent is great in dry weather. It would make a good tent for casual campers who only camp in good weather with no chance of rain.
For a perfect beginner tent, REI should modify the rainfly a bit to cover tent entries and also there should be a pocket to tuck the tent doors out of the way.
Source: bought it new

Great tent. Easy to put up and take down. Stuff sack is bigger than the tent so easy to stow. Only issues are it will not hold two large people and there is no rain flap to stow gear outside.
Pros
Great price
Packs small and light
Easy to put up and take down
Cons
No rain flap to store gear outside
Not a true 2-man tent
Great tent. Easy to put up and take down. Stuff sack is bigger than the tent so easy to stow. Only issues are it will not hold two large people and there is no rain flap to stow gear outside.
Source: bought it new
Price Paid: $140

Awesome tent for the money!
Pros
Ease of setup
Freestanding
Space
Lightweight
I absolutely love this tent! We purchased this at REI for just under $100 after considering a few of the more expensive options. It weighs in at just under 5 pounds which makes it perfect for two backpackers.
We were able to get it set up in less than 10 minutes and there was plenty of room in there for two people and a small dog.
We definitely recommend this to anyone looking for an affordable yet durable lightweight tent.
Source: bought it new
Price Paid: $99

Lots of room and two doors make this a good fair weather tent. Not much in the way of overhang of rainfly over doorways. Also, doors attach at bottom of doorway instead of on side. Since there is not much of overhang from fly, a wet door will be difficult to open and close.
Cons
Not much overhang in from of door and if it rains, door will be wet and difficult to open.
Doors attach at bottom instead of side
This tent is a replacement tent for car camping and short distance backpacking. It replaced a Coleman Peak 2-person that I used for 14 years. The configuration is the same as the peak, but much more room for the same weight. However, it does not replace my ultra lite backpacking tent. I use a Big Agnes Fly Creek UL2 that weighs 2Lbs. for long distances. The 5lb Camp Dome 2 is a bit too heavy for long distance pack trips.
The Camp Dome tent has lots of room and two doors. If you need a screen tent for bugs only, it can be used without the rainfly to save weight if used as a backpack tent. However, without the rainfly, this tent offers no privacy. The Peak had privacy because the tent walls were not see through. The trade off is Camp Dome 2 has two doors and more room. Similar tents have one door, less room, but non see though walls.
There is no overhang of the rainfly, so no place to put boots and other gear. REI could improve this tent by adding at least another foot on overhang in front of door. I really can't say how this tent will perform in rain downpour since the tent walls slant outward and front door is exposed and rain at even a slight angle will hit it. Hence, more overhang in front of doors would be a good improvement. Also, doors should be D shaped instead of being attached along bottom of doorway. It would make it easier to reach out for boots without losing privacy.
Tent seems to be well made and so far, I have had no problems with it. It has strong zippers, and sets up easily.
I will do a review after 14 years of use to see how the REI Camp Dome 2 stacks up against the Coleman Peak 2.
Source: bought it new
Price Paid: $99

My experience with this tent has been limited, but satisfying, so far. First off, it's light and small. I haven't taken it backpacking yet but I don't see where there would be any issue with its size or weight. Second, you can have it set up in about 3 minutes.
The first night we camped it in we had on heck of a storm and we didn't get a single drop of water or any dampness in the tent. I was worried because I had forgotten the foot-print but it still held up remarkably. This wasn't just some summer rain shower either. The tent was pulsing from the wind and the rain was coming down in sheets off of Lake Huron and the tent didn't even give a sign of weakness.
The ONLY thing I wish this tent had was a vestibule. With 2 people in the tent and a pack or two, it's pretty crowded. I'm 5'11 and I wouldn't want to be much over 6'1" in this tent. Luckily, most the camping I do involves me having my car nearby so I can keep excess out of my tent. If you're looking for a cheap, reliable and easy tent, you can't go wrong with this one.
Sleeps: 2
Ease of Setup: Extremely easy
Price Paid: Free - Present

Great tent! I got this cuz I'm cheap and I wasn't expecting much, but REI has a really nice product here. Set up fast, poles are strong and light. It's a little...uh...intimate inside, but I was able to stretch out and put some of our gear and my wife in with no problem.
The last reviewer is right about the fly. The fly pole is a tight fit and the fly could be a little bigger, but I really liked the tent. No snow and only light rain and winds on our trips so far, so I don't know how bombproof it is. Overall quite impressed.
Design: three-season freestanding dome
Sleeps: 2
Ease of Setup: easy
Weight: light enough for backpacking
Price Paid: $99

I paid less than $100 for this, and it has outperformed a lot of other more expensive tents. First of all, it's REI, so you know it's quality gear no matter what the price. Second of all, it packs to about 20 inches long and about 5 inches wide--it is small to fit inside my internal frame and still have room for everything else I need. Last, this thing holds up in any weather. I have camped in Nor'easters in this and I had not so much as a puddle, even with its skimpy rain fly (which is the only thing I'd want different, the fly doesn't go to the ground, but since it works, what does it matter).
I have slept two adults in this thing, plus essentials like clothes, snacks, lights. I love it when I'm camping solo, because there is twice as much room as you need to put yourself and your pack and everything else next to you. My only beef, as I said, I wish the rainfly had a vestibule to put my pack in when it's raining.
Design: three-season freestanding dome
Sleeps: 2
Ease of Setup: less than 5 minutes
Weight: about 5-8 pounds
Price Paid: $99

You May Like
Recently on Trailspace