Big Agnes Fly Creek UL1

The Fly Creek UL1 has been discontinued. It was replaced by the Big Agnes Fly Creek HV UL1.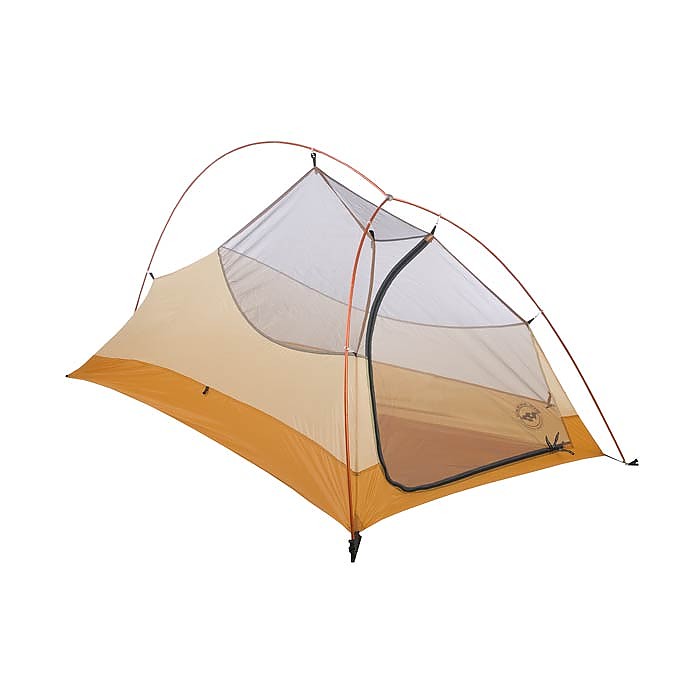 Some help with your decision whether to purchase the UL1. And it is freestanding!
Pros
Weight
Price if you get it on sale
Freestanding so it won't collapse on you
Can be set up anywhere
Wind protection
Extremely dry tent
Cons
Front vestibule is more difficult to get in and out of
Headroom
Fly 9 oz; Inner 10.2 oz; Poles 6.9 oz; Tent Stuff sack 0.56 oz; Pole stuff sack 0.4 oz; Stake stuff sack 0.1 oz; 

Replaced 11 original stakes 4.4 oz with 8 titanium stakes 0.56 oz (cost $10);

Replaced 3.7 oz groundsheet (which was free with purchase) with 1 oz mylar (Cost $1).

Total tent price after 21% off sale $260.

Total weight 1 lb 12.7oz. 

The Platinum is a lighter option which weighs 6 oz less, but it costs twice as much and offers no wind protection (because it's all mesh). That goes for the ZPacks tents as well (16.2 oz and $535 for the Solplex, all mesh and not freestanding).
Which brings me to the next point. People have complained that this tent is not "truly" freestanding because you have to stake out the foot section. It will stand just fine if the stakes would happen to pull out. It will not collapse on you. It can shed snow. And it can be set up in a shelter without a fly. That in my book makes it freestanding.
When using the fly, the air flow would be compromised if you didn't stake it out. But you could always tie off the two rear points to a water bladder or something. The minimum amount of stakes required for a taut pitch is 6. I carry 8 which is only .56 oz anyway! The two upper guy out points on the front poles are redundant and don't do much. Same goes for the two upper guy out points in the middle, unless you are exposed to extremely high winds. I try to avoid those situations. 
The front entry does bug me a little. Sitting down in your tent and then spinning around 180 on your butt is annoying, but doable. And with no overhang, there is no way to open the vestibule without allowing rain in. I've thought about making a cuben fiber beak or tarp to stretch out over the entry to create a porch.
The pics online look deceivingly small to me. Don't get me wrong, this is a very small tent, but once inside I have about 6 to 8 inches on each side of me to store gear. I'm 5'10" and also have enough room to use my pack as a pillow without the foot of my bag touching the bottom. Which wouldn't matter anyway because I've never experience a single drop of condensation! Which is mindboggling because I always have the tent buttoned up when the temps are low and the humidity is high. I have no idea how that is possible. Even open tarps collect some condensation, so it must be a good airflow forced between the inner and the fly. I have no idea but it's amazing to me.
I can sit up in the tent, but only for changing clothes. The headroom is limited to one place in the middle of the tent and my head is wedged between the two mesh roof panels. You have to give up something with any tent, and this is it.
Even with the front entry issues and the height issue I still love this tent. If you can find a good sale it's certainly better than a bivy! 
And the 8 ounces or so more weight over the uberlight tents gives you wind protection and more setup options.
Hope this review helps.
Source: bought it new
Price Paid: $260

I bought the Big Agnes Fly Creek to replace a Tarptent Contrail that I had been using. The primary reasons for the swap were: the Fly Creek has a smaller footprint than does the Contrail and I prefer the double wall configuration over the condensation-prone single wall tents.
The weight difference between the two is small: 35.0 oz for the Fly Creek, 30.3 oz for the Contrail; both with all seam sealing, stakes, lines and a small ground cloth I use to protect the floor (1.7 oz) The Fly Creek is sold as a three-season tent.
I really like the Fly Creek and plan to keep it; it works very well for me. But, I definitely would not recommend it to everyone. For large, tall hikers, the tent would be a bit short and the head space may be limited when you sit up. It certainly seems wide enough although the overall room is noticeably less than that in the Contrail. For me at 5'10" and 170 lb, the Fly Creek is a good fit.
I am an older, seventy-something hiker who goes solo mostly. My favorite backpacking and climbing areas are the Arizona Sky Island mountains, the Grand Canyon, the Sierra, and the North Cascades. I am a three-season hiker now but do my early and late season hiking in the warmer Arizona mountains; July, August, and September are reserved for the Sierra and North Cascades.
I have used the Fly Creek on four trips now totaling 12 days. Of the twelve days, I had rain to contend with on three. All of the rain came in heavy thunderstorms with strong winds, very heavy rain and hail. The accompanying winds were estimated as well in excess of 30 mph.
Setting up the tent is easy. Lay out the tent body, stake out the four corners, assemble the aluminum bows and install them. The tent is ready for occupancy as long as you are not expecting rain. This part takes maybe two minutes, maximum.
The tent is not completely free-standing in that the foot-end corners need to be staked out for the tent to take shape.
Putting up the rain fly is a separate issue and takes more time and fussing. Perhaps four minutes, decreasing with practice. You drape the fly over the tent bows and then fasten the plastic snaps; one at the foot of the tent and one on each side of the entrance.
One then has to guy out the corners at the foot end of the tent, stake out the middle guy lines and stake out the vestibule ends (best done with the vestibule door closed). The tent body can be clipped to the fly at the top of the bathtub to allow both to be guyed out with the same line. There are other guy lines on the fly that permit pulling the fly away from the tent body in the middle to allow for good ventilation.
There are also tie outs that stabilize the bows at the front; I have not used those. I have, so far, needed a minimum of six stakes for the fly. I used titanium skewer stakes for this job.
Please don't buy this tent thinking you can leave the stakes at home. I carry a total of eleven stakes (one spare) for this tent; four, 6" Easton and seven, 6" titanium skewer stakes. Rocks can be used for the guy outs but I like to have the stakes with me if necessary.
I can easily fit in the tent with all of my gear. I use a short sleeping pad so my pack goes under my knees. It is well ventilated and roomy, for me. Getting in is more difficult than with side entry tents; I crawl in head first and then turn around.
There is a slope to the entry door so if it rains this must be closed or water will get into the tent. In the rainstorms I experienced with the tent, I stayed dry; there was no problem even with the high winds. I don't think I would want to sit out a four day storm in this tent but then there are no solo tents in which I would want to sit out a storm.
I have not used this tent in cold rainy weather. The rainstorms I experienced were in 50°F weather. It seems as though it would be dry and comfortable in colder weather but until I try it out in those conditions this will remain an unknown factor.
Pros: Light, dry, roomy for average or smaller person, double wall, no observed condensation problems.
Cons: Not really free-standing, rain fly is a bit fussy to put up, sloping door lets rain in unless buttoned up, moderately difficult to enter.
Background
I have now been using my original Fly Creek for over ten years and over 250 nights out. I'm now in my 80s. I had to replace the zipper pulls about two years ago and the rain fly has several small patches. Otherwise, no issues. I have now weathered many rainstorms from sustained drizzle to heavy thunderstorms without getting wet. One night at Crabtree Meadows in the Sierra it dealt with about an inch of hard rain; I stayed dry.
Design: Semi-free-standing
Sleeps: 1
Ease of Setup: Moderately easy
Weight: 2 lb, 3 oz
Source: bought it new
Price Paid: $240

Lightweight, cozy shelter for one. Won't weigh you down.
Pros
Lightweight
Easy to set up and take down
Good ventilation
Great weather protection and stability
Cons
Vestibule is a bit small
Semi-free standing, and needs staking out
Stuff sack is a little thin, and feels like it might tear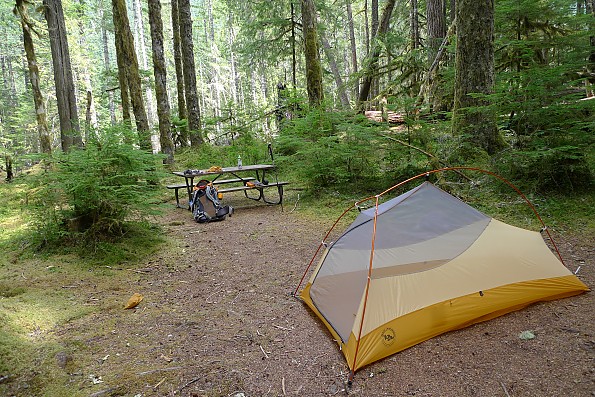 Always looking to lighten my load, I'd been considering a few lightweight tents, and this one popped up on sale, so ordered it up. On my scale, it weighs in at 2 lbs/4 oz... packed weight with tent/fly/poles/stakes/stuff sacks/pole repair sleeve/extra guy lines. This shaved a full pound off of my previous tent.
I found the tent pretty easy to set up the first time. It uses a single 3-way hubbed pole... two of which brace the front of the tent, and one longer section which extends down the back. There is a clip on top of the tent body, which hooks to a clip on the pole. It is somewhat free-standing, except that one needs to stake out the foot end, or risk having the tent sag onto your bag. The better you stake it out, the more living room you will have. 
Once set up and staked properly, the tent is pretty stable in wet and windy conditions. During a significant evening rainstorm on Rainier, I never felt that it was going to leak or collapse on me. And despite the copious amount of hot air coming from my mouth, there was minimal condensation on the inside of the tent.
The inside is adequate for one person, with a little bit of gear. But don't expect to fit everything but the kitchen sink into this. There is a tradeoff for that light weight! There is one small pocket at the apex of the tent. It's not overly practical... another pocket on the side closer to the floor might be helpful. 
My biggest space complaint is, that the vestibule is pretty small... there is room for my giant shoes, but not much else. So I always have a UL pack-cover, to protect my pack in wet conditions. 
The tent is fairly easy to take down, though it fits pretty tightly in the stuff sack. And I'm always a little worried that the stuff sack might rip, as the material is pretty thin. I have thought that I might try to find a slightly beefier stuff sack, just in case. 
There is a footprint available for the Fly Creek UL1, but at fifty bucks, no thanks. I just made one out of some lightweight tyvek material, that cost less than ten bucks. The tent floor material is fairly lightweight, and if you often camp in rocky campsites, a minimal footprint is not a bad idea. (Note: It is possible, using the B.A. footprint, to set it up "fastpack" style, using just the footprint and fly/poles/stakes. This would cut the weight, so if that is something you like to do, then the footprint would be useful.)
I've been using this tent for about three years, and despite the minor nitpicks, I still love it. It is in great shape, and shows no significant signs of wear. I have done many trips with it throughout the Sierras and Cascades, and it is still my first go-to shelter for lightweight backpack trips.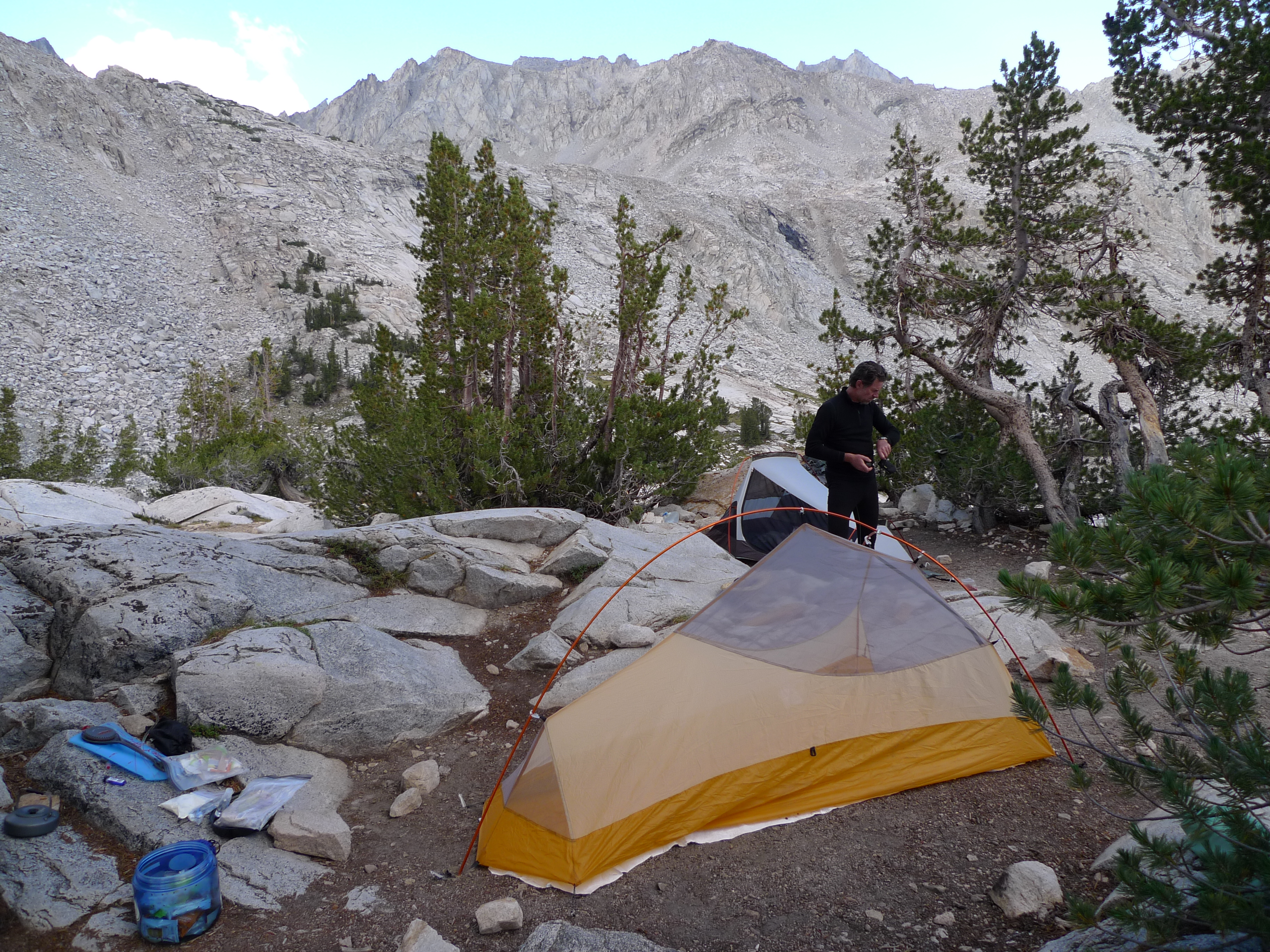 Source: bought it new
Price Paid: $230

Lightweight, weatherproof, and sturdy.
Pros
Lightweight
Good in bad weather
Double wall design
Easy to set up
I like the front entrance (read on)
Cons
Not fully free standing
Vestibule could be bigger
I have been backpacking for the last 25 + years throughout the Northeast from New York to Maine and everywhere in between. Home main range is the Adirondacks. Recently I have been switching off between a Hilleberg Akto and the Big Agnes Fly Creek UL1.  When I think there is a chance of fairly bad and cold weather, will be base-camping (and can accommodate the additional weight), or doing low mileage/elevation days, I take the Akto. Otherwise the Fly Creek is my go-to tent for lightweight backpacking.
I won't repeat the strengths and weaknesses here but want to stress after an exhaustive review of EVERY lightweight backpacking tent currently on the market, I came to the conclusion that the Fly Creek UL1 provides the best combination of strength, weatherproofing, lightweight, ease of setup, and interior livability.
There are much lighter tents on the market (notably the single wall tarp tent style tents made by numerous companies) which range down to approx. 1 pound, but I believe the additional pound of the Fly Creek produces an exponentially higher level of comfort and weatherproofing.
Here is a summary of why:
The sides of the interior tent are nylon to about halfway up. This shields me from driving rain and provides a barrier to cold winds blowing along the ground. The lighter tents are very breezy in this regard.

Much less condensation and/or chance of touching the wet inside wall on a true double wall tent.

Ease of setup.  The Fly Creek is pretty much free standing with exception of staking out the front vestibule and rear.  It requires few long guylines and has a small footprint. Pole make setup easy.

Contrary to what most people prefer, I LIKE the the front entrance. It may be less comfortable than a side entrance to get in and move around, but when laying down there is the most space between your head and the top which generates less condensation
Downsides of this tent are that it requires poles. No doubt Big Agnes is working on a method of using trekking poles for this tent (would be a a better version of the Henry Shires TarpTent Contrail, which was my second choice to this tent). Fly Creek vestibule is also small but usable.
Other than this, it's about 2pounds, packs small, and is a great tent to crawl into after a day on the trail. Next to my Akto, I feel it's worth the weight to carry this and have the level of security against the weather. During the right weather, it allows me to bring a lightweight quilt instead of a sleeping bag which saves weight too.
I would but this tent again!
Source: bought it new
Price Paid: $330

The Big Agnes Fly Creek is an overall good choose for a solo backpacking tent. It is fairly light and packs down to half the size of my North Face Blue Kazoo. Taking the above into consideration, it is important to note that the tent is tight on space both inside the tent and in the vestibule department.

Furthermore, while the tent is light in the pack, its material is less durable than most backpackers would likely prefer. After two uses the tent sustained two slits in the floor.
Pros
Low weight
Small packed dimensions
Easy setup
Cons
Lacks durability
Lacks headroom
Lacks vestibule space
The Big Agnes Fly Creek UL 1 is a good, intermediate level UL backpacking tent. At 4 x 18.5 inches packed, it fits easily into most medium and large backpacks. Weighing in at 2 pounds 1 ounce packed it is hardly noticeable on a weekend trip.  
While the price point is a bit high, it makes up dollars with the easy to use Aluminum DAC Featherlite NSL, 1 hubbed pole set and DAC Twist clips.
On the downside the coated ripstop nylon floor leaves much to be desired in durability; so go gently into the night. Further into the "cons" column is the headroom up at the 38 inch peak height of the tent. With inside of the tent lacking in the head and elbow room department, the vestibule follow in line with a measly 5.5 square feet.  
Overall, the Big Agnes Fly Creek UL is good intermediate level backpacking tent ideal for weekend overnighters. The pole design and tent setup are a breeze. While not the most durable tent in the lot, it repairs easily and should be handled with due care.
Lack of head room and vestibule room should be considered when packing. The Fly Creek UL 1 will provide fine shelter and force you to reconsider the amount and type of gear you are considering keeping in the vestibule.
All things considered, however, if you have the funds in the range for the Big Agnes Fly Creek UL 1, consider some competitors.
Source: bought it new
Price Paid: $319

I really like this tent. I have had a Big Sky Mirage on order for almost a year now but bought the Fly Creek UL1 because I really needed a new tent for THIS summer. Who knows when I'll get the Big Sky tent?
I'm 5'10" 210 lbs and am pretty rough on equipment. So far I've spent about 10 nights in it scouting for deer in the back country. It's protected me through some pretty severe thunder storms with 40-50 mph winds and a 6 hour stretch of heavy heavy rain. I was totally dry the entire time. And unlike Robert W's review, mine sets up very tight. I have enough room in the vestibule for my large pack and boots. While it's not totally free standing, I'd call it MOSTLY freestanding -- you have to guy it out for it to take its final shape -- but what tent do you not have to guy out?
While it is small, it's roomier than you'd think for a tent weighing just 2lbs 3oz. For me it's just right. If you where much taller than me, however, I don't think you'd be comfortable in it.
With the help of this tent (and some other light weight equipment) I've been able to get my pack down to 40lbs. My knees are very thankful.
Design: Ultra light & Impressive
Sleeps: 1
Ease of Setup: Very easy
Weight: 2lbs 3oz.
Price Paid: $170 on ebay

LOVE my BA Fly Creek !
Pros
lightweight
strong
color blends into surroundings
Cons
fly zipper must be handled carefully
only one interior pocket in ceiling at door
After numerous nights of use, I highly recommend this tent. At 5'7", I fit perfectly with room to spare for changing clothes, and sleeping in cold weather with gear inside the tent next to air mattress and water bladders to prevent overnight freezing.
Once I slide my inflated 25" wide long air mattress inside, it automatically pushes out the bottom corners of the tent, eliminating the need to guy them out. I use only 6 tent stakes out of the provided 11 (one redundant from my cook kit) - 2 for vestibule, 2 for fly sides, 2 for fly bottom to ventilate tent. There is a hook on the inside of fly sides that attaches to the inner tent which pulls out the tent when staking out the fly sides. Gives you ample room inside the tent. 
I have slept through rainstorms with no dripping condensation inside. I can additionally guy out the tent with the included additional reflective lines on trees or rocks during wind storms. My backpacking buddies laugh when they see my tiny tent set up, but then gape when I tell them 'less than 2 pounds'.
I never pack the sacks.  I just shove the tent body and fly into the available space in my backpack.  The poles go into an outside pocket and held in place by compression strap.  The tent stakes are rubber banded and go into the pack.  The tent is cozy with room under vestibule for my pack and boots.  I made a tyvek ground sheet for it but have rarely used it.  The tent also nicely blends into the landscape.
This tent would not be recommended for tall and/or larger people. I can't say enough about how much I love my tent  :-)
Source: REI garage sale

In my estimation this tent has all four major attributes necessary in a one-man, three-season tent. Ease of setup, ease to dismantle, durability, and weight. One downfall is there is a minimum of headroom for taller folks, I'm 5'9" and it just accommodates me. I've camped in mine through rain and wind storms and stayed protected and dry.
Pros
Durability
Easy to set up
Cons
Limited headroom for taller individuals
Footprint is not included and pricey
i've used this tent in the Arizona desert and the woods of the Boundary Waters in upper Minnesota and it delivers time after time. I usually use it staked down when using the fly, but it stands well on its own.
It only weighs a mere 2 lbs. 1 oz. and packs up small. I've owned this tent for two years and used it extensively. It's held up remarkably well and is still fully functional. In warmer weather, just use it without the fly, it has ample screen.
Source: bought it new
Price Paid: $350

Weight rivals many ultralight shelters.
Pros
Light
Small footprint
"Fast Fly" setup (with footprint)
Cons
Might be too short for tall folks
This tent is lightweight, packs small and has a nice option to go even lighter with the "fast fly" set up if you buy the footprint. I've used my UL1 for two seasons and it has held up well. It's easy to pitch and stable in stormy conditions.
I've never had any trouble with ventilation. As with many small shelters it doesn't have a lot of headroom (although I can sit up in it) and is a little tight to get in/out of, but that's just the trade-off you make for a lighter tent.
I recently bought the footprint on sale and am looking forward to trying it since it brings the weight down to 1 lb, 12 oz (including stakes, but not the stuff sacks since I never use those anyway).
There is enough room for me and my gear, but suspect bigger/taller folks might find the space too cramped.
Source: bought it new
Price Paid: $319

I'm an outfitter in MT and have spent many nights in the wilderness. Needed to find a new solo tent for the high country. Used this tent one night and that was enough. Super light weight and extremely thin but seemingly tough enough material. Seems and stitching seem sound. Other than that I found it to be a poor design. Had a storm blow in and drop the snow level to my elevation and it rained, sleeted and blew all night. Temps about 35 degrees F.
It is not free standing and I found it impossible, either setting it up at home in good weather or especially after 8 miles and 4000 or so vertical feet in the cold, to guy wire it out correctly. Even with all the stakes.
Though the specs read that it should be able to fit the Big Agnes Park long series bags, it does not. There is no way to fit one and not have your feet rub against the lower end, which inevitably led to the lower end of my bag picking up a lot of moisture from the walls. I find it hard to believe that any normal sized human in any bag could not end up rubbing the walls. This thing is REAL small inside. I'm 6'1" and 225 lbs. Forget about sitting up.
Cold air also blows in on your head as there is no wall by your head, just mesh. Then every time you need get in and out of the fly water pours in all over your head as there is no way to open it up without that occurring because of the angle of the tiny vestibule. No way I was fitting my Gregory Baltoro 70 Lg, 4638 cu/inches in it either. Just enough room for shoes and maybe a very small pack and water bottle.
I like Big Agnes products, but this one missed the boat. I'll be getting a Copper Spur UL2 instead. Same material but big enough not to rub against. And room to store my pack. I'm willing to give up a bit of weight for comfort. The Fly Creek is maybe a fair weather small person no rain tent at best.
Design: poor indeed
Sleeps: 1
Ease of Setup: simple but doesn't work
Weight: 2.3 lbs packed
Price Paid: $299

great solo tent.
Pros
light. Fast and easy set up. Good protection from the elements.
Cons
Fly needs to be perfect in wind with rain by the foot area. Moisture can blow up. If done right it good.
I used this tent for six months on the appalachian trail. I was impressed with it and the amount of use I put it through would have destroyed many other tents. You sacrifice some space for weight. I was able to sit up and take care of all my needs. I used a tarp for a ground cloth. Rolled the tent in it for protection. The floor will not stand up to real rough ground and care needs to be taken. I used it in snow, rain and high winds. I could set it up in minutes and when properly set up I was never wet and felt secure.  Without the fly it has alot of mesh for warm weather. I liked not having any bugs getting in also and bug free 99% of the time. I actually had my doubts at first because it didn't look like it would survive  months of daily use, but I still use it and it works well for me. 
Source: bought it new
Price Paid: 319.00

If weight is your only consideration, then consider this tent. If dependability and ease of setup/use is high on your list, then walk away.
It's light. That's about all I can say for it.
As with other reviewers, it dumps water into the interior when you enter or leave because the door slants inward toward the top. Same problem with other Big Agnes tents. The vestibule is small, plus you have to climb in over your gear since it is a single, front entry door.
Also, this is the second Big Agnes tent where the zipper has failed. Sent a Seedhouse back for zipper replacement, which they did cheerfully (excellent customer service), but now the Fly Creek zipper has also failed.
Check out the Tarptent Stratospire 1 if you want a real quality, 1+ person tent.
Source: bought it new
Price Paid: $300+

The lightest tent I've ever owned.
Pros
Easily packed for the trail and bike touring
Top shelf quality
Cons
Having to crawl past gear in the vestibule
Small floor space
Not freestanding, which I prefer
I used mine several times and found that though it's light, it didn't afford the room and access I like, so I sold it.
Source: A customer return I bought at REI garage sale for $40

Your Review
You May Like
Specs
Price
MSRP: $319.95
Historic Range: $206.99-$329.95
Reviewers Paid: $170.00-$350.00

Recently on Trailspace