Hilleberg Akto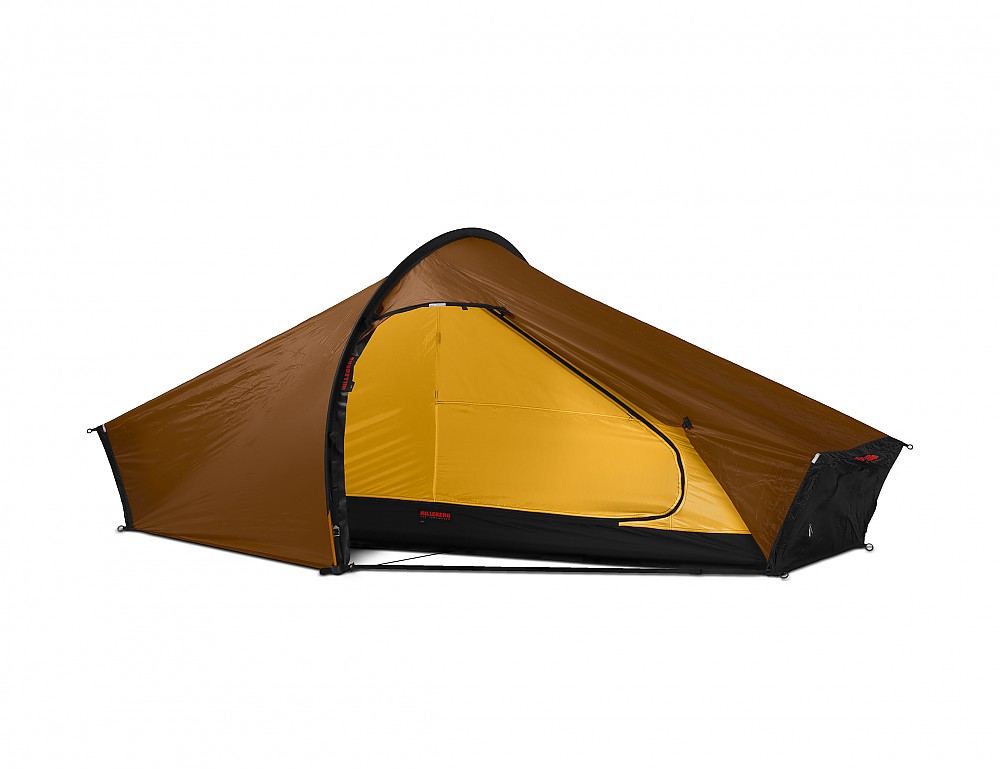 I posted this on the lightweight backpacker site and thought others might be interested. Since I posted this, I thought I would add that the tent is probably not suitable for dry, very warm, buggy conditions. That said:
I bought an Akto from Sweden about two years ago. Have used it extensively in the Japan Alps, the French Alps, and in the alpine mountains of Taiwan, where I live. It's excellent and makes camp a real pleasure.
The real key to it is the fly fabric, three-times silicone coated both sides ripstop nylon. If you go to the Hilleberg web site they give you a run down. I think the fabric is made by Carrington, in the UK, or it is equivalent to that.
In France the Akto weathered extremely high winds (over 100m/s) and here in Taiwan it has been through torrential sub-tropical downpours. It's a tent that makes you feel secure, especially important, I think, when you're going solo in deep backcountry.
I outfitted the Akto with an additional hefty .433 pole, recommended for winter use. Given the possibility of a sneak typhoon here, I thought it would be best. I once sat out a typhoon in a Marmot Bastille--a true bomb shelter but with a trail weight of 4.5 kg, too much.
Condensation in the Akto: even with the vents open, or again, even with the vestibule door open, there is always some condensation. Sometimes when I sit up in the tent my head would brush against the inner and touch the fly, but the water doesn't pass through the inner. Hilleberg says that you could carry water in the permeable inner fabric. So condensation has never been a problem. I just like to wipe the inside of the fly with a cloth before packing so that I don't carry a little extra water weight.
Inner: The fabric quality and gold color of the inner make a pleasant place to lounge around in. With the exoskeleton design (one pole in the outer fly), the inner can easily be quickly detached to create a little more space or air if you need. (If it's a very warm day, the inside is hot).
Vestibule: big enough for all your gear and cooking. and if you want more temp room, just undo the inner.
I modified the tent by adding a small rain flap over the outside door. Hilleberg people balked and said it was unnecessary, but I find it allows me to keep the outer door zipped open at the top, allowing for a bit more ventilation in the tent since the two vents are both placed low. In addition, I changed all the zipper pulls, taking off the metal pulls that come with the tent and putting on triptease pulls that look nice with the gold of the inner and don't jingle.
You can use the outer alone as a low weight reliable tarp for two, but there wouldn't be room for gear.
Before i bought this tent I considered other solo tents including the Mountain Hardwear Solitude and Microswift (really just roomy bivies), as well as the various single pole solo tents.
Exped Equipment in Switzerland (www.exped.com) makes a very light solo tent that looks like Eureka's "solitaire gossamer" better made and might even sleep two. But the Akto offers more "livable space" since you can sit up. And unlike the NF Canyonlands and other one pole solo tents, it could be much more reliably weatherproof and *durable*.
Since i go alone in some occasionally nasty country, i want a tent that is reliable and weatherproof. (This is why I shy away from tarps--after having been caught in part of a typhoon in a tarp--but does anybody have any recommendations on how to use them in high winds and heavy rains?). Akto gives me that PLUS a low weight. I think if you take confidence from your shelter, this is a great one to have.
Hilleberg's service is excellent and your tent bears the name of the person who sewed it. Plus, now you can order directly on-line.
Friends, I want reliability and durability, not just excellent space-to-weight ratios. I wonder who agrees with that?
Liked this tent so much that I bought their Nallo 2 (net weight 4.3 oz) and the luxuriously spacious Nammatj 2GT (6.3 oz). Everybody who has seen the Akto--except frustrated mosquitoes--has been impressed by their function, light weight, and reliability.
You probably need to seal the seams on the floor at least. On the floor there are no major seams, just little circles at the five corners where the inner attaches to the outer. I sealed mine and have never had a leak, even in torrential day-long downpours.
Akto compresses to a very small size, something like 5" x 15" or less.
Design: solo 4 season
Sleeps: 1
Ease of Setup: 4-10 pegs
Weight: 2 lbs 12 oz minimum
Price Paid: $340

Extremely high quality materials and build. Storm proof; a heaven from the elements in the backcountry.
Pros
High quality materials and build
Stormproof
Feeling of security when using this tent
Sets up dry in the rain
Excellent vestibule
Cons
Heavy for a lightweight setup
Can be prone to condensation
Needs a lot of room to set up
Not free standing
I have used this tent for 7 different trips so far in weather ranging from 30 - 50 degrees.  The tent is advertised as a four-season tent. It is a true double wall tent with full nylon inner tent.  I initially bought this tent for three season (fall, winter, and spring) use knowing its design would become very hot in the warmer temp ranges.  
I am not going to repeat the pros and cons I noted above, but add a few things (bad first then the really good):
The flatter ends of the tent will load up with snow. I am an experienced winter camper but don't like the idea of having to use deadmen to hold the 10 stakes in the snow. I plan on buying a Hilleberg Soulo which is free standing for winter use.
The tent requires a decent amount of real estate to stake out. Even in the backcountry, with designated camping areas, its sometimes hard to find a good spot for it. My Big Agnes Fly Creek UL1 requires much less space.

It's a fairly heavy tent for single use. I did lighten it up by replacing the guy lines with lighter cord purchased from z packs and replaced the heavy metal zipper pulls with cheaper cords ( I think I saved 6 ounces...)

While condensation builds up on the inner side of the outer fly, once the sun comes up, I leave all the vents open and it dries out while I eat breakfast and get ready for the day.
Good stuff
Storm proof! high

Sets up easily

The inner sets up along with the fly so when it's raining the inner tent does not get wet. You end up with a very dry tent no matter what (you can see this on YouTube if you don't get it)

Vestibule is large and overhangs the inner tent so you can keep it open in the rain if not at an angle.

Great venting options for temperature control (two at foot ends and one at top of door)

Fairly spacious inside

Pitches taut and secure. Good proven design with a lot of history

Most important, I carry the extra weight of this tent because it makes me feel safe. I have a place to go that's warm and dry at the end of the day, no matter what happens during the day. I lighten up on some other luxuries and use a quilt, which I don't love but works along with the safety and security of this tent. 
p.s. Hilleberg now makes a mesh inner tent to replace the nylon inner tent so this will become my summer tent as well.
In short, the Akto is too heavy to be used for high milage trips or long trips over a week but for weekend to week trips, knowing the weather could be bad or any other situation it will be my go-to tent.
Hope this helps.
Source: bought it new
Price Paid: about $500

Excellent, lightweight and spacious solo tent. Thoroughly contemplated design, sturdy construction, adaptable features, and high quality materials. Intense focus on lightweight backpacking, but addresses other concerns well within that constraint.
Pros
Sturdy construction
Light weight
Secure pitch
Cons
Expensive
Bad for warm, buggy environments
I've taken my Akto on multiple trips now, and would buy it again several times over. On my first trip with it, I stopped to set it up and just finished the pitch as the bottom fell out and a torrential downpour was unleashed. I quickly stacked down the last couple of guy lines and then dove inside the dry inner to recover from the soaking I received during setup.
Setting up this tent in the rain is where you can truly appreciate its design. Many tents you set up the inner tent which suspends from the poles, and then stretch a fly over the top of the poles. The Akto's design instead has the fly suspended by the single hoop pole, and the inner tent suspends from the fly. The end result is that during set up, the fly is always covering the inner, and thus the inner is never exposed to the exterior elements.
There's a few downsides. You can find lighter weight tents, but not many lighter weight 4-season tents. The outer allows for decent ventilation, having 3 vents; two down low at each end of the fly, and one at the peak of the door. However, the inner tent only has one mesh window at the top of the door; above about 60 degrees the Akto inner becomes extremely hot to stay in. The door can be opened at the top and bottom to alleviate this problem, but in buggy areas this will allow some insects into the inner tent.
As lightweight gear goes, the Hilleberg starts off good but not great. The guylines and stakes are two elements ripe for improvement; they both come in at decent weights, but you can drop close to 200 grams by upgrading these elements to lighter weight alternatives.
Hilleberg offers an excellent mesh inner tent which solves the heat problem. I purchased this later to solve it and I'm satisfied, though it does beg the question of if the Akto is a 4 season tent, or a 3 season tent that includes winter as one of the seasons. I replaced the guylines with ZPacks 1.25mm Zline and linelocs to drop weight from 6g/m to 1g/m. I replaced the tent stakes with Terra Nova 1g Skewers, dropping the weight/stake from 11g to 1g. With ten stakes for this tent, along with ~15 meters of guylines, these weight cuts can add up.
This tent is one of the best on the market, is easily worth its purchase price, and gives you a safe space to take shelter in the backcountry. It suffers in some environments.
Source: bought it new
Price Paid: $465

I've been camping for 40 years, and had numerous tents, but this hurricane defying, quality tent knocks spots off them all and it must be the best 4-season 1/2 person tent on the market which is ideal for all conditions. I've had mine for 12 years, travelled thousands of miles, done no maintenance and it's as good as ever.
Pros
Quality of workmanship.
Superior flysheet strength.
100% reliable.
Spacious.
Simultaneous inner/outer and easy erection.
Cons
Mine is old so maybe design has changed but minor quibbles are the single velcro attachment holding the cover over inner mesh window (now not working) and the toggles holding the rolled up outer and inner doors are too small and slip out easily.
Both of these can be solved with a needle and thread (but I still haven't done it!)
I've had this tent for 12 years now, buying it new, with no research, at an outdoor shop in Holland in 2000, because I immediately liked the look, quality, weight and design of it. Since then it has travelled thousands of miles with me on long distance bike and hiking trips, and more than a thousands nights of use. I have never done any maintenance at all and everything works as well as it ever did and it is still totally reliable in absolutely all conditions.
This tent takes me 5 minutes to erect — the inner and outer erect together but if the outer tent is very wet at pack-up time they can easily be separated and packed separate. This also allows the outer to be used alone as a tarp tent. With fine adjustment possible with the guy rope system it can be made very taut.  
It has been buried in snow, blasted by gale force winds, etc. but the most extreme weather was on a 3-month cycling trip in New Zealand when I was hit by a hurricane in Fjiordland, the lake rose 10 feet and I was stuck in my tent for 4 solid days with horizontal driven rain for much of that time.
Not one single solitary drop of water found its way in (although some pegs were ripped out the first day because I had not been expecting a hurricane and hadn't put the stakes in well enough). Only by the fourth day was the inside starting to get damp but this was mostly due to me hanging wet clothes around the place. Contrary to reports, condensation in this tent is no worse than any tent I've had. It always stays on the inner side of the flysheet.
It is fantastic to know that whenever I put it up I can either sleep with the side door open and gaze at the stars just like being in a tarp, or zip cosily up with everything easily stowed in the tent and vestibule and know that whatever the weather throws at me I will be dry and safe and have enough room in the vestibule to cook while the tempest blows.
Source: bought it new
Price Paid: £240 in 2000

Top quality materials and unquestionable warranty. You get more than you pay for and the company stands behind the product.
Pros
Quality materials and components
Intelligent design
Lightweight and compact (for durable design)
This is my second Hilleberg tent and my go-to kit for my solo adventures. My other tent is a Staika that is more of an expedition tent than a pack tent. I am primarily an adventure motorcyclist and a backpacker second. When I backpack, this tent is somewhat heavier than other competitor's offerings but far more durable. My previous lightweight packer was a GoLite that only survived two seasons.
So far this tent has handled two more trips than the tent it replaced without showing any deterioration. After many seasons in the desert, a hybrid tent like those produced by Hilleberg are simple the best in every environment. The MSR tents are light and compact but you'll wake up after windy desert nights covered in sand because you can't seal the tent up like a Hilleberg. That's just as bad as being wet, IMO. You can go to a mesh inner with an optional kit if you want. 
All the claims the company makes about this tent are true, so I'll refrain from pilling on the adjectives of a superior product and move on to what are some idiosyncrasies you need to know about this tent. These are not detractors per se, but just some things to consider.
This tent can be pitched direction specific. If you pitch this tent up where 15+ MPH wind will hit it directly from the side, it will flutter more than a longitudinal pitch (head or foot into the wind) will, no matter how many guys you set off the tie points.
One night the tent oscillated all night like a kite does sometimes and made for a very sleepless night. Possible I could have picked a better spot, but who knows. I doubt any other tent except a Hilleberg Black Series would have done better. If there is wind and rain, pitching foot into the wind is more stable in the wind (and more restful) but will result in rain coming on to your bag if you open the door. Head in works the best when you have any directional rain. 
Get a footprint. The quickest way to destroy a tent like this is to start working holes in the floor on hard ground. Everything else on this tent will handle most anything you (or the weather) can dish out except a torn floor from a sharp rock.
Source: bought it new
Price Paid: $375

A good tent for long-distance walking trips.
Pros
Strong and easy to pitch
Light enough (just) for two-week plus hikes
Cons
Leaks at vent seam over porch vestibule
ZERO support or interest from HILLEBERG
I find the Akto easy to pitch, even in high winds. Very stable and strong. I take the extra pole in snow, but I've never needed it as the tent can take a load on top without trouble. Very easy to adjust.
A wee bit clammy, but I leave the end vents open winter and summer and it's not so bad. I love the big porch and I invested in the footprint, which pitches with the tent, and doesn't add too much more weight for the value of getting gear off the wet ground. The Akto packs away easily in its bag, even with the footprint attached.
Much as I love it, however, I was disappointed to wake up after a night of steady rain to find the seams around the porch vent had let through and my left boot was full of water. Halfway through the S.U.W. wet feet are to be avoided, especially on a forestry road section, grinding days out on crushed stone tracks. Very sore feet. I did a bit of clumsy seam sealing, but I was a bit shocked at the revered Akto failing.
I am a bit of an anorak for keeping gear clean and well stored so I knew it wasn't caused by neglect. I have been considering a Soulo, but at the astronomical cost I'm nervous about buying one. The reason is that I contacted Hilleberg about the leak in full expectation that they would be helpful. I didn't expect it to be inspected and fixed for nothing, I've had the tent for years, although when I had a good look at it, the design of this component is clumsy compared to the lovely simplicity of the rest of the tent.
The reality was that I got a curt reply from Hilleberg telling me that once the tent was used they more or less washed their hands of it and that they had never heard of a leak there before. This is patently untrue and the kind of response I'd expect from a tin-pot firm, not an established market leader.
As a result I'm almost certainly not paying a fortune for a Soulo and might be heading for a Terra Nova or Wild Country as their customer service is great. Such a shame when an iconic firm, like Hilleberg, seems to have been taken over by salesmen!
Experience
I'm a long distance walker. I need a tent I can absolutely rely on for two to three weeks. I've owned my Akto about eight years and completed around ten 200-mile-plus walks and numerous weekend trips. I'm in my mid-fifties and a plodder, not a speed machine.

I also own a Vaude Power Lizard UL and an older model Taurus UL. The Power Lizard is very light and surprisingly robust, although I wouldn't try it in heavy snow. The older model Taurus is spacious and light, but it lacks the two built-in poles the newer model has to keep the foot end from folding in when it's windy. I bought it cheap secondhand, as a spare for walking companions who don't have a lightweight tent. A simple remedy was to attach a couple of guy lines at the back to hold it steady. If Vaude made a heavier duty four-season tent I'd be very keen to give it a go.

I've only used the Akto in Great Britain but, as anyone who's walked here knows, the weather can be as varied as anywhere in the world. Up until the porch leak the tent has been bomb proof and even on the not uncommon occasions when I've been wet, cold, lost and a bit scared, once the Akto is pitched and I'm inside and sorting out wet stuff I calm down and feel at home no matter how much rain, wind, snow, or hail is battering it.

To sum it up, I'd have given it 5 stars if it hadn't leaked and Hilleberg hadn't been such a letdown.
Source: bought it new
Price Paid: £550

My go-to tent!
Pros
Fast easy pitch
Light weight
I'm not sure how long Hilleberg has been producing Akto tents but I've had mine going on seven years now and it's out in the woods being used by either myself or one of my friends at least 14-15 nights per year in all sorts of weather conditions.  It truly is a four-season tent; if there is weather that it can't handle I do not want to be out in that weather.  
I'm just a skosh under six feet tall and the tent is of sufficient length for me in an long sleeping bag. With the larger zero degree and below bags the tent tends to "fill up" a bit and the bag will touch the inner tent wall, usually on the foot end.  In temperatures below 15 degrees frost will sometimes form on even on the inside of the inner tent - last time out that frost was about 1/4" thick.  Of course when you get up all that frost ends up inside the tent but that's pretty much par for the course when winter camping.  
One trick I've learned to eliminate condensation with this little tent is to hang a candle lantern from the loop at the peak.  This creates just enough air flow to keep the great ventilation system working and pretty much eliminates condensation.
Hilleberg now produces a mesh inner tent for the Akto which I feel would make this an awesome summer tent in warmer climes. I intend to add one of those to my inventory this summer. 
Overall this is an awesome little tent — of all the tents I've owned and tried it remains my favorite year after year.  
Source: bought it new

The Akto tent is strong enough, and the quality suitable for 4-season use, but its size is more suitable for 3-season use. This tent is highly recommended if you are wanting a most reliable, quality, one-man tent.
Pros
High quality
Simple and effective design
Materials and workmanship are superb
Cons
Expensive, but the price is worth it.
The tent is relatively easy to pitch once it is realized that the angle that the four guy-lines are placed is consequential to the full utilization of the tent's interior space.
The Akto pitches beautifully tightly and is extremely stable in the highest of winds and storm.
The Akto is extremely watertight in the heaviest of rain.
The Akto has a variety of venting options and deals with the issue of condensation quite effectively.
For a one-man tent, there is a relatively luxurious amount of room in the Akto, with a spacious vestibule and a wide width and long length within the tent itself. 
The Akto is very intelligently designed and pleasing to use. Its quality is supreme.
The construction techniques and quality of materials is unsurpassed.
I have used the Akto in minus 40 degree full-on winter conditions, in 100 degree Canyonlands, and in High Alpine environments, in severe winds and storms, and have never been unsatisfied in its performance. The Akto is worth every penny it costs.
Source: bought it new
Price Paid: around $500

Great all-weather, four-season tent. 10 to 15 degrees warmer at night, so I don't need a sleeping bag in summer.
Pros
Durable and versatile
10 to 15 degrees warmer at night
Pitches quickly and securely
Roomy inside
Can cook in the side vestibule while inside the tent
Cons
Not stand alone
Not ultralight
Can sit fully upright only in the middle
I'm a PCT section hiker who's tried many different ways to travel lighter. After converting my rain poncho and hiking poles to a minimalist tarp/tent, even adding ad hoc curtains to cover openings, I decided that there must be a better way—a way that would keep out bugs, critters, and weather and have room for changing clothes, etc.
But ultalight tents are mostly mosquito netting that allows cold air and breezes to blow through, and my wife put her foot down when we tried one of these. She likes it warm inside, just like the old 4-season that had finally worn out.
We searched online for a new one and could only find the expensive Hillberg Nallo 2, except for heavier mountaineering-type tents. But the Nallo proved to be well worth the cost, having served us 14 years now for long distance bicycle tours as well as backpacking.
Finally a light bulb went off. It was so much warmer inside, that maybe I wouldn't even need a sleeping bag while summer solo hiking the PCT! Thus saving the weight of the sleeping bag would justify the 3 to 4 pound weight of a single person, 4-season tent. Immediately I went back to the Hilleberg website and found the single person Akto and ordered it.
After four years and a thousand miles it has proved to be even better than I expected, as the side vestibule of the Akto is much more useful than the front vestibule of the Nallo (cooking, easy in-out, etc). And I've replaced my sleeping bag by a super lightweight bivy sack (AMK SOL Escape Bivy), plus my usual cold weather clothing and storm gear. On colder nights I'll put on my rain pants and use my rain poncho as an outer blanket — and I'm toasty.
Source: bought it new
Price Paid: $465

Having only been a serious hiker for two years, I have slowly become more involved in the pursuit and the gear. When I realized that fair weather hiking was no longer gonna satisfy my backwoods jones, I very methodically began evaluating all the four-season solo shelters I could find. After months of consideration, I finally decided to go with the Akto.
All that research was time well spent; I am so satisified with this tent that I cannot imagine being happier with another product. I hike in the East, so I was concerned by some of the reviews touting condensation problems. I found that this problem can be easily corrected by using a candle-lantern which will simultaneously dry the moisture and heat the air inside the tent in cold conditions.
This tent is not to be used in hot muggy conditions, but why would you carry a four-season tent in those conditions anyway? Space is ample, setup is super easy (the tent, fly, and footprint are clipped together even when stored), pitch is secure.
Only two nit-picking complaints: the pegs should be replaced with something like Mountain Hardwear Y-pegs, and the inner tent window has a kerlon cover that velcros over the mesh at one point rather than zipping along the perimeter. Overall, it is a fantastic solo shelter for wintery conditions.
Design: four-season solo hoop-tent
Sleeps: 1
Ease of Setup: easy
Weight: 2 lbs 14 oz
Price Paid: $345

I bought the Akto three years ago, and had it with me on trekking trips in the Pyrenees and in Lapland. I am not very tall and tend to travel with little gear, so the Akto turned out to be extremely spacious.
The packed tent is short enough to be put on top of a slim backpack without being an obstruction (important when you walk through dense forest).
Cooking under the apsis was no problem. The ventilation works well. During several thunderstorm nights in the Pyrenees, I was impressed by how well tent resists strong winds and torrential rain -and how quickly it dries afterward.
I would definitely recommend to buy Hilleberg's 'footprint' (a sheet that goes below the tent) in order to protect the tent from rough underground. It only weighs 40g or so.
The only qualms I have is that the inside pocket is not large enough, and that maybe there should be another fastener on the outer tent wall to hold the rolled-up door.
I would definitely buy this tent again.
Design: 1 Person lightweight 3-4 season
Sleeps: 1
Ease of Setup: fairly wasy - care must be taken to get it really straight.
Weight: 1.7 kg
Price Paid: c. 360 Euro - about USD 330

Ive been backpacking ever since I was a small child with my family. Most of the equiptment I own was passed down from my father, all heavy and old. After I started hiking alone I had problems carrying my heavy gear long distances. First I tryed a cheap Eureka solo tent, and it worked well until it rained on a night just above freezing temps and I got totally drenched. Pretty much sucked. So I studied all the reviews on solo tents looking for something that could stand strong winds and rain. This tent is the best quality solo tent I could find. I've had it in many heavy rainfalls for several days. I don't get wet anymore.
Price Paid: $350

A good solo tent, but it has been surpassed by the Tarptent Moment DW for several reasons.
Pros
Nice interior space for one
Good vestibule
Decent ventilation
Cons
No snowload resistance
Higher winds can be a problem
Having used an Akto I can say that at the time I was very happy with it. And its pioneering design paved the way for similar Tarptent designs.
But it is now a slightly dated design.
Having owned a Moment single wall I can say I like it much better for three-season use, especially with its crossing pole and the mod to the X-ing pole I made so it ran INSIDE the canopy.
Now Tarptent has the Moment DW (double wall, like the Akto). Its advantages over the Akto are:
Two doors and vestibules

Better ventilation with two doors, end vents, top vents and sidewall slide-up option

Faster setup with 2-stake end triangle design

Better wind and snow load resistance due to its end shapes and the optional X-ing pole (See above review regarding the Akto "oscillating all night" in a windstorm.)

Somewhat lower price than the Akto with made-in-USA quality equal to Hilleberg

Two inner options — full netting or ripstop W/ net top vent

Lighter weight
AND, the Moment DW can easily have the X-ing pole shortened and made to support the fly from the inside, giving even more support against wind and snow load.
Source: bought it new
Price Paid: over $200

Version reviewed: 2002
I bought this solo tent for winter use. It's the lightest 4 season tent I could find on the market. It has plenty of interior room for a person and some gear, plus a large vestibule which is large enough for a backpack, boots and cooking. It uses a single aluminum pole across the center, with a rod in each corner to help suspend it. Like all Hillebergs, it features their suspended inner tent, which allows you to put up the tent and fly as one unit. Ventilation is from both ends and a vent above the door.
My first use of this tent was at Camp Sherman on Mt. Rainier, where high winds proceeded to destroy all the other tents at the campsite. I watched as the Mt Hardware, Sierra Designs and North Face 4 season tents were all destroyed, but the two Hilleberg Akto tents in our group survived without damage. Hillberg's fly fabric for this tent is 4 times stronger than others, and this is their lighter fabric. I now have 3 Hillebergs, and recommend them highly for 4 season use.
Customer service is top notch, and I highly recommend contacting Petra Hilleberg in Redmond Washington if you have any questions.
Design: 4 season tunnel tent
Sleeps: 1
Ease of Setup: extreenely easy
Weight: 2lbs, 12 oz
Price Paid: $340

This is the best and most reliable one-person backpacking tent on the market today.
Pros
Performance
Fast pitching
Midge proof
This is the best and most reliable one-person backpacking tent on the market.
I have now used it over several years for extended hiking and fishing trips in a very remote part of the Scottish Highlands where I have at times experienced some of the most atrocious weather imaginable.
This tent has withstood everything that mother nature has thrown at it and has never leaked a drop.
With the optional footprint groundsheet attached it is possible to pitch inner, outer, and groundsheet together in pouring rain and have a dry shelter in minutes.
A major bonus if camping in this part of the world in the summer months is that the inner tent is midge proof.
Experience
Years experience with this tent.
I upgraded to the Akto from a smaller backpacking tent as I needed more space for gear and four-season performance to withstand inclement weather
Source: bought it new
Price Paid: £ 520

I have had my Hilleberg Akto for about 2 years now, and it never stops impressing me! I like going by myself and I do not like carrying a heavy tent. At first I was a little reluctant to get a one person tent, but after seeing the Akto, with its 3.1 lbs, big vestibule and good sized inner tent, I decided to try it. I am glad I did! I am 6'1 and 230 pounds and I have plenty of space with all my gear and plenty of room to cook. The vestibule has great room and all the materials and workmanship are excellent. My last trip brought on a big storm, but my little Akto had no problems in the harsh winds. Despite the storm it only took me about a minute to pitch the tent, since the fly sheet and inner tent are attached, which makes it very simple to set up and keeps the inner tent dry and away from the rain. It is the best one person tent I have ever seen!
Design: 4 Season
Sleeps: 1
Ease of Setup: Extremely easy to set up!!
Weight: 3.1 lbs
Price Paid: $340

I have to agree with these stellar reviews: this tent is the deal, bombproof, fast pitch, wind defying, featherweight, and the green hides really well. Will not leak and rolls up and packs fast, unparalleled craftsmanship in both manufacture and material.
I now welcome foul weather forecasts; weather is no longer a deciding factor.
BUY THIS TENT.
Price Paid: $400

The Akto proves best in four seasons, and dampness?
Pros
Best material used making this shelter
Cons
I've pitched in the fog and experienced fog
I like this Akto — and small footprint.
It has stood up in strong wind for me.  
The travel weight isn't overwhelming.
I was 100% comfortable in weather and the vestibule is useful.
The poles and fabric material are the best in the business.
I am interested in seeing and pitching new colors — gold and cerulean blue perhaps?
I've pitched the Akto now 4 years.
The sun's breaking it down. I've made 8 repairs.
Source: bought it used
Price Paid: $270

The best "one man" tent there is! superpleased!! Sunny day, after 15 minutes the sky was totaly dark...15ml. rain in 20 min, 20-25 meters/sec vinds at kebnekaise, no problem....
Do not buy.
Cons
Expensive heavy leak
No company support
Brand new and leaked first night. Hillberg USA would not repair unless I paid for return shipping and said it was not leaking it's just moisture! Just did the AT in 2015 and met another hiker with an Akto that also leaked in the same place. Around the vent above the door.
Do not buy the Akto. It leaks. Do not buy Hillebeg as they don't support you after they have your money.
Source: bought it new
Price Paid: $600

Your Review
Where to Buy
Help support this site by making your next gear purchase through one of the links above. Click a link, buy what you need, and the seller will contribute a portion of the purchase price to support Trailspace's independent gear reviews.
You May Like
Specs
Price
MSRP: $585.00
Current Retail: $635.00
Historic Range: $300.00-$635.00
Reviewers Paid: $200.00-$600.00

Minimum Weight
1.3 kg/2 lbs 14 oz

Packed Weight
1.7 kg/3 lbs 12 oz

Outer tent fabric
Kerlon 1200

Poles (9 mm)
1 x 293 cm / 1 x 115.4 in

Pegs
10 V-Peg