Hilleberg Soulo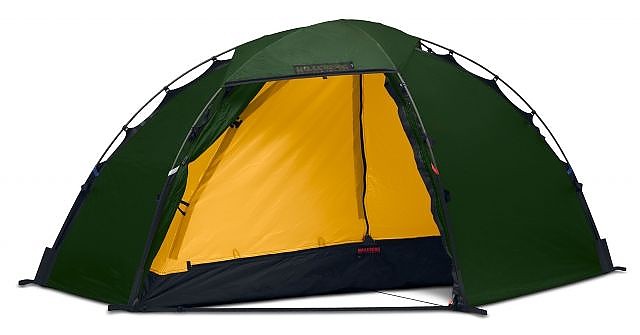 Pricey? Most certainly; but when I want a bomber 4-season solo shelter that I have to depend on to shield me from when Mother Nature decides to throw a tantrum this is the shelter I want.
Pros
Strength, durability, and weather resistance of Kerlon 1200 fabric.
Hilleberg customer service goes above and beyond.
Cheerful yellow inner tent.
Quality, attention to detail of the product as a whole.
Small things such as the zipper toggles, and gutter.
Very user friendly.
Ridiculously easy to setup.
Setup options (ie outer alone.)
Good ventilation.
Cons
The only con that I can honestly think of is the price. Not because the shelter is not worth the coin but more for the fact that I think it will send some into sticker shock before they actually take the time to look at the product more in depth.
Tent Model: Hilleberg Soulo
Intended Use: 4(all) season/ harsh weather
Occupancy Rating: 1/Solo
Design Type: "Truly" free-standing dome
Date of initial purchase: November 2011
I am an avid 4-season solo backpacker that has a great appreciation for late winter solo trips. Typically this is around the time of year when the worst of what winter has to offer makes itself present. With that comes different needs in regards to gear. When I am on the trail in January and February here in SW Pa. the weather can take an unexpected nose dive real quick as it did on me during my trip last February .
I am a stickler when it comes to using gear for what (and when) it is intended to be used. I have 3-season gear that I use for 3-season conditions and 4-season gear that I use for 4-season use. 
I personally feel that some (notice I said some) have a tendency to use gear outside of the parameters for which it was intended to be used and when it doesn't perform admirably in these conditions the user deems the product as a catastrophic failure when in fact it is not the gear's fault; it was user error.  
Now granted I could use my BA Copper Spur 1 during winter.
Would I want too? No. 
As I have stated many times here on Trailspace I am not a big fan of spindrift sandwiches nor am I a fan of waking up to a blizzard inside of my tent. The Copper Spur 1 is a 3-season tent that is primarily mesh. The fly on the Spur is elevated from the ground. This is to provide ventilation by creating a chimey effect which is great for the warmer seasons but not so much when the white stuff starts flying.
Using a tent such as this in winter conditions kind of defeats the purpose of having a shelter in the 1st place. If what you are using doesn't protect you from the elements it is nothing more than dead weight in your pack. 
I think most of you out there can put the rest together w/o my having to go much further on this subject.
So... here we are with the whole "different tools for different jobs" logic. 
With that being said for my week+ trips in winter I believe I have found the perfect solo shelter for my use/needs.
Hilleberg has a reputation for producing high-end, quality products. I have to say the respect, recognition, and admiration that Hilleberg has received over the years from my own personal experiences with the Soulo, and the Akto (as well as with Hilleberg as a whole) is very well deserved.
Hilleberg describes the Soulo as; "a completely free standing solo tent that is both expedition-ready and ultralight." 
Now before I get into the review of the tent itself lets cover the technical specs of this shelter. 
Weight: 
Minimum: 3lbs. 15oz. (inner, outer, and poles)
Packed: 4lbs. 14oz. (complete tent with guylines and stakes)
Dimensions (interior:) 
Hilleberg's dimensions(exterior/interior:)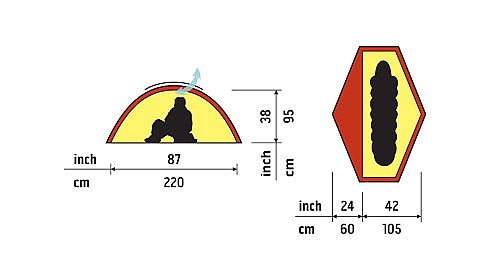 (diagram provided courtesy of hilleberg.com)
My actual interior measurements: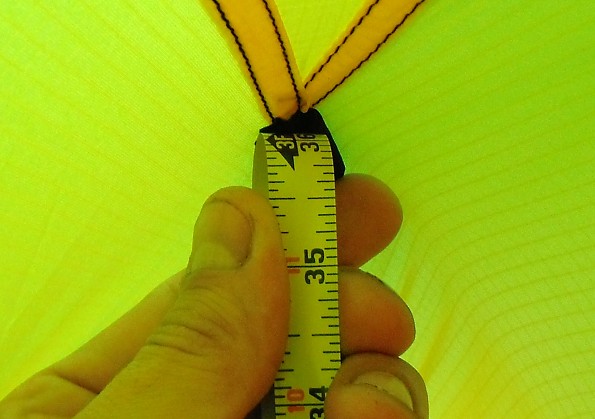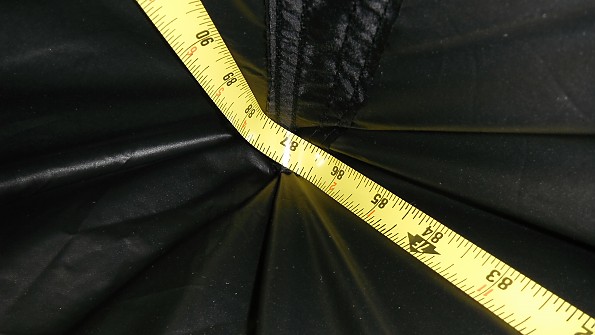 Head: 28"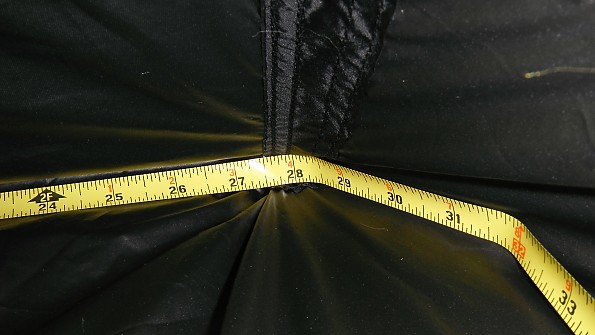 2.  Middle: 41"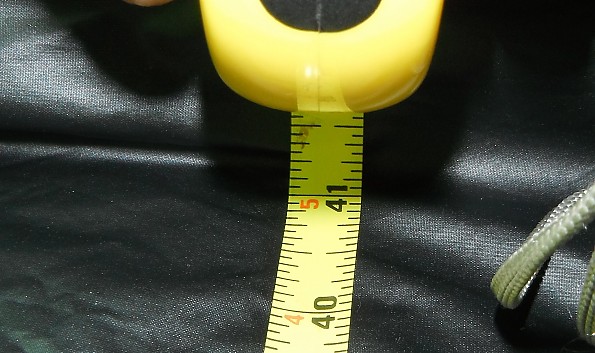 3.  Foot end: 23.5"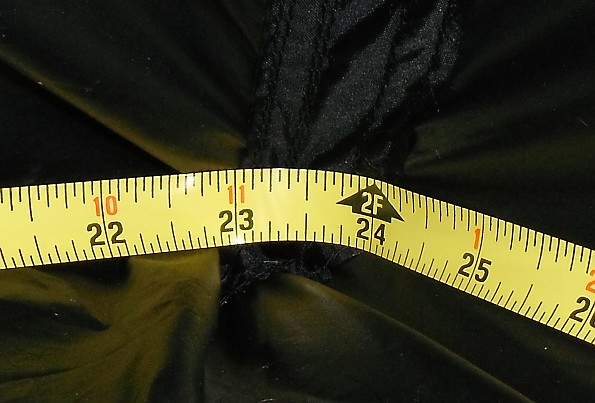 What is included with the initial purchase of the Hilleberg Soulo:
you get the tent (inner/outer)
3-9mm DAC Featherlite NSL tentpoles (1 marked red)
12 DAC V-stakes
a spare section of tent pole
repair splint 
3 stuff sacks (1 small for stakes, 1 for the poles, and a larger one for all items including the tent itself)
all guylines attached by the manufacturer
An overlook of the Hilleberg Soulo:
Outer tent:
The outer (green as seen in the photos) of the Hilleberg Soulo is constructed of Hilleberg's Kerlon 1200 material. While being lightweight it is also very weather resistant and extremely strong.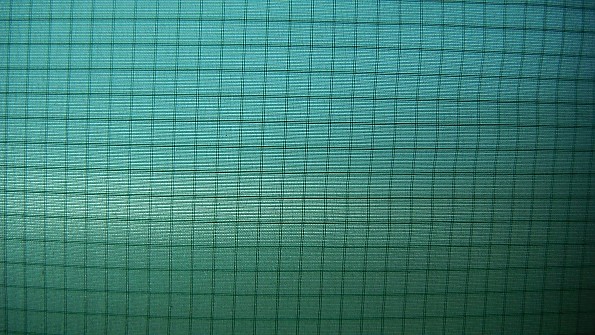 How strong you ask? 
Well, Kerlon 1200 has a tear strength of 12kg/26.5lbs.
Now some may say "that's great" but take into consideration that many companies utilize fabrics that are rated at 2 kg/4.4 lbs to 3 kg/6.6 lbs for their expedition model tents.
Pretty substantial difference huh?
I would strongly suggest that anyone out there that may be interested in the Soulo (or any Hilleberg model for that matter) to contact Hilleberg and get your hands on their catalog.
With the catalog and price sheet you also get samples of the various Kerlon fabrics (1000, 1200, & 1800) as well as a sample of the ripstop nylon that is commonly used through-out the industry for tear strength comparison purposes (as seen in the photo below:)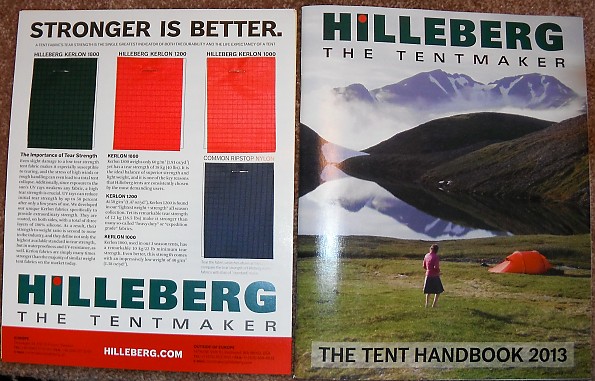 If you are interested in getting your hands on the handbook(free) you can do so through the provided link below:
http://www.hilleberg.com/OrderCatalog.htm
Okay, back to the outer...
Kerlon fabric is coated 3 times with 100% silicone. This fabric is rated at a hydrostatic head rating of 3000mm (as seen in the table below:)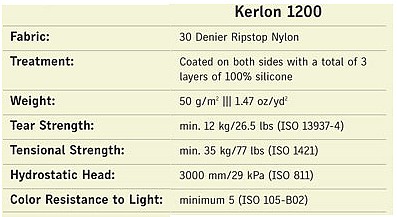 (Table courtesy of www.hilleberg.se)
I thought that I would provide the table for those out there that are interested in the technical specs of the fabric without me actually having to get too in depth and drawn out with it. 
Inner tent:
The inner tent of the Hille Soulo is a nice "cheerful" yellow. This is to put a damper in the whole "gloom and doom" perspective one can experience when hunkered down in a tent for extended periods of time due to bad weather. 
The inner is constructed from a lightweight 30 denier ripstop which is water resistant. Now mind you the inner is not waterproof. For inclement wet weather I would strongly suggest the use of the outer unless you want to turn the inside of the tent into a "kiddie pool."
The inner also utilizes a bathtub floor to keep the water at bay if you find yourself in a washout. The bathtub floor extends 4.5" from the ground up as seen in the following photo: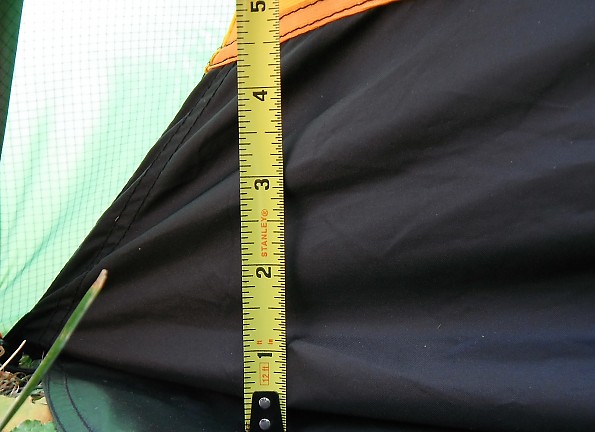 The floor on the Soulo is rated at 70D with a triple coating of polyurethane resulting in a 5000mm hydrostatic head rating. 
Interior organization: 
The Soulo has 2 interior pockets that are located on the sidewall opposite of the entry at the head end of the inner(pic below:)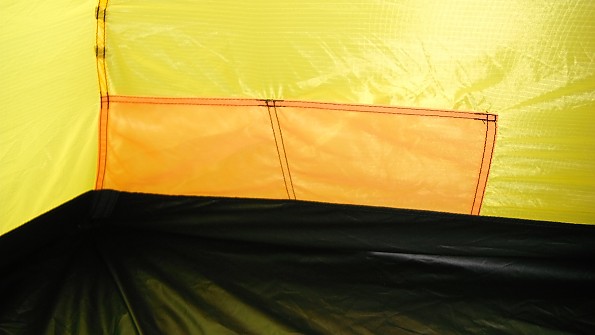 The pockets easily swallow whatever small items I need close at hand such as my phone (ugghhh,) watch (alarm,) and whatever other small items you would like to keep in the shelter with you such as a headlamp, cough drops, or maybe a few red spotted newts that ya may have made friends with that want to have a sleep over. :p
Poles, stakes, guylines & runners: 
There are 3-9mm poles that come with the Soulo for pitching the shelter. The poles are DAC Featherlite NSLs and as I stated on my BA Copper Spur 1 review they are pretty nice sticks. I am not a professional judge of tent poles nor do I have any idea of what the difference is in regards to strength but I will go on the record to say that the DAC NSLs are pretty tough and really light. I have had absolutely no problems with these poles as far as my Spur or the Soulo goes.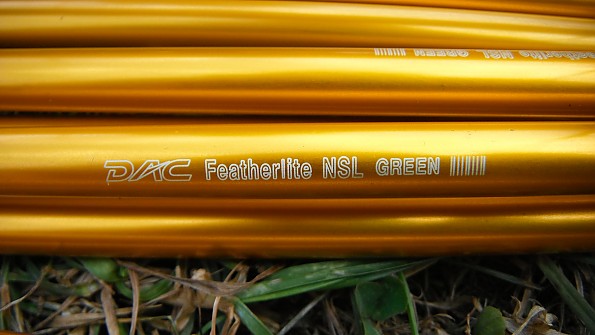 You get 3 poles with the Soulo: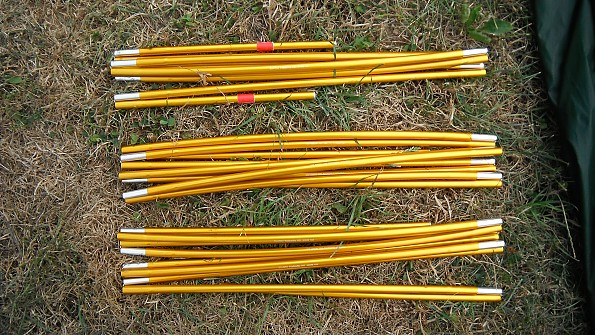 Two of the poles are of equal length which are the main poles that span from corner to corner. There is a shorter pole that is marked red which is the spanner pole that extends from the entrance end of the tent creating the vestibule to the backside of the Soulo. 
You get a total of 12 DAC V-stakes with the initial purchase of the Soulo. Other than them being a gold tone they are the same exact stakes that came with my Copper Spur 1: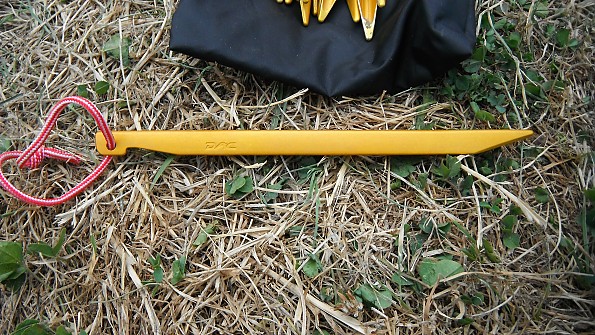 They have spectra line loops attached to them which is a nice addition when trying to get them out of the ground. It is alot easier on the ol' digits than grabbing the stake itself plus it makes yanking them with gloves on alot easier. 
The guylines on the Soulo is strong and light 3mm sprectra guy line as seen in the photo below.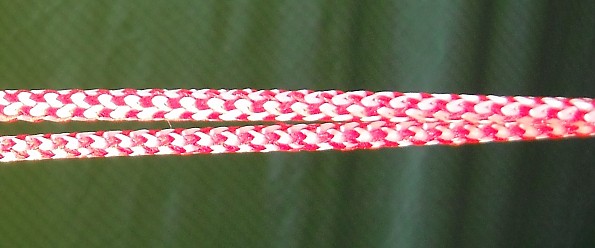 Spectra is interweaved so there is no outer sheath to slip. The cord also has nearly zero stretch, water absorbtion, very good uv resistance, and a breaking strength of 300lbs (135kg.)
Some have stated that theses lines will slip. I have not experienced this phenomenon personally. At the same time I am not saying that it isn't a possibility. 
Hilleberg uses their own guyline runners on the lines (see pic:)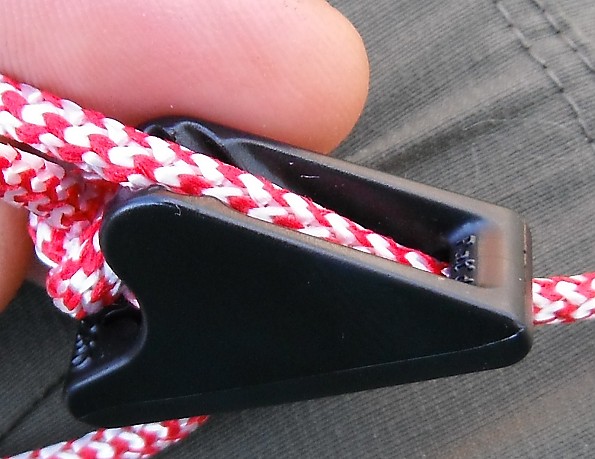 They are simple to use and from my experiences in various weather conditions they have stayed where I set them.
I was going to get into the various clips and half sleeves but I will save that for the setup which I will get into now.
Setup: 
Now before I get into the whole ease of setup here is a video courtesy of Hilleberg in regards to the process (for familiarity purposes:)
Looks pretty simple huh? Well let me reaffirm just how simple setting up the Soulo really is.
It is ridiculously simple. I have set this tent up in snow, rain, wind, sunshine, etc, etc...
I have never had a problem getting the Soulo up regardless of what weather was being thrown my way. 
The Soulo utilizes a half sleeve and clip system to erect the tent as seen in the video above. You have 3 poles. 2 of equal length and one marked red which is shorter. This pole(red) goes into the matching half sleeve which is also marked red as seen in the photos below:
Pole:

Matching half sleeve: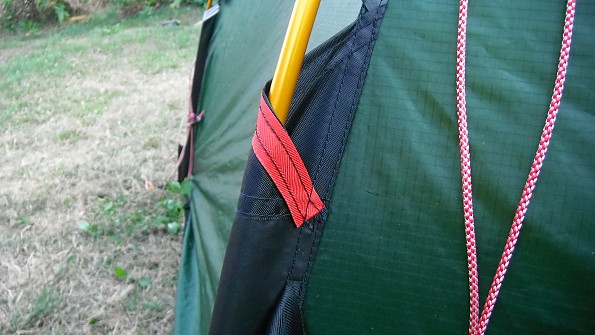 You have a choice in regards to when you want to set the ridge pole (marked red.) The instructions that are included with the shelter state that it is the last pole to be placed on the shelter (on top of the 2 equal length poles.)
Well if you have noticed in the above video the gentleman setting up the Soulo placed the ridge pole up first which results in it being on the bottom of the 2 equal length poles.. 
I was confused when I first watched this video so I decided to contact Hilleberg via email and ask what the deal was. 
I received a response from Petra Hilleberg stating that either way is fine so that cleared that one up. I just wanted to make sure being I didn't want to cause any unnecessary stress on the shelter which may result in premature wear and tear and possibly a failure later on down the road. 
The remaining portion of the unattached poles that are not secured by the half sleeves are secured by alternating clips: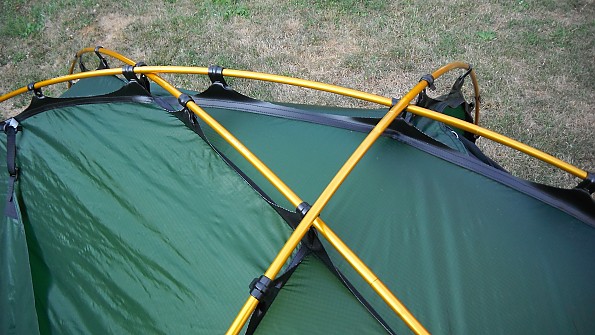 The reason for the alternating clips is so if one were to encounter really harsh conditions the Soulo can be double poled which will increase the shelter's rigidity dramatically. I have been in some pretty hairy weather with the Soulo and I have yet to have a need to do this. 
One of the really interesting design attributes (well at least as far as I am concerned) is the fact that you do not need to have the tent pegged out in order to utilize the vestibule. 
The vestibule on the Soulo is created by the pole structure and cordage that spans the floor of the tent from the entrance to the opposite side.
The vestilule on the Soulo is ample for one and I have no problem keeping my 85L pack, boots, and other assorted items in this area. 
There are a total of 12 guyout points on the Soulo (6 for the tent itself then there are 6 for the guylines.)
Technically there are 12 separate guylines on the tent but they piggyback each other in 2s which means you only utilize 6 stakes for the attachment points (for clarification keep reading under stability.) 
The Hilleberg Soulo utilizes an "exo-skeleton" design which means the whole tent goes up in one shot. This is a great attribute for a few reasons:
If you get caught in rain when you set the tent up you are not dealing with a wet tent like one would with a tent where you have to set up the inner & poles, then secure the fly. 
On the flipside if you are taking the tent down in a storm you are not left with a sobbing wet inner tent from being exposed to the elements during the tear down process. 
If your tent is wet; you can disconnect the inner and place it in your pack separately from the rest of the soupy mess so when you get to your next destination on trail you can pitch the outer and then reattach the inner so you have a nice cozy dry area to climb into(see pic below:)
(On a side note; I purchased the footprint for the Soulo so I could basically pitch the tent as a single wall shelter while still having protection from the ground. The footprint also covers the vestibule area of the shelter. I would also like to note that you do not have to remove the footprint from the tent in order to pitch the shelter or take it down.)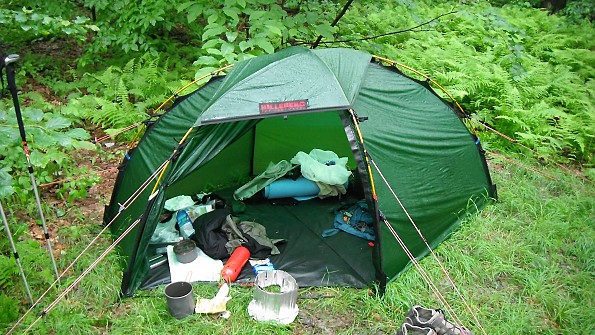 The inner and outer tent is connected via elasticized toggles and receiver hoops (see pic:)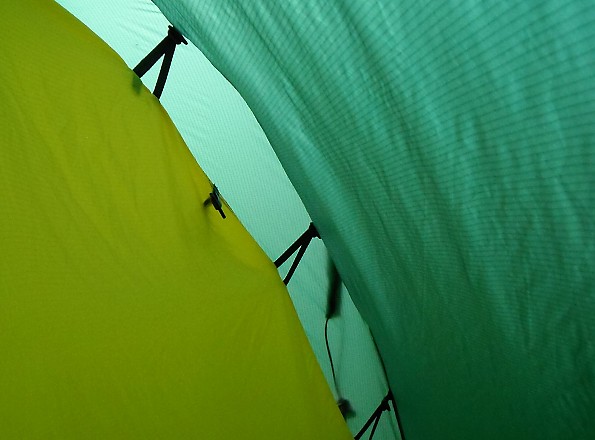 Now with this I can see the potential for the previously discussed "incredible shrinking tent" phenomenon due the the fact that the elasticized webbing could lose some of its ability to "contract" over time. If this happens I will either harass the good folks at Hilleberg for a fix or just tie a knot in the webbing to compensate for the difference. 
No biggie.
Stability:  
As I mentioned a few second ago the Soulo utilizes a plethora of guylines (12) and when these lines are all secured the Soulo is about as stable a tent as I have ever encountered (pic below:)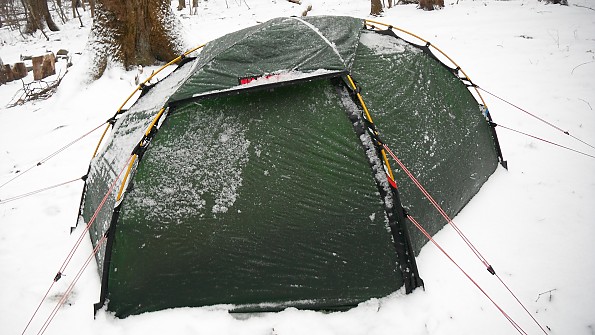 The upper guylines on the Soulo wrap around the poles which transfers the stress from the stitched webbing to the actual pole as seen below: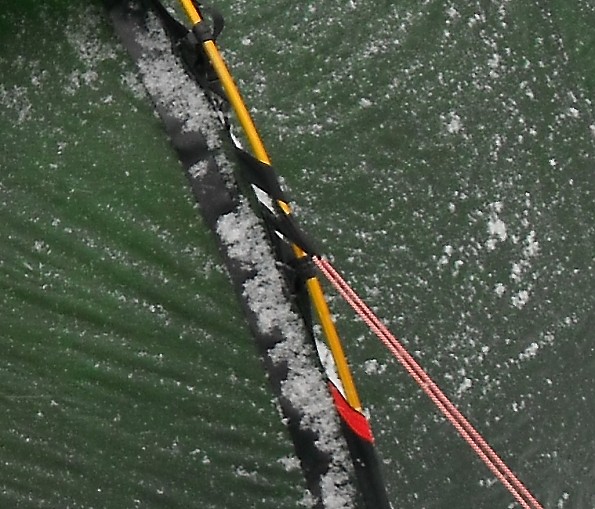 I have been in windy conditions (50mph+ sustained with stronger gusts,) wind with rain, wind with snow and I have to say the Soulo is a bomb shelter. The tent didn't budge. I have made it a practice to fully guy this tent out (as well as my others) regardless of how calm the conditions are when I set it up. Too many times I have gone to sleep and all was calm only to wake up in the middle of the night to howling wind, rain, and snow. 
It just seems alot easier (not too mention more convenient) to "err on the side of caution" and guy the tent out during the initial setup as opposed too climbing out of my nice, cozy, warm bag in the middle of the night to guy the tent out in bad weather. 
Weather resistance (wet:) 
The Soulo is most certainly a mortal enemy of moisture. On my last trip in June I got hammered with heavy rains for the latter part of my trip. Fortunately the Soulo didn't let a single drop of it in anywhere. 
Now keep in mind this is without seam tape by the manufacturer or me taking the time to seam seal the tent at any stitch points or seams. 
Hilleberg utilizes machines that have cooling jets incorporated into them that actually cool the needle as it is making its stitch which negates the need for seam tape. 
I was a bit skeptical of how well this worked at first. I mean lets face it; there are a bunch of holes generated by the stitching process. 
Holes=drips right?
I suppose you can understand the logic behind my skepticism...
Well, whatever they are doing at Hilleberg works and it works very well. 
In all of my experiences with the Soulo I have yet to experience any type of moisture from the outside making it's way to the inside of the tent.
The floor is just as resistant to moisture as the rest of the shelter... Maybe even more so being it is quite a bit thicker than the outer material not to mention the higher hydrostatic head rating. 
Ventilation:  
I have to say that ventilation in the Hilleberg Soulo has been pretty good so far regardless of the conditions it has been subjected too.
The outer on the Soulo goes completely to the ground as seen in the photo below: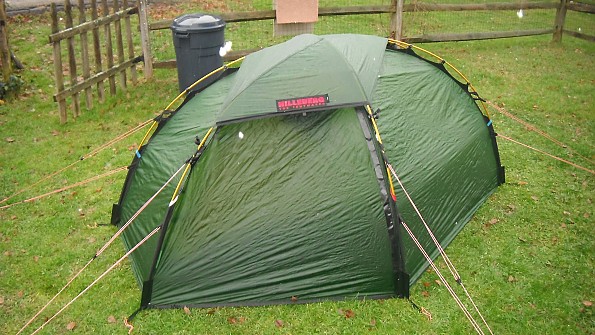 Now while this is great for keeping spindrift at bay it puts a real dent in the chimney effect that is created when a fly is elevated off the ground a bit. 
One could open the main entrance a little to add a bit of airflow in nasty weather but I have yet to experience the need to do this. I suppose if I were in really hot & humid temps this would work well in combination with the roof vent but I do not intend on using this tent in those types of conditions. 
The Hilleberg Soulo has a roof vent that is incorporated into the design of the tent (pic below:)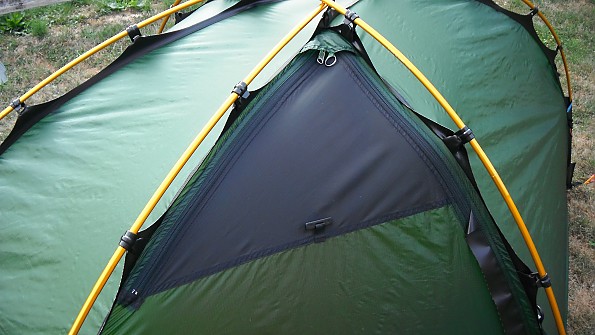 This vent can be easily accessed from the inside of the tent when one needs to do so and is adjusted by 2 zippers.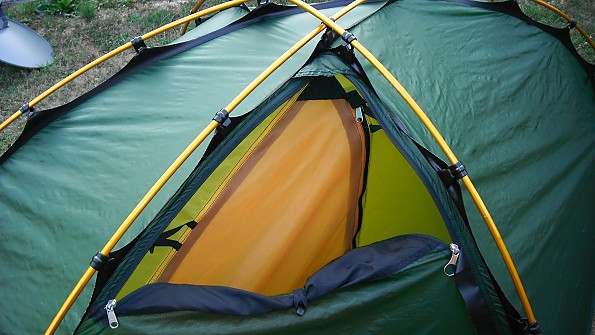 The vent (when opened) is protected from the elements by what I refer to as an "umbrella fly."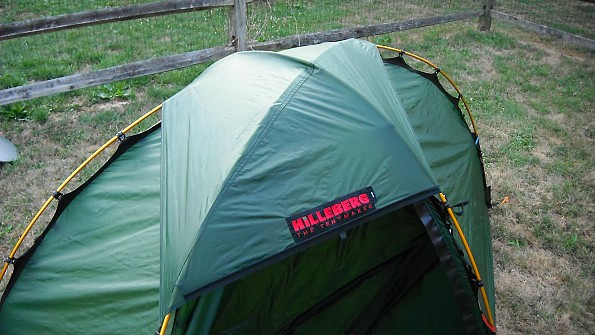 View from the inside: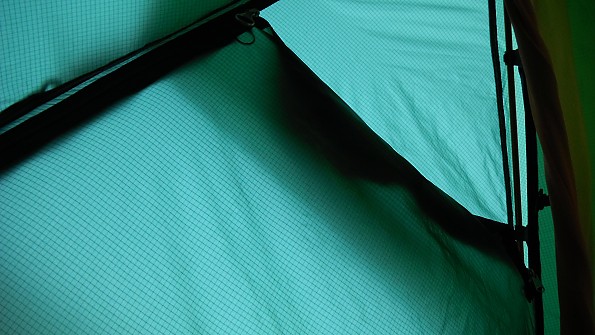 This vent seems to be well placed and does a great job of expelling any condensation that may be present inside the tent. I have woken up in the morning to the inside of the outer having moisture on it from my breathing throughout the night but it wasn't anything that caused any concern inside the tent. 
I do make it a point to roll down the fabric on the door and utilize the no-see-um mesh on the door as seen in the photo below: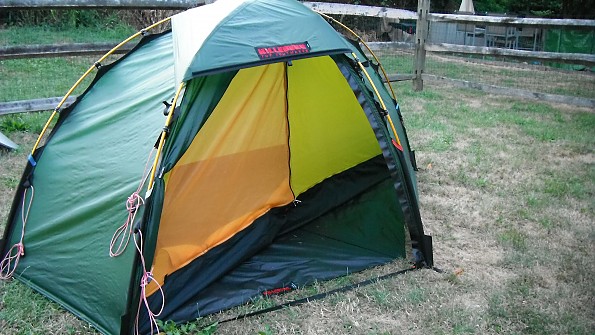 This works well to increase moisture transfer from my lungs to the outer tent where I want it to be as opposed to it saturating the inner tent and maybe me, and my sleeping bag where I don't want it to be. 
Since we are on the subject of ventilation and condensation I would like to mention when I use a higher loft bag such as my -20 degree bag the footbox of my bag does make contact with the tent inner. So to negate the possibility of moisture causing me any grief I put my waterproof pants over the end of my bag.
Some say to utilize a shell but the problem I find with that is that I usually end up kicking it off sometime during the course of the night so it really isn't doing me any good.
I have found that the elasticized waist keep the pants secure to my bag regardless of how much tossing and turning I do. 
Packability: 
I would like to first say that I do not utilize a small pack for my trips. I use an Osprey Argon 85 (aka Big Blue.) I just wanted to point that out in regards to the packability aspect of the Hilleberg Soulo being that this is somewhat dependent upon what volume your pack is.
My basic on trail setup for carrying the Soulo is as follows:
the tent (inner/outer and footprint) is at the bottom of my pack on top of the sleeping bag compartment horizontally.
the poles and stakes are in the pack either to the right or left of my bladder vertically.
Being I use an 85L pack the Soulo really doesn't put much of a dent in usable interior space in my pack.  
Ease of use: 
I am going to keep this rather brief(not like the review wasn't long right?)
The Hilleberg Soulo is probably the most user friendly tent I have ever used. The way the tent is designed... I mean it just makes sense. 
I really do not have to put much thought into setting the tent up(for me that is a good thing.)
Everytime I set this tent up I just kinda shake my head at the whole process. 
It is just that simple.
One can also pitch this tent without the inner(here is the pic again:)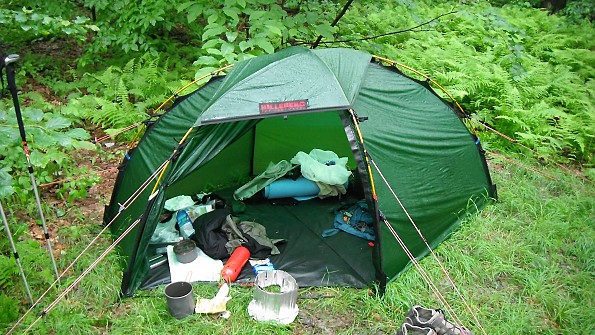 In a pinch this would be suitable for 2 but I would strongly suggest you are comfortable with the other occupant you are sharing your real estate with. It will be tight but doable. 
Features: 
Other than what I have covered throughout this review there are a few small but substantial things that I would like to add in regards to features of the Hilleberg Soulo that shine to me.
For 2012 Hilleberg beefed up the zipper toggles on the main entrance of the shelter. They are more glove friendly for the most part (see pic below:)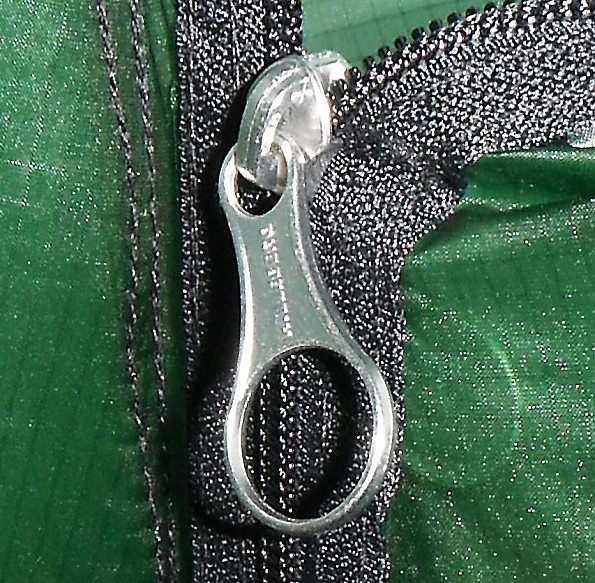 The "gutter" on the umbrella fly does a great job of channeling water away from the entrance so it doesn't make its way down the back of your neck when entering and exiting the tent in inclement weather (by inclement I mean wet and cold.)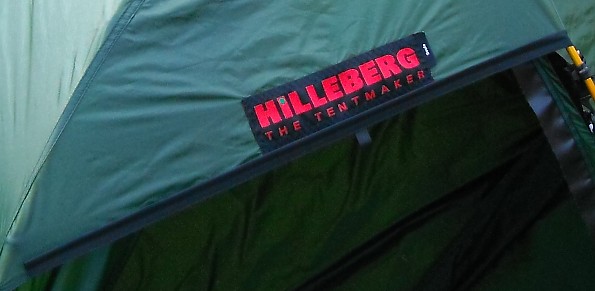 The storm flap that covers and protects the main zipper works very well in regards to keeping the water out: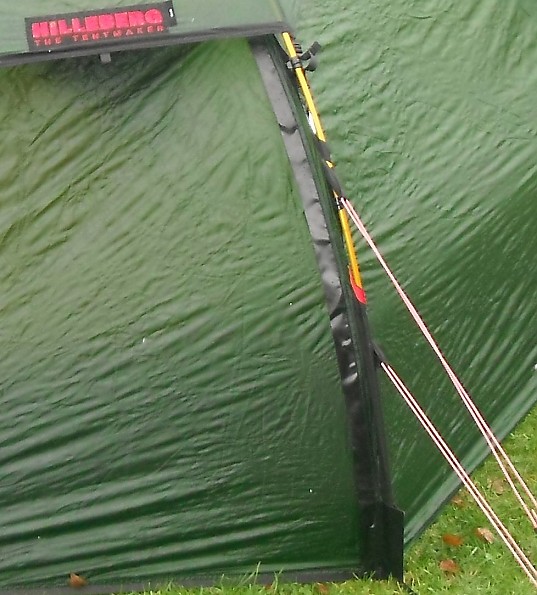 Construction & durability: 
Hilleberg has built a reputation for making top of the line quality products and it is quite apparent why with the Soulo. 
All of the stitching is uniform, there are no loose threads, and there are no blemishes in the fabric anywhere. The over-all quality of the Hilleberg Soulo is about as high as one could expect in a tent. Even if I were to "nitpick" I still couldn't find something to gripe about. 
Hilleberg has a quality control practice that I admire. 
One individual sees the product through from start to finish and that individual's name is placed on a tag which is stitched to the inside of the tent outer:

Now that is what I call quality control and accountability. 
Valve Nigul, I do not personally know you but I want to thank you for your attention to detail as well as the effort you put forth into making such a great, quality product. I will be thankful of your efforts for many years (and adventures) to come. 
Conditions: 
I have used the Hilleberg Soulo during the fall & winter months here in SW Pa. as well as a recent trip this past June. I would not typically use this type of tent during the warmer months being I have other tents that are more geared towards warmer conditions but I wanted to do so for the purpose of this review just to see how the tent fared when the temperatures were a bit warmer. Temperatures ranged from below 0 in winter to the mid 70s in June.
(Feb 2012:)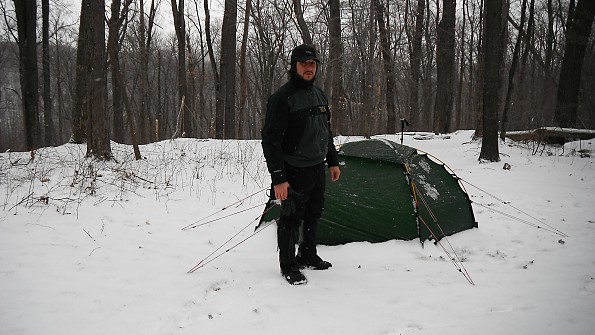 (June 2012:)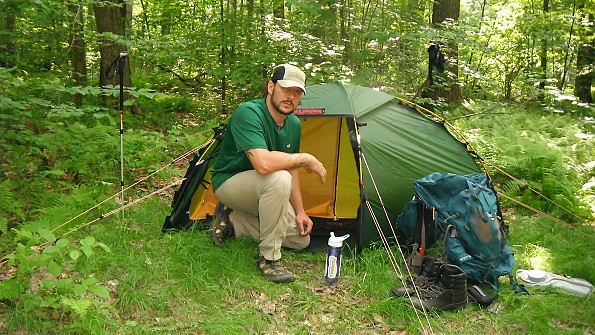 Regardless of what conditions and temps I subjected the Hillberg Soulo too the tent performed admirably. I personally would not recommend this shelter for use in very hot temperatures (mid 70s would be my limit) due to the fact that it would be quite "warm" inside the shelter. 
Just to give you an idea of what I mean; during the winter months when this tent was all buttoned up there was a 15-20 degree difference in between the inside temperature of the shelter and the outside temperature. 
I suspect that this would most certainly carry over in the warmer months here is SW Pa. as well as the warmer climates throughout the world. 
Available options: 
There is a mesh inner that is available for this model:
http://www.hilleberg.com/home/products/mesh_inner_tents/mesh_inner_tents.php 
There is also a pole holder kit available for this tent which gives you the ability to pitch the inner alone:
http://www.hilleberg.com/home/products/accessories/poleholders.php 
Hilleberg also offers options in regards to pegs:
http://www.hilleberg.com/home/products/accessories/pegs.php
A special mention: 
I want to take the opportunity to share with you an experience that I had with Hilleberg in regards to customer service.
During my winter trips I was experiencing an issue with my Soulo where the inner and outer was detaching itself at random during setup and tear down. It was somewhat annoying when I set the tent up and all I wanted to do was climb in my bag and check my eyelids for holes. 
More times than not the toggles on the opposite side of the entry would be the ones that detached. To make matters even more frustrating it wasn't obvious until I got the tent completely staked out, pitched, and climbed on in. 
To fix this problem I had to get out of the tent, go to whatever various area(s) that detached, pull the stake, lay in the snow, and reconnect the toggle. 
Well, I emailed Hilleberg in regards to this issue at which time I received a response from Petra Hilleberg requesting that I send the tent in.
So I did.
A short time later I received a package on my porch.
Well, inside the package was a brand new complete tent (with tags attached,) as well as a letter from Petra stating that there was a mistake made in the stitching of the corners of the tent.  
I was somewhat surprised by this. 
I personally would have been satisfied with a replacement for whatever portion of the tent had the mistake (inner/outer.)
Hilleberg sent me a brand new Soulo.
I now understand why Hilleberg has the reputation that they do in regards to them going above and beyond in regards to customer service. 
The recognition is well deserved as far as I am concerned. 
In closing: 
Lets face it. Hilleberg products are not cheap. They are high end, premium products, constructed with high end, premium materials, which are intended to last you a long time with proper care. Their 4-season tents are designed to handle harsh conditions, make it through, and come back for more. 
Are there other viable options out there? Absolutely. 
But from my own personal experiences with not only the Hilleberg Soulo but Hilleberg as a whole there is no reason for me to look elsewhere when I want to spend my money on a top of the line shelter.
No point in changing what works right?
Especially when it works extremely well. 
I am going to be a happy hiker for many years to come.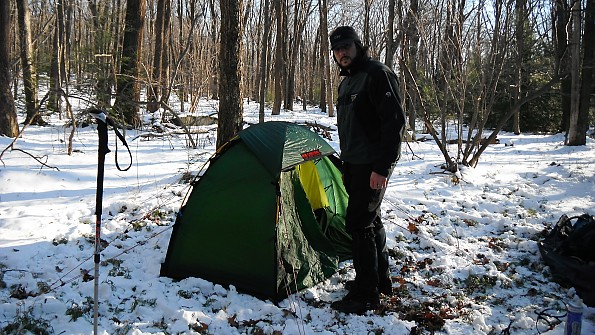 As always I want to personally thank you for taking the time out of your day to read my review of the Hilleberg Soulo. 
I hope you found this review to be informative and I hope this information serves you well.
Happy hiking-Rick
Source: bought it new
Price Paid: $560+cost of footprint/optional (MSRP was increased in 2012 to $598 USD)

Buy this tent! The best quality tent I have seen in my 61 years.
(See follow up after 80 days of use)
Pros
Fabric
Structural integrity
Workmanship
Packability
Weight
Functionality
Hardware
Color (way flippin' red!)
Cons
The outer tent portion to the left of my legs is not far enough away from the inner tent and sticks to the inner with condensation
The Kerlon fabric attracts airborne dirt and dust
The outer tent expands and sags a bit when cold or wet, but tightens up in the sunshine
Nothing comes close—NOTHING! It is light, packs small and tight as a drum. No seam tape to get scabby in 5 years. Attention to detail, great hardware and the fabric is unbelievable. Big enough on the inside for my Exped long wide SyncellMat. A rain gutter on the vent cover!
I intend to be a bicycle touring tramp in my retirement and I needed a single tent to see me through every kind of climate. I researched tents for years before I arrived at this one. It haunted me for months on end because of the investment needed and knowing that my current tents would likely be put to pasture.
Then Moosejaw had a 20% off sale. The last time they did, the Hilleberg tents were excluded. Hilleberg tents never go on sale. This time was different. It worked. The $685 Soulo could be had for $548. That sealed it, and now it's mine. You really need to get a close look at the Hilleberg tents and see the quality oozing from them!
I camped with it this past weekend and lay inside dozing when I noticed it was starting to get noisy outside. I wondered what it was, as it sounded like a waterfall sort of. What the hell was it? I unzipped the door and saw it was the trees bending from the wind. The tent never made a sound. Later on rain began pelting the tent and I liked knowing the tent would take it and let me sleep securely.
The tent also retained body warmth much better than my other three tents because the space is economized for one person and the fly goes right to ground. I had no issues with condensation whatsoever by utilizing the vent.
Get a close look at the little bits of thoughtful hardware selection throughout, like the zipper lock toggle and the hooks made to hold the fabric door open and the grip tab sewn near the zipper pull. The adjustable ribbon for the door opening to keep the fly taut and the adjustable cord running underneath in the midsection to allow for uneven terrain. The 5(?) loops sewn into the inner tent for lamps, laundry lines. The list goes on.
I did a very close inspection of all the seams and not a single errant thread—not one! Worth the money? Oh hell yeah, considering I spent well over a thousand dollars on tents finding my way to this one. This perfect tent.
My other three tents are gonna collect dust. I bicycle tour so this tent will do it all. You've never seen the color red like THIS before.
(10/2017 FOLLOW-UP after 80 days of hard use)
Well, I did my bicycle tour and put this tent through some high wind, rain, fog, hot humid weather, cold alpine sleet, and desert wild camping. And after all this use, I give the tent two thumbs way up.
I've needed to contact Hilleberg about a minor fabric issue and they were prompt and very friendly and exceeded my expectations in rectifying the situation. In high wind gusts the tent is a rock. In several rain events, it never leaked.
It did collect condensation inside the outer tent on many occasions, but the outer is absolutely waterproof and the inner tent is toasty warm, so this is to be expected.


Source: bought it new
Price Paid: $548

Biggest advantage? You can take this tent absolutely anywhere and you can be 100% sure you'll be "home and dry" with it. A true four-seasons tent that PERFORMS. No condensation, no hicks. Sturdy solid "bunker".

If you're going on a long trip with uncertain weather conditions—this is the tent for you.
Pros
You could go EVERYWHERE no matter what weather conditions are with this tent and you'll be warm and dry inside
Excellent design, they thought about everything. Very comfortable and lots of space
Excellent wind resistance. Very quiet inside even in strong winds
Cons
Quite heavy for its category: 2.4Kg
Quite pricy but understandable as it is handmade
I took this tent to trek in the Alps and on the mythic "GR20" (the hardest trek in Europe through the Corsican mountains). No matter how cold, windy or rainy it was, I slept like a king. Hilleberg is somewhat the "Rolls Royce of tents." All their tents are handmade. You even get a small label with the name of the lady that made it attached to it. They thought pretty much about every eventuality and it shows even on the small details. 
Pitching Soulo is a child's game: The inner tent is attached to the outer shell so it pitches easily in one go. If there's no wind, your tent will be up and ready in less than 4 minutes. Poles are color coded. I pitched it in the dark under strong winds more than once and it went very swiftly. 
It is an extremely stable tent. Like a bunker. In fact, in most cases you don't even need to use the guy lines even when it's windy. It is a stand alone dome tent and it has 12 pegs: 6 for the poles extremities and 6 for the guy lines. I rarely used more than 8 all in all. And that was when I was pitching on mountain tops. 
The most remarkable point, is the fact that due to its perfect design, this tent has virtually ZERO condensation the inner tent stays dry thanks to an ingenious venting system that could be easily regulated from the inside. 
The tent is very roomy. You have a nice big integrated vestibule that could easily contain your heavy duty hiking boots and your 85 liter bag plus some other gear. I'm quite tall (1.84m / 6 foot) and I could comfortably sit inside the tent without having my head hit the top or my arms bumping into the inner tent while inside. Inner tent area is 2 square meters (21.5 square feet). It's large enough for one big person. 
Packability and weight aren't the tent's strongest features. It takes quite a lot of room in your bag, easily about 10 to 12 liters. But you could separate the pole and peg bags and compress the tent itself into 5-6 liters if you have a small bag. The weight is its weakest point. 2.4kg for a 1 person tent is quite heavy. If you're an ultralight trekker, you'd be quite appalled.
But keep in mind this is a true four-seasons tent. You pay in weight for the extreme comfort and the fact that it could take extremely harsh weather conditions without blinking. Nothing will annoyingly flap and get noisy in case of strong wind and you'll sleep like a baby.
Another point is the fact that because of its perfect insulation and zero condensation features, you can cary a lighter sleeping bag and mattress and go quite high and quite cold with no worry. I used Valandré's Mirage 773g (comfortable at -5°C max) sleeping bag above 3,000m altitude on frozen soil and in a storm in this tent and wasn't cold at all. In fact, the bag was open most of the night. It's also a factor to take under consideration weight-wise. 
All in all, the best 1-person tent I've ever used! (and I've used a lot of tents over the years...). If you can afford the price in dollars and pounds do not hesitate for one second and get your hands on one.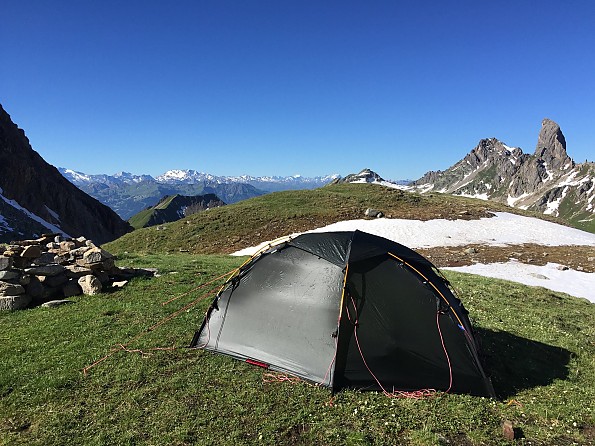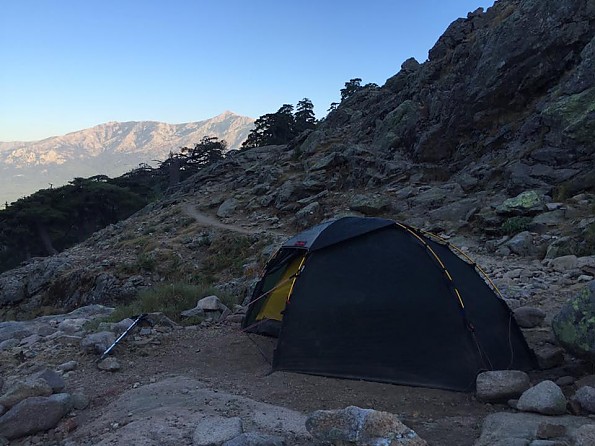 Source: bought it new
Price Paid: 785€

I often travel solo. There are many lightweight tents available but few that are truly four season tents. The Hilleberg Soulo is a tent for the person who wants a tent for all seasons. At under four pounds (3lbs. 13 oz. on my scale), it is light enough for summer backpacking and tough enough for four season use, even strong enough for high altitude expeditions.
There are many design features I like with the Soulo.
1. It sets up easily
2. It is self-standing with numerous tie out points to make it rock solid in high winds.
3. It has a floorless vestibule which is great for storing wet gear and for putting on crampons in the shelter of the tent.
4. It is an itegral double wall so both walls go up at the same time and the vulnerable inner tent stays dry-unlike traditional tents where the porous inner tent must be set up first, even in a pouring downpour or wet heavy snow, and then you race to drape the waterproof fly over the top.
5. The integral double wall not only keeps the inner breathable, porous tent dry, but it makes set up easier in high winds as you don't have to wrestle a snapping, flapping fly over the top of the tent.
6. The Soulo is strong. I've had it in measured winds of 58 mph and it stood solid and I slept well, not having to worry about my tent not surviving the night. It has three poles and unlike wedge tents and tunnel tents, can withstand wind from any direction.
7. If planning a winter's trip to New Hampshire's Presidential Range or going to the Poles, any place you know you can get extreme winds, you can double pole the Soulo for extra strength.
8. Ventilation is great. You can open a vent on the roof and lock open the front door, giving you a protected sheltered "porch" in rain or snow.
8. This tent  is light enough for summer backpacking and is strong enough for winter mountaineering. It sets up easily and can handle rain, snow, hail and wind from any direction.
Price Paid: $550

A completely free standing solo tent that is both expedition-ready and ultralight.
Pros
Very easy and fast to pitch (no more than 3 minutes)
Completely free standing
Lots of space for a one-person tent
Two years ago when we climbed Iōdake (硫黄岳) and Akadake (赤岳) (Japan) early spring with a friend, I had the occasion to spend a night in his brand new Hilleberg Allak. We had talked a lot about tents with him before he decide to go for the Hilleberg and I have to say that I was impressed. To the point that since then I keep borrowing his tent for all my winter mountaineering or snowshoe trips (like the Kita-Yokodake (北横岳) – Futagoyama (双子山) traverse or Jōshu-Hotakayama (上州武尊山) in 2011 winter).
I needed to change my one person Vaude Hogan Ultralight Argon tent, as it is not a real free-standing tent and it is too complicated to pitch on snow or in a storm. Naturally I decided to go for a Hilleberg tent and I bought the Soulo tent.
Opinion
The price and the 2.2kg, compare to single wall tents, might discourage some of you. But with the Hilleberg Soulo, you have the ventilation/strength/protection advantages of double wall tents and easy pitching advantage of single wall tents. Why hesitate when you can the cake and eat it too ? It is quite priceless in extreme conditions or place where the air is humid like in Japan.
If you don't do anything extreme, don't need a tent you can pitch fast and easily in a storm or weight is really the key factor for you then you might find lighter and cheaper elsewhere.
For the full review with details on durability/ease of use/ventilation/wind stability/protection look at the article on my blog : http://www.tozai-trek.com/en/2012/03/hilleberg-soulo/
Source: bought it new
Price Paid: 300 euros

After buying several tents for my solo trips over the last few years I ended up with a completely useless Eureka Skylite SUL. After spending the wettest three nights of my hiking career in it I went back to the shop and was allowed to return it. After deciding to spend a bit more than I had on the Eureka I ended up with the Hilleberg Soulo. I'm now a really happy camper :D
The tent sets up in minutes, is completely freestanding, with the inner and outer tent raised at the same time and it really can take a pounding. It is not the lightest solo tent around, but after being hit by a storm above the tree line one night I'm willing to carry it to feel safe.
The vestibule is large enough to take my backpack (a Bora95) and fishing gear. The rest of my clothing etc goes in the inner tent with me. I'm 6 feet and feel I have more than sufficient space inside. Cooking in the vestibule have not been a problem either. The venting is good with a large vent in the apex of the tent (protected by a separate fly) so condensation is not a problem. The inner tent is made form nylon that has a DWR coating keeping what condensation forming on the fly away form you. There is also a large mesh screen on the inner tent, making sure the airflow is good.
My only small gripe is that it can be a slight problem with the zipper on the inner when you want to open it up with just on hand. But it is not a problem big enough to take away any stars on the rating.
The price is a bit high, especially here in Norway. And yes, it costs more than $1000 here!!!
Design: Four-season freestanding
Sleeps: 1
Ease of Setup: Super easy! Short pole sleeves and clips!
Weight: 2.1 kilograms
Price Paid: 5300 NKR/US$1000

Reliable and roomy.
Pros
all weather conditions (wind, rain, snow)
roomy
good ventilation
very reliable
Cons
not very light for easy summer 1-day treks
I've used the Soulo in two big journeys. A 5-day trek in Russia (raining, wet snow) and a 14-day trek around Aconcagua (very strong wind, 5500 m, dust, stones). Maybe it is not so light as other tents. But it's really great. It stands still even the wind is strong. You can quietly sleep during the storm.
It's roomy — very important feature for long solo journey. In other tents you always have to move gentle and avoid touching the walls, they are like little coffins. Soulo is spacious enough to spend half a day when you are waiting for a good weather.
It has good ventilation. It does not become wet after long rains.
It has all nesessary pockets, zips and buttons and doesn't have any excess.
Little bonus: I pitch it in 2-3 minutes.
Source: bought it new
Price Paid: $550

I have owned this tent and used it for the last two years. I needed a solo tent and this one filled all the requirements and has proven to be a real friend in the boonies. I use it mainly in the Tetons during the winter. It is easy to erect and provides a great deal of headroom, as well as lay down space, and the vestibule is large enough for a Bora 95 pack and snowshoes.
Design: Four season
Sleeps: 1
Ease of Setup: Very easy set-up
Weight: About 6.5 #s with snow pegs and foot.
Price Paid: $500

Your Review
Where to Buy
Help support this site by making your next gear purchase through one of the links above. Click a link, buy what you need, and the seller will contribute a portion of the purchase price to support Trailspace's independent gear reviews.
You May Like
Specs
Price
MSRP: $765.00
Current Retail: $825.00
Historic Range: $645.00-$825.00
Reviewers Paid: $500.00-$1,000.00

Minimum Weight
2.0 kg/4 lbs 7 oz

Packed Weight
2.4 kg/5 lbs 5 oz

Outer tent fabric
Kerlon 1200

Poles (9 mm)
2 x 344, 1 x 285 cm / 2 x 135.4, 1 x 112.2 in

Pegs
12 V-Peg