Big Agnes Copper Spur UL1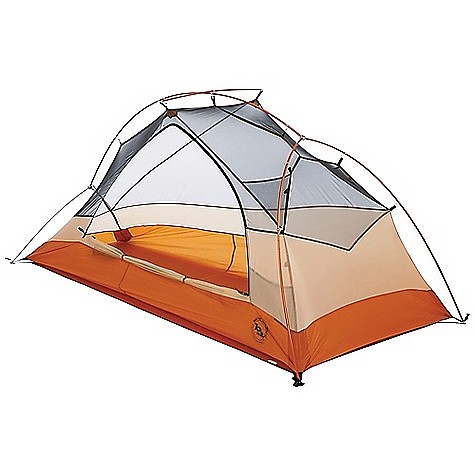 A rather nice 3 season UL solo that is very weather resistant, comfortable, roomy and user friendly. But with the light weight comes a price; light weight materials.
Pros
Light weight.
Weather resistant.
Very roomy for a solo.
Adequate vestibule space.
Can be set in fast fly configuration(with BA footprint.)
Ventilation is very good.
Quality materials.
Good design(user friendly.)
Big Agnes stands behind their product.
Cons
Durability of material but this is somewhat of a given considering that this is a really lightweight product.
Tent Model: Big Agnes Copper Spur UL 1(Pre 2012)
Tent type: Free Standing, Modified A frame, UL, 3 season, Solo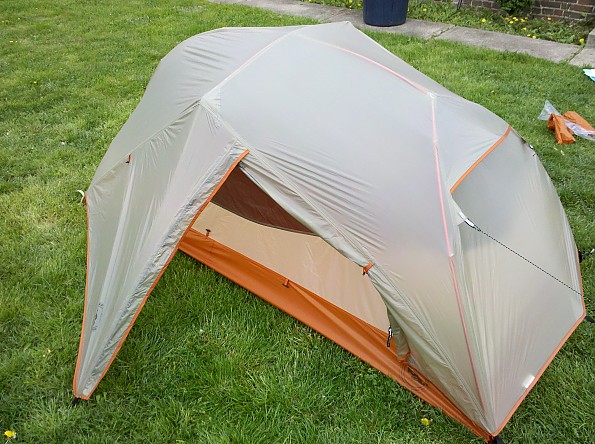 Tents can be a real cantankerous purchase to say the least. When ya get dialed into a certain model up pop 5 more that spark your curiosity to make the whole buying experience even more grueling. I have been through this whole process many, many times when it comes to tents, not to mention the numerous hours of researching the products that I am spending my money on. 
Well I found myself in this very same situation once again months back. I wanted a solo tent for 3-season use. I wanted a light solo at that. I figured if I drop pack weight in regards to my shelter I can carry more of what really matters... Twinkies and Moon Pies.
So what was I really looking for here when I snagged up the Big Agnes Copper Spur UL 1?
Interior space was a must and Big Agnes nailed it with this model. The Spur is one of the largest solo 3-season tents I have encountered. I do not like the "coffin effect" that is so apparent with solo tents and the Spur does not fit in this category at all. I have been stuck in multi-day storms in a tent and the last thing I want to do is spend it in a matchbox thinking the world is literally closing in on me.
I also wanted a free-standing model. 
I personally do not go on manufacturers specs when it comes to dimensions due to a lot of them are measured from grommet to grommet so out came my good ol tape measure.
Interior Dimensions (mine):
Head: 42" (106.7cm)
Feet: 30" (76.2cm)
Length: 84.5" (214.6cm)
Peak interior height: 36" (91.4cm)

When it came to weight the manufacturers specs were pretty accurate (there may be a tenth of a gram difference here or there, but does it really matter?).. Maybe that is from trail dust I have accumulated during my previous use of this tent. Hey, dirt adds weight.
Weight (theirs):
Packed Weight: 3 lbs (1.4 g) 
Fast Fly weight: 2.2 lbs (a hair under 1 g)
An overlook at the tent:
Fly:
The fly is constructed from sil-nylon and while being lightweight I have to admit it is pretty strong as well as weatherproof.
The zipper for the entry point on the fly is a dual track version that gives ya the ability to look out and check the weather without being full exposed as well as increasing the ventilation if ya have to "batten down the hatches" due to a washout. 
Both of the zipper pulls on the Spur are fabric. Make sense to me, saves weight. I like the fact that they don't jingle personally.
I have had this tent in a 3-day rainstorm with no leaks. On the mountain when wind gust were dropping rather large trees in my area the Spur held steady, and I have had no tears or separations in the fly material anywhere. I have even caught the material in the zipper a few times and it did no damage to it... Thin yes, but very capable....
The fly is ultralight silicone treated nylon rip-stop with a 1200mm waterproof polyurethane coating.
Even though it is thin it seems to be very strong for what it is from my experiences in regards to what I have subjected it too weather wise.  I have to say, at first I was a bit skeptical but I am really impressed with this material.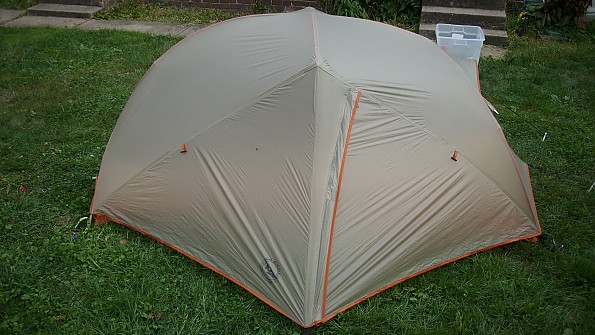 The fly has one single vent that can be open or closed and is located by the "head end" of the tent. It is supported by a stiff rod that attaches to the vent via velcro.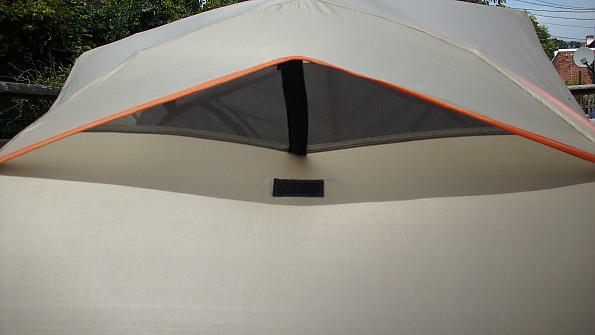 The vestibule can also be rolled back maximizing ventilation while still providing protection from the elements.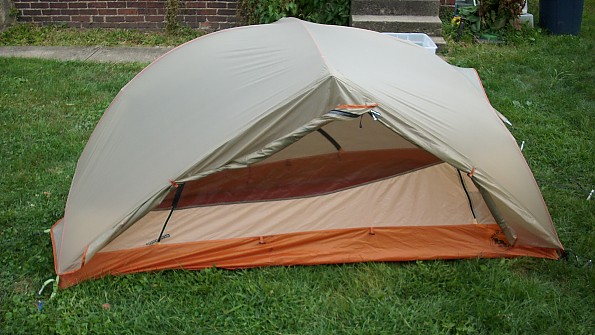 On a side note I would like to mention as far as condensation goes with tents, the condensation in this tent is very minimal when I look back to the different tents I have had over the years. 
There is also a small reach through door opposite of the main entry that allows access to a rear vestibule for increased storage space for things like boots, water bottles, pet chipmunks, etc.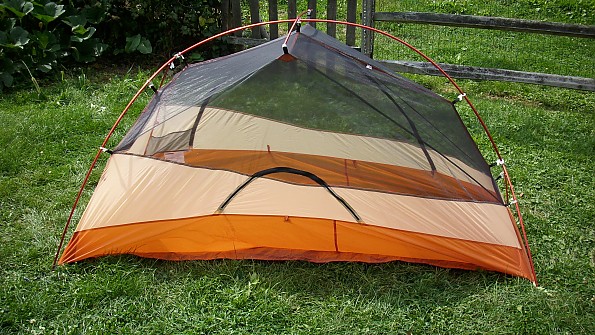 The tent body is constructed from ultra lightweight nylon and polyester mesh. I have noticed with quite a few UL tents on the market that when it came to the inner it was pretty much all mesh.
Now while this provides a giant bug net in the warmer months to have a complete view of the stars while protecting one from the "creepy crawlies" as well as maximum ventilation I have found the additional fabric to be quite welcome for my use.
When in a heavy rain one can sometimes encounter a splashing effect that will sometimes make its way under the fly, to you and your gear. Being that the fabric is a bit more dense than the mesh this offers a bit more protection from getting the "misting effect" that I have encountered with other shelters.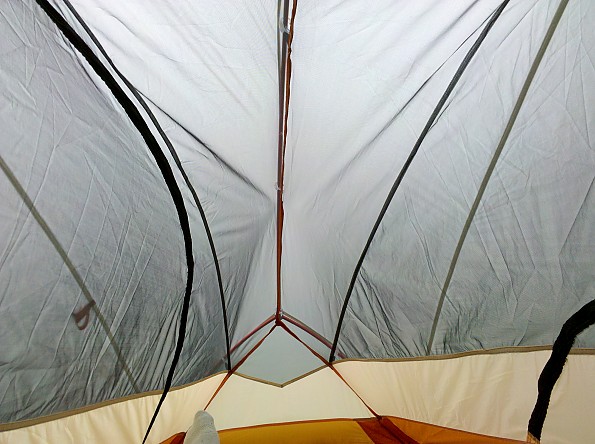 The floor on the inner is lightweight silicone treated nylon rip-stop with a 1200mm waterproof polyurethane coating (same as the fly.) Some may say "wow, that's pretty thin" and yes they are absolutely right. So thin that when I had the tent set-up in the backyard w/o the footprint and I pressed down not only could I see the grass, I could also see the color of the grass. 
This is what you get with a UL tent, UL materials. I will say this though. I tested it in a storm without the footprint when I first got it. It started raining in the evening and was still raining the next morning. Not a single drop of water penetrated through the floor to the inside. The side of the floor that was exposed to the ground was soaked. Wow, this sil-nylon stuff really works.
I will strongly recommend some type of footprint for under this tent. Just for protection from sharp rocks, sticks, or an old matchbox car that was left behind from days past...
Granted Big Agnes will be more than happy to sell you one for a fee but there are retailers that will include it in the deal if you sweet talk them and offer them candy.
(Just kidding on the sweet talk and candy thing... Then again it might be worth a shot.)
Here is a link to the footprint direct from Big Agnes:
http://bigagnes.com/Products/Detail/Accessory/TentFootprints/option/99
On a side note. If ya plan on utilizing the lighter weight fast-fly set ya gotta have the BA footprint (or MacGyver your own if you are that ambitious) due to the fact that the footprint has grommets for the poles and buckles for the fly.
This drops your shelter weight to around 2.2lbs.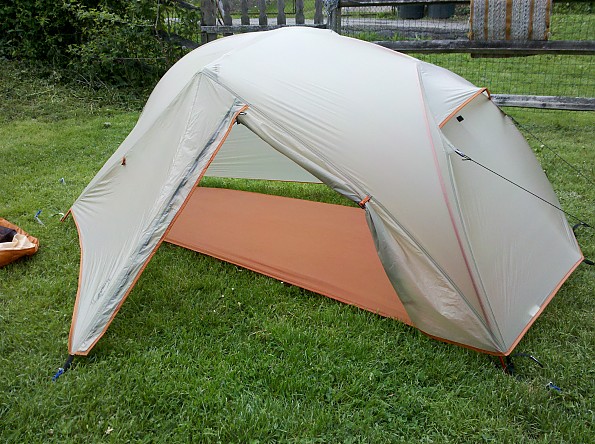 The fly connects to the tent or footprint with quick release buckles. The ones by the vent/head end are black and the one on the opposite end are green so ya don't get confused when firing on the fly in a rush if the weather is barreling in on ya.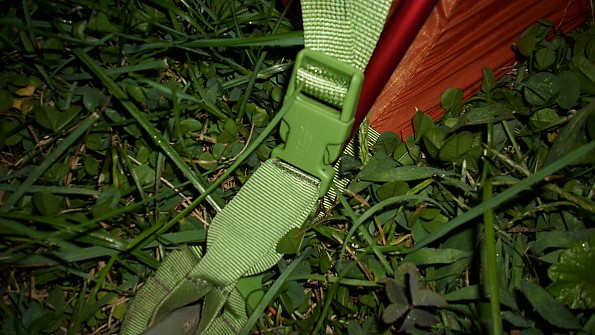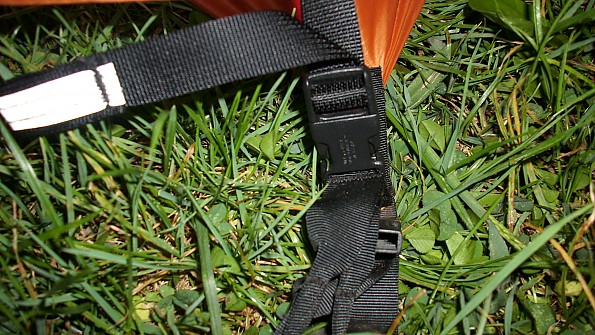 Interior Organization:
There is one interior pocket in the tent for little things that ya want to keep close like glasses, headlamp etc. which is located near you head.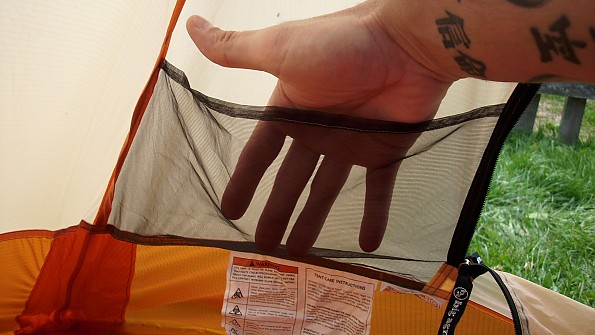 There is also a wall loft (organizer) available for this model but I don't own it because I have no use for it.
Here is a link for the wall loft if ya wanna take a peek at it from Big Agnes:
http://bigagnes.com/Products/Detail/Accessory/GearLoft/option/50
Pole structure:
The Spur uses what is called a "Modified A Frame" design with a spanner or ridge pole.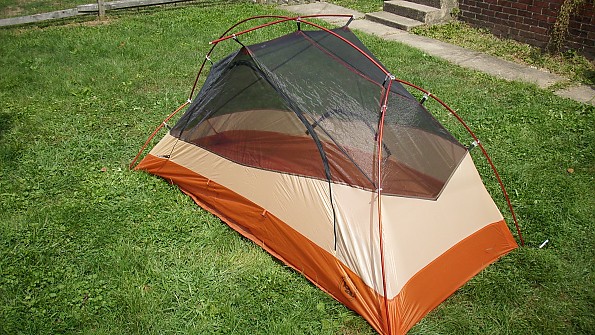 After many tents over the years I have come to the point that a ridge pole is a very big selling point for me when it comes to a tent. Here's why.
A ridge pole creates an overhang of the fly over the entrance of the tent. If it is raining you still may have the ability to open the fly completely without getting wet being the overhang will provide some type of protection for the tent inner. 
A ridge pole creates nearly vertical sidewalls which maximizes interior space. You don't feel like you are wearing a hat.
With near vertical sidewalls its more comfortable putting more than one occupant in the tent for a game of cards or horse shoes (I have yet to try that last one but will update when I do.)
The poles are high quality DAC Featherlite NSLs. I am not a professional judge of tent poles but these seem to be really nice compared to some of the sticks I have encountered over the years.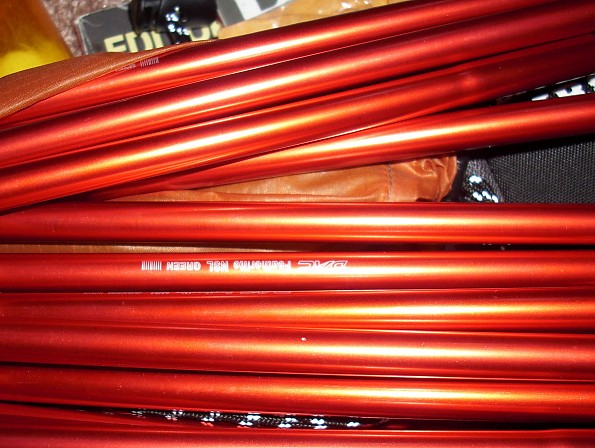 The pole set utilizes a hub system which I have come to be fond of because: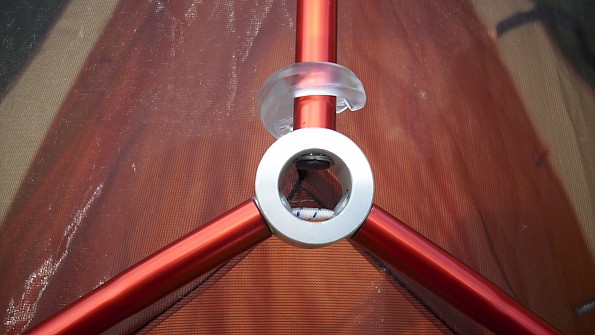 it's a light set-up
I am not looking for a bunch of different poles, it's all one big ol section
It's very solid when set up
Now granted I have heard people say "it's bulky when broke down." Yes, it is but it has hubs, what do you expect? Ya want the hubs to fold up as well? I knew it had hubs before I bought it so I wasn't surprised at what I got.
For some people this may be a big deal if they plan on toting their gear into the backcountry via sandwich baggie but I just happen to not be one of those people. 
The ridge pole is a separate pole that attaches to the top of the tent via DAC Hclip.
Here is a pic because I wouldn't know what it is either unless I saw it: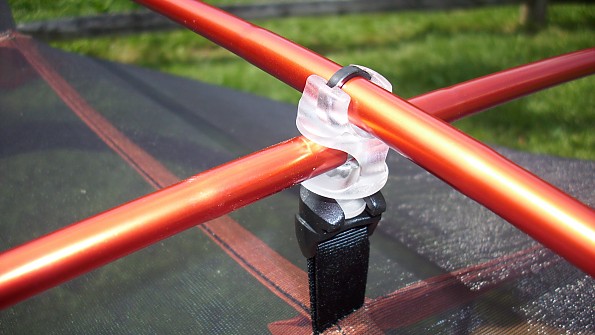 The rest of the clips are by DAC as well. Here are a few pics with brief explanations:
DAC Twist clips. There are a total of 10 of these on the tent and they are what connects the tent body to the poles.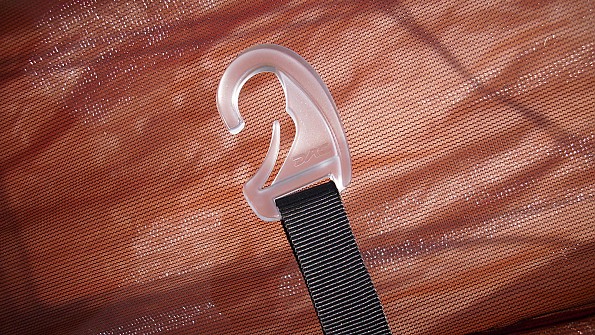 More DAC clips attach the tent body/fly to ridgepole. There are 2.
The one that is in pic "A" is a 2 step process because it not only attaches the tent body to the ridge pole but it also attaches the fly. After ya snap the connector of the tent body on the end of the ridge pole then you take the black clip and lock it in place as you see in the photo.
On photo "B"  ya just connect the fly to the ridge pole the same way minus the black clip:
Photo A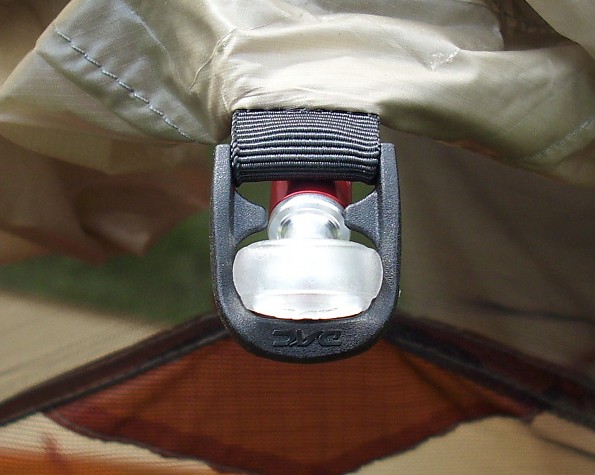 Photo B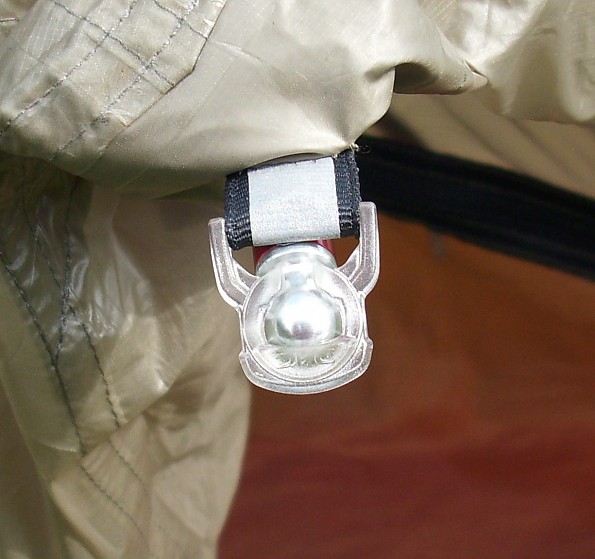 The reason you do not have to do the duel clip method as you do in photo A is because Big Agnes added another Hclip further back on the ridge pole to attach the inner at a separate point than the fly so the overhang (that thing I mentioned earlier that keeps ya dry at the entry point) extends further out for more protection.
Here is the other Hclip if you're curious (I know I am:)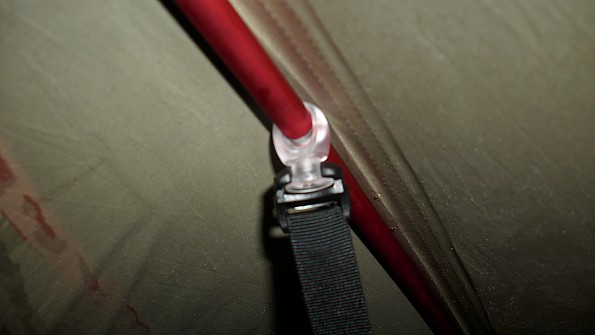 Over-all this may seem quite confusing. I must admit when I first started looking at this set-up I was like "what did I buy? A jigsaw puzzle." 
Let me assure you of this. If you take this tent out and set it up in the yard a few times you will realize it is actually very, and I mean very easy to set this tent up in well under 4 minutes with no thought.
I can set this tent up in under 3min no problem and let me tell you if I can I have no doubt you could as well. That's with all the guylines etc. 
Odds and Ends:
The tent comes with 3 stuff sacks:
1 for the tent/fly/footprint
1 for the poles
1 for the stakes (9)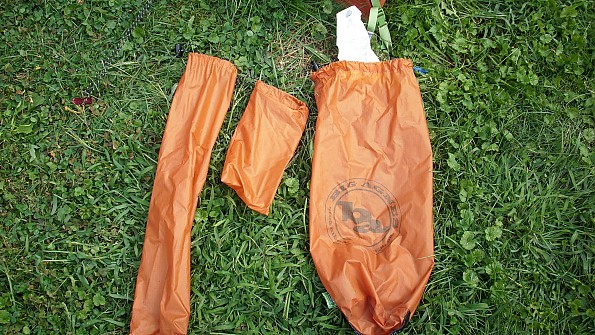 Ya also get 9 of these DAC J stakes (I added the pulls, they are pre-drilled):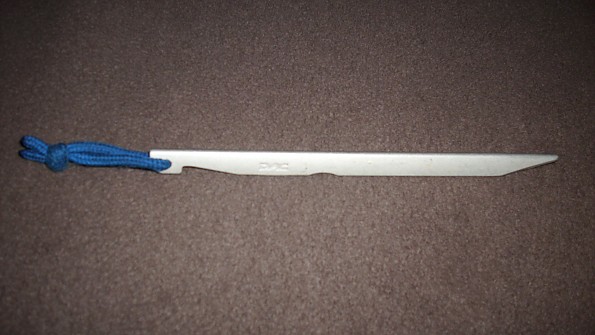 The Spur also comes with highly reflective guylines. There are 4 guyout points on the fly. 3 are at the head (vent area) and one at the opposite end: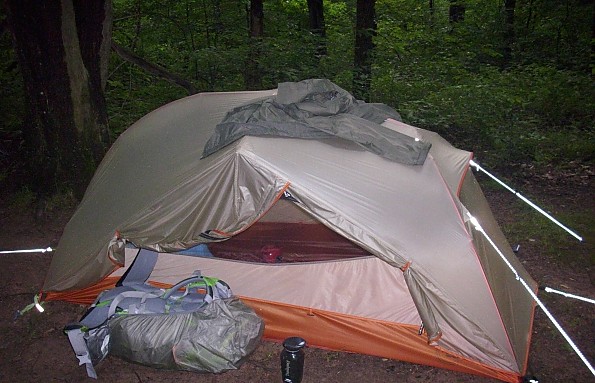 And lastly ya get this really neat handy dandy pole splint repair tube: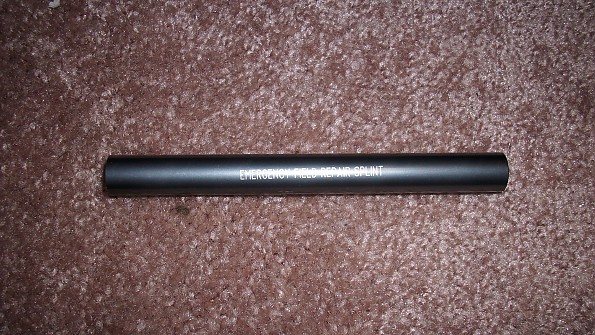 Areas and conditions used in:
I have used this tent primarily in the harsh environment I call "the backyard." No I am being serious, I really use it in my backyard. At least when the wife tells me I need too because my non-stop talk and rambling of tents and other gear drives her batty. 
OK, all jokes aside. I have used this tent in the Laurel Highlands (my stomping grounds) with elevation numbers of around 3000 ft. I have waited out driving rains in it as well as pretty gnarly wind (I heard trees dropping all over the place and these weren't small trees.) At the same time I have been in the scorching heat with it. Ventilation has been very good considering insane humidity levels and the sky was dumping buckets of rain on me. 
I have been a lot more uncomfortable in many other shelters over the years in comparable conditions.
I have taken this model out on weekends, as well as 80+ mile trips. 
I would honestly say I have no less than 50 nights in this tent. I personally would use this tent up until late fall. I don't think a light load of snow would cause it much grief but I intend on using it for what it is intended. 3 season use. For that purpose I cannot find any fault in this model. 
On my last 80 miler on the LHHT. Many more to come.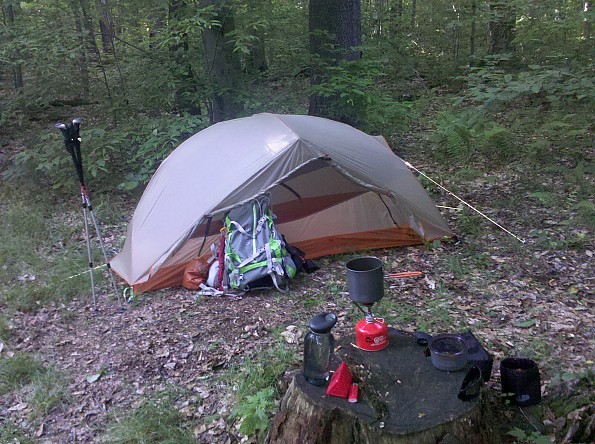 Final thoughts:
Ya know when I first bought this tent I was thinking "$400 for a solo 3 season shelter? Really, what are you thinking?" After owning this tent for a bit of time and using it a lot I am very happy that I did pull the trigger on this tent.
Big Agnes put a lot of thought into this model. It's light, roomy, very weatherproof, durable, and has those little features like a small reach thru door that just makes sense... Oh and it's free standing.
Does the zipper on the small door add weight? Probably. Would I rather not have it to shave more weight off the tent. NO!!! In the cooler seasons I can make up for the .01g by leaving the inner at home. More Twinkies and Moon Pies for me...
When I was looking into this tent I looked at the comparable offerings from the other companies out there and just kept coming back to the Spur. Nothing that I found had all of what I wanted packed into one model except for the Spur.
If they had the room they weren't free standing or they had the room, were free standing, but when you sit up in the tent it was like wearing a hat due to the massive slope of the ceiling.
If you are serious about your gear and really want an awesome UL 3 season solo tent do not pass up on taking a closer look at the Big Agnes Copper Spur UL1. For this type of tent(solo UL)I would personally have no problem putting it up against anything on the market from my experiences with it. If something happened to mine I would order another without looking at anything else. That's how happy I am with this tent.
I have become very reserved on giving out 5 stars on gear (even though I have with my earlier reviews) but there is absolutely nothing I can ding this tent for from my experiences.
Awesome product. Big Agnes really nailed this one.
Update: February 2, 2012
So a little while back I had a problem with the fly on my tent. I noticed a separation of the fabric at one of the quick release buckle points on the fly while looking over my gear for an upcoming trip. 
I immediately contacted BA and they sent me a RA # and I had the fly back in a week repaired.
I am happy with the fix and the timely manner in which it was performed. 
I told them that I had a trip coming up and they told me to make a note of it on the package and they would do their best to accommodate the time frame.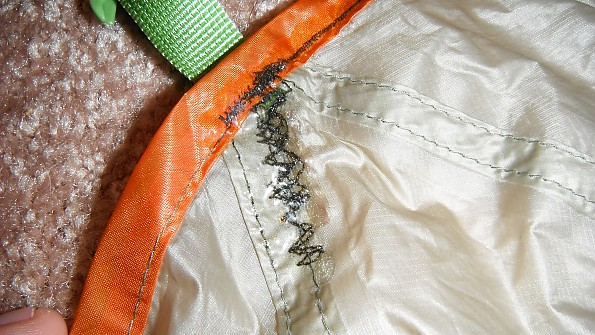 I am not sure if this was due to a defect in the fabric or was caused by my negligence.
During the night the guylines on this tent are highly visible (reflective) but being they are black the placement of the lines can be over-looked if one is not paying attention during the day. 
I may have stressed the fabric by catching the line with my boot, etc. I am not sure.
I didn't notice it in the field but it could have happened the last day of one of my trips.
Due to the fact that that the material separated within the first year of use I am going to clip the rating 1 start just for the simple fact that the material(sil-nylon) is somewhat delicate . If you knew my personal practices I am way OCD when it comes to gear care. 
I'm just not sure how this honestly happened. I didn't notice it in the field but it could have happened the last day of one of my trips.
Kudos to BA for standing behind their product/meeting my needs in regards to the time frame I provided and their meeting said time frame with a fix for this issue.
I have now dubbed this little tent as "FrankenTent."
Source: bought it new
Price Paid: $375 (with footprint)

I bought this tent as part of a quest to lighten my pack weight. I looked fairly extensively at the various options available, and this one strikes a good balance between weight, dimensions / interior space, and weather resistance. While I continue to seek new and improved models that provide the same functions for less weight, I still consider the Copper Spur UL 1 to be a good option.
Pros
Lightweight
Good protection in rain storms
Cons
Lightweight zipper not durable
Difficult to enter/exit when rain fly is on
This is a review of the Big Agnes Copper Spur UL 1.  Just in case BA comes out with different versions in subsequent years, I'll mention that I purchased this tent new in the summer of 2010. 
I'll also preface this review by pointing out that although I've owned the tent for a year, I've only used it on a few trips so far, for a total of 5 nights. With the exception of a light sprinkle on one of the nights (in Colorado), my usage so far has been in calm, warm (35+), dry summer weather (in the Sierra).  So consider this a sort of "first impressions" review.
I'm rating the tent a "5".  If I could use half stars, I'd give it a 4.5.  I'll explain further below.
When I selected the Copper Spur, I wanted a tent to replace my Mountain Hardwear Skyview 1.5 for backpacking. I still use the Skyview for car camping, but it is very heavy and bulky for backpacking. For backpacking my criteria included:
low weight
compact packed size
free standing
relatively roomy — low-sloping, claustrophobic, bivy-like tents need not apply
and of course a well built tent I can count on out in the wilderness
My experience with the tent so far has been very positive. It has met all of my criteria very well.  It's light (a couple ounces over 3 lbs including the footprint — which I'm not using, instead I used a piece of lighter 3mil(?) plastic sheet). It's also very compact, fitting nicely inside my pack. 
It's also totally free-standing if I use it without the fly, as I enjoy in good weather.  Even the fly only requires 2 stakes, though more can be used in windy/stormy conditions. The most I've used is four so far. In a pinch you could probably get by using just one on the front flap of the fly.  Lastly, it's quite roomy for a solo tent.  I'm 6' and about 180#, and I have no problem getting comfortable in this tent.
I do have a few minor points to make, just to round out my experience so far with this tent.
First, I am not a fan of the "upside down D" door. For one thing, getting in/out of the tent requires opening most of the door — pleasing hungry mosquitoes to no end as they fly in thru the large opening. Additionally, one has to be careful to drop the door inside the tent rather than into the dirt outside.
Secondly (and this one is a plus and a minus), the frame cross-bar at the top of the tent does a good job of supporting the tent walls, enhancing the feeling of spaciousness inside. On the other hand, particularly when using the tent without the fly, one has to be careful to avoid poking their eye out with the pole as it protudes over the door (e.g. lean down to enter the tent, not see the protuding pole in the dark -> poked eye).
Lastly (and another plus and a minus), the mostly-screen tent upper provides great visibility and enhances the feeling of sleeping outdoors, especially when the fly is not attached. On the other hand, whenever there is dew, one gets wet inside the tent. And since the tent is small, the ends of one's sleeping bag brush against the now-wet walls. 
This is only an issue when the fly isn't attached, and would apply to any tent of this design. I do like the combination of fabric and mesh on the walls — the mesh provides great visibility, while the fabric down lower helps reduce cold drafts where I'm sleeping.
All in all, I am very happy with this tent, and if something were to happen to it today, I would want to replace it with another one just like it. It's pricey for sure. But I spent quite a bit of time comparing various models — some less, some much more expensive — and I feel this one was the right choice based on my criteria.
One point I would make is that while well built, the material used for this tent — including the floor — is very light. So I'd definitely recommend using a ground sheet or the purpose-designed footprint.
Note in the first image I neglected to prop open the little fly vent near the roof. The fly also provides for some decent vestibule space — and makes the tent appear to be much larger than it really is.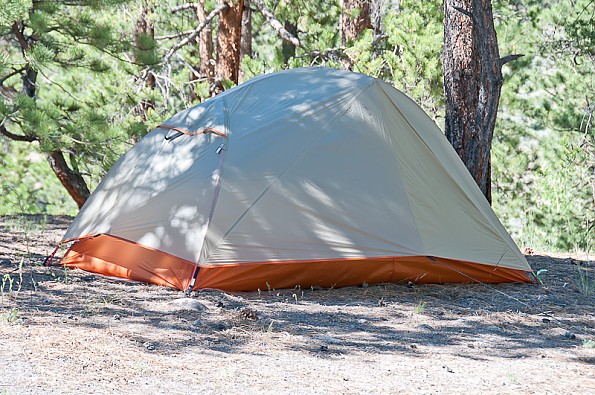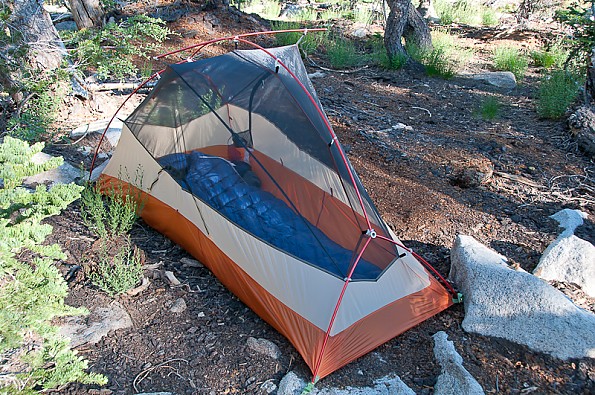 Source: bought it new
Price Paid: $349 including footprint ($40 value)

A great lightweight tent for someone over 6 feet tall. It sets up fast, kept me dry through some serious downpours and didn't feel claustrophobic. At 6' 3", I could still sit upright and pull on a T-shirt without a fight. Held up well through a thru-hike of the Colorado Trail.
Pros
Longer than most one-person tents
Vertical walls
Good weight for the size
Well constructed
Cons
Vestibule was smaller than I'd like
Design of door with bottom being the "hinge" and zipper in a half-moon that had to be opened completely to get in or out. Mosquitoes enjoyed that design.
While planning a thru-hike of the Colorado Trail for the summer of 2014, I decided that I needed to lighten the load and quit carrying a 2-person tent. Since the trip would entail a month or so of camping in a wide variety of conditions, along with carrying a pack 500 miles; I spent significant time researching options before I bought the Big Agnes Copper Spur UL1. 
Size was a major consideration for me and the tent was roomier than most I looked at. The floor is 90" long and 42" wide near the head, tapering to 30" at the feet. The head height was adequate (a rare find for me) and a cross pole kept the walls vertical to make it feel a bit more open.
I also personally like having a side entrance rather than a door on the end. My pack and shoes fit under the vestibule, but there wasn't much room to spare. The trail weight was advertised as 2 lb, 3 oz and was accurate. I added another 4 oz by buying the matching ground cloth for another $60.
Self-standing was another important feature for me as it's not always easy to sink a stake in the Rocky Mountains. 
Since buying the tent I tested it with a couple short trips in Ohio and the Smokies, then slept in it for 29 nights along the Colorado Trail. To this point, I'm very happy with the tent.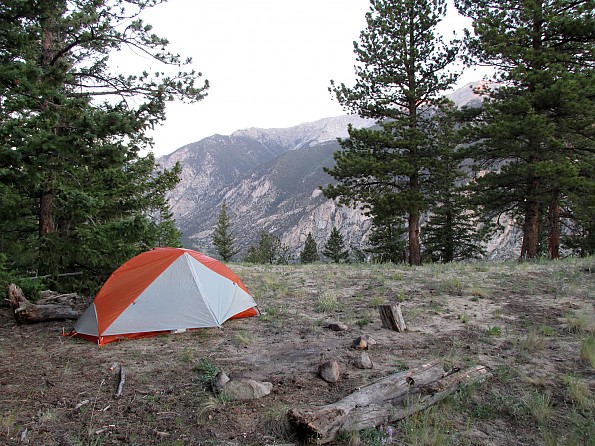 Setup is quick and easy. All the pole sections are shock-corded together and assemble (and disassemble) quickly. The pole ends are color coded to match the tent and ground cover and buckles (color coded as well) tie the tent, fly and ground cover together. With 4 stakes for the tent and 4 for the fly, the pitch is taut.
At one point I was on a high mesa when a major thunderstorm blew up very quickly. I only had a few minutes but was able to pitch the tent and find "Early Morning Rain" by Gordon Lightfoot on my IPhone before the rain started. It poured for about 30 minutes along with high winds while I stayed dry and comfortable inside.
The highest I camped was 12,500 feet where the temperature dropped to near 20 degrees. The fly was covered with ice in the morning, but condensation was fairly minimal inside. There is one high vent and plenty of lower ventilation. I did notice that after several days on the trail, I would smell a foul odor inside the tent, but doubt that any amount of ventilation could have completely alleviated the situation. 
When it was all said and done, I was extremely happy with how the tent handled the rigors of the trip. Despite being very lightweight, the material still looks like new. (The footprint even still looks pretty good.) The zippers worked smoothly, interior pockets (3) held a variety of equipment without issue and the poles never failed under heavy wind and rain.
My only issue with the tent was the design of the door. Because the bottom is the "hinge" and the zipper is a big half moon, you pretty much have to open it completely to get in or out, which can also let in whatever number of mosquitoes are hanging around. It was never a big enough issue for me to lower my rating of the tent however.
At $299, it was not the cheapest tent I could buy, but felt it was money well spent. In fact, since I returned I've "upgraded" my 2-person tent to a Copper Spur UL2.
If you want to read more about my thru-hike, there's more information at my website, listed in my profile.
Source: bought it new
Price Paid: $299

Pros
Roomy
Lightweight
Good Headroom
Durable
Recently purchased this tent, with the footprint, and have used it for two fair-weather nights so far in the White Mountains of New Hampshire. Overall I am pleased.
Its weight is minimal, it packs small, and setup is around 5 minutes. It is roomy enough to stuff all of my gear inside if necessary, and still not interfere with sleep (5'8", side sleeper, often curled up). It's big enough inside to maneuver into just about any position you might need for getting dressed or digging through your pack. It has one top vent on the fly, and the vestibule can be zipped from the top to allow for extra ventilation while staying mostly closed.
The tent body, fly, and footprint, when rolled up together, fit snugly inside a Sea to Summit "extra small" stuff sack, which is less than half the size of the stuff sack supplied with the tent. The poles I carry on the outside of my pack. The whole package, with 9 stakes, weighs in at approx 3lbs, 5ozs. The vestibules are fairly roomy, and both are accessible from inside the tent.
I have set up the fast-fly at home, and it is great if you're looking for a quick simple shelter. This is a pricy Chinese made product (like most other gear); especially when you add in the footprint. Nonetheless it appears to be a quality product, and the design/layout is very good in my opinion.
****2014 Update****
I still use this tent, 2-4 weeks a year, and it is still my favorite. Up until this year, my daughter, now 12, has been able to share this tent with me because of its roominess. I'll continue to use this tent for solo trips now until it wears out. I take good care of it, on and off the trail, and expect it be around for a while still.
Design: three-season freestanding
Sleeps: 1
Ease of Setup: Easy
Weight: 3 pounds, 5 ounces

This is a great tent from Big Agnes. It's light, but well-built and quite roomy for a one-person tent. The color coded rain fly clips are also genius.
I have used this tent on several trips into the Ozark mountains and I have really grown to like this little tent. As a matter of fact it's my current favorite solo tent. It's so easy to set up and the pole system makes it feel roomier than it really is.  It packs down small and has performed well in rain and wind. 
See my full video review:
Disclosure: The reviewer received a sample of this product from the brand or its representatives in exchange for a review.
Source: tested or reviewed it for the manufacturer (I kept the product after testing.)

The author of this review received a sample of the product from the brand or its representative in exchange for a review.
I needed a good lite weight solo tent.
I wanted to update to a good lightweight solo tent. I spent some time researching most of the current brands and decided on the Big Agnes Copper Spur UL1.
This tent is well designed, easy to setup, very roomy for a single,and appears to be well made for its weight. There is enough room on the inside for most of my gear and the vestibule will accommodate my dog Duke (115lb). I have used it on several outings over two years totally about 20 days in various temperatures from 70F to 20F and love it.
No rain yet but I expect it to preform like a Big Agnes product should.
Source: bought it used
Price Paid: $230 with footprint

I used the Big Agnes Copper Spur UL1 on a 5 day, 40+ mile, backpack trip from Mt. Hood to the Columbia River. It rained continuously the first 2 1/2 days. This little tent kept me completely dry with very little condensation EVEN with elevated humidity levels the entire time.
It had plenty of room for changing and moving around. The vestibule easily fit my pack and boots under it. Considering that it barely weighs more than a bivy or tarp, it is worth the couple of ounces for the comfort it supplies!
Overall, it has been one of my best purchases.
I have done two extensive trips and several 3 days with this tent. High altitude high wind, rain, heat, and in one instance very high wind 70 mph gusts 50 sustained and the tent worked very well when stayed down at all corners from the rain fly.  
Very satisfied with this tent so far after 18 months of use and about 400 miles of trail.
Your Review
Where to Buy
Help support this site by making your next gear purchase through one of the links above. Click a link, buy what you need, and the seller will contribute a portion of the purchase price to support Trailspace's independent gear reviews.
You May Like
Specs
Price
MSRP: $349.95
Historic Range: $189.93-$399.95
Reviewers Paid: $230.00-$375.00

Recently on Trailspace