In 1971, Bo Hilleberg, a Swedish outdoorsman and professional forester, founded Hilleberg AB. Frustrated by the tents available at the time, Bo wanted a light, strong, comfortable shelter with a connected inner and outer that could be set up simultaneously. In 1973, with Bo in charge of design and sales and his wife and co-founder, Renate in charge of sewing and production, Hilleberg the Tentmaker introduced the Keb (below), the first commercial tent with a connected inner and outer.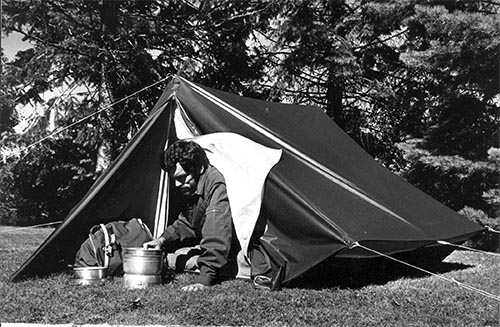 While the company's product line has expanded over the decades, Hilleberg tents are still known for being high quality, dependable, strong, lightweight, easy to use, and adaptable. Products for solo to group use include expedition tents for all-seasons and conditions, three-season tents, lightweight and specialized shelters.
"Every Hilleberg tent has true all-season functionality, will last despite the hardest use, and is easy to pitch by one person, even if it's dark and one is wearing mittens!" says the company.
To help select the right tent for one's outdoor adventures, Hilleberg categorizes its tents with a color-coded labeling system that represents a tent's performance range based on materials and construction.
Black: Strongest, most adaptable, most comfortable all-season tents; Ideal for any trip, anywhere, in any weather condition, and in any season (for example: the Nammatj below).
Red: All-season tents that prioritize light weight over absolute strength, adaptability, and overall comfort; Ideal for all-season trips where weight is a priority and where conditions may be all but the most challenging (for example: the Nallo).
Yellow: Lightest weight tents, engineered for warmer climates and for snow-free months of the year; Ideal for warmer weather trips where lightest weight is the highest priority (for example: the Enan).
Blue: Specialized tents, such as yurt style or modular group tents, designed and built for a specific purpose (for example: the Atlas).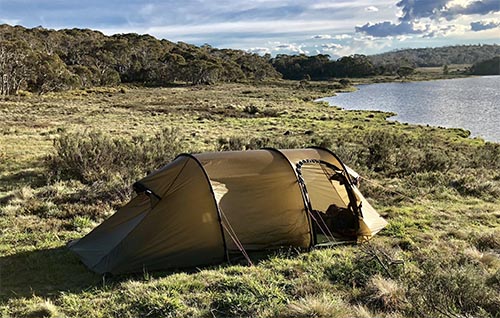 Hilleberg remains a family-owned and -run business. Daughter Petra serves as CEO of the Hilleberg Group and leads company business outside of Europe; Son Rolf serves on the governing board of directors with Bo, Renate, and Petra. The company owns and operates its own ISO-9001-certified, manufacturing facility in Estonia, where all Hilleberg tents are sewn, set up, inspected, and approved before they head off on adventures around the world.
Contact




Hilleberg Coverage in the Trailspace Blog
Congratulations, Sebastian, our Hilleberg Tent Winner
Congratulations to California backpacker Sebastian, winner of a Hilleberg Akto all-seasons tent. He won the solo shelter for reviewing his own outdoor gear in September. Read more
September 30, 2016
Review Your Gear for a Chance to Win a Hilleberg Tent
Review your gear today for a chance to win an Akto solo tent from Hilleberg ($530 value). We're drawing one lucky member this Friday, September 30. Read more
September 26, 2016
We're Giving a Hilleberg Akto Tent to One of You
Win a Hilleberg Akto tent, and you'll be ready for all four seasons of adventure. Review your outdoor equipment, apparel, or footwear and you're entered to win ($530 value). Read more
September 20, 2016
Review Your Outdoor Gear to Win a Hilleberg Akto Tent
You (yes, you!) could win a Hilleberg Akto all-season, solo tent, just by reviewing your own well-used gear now through Thursday, September 29 ($530 value). Read more
September 14, 2016
Win a Hilleberg Akto Tent by Reviewing Your Outdoor Gear
We're giving a Hilleberg to one Trailspace member in September! Review your outdoor gear, apparel, or footwear and you could win a solo, spacious, all-season Akto worth $530. Read more
September 1, 2016
Hilleberg Introduces 3-Season Tents
For the first time in its 40-year history, Swedish tent maker Hilleberg has created a series of three-season tents. Read more
August 6, 2011
Outdoor Retailer: Tent, Pack, and Bag Lines Expand
While tents keep lightening up, not all manufacturers are giving up space or vying to be lightest of the light. Also, brands debut new tent, sleeping bag, and tent lines from stateside and the U.K. Read more
August 2, 2011
Outdoor Retailer: Four-Season Backpacking Tents
Read more
August 18, 2008