Hilleberg Mesh Tent 1

Top 25 in Bug Shelters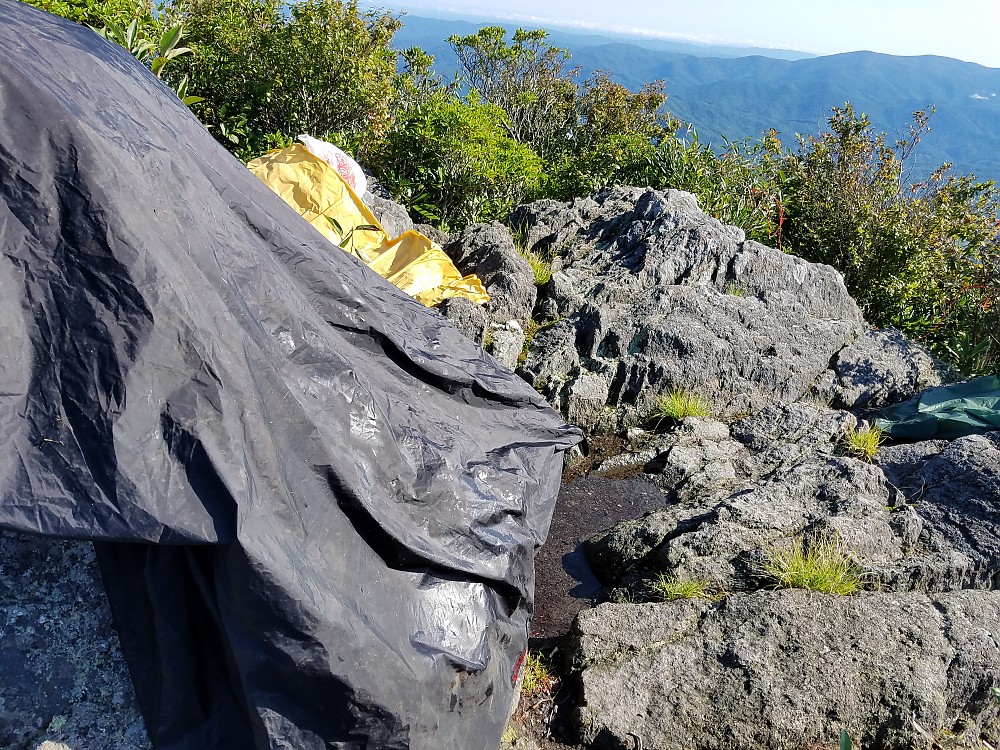 Specs
Price
MSRP: $220.00
Current Retail: $225.00
Historic Range: $220.00-$225.00

Weight
410 g / 15 oz

Front Height
95 cm / 37 in

Rear Height
55 cm / 22 in

Length
210 cm / 83 in

Front Width
120 cm / 47 in

Rear Width
70 cm / 28 in

Area
2 sq m / 21.5 sq ft

Reviews
1

review

5-star:

0

4-star:

0

3-star:

1

2-star:

0

1-star:

0
While marketed as a Mesh Inner Tent, this should instead be thought of as a mesh bivy. Like every Hilleberg product I've seen or tested, this is a very well-made piece of gear. It's best served for those that already have the minimalist Hilleberg Tarp 5 and want to add bug protection.
Pros
Well-constructed
Simple design / intuitive
Strong floor / no footprint required
Cons
Small / hard to do anything while sitting up / only good for lying or being prone
A touch heavy for the space it provides
Double zipper travels same direction instead of opposite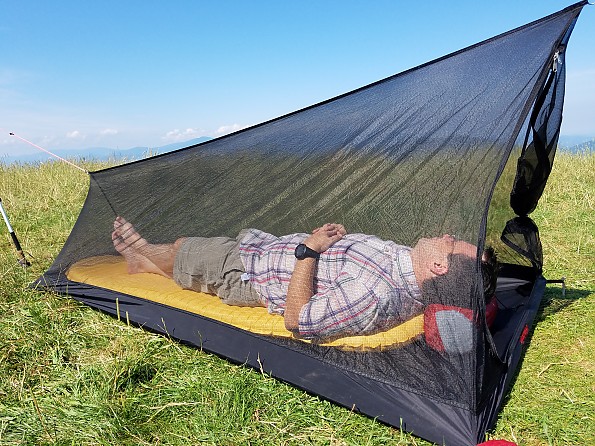 [click to enlarge picture]

Specs:
Weight: 410g/15oz
Link to product page: http://us.hilleberg.com/EN/shelters/mesh-tent-1/
Quality of construction:
As mentioned above, this is a very sturdy and well-made product. The overall quality is typical of Hilleberg with straight lines, detailed seams, solid zippers, and a beefy floor. The mesh developed no runs at all and has a strong feel in the hands. The connection points for the guy lines are more than adequately reinforced. I had no worries about delicate handling which are common with many other types of minimalist gear.
Pitching the tarp:
Pitching Instructional video from Hilleberg:
                                                [click to enlarge picture]
This ridge type mesh inner is very simple in design with four corners to stake and two ridge connections points to suspend it from. 
I like the flexibility you have in that you can tie this off to various objects and get creative with it.
However, I highly recommend watching the pitching video linked above. Before I saw that video I had some issues with getting tensioning correct when trying to guy out the Tarp 5 and Mesh Tent 1 to the same suspension points.
Space
                                                 [click to enlarge picture]
The floor space provided is adequate for a minimalist shelter in terms of having room for your sleeping pad and some gear. Depending on the pack you use, you probably won't be able to bring it inside with you comfortably.
There is a distinct lack of headroom in this design and it makes sense considering this was designed specifically to work with the Tarp 5. I was a little frustrated with my head and shoulders being in constant contact with the mesh when trying to sit up or face outwards and take my shoes on or off, etc…
I realized I kept trying to use it as if it were a tent, and though it's marketed as a mesh inner tent, it functions as a bivy. It is suitable for lying on your back or stomach but not much else.
I was a little less frustrated after I stopped trying to use it for anything but lying down. However, trying to get yourself sorted in a driving rain isn't fun if you are using this with the Tarp 5. I did use it several times with a larger tarp (Bearpaw 10 foot by 12 foot silnylon rectangular) and it was easier to work with under rain pressure.
Features
                                                 [click to enlarge picture]
The tie outs, guy lines, and the two metal rings on each guy lines are all very sturdy and worked well.
This is the head-end metal ring / guy-line connector: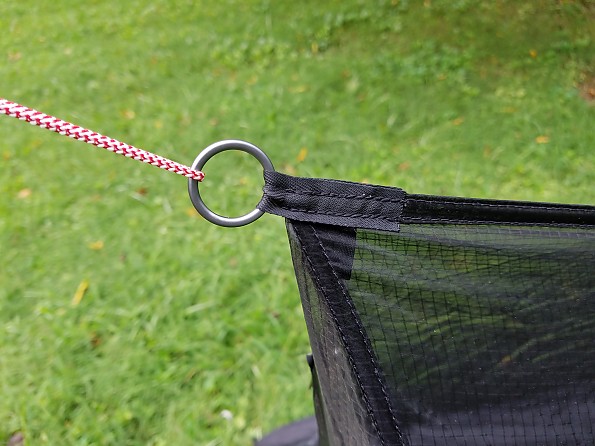 [click to enlarge picture]
This is the built-in line tension device (pre-installed on each guy-line):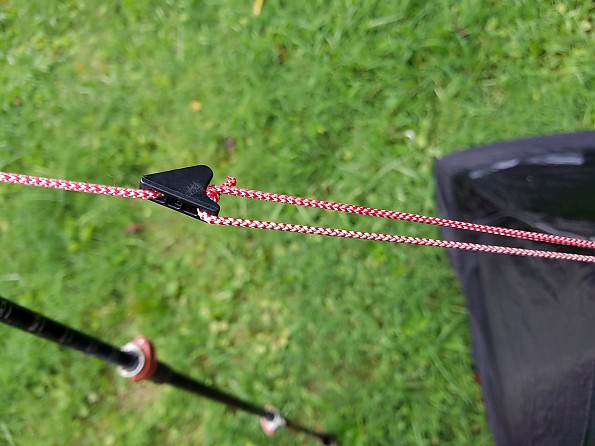 [click to enlarge picture]

The zipper is unusual for a tent door. It's a double zipper but both mechanisms open and close in the same direction instead of opposite (like every other tent I've ever used). This makes me wonder why they bothered to make it a double zipper at all.
Zipper close-up (of one pull, the other is out of view):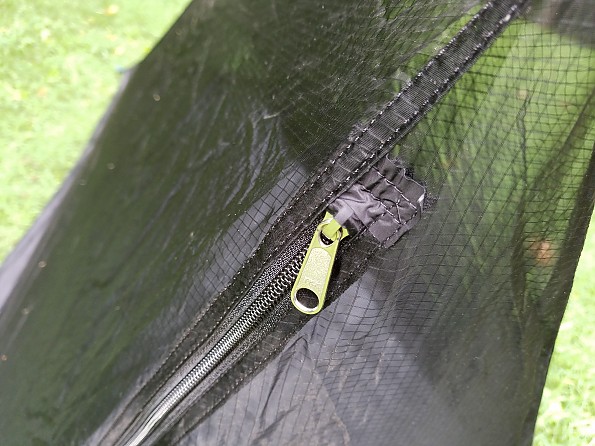 [click to enlarge picture]
Close-up of bottom and seams: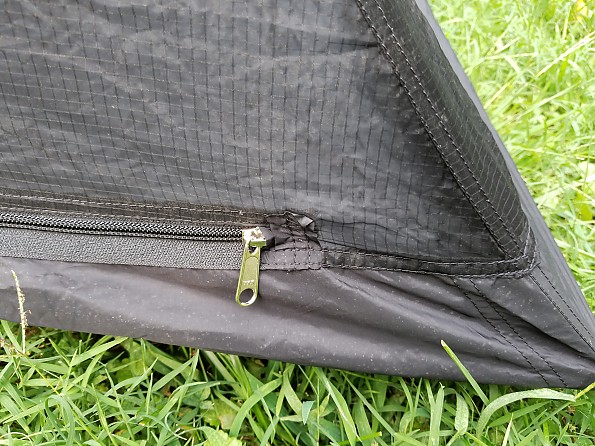 [click to enlarge picture]
Hilleberg logo on bottom body: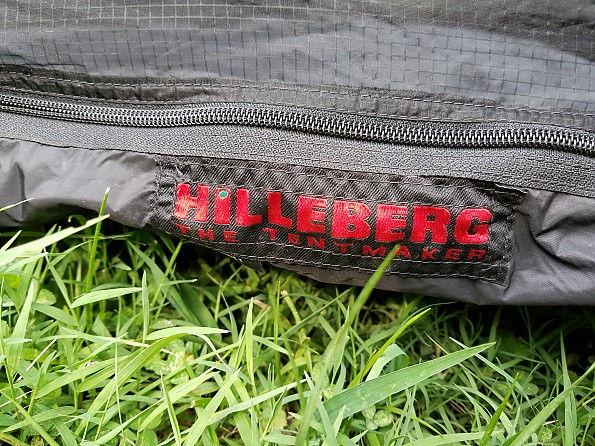 [click to enlarge picture] 
Close-up of corner stake loop: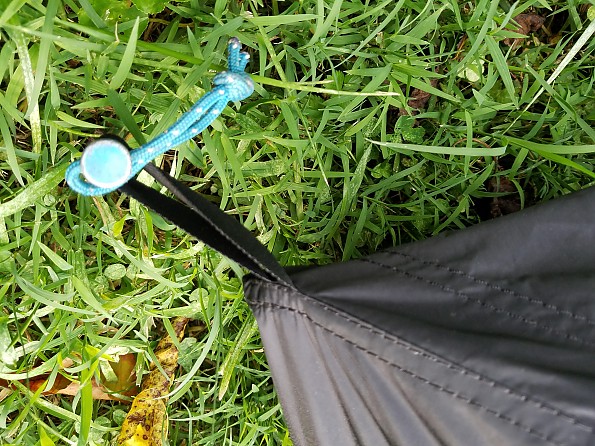 [click to enlarge picture]
Drying out on a sunny rock after a wet night with heavy ground water (which did not penetrate the floor):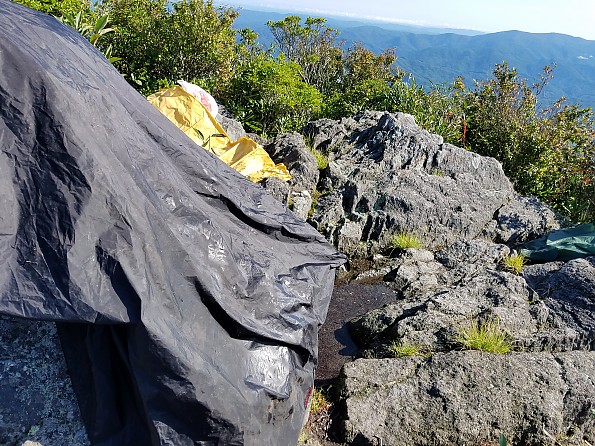 [click to enlarge picture]
Summary:
This is another well made product from Hilleberg, but its application is limited to minimalists that only need bug protection while prone (and not much else) or that already have a Hilleberg Tarp 5. Even within the Hilleberg product line you can get a Mesh Ridge for $5 less, weighing only 5 ounces more, and get 49 inches / 125 cm of headroom. The Mesh Tent 1 is a tight niche product. 
About the testing
I used this shelter for 10 nights of backpacking from June through August, in the Southeastern US. Temperatures ranged from 60 degrees F (15.5 C) to 95 degrees F (35 C) and I experienced rain on every single trip. This included the Great Smoky Mountains National Park, Citico Wilderness, Slickrock Wilderness, and Joyce Kilmer Wilderness of TN and NC.
Miscellaneous photos in action:
Source: received for testing via the Trailspace Review Corps (Sample for testing and review provided by Hilleberg)

You May Like
Recently on Trailspace