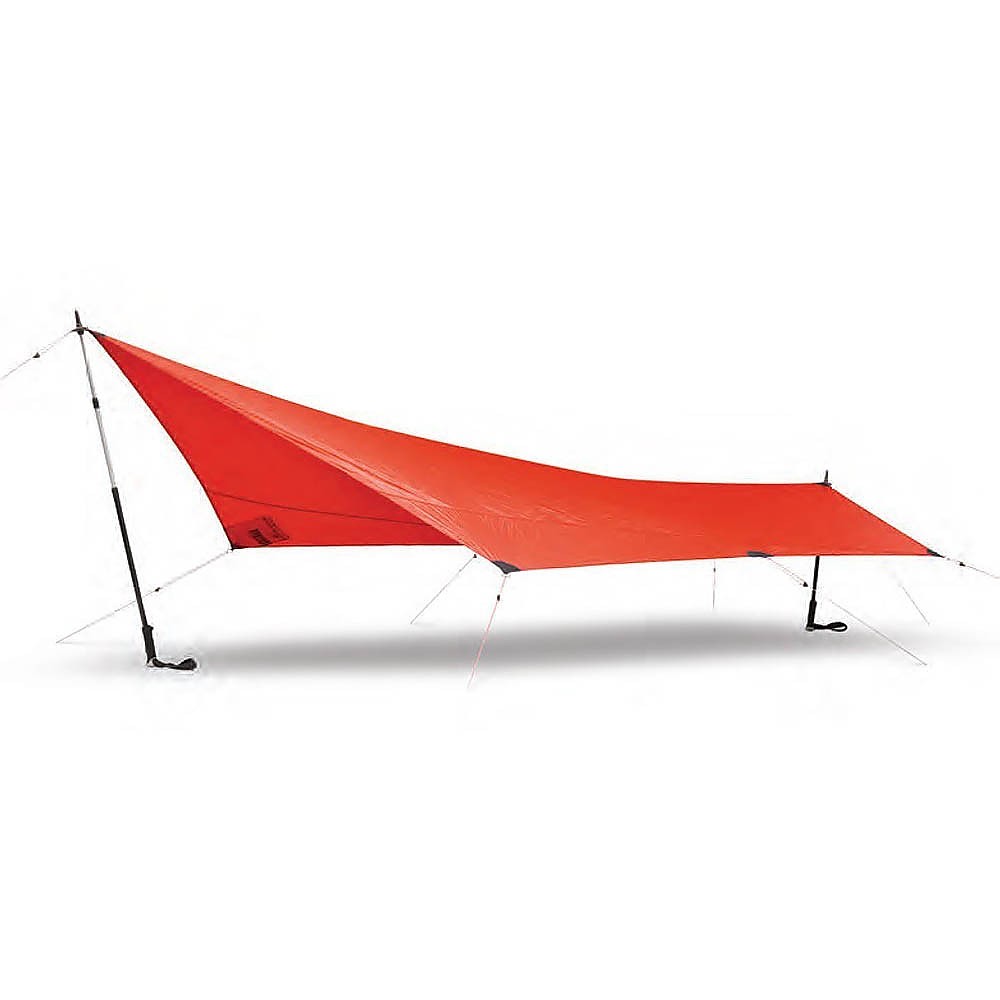 Specs
Price
MSRP: $175.00
Current Retail: $180.00
Historic Range: $154.95-$180.00

Weight
320 g / 11.3 oz

Length
318 cm / 125.2 in

Width
215 cm / 84.7 in

Reviews
1

review

5-star:

0

4-star:

1

3-star:

0

2-star:

0

1-star:

0
The Hilleberg Tarp 5 is a minimalist shelter best used for lightweight solo backpacking when durability and material quality are worth a few more ounces of weight. As with any open-ended tarp, additional protections may be needed if used in all weather and/or especially adverse conditions such as horizontal rain.

If pitched well, strong winds are not a problem as the fantastic Kerlon 1000 fabric withstood a severe windstorm during my testing. Like other Hilleberg products I've seen, the materials and workmanship are top-notch. If you need a lot of shelter space this isn't the tarp for you; this is more suited for light and fast trips when you just need a place to lay your head for the night.
Pros
Excellent strength
High quality construction and materials
Tall entrance
Can be deployed in various pitch formations
Sewn-in stuff sack (nice to have and doubles as pocket)
Highly packable
Cons
Small and tight when deployed in full rain pitch mode
Tie rings/ line-runners awkward pairing in some scenarios
*Not a standalone solution for bad weather (no deduction for this con: inherent in class)
Link to news release with full specs
Designed specifically for solo ultra-light backpackers
Weight: 320g / 11.3 oz | Length: 318cm / 125.2 in | Width: 215cm / 84.7in
Uses Kerlon 1000 fabric
A word about this category of shelter:
The shortcomings of open-ended tarps are inherent to the product class. These are primarily: possible exposure to horizontal rain, wind, bugs, and ground water. I didn't deduct any rating stars from my review based on these things.
If you are new to using open tarps here are some common solutions to the inherent challenges of such designs.
Ease of use and pitching options
Tarps in general require a bit of fiddling and adjustment; this one does too. The shape is a house-type pentagon with the roof of the house representing the head end /entrance.
At first, I had trouble finding the long entrance when laying out the tarp on the ground until I realized I could use the relation of the sewn-in stuff sack to the roof tip as an orientation guide. Pitching was much faster after that.
The press release states "Its design makes it easy to get into and out of" and I agree, the tall entrance was nice and you can see an example of me entering and exiting in the pitch example video below.
Hilleberg gives a succinct guide that uses mostly pictures to explain how to pitch the tarp; cool and efficient (though these steps are pretty much the same with all open tarps).
You can pitch with a variety of options depending on available materials and terrain features.
Here is a short compilation of videos I took to demonstrate the various ways I used this shelter during field tests (written detail continues below):
___________________________________________________
ridgeline pitch between two trees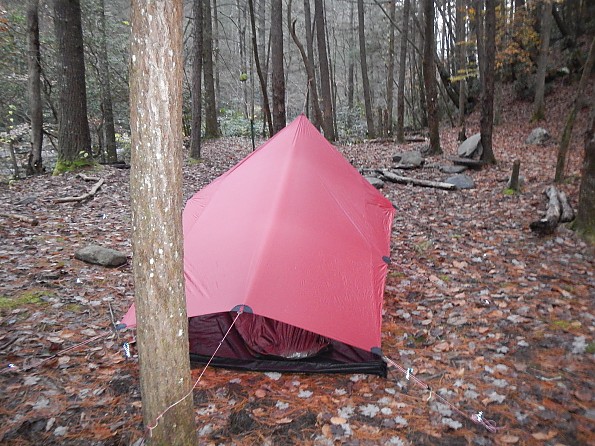 [click photo for larger view]
When possible to use, this was a very convenient method. It allowed as much headroom as I wanted and still let me use my poles after making camp. Of course finding two trees with flat enough ground between them and good orientation to wind was not easy to do.
trekking pole pitch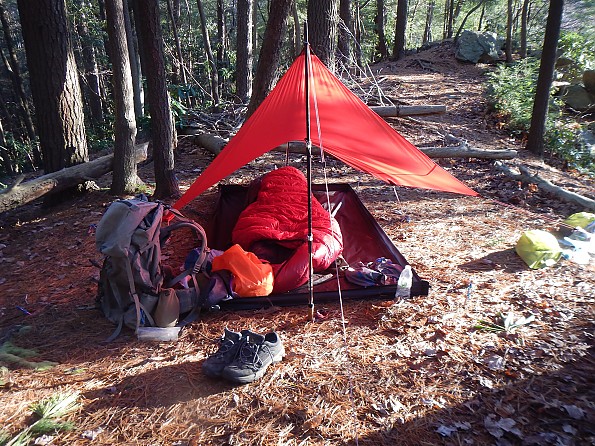 [click photo for larger view]
This method worked fine but presented a few small negatives. First, unless it was a rain condition, I found that I wanted the head-end a little higher than most trekking poles will allow. Secondly, the metal tie rings at each point would bind the guy lines against the pole basket making tension adjustments via the line-runners hard to do. And lastly, the poles are spoken for after pitching and you can't do anything else with them.
I used three different sets of trekking poles during testing (listed at the end of the review) and all performed similarly.
Video demonstration of minor quibble with tie rings and some trekking poles:
multiple pole pitch / (trees, sticks, poles, etc...)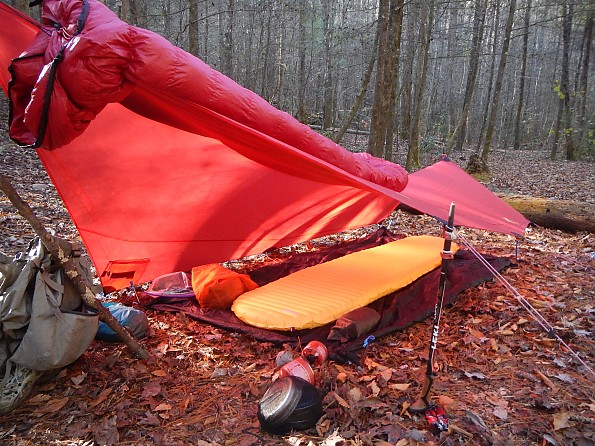 [click photo for larger view]
Several times, I was able to find sticks and wood to pitch with (and sometimes in combination with trees). This allowed one side of the tarp to be pitched low as a predominate wind block and still have a wide open view/access on the other side. This was my favorite method giving me headroom, wind block and open views.
Rain Coverage & Performance
The marketing materials stated "shaped specifically to cover a single person while also providing extra room for gear".
I found the interior a little too small for comfort when you had to bring the sides all the way down (essentially forming a low narrow tunnel). I'm 5'7", 160 lbs, so larger folks may find this pitch to be very tight. Hilleberg Kerlon fabric is wonderfully strong, but still sags when wet, so a saturating rain will compound the lack of room in rain-pitch mode.
The rain protection was fine and adequate but my head and shoulders would brush the fabric with any turning or raising movements; in a condensation scenario that would be decidedly unpleasant. I also had to be careful that none of my gear was inadvertently pushed outside the covered area (wet shoe made me write this).
Video demonstration of inner space during rain pitch:
________________________________________________________
Wind Performance
I found myself in a rare and terrible windstorm while camped at Low Gap in the Big Frog Wilderness of Tennessee. I don't know what the wind speed was, but it was one of the strongest I've ever camped in. I pitched the tarp in rain mode (sides all the way to ground) and broadside to the wind.
The Tarp 5 held up impressively well. I did have to get out once and re-stake a corner that pulled up the stake (thin soil made me use two stakes for the single guy line the second time), but I came away from the experience with upmost confidence in the strength of this tarp.
Video of the morning after a windstorm; The video shows one corner pitched with a pole but during the storms all sides were actually down:
Conclusion and thoughts on the design
This is a quality product that fits an interesting niche for ultra-lighters and fast packers as it's lighter than most tents, heavier than many tarps with the same coverage area, but very strong.
I think the sides should be just a few inches wider to provide a bit more space when pitched in rain mode and, though a minor quibble, improvement could made to the guy line rings at the head and foot.
All-in-all, this is another well made product as I've come to expect from Hilleberg.
About the tester and testing:
I'm an avid backpacking geek, check out my trip reports here on Trailspace for an idea of where I go.
I used this tarp for 14 nights shelter across 5 different short backpacking trips in the Southern Appalachians including GSMNP (TN & NC), Citico Wilderness (TN), Big Frog Wilderness (TN), Cohutta Wilderness (GA).
The test period was mid October through early December.
Temperatures ranged from about 32°F / 0°C to 65°F / 18.3°C
The equipment I used in conjunction with this shelter (in various combinations):
Miscellaneous Photos: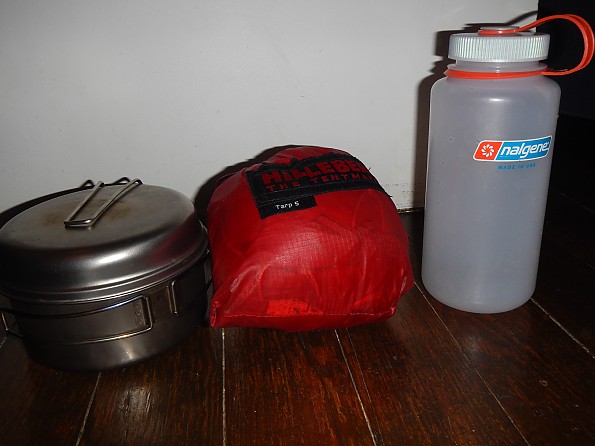 [click photo to enlarge]
Comparison to 1 liter cook pot and 1 liter Nalgene bottle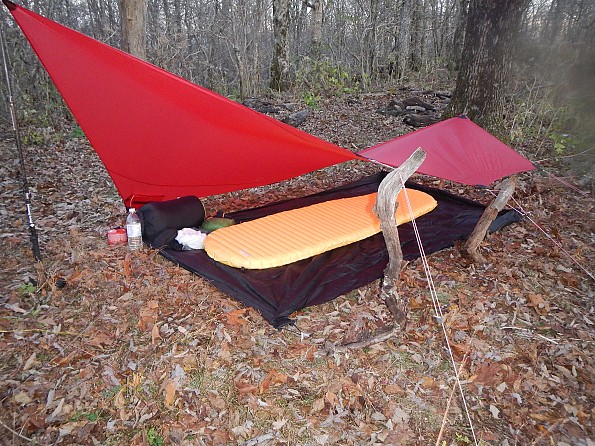 [click photo to enlarge]
Big Frog Mountain / one side down for wind / used sticks as additional poles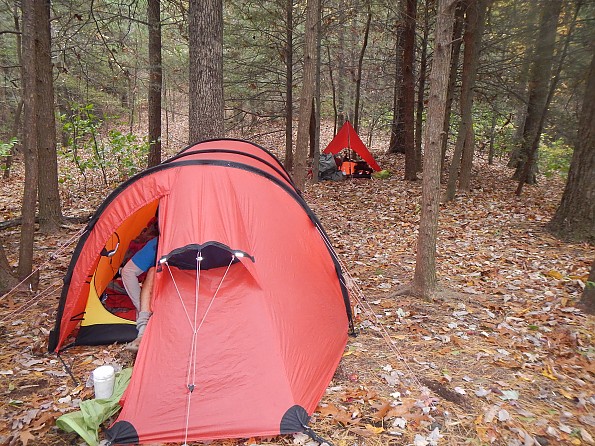 [click photo to enlarge]
Low Gap with Tipi Walter and his Hilleberg Keron 3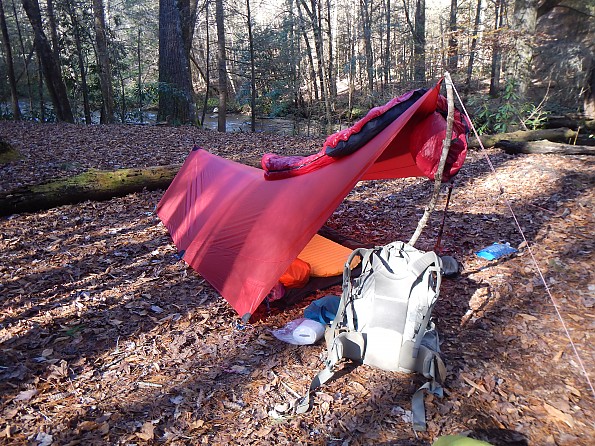 [click photo to enlarge]
Jacks River camp with one side down, yes I did a lot of windy trips 
[click photo to enlarge]
Campsite 26 GSMNP, tree and pole pitch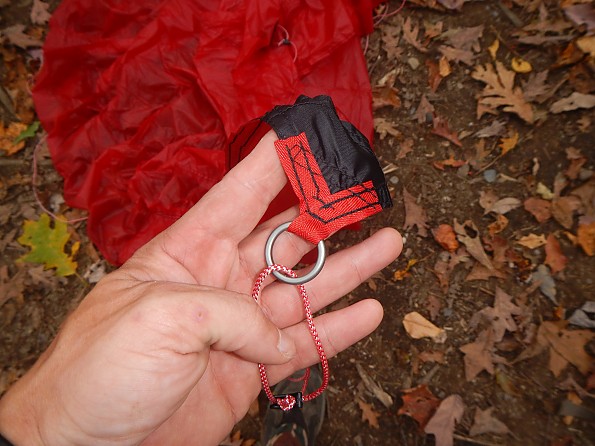 [click photo to enlarge]
closeup of sturdy metal tie ring and reinforced corner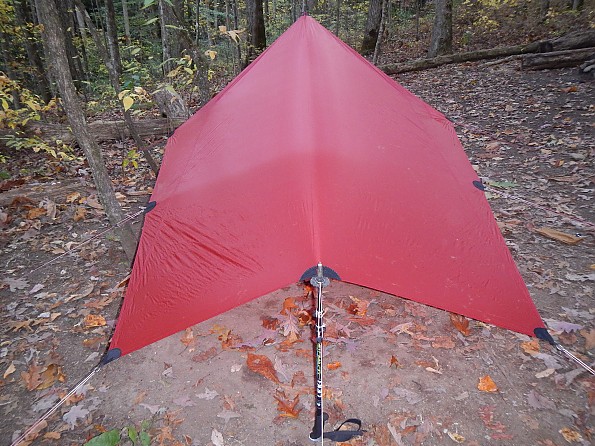 [click photo to enlarge]
Rear View, Dalton Branch camp GSMNP
[click photo to enlarge]
Trying out with a bivy at Dalton Branch (didn't last the night, had to just lay on top of bivy....not cold enough yet)
[click photo to enlarge]
Foot end closeup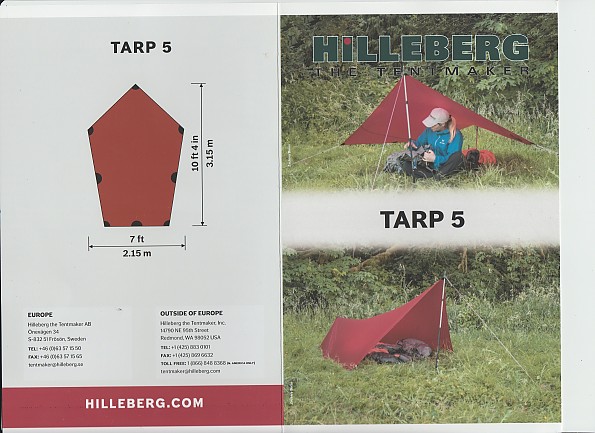 [click photo to enlarge]
Scan of card that came with tarp
Source: received for testing via the Trailspace Review Corps (Sample provided by Hilleberg for testing and review)

You May Like
Recently on Trailspace