Hilleberg Keron 3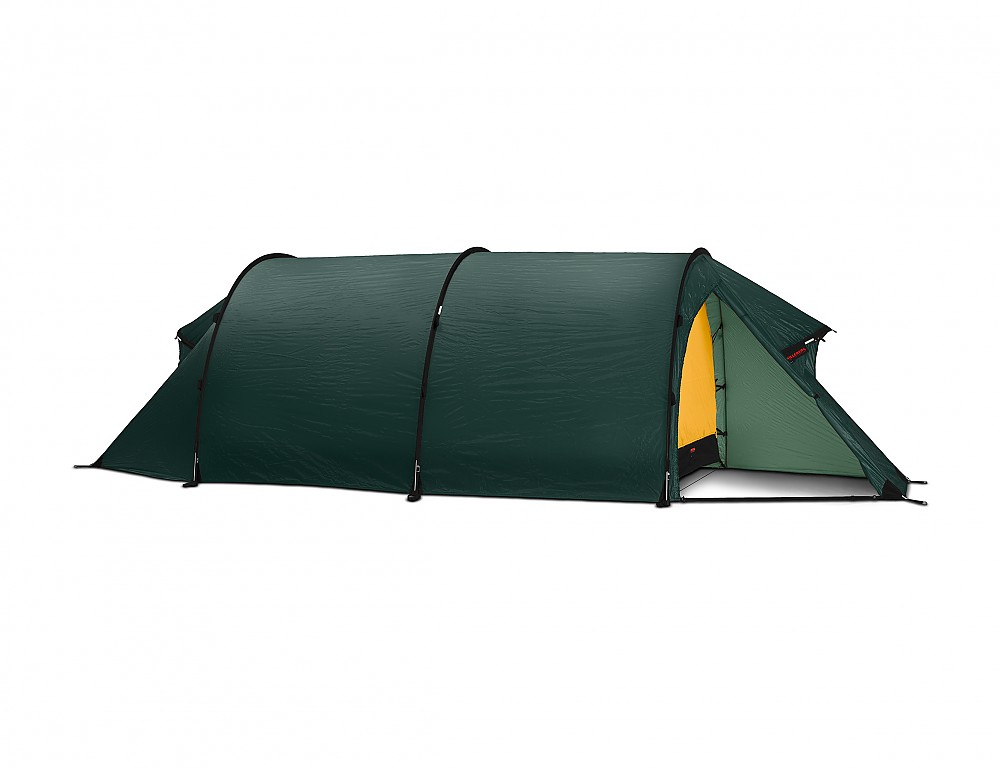 (This Keron review was written as a series of smaller reviews while out on several backpacking trips).
THE MIGHTY HILLEBERG KERON
EARLIER TRIP DECEMBER 2009
Here are some important specs:
8.10 lbs
tunnel with 3 poles
37 square feet
64 inches wide by 87 inches long
overall length is 171 inches
vertical head and foot, front and back
two vestibules at 14 sq feet each—huge.
I spent my first night in it last night in the backyard during the big snowstorm but we only got rain.  I packed it up this morning and it was totally saturated and so when I got to my campsite today I had to put up a sodden soaked tent.

FIRST IMPRESSIONS
The Keron 3 is a massive and long tent though it is only 7 oz heavier than my dome Hilleberg Staika (see my 2007 Straika review and 2008 update).
Campsite placement and overall footprint of this tent requires a whole new set of visual parameters to get it to fit into potential tent sites. In other words, it's big enough to keep it out of spots perfect for smaller tents like the Seedhouses, TarpTents, and the common two pole wedges.
Every tent camper builds up a "visual tent cue" and can eyeball a piece of ground and quickly find that perfect spot which will work for whatever tent he is carrying. My peanut-sized brain has been wired for the circular Staika but now with the K3 I'm looking at all tent sites with a new light and with a new concern:  Is it long enough for the length of the tent?

KERON WATER TEST
And so since this cold precip falls as rain, it's a perfect place to test my new tent and its seams. 
First off, I notice the top ceiling cord, sewn in to hang wet clothing, may be "wicking" moisture from the outer fly and dripping down into the tent, though I see no real proof of this yet, just a moist dangling end of red cordage. Here's what has to be done later: seam seal the top of the 3 hoop seams from guyout tab across the top to guyout tab, protecting the most vulnerable flattest part of the tent. 
Let's put it this way: I don't see any obvious leaks, and all the liquid I see inside is from condensation, normal in a saturated silnylon tent. (The seam sealing isn't required although I always seam seal the floor seams on all my Hilleberg tents.)

KERON GETS ITS FIRST REAL TEST
For two nights the Keron has seen a lot and now it's covered in a wet mountain snow. Though the word "keron" means grouse in the Sami language, and seemingly therefore uninspiring, I like to think of it as either Karen, the Woman Tent (and crawling into her arms at night), or Ka-Ron (properly pronounced), the stone age god-warrior of Shelter in tough conditions. 
Despite its weight, this is so far proving to be the perfect winter tent and the perfect camping-backpacking tent. It's so roomy as to be near overkill and I'm only really using half of it!  But there's one thing about it: the foot of my bag will never touch the wet side walls, by Odin! 
Unlike the Nammatj and the Staika, this time I can keep the foot of my Puma bag dry, though the price is steep in weight, but worse in tent footprint size. Yes, it's a long behemoth, 171 inches long overall, around 15 feet, and trying to find places to put it may prove daunting. We shall see!  It fits good here, though.

HOW I GOT THIS TENT: A TALE FOR CHRISTMAS
Old Fungus Scrooge (me!) is a mean and ranting sour geezer, but one December day he ran into an even older but much happier gentleman by the name of Uncle Saint Nicholas, and got to touch Santa's sac. By rubbing his sac it poofed out a brand new Hilleberg tent like a wish from Aladdin's Lamp and old Fungus Scrooge was happy and joined Big Nick for a trip into the snow and out around the Pole of Old Fungus: the mountains of NC and TN.  Big Nick liked the cold and liked the snow and especially liked the tent he gave Scrooge, and Scrooge was rantless and at a loss for words for a moment or two.
"Say nothing about this", Old Santa Clod said, "And tell all about camping and Hilleberg tents" and then he was off. (What?)  "Ho Ho Ho!  On Hilleberg, On Marmot, on Asolo and Pur.  On Arc'teryx and Puma and Thermarest Dear!!" and so he flew off on December 20 away from my camp to prepare for his big day with the kids but he always checks out the backpackers and the snow campers first, and he leaves the couch potatoes and the child X-box addicts for the end of the week.  End O Tale.

MAKE IT FIT
With a tent this size, the mindset is not "where will it fit?" but "make it fit", otherwise I'd be too timid to backpack with it onto trails with small campsites. The thing is to look for camps in a new way and eyeball sites for this tent, not for the Staika, obviously.  This tent requires a narrow long site, while the Staika requires a wider shorter site. 
Let's face it, the Staika will fit in places the Keron will not, it's simple geometry. But so far on this trip I'm camping at all the spots I would normally camp at with the Staika (or the Muir Trail or Light Wedge tents for that matter). The Akto will fit anywhere and in a hundred places off limits to the Keron or even the Staika, but it is tiny and has the bugaboo of a bag wetting angled foot and head.

KERON CAMP
The Keron tent makes a perfect basecamping tent as far as I can tell. It sets up fast and has room for everything and I believe will ventilate properly once the two end doors are left opened a few inches. Moving "deep snow" (4-5 inches) has to be done and is a job with any tent, the Staika also requires a bit of effort and this tent requires quite a bit of scraping, shoving and gopher clawing to get down to dirt and dead leaves.

KERON PROS AND CONS
PROS: 
It sets up fast.
Protected in the rain when setting up.
Yellow canopy is bright inside on cloudy days.
Fantastic floor.
Great big doors with fine mesh and the door unzips out of the way.
Nice dual pockets at the entrances.
Big dual vestibules.
Quick pole sleeves.
Huge room for weight.
Big stuff sac and easy packing.
Ample bombproof guyouts.
Vertical head and foot and no angled ends or sides.
37 sq feet seems like 50.
Nine permanent inner tent non elastic connectors.
Good weight-to-size ratio.
The tent looks good and feels good and has all the appeal of the rounded and secure home base tunnel tent.  You just want to seek it out in rough conditions and call it home.
Wind and storm assessment to come later.
More headroom than you'll ever need. 
The poles don't absorb and retain water and then freeze up like on the Staika (because they are not exposed).
For guys who are out all the time and often spend four days stuck in a cold rainstorm or a week on a mountaintop in a blizzard, this is your tent and it sets up and takes down three times faster than the Staika, plus there's no little umbrella flysheet to finagle with or 36 pole clips to attach at every set up.
CONS
Big footprint and overall length impeding tent site placement.
No factory fancy zipper pulls.
Elastic connectors may stretch over time.
A loud and swaying tent in high winds with a porous 40 denier inner tent canopy (what's the thread count?).
Requires 18 pegs for complete protection (that's a lot).
Unlike clips, sometimes the sleeves freeze to the poles making take down harder.
Occasionally the top laundry line drips water when wet, especially after unpacking a wet and saturated tent.
The long silnylon tunnel traps condensation readily and must be adequately vented at all times (easy to do with the large double doors and end fly vents).
I miss the old Pro Peg stakes that used to come with their 1800 tents and are replaced with Y aluminum stakes that are murder on the palm of the hand when pushing into the ground and sharp on the fingers when pulling up without using the cord.  Even though the Pro Pegs bent, were hollow and sometimes tore in half, I'll use them instead.
Clearing off 6 or 12 inches of snow for this tent is more of a job than in a smaller tent, like the Staika—it'll take twice the time so maybe bring a shovel.
A solo backpacker will not carry this 8.10lb tent, it's too big and heavy but only 7oz heavier than the Staika. 
In a high wind the tent deforms naturally and slaps back and forth, sometimes violently.  If you're not used to this, you will be in for a small shock, so there's a little bit of a Hilleberg learning curve with this tent.  Buckle it down, peg it out, button and bolt it down and remember all the thousands of man hours spent in this tent by guys in the Arctic or Iceland or Sweden or Antarctica or on cold mountaintops (and hope they didn't all use "double tent poles" as a matter of course).  Hilleberg mentions using double poles but they are not real clear on when they would be needed, and sell their tents as still being bombproof without them.  More research needed here.

GENERAL SUMMARY
Hilleberg tents have some qualities missing from other tents and keep me coming back for more like their top of the line floors on their Kerlon 1800 tents.  The best most waterproof floors of any tent I've found, and they don't just start leaking after a couple years of use. The bright and pretty yellow interiors. The ease of set up. The ample guyouts.  The tents dry fast when given the chance.

FINAL BOTTOM LINE
If you're going out to thruhike a new trail with a friend and need to set up quick tent camps at the end of the day like on AT type little pulloffs, this is probably not the best tent choice due to its size, the Akto or even the Staika would be a better choice. 
However if you are backpacking to familiar territory where you know the camping spots and the trails from previous trips, you'll find this tent to be a perfect shelter for long term camping and comfort and even though its overall footprint is huge, there are many long little tent sites this tent will squeeze into and the vestibule can be placed over rocks or uneven ground if need be. The Keron is the flagship tent and has been around in one form or the other for about 30 or 40 years, it's a tried and true design and time tested.  

FOOTNOTE
Most new tents sold have a nasty and probably toxic flame retardant chemical fume stink that is very apparent and so as you sleep in these tents day after day after day, you're getting god knows what amount of inhaled poisons. As far as I know, Hilleberg tents do not have this noxious and irritating feature, another good reason to consider them.

JANUARY 2011 UPDATE
Let's talk about the tent. First off, in a heavy snow you can sit in the tent with the vestibule door open and not get soaked with precip like with the Staika. Plus, the front vestibule is large and it's easier to reach all items than in the Staika vestibule(s).
The inner tent door is huge and is totally out of the way when unzipped.
Four ample pockets are good for in camp storage of eye glasses, lighters, rubber bands or hair ties and all else.
The Keron sets up quicker and takes down quicker than the Staika.
Once wet the Keron wrinkles up more and gets slacker than the always-stretched three poled Staika.  Commonly I have to go out and tighten up the end guylines to keep the tunnel hoops apart and taut, but even when slack and heavy with snowload the Keron's inner tent stays tight and full without shrinking.
Since there is more loose fabric on the Keron than the Staika, wind is louder and shakes and disturbs the Keron more. The Staika sits tight while the Keron is looser and does not.
There's no easy clip system to keep the kerlon door open like on the Staika.  A homemade solution would be to sew a small plastic hook on the bottom seam of the door edge by the zipper and then open it and fold it over and attach to the front guyline, quick and easy.

THE HILLEBERG KERON 3
This tent is a miracle shelter. I can't recommend it enough for solo winter backpackers.  Don't worry about the weight because it's in the 8 lb range and superior to any four-season 8 plus lb tent out there. 
The only negatory I can see it its long footprint but heck, it fits wherever you want to put it if you just readjust your eye to future campsites. Snow removal is work for any tent and more work with the Keron than with the Staika, but only adds an extra five minutes of work. 
And look at it this way: If the snow is so deep you'll be shoveling too long, then once you set up you can stay put for a couple days as the snow's too deep to walk thru anyway.

NO WAY
There is no way a solo backpacker will carry the Keron 3 just as there's no solo backpacker who would consider the Staika dome. But after years of winter camping and long in-tent storms, I'm now convinced that you need a tent big enough to not touch any part of the sleeping bag.
In real terms this means a heavy tent with vertical front and end walls. It's the secret bag nighters don't like to talk about: wet bag-foot syndrome.  No tent canopy should touch the sleeping bag, period.  This is true for any and all tents including TarpTents, Warmlites, Seedhouses, Hubbas, Integral Designs, Biblers, Black Diamonds, whatever. 
Practically, then, to find such a tent means carrying a butt heavy shelter.  There's a vicious cycle that happens in these small tents during a long trip in snowy wet conditions: the bag and the canopy stay wet and stay in contact too much and there's nothing you can do except sleep in a fetal ball with the bag pulled away. 
And if you have to spend five days inside these small tents during a blizzard, or severe cold snap(just read some winter trip reports), you'll be craving a larger tent just to keep from going insane.

ANOTHER ROUGH TRIP
This has been a rough journey thru deep snow and low midnight temps. It has kept me partially paralyzed and immobile, partly by choice, and partly by conditions. I'll say this, the bigger the tent the harder it is to move. With a bedroll there's nothing to it, heck, you want to pick up and go. With a tiny tent it's much easier to dig out a spot and not so hard to chip it out of a snowy mortar mix.
A big tent is a winter camping luxury but comes at a several-pronged price: It's heavier, it takes longer to clear snow to set up, and it's more work to take down and roll up. But like anything else, frequent repetition and use makes it easier until eventually you can do it in your sleep, and you can quickly eyeball a site and know if the large tent will fit. 
In the Keron's case, it means finding a narrow but long spot with some allowance for fudging due to the two vestibule ends which can tolerate and cover rocks or weeds or snow. It's sometimes amazing to have such a large space stuck inside such a small portion of hell, and this really becomes apparent during five or six day blizzards and deep snow.  The tunnel works great with snowload as most of it drops vertically to the sides for later removal, and the very top stuff is easily pushed away.

KERON CONDENSATION
Like any tent, the Keron gets an inside layer of ice or water and is more pronounced in the cold of winter, but it's easy to wipe down with a couple paper towels (if wet) or not so easy to knock off ice(as everything inside needs to be removed). 
This procedure should be done in the morning on zero days, otherwise you just pack up and go and all the ice will have dislodged for easy sweeping at the next camp set up. A wet tent floor can be swabbed out too at the next camp. These things are just part of tent living and help to make life more livable.  

HUGE WINDSTORM
The tent now has seven rocks on the bad side holding down the pegs. They are needed, believe me. Cherry Log Gap must be getting walloped and I'm partway secure here 500 feet below it with a huge mountain side protecting me from all but the worst wind tunnel slaps.  How else do you learn about a tent if ya can't sit thru a terrible windstorm in the thing? 
Not only are the Hillebergs the driest tents I've ever used, they are also the loudest though strongest with ample and needed guyouts. As usual, wind has a tendency to blow right thru this tent and you can feel the breeze, the same as with the Nammatj and the Staika. No sweat and I've gotten used to it by now, I take it in stride as a peculiar foible of this line of shelters. You just wear your layers when sitting inside and still you are blocked from most of the worst of the storm. 
The Keron gives in the wind, which means it deforms and pops back up which is different than inner tent-poled tents like the MHW Muir Trail or the North Face Mountain 25's/35's and VE25's, whose inner tents form the skeleton with the fly over top, making for very stout and rigid tents.  Which is best?  Who knows?

KERON
So far the Keron is performing as advertised and I peer about inside like a swaddled up rodent and feel like I'm in an aircraft hanger. It's a big old yellow tube with plenty of headroom and storage space. The only way I know it's a snowstorm is by the noise of the wind and the inside frost crystals, and of course the cold in my fingers. 
So far, the real rodents have left me alone here tonight as I believe this weather keeps them away.  They too thought it was spring, and in little squeaking mouse speak they are saying, "March is the cruelest month." A plan statement of fact and the highest truth to the mouse nation.  Which ever mouse uttered these words is now their King and Leader.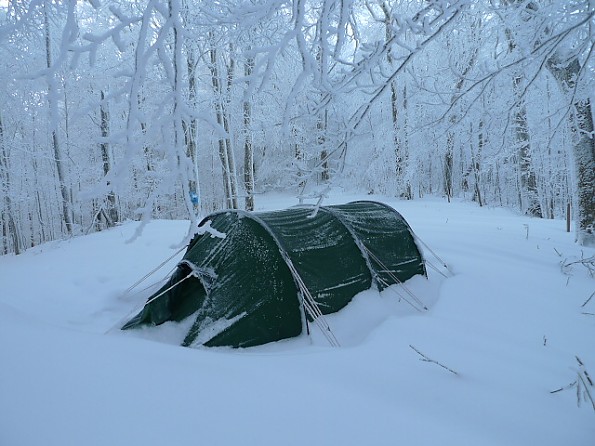 2013 UPDATE
The biggest flaw of the Hilleberg line is their use of elastic to connect the inner tents to the outer flies. It's an engineering failure waiting to happen. No, they do not break in extreme conditions, but after a couple years of hard use they STRETCH permanently thereby shrinking the inside yellow tent canopy.  See below pic of a recent March 2013 trip---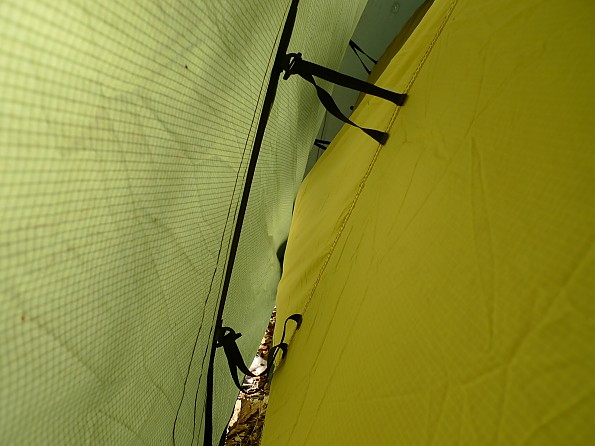 ONE MORE POINT---Buy several tubes of McNett's silnet seam sealer for this tent as you will eventually have water leaks along the inside of the 3 pole sleeves which will drip onto the yellow canopy. Silnet sticks well to Kerlon on the pole hoops but must be done on the inside hoops as the outside hoops are a silnylon/urethane combo or at least it seems this way because silnet does not readily adhere to the black pole sleeves.
The two end vestibule vents leak water and they are not easy to get completely sealed as the wire deforms the seam.  I may have the old style end vents as I notice the new Kaitum vents and zippers are totally different.
CHRISTMAS UPDATE ALMOST 2014
Hilleberg gratefully replaced the inner tent when they saw the condition of my stretched elastic and for this I am happy.  I also came up with a way to fix this elastic problem and the solution can be found here---
http://www.trailjournals.com/entry.cfm?id=412984
Another problem are the tent pole inserts on their 10mm DAC poles as shown in this fotog---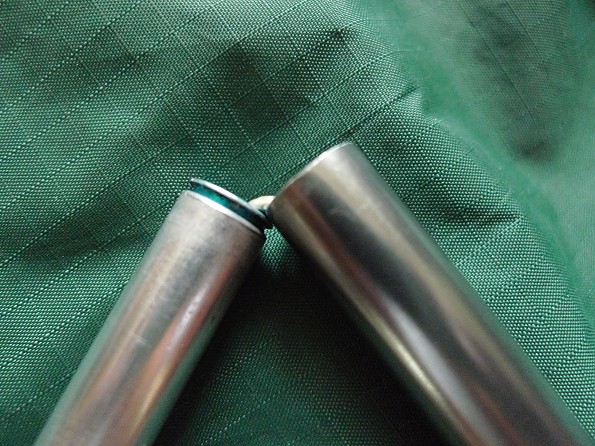 So I routinely have to lightly hammer these plug caps back into the poles.
SHOCK CORD
On my last trip a worn shock cord broke on a pole (thankfully the last day of the trip) and luckily I had a spare cord with me so I fixed it in the field but I recommend doing this at home beforehand as when the cord breaks in the field all the pole sections (9) get jumbled up, making it hard to line up in the right order as some are pre-bent.  I called Hilleberg and they sent me some spare shock cords for the Keron for free.  Unfortunately they sent the cords with 9mm end plugs and not the 10mm needed for the Keron.  I used the old plugs already on the poles.
UPDATE
The old Keron is still my tent of choice for long solo trips and the more I use it, the more I want to use it.  The green kerlon is faded after long use and there are many small holes on the fly now covered in McNett's silicone sealer.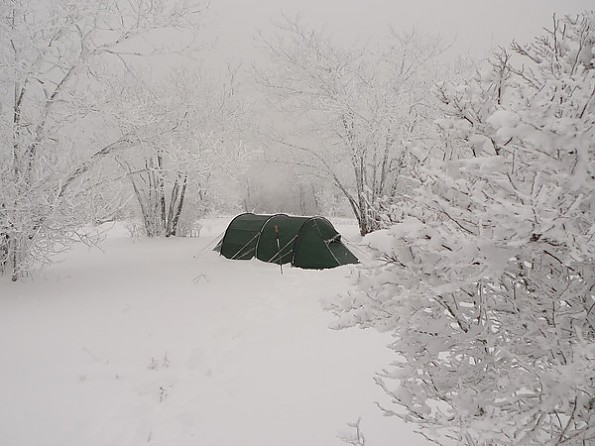 April 2020 UPDATE
Okay boys and girls—I upgraded to a red Hilleberg Keron 3 and it lasted almost 700 nights of backpacking and camping before the Kerlon 1800 fly sheet lost its waterproofness due to UV degradation. This was proven during a Tennessee mountain windstorm when a small tree branch fell onto the tent and easily ripped a 7-inch tear—which was immediately repaired using a pre-threaded needle with waxed dental floss—and copious amounts of McNett's silnet seam sealer---which I always carry.
Hilleberg Kerlon will degrade over time as the rubbery silicone coating disappears and then the fly leaks in a hard rainstorm. And as shown, the fly rips much more easily under stress.

So, I recently upgraded to a new red Keron 3 (January 2020) and the brand new fly is very nice and feels rubbery with its ample silicone coating. One drawback with the new Black Label Keron is they dumped the old guyout webbing tabs and use less substantial webbing tabs that come with their Red Label tents like the Kaitum.
The first picture below shows my old Keron 3 guyout tabs—and the bottom pic shows the new tabs—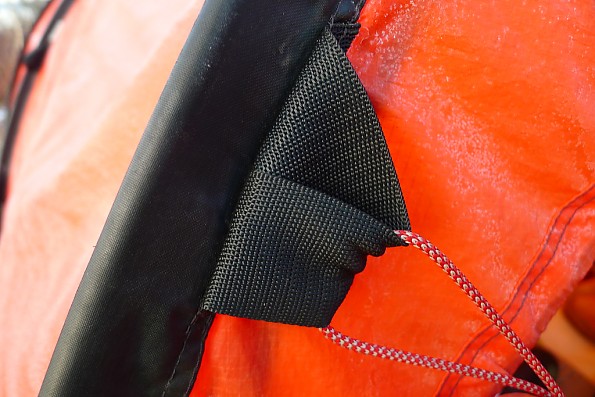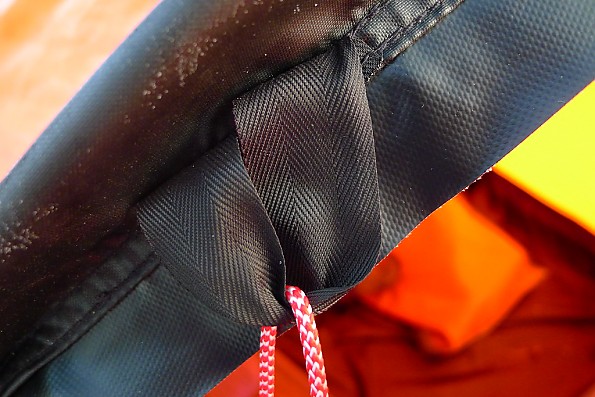 Final assessment?  It's still my favorite solo winter backpacking tent.


Source: bought it new

Way too heavy for solo backpacking but an absolute palace for a couple car-camping over several days. Exceptionally well thought out, doesn't matter which way you pitch, the doors are diagonally opposed, so there'll always be one facing forward. Sags a little in the centre and doesn't shed the rain as efficiently as the Nallo 2 or the Nallo 2GT (both previously owned) but would definitely recommend, particularly with a footprint to reduce the condensation.
Pros
Fantastic build quality
Lightweight for volume
Easy to pitch/strike
Spacious
Fantastic build quality...
Cons
Slight sagging during rain
Doesn't shed rain efficiently
My first Hb was a Nallo 2 which I used for cycle camping and back-packing. Exceptionally easy to pitch this served me well for many years and I added the footprint to protect the bath-tub floor and reduce condensation.  
Limited porch size for gear/cooking/boots and other gear, I upgraded to the Nallo 2GT but that's a frustrating inbetweener as yes, it's bigger than the N2 but never quite big enough to justify the effort (and expense) of a replacement Hilleberg tent. 
I therefore decided after 12 months to "exchange" my N2GT for the Keron 3 complete with footprint, which is absolutely awesome, but not a backpacking tent, unless you can share the load with a mate. 
One of the most charming features with this tent is the diagonally opposed doors, which avoids the "which way round" issue when arriving on site—there is no "front or back" to the K3—and if the wind changes direction you can simply zip-up and use the other door—both vestibules are identical and both very spacious. 
The inner is classic Hb yellow, which brightens up the dullest of days and ventilation through the tent is adequate, despite the volume. 
So to conclude, whilst I would definitely recommend the K3 for exceptional build quality/weather resistance/stability and logic design, I ought to have kept my N2 as well. Instead, and because I have bills to pay, I bought a crappy Robens Starlight 2 for motorcycle camping, and use a basic Snugpak Ionosphere for hiking. Compared to the Hb tents these feel like bin-liners, but hey, horses for courses....
If I could only keep one tent, it would be the Hilleberg, regardless of cost. They're far superior products and will last for many years.
Background
I've been camping for over 40 years since I received a canvas Vango for my 13th birthday. Since then I've had several tents, some better than others, but by far the Hilleberg is the best quality, particularly in poor weather. I also hammock camp and bought the Hilleberg Tarp 5 which doubles as a great sun-shelter/bivvi cover/porch etc...tiny pack size but worth every penny.
Source: bought it used
Price Paid: PX on previous tent + £250

This is a great tent from Sweden that you can trust on. It has two absids big enough for three persons packing. Me and my wife tried it in wintertime (-25°C and heavy wind) and put it up with no problems.
This tent sets no limits. It's yourself that you should look up for. The details are only the best solutions and the tent probably holds a lifetime (normally used).
The Swedish army uses the larger Keron 4GT which has one of the absids bigger (for cooking and other stuff), and it is for 4 persons. I intend to change to this tent because of an "expanding family" (two kids so far!).
Design: 4-Season "tunnel" tent.
Sleeps: 3 (W=150cm, L=210cm)
Ease of Setup: 3 Easton 7075W T9 poles . Very easy to set up in almost all kind of weather.
Weight: 3,8 Kg
Price Paid: $645 (1994)

Your Review
Where to Buy
Help support this site by making your next gear purchase through one of the links above. Click a link, buy what you need, and the seller will contribute a portion of the purchase price to support Trailspace's independent gear reviews.
You May Like
Specs
Price
MSRP: $1,125.00
Historic Range: $786.00-$1,330.00
Reviewers Paid: $645.00

Minimum Weight
3.4 kg/7 lbs 8 oz

Packed Weight
4.2 kg/9 lbs 4 oz

Outer tent fabric
Kerlon 1800

Poles (10 mm)
3 x 328 cm / 3 x 129.1 in

Pegs
18 Y-Peg

Recently on Trailspace