Big Agnes Seedhouse SL1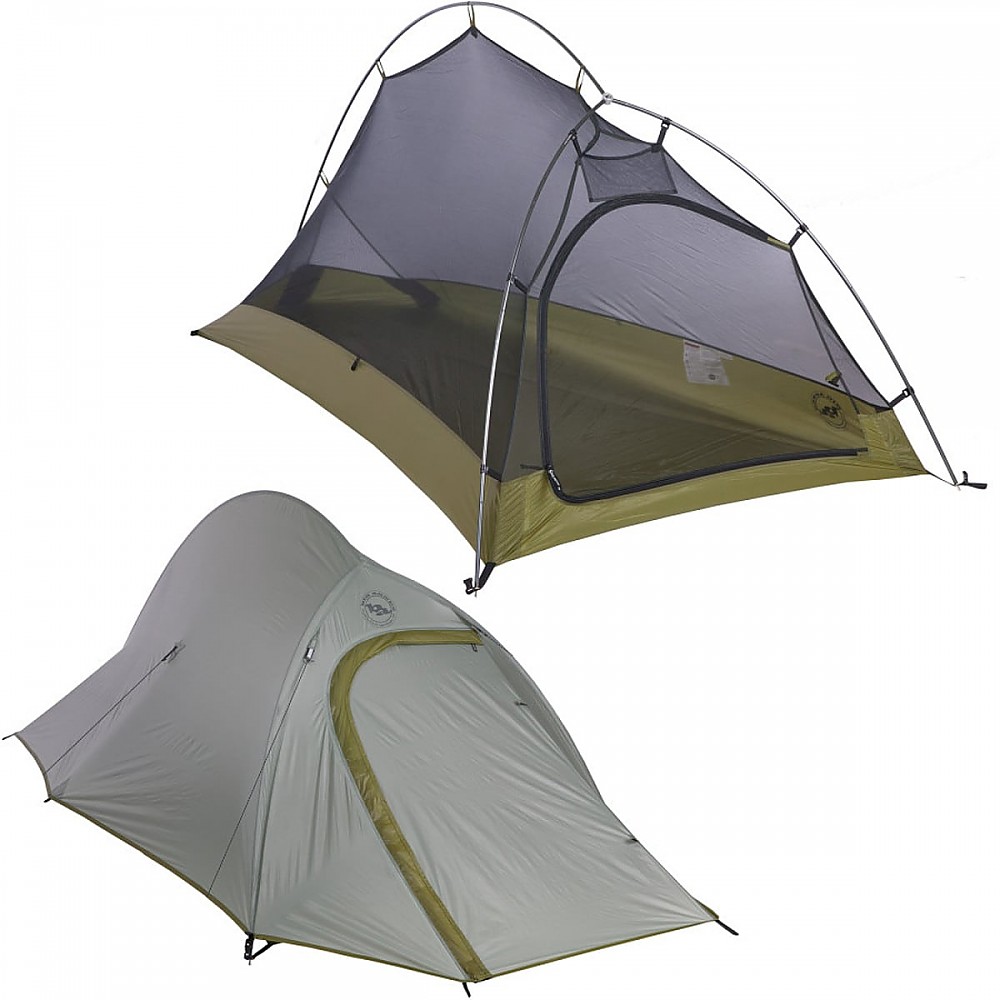 Version reviewed: 2007
The Big Agnes Seedhouse SL1 is lightweight, packs down small, and most importantly, there's enough room for 1 person!
Pros
Decent amount of space for 1p
Lightweight
Packs down small
Good neutral color
2.5 lbs
Cons
Needs a bunch of stakes
Some hardwear is not easy to use
Seam seal flakes
This review is for the older model (2007).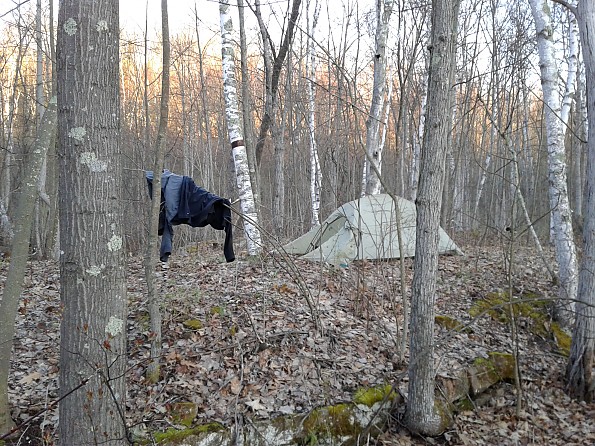 Setup: The setup of the Seedhouse 1 is not as easy as most current models. There are three permanent loops that you have to run your spine pole through before you can tack the poles into the grommets in the three corners.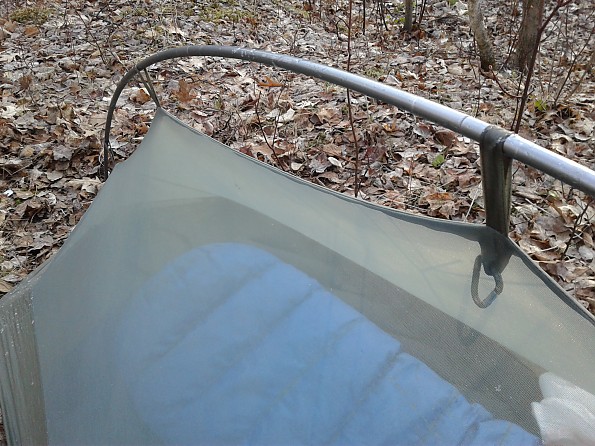 Once the pole is slid through, there is one more tricky component. The sides of the fly need to be clipped into the two loops on the sides of the tent. Once you get past those two oddities, the rest is simple.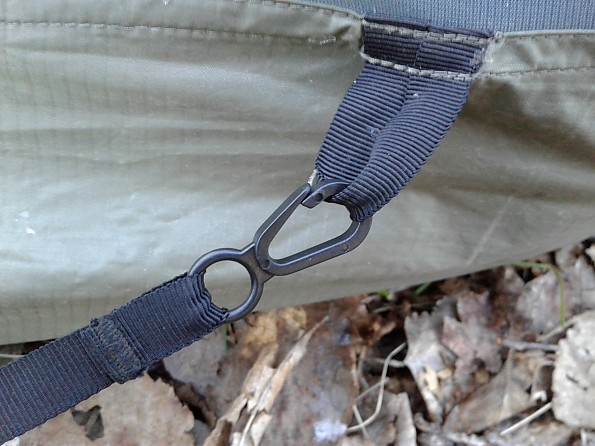 clips that fasten from fly to tent help pull the tent into position
The clips themselves are not easy to use (see above pic). They are not depressible. You sort of have to side slide the webbing through a narrow slit in the clip to get it inside of the clip. I have it down now but it took me a couple of outings to get the hang of it. 
The tent requires a good number of stakes. Since it's a 3-pole, partial self supporting tent, you need the 4 corner stakes: one for the rear single pole, 2 for the sides, 2 for the vestibule. That makes 9 minimum for the tent unless you'd like it partially saggy or collapsed. I have read reviews that say it requires 11 stakes. Without guy lines on the fly, you'll need 9. Without the fly, you'll need 7. With the fully guyed out fly you'd need 11.
One thing about this model is that if you don't clip the sides of the tent to the fly, you'll have to add some paracord to make some mini guy lines on the tent. This would allow you to stake out the sides of the tent if you'd like to pitch it without the fly. 
Stability: The tent is stable and fairly taut when pitched with 9 stakes.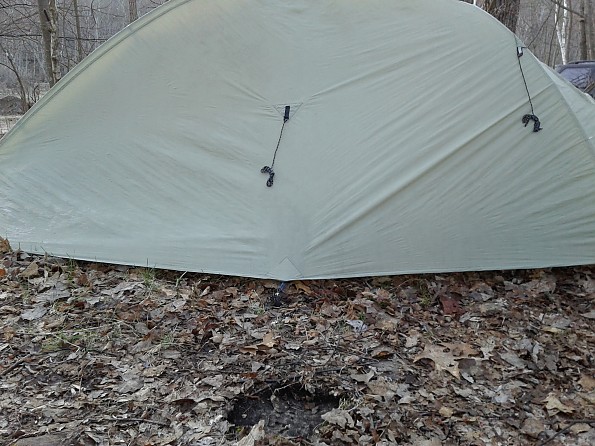 Tent pitches fairly taught even without guy lines. 
If you are in an area where you'll have to pitch on stone. You will need to find some objects to guy out to or on to. For this reason, it might be nice to have some cord with you if you know you'll be in an area where staking will be difficult. Because the pole is a triangular configuration, the tent is a saggy free standing design if not staked out.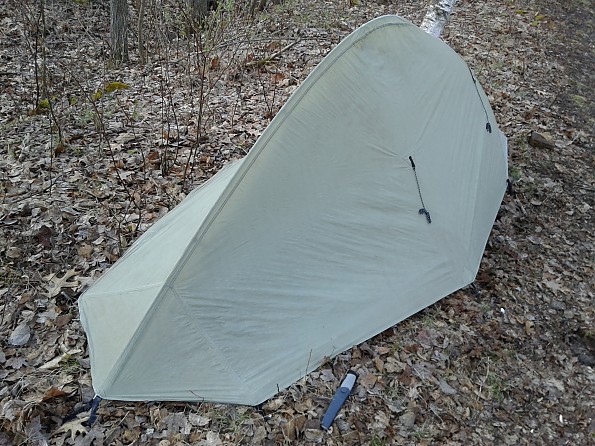 foot box needs to be staked out to avoid saggy flapping

For those who are used to sleeping in a bivy, it may not bother you to have a flappy foot box but for those who like room all around them, including in the foot box, it might drive you a bit batty.
Weather Resistance: The tent does fine in keeping the water out from the fly and the floor. When I heard there would be two consecutive days of rain, I pitched the tent in my yard and filled it up with gear. I also pitched it in an area of the yard where water tends to saturate the ground. No water penetrated the tent on top or bottom after two full days of rain.
There is a design flaw in the fly door placement. When the fly is open all the way up, it exposes about 12 inches of the tent below it because the angle of the tent. This allows water to get into the head area of the tent when raining. The newer model has fixed this problem by making the head of the tent perpendicular to the base.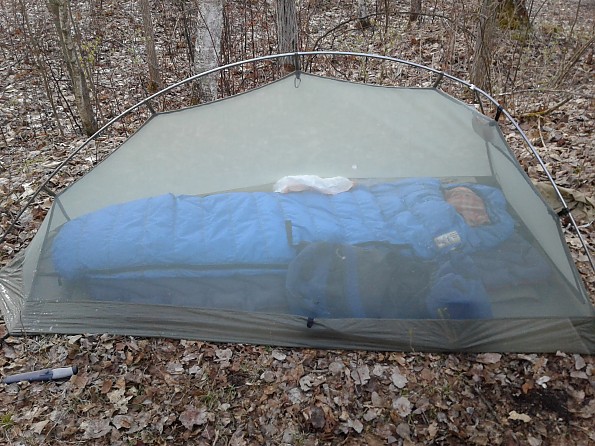 Angle of tent under the fly door allows water to enter when raining.
Unfortunately, with my tent, the seam tape has turned into a horrible mess. Last time I opened the tent it looked like someone spilled a bowl of corn flakes all over the floor. I've since seam sealed the exterior of the tent because I couldn't get all of the flaking off of the interior. I've had similar problems with seam tape in other models. I'm still trying to figure what it is that causes this to happen in some tents and not others.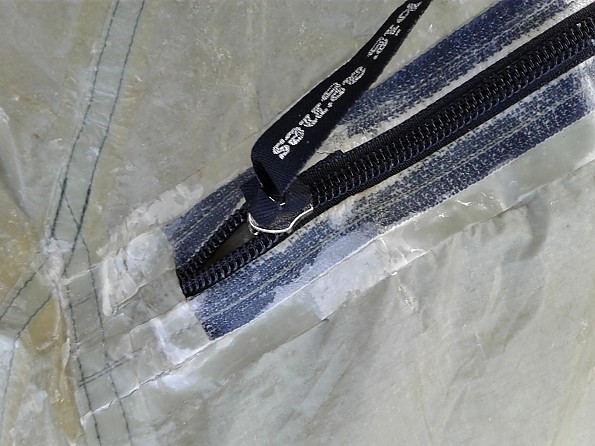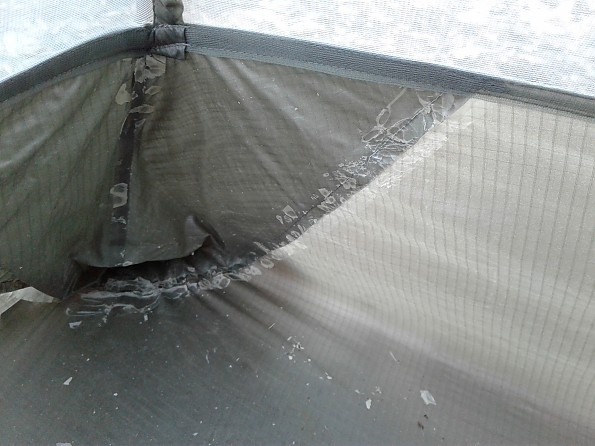 Seam tape failure after a few years
Ventilation: The tent does not have a vent and since it rides really low to the ground, the moisture has the opportunity to build up under the right circumstances.

The last outing I took, the day temps were 65°F and the temps dropped to 33°F at night. The differential caused a bit of moisture to build on the inside.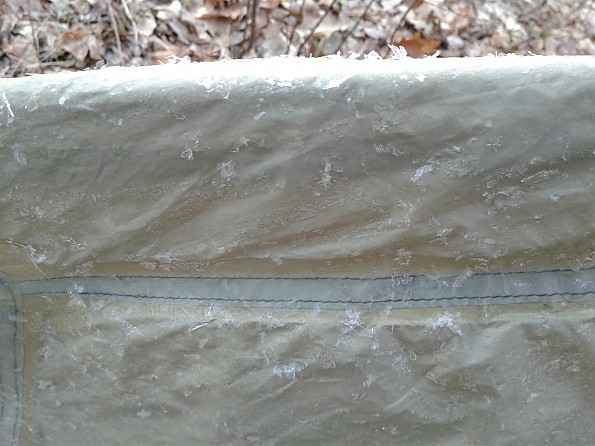 Considerable frost build up overnight (interior of fly pictured)
Even though the low profile prevents venting, it also helps the tent retain heat well at night. I felt as though this tent was superior to most 3-season tents at keeping in the heat. I don't have the footprint but my guess is that this would be one of the best fast pitch models out there. The low profile would keep the mosquitoes and other bugs out like a champ. Most tents leave a 6-inch gap between the footprint and fly.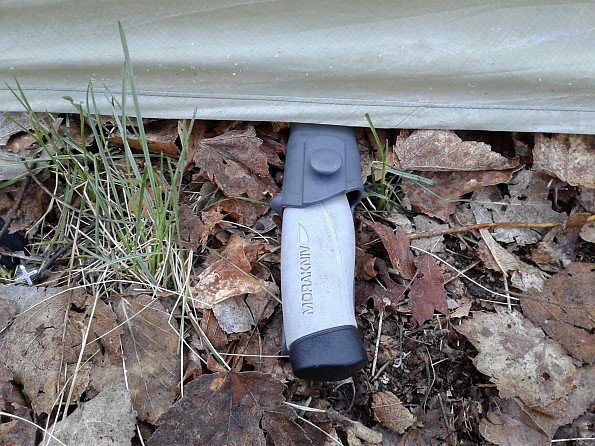 Low profile fly hugs the ground. Good at keeping the heat in.
                        
Room and Storage: There is only one stow pocket that rests directly above the door.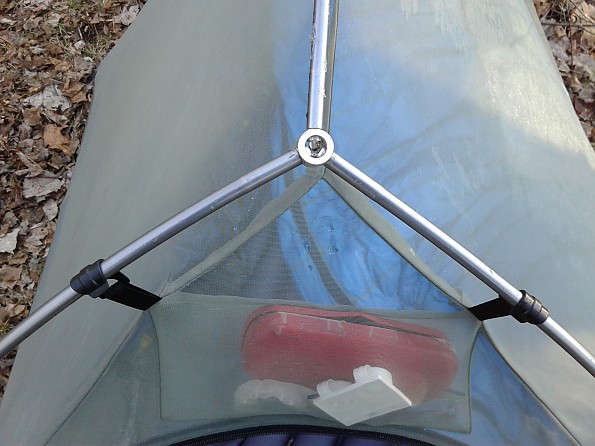 The single pocket suffices for the bare essentials that I carry: wallet, glasses, contact case, etc. Although the vestibule is not too big, we're talking about a SL (super light) tent. The vestibule held my 45 liter pack fine. I am guessing that most people that are serious about lightweight style backpacking aren't going to be hauling an 85L pack around anyhow. In any case, If you are, the interior is actually large enough to store your pack next to you on its side.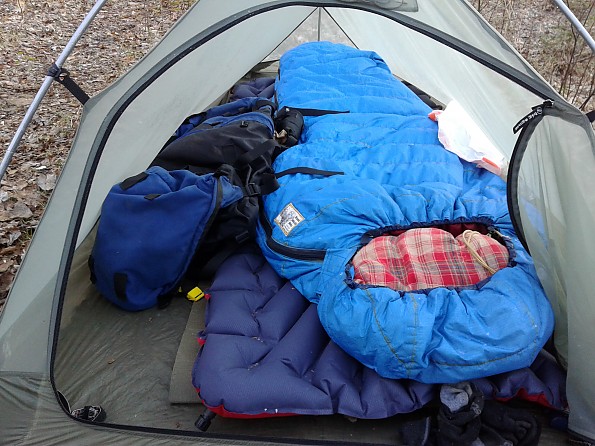 Inside—enough room for a person and pack. Boots can remain in the vestibule.
There's not technically enough room to sit up in the tent if you are 5'11" like me. Your head does rub the top. Even so, it's enough room to dress yourself and to be able to navigate around inside of the tent.


                              Not a lot of headroom, as you can see by my Quasimodo pose

Packability: The tent packs down to a very tight 5 by 15 inches.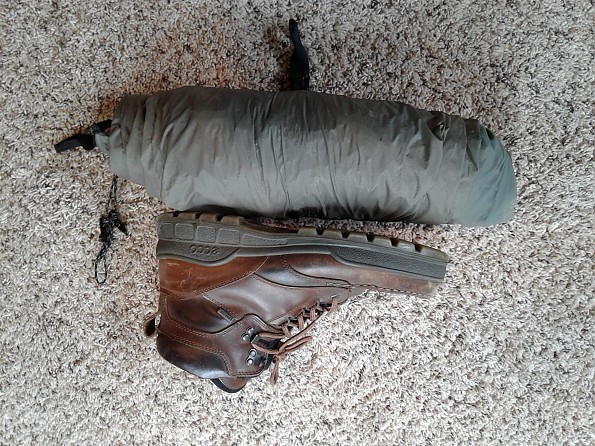 Features: The tent features a hub with a tri-pole insert design. It works rather well. You just have to make sure that you insert the poles all the way so as to avoid breaking them. You can see the pole hub in the picture of the storage pocket above.
The fly has three quick clips for easy assembly. I find that these are more enjoyable to use than the kind where you need to slip your fly strap grommet hole under the pole.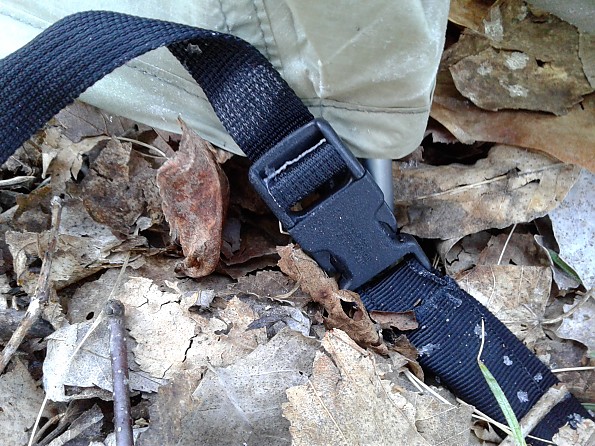 Construction and durability: The tent itself has been through a lot and it's still going. The mesh is your general delicate no-see-um. It gets ember burns and snags like most mesh does. The fly has held up well. The three stake-out corners are double layered adding to their strength and durability. The guys are reinforced with triangular patches.
The zipper quality negatively affects the tent. The zippers have nylon pulls to reduce noise at night. The length of the nylon strap causes angular failure. The pulls are too long so when you grab them, they tilt the zipper and create a grind when you unzip. It also causes extreme tension on the slider body. This causes the slider body to separate over time. If you haven't yet had the zipper fail, I would suggest cutting the nylon pull tabs in half to reduce their length. This will give you a better angle for the glide and thus increase the lifespan of your zipper. 
Conditions: I've only used this tent in conditions ranging from high 20's to high 60's in spring; once in prolonged rain. I have not yet had the opportunity to take it out in the snow. 
Conclusion: The tent is pleasant. The design flaws in this model have been addressed in subsequent models. Overall, I am pleased with the tent despite a few snags in the design. I would be most worried about the zipper if I could caution anyone else who intends to purchase this model. In the end, I think it's a tent worth having especially if you can pick it up at a decent price. 
Source: bought it used
Price Paid: $90

This tent is a piece of garbage. I'm confident I could craft a better shelter out of rope and tarp.
Pros
Lightweight
Packs away easily
That's all you can say that's 'good' about this tent
Cons
Poorly thought out design
Cheap flimsy material all around
Lets moisture in, keeps heat in
Not a solid shelter and doesn't hold up to wind or rain
Not durable at all. Won't last under any regular use.
I can't for the life of me figure why Big Agnes hails this tent as their claim to fame in the tent world. This is by far the worst tent I have ever used, much less owned. Big Agnes makes some decent gear, especially their sleeping bags, but the Seedhouse is a big middle finger to their customers.
For a one-man tent the setup process is okay, and relatively quick, but they could have thought it out a lot better. The poles are shaped into a three-way 'T' and while the two front poles near the entrance allow the tent body to be snapped on, the longer middle pole must be slipped through permanent fabric rings. This creates a very awkward setup, especially if you are trying to set up in low light or rain. Why would they do this? How hard would it have been to put three more plastic clips and make setup and takedown WAY easier.
The poles themselves are flimsy and weak. They feel like plastic and are too thin, not enough diameter for a solid structure. There is way too much slack in the wires inside them, and they don't lock into place with that satisfying 'clack' sound that you get from a well made tent. This affects the integrity of the structure and makes the whole tent flimsy and weak. A good tent should have some tension, which creates balance in the overall structure. This tent is fabric lightly draped and sagging over weak flimsy poles. If you toss and turn much while sleeping, you can easily topple the entire tent.
I have used this in different conditions, but wouldn't trust it at all in any inclement weather. Staking is a must with this tent, but there aren't really that many stake points or stake ropes to use on the sides. If a stake happens to give way in high wind, you can easily find yourself wrapped in the half collapsed tent, as I have. Not a sturdy shelter at all.
Sides are very low to the ground, so if you happen to get caught in very heavy rain, water can easily over take the sides, and since the design of the tent structure itself is so poor, you can easily get lopsided in one direction or the other allowing even more water to sweep in and soak you and your belongings.
The ventilation is extremely poor and condensation is a MAJOR issue. I guess that is why it called the Seedhouse, because under the cheap plasticky rain fly you feel like a seed being germinated under plastic in a high humidity germination greenhouse. If there is the slightest amount of dew or rain. YOU WILL GET WET. The moisture builds up on the inside of the fly and water drips right through the pantyhose-like netting on the inside. Using a better harder fabric screen, and a more durable two-layer fly could avoid this issue. Very poorly thought out.
Even fully staked, the headroom and layout are very poor. There is no vestibule to speak of, certainly not enough to store a good sized backpack, so you will need to bring a pack cover if rain is expected and there is no entrance mat at all. There is no room in the tent to negotiate or store any extra gear, perhaps a very small day pack or a few extra clothes but that's it.
There are no windows to see out, and there is a very small pocket above the door that can't even hold a wallet, and one small plastic hook to hang a light, no hanging straps. No side pockets or extra places to stick smaller knick knacks like a headlamp, trail book, maps, pocket knife, water bottle, etc. Again poorly thought out.
Durability and quality of materials is where this tent really fails. As mentioned before, the interior tent netting is a very fine soft nylon that is literally the consistency of pantyhose. They could have used a much thicker more coarse harder nylon netting.
The moment I got this tent out of the bag and felt the rainfly, I knew this was a bad tent and almost sent it back (should have). The rain fly is one ply and extremely thin. You can literally see through it. It feels like a trash bag, and is not much better material than you would expect to find on a very cheap disposable fabric rubber poncho.
Zippers are very important to a good tent. The zippers are very poorly made plastic instead of solid metal, and catch the lip of the rainfly quite easily, and since the fly material is so cheap and thin, the zippers can easily tear the fly. When trying to move the interior zippers, the whole tent will shake and sag, and these cheap plastic zippers on the inside constantly stick as well. After just a couple years, the glue on the 'seams' (if you can call them that) are already cracking, peeling and flaking.
This tent is not good for spring or summer because the ventilation is so poor, you will steam alive in this thing, even from just your own natural moisture. Not good for rain, and certainly not good for snow or wind. The only weather its good for would be cold conditions with no wind, no rain, and very low humidity. Otherwise you will not be comfortable or dry in this tent
I guess its 'strong suits' would be its ease of packability and its light weight. A trash bag is also easy to pack and lightweight. Doesn't make it a good shelter. Big Agnes will try to convince you that this mistake of a tent was all done on purpose using 'space age' technology to achieve the lightest tent possible, but it's really just an excuse to skimp on good quality materials. It's one thing to be minimalist and simple, but when the overall performance, usability, and durability of a tent is this poor, it is simply inexcusable. 
I used to own a Mountain Hardwear Meridian One, and it was everything the Seedhouse is not. Solid materials, quality construction, well thought out, and very durable. Highly usable, spacious, easy setup, handled all weather conditions very well. That tent lasted me 10 years of very heavy use before it was stolen from my garage.
What's worse is they no longer make them (It seems like the most durable gear gets discontinued. Companies would just rather you buy a new one instead of getting years and years out of a product). I would buy it again in a second if Mountain Hardwear still made them. I was hoping the Seedhouse would be a good replacement for my beloved Meridian, but instead this tent has almost ruined one-man tents for me. I paid $280 for mine and it was by far the worst most regrettable investment I have ever made in over 15 years of hiking and backpacking.
I have used this tent in the Smokies, in North Ga., North Carolina, Alabama, and Florida over about three years, and the only reason I haven't thrown it in the trash is because I'm trying to get my money's worth, and I would feel bad selling this to anyone even at a reduced price. 
Bottom Line: Save yourself the trouble and spring for something a little nicer that actually lives up to the hype and delivers. Better yet, even a cheap tent from Coleman or Ozark Trail would serve you better than a Seedhouse. I don't mind paying more for better quality, but this is paying more for absolute crap. You don't always get what you pay for and the Seedhouse is a case in point of this fact. Honestly you would be better off buying just about any other one-man tent out there, even the ones that cost about as much Big Agnes charges for the Seedhouse ground cover.
Source: bought it new
Price Paid: $280

Overall, I am very pleased with this tent. It's the lightest tent I've owned and it packs really small. I've even got it packed down with a compression sack so it takes up little room. I've never seen anything like it.
I've taken it to the AT a couple of times since I got it in September and only got to use it 3 times (2 nights each). Lowest temperature I ever experienced in it at night was 22 degrees and it snowed. No condensation inside, it kept me dry in both rain and snow.
I love the fact it includes the rainfly and footprint and they work extremely well together. Love the mesh pocket inside at the head of the tent; great for hanging the lamp, ipod and socks. 
Now, I was looking for something as close to ultralight as possible, but not as claustrophobic as a bivvy-style. That's what the Seedhouse SL1 provides.
The gripes in other reviews are all valid, but manageable if you ultralight backpack, or reasonable if you take the perspective I give above:
Vestibule? What vestibule? LOL, I fit my boots and jacket in the vestibule. I think its more to keep the rain out and for looks than it is functional. You put anything in there and it completely blocks your ability to get out/in.
But here's a surprise. I'm 5'9" and 190lbs. I was able to fit my Big Agnes dual-air core pad, Encampment 15 sleeping bag, Baltoro 70 pack and boots all inside no problem and slept fine.
Height limits are an issue. I would not recommend this tent for anyone taller than me. I can change it in, but my head does rub the top of the tent if I sit up or crouch inside. The pitch is also very steep. But this is not an issue at all if you are laying down inside the tent on your back or propped up on your side (which is how I like to read), or you implement the ghetto-fabulous "clothers hangar" idea from another reviewer. Also length-wise I can lay down in it fined and it fit my bag and pad without any issues. But not sure for taller folks if it would get tight in there.
Work to pitch it? Lucky for me I knew about the fabric loop that runs the length ridge line of the tent body, and how the pole has to run through it as the first step in setup before I went out on the trail. I also packed the footprint with the tent so it all unrolled together. Finally I put down the 3 stakes at each corner first then build it up from there. I had it 'formed' in seconds. The tent definitely performs and looks its best if you have the fly all guyed out. To do this you need 11 stakes or a combo or stakes and trees. I bought mine with the MSR groundhog stakes. Super light, and could use 8 to get everything done. Again this is for the rainfly and tent. Tent alone can be perfect with 5. 
I didn't have any problems with the door as some have stated, no condensation, leaking, or issues with wind gusts up to 40mph (what I've experienced).
Bottom line is I give it a 4 because the issues above are so minor compared to how awesome this tent looks when set up, how little it weighs and how little room it takes up in the pack. But if the issues are significant for you I suggest you test out the tent in a store somewhere if you can first. 
I bought this used from someone who only used it twice, but was over 6' tall so he needed something bigger. I got it for a steal at $150 and don't regret my purchase at all.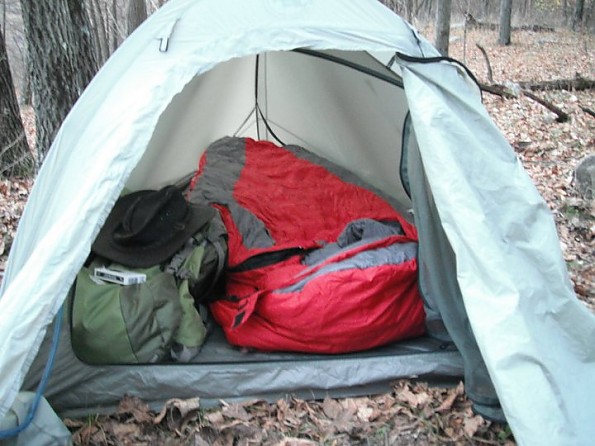 Price Paid: $150 (previously used twice)

I love the options and weight of this tent, but the foot area needs a little work, and perhaps a slightly roomier vestibule.
Pros
weight
fly/footprint set up
pole strength
Cons
number of stakes needed
vestibule space tight
air circulation when tent zipped shut
I used this tent for 6 months extensively in the Central Sierras, just south of Lake Tahoe. I primarily used it with the footprint, tent, and rain fly (rainfly more for privacy and blocking early morning light than for rain). I like the weight, durability, and options this tent provides, but I question the stakes and number of stakes needed, and the ventilation of this otherwise airy appearing tent. 
I found immediately that in pumice/sandy soil the provided stakes were difficult to keep in the ground, especially when it got windy, or when I tried to put the footprint loop, tent body loop, and fly loop over it. Thus, I dug out some MSR stakes from a tarp tent I owned and used those. 
At first I kept knocking the foot area loops off the stakes while rolling around in my sleep. Or if I didn't bring extra stakes the fly would flap in the wind. When trying to minimize tent stake use, the foot area doesn't set up well. It also in an area with NO humidity (I was in the Central Sierra High Desert), it doesn't breathe as well as you'd think if you don't bring extra stakes to tautly stake out the foot area. Staking the fly out further and separate for the footprint and tent body increased ventilation, but required I bring more stakes.  
I would wake up in the morning with condensation all over my toe box area, on a night with no rain. This was with the tent door fly propped up on my backpack in the vestibule, and not fully open. I started sleeping with the door fully open and an eyemask on to block light from my eyes, yet increase ventilate. For a mostly mesh body tent, and it not being single wall tent, and me being in the HIGH Desert I can only imagine how moist the inside will get when I try this tent in Vermont. 
I really love the tent weight, and know this tent has been around for years, but please improve the footbox staking and ventilation options. Also, as the first reviewer said, it is hard to get out of the tent when your backpack hardly fits under the vestibule. I'd keep my boots inside. The one time I put my pack inside for interest of space in the vestibule, I POPPED my Big Agnes Clearview Mat. Which is an UL mat, that apparently contacted a tiny part of my frame on my Osprey Ariel 65 pack and popped. It was not a fun night. 
It is nice that taller folks (I'm 5'8") can fit in here with plenty of footroom, and that this tent is very durable and packable.  It isn't as quick to set up when you bring the extra stakes to improve ventilation. 
Source: bought via a "pro deal"

I bought this tent new with the ground cloth and have used it for three trips (each trip had multiple night camps in different spots). I was attracted to it for its small pack size. I ride adventure touring motorcycles so, pack size is paramount. It easily fits inside a pannier box on my bike.
The tent sets up quickly but uses a lot of stakes for tiedowns (11 stakes if my memory serves correct). The stakes work well if you are on soft ground. Anything rocky and they bend under the hits of my camp hammer. At the price of the tent there should be heavier stakes.
I think this tent is over priced though. Jury is still out on the build quality but it does seem delicate. The ground cloth is really thin so, if there are rocks with any kind of protruding points at all, they must be removed from the tent site. I would have liked to have seen a thicker/tougher ground cloth.
I am 6'3" tall - athletic build. The length of the tent is fine but the width is narrow. I use a 25" wide Therm-a-rest inside okay but there is virtually no room for gear storage so I end up stashing my riding clothes along my sides down the length of the tent. This eats up precious floor space. I was able to put my riding helmet and a few very small items at the foot of the tent. The vestibule is so small it is really useless. I can't believe BA didn't just expand the vestibule area to accommodate any gear you have with you. The opening is a little difficult to get in and out of for people as large as me.
On the last camp trip I spent two nights out in temperatures below 40 degrees with moderate winds. It was cold outside but inside the SL1 it was nice and warm. I was surprised by the ability of the mesh to keep out any blowing cold air. However, this would be bad in the summer unless you used the rainfly and ground cloth alone (not what I want to do since bugs and other critters could just join you as you sleep).
If I was a hiker/backpacker, this tent would be top on my list. It is small and light and is really just a step above a bivy. As a motorcycle rider/camper I have other gear that I don't want to leave on the bike and need to secure it inside my tent while I sleep. I will probably step up to a 2 person tent.
I give the SL1 a 3.5 star rating. If the ground cloth was more substantial, the stakes were heavier and the vestibule was at least twice the size, I would give this tent a higher rating. If the price was lower and the above were fixed it would be a slam dunk.
Design: 3 season hikers tent
Sleeps: 1
Ease of Setup: Easy set-up but too many stakes for the fly.
Weight: NA
Price Paid: $215

I have had this tent for two years and have used it extensively in Pennsylvania and in all types of weather. It is a great little tent that should last you many years!
Pros
Durable
Lightweight
Roomy - inside
Cons
Small vestibule
Can be difficult to get in/out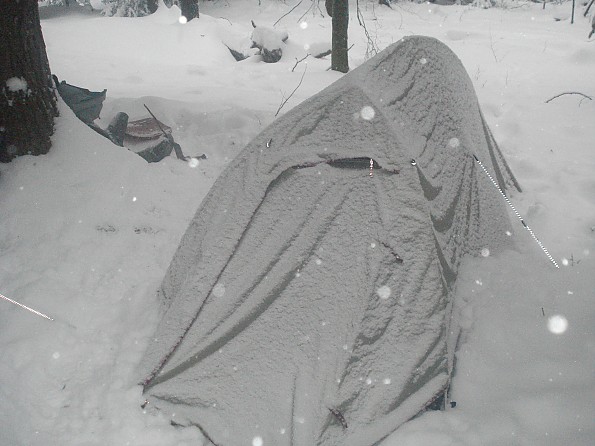 I have had this tent for two years and have used it extensively in Pennsylvania and in all types of weather. The only reason I did not give this 5 stars....the small, but functional vestibule.
Setup: Easy and quick. I can have it set up in about 5 minutes.  Since it is a SL1, you only need a small clearing to fit your  tent.
Stability: Is very stable as long as you stake it down. It has seen wind, rain and snow. Since the sides are very steep, the snow slides right off with out any issues. 
Weather resistance: Keeps it out even in the tough Pennsylvania weather conditions.
Ventilation: Is average...nothing great. I am a heavy breather and it will collect condensation in the inside....nothing too extreme though.
Room and Storage: Plenty of room for yourself and some of your gear.  I can sit up with out any issues ( I am 5'10")  The vestibule is small and would maybe fit a very small pack.  You could possibly keep you pack in the tent with you, but it would be tight.  It can be difficult to get in and out at first.  I usually slide in feet first. You just need to figure out which is best for you. Remember this is a 1-person tent..made to be lightweight. If you want more room, go with the SL2.
Packability: Just stuff it and go! No need to fold.  Small and lightweight.
Ease of use: My five-year-old can set it up!
Features: Everything you need!
Construction and Durability: I love Big Agnes products! My dad brother and I all have this tent.  We use them hard.....Take care of them and they will last many many years of use!
Source: bought it new
Price Paid: $200

Great 3-season lightweight backpacking tent that is easy to put up if you have the proper ground for many stakes. Excellent at keeping out rain and dew even in strong rainstorms. Very roomy for one person. Wonderful tent for backpacking.
Pros
More than enough room for one person
Easy to set up
Good at keeping out condensation
Cons
Requires many stakes to setup
Only the vestibule is freestanding, not with the rainfly
This tent is fairly easy to set up if you have the proper environment for it. The vestibule of the tent is free standing with just 1 pole to hold it up.  
The issues appear to be with the rainfly. It must be clipped to the tent in 5 places and has to be staked down with about 7+ stakes which can also add to the weight. If you are camping somewhere with a lot of rocks in the ground, this proves to be problematic. I have had to use rope to tie the tent to trees since I was unable to stake it down.
It is important for the rainfly to not touch the sides of the tent since that is how it keeps condensation from dew or rain out, which is does very well. I have used this tent in rainstorms with strong winds and had no problems with flooding or stability. The ventilation also seems to be very good since I have never felt "stuffy" in the tent.
There is ample storage for gear underneath the rainfly at the head of the tent. There is only one pocket inside the tent above the door, which I usually use for my glasses. The tent packs up very easily and is more than a reasonable weight for backpacking, which is primarily what I use it for.
As far as durability goes, after about 3-4 years some of the interior waterproof coating came off but Big Agnes had me send it back in and they repaired it for me.  They have excellent customer service.
Big Agnes Seedhouse SL1 on Springer Mountain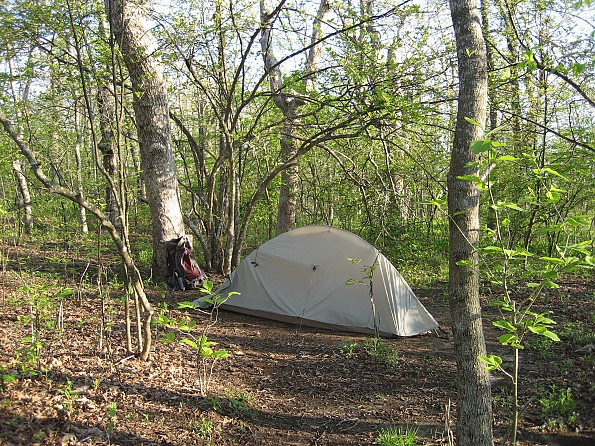 Source: borrowed it

I realized while reviewing another piece of equipment today that I have never reviewed this tent.
This tent has served me well in all kinds of weather. It is lite (2lb 6oz) and sturdy. I have used it in wind, snow, rain and sleet without a problem. When pitched properly, this thing can take the elements well.
I find access and egress to be easy, but I think a larger person would have a problem. I am 5' 8" and can sit up in this tent without a problem (that includes from the foot end which I have on occasion decided to sleep with my head at that end, dont know why). I find I have plenty or room on the inside for all my equipment, which includes my pack. 
I would not recommend this tent for someone 6' tall or over, as your head and feet will touch both ends.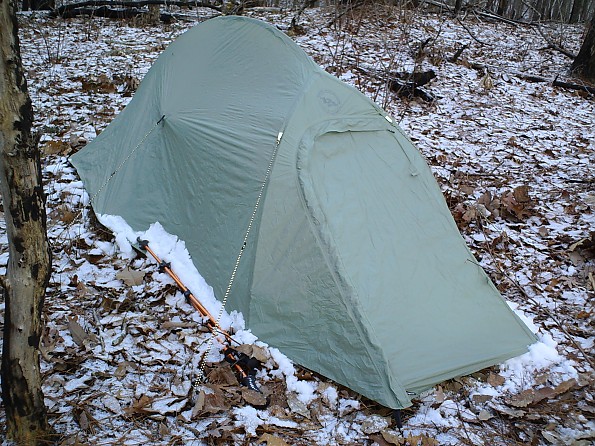 I have also noticed from the first night I used this tent several years ago that it seems to hold heat well. This is good in cold weather, as it is a few degrees warmer inside the tent than outside. No so good in warm weather here in the deep South. I have had a miserable night of heat and rain where I thought I would melt.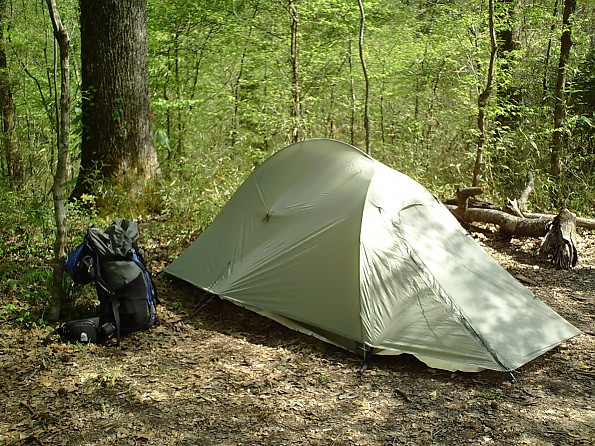 The vestibule is good for a pair of boots, but it is very crowded if you try to put your pack in it. I find it much easier to keep my pack in the tent with me (prop my feet on it as I sleep). It would be okay to cook in, should you need to.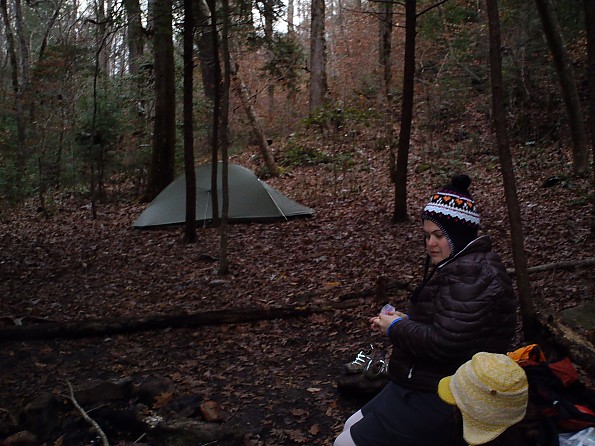 One drawback on this tent is it requires a lot of stakes to work properly (10 to 12 is best). This takes a bit of time to set up and take down, not good if you are setting up in a storm.
All in all, I have enjoyed this tent. It holds the elements out well, is lite and sturdy, and is reasonably roomy.
Price Paid: $182

Bought this using my 20% REI member discount and took it out on a 3-day trip to Mount Rogers National Recreation Area. Overall, the tent is very light and packs down super small. The square footage is roomy for the weight and it kept me dry on a night of rain and 25 mph winds.
I read about this tent on here beforehand and the negative comments were true. In the morning, after the rain had stopped the tent door is canted out so that rain from the fly drops into the tent very easily. The door is also pretty small and positioned at the front of the tent so that I (6'0" 180) had some difficulty getting in and out.
Also, the set up is a little cumbersome because the longest pole has to be threaded through small loops of nylon instead of convenient clips. It's listed as a free-standing tent, but to properly open up the floorplan near the foot you have to use two stakes, then to prevent rainfly flapping and for full rain protection the tent requires 11 stakes total, which is kind of a lot. Lastly, the design is sort of a modified A-frame so whenever I tried to sit up my head was wedged into the mesh at the top of the tent.
It's a good tent that's roomy and light, but in the end I decided to return it and pay the extra $30 for an MSR Hubba...
Design: Sort of free standing three season A-frame
Sleeps: 1
Ease of Setup: Not bad but lacking clips on portion and lots of stakes
Weight: 2lbs 6ounces
Price Paid: $200

Overall a great tent. This served as my main tent on my AT thru-hike and got me through many bad nights.
Most of my gripes have been said by others here ... low vestibule space ... pitching problems ... door entry. This is the bulk of the issues. However, I would add pitching and take down time to the list of gripes. To put up correctly there is a lot to do. At the very minimum, you have to mess with the dreaded pole loops, the foot-end of the tent body has to be staked, the fly takes 6 stakes, and there are two clips that connect the fly to the body to pull both out at the same time (i rarely staked out the guy lines at the middle of the tent). Even in great, storm-less, weather you still have to go through the checklist to avoid condensation and maximize your room inside. Likewise, my hiking partner had a Hubba which took no time to put up and requires only 2 stakes (again at the minimum).
BA has thought of (most) everything with this tent and has utilized a variety of weight saving techniques that might make pitching more difficult. A small gripe, but still a consideration.
Read all the reviews and decided this sounded the best, so I got one and took it up into the Sierras for 8 days in June. It's a decent tent, but it didn't live up to the hype. First off, the front entry door is fairly low and difficult to get into. If you're over 6' you'll have problems with this. I was hiking with a friend who had the Marmot Eos-1 with the side entry, and he was laughing the whole trip at the way I had to duck and wiggle in. Another annoying door issue was the way the door was canted out, exposing it to rain when the rainfly flap was open. If you tried to enter this tent in a downpour, you'd end up with quite a puddle inside the tent.
Second, the vestibule is small, forget about putting your whole pack there. The tent interior is big, but not big enough for a person and a pack, so my pack ended up outside every night. I would rather have a smaller tent interior and a larger vestibule for my pack and dirty gear. The most annoying thing about this tent was the way it staked out. Too many stakes, and the way the two side stakes at the narrow end are designed make it impossible to get the rainfly completely tight. This doesn't sound like a big deal, but I had one night camping in a persistent wind, and the rainfly around this area buzzed and flapped loudly all night long. I finally had to get up at 3am and tie it off with some extra cord because it was so loud.
Also had some condensation problems, but no more than you'd usually expect. I have yet to see a tent with zero condensation.
Design: freestanding
Sleeps: 1
Ease of Setup: annoying to stake out, too may stakes
Weight: 3 lbs +/-
Price Paid: $249

My Seedhouse SL1 has excellent interior space. I have plenty of room at the sides and bottom for my stuff. Headroom is excellent. The vestibule is tiny; however, I can fit my pack and boots. The lightweight and small compact carry size is the plus.
I have used this tent on Alaskan ridge hikes in wind and rainstorms with no problems. The tent is not free-standing and must be staked out to the max for maximum protection from gales and rain. Guylines must be re-tightened before bedtime. No condensation problems at all.
The lightweight netting is extremely delicate and snags
easily; however, it keeps out the tiniest bugs.
The only problem with the design is that in a torrential downpour it is virtually impossible to get in and out of the tent without some rain dripping inside. I keep my down bag away from the door.
I have found Big Agnes to have superior public relations in dealing with their products.
Update: May 31, 2007
I have recently been able to use the Seedhouse SL1 flash-fly set-up and was very pleased with the stability and fly coverage. I stayed dry in a light rain with heavy winds. I love the less that 1# 11 oz. weight of the Seedhouse SL1 flash-fly configuration, the ease of set-up and the stability.
Price Paid: $185- on sale

This is a high priced tent with horrible weak tent poles that will eventually crack. It is like a ticking time bomb.
Cons
Design defect in pole/hub connection
This is a high priced tent with horrible poles that will crack. It is like a ticking time bomb. Has ruined two backpack trips.
They have a design defect where the pole connects to the hub. The hub peg inserts into the pole, but the pole wall isn't strong enough to bear the load and eventually snaps. Sure you can send it in to Big Agnes, but they replace it with a pole that seems to be even weaker than the original (not even colored the same).
The new REI UL tents have thicker pole tips to deal with the extra stress. Big Agnes has lost my trust.
Background
I have 20 years experience with tents.
Source: bought it new

I just finished an overnight trip to Mount Monadnock, NH. In all fairness, the night I spent there would have put ANY tent to the test. 6 straight hours of rain, high winds, and lightning. Because of the way the tent is designed, I was certain I'd end up cold, wet, and absolutely miserable.
I was wrong. The tent held up to the elements nicely. The only flaw was in how I pitched the tent. Make certain that you use the guy lines to pull the fly out far enough on each side, and tie each side down at least level with the flooring walls. If you don't, the rain hitting the ground combined with the wind will slowly mist against the mesh netting and cause your sleeping bag to get somewhat wet.
Anyway, I thought the tent held up well. I also like the fact that it does dry out rather quickly. I'd buy it again in a heartbeat.
Sleeps: 1
Ease of Setup: 5 minutes and you're done.
Price Paid: $249

A great one man tent. This tent is very light, spacious and sturdy. The tent comes with many tie-down spots assuring that it is not going anywhere in a storm. It is very light weight which reassures you that you're not taking anymore weight than you have too. Lastly it is very spacious. I (5'9") was able sleep comfortably with my pack as a pillow and still had a plenty of wiggle room. The vestibule held my boots, my hanging socks and still left room for other gear like my stove. I was able to sit upright and pack my stuff in the morning out of the cold and rain. This is a great tent that will get a lot of use out of me before I need to consider another.
Design: Three-season freestanding
Sleeps: 1
Ease of Setup: Overall easy
Weight: 2lbs 13oz max
Price Paid: $200

this would be a great tent if they made the zippers better. i love the weight, setup, design, and the fact that this is a local colorado company. the rainfly only option is great and i have used it like that a lot!
but, and this is a big but, i've had it for only 6 months and the zipper fell apart on me during a 2.5 month backpacking trip. the zippers are too small and delicate, first the body zipper broke, which was especially surprising because i haven't used the body much. then the rainfly zipper went, which was _extremely_ inconvenient in the wind and rain in which i was camping, i got pretty soaked.
i would highly recommend this tent if they changed the zippers.
Design: three-season, freestanding
Sleeps: 2
Ease of Setup: great
Price Paid: ~400

I have had this tent for a little over a year and have used it for at least 50 nights in all kinds of weather and all over the country. I have used it on long section hikes of the AT and choose to sleep in it rather than most shelters. It is extremely light and at 22 ft2 and adequate height it is quite comfortable and weatherproof.
Yes, it requires 11 stakes to pitch properly for wind and weather protection but doesn't take more than 7 or 8 minutes. Like most Big Agnes products it is very well made. I am extremely pleased with the tent and it has greatly helped me reduce my overall pack weight and still be comfortable and well protected from weather and insects.
Design: three season, free standing
Sleeps: 1
Ease of Setup: Easy to set up
Weight: 2 lbs 14 oz
Price Paid: $165

I have had this tent for 4 years. I have used it in all kinds of weather. I bought it because it was lightweight, so it does very well in that respect.
There are problems as stated before in other reviews. The vestibule is very small, the front door is very low and hard to get into the tent, the condensation is bad when you use the footprint. My worst problem after several years is the sealant seems to be flaking off. It hasn't leaked yet, so I don't know if that is a problem.
I loved the tent when I used it without the fly, just the netting, in warm weather. I give this tent the 4 rating because of the weight.
Design: "three-season freestanding dome")
Sleeps: 1
Ease of Setup: very easy to set up
Weight: under 3 pounds
Price Paid: $160

Not truly freestanding: useless without careful staking. Without staking you'll sleep in a loose tube which will collapse on you and rainfly will also be useless. After setting it up in my living room it was clear it wouldn't fit my needs so I returned it without even taking it out on a trip.
Many times in cross-country Sierras I need to set up on bare granite, no ground or trees to stake into and sometimes even getting anchor rocks not easy (if they're heavy enough to anchor, they're heavy enough to be difficult to move).
Peak height is also misleading, 38" spec but slopes off so quickly can't really sit up straight -- and I'm only 5'8".
Very disappointing. If they'd included one more small pole to make arc by lower third of tent, it wouldn't have added much to weight and would have made much more useful. I saw one review where a person jury-rigged a wire coat hangar, very ingenious but at $249 I'd expect something a bit better thought out.
Sleeps: 1
Price Paid: $199

This tent has so much going for it. It's incredibly light, solid and secure, easy to pitch, and roomy for one person.
I haven't used it in the rain yet, but it seems very well protected. The rainfly is slippery with waterproofness. I'd buy it again.
If I had to make one gripe, it would be that the vestibule is on the small side. I carry a very large pack, and am uncertain if it would fit without leaning against the inside mesh door. A window would be nice too. But then again, any improvements on these small issues would add weight.
Sleeps: 1
Ease of Setup: easy
Price Paid: $250-ish

Many pluses for this tent. Its listed weight is accurate at only 2.5 lbs; with ground tarp, stakes and a light stuff sack, trail weight is 3.25 lbs. It's durable and well made. If staked out well (about 12-14 are minimal), there's no condensation problem and it can withstand foul weather. With low weight, interior space is understandably not much, but is certainly sufficient to be able to sit up to change a shirt and to read at night without bumping into the tent walls.
Price Paid: $239

I went backpacking in the Mount Rogers National Recreational area last weekend and at night the wind gusts were at least 40mph as a cold front moved through. This tent stayed put the whole night. I was surprised when I got up the next morning and noticed that the fly and tent were still staked to the ground and hadn't moved. A great light-weight tent that I have used several times and am pleased with its performance.
Sleeps: 1
Ease of Setup: Easy

Great tent, true to its advertised weight. The only complaint is the vestibule, hard to get my 6' 3" frame into the tent but fine once I'm in. Well made and bombproof shelter in the wind. If you sleep solo hard to find a tent to offer as much for the weight.
Design: three-season freestanding tent
Sleeps: 1
Ease of Setup: set up was easy
Weight: less than 3 lbs
Price Paid: $150

This is a great backpacking tent for solo trips. It is somewhat freestanding, very light, and very spacious. Only problem is condensation if you don't or can't stake it out fully. Still I will take this out for just about all conditions except the dead of winter.
Design: three-season freestanding hub tent
Sleeps: 1
Ease of Setup: very easy
Weight: 2.6 lbs w/o stakes
Price Paid: $229

Hiked 45+ miles in four days in Erwin, Tenn., area on the AT. Spent two nights in SL1 tent in perfect weather. Got my pack weight down to 21 Lbs without water. Enjoyed the light weight, also enjoyed the comfort.
Design: Seedhouse SL1
Sleeps: 1
Ease of Setup: fast pole set up, many stakes for proper tent and fly set up
Weight: 3lb approx
Price Paid: $185 - on sale

Your Review
Where to Buy
Help support this site by making your next gear purchase through one of the links above. Click a link, buy what you need, and the seller will contribute a portion of the purchase price to support Trailspace's independent gear reviews.
You May Like
Specs
Price
MSRP: $279.95
Historic Range: $179.93-$299.95
Reviewers Paid: $90.00-$400.00

Trail Weight
2lb 15oz / 1.33kg

Packed Weight
3lb 5oz / 1.50kg

Fast Fly Weight
2lb 4oz / 1.02kg

Packed Size
18 x 6.5 in / 46 x 17cm

Floor Area
20sq ft / 1.9m²

Vestibule Area
5sq ft / 0.5m²

Footprint Weight
4oz / 113g

Number of Seasons
3

Number of Doors
1

Recently on Trailspace