Mountain Hardwear Meridian 1

The Meridian 1 has been discontinued. If you're looking for something new, check out the best three-season tents for 2023.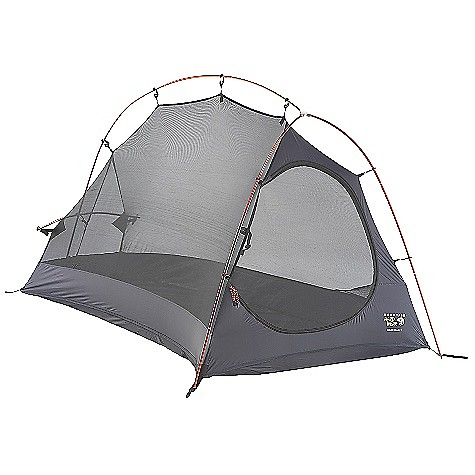 I love this tent! I used this tent on both the Smokies and Rockies last summer a and have only one small complaint. First, it packed light, tent folded and inside my pack, poles attached to the side of the pack. Set up is quick and easy even in the dark. I did get the "footprint" as it helped protect the bottom and kept the tent cleaner since it was stored inside my pack. The tent poles attach to grommets on both the footprint and tent to keep it secure. This prevents pole chasing during set up. It also makes the tent realistically free standing except for the fly entrance.
Here is the only problem I have with the tent. The upper half of the tent is mesh, great for watching the stars on a clear night, but if it is raining during set up the inside of the tent gets wet. I solved this by throwing the fly over the tent during set up--but if it is windy, this could be a problem. The fly creates a roomy vestibule for storing boots and gear and even makes a good shelter for getting into the tent in poor weather. I found the inside to be roomy and had plenty of space to store clothes and camera gear inside the tent. There is enough room to sit up for dressing at the head of the tent. The vestibule section of the fly does need a stake to hold it out but if one is not available you could attach to a rock.
The tent withstood heavy rains and kept me bone dry, and handled raging winds with high gusts on mountain tops. I liked the construction of the poles better than other tents I've used, the couplings are large and solid and made of metal not plastic so they don't crack as on other tents I've owned. Clearly this is the best tent I've owned in years.
Design: semi-freestanding
Sleeps: 1
Ease of Setup: If you know how--about 3-4 minutes--very easy
Weight: 3 pounds with footprint
Price Paid: $129

I beleive that this is a good lightweight (not ultralight) shelter. At the 2.25lb weight, it comes in just above what I had hoped to carry, but as I value bug proofness and definite waterproofness, this tent seems like a good' ole shelter.
A couple of things to be sure of are the product's quality of craftmanship, and an attention to detail. Construction is top notch (I could not find a flaw), and its design is as functional as it is spartan. The only thing that really bugs me is the fact that I have to carry poles for the tent, as well as my hiking sticks.
The Meridian slept great and although at first glance I was supprised at how narrow the tent body was, it was adequate and comforatable. I am six foot 2 inches and it fit me well lengthwise, and I was just able to curl up on my side with my knees up.
The mesh did a good job at ventilating moisture, and I only got a little condensation at my foot area (normal for me). The set-up went really fast even though it was dark and I had never set it up before. The vestibule is really pretty big for the size of the rest of the tent (7 square), my dog slept there and I had my shoes and a little gear under the dog.
Ok my only mentions of concern are the facts that 1) you must carry poles in addition to your own hiking poles, and 2) that you have to buy the seperate footprint to set up the shelter as a tarp. I am going to probably buy the latter if its not to heay and try that out next because it drops the weight like a pound.
To sum it up I think that this shelter is a great offering from mthardwear.

Design: Meridian 1
Sleeps: 1
Ease of Setup: super easy and fast
Weight: 2.25 lbs (as advertised)
Price Paid: $150

I tried to like this tent, I realy did. First of all put it on your scale -- you'll be unpleasantly suprised to find it is a full pound heavier than what Mountain Hardwear claims and yes, I'm only talking tent, poles, and fly. I kid you not -- A FULL POUND!
Next, check out the pole at the tail end by your feet (NOT the mini strut but the main pole). Look carefully at the way the end of it has been sawed off leaving a rough edge to cut through your shock cord. Mine was well on its way to snapping just from setting up and taking this thing down in the yard a few times.
Last, notice how the seam tape easily peels off on the area with plastic reinforcements where the strut goes. I could go on but my other gripes are based more on personal preferance and you may actually enjoy having to use a lot of stakes or the skimpy guy line it comes with.
My advice -- take it back to the store and seriously consider spending a few extra bucks on an MSR Hubba. The only thing you have to lose is the window (which I sort of miss on rainy days) and 1/4 pound.
Sleeps: 1
Weight: 3.25 pounds (not 2.25 lbs!)

This tent is excellent for long distance backpacking or biking, very durable and comfortable for one person.
Pros
Lightweight
Easily compressible
Good ventilation
Easy to set up
I took this tent on a cross-country bike tour and loved it every time I slept in it. Even though mine was relatively old, it kept me dry and I could stuff the fly and tent into a compression sack that hardly took up any space in my panniers.
The poles fit perfectly in my triangle bag, never broke or bent, and are extremely easy to set up. The zippers also held up as well, and the breezy tent was lovely for keeping the mosquitos out on warm nights when I left the fly off so that I could watch the stars.
I honestly can't think of any complaints other than that I lost the poles and haven't been able to find replacement poles. 
Source: It was left when my neighbors moved out

Ok, I was given this tent as a gift and I have to say, if I wanted a super small tent that is pretty light this is a decent tent. I'm about 6 foot and there is lots of room to lay in it. I'm a bit on the larger side (240 pounds) and the tent doesn't feel too small. It seems too very water repellent, and easily set up. There is a lot of vents in it, giving it a lot of air flow. Over all there is nothing wrong with this tent. Also keeping in mind that this is a Mountain Hardwear tent you can be sure the quality is very high!
I set this thing up at REI to have a look and it is a joke. It is supposed to be 20 inches wide but the sides of the tent curl up and I doubt you could fit a 20" wide therm-a-rest inside of it without feeling like you were sleeping in a hammock. It quotes a 42" peak height but the tent comes to a point at the peak so you really have about 20" of usable peak height because above that it is too narrow for your head. Really just a classic example that you can only cut so many corners without sacrificing usability.
Design: Solo tent
Sleeps: 1
Ease of Setup: Easy
Weight: 2 lb 14 oz

Your Review
You May Like
Specs
Price
Historic Range: $114.93-$170.00
Reviewers Paid: $129.00-$150.00