Osprey Ariel 65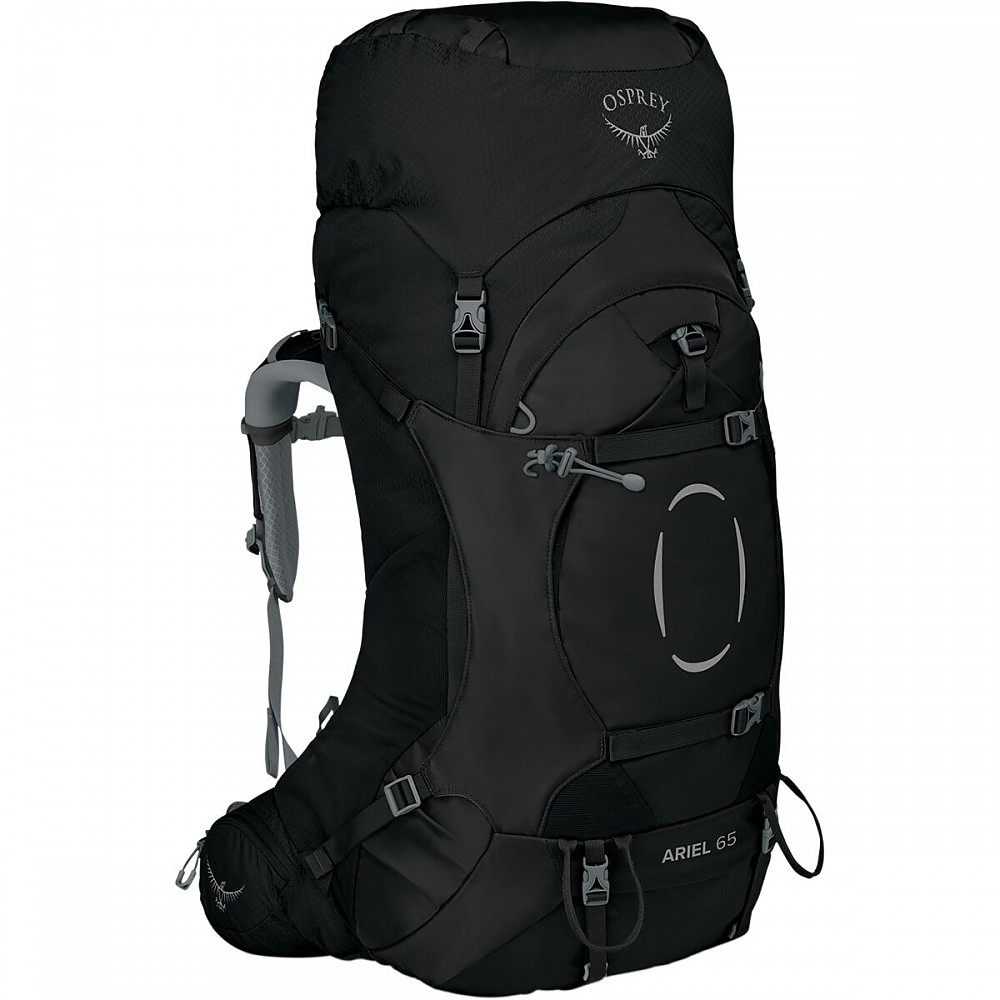 Versatile and comfortable.
Pros
Very adjustable
Roomy
Clever pockets
Comfortable
Cons
Have to purchase rain cover separately
Have to purchase water bladder separately
I'm 5'4" and bought a small. It's perfect. Hip belt is very comfortable with handy pockets for keys, phone, snacks, etc. The pack is very adjustable, which has allowed me to take the weight almost entirely on the hips, rather than shoulders.  
I had some help at the store to get it absolutely perfect, but I know how to adjust it properly on my own and how to pack it best from some YouTube videos. There are a few side pockets to get at bear spray, etc. and a wider back pocket for lunch.
The pocket for the water bladder is between your back and the main pack so it doesn't require you to unpack it to fill it up. There is an Osprey water bladder , but I didn't want to spend the extra money so am using my Camelbak bladder and it's working just fine.  
Loops for poles are right under the left arm which I thought would bug me, but not at all.  
Lid is very roomy. I've got all my raingear and first aid in it and it unclips to be worn as a fannypack.  
I've been wearing it quite comfortably with approx. 35 lbs.
Source: bought it new
Price Paid: $360 less 20% discount CDN

Took Osprey Ariel 65 on my Nepali trek. It is light, on which my sherpa also did comment. He was greatly enthused by the pack. We managed mostly my things, his small bundle and bits and pieces from his 10 yr old son.
The bottom compartment held my Daimor scheidegg sleeping bag well. Obviously there would be more room - even for a pair of sports shoes if only a summer sleeping bag were put in.
For a longer trek, especially at relatively high altitude, great thought has to be put into what one is packing into a sack this size. It can be done. Invest in quality, dry easy thin layers as opposed to bulk.
The pack took all of what I needed. It is good that Ariel 65 does not go too wide, as some backpacks do. It also draws in well, when taking less.
The lid took the wet weather trousers,anorak and pack protector well. I did feel that when fully packed, the rim around the lid could have come down a bit more snugly over the sack, just as additional protection when walking in mid weather change.
For my height, 5'2", it was very comfortable - none of the head hitting at the back that occurs with some - very comfy. Hip belt super snug. At some points between 10-15 kg, it really did not feel that one was carrying that weight.
Carrying the sack through from relatively high altitude, through to temperate and semi tropical zones, the circulation around the back was excellent. None of the clamminess that most backpackers experience. So that fancy bit of pink foam shaped like a market egg tray really does work. I have not as yet had reason to take off the lid to use it separately. So I can't comment on that.
The side elasticated bits took a litre water well, the odd immediately usable insect bite stick, rub or shareable snack. Later, they would also take a sports shoe each. En route, used the front one for wipes, small hand towel, toothbrush, small cup, flattened loo roll, sunscreen spray, lip salve,maps. (Found putting anything into trouser pants a real drag.)
This sack adjust very well, especially with the top straps, it enables one to achieve a good balance. I am looking forward to using it again - and see how it goes on a longer trek. When taken off, it also sits proud - which is good if one doesn't want to see the sack toppling over into mud or other unspeakable slush.
Design: Osprey Ariel 65
Size: 65L
Number of Pockets: 2 side and one front
Max. Load Carried: 15kg
Height of Owner: 5'2"
Price Paid: 27300 Hungarian forints

This is a good all-around pack for people who backpack once every year or two, but not ideal for a long-distance hike.
Pros
Comfortable
Good stability
Cons
Not durable
Unnecessary weight
No pockets on hip belt
I used this pack on my hike of the Pacific Crest Trail in 2012. By the time I was a couple hundred miles in, straps were already fraying and breaking. I called their customer support, and they grudgingly sent me a new one. By the time I finished the trail, many of the straps and buckles had broken on this new one as well—most importantly the stabilization straps connecting the hip belt to the main pack.
Granted, the PCT is a long trail and the pack got a lot of use, so in terms of durability it would probably be fine to use this pack if you are just going out for a week here or there.
I would like to see Osprey eliminate a few of the buckles and straps that don't seem to do anything particularly useful, likewise the barrier inside to create a lower compartment. It would also be great if they put some pockets on the hip belts. As it is, there is no part of the pack that is very accessible when wearing it.
When the hike was over, I called customer service again to see whether I could get the broken straps and buckles repaired. The good news is that they will do this free of charge (except for postage for the pack), but this customer support person seemed just as annoyed as the last one. I wouldn't blame them for feeling that way except that Osprey makes a big deal in their written literature about how much they would just love to repair or replace your pack any time no matter how much use it has seen or how may years you have had it, so I thought the customer support would be a bit more enthusiastic about helping me out.
Basically, this is a good pack for the average backpacker, not a good choice for a long-distance hike.
Source: bought it new
Price Paid: $300

I am 5'4". This backpack is perfect fit for me. The adjustable torso make all the weight on the waist not the shoulder. I carried this backpack to John Muir Trail on 2011. I carried almost 50lb-40lb (depend the water) and feel nothing specially the shoulder.

Pros
Top lid can be removed and converted into a lumbar pack
Wicks away moisture during warm weather and intense activity
HDPE framesheet and a center aluminum stay protects your back from bulky or pointy items and support heavy loads
Cons
No raincover
Not ultralight
No small pocket on waist belt
This is very fit for a small woman (shorter-torsos) and need to carry a big load. With this backpack,  I finished the trekking on John Muir Trail on 2011. 
The hip belts and shoulder straps are adjustable and fit very comfortable, but the sternum strap is not very good. It dropped off from the should strap when I loaded the backpack.
The capacity is good, the advertised volume is accurate. It fits the solo long hike gear: sleeping bag, pad, stove, 8-9 days foods, clothes, down jacket, wind (rain) jacket, emergency medicine, personal .... 
There is enough straps for trekking pole, ice axe tool loops, and sleeping pad straps 
It is very easy to access, and very comfortable. I usually hike almost 12 hours a day with heavy load. But no pain in my shoulder. The backpack distributed the load very well and  remained comfortable. It let you feel the backpack is part of your body, so that you feel nothing after the long trekking. 
But I will wish it has small pocket on the waist belt, so that I can put the energy bar, energy gel, small trash....
I have this backpack for more than 3 year. And I am a very active hiker. I will do the John Muir Trail again this year 2013. The backpack can afford the heavy use. Overall I really love it.
Source: bought it new
Price Paid: $195 before tax (8.75% in my area)

After lots of research I got this pack last week and took her out on her maiden voyage this past weekend. I had to pack into the site and my pack contained my sleeping bag, clothes (both in compression sacks), sleeping mat as well as a bear keg full with food for 2 people and a dog.
There were some other small items but it held everything well. It has a very wide mouth at the top of the bag as well as an opening on the front to get at things in the middle of the pack which is very handy. Also, the compression straps on the sides go belong the side pockets which is useful.
I hiked about 7km with this on my back and it carried the weight beautifully. Next is a 4-day hike and I'm sure it's fit for the task.
Height of Owner: 5'3"

Great pack—good quality, comfort, and storage.
This pack is great for extended trips and multi-day hikes. It is sometimes difficult to adjust all the straps, but when I get them to fit right it's quite comfortable. There's ample storage space in many different pockets.
If I could make one improvement, it would be for a front zipper so that I could get at clothes/gear packed near the bottom without taking everything out/destroying my perfect packing job from the top.
I've had this pack for a few years now and taken it on many trips—still looks like new! It's very durable, and I don't expect to have to buy a new one anytime soon; if I did, it would definitely be an Osprey.
Source: bought it new
Price Paid: $150

Highly recommended for longer backpacks or alpine/glacier climbs. This pack holds a ton without if feeling like you're carrying a ton!
Pros
Comfortable
Pockets in hip belt
Holds a ton
I bought this pack for a climbing class a couple years ago. It is amazing! I loaded it up with about 45 pounds for a field trip to Camp Muir on Mt. Rainier and it held the load very well.
It was definitely heavy for me (5'8" 125 lb woman) but it carries a lot of weight very comfortably. I love the pockets in the hip belt.
Source: bought it new
Price Paid: $285

Your Review
Where to Buy
Help support this site by making your next gear purchase through one of the links above. Click a link, buy what you need, and the seller will contribute a portion of the purchase price to support Trailspace's independent gear reviews.
You May Like
Specs
xs
small
medium
large
Price
MSRP: $290.00
Current Retail: $315.00-$320.00
Historic Range: $41.98-$1,299.00
Reviewers Paid: $150.00-$300.00

Weight
4 lb 7 oz / 2.02 kg
4 lb 12 oz / 2.15
4 lb 15 oz / 2.25
5 lb 2 oz / 2.32 kg
Capacity
3600 cu in / 59 L
3783 cu in / 62 L
3967 cu in / 65 L
4150 cu in / 68 L
Recently on Trailspace