Big Agnes Seedhouse SL2

Very lightweight and quite roomy true 2-person tent at right price. But requires many pegs for pitching, not suitable for cold weather and abusive usage.
Pros
Very lightweight
Excellent overall quality
Luxurious for one person
Just enough space for 2 people and their gear
Excellent ventilation — no condensation at all
Good quality of stakes and poles
High ceiling
Great warranty service
Cons
Delicate fabric everywhere
Not suitable for cold weather
Small headroom space
Small vestibule
Requires 11 stakes for pitching, including 5 guylines (!)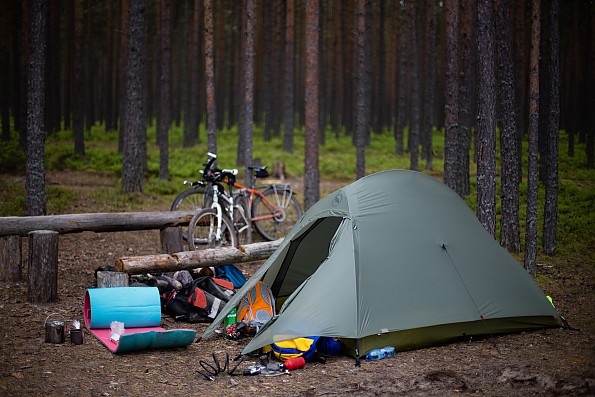 I purchased this tent in mid-2013 for fast and light 2-day summer bicycle trips with my wife. Also it can be used occasionally as a solo tent. We've already had the MSR Hoop, but this tent is very warm even for North-Western Russian summer, and it has too much space for summer short trips. Thus the Seedhouse has saved us the additional 1 kg (2 lbs) of gear weight, even with the footprint which we use at all times.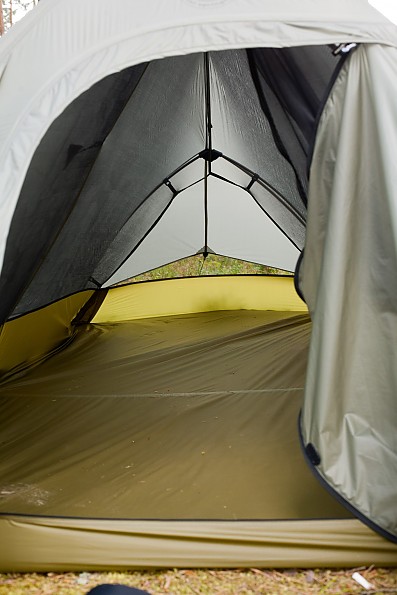 The package of this tent is slim, but quite long (55 cm / 22 in), thanks to oversized plastic DAC hubs attached to the poles. The tent is pitched not very quickly. It is freestanding, which is a rare feature in ultralight class. But you need to use ALL the stakes (11 pcs. of high quality V-shaped DAC stakes) to fully separate the inner tent from the outer. This includes 5 short guylines which shall be used at all times, not only in bad weather. I personally dislike this feature, more on this later. Also you need to attach the rainfly to the inner tent with two clips which help in maintaining the reasonable inner volume.
The rainfly and floor fabrics are very delicate, so you need to treat it with great care and always use the footprint (luckily it's quite often offered in bundle with the tent at no additional cost). Another useful paid option is gear loft with 2 pockets, because the tent has only two VERY small pockets. The tent structure is quite rigid and will handle moderate winds without problems. This tent is neither designed for really harsh weather, nor was used by me in such conditions.
The internal space in just enough for two slim persons, and of course it's a luxurious solo tent. We use two standard sleeping pads (width is 50 cm, 20") which fit inside the tent quite loosely, leaving space for excess gear (mostly clothes and various electronics).
The tent has triangular cross-section, so the head space is not as huge as in "square" MSR Hoop. But the ceiling height is fine for 184-cm (6 ft) tall person even with the gear loft attached. I touch the ceiling only in rear half of the tent. Also it's possible for two people to comfortably sit along the length of the tent.
Again, the internal space is fine even for two, and the mesh inner tent expands the space visually.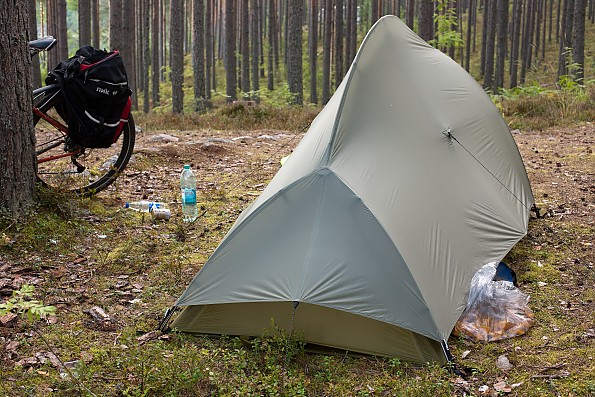 The rainfly is positioned high above the ground and it is much wider than the inner tent. Thus around the tent there is enough covered space to store the pots, pans, helmets and bottles. There are no dedicated vents in the rainfly, but thanks to the huge ground gap (approx. 20 cm or 8") you can forget about the condensation problems. On the other hand, the temperatures above and below the rainfly are equal…
The vestibule is small, but it's enough for storage of four boots and two almost empty backpacks (we use soft bicycle panniers which fit there well too), and you'll still be able to exit the tent. But the excess gear must be placed inside or outside the tent.
Under the rain it's quite tricky to exit the tent without dipping the water on the face of your neighbor, and you also cannot leave the rainfly door opened during the rain. This drawback could be avoided if the main pole had an extension above the vestibule (like in MSR Nook).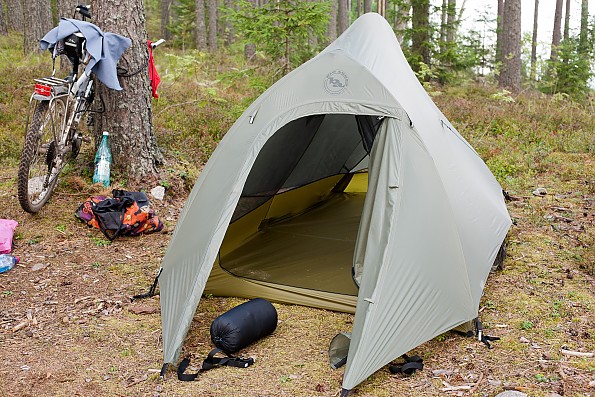 The tent has excellent ventilation but it doesn't come for free. The inner temperature generally doesn't differ from the outer. While sleeping at +5°C (+40 °F) you will need to have a warm sleeping bag and hide your nose from cold. We don't use this tent in temperatures below freezing, it wasn't designed for that. In such an extreme case you'll need a warmer down sleeping bag and proper sleeping pad.
In conclusion, this tent is a good summer option for those who is ready to pay for much smaller weight while sacrificing the fabric durability and comfort to some degree.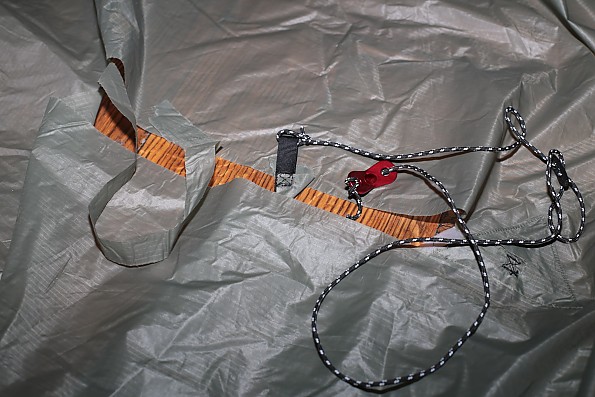 Unfortunately, despite our care to this tent, it was badly damaged by a person who tripped the side guyline and tore a 30-cm (1 ft) piece of rainfly fabric. This guyline was stitched in the middle of huge fabric panel without proper strengthening, so tearing was almost inevitable. The rainfly was sent to manufacturer for inspection.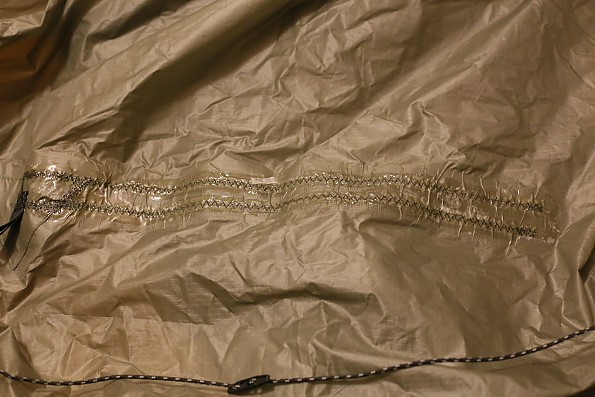 Luckily the good people of Big Agnes decided that it's a warranty case, so they repaired the rainfly free of charge (a new rainfly would cost us 100$). Now it looks quite ugly, but works well. Also we began marking the guylines with bright rain covers to avoid such accidents. Unfortunately the tent design doesn't allow leaving the guylines behind, despite its formally freestanding status.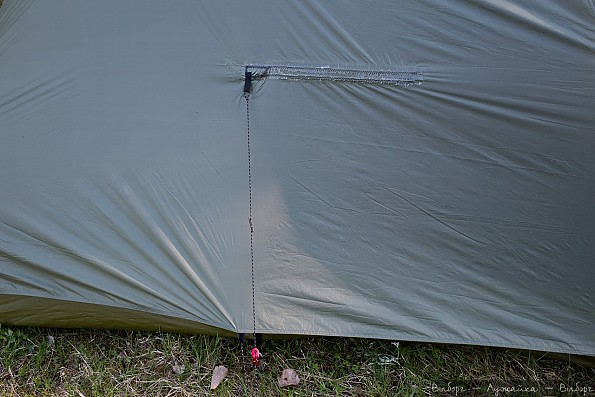 In the end of 2016 I decided to replace this tent to Fjallraven Abisko Lite 3. Being slightly heavier and very expensive, this tent is much more durable and versatile: suitable for 4-season usage, has place for 3 persons (well, 2 and half to be correct) and may be used in full-scale backcountry trips. Unfortunately, the Seedhouse SL2 had very little use after our child was born.
If you are interested in such kind of tent, you may also take a look at the new Big Agnes Slater SL2+, which has many issues of Seedhouse SL2 solved. (Larger vestibule — check, hood on entrance — check, side vestibule door — check, rainfly reinforcement at guyline connection — check, more versatile ventilation — check.)
Source: bought it new
Price Paid: 340$ w/free footprint

The Seedhouse SL-2 is a simple, well-designed, easy to set and take down tent. I have used it in the summer and fall and really like the door at the end of the tent (instead of the side) design. Though the tent is rated for two, I use is as a solo tent.

I specifically looked for an affordable two-person tent that would work for car camping and backpacking, intending to be the only occupant. I really enjoy the luxury (and functionality) that extra space provides. I have done quite a bit of research and though there are possibly better tents now available (for considerably more money), I still this this is a great tent—a classic really—especially when you can find it on sale.
Pros
Simple and well designed, easy and quick to set up, even the first few times. Easy to tear down and stow.
Light weight.
Good headroom and vestibule room. Tight for two people, just right for a claustrophobe and gear.
Easy to get in and out.
Cons
Not entirely free-standing.
Fly will merge with the mesh top after a lot of rain, leading to some condensation.
Entrance will allow minor dripping in the tent in significant rain
The thing I like most about this tent is that everything is exactly what/how/where you expect it.  That's what makes it so easy to set up even the first time, without instructions.  I have read so many tent reviews that say you need the instructions, diagrams, or it takes some figuring out the first few times you set it. Not a problem with the Seedhouse SL-2.  No instructions needed; everything is obvious and intuitive.
The tent pitches tautly, though in high wind and rain, it will slacken.
I have been ins some light to moderate rains in the tent and it performs well.  I have not felt like the tent would collapse in wind, though I have not been in high wind with the tent.  It's a super light, after all, and there are some limitations.
The tent vents reasonably well, though there is nearly always some condensation overnight even without rain, but not too bad.   
It has great headroom—43 inches.  It is rated as a two-person tent, but I use it solo. I like the extra room for gear and elbows. It would be tight for two large adults.  Width and length of the interior are just right for me with gear.  I do tend to bring a lot of gear and extras and bring them all in the tent with me.  Minimalists would find it roomy I believe.
It stows as easily as it pitches and doesn't take a shoehorn to fit everything in the stuff sack, and that includes the footprint.  I generally hate taking a tent down, but I have no complaints with the Seedhouse. I use it primarily for trailhead camping for Colorado 14ers.
I have had the tent for a few years and do not use it a lot or in rough conditions.  It has held up just fine for my use.  Everything works as it should.  Again, i like the simplicity of the tent.  I think it would go up relatively easily in wind and/or rain.
Source: bought it new
Price Paid: $206 including footprint.

A high-quality, lightweight, dependable performer.
Pros
Lightweight
Packs Small
Dependable
Cons
Demands good site selection
Not for taller hikers
I've had this tent out about 40 times in a variety of weather and I couldn't be happier with its performance to date.
I think there are some gear choices where you can cut cost and still get a quality product. There are others where it doesn't make sense to try and save a few bucks. This tent is an example of that although if you look around you can definitely find it on sale.
While there are a handful of 2P tents that actually work for two people I don't think this is one of them. But for the solo backpacker who wants a little extra space I would strongly suggest considering the Seedhouse SL2.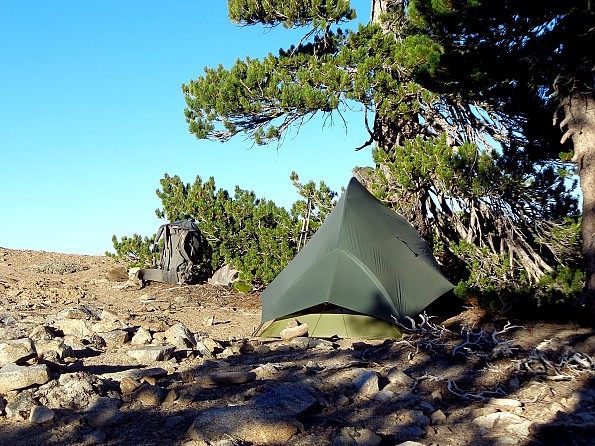 Pros:
Lightweight for a 2P

Fast and intuitive set up with a taught pitch

Mesh body is great in warm weather

Exceeded expectations in big wind, rain and snow

Reflective guylines

Ample vestibule for pack and boots

Roomy for one

More than sufficient peak height

Packs very small (Tip: Stuff tight, roll top over and secure with attached drawstring)

No condensation issues if fly is extended

Subtle color
Cons:
Thin fabric demands good site selection if not using footprint

Not for hikers over 6'2"

Very tight for two people
I think what has impressed me most about the Seedhouse SL2 (the discontinued Seedhouse 2 is heavier) is how it's performed in weather. With the proper positioning and fly guy out in big winds it provides an air tight shelter and I've yet to see any leaking during rain storms. It's even been great in the snow with no build up given the design.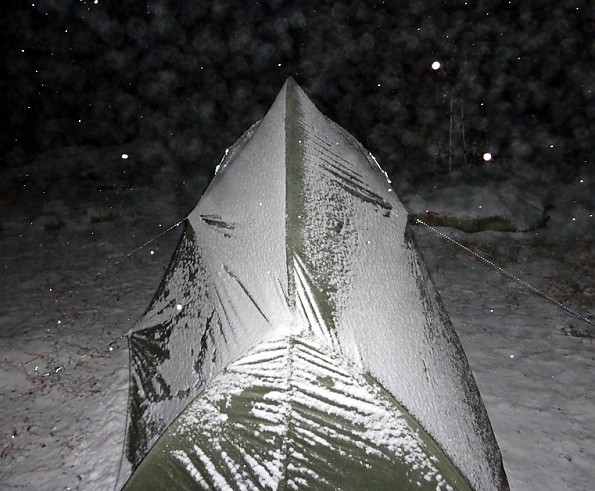 So if you're looking for a lightweight solo shelter that will provide a little extra space, and don't mind spending a little more to get more, I'd say the Seedhouse SL2 is definitely worth a closer look.
Source: bought it new
Price Paid: $250

This is a great tent for lightweight backpacking. It is easy to assemble, effective as any double wall tent, takes up little space in the pack and is very light.
Pros
Light weight
Easy assembly
Durable
Easy to clean
Small pack volume
Cons
Small for a two man tent
Small vestibule
This tent has been great for my solo backpacking trips. I bought it as a two man tent for me and my wife, but have used it quite a bit for myself when backpacking with buddies.
It packs down to a small size. It is as light as my one man tent with twice the room. It is double walled and the fly can be used with just the poles and footprint for an ultra-light fast fly configuration. The tent, fly, poles and footprint are all well made and rugged for such a light tent.
There is a nice balance between weight and construction features. The weight is 3 lbs 11 oz, including footprint. That is not in the ultra-light range, but considering the size ( 28 sq ft ), the fact that it is double walled and it's durability I saw a good trade off between weight and function/feature. There is reasonable headroom to sit up and dress in the tent, due to the configuration of the pole support.
I re-rigged the stay lines, and swapped out stakes for lighter ones. I also bought small ultra-light weight ditty bags since the tent only has one small pocket.
One warning, this is a two person tent only if the people are small to average in size, height and weight. If you are a couple of small to average size you will fit well enough, but you will have almost no room for extra gear in the tent, and the vestibule is smallish. Note that if you decided to buy the newer and lighter Big Agnes Fly Creek UL2 it is lighter than the Seedhouse, but the footprint and profile are almost identical. In fact the small vestibule is even smaller on the Fly Creek.
With all that said, I love this tent, and although I may buy a super lightweight 3 person tent eventually for me and my wife I will use this two man tent for some time. It is a great tent for me.
Source: bought it new
Price Paid: $190

I got everything as advertised. Number one, the weight: _including_ ground cover and minimum stakes (6) this tent is under 4 lbs. Number two, is size. This is a two-person tent--spacious for one person, cozy for two. Nice vestibule size--just big enough for a compact-sized backpack, or two sets of boots, camp shoes, and then some.
Setup is better than the one-person version. The one-person relies on stakes to open up the foot of the tent, requiring an extra two stakes to setup. On my scale, there was only a 5-ounce difference between the one- and two-person models equipped for the trail--for me the 5 oz was a small concession compared to the loss of space and extra setup on the one-person model.
The Seedhouse series uses a single-pole with several hubs that form an inverted 'V' at each end of the ridge-pole. It is easy to assemble the pole. Once assembled, place the four, pole ends into the grommets on the corners of the body of the tent, clip the body to the pole, and buckle & stake-out the fly. The whole setup takes me less than 10 minutes. To save the bottom of the tent with minimal weight, I recommend the BA footprint.
The tent performed very well under adverse conditions. The factory seam-sealing kept everything dry inside during a three-hour downpour, and the tent was solid during windy conditions partially-guyed (gusts to 30 and two other guy-out points I hadn't used yet). Although the tent is well-ventilated you can adjust the fly to reduce drafts.
Speaking from experience (I have led over fifty backpacking-trips over twelve years for Sierra Club), I recommend this as the best three-season, two-man backpacking tent I have seen yet.
Update: November 28, 2011
Since owning this tent for a few years now, I'd downgrade the rating to four stars. As a one-person tent, I'd still give it five stars, but I have found the space in the tent too cramped for two people.
The biggest complaint is headroom. It is nearly impossible to sit up straight if someone is lying next to you. This creates difficulty for the second person entering or first person exiting the tent. Some gymnastics are involved as a two-person tent.
As a one-person tent, I'd still say it is very spacious! It weighs what many single-person tents weigh (true tents here, not bivvys or tarps!).
Design: Rectangular, ridge-pole Dome
Sleeps: 2
Ease of Setup: Quick & easy--max space requires two, side guy-outs
Weight: 3 lbs 14 ounces (w/ ground cover & stakes)
Price Paid: $280

Superlight freestanding tent. Small footprint and stealthy color.
Pros
lightweight
compact
stealthy
Cons
needs a ventilation flap in the fly
fragile material and zipper
Simple enough, after a few trips I could put this tent up in the dark. Superlight — watch out it will blow away...though in the wind it's usually good enough just to use 5 stakes for the fly. I usually camp with just the freestanding screen body and no stakes.
Fly is totally weatherproof as it arrives. Fly well ventilated at the bottom if staked out properly, but condensation can be a problem if the fly door is totally zipped up, like you have to when it rains — I use a spork to prop it open at the top.
I use the two-person as a one-person. I'm 6' and it's a good fit. Two people and you have to store everything under the vestibule.
Quite compact, fits in a backpack or pannier or kayak easily.
fly zipper sucks up the adjacent nylon flap if you're not careful.
Nice soft green color, blends right in to most landscapes. Esp without the fly, it's very stealthy at night.
Smallish footprint as compared to two door models.
The material is lightweight — that means you can't manhandle it or it will be full of holes. If you are rough on gear, get a heavier tent.
I'm on my second Seedhouse, third if you count a warranted replacement on the first one — after a 2-month river expedition, it shipped water — might have had something to do with a little wind driven tumble through the brambles.
Still the first tent I grab for backpacking in the Sierras or kayaking in Baja.
Source: bought it new
Price Paid: going rate

First off let me tell you I definitely recommend this tent. I've only had the tent a week, so I will update accordingly if my experiences change, but after one 3-day camping venture, it tested out nicely.
I'm a pretty big guy at 6'5" and close to 320-lbs, an old Georgia Tech FB lineman, so I did a lot of research to find accommodable gear.
While this tent was designed for 2, I used it by myself, and was very comfortable, would have been a tight squeeze for 2 but definitely possible. I was able to lay out my Therm-a-rest Prolite-4 Large sleeping pad easily, and kept my pack inside as well with plenty of space. Also room to sit up inside to review maps, change clothes and adjust items in my pack.
The first night we set up camp at Osceola National Forrest, there was a major storm coming in so I staked it off well. Might I add these are the nicest stakes I have ever used, very sturdy, and easy to install in solid ground with no major force. Super light as well.
As far as the set-up goes, this was a breeze. I never even looked for directions (I did a trial set-up in my living room the night it arrived). I purchased the footprint in hopes of protecting the floor better due to my size. I set it up easily under 10 minutes myself taking my time.
The storm had very strong gusts and hard rain for 8-10 hours straight. Not a drop got inside! Actually I did zip the vestibule door to the top instead of the bottom at first and realized I didn't zip it completely, so one or two drops got through but I adjusted right away, and was good to go.
The vestibule had a decent amount of room. I could have left my pack and shoes under easily. Just make sure when you come out after rain, to open the door to where the rain runs off outward instead inside on you and your stuff. Also if still raining and you have to get out, don't open the fly door all the way so it doesn't get inside the tent.
The bottom tub style design, held up nicely, as no water penetrated. I had no moisture build up. It also reached into the 40's, but with the low-profile fly design it blocked most of the cold wind.
The pocket features inside are useful. I put a forehead light in the pocket above the tent door, and it was perfect as it gave plenty of light throughout to do whatever needed. The bottom side pockets were ideal for my watch, so that i could hear the alarm.
I conclude with the fact that this tent lived up to all the reviews and I am very impressed "so far"... Best tent I've ever owned!
Sleeps: 2
Ease of Setup: Very easy for one person
Weight: under 4 lbs
Price Paid: $315 including BA footprint

Pros
Lightweight
Ease of setup
Versatile
I love this tent. I use it mainly for backpacking trips by myself and have LOTS of space. I really appreciate the head room, I can easily sit up in it.
I find that if I'm wanting more space or if there are 2 people it is best to hook the fly to the tent with the loops along the side then pull out and stake the sides. This gives a lot more space.
I find it extremely easy to set up, really light and packs down to nothing.
It is great in rainy weather as well.
When on my own it is very easy to stow my gear and shoes in the vestibule. With 2 of us it was not as hard as I expected. We just piled our bags on top of eachother and we each had a side for our boots. I just made sure to put my poncho tarp on top of the bags to avoid condensation build up as the top bag touched the vestibule.
I also like that you can set it up with just the fly or have just a full net tent depending on the weather.
I've had this tent for just over a year and have taken it on 6 trips on the West Coast of BC throughout all seasons of the year including winter and have had no issue with wear and tear or use.  
The only down side is the vestibule, it is on a very steep decline and opens right up to the front of the tent.  I find this a bit inconvenient but not that bad.
Source: bought it new
Price Paid: ~400 CAD

Light and roomy for one, cramped for two, poor design features.
Cons
Small vestibule
Weak zippers
I own two Big Agnes tents. I am an experienced light/ultralightweight backpacker. My equipment is for 3-season, high altitude backpacking, 10-day to 2 weeks most trips. This tent is light and easy to set up quickly in case of approaching storms. With proper extra guy lines, it can withstand fairly high winds and rain. It has several design flaws.
First, the vestibule is only about 8 sq. ft. which is not large enough to cover a backpack, boots and poles without exposing some of the equipment to the elements. Also, the rainfly opening is directly above the front mosquito netting door, and in a rain it allows rain to drip onto the items near the front door inside the tent.
In an effort to save weight, the zippers that are used on all the Big Agnes ultralight tents are not dependable. The zippers in both of my Big Agnes tents, the Seedhouse SL2 and the Fly Creek UL2, have failed under normal use in a very short time. They are plastic, which should allow them to be re-zipped on the trail, but they both split open and would not re-zip due to the damage caused by trying to re-zip them back on track.
I sent the Seedhouse SL2 back to Big Agnes and asked them to replace the zipper with a heavier grade zipper, but they refused to change the zipper with anything other than original equipment, which they did at a nominal cost to me.
After the Fly Creek UL2 zipper failed in the same manner, I just pitched the tent rather than go back to the same poor quality zipper. The tech at Big Agnes could only offer a suggestion to zip the zipper pulls halfway from top and bottom so they would not have to make the turn on the bottom of the door. That's not a solution to bad design.
I have since replaced the Big Agnes tents with a Nemo Dagger 2, which is basically the same weight, but has two vestibules (total 23 sq. ft.) and two doors, with much better fly design for entrance in a rain, more convenient entrance/exit for two people in a small tent, and better weight zippers.
Source: bought it new
Price Paid: $300

This tent is the absolute best tent I have ever owned and I have owned many over the last 20 years!!! It is a great tent because it is lightweight and you can set up in the dark with no problem!! It is awesome in humid, wet areas because the condensation does not build up inside because of the mesh interior.
It might be a bit snug for two people but because of the nicely sized vestibule most gear can be stored in the vestibule. I also bought the footprint ($55.00 CDN.) which is invaluable for a tent made of the light weight material and I also spent $3.00 CDN. on a gear loft which is awesome for stowing my GPS and other assorted items as well it works great for laying out a couple of pairs of wet socks!!
I have used the Dyad 22 (single wall) tent for many, many trips and it performed well, including one trip last year (CDT Trail) as all I had to do was fold it up and put inside my pack, however, the Dyad 22 cannot withstand severe, rain downpour compared with the Big Agnes, as my trips this year have all been wet. I chanced a mountaineering trip by taking the Dyad 22 because I really do love the Dyad. However, I wish I had the Big Agnes as the Dyad starting receiving puddles of water on the floor and I had to wipe it down inside fairly often in order to keep my gear dry, I would not have had to do this with the Big Agnes.
So,I would say the Big Agnes is the ultimate best 3 season tent, but if you don't want fuss around with packing it up then a single wall is better however if you get stuck in an area where the weather is continually raining and snowing or doing a trip in the coastal mountains and especially in Alaska in summertime, I would recommend the Big Agnes over any other tent on the market. (With the fly/gear loft the pack weight for the Big Agnes is about 4 lbs.)
Design: three season freestanding
Sleeps: 2
Ease of Setup: EASY!!!!
Weight: 3 lbs. 1 oz.
Price Paid: $315 Canadian

Extremely lightweight and easy setup highlight this great little tent.
Pros
Lightweight
Quick and easy setup
Easy packability
Cons
Tight for 2
Slight water leakage
Seamsealer delamination
I've been using a Marmot Limelight 2 for a few years now and absolutely love it. But I wanted to get something a little bit lighter in weight. After a lot of research, I purchased the Big Agnes Seedhouse SL2 and overall I'm quite pleased with my choice.
I tend to backpack solo 99% of the time so weight was definitely a big consideration. The SL2 is about 1/2 the weight of the Limelight 2 and packs down smaller and very easily. And the factory footprint was a huge bonus (Big Agnes charges $60 for one separately). While being comfortable enough for just my 5'11" 195 pounds frame, two people would be a tight fit. 
The only other gripes are that the "U" shaped vestibule zipper has been prone to a slight water leak right at the top of the door even in light rain. Also, the factory seam sealer has been delaminating somewhat. After each use, I've had to shake white flakes of seam sealer from tge tent body; but it hasn't leaked around the  floor at all. 
I recently came back from a weekend backpacking trip in which I awoke to 1" of new snow on the ground and the Seedhouse performed well. Unfortunately, somewhere along the way, I lost the tent's footprint, hence knowing the $60 price tag.
All in all, I'm going to give this baby a 4 1/2 Star rating, but that is not denigrating it, because it's a  great shelter.
Source: bought it new
Price Paid: $150

Easiest tent to set up. I especially love the screen design coupled with the fly—no moisture issues ever!
Pros
Great air flow
Lightweight
Easy setup
I really love this tent. Took it out for a first run this summer in the Teton-Bridger area of Idaho/Wyoming. It took no more than 5 minutes to set up. All the poles are connected—just toss into the air and poof, you are ready to connect to the tent.
We did not have any rain or other weather issues, but I believe it will handle anything with ease. No moisture issues at all due to the great ventilation. The body of the tent is mostly screen. The fly is then suspended above by resting on the poles, thus creating at least a 2 inch space between the tent and the fly. This allows for maximum airflow.
Inside is cosy. It easily fits two people, sleeping mats and bags. Each side of the tent is equipped with a small side bag for glasses, flashlights, or other small necessities. The fly does have a small vestibule that will keep shoes and other small items dry and out of the weather. It would be nice if this were a tad bigger so that you could fit your backpack if it were to rain.
Other than this small negative, I would highly recommend this tent. Easy to pack and quick take down. No issues restuffing things. A great product.
Source: bought it new
Price Paid: $250

I bought this tent for the 2007 OMM (Original Mountain Marathon) in the UK. Mountain marathons are running events, for teams of two, usually over two days with a camp in the middle, 10 to 30+ miles per day, and all gear must be carried. Weather in UK hill/mountain areas is unreliable and can be very wet and windy. A good MM tent must be light, strong, waterproof and easy to put up.
The benchmark MM tent is the Terra Nova Laser: the lightest models are around 800g. However, they are not long enough for a tall man like me: I didn't fancy not quite being able to straighten out all night. I've also read that they're fiddly to erect. The Seedhouse SL is significantly heavier (about 1.5kg), but still pretty light between two people. I'd seen them on the internet (they're practically unheard of in the UK) and a tall friend recommended them to me.
The night of our MM camp was wet and windy, as is often the case! The tent was a doddle to erect, didn't move about too much in the strong winds and kept us completely dry. It's about as roomy as my North Face Westwind, which weighs twice as much and is no more stable in bad weather. So, we had a good night's sleep and ran all the harder on day two for being well rested!
It doesn't get a lot of use, but I've had no reliability problems.
I don't know of another tent that offers so much space at this sort of weight (there may be other US makes I'm unaware of), and I'm very impressed by the weatherproofness and stability.
Design: freestanding
Sleeps: 2
Ease of Setup: Very easy
Weight: 1.5kg
Price Paid: $300

I highly recommend this tent for most all 3-season backpacking trips. It has proven very durable and I have no regrets after four years of use. IT looks as good today as when I first bought it. Numerous trips on the AT have made this tent earn its reputation!
Pros
Lightweight
Packable
Durable
I have used this tent for three years now. The longest trek was an 11-day trip in the mountains of New Mexico at the Boy Scout Philmont Ranch. We hiked over 100 miles on this trek, and this tent worked wonderfully — as it always has. 
It pitches so easily. Even with high humidity, there was never a condesation issue. Headroom is limited, but the lightness of the tent compensated for this. Plus, with two people sharing, one person carried the poles and the other carried the tent/fly. Practically no weight at all for each and made it very packable.
Source: bought it new
Price Paid: $275

Love this versatile tent!
Pros
Versatile
Roomy for one person and a 50 lb dog/space heater
Easy to use
Cons
It doesn't set itself up by itself
This is the tent I take when I'm going to be out for awhile. It's really easy to set up...has lots of options to suit conditions.
Want to admire the stars and mozzies? Use just the footprint and the 'tent...and see just how popular you really are. Bugs not so bad? Just use the footprint. The rainfly is clipped to the frame and footprint...so if it's warm enough, bug free, but there might be some dew...you can opt for that set up.
I've had it out in the snow, heat and rain and it performs exceedingly well.
It's light enough for me and plenty roomy for a 6'1/200 lb guy (and Australian Shepard).
I like it a lot!
Source: received it as a personal gift

Great tent that sets up in no time and is easy to take down.
Pros
Lightweight
Easy setup
Packs down small
Plenty of room for one person and gear
I bought this tent looking for something that was lightweight and that had plenty of room for one person where I could also have room for my gear. This tent works perfectly. It's stood up to the wind and I've never had any problems with condensation in the tent. It's super easy to set up and take down.
Having two people in the tent will be cramped, my 6 ft friend couldn't really sit up in the tent. It should be fine if you're both petite.
Source: bought it new
Price Paid: $300

Excellent tent.
Very light, easy to set up and spacious inside for something weighing c1.5kg.
Set up is a piece of cake; I did one dry run in my lounge and then was able to set it up easily, at midnight, in the dark, in the pouring rain on arriving in The Lakes (UK).
Everything about the tent is logical; no zany systems or fasteners to get your head round. It does what it says on the tin.
Very stable and watertight, withstood a lively storm in Ennerdale, with no visible leaks. Vestibule area provided sufficient cover to cook if need be, and also a good space to store rucksack and other gear.
Plenty of room for one, cosy for two, with decent head room too if you need to change gear or pack inside.
Compact size carries easily, and it looks good too when set up. Big Agnes seem to be onto a winner here.
Sleeps: 2
Ease of Setup: easy
Weight: 1.5kg
Price Paid: GBP200

Super light, roomy, and simple setup perfect for backpacking.
Pros
Super light
Compact
Easy setup
Waterproof
Roomy for one
Perfect tent for backpacking from a great company. Setup is quick and easy and at under 3 lbs it will not add a lot of weight. Outstanding quality and durability.
Source: bought it new

A very good tent, and very lightweight, but a few downsides that are a little annoying. For sleeping one person, you can set it up in an instant, but to get the full size you really have to put in all 10 or 11 stakes and attach hard to reach clips from the underside of the fly to the outside of the tent sides.
Other than that, it's stable in moderately high winds and has been surprisingly durable. I have several months of nights in the tent and no problems with the thin fabric.
Sleeps: 2
Price Paid: $229

I have hiked most of the AT with this bag. I prefer to tent out then use the shelters, so I use my tent every single night when I'm out. Rain, sleet, snow, bugs, heat, cold. You name and I've slept through it in this tent. I couldn't be more of an advocate.
Sleeps: 2
Ease of Setup: Very easy to set up.
Weight: I think around 3 or 4
Price Paid: $350

It's a good weight, but I've consistently woken up in the morning with the tent soaking went from condensation. It breathes horribly with the fly on. It's also a bit scrunched for two people.
Your Review
Where to Buy
Help support this site by making your next gear purchase through one of the links above. Click a link, buy what you need, and the seller will contribute a portion of the purchase price to support Trailspace's independent gear reviews.
You May Like
Specs
Price
MSRP: $339.95
Current Retail: $224.73-$299.95
Historic Range: $49.90-$349.95
Reviewers Paid: $150.00-$350.00

Recently on Trailspace