Fjallraven Abisko Lite 3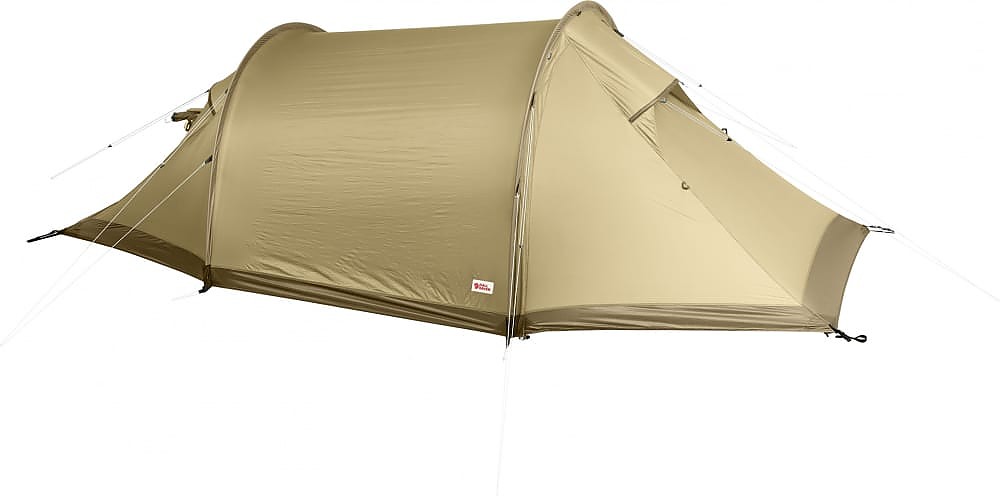 Lightweight 3-person all-season tent with good gear storage abilities. It stands side by side with renowned Hilleberg tents in terms of quality, design, and pricing. But its ceiling is low, and the tent is too small for three people.
Pros
Lightweight for triple all-season tent, small packing size
Good inner storage, convenient and roomy vestibule
Strong fabrics for lightweight tent
More than enough place for 1–2 not very tall persons, ability to take the 3rd occupant on board
Various setup options
Very fast, easy, and gloves-friendly "single-handed" pitching on most surfaces
Excellent quality, most elements are well designed
Generous repair kit included
Cons
Insufficient inner height
Not enough inner volume for 3 persons, especially at the rear end
More difficult pitching on rock and snow than usual
Small ventilation openings in outer tent
No pitching instructions and detailed photos available online, not enough detail in included manual
Somewhat difficult unbuckling the inner tent from rainfly
Condensation built-up on warning labels inside the inner tent
The bigger pole is a bit too long for its sleeve, difficult to tighten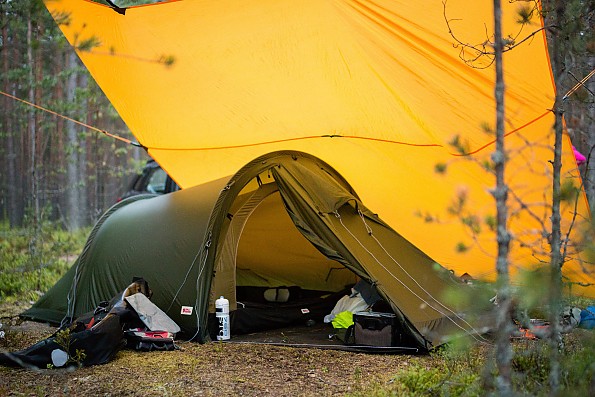 This tent was ultimately replaced to Hilleberg Nallo 3 in my gear kit. Click on the link for more details about their differences
Background
Soon after purchasing Hilleberg Kaitum 3 tent I became "spoiled" by its quality, level of protection and simple setup technique. It works well for our family of three, but for some trips it's too heavy and bulky — 3.4 kg (7.5 lb). A few months later I decided to replace our second tent (ultralight Big Agnes Seedhouse SL2) by something of similar quality. A new tent will be used when equipment weight and small packing size have the top priority, or in winter, when sleeping in super-large tent is too cold.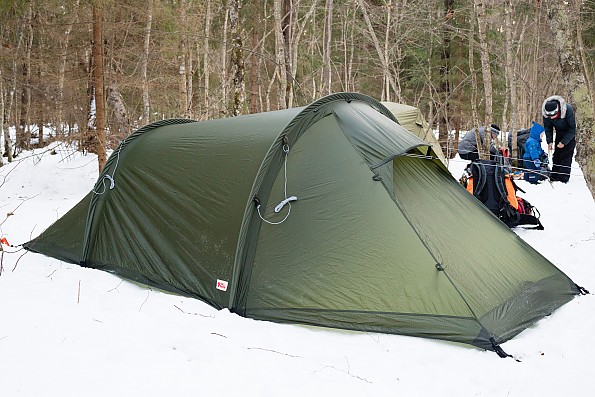 After some use of our Kaitum 3, which has two vestibules, we also decided that a single vestibule of similar size is quite enough. So we don't need an oversized vestibule which costs additional weight, footprint area and money. Speaking of Hilleberg tents, there was little sense in buying a second "red" line tent, such as Nallo 3, as these tents are neither lightweight enough nor packed compactly. Also I personally dislike the center vestibule entrance in Nallo. But the "Yellow" tents (Anjan 3, for example) are definitely designed for warm weather with their huge ground gaps and doors made of mesh.
There is another Swedish brand — Fjallraven, — which produces all-season tents of similar quality and value. Interestingly their model lines are placed between the "colors" of Hilleberg in terms of strength and weight — the Abisko series is nicely positioned between "Red" and "Yellow". Specifically, Abisko tents are generally lighter than "Red", but in the meantime these are real all-season tents (except for Abisko View 2) without ground gaps at rainfly and full mesh doors.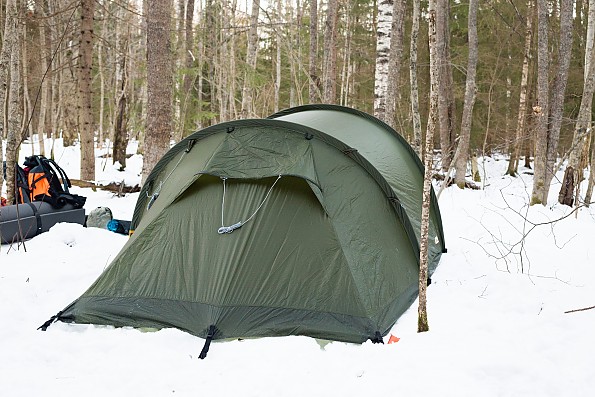 With this background, we decided to buy the Abisko Lite 3 tent. Here are its specifications:
Seasonal use: 4 seasons, "suitable for winter use in all but the most exposed conditions".

Manufacturer's claimed total weight: 2220 g (4.9 lbs) for pre-production samples.

According to Fjallraven Support, it has changed to 2360 g (5.2 lbs) in final production samples due to additional reinforcements. My tent weighs 2400 g.

Claimed minimum weight: 1890 g (4.2 lbs) for pre-production samples.

Floor: 40D Ripstop Nylon PU, 6000 mm

Inner tent: 15D Ripstop Nylon DWR

Rainfly: 40D (bottom) and 20D (top) TripleRip Nylon double-sided silicone, 3000 mm

Pegs: DAC J-Stakes, 15+2 pcs.

Poles: DAC Featherlite NSL, ∅10 mm and ∅9 mm

Claimed packed size: ∅17x42 cm (∅7x17 in)
I've created a dimensional drawing for this tent, more detailed than official one.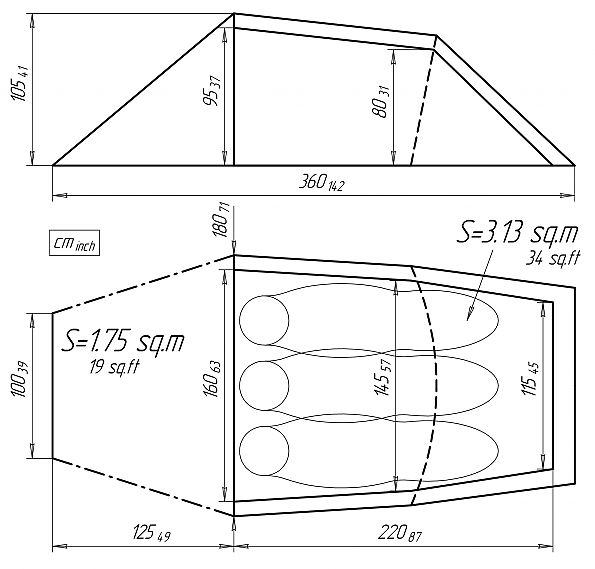 In this review I'll emphasize the differences between this tent and Hilleberg tunnel tents (like my Kaitum 3), because they share the same general idea, and my impressions from these tents have much in common.
Setup
This tent has almost the same setup technique as Hilleberg tunnel tents (excluding pre-2017 Anjan). The pitching is easy (at least on dense soil), and all operations may be performed using the heavy gloves — it's very convenient during the winter. You'll have no problems while pitching this tent alone, in heavy rain and wind. As with other tents with outer pole design, you cannot flood the inner tent while pitching in the rain.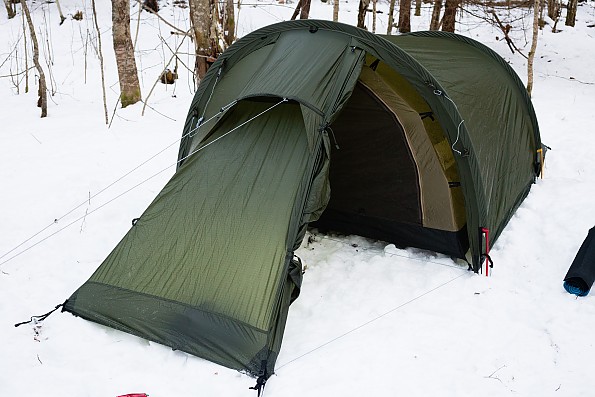 Numerous tent setup options are available:
complete tent;

a tent with removed vestibule and/or rear part of the fly (for warm and dry weather);

lightweight floorless shelter without the inner tent (useful for having a lunch under heavy rain);

single-wall shelter (with optional footprint);

inner tent only (with optional holders).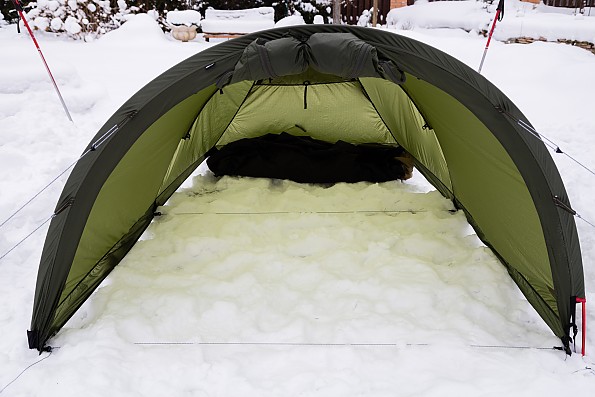 (click here for photos of various setup options)
The rainfly has two full-length sleeves for poles and it is connected to inner tent via elastic loops and T-buttons. The tent is pitched basically with just 4 pegs. You lay over the entire tent and peg the windward end with 2 pegs. Then you slide the color-coded poles to the sleeves and put the free ends into the holders.
Updated in 2019: 
Unlike Hilleberg, tightening the straps on poles is made at very end, as the fabric has to stretch a little. And the bigger pole feels like it's a bit too long for its sleeve, as it requires a lot of force to tighten it completely. By morning, the excess tension disappears. After a few dozens of nights it's obvious that the tent fabric near the tension device is not strong enough, and there's visible distortion between the pole and the door zipper.

I fixed this issue by cutting the excess pole length (about 1.5 cm).
The sleeves are very slippy inside, so the poles slide in and out extremely easily. Then pull the free end of the tent to raise it, peg the remaining 2 stakes and tighten all straps. The worse the weather conditions, the more stakes (15 pcs. are included, plus 2 spare pegs) and guylines (6 double guylines are pre-installed) you add.
Speaking of setup, there is only one major difference in comparison to our Hilleberg — lack of solid metal rings on 4 "main" straps. These rings reduce friction when you insert the peg through the ring and then tighten the strap. But in this tent you insert the peg through the strap itself, and this increases friction. I've simply attached 4 small cord loops to straps (borrowing the cord from repair kit) to solve this issue. But it should have been done at Fjallraven factory.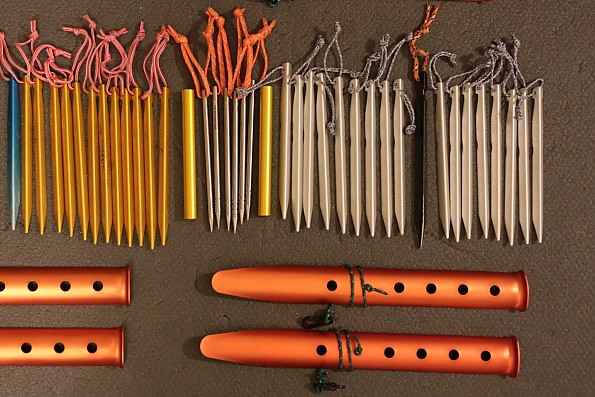 (Fjallraven pegs are silver with reflective strap, while Hilleberg's are yellow)
Interestingly, the longer pole is 10 mm in diameter, while the shorter one is 9 mm. Contrary, Hilleberg uses the 10-mm poles only in heavy-duty "black" line of tents. Also the buckles on straps are made of plastic (in Hilleberg tents the metal buckles are used), but anyway there is no QR buckles which may get broken. Both Hilleberg and Fjallraven tents may be pitched on double poles (second pole kit is required) in storm conditions.

This tent is not freestanding, and you'll get difficulties while pitching on rock, snow and dry sand. You'll need to ensure a really good grip for at least 4 "main" attachment points to ensure a good tension of the fly. You may consider purchasing the special "snow+sand" pegs and/or "rock" pegs for hammering into ground. The included V-pegs are quite strong and also allow careful hammering.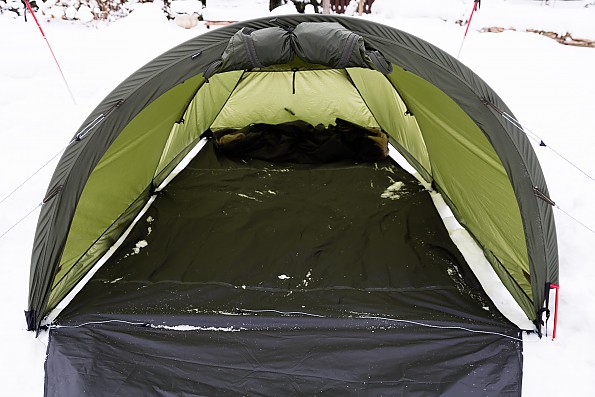 The 480-gram (1 lb 2 oz) footprint for this tent is as insanely expensive as for Hilleberg. Both share the same design with full tent area coverage (it's missing in "yellow" tents though) and semi-permanent attachment  — you don't need separating the footprint from the tent for storage. The relatively thin 40D floor fabric and outer vents with mesh screens (see "Ventilation" section below) in Abisko Lite 3 make good sense in purchasing the footprint (I did). Also in winter the dry floor in vestibule makes it virtually homelike.
Room and storage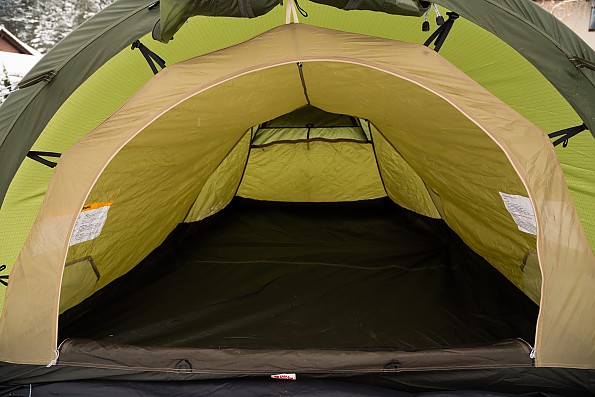 Given the ultralight nature, small wonder that this tent is quite small for claimed 3-person rating. There is more than enough place for 2 people, and it's a luxurious solo tent, but for 3 people there's not enough volume, especially at the rear end, where the tent width is just 115 cm, and the ceiling falls to the ground.
The ceiling height is low, even at the entrance: the peak height is 95 cm, gradually lowering to 80 cm at the rear half, and then goes to zero at 45° angle. I am 184 cm (6 ft) tall, and I touch the ceiling almost at all times while sitting inside this tent. So this tent is definitely designed for trips where you don't stay inside all day long. On the other hand, for better wind resistance many all-season tents (especially the smaller and lighter ones) are much lower than average 3-season tent. The Hilleberg tents are generally higher than Fjallraven though.

It's easy to notice the height difference between Kaitum 3 and Abisko Lite 3
Due to classic tunnel design, the gear storage is excellent for ultralight tent — many Y-shaped tents suffer from awkward vestibules. For example, in our Big Agnes tent the vestibule was really small, it couldn't be opened under the rain without dipping the water inside, and the gear in vestibule makes entering and exiting the tent a bit tricky.
But in Abisko Lite 3 the vestibule is almost perfect, considering the lack of weight penalty. First, it's even larger than vestibule in our Kaitum 3. In the rain I often sit inside the vestibule with all doors closed — the tent is cramped for three people sitting inside sumultaneously. There is lots of place for your gear, it's covered from rain really well and allows for easy exit. Second, it has two side entrances, while the Kaitum 3 has one, and Nallo 3 has only a single center entrance.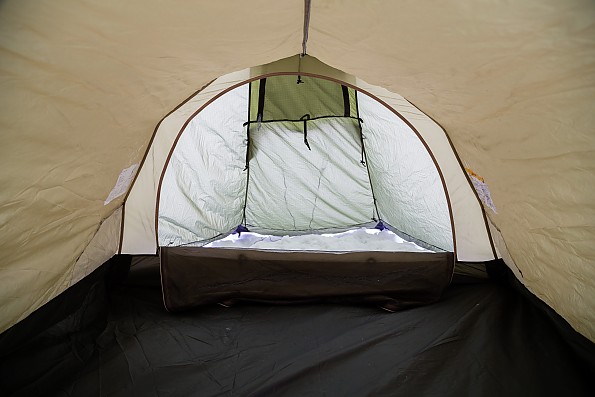 I like the side entrance design because it leaves more area for gear storage without troubling the entering and exiting the tent. Also you don't need to stretch along the entire vestibule (wiping the condensate with your hair) to open the outer door. Finally, the side entrance is less prone to exposing your gear to the rain. Having two side entrances, you can choose the most suitable one (especially in heavy wind or when camping in confined space).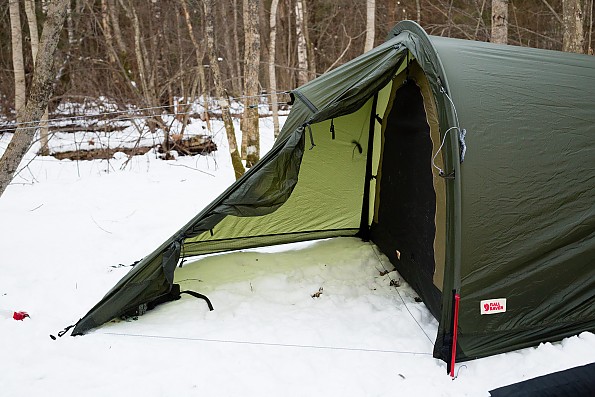 The inner storage abilities of Abisko Lite 3 are also very good. Each of three occupants has a pair of side pockets: a larger and smaller one. Also there is a dryline on the top and loops for accessory gear loft (remember that the inner height is low).
Regarding the gear storage, this tent is well suited for multi-day and winter trips. With such good storage abilities, I think that oversized vestibule of Abisko Shape is not necessary for most users, especially at cost of extra 340 grams (12 oz), 40 cm (16 in) of length and 100 EUR.
Ventilation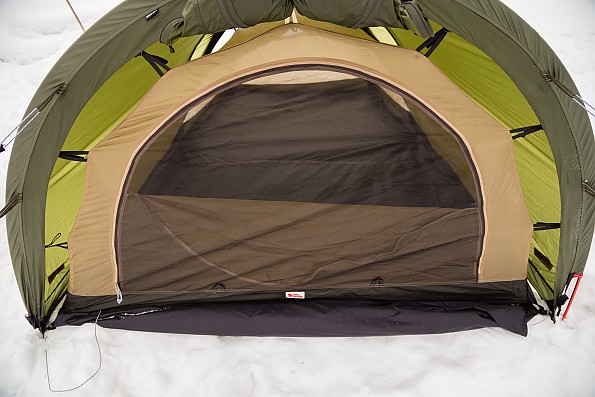 There's no gap between the rainfly and ground, and the tent has some sort of advanced ventilation system, which defines the Abisko Lite 3 as all-season tent, with emphasis made at cold weather applications.

In the inner tent you have 2-layer door with fully adjustable ventilation — depending on conditions you can choose between 100% mesh door, or solid nylon, or half-by-half, like on photo above. Also there is non-adjustable mesh window (65×22 cm, 26×9 in) at the rear, which may be opened to access the rear vent on the rainfly from inside.
The rainfly has two small vents with hoods, each vent is covered by non-removable mesh layer and adjustable fabric panel. The mesh cover on vents is a nice feature found in heavy-duty "black" Hilleberg tents. It enables you to make 1-layer shelter with aid of footprint without sacrificing the ventilation or protection against insects. (In "red" tents, such as my Kaitum 3, there is no mesh in hoods, and opened ventilation in the fly will let the mosquitoes in.)
Unfortunately, the hoods don't have the copper wire frame, thus they hardly maintain their shape without the attached guylines. Even with hoods guyed-out, the air flow through the outer ventilation may be not enough in warm nights (especially when there are 3 people sleeping inside), with fully closed vestibule. The non-removable mesh covers also reduce the flow to some degree.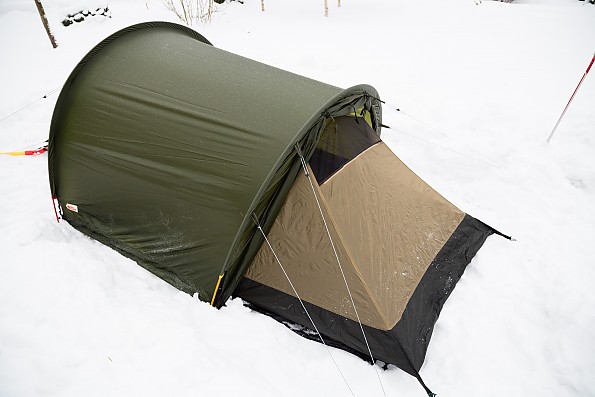 For better ventilation you can partially open the rainfly doors, and in dry weather — fold and remove the vestibule and/or rear part of the rainfly. There are special toggles for half-opening the doors from the bottom specifically for this purpose. But sometimes you'll need to keep the doors closed to avoid attracting the thieves.
In general, the ventilation is sufficient for use in cold climate, while in Nallo tent the ventilation is little bit more versatile (you can fully close the mesh opening in inner tent, but you cannot access the rearmost vent from inside). Abisko Lite 3 is generally warm inside, and it wasn't designed for hot climate — our Kaitum 3 offered much better ventilation in warm summer nights due to its HUGE vents.
Packability
This tent itself is quite small, it has very short pole sections (39 cm / 15 in) and ultralight fabric — in packed state it is very compact and nicely fits into its small packing bag (a dry tent with attached footprint fits normally, but with wet tent you'll have some problems). The bag fabric seems quite durable, and the bag has slightly conical shape to simplify the tent placement. If the tent is wet, you may stuff it into the bag and then attach the pole bag outside it. (Do not force the poles inside the tent bag in such case — you may damage the rainfly.)
To my opinion, for such a lightweight product the tent bag is somewhat over-engineered with its double closure, compression straps and special buckle for attaching the pole bag outside. The Hilleberg bags are much simpler. Also the pole bag is so small, that you cannot fit the peg bag inside it. But there is a special pocket in the tent bag for this purpose.
Materials
This tent uses lightweight but quite strong fabrics. The rainfly is made of 20D (top) and 40D (bottom) silicone-coated (total of 4 layers) Nylon with 9 kg and 15 kg tensile strength respectively. Both these values exceed the values of Hilleberg's 20D Si-Nylon (8 kg, found in "yellow" tents) and 30D Si-Nylon (12 kg, found in "red" tents). Of course, the tensile strength of all mentioned fabrics exceeds the strength of usual cheap PU-coated fabrics by vast amount.
The floor is made of 40D fabric, but actually it's noticeably tougher than the same fabric in our old MSR Hoop. Probably the thicker PU coating makes the difference. By touch, there is little difference between Fjallraven's 40D and my Hilleberg's 70D floors. Such a floor is quite strong (especially for lightweight product), but using the footprint is recommended to extend its lifespan.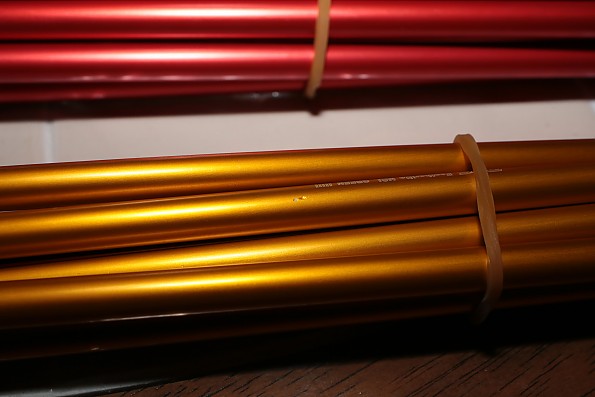 (a damage to the poles occurred during shipping)
The poles are lightweight and expensive DAC Featherlite NSL (pre-bent). It is standard for premium-grade tents. As I mentioned above, the longer pole is stronger than usual thanks to its larger diameter (10 mm vs. 9 mm). Interestingly, in heavy-duty "Keb" tent series Fjallraven uses much cheaper DAC Pressfit poles, usually found on three times cheaper tents. Probably such poles are stronger. 
In summary, this tent is much stronger than usual in lightweight segment. Excluding abusive usage, it will last as long as you can expect from equipment of moderate weight, or may be even longer.
Features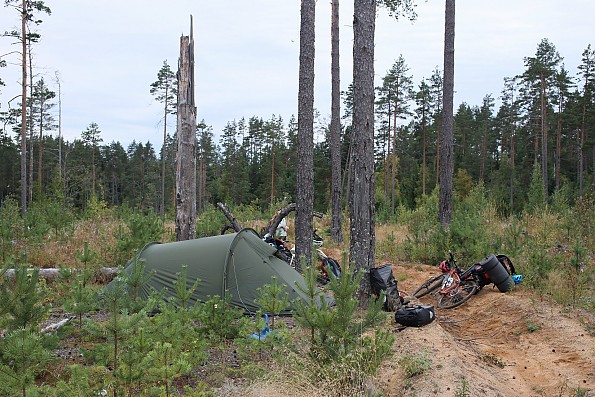 This tent is very well-thought, and its design lives up to expectations from its price. I'd like to mention the following minor items which make the difference between good and excellent tents:
Ventilation openings in the fly are closed with mesh in addition to adjustable fabric panel.

Generous repair kit, including a proprietary reflective cord with spare adjuster, 2 pole sections and repair sleeve, silicone seam sealer with brush, silicone fabric patches and self-adhesive patch for floor.

Reflective 2-mm guylines with Dyneema fiber core. Though not very visible in daylight.

Modern zippers with cord pullers (not those loud metal ones).

All outer vents are adjusted from inside the tent.

Rain covers on outer zippers. "Yellow" Hilleberg tents rely on water-resistant zippers.

Light and strong DAC Featherlite NSL poles. The longer pole is stronger than "red" and "yellow" Hilleberg poles (10 mm in diameter vs. 9 mm).

Very nice and strong DAC J-Stakes (like in "red" Hilleberg tents). Not those weak "needles" found in many ultralight tents.

Fabric thickness management — the top of rainfly is made of lighter fabric (but still strong, thanks to 4-layer Si coating), while the bottom part (experiencing more abrasion from ground, snow and so on) is stronger.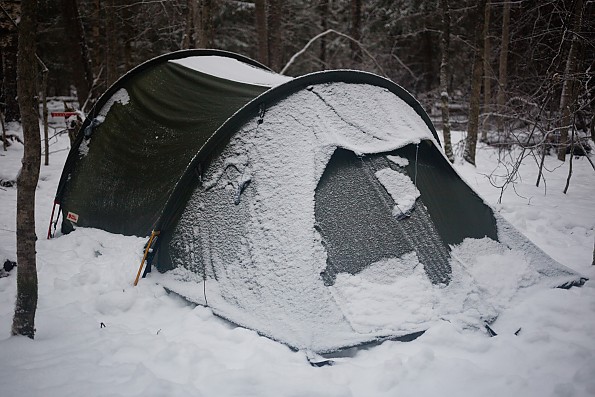 (note the deformed ventilation hood)
But there are also some minor drawbacks in comparison to Hilleberg:
No copper wire frame in vent hoods. Without guylines the hoods struggle to maintain the proper shape.

No metal rings on 5 "main" tightening straps on the fly. In Hilleberg tents tightening the fly during the pitching is a bit more convenient. You can fix this in 10 minutes by adding the cord loops to the straps.

Simplified tension system on guylines: a single tensioner adjusts two guylines at time. The Hilleberg tents have a dedicated tensioner on each attachment point, it's easier to apply the proper level of tension. But you can always get additional tensioners on eBay — they're called CL266 Mini Line-Lok®.

For such an expensive product, I'd expect more detailed pitching instructions. And there is no official instructions available online, only a few detailed photos and short tutorial videos. The Hilleberg is far ahead with their thorough online brochures and pitching videos for each tent model.

The warning labels inside the tent are embedded into the fabric, while in most other tents these labels are flagging freely. But in Abisko Lite 3 these patches are located right above your head, and they aren't air permeable. Expect MASSIVE condensation build-up on these patches, with possible dipping on your head. 

Mismatch between sizes of toggles on inner tent/footprint and corresponding rings on rainfly. Unbuckling the inner is more difficult and time-consuming process than in Hilleberg tent. The latter also has different colors for toggles belonging to footprint and the inner tent, for more simplicity.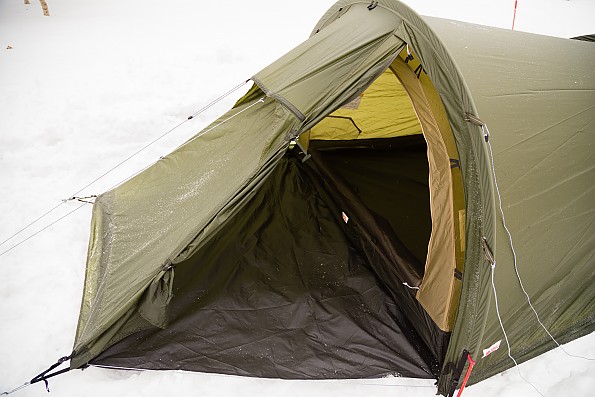 I can also name some controversial points of Abisko Lite 3, which shall be kept in mind:
Over-engineered tent bag. Some may like it, some not.

Rainbow-styled door (which falls on floor when opened). You need to open it completely to exit the tent, it's impossible to "slip" outside through a small opening. I'd prefer more traditional door design, possibly with double zipper like that found on Fjallraven Abisko Endurance 4 tent.

No flame retardant applied to the fabric due to health and environment concerns. The attached label says that this tent cannot be sold or used (!) in Canada and several US states.

Made in China vs. Made in Estonia. This is not a drawback to me, but some people will buy Hilleberg because it is NOT made in China. What's funny, my Hilleberg tent had a manufacturing defect, while the Chinese-made tents I owned were made correctly.
Conclusion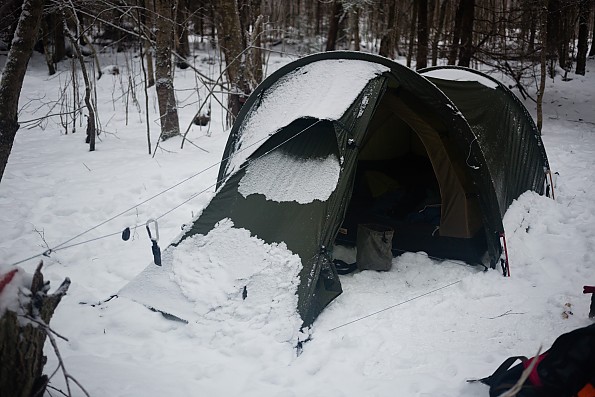 After a season in Abisko Lite 3 I can say that it definitely meets our expectations from secondary tent aimed at cold weather or 1/2-person usage. Very small packed size, low weight, easy setup, versatile ventilation options — it's truly remarkable tent. While sleeping alone it gave a temperature gain of 4 °C (7 °F) to outside temperature, and while sleeping with my wife and son the gain was 8...10 °C (13...17 °F). My wife especially praised the small internal volume of this tent (in comparison to Hilleberg Kaitum 3), as cozy, warm and well suitable for winter use. 
In the end of this summer we were required to use this tent during several more nights, while our Kaitum 3 went to Sweden with warranty claim. One night was unusually warm (about +25 °C/77 °F), and we had to open the vestibule doors by half, as the small ventilation holes in the fly weren't enough for 3 people. In other nights it was colder (about +12 °С / 55 °F), so with fully opened outer ventilation (and closed inner) it was comfortable to sleep — neither too much condensate, nor too cold, not too warm/humid. Of course, this tent is not overly comfortable for gathering 3 people inside, I often found myself sitting in the vestibule (thanks to footprint, that was comfortable enough).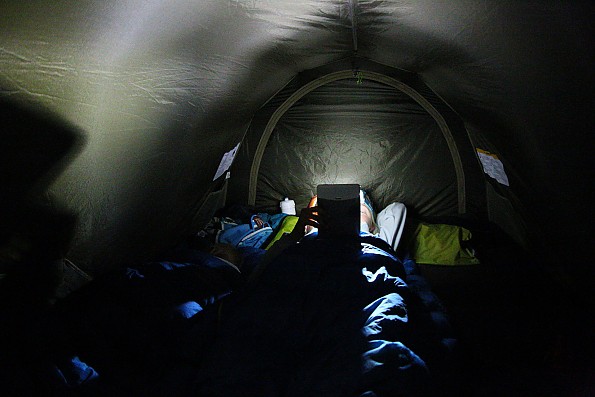 To my opinion, the Fjallraven tents unquestionably worth their premium price. While buying any Fjallraven (or Hilleberg) tent, you are paying for thorough design, many hours of outdoor tests and of course the best available poles, fabrics and accessories on market. I think that both Swedish brands have almost the same price-to-quality ratio, and I like both of my tents equally.
Of course, there are some drawbacks in lightweight 4-season Fjallraven tents, mainly caused by physics limitations. Abisko Lite and Abisko Shape are too small for staying inside all day long, they are definitely designed for sleeping in the tent, not for living inside it. On the other hand, their weight is very attractive for all-season tents, and for lightweight tents they are very strong and have excellent gear storage abilities.
I'd recommend these tents for those who need a lightweight all-season tent and can live without the freestanding ability.
Background
2-day hiking and cycling trips in 4 seasons, 2 years of experience, ca. 20 nights.
Source: bought it new
Price Paid: 670$ + 120$ footprint

Your Review
Where to Buy
Help support this site by making your next gear purchase through one of the links above. Click a link, buy what you need, and the seller will contribute a portion of the purchase price to support Trailspace's independent gear reviews.
You May Like
Specs
Price
MSRP: $800.00
Historic Range: $476.56-$800.00
Reviewers Paid: $670.00

Mesh pockets in inner tent
3 big, 3 small

Number of vestibules
1

Number of entrances
2

Number of poles
2

Pole diameter
9,6 mm

Stuffed size
17 x 42 cm

Weight
2220 g

Minimum weight
1890 g

Persons
3

Seasons
4 seasons

Construction
Tunnel

Tent features
Clothesline, Reflective guylines

Recently on Trailspace