DAC J-stake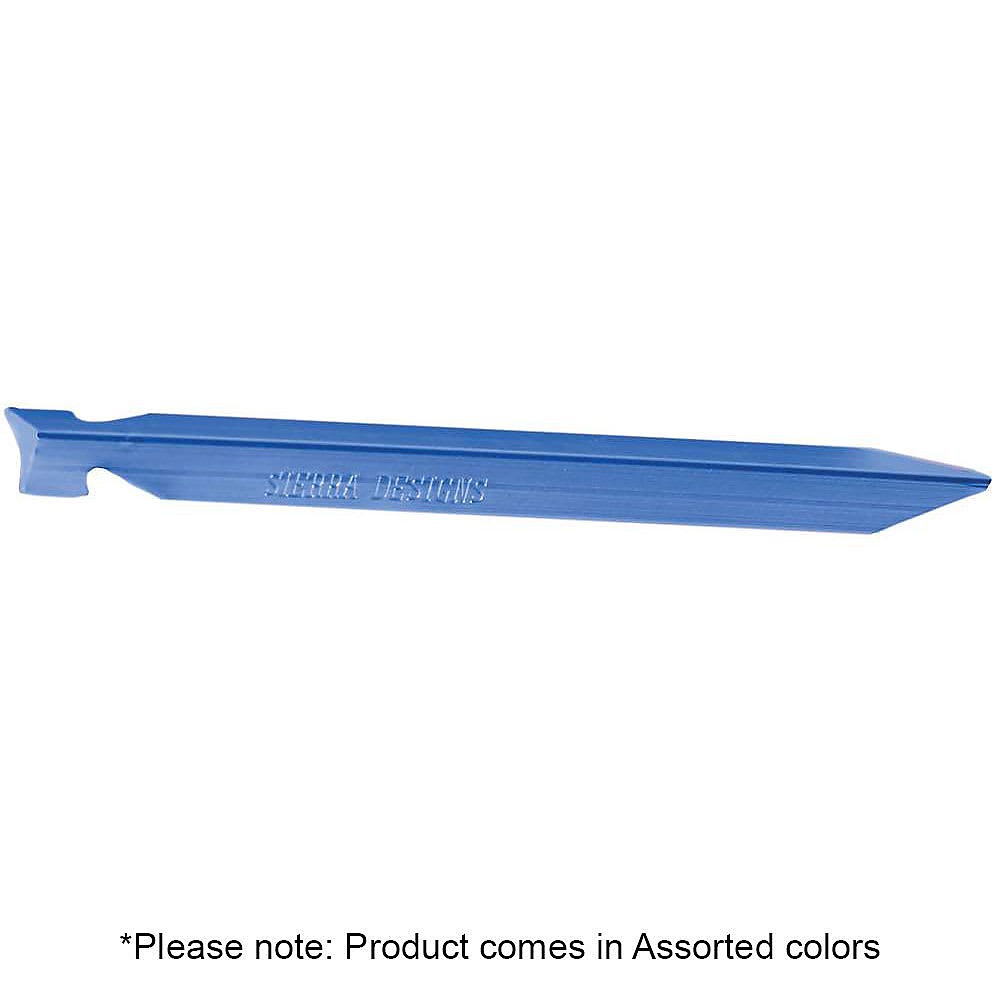 The stakes of ultimate choice for most smaller tents (1-2P). They are lightweight, quite strong and durable, endure careful hammering and may be equipped with cord loops. Of course, such stakes are not designed for sandy soil and for large tents.
Pros
Lightweight
Durable
Very resistant to bending
Ideal for dense soil and smaller tents
Quite suitable for compacted ground with a bit of rocks
May be equipped with cord loops
Cons
Very difficult to remove if the cord loop is missing
Not reliable in sandy soil
Not enough hold for large tents
Collect some dirt in the groove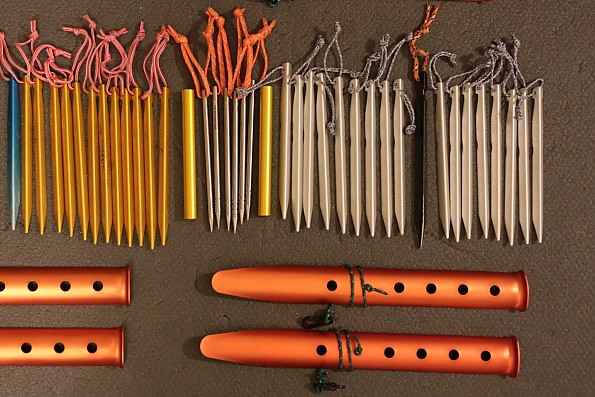 DAC J-Stakes are blue, yellow, and silver in this photo

I've been actively using these pegs since 2012, since five of my tents were equipped with them:
I also purchased a spare set of these pegs in 2013.
In comparison to other pegs I found the DAC J-Stakes being almost perfect for smaller tents (1-2P and lightweight 3P):
They are extremely strong in comparison to "shepherd hooks" made of aluminum rod (such pegs bend too easily).

They are lighter than larger Y-stakes, penetrate the ground more easily and it's easier to clean them after use (the soil collects in a single groove vs. three grooves at once).

They offer much better hold in regular soil than any nail-styled peg.
There is no such thing as completely all-purpose peg, and of course the J-Stakes are not suited for everything:
For large tents (such as my Kaitum 3) their hold is not enough at times.

In sandy soil (like that found in some pine tree forests) these pegs may be less reliable than larger Y-pegs.

In rocky ground these pegs may be damaged (heavily scratched or riveted) by hammering. Use the titanium nails in such situations.
Nevertheless the J-Stakes are very resistant to bending. To do this, you need to step on a peg sticking out of ground by half.
I also noticed that without the cord loop such peg is very difficult to remove from the ground. Two of my tents (Hilleberg and Fjallraven) came with loops attached to the pegs, and I've made the loops by myself for all other pegs.
I don't think that the dirt collecting is a serious issue with these pegs. First, you may simply ignore it. Second, the peg has only a single groove, and it takes a single movement to shred the dirt with the tip of another peg.
In general, I like these pegs really much, and I'd like to see all the lightweight tents equipped with such pegs, instead of the weak "shepherd hooks".
---
Interestingly that half of my pegs (the silver ones on photo) have a cut (notch) in the middle, and another half (yellow) is completely straight. The manufacturer's description states that this notch is intended for situations, when you cannot press the peg into ground all the way, and it's left sticking outside by the half.
Don't do this! If you step on such sticking peg, you can injure yourself or easily bend it. Instead press the peg (or carefully hammer it) at shallower angle into softer ground: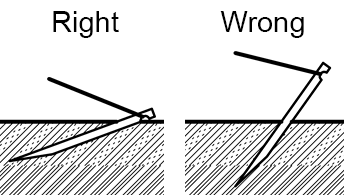 If there is still not enough hold, put a stone over the peg.
Experience
Over 7 years of experience with various tents in various conditions
Source: bought it new
Price Paid: Included in the tent price

Just like you'd bend a SAM splint to make it stronger, DAC figured out that bending a stake in the middle makes it that much stronger. Hard (if not impossible) to bend, and easy to clean. Anytime I have a job that requires stakes, these are my number one choice and my standby. I use them exclusively with all my TNF tents. I even like these enough to have a spare set of ten around, just in case I need extra, or a friend does.
Pros
Minimal size and weight
L-shaped "bend" in design adds strength
Easy to clean, anti-corrosive surface
Cons
L-shape always brings up dirt with it
Eyelet too small for most paracord
Difficult to remove from hard or cold ground (without pull loops)
Needs pull loops for ease of removal AND nighttime visibility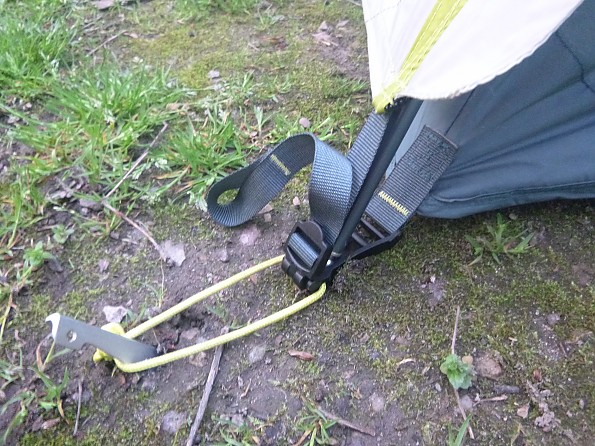 If you've pitched, borrowed, or owned a tent from the North Face, you already know who these little guys are.
I was first introduced to them when they came with my first TNF tent. I was impressed at how small (6.25" X .375") and lightweight they were, compared to the larger and heavier steel stakes I'd used all my life. 
The 7075-T6 aluminum is bent into an "L" shape, making the metal stronger in the same way you strengthen a SAM splint when you place a bend in it. While it can hold back a lot of tension, the shape inherently brings a lot of dirt back up with it when you remove these from the ground. Luckily, the anodized finish is so smooth that a quick wipe with a damp rag will clean them off.
Being a "neat freak," I always give my stakes a good rinse and dry when I come home from camping. They may be a little scratched and a little worn, but none of them from any of my tents have yet to even suggest a spot of rust. 
While their small profile makes them ideal for backpacking, it does make them a pain to remove sometimes, especially from hard or cold ground. One winter they were in so good I had to get an old sock and a pair of pliers. Why a sock? I didn't want to scrape off the anodized finish.
My biggest complaint (as I only own the ones that've come with TNF tents and a spare 10-pack identical to them) is that these little suckers are easy to lose. The light-toned, off-white silver finish can fall into a pile of leaves and you'll never see it again. You may step on it, but you sure won't see it.
Luckily, it seems TNF took note, and they now manufacture these stakes in a highly-visible, bright gold color. More importantly, they've given them the necessary pull loops and made them from a reflective cord that will be easily visible if passed-over by a flashlight/headlamp. 
So, there. Problem solved. But hey, someone had to review the first generation of these. It probably was someone much like myself that broke the same news to them the first time around, and that gave way to their improvements. 
Source: Included with my TNF tents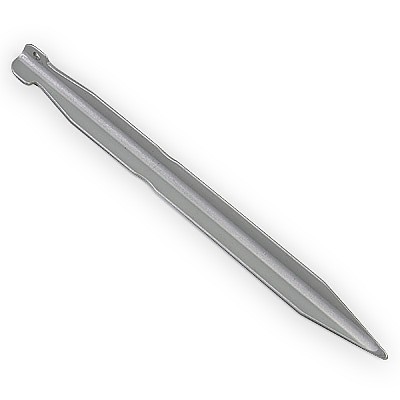 So tent stakes...pretty straightforward, yes, but there are still fifty different choices out there. I also reviewed The North Face 10 Stake Set, which are the same exact aluminum stakes but include the reflective cord removal loop (which is useful, no-doubt-about-it). 
The stakes are great, easy to put in and hold firm in the ground for guyout lines and tent corners/vestibules.  My suggestion though is to buy these DAC V-Stakes individually (EMS, $1.25/each), buy a spool of reflective cord (EMS, $15) and attach the removal loops yourself.  Then you can use the extra reflective cord for guyout lines and have a laser light show around your campsite at night! 
Seriously, the stakes are good - cheaper and lighter than the MSR Groundhog stakes.
These are the same stakes that come with the ultralight Big Agnes Fly Creek UL2, so obviously they are well respected in lightweight backpacking.
Price Paid: $1.25

Your Review
Where to Buy
Help support this site by making your next gear purchase through one of the links above. Click a link, buy what you need, and the seller will contribute a portion of the purchase price to support Trailspace's independent gear reviews.
You May Like
Specs
Price
Historic Range: $1.25-$7.00
Reviewers Paid: $1.25

Recently on Trailspace