Hilleberg Kaitum 3 Footprint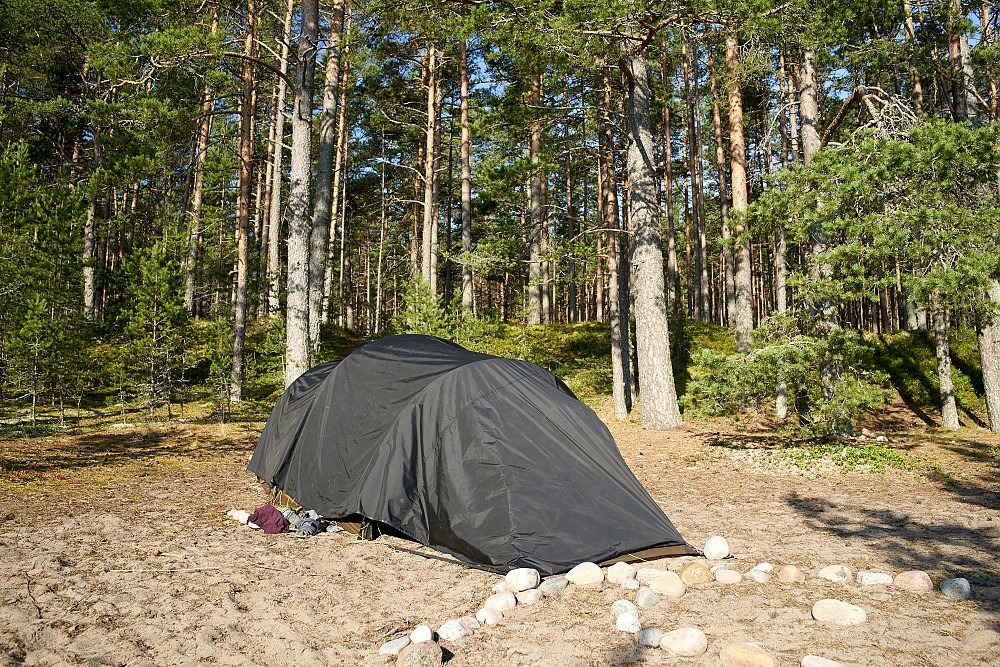 Expensive, but useful, addition to your valued Hilleberg tent. Provides great level of floor protection against wear and mechanical damage, introduces floor in vestibules, extends the possible pitching options. The footprint stays connected to the tent during transportation and storage, which is simply great.
Pros
Extended level of floor protection against abrasion and other damage
Stays connected to the tent during transportation and storage, thus it doesn't add time to pitching
Introduces the floor in vestibules for more comfort and convenience
May be used to make the lightweight shelter with floor
Clever design of toggles
Some sort of condensation prevention
Some sort of additional water protection on floor
May serve as an improvised sun shield
Cons
Expensive
Requires folding away the vestibule part to avoid water pooling
In some cases collects dirt and snow in vestibule
Not super lightweight, as you shall expect from a huge piece of 70D fabric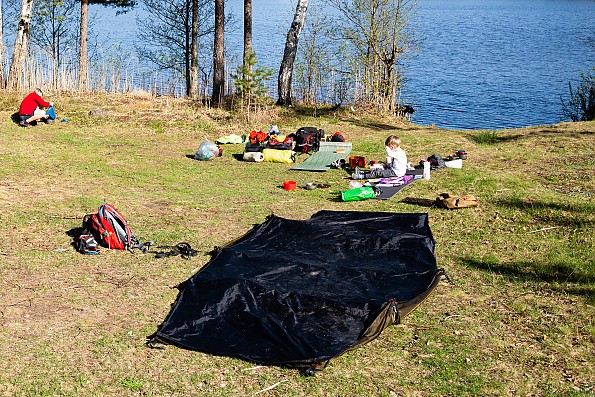 Drying the footprint after night
Purchasing the footprint for my Hilleberg Kaitum 3 tent was a difficult decision for me. The floor of this tent is already strong, and the footprint is quite heavy and expensive. But after some use of footprint with my Fjallraven Abisko Lite 3 (its floor is less strong, so there was real sense in strengthening it) I decided that such accessory does worth its money, and ultimately I ordered one for Hilleberg in beginning of 2017.

The footprint is made of the same fabric as the floor of my tent: 70D Nylon, triple-coated polyurethane, 90 g/m², 15 000 mm water column. The weight is 600 g.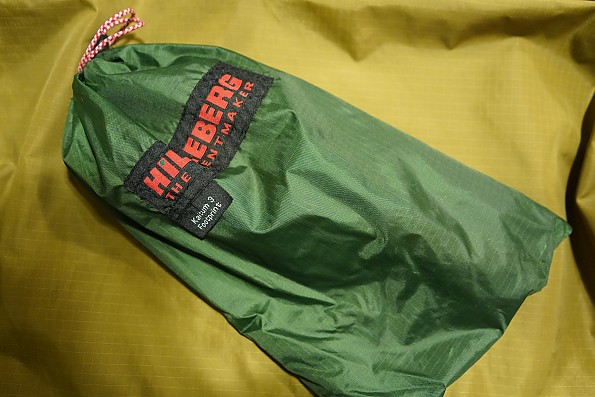 The footprint comes in its own high quality packing bag with draw cord. I see little sense in including this bag, a simple cardboard box would work all the same, being a lot cheaper for the customer. For the footprint itself, the bag is not necessary, as it's always stored along with the tent. I use that bag for storing my snow pegs.
The toggles on footprint corners are red-colored, and unlike Fjallraven footprint, they may be easily distinguished from black toggles of inner tent, when both of them are inserted into same ring. The toggles fit the corresponding rings extremely well, unlike the slightly oversized toggles of Fjallraven, which are a bit difficult to operate.
The footprint stays attached to the tent when packing into bag
Unusually for the majority of tents, you leave the footprint connected to the tent for transportation and storage, disconnecting it only for drying the tent at home. It's really convenient in comparison to traditional tents, as you don't need to fight with the footprint in windy weather and spend extra time, attaching it to the tent during each pitching.
After starting using the footprint with the tent, several times during the season I noticed the glass pieces on our pitching places and even beneath the already pitched tent. Without the footprint I'd be much more concerned about the tent survival in popular camping/picnic places. Also in our past Iceland trips sometimes we pitched our tents on lava, which is itself like broken glass. So the floor of the tent may be strong, but one more layer of fabric is always good for your valued investment.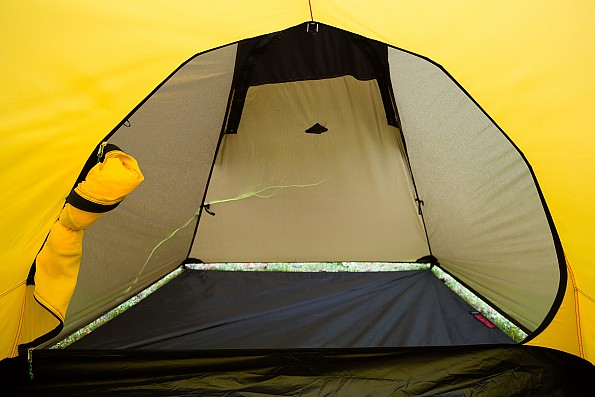 Typically for 4-season exo-skeleton tents, the footprint extends to the vestibules, virtually turning them into two more small rooms, which are very convenient, especially in winter. Now my gear has no tendency to freeze into snow or sink into mud. Also in most conditions it's much drier and cleaner in vestibule than outside. There's some gap between the edges of footprint and the outer tent, so there's zero chance of forming a water layer between the footprint and the tent floor.
The footprint adds one more option to the tent setup, turning it into roomy single-layer shelter with reasonable protection against insects. But I barely use such option, only in rare cases when we need a weather shelter in the middle of day. Or for entertaining my child.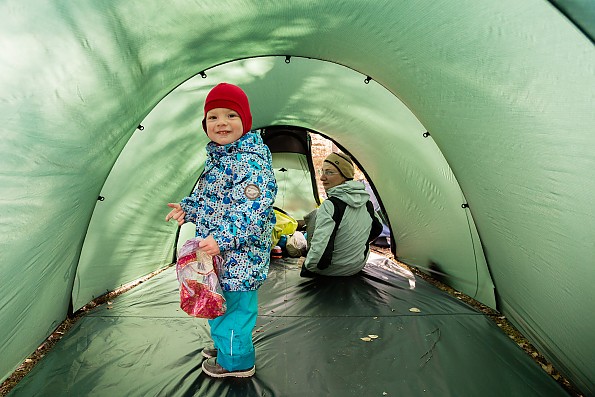 ***
NEW:
In some cases the footprint may serve as an improvised sun shield for the tent—for example if you need to leave the tent for long time under the sun. Or if you'd like to have a moderate temperature inside the tent under the sun (e.g. if someone's trying to sleep inside, and there's no better place to hide from sun). The footprint doesn't cover the entire tent, so you shall take into account the expected sun path on the sky to cover the right part of the tent. The footprint is fixed on the top of the tent quite easily using the toggles and guylines, and usually one entrance into the tent remains usable.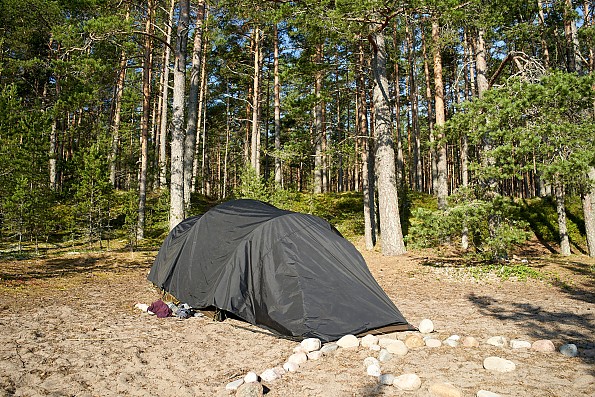 ***
When using the footprint, there are a few minor issues:
In the rain you need to unbuckle and fold away a part of footprint near the exit to avoid water pooling in vestibule. I especially worried about this before purchasing, thinking about sewing some kind of zipper in the fabric. But the things are actually A LOT easier, and unbuckling 1-2 toggles is enough.

After rain. Part of footprint was folded away to avoid water pooling in vestibule


After a trip it's advised to hang the footprint separately for drying. Thus the process of disconnecting and connecting again the tent parts takes longer time at home.

Our child LOVES walking on footprint. In wet weather it quickly gets dirty, in winter a solid layer of snow grows in vestibule. My footprint already has some minor damage in vestibule area after about 40 nights.

A really dirty footprint! But our surroundings were also covered in dirt after winter.


When using the tent as a weather shelter without the inner, the footprint collects dirt and water from your boots and gear. Therefore it's advised to fold away the footprint along with inner tent.
Actually I haven't noticed neither condensation prevention (thanks to covered ground in vestibules) nor additional water protection on floor. But theoretically these advantages shall be there.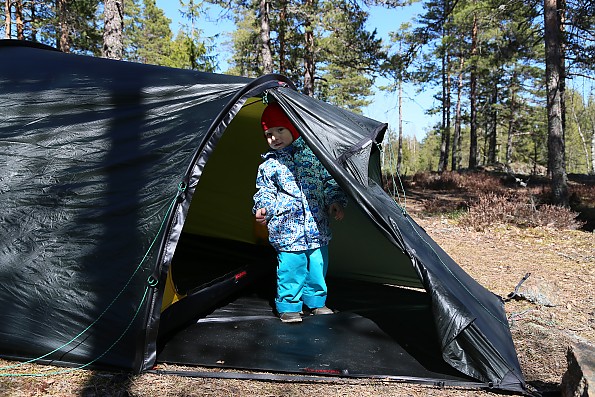 The floor in vestibule makes it virtually homelike, especially in winter
Unfortunately, the genuine footprints are costly, and making the full equivalent in sewing workshop would be about two times cheaper (at least in my country, where manual labor is inexpensive). Also there are even cheaper handmade Tyvek options. So for those who are tightly on budget, the premium Hilleberg footprint would be too expensive to consider.
As a final note, I own the footprints for both of my Swedish tunnel tents, and I'm very satisfied with extended level of protection and added floor in vestibules. The extra weight is somewhat noticeable, but it's a fair trade-off for protection and convenience.
Experience
More than 100 nights in varied conditions.
Source: bought it new
Price Paid: 120 USD

It doesn't seem like a footprint should get its own review, but even the Hilleberg footprints are worthy of review. They are super well fitting and have features not found on any other footprint I can think of.
Pros
Very good fit
Semi-permanent attachment
Covers entire area of OUTER tent, keeping even the vestibule areas covered
Cons
Price — Hilleberg is top shelf quality, therefore pricey
The Kaitum 3 footprint is like all Hilleberg products, the very best of materials, design and manufacture.  Obviously, this one is made specifically for the Kaitum 3 tent which I reviewed separately. I write to review something as seemingly mundane as a tent footprint because Hilleberg puts great thought into their product, and their footprints are no different.
Fit: All Hilleberg footprints fit their tents absolutely perfectly with just the right amount of tension on it, keeping it from wrinkling under you, yet allowing the tents floor to perfectly open. I can't tell you how many tents I've had where the footprint was slightly too large, the hold down points didn't match the tent's pole pattern perfectly, some of the footprint stuck out slightly, or there wasn't enough to cover certain areas of the bottom. 
Not so with a Hilleberg. They are a perfect fit.
While it is not called out specifically, by Hilleberg's website, Shannon at Hilleberg US confirmed via e-mail that their footprints are made of the same material as the bottom tent material.  So the material is:
70 Denier Nylon, Triple coated with polyurethane on one side, 2.65 oz.sq yd, 5000mm/49 kPa hydrostatic head pressure rated.
Like other footprints, the coated side goes up toward the tent to keep rocks and sticks from poking holes through the waterproof coating.
Area coverage: Unlike other brands, the footprint covers the entire area of the OUTER tent, not just the inner. So what you say? Trust me, this is a cool feature. Not only does it keep ground moisture from rising inside the entire tent, it allows you to slip out of the inner tent and into the vestibule, closing the inner tent before opening the outer yet still keeping yourself sitting on a dry surface. 
I didn't know how much I needed that feature before I bought a Hilleberg. More than once on a cold rainy night have I had to leave the tent and found that I could side in the vestibule while I put on my shoes in a dry spot BEFORE I opened up the vestibule's zipper. It also keeps you from losing things in the grass in your vestibule where you store things. You don't know how much you appreciate this feature until you have it.
Finally, semi-permanent attachment. This feature is very cool as well. Unlike most (all?) other tents, the footprint attaches to the tent assembly in a semi-permanent fashion. I call it an assembly because the inner and out tent normally travel assembled together allowing it to be set up in one step and protecting the inner tent from rain even during set-up. 
The footprint attaches to the bottom of the tent assembly so it too becomes and integral part of the tent assembly. The inner, outer and footprint are literally joined together as an assembly. So the inner tent never touches the ground normally, not even during setup. Nor does the top of the footprint ever see rain, even in a rainy set-up. Of course, the footprint can be removed from the assembly for cleaning or additional drying after some hard use.
Hilleberg footprints are indeed worth a review of their very own. Now if only I can find a way to photograph how it stays attached as assembled and post it! After all, it's just a black piece of coated material, so it's not much to look at... but it is a great design.
Source: bought it new
Price Paid: $112

Your Review
Where to Buy
Help support this site by making your next gear purchase through one of the links above. Click a link, buy what you need, and the seller will contribute a portion of the purchase price to support Trailspace's independent gear reviews.
You May Like
Specs
Price
Historic Range: $110.00-$112.00
Reviewers Paid: $112.00-$120.00