MSR Nook 2

Top 50 in Three-Season Tents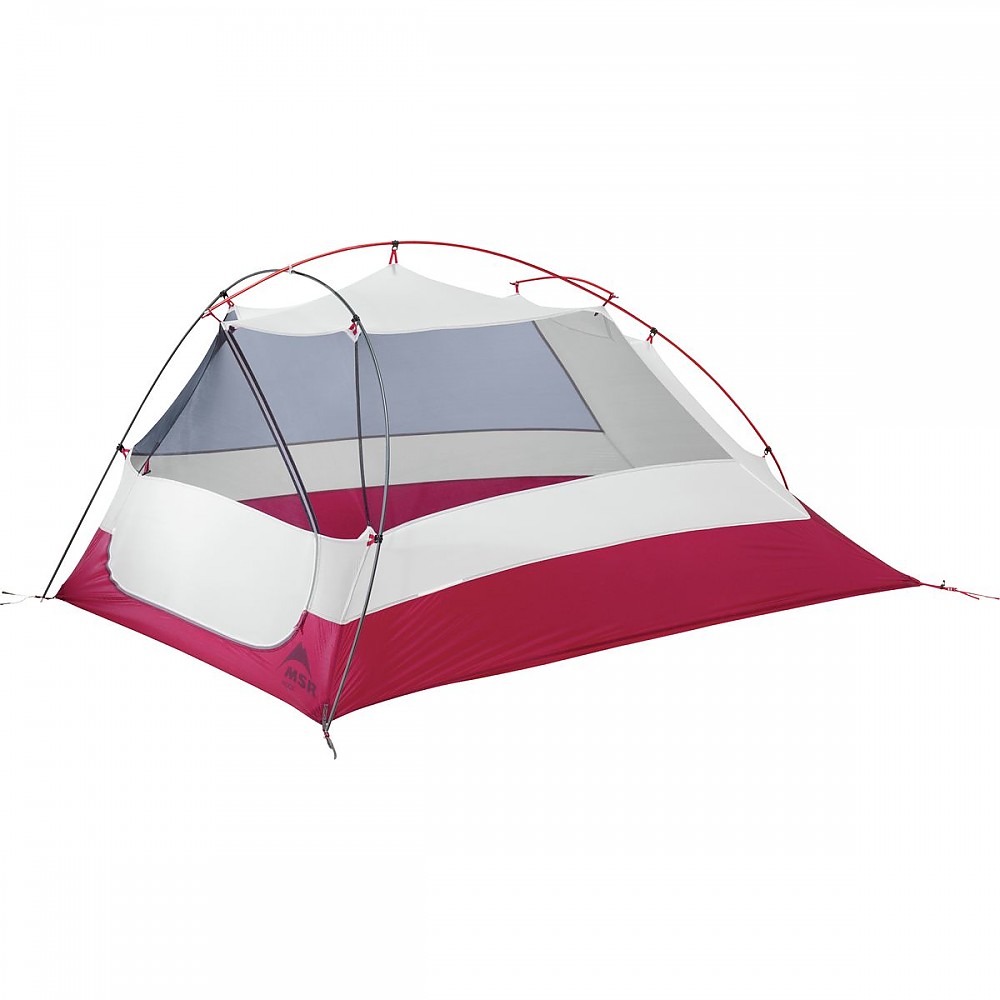 Specs
| | |
| --- | --- |
| Price | Historic Range: $159.73-$399.95 |
Reviews
1

review

5-star:

1

4-star:

0

3-star:

0

2-star:

0

1-star:

0
A solid yet lightweight tent that is perfect for most forms of camping, especially wild or backcountry. Excellent protection against most forms of weather, even in the UK!
Pros
Many guy outs (strong)
Lightweight
Spacious
Great for many types of camping
Good price
Freestanding
Cons
Zips seem flimsy
Not enough stakes when purchased
Inner first setup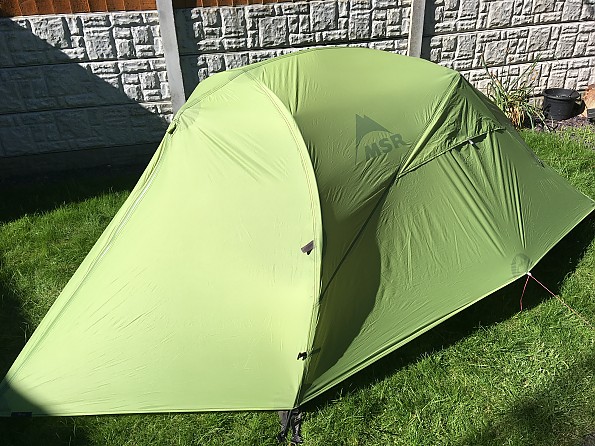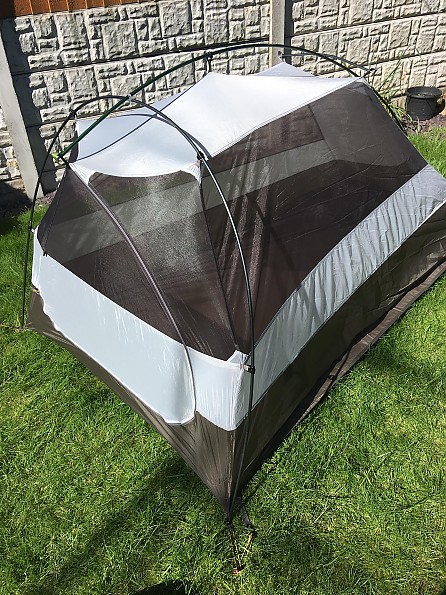 I've owned this tent since 2013 and have used it for cycle touring, hiking, wild camping, and car camping in many types of weather and terrain in the UK. To summarise simply, this is a fantastic tent. 
Setting it up is really straightforward. You don't need instructions. All in all it takes me about 10 mins including all the guy lines. It is inner first, which is usually OK, however you can set it up outer first as long as you have the footprint (which I'd recommend buying anyway for extra protection).
All I do is set the pole up with the fly over the top and then work my way from the back to the front clipping the inner in as I go. I'd much rather have separate inner and fly as sometimes it's just really nice to have the inner only on a nice summer evening.
The only thing is you'll need to buy extra guyline and stakes if you want to completely stake it out because it does not come with sufficient. I have used it freestanding too with a walking pole and that's really easy. I don't do this often as I still feel I should stake the tent down properly as the wind can pick up so quickly. If you have the Gear Shed, which I do, add another 5 mins to the setup time. 
When you've set the tent up properly, you will see just how taut it is! There are loads of guy loops to stake the tent out and it looks like the rainfly has been ironed it's so tight. When I first started using it, I thought the tautness of it may rip the fabrics at some point, but after 5 years of ownership, this has never been the case except once (see below).
Due to how tight you can set the tent, it is ultra stable for such a light tent. I've read some reviews where they say it can flap about, but I honestly think it's just making sure you set it up correctly. I've never used it in snow but I bet it would be OK as the sides are quite steep. In rain and wind, this tent stays solid. 
Speaking of rain, we have a lot in the UK and I needed a tent to handle moisture and condensation well. I can say with confidence that I've never had one leak and barely any condensation except in the worst and prolonged wet weather. Even then, the ventilation allows it to dry really quickly and never gets to the inner tent because of the design of the materials. The mesh only goes around the top half of the perimeter of the inner and not on the ceiling, so I've never been dripped on.
The only downside (and this seems to be due to the design), is that on very rare occasions, the foot of the tent can get ever so slightly damp because of the lack of ventilation around that area. I have found that by staking all the rear guys out and making sure they're stretched tightly, this is rarely an issue and never a deal breaker. Overall, the ventilation and waterproofness of this tent is excellent. I can't comment on winter use, but I can imagine with some adjustments to other camping gear that it would be fine.
Room inside the tent I would say is actually pretty good. Like most tents, this could be OK for two people at a push, but it's better for one, which is how I use it, so it feels like a palace. While the vestibule is fine for a smallish backpack and your footwear, it's average at best for space. The vestibule door design is excellent for keeping the rain out, even when you have it open.
There are two small storage nets inside, ideal for my phone, wallet other useful bits. They are small though so you couldn't stuff too much in them. There are further loops for a gear loft, although for the price I wish it had come with one built in. The walls are near vertical and there's plenty of headroom. It's pretty basic inside but it serves the purpose and it's great for fitting my 25-inch wide mattress and down quilt with plenty of room to spare for backpack and other bits.  
My tent came with a normal stuff sack, rather than the compression ones MSR seem to offer now. To be honest, I don't use the stuff sack as I seperate the inner and poles for ease of storage in my backpack or on my bike panniers. It's really easy to carry it around and it's light, even with the extra footprint. If you're really concerned about being ultra lightweight then there are better tents out there for that purpose, but honestly this is still brilliantly light for how tough it is. The stuff sack is fine though and it's easy to put the tent and poles back in without snapping your thumbs. 
One of the highlights of the tent is its ease of use. It's just a nice, simple, but well thought out design and rock solid. For me, the only downside is I feel the zips just aren't that great. They've not failed on me but I would think they'd be one of the first things to break and sometimes the inner door can snag on the right-hand side. Oddly, this doesn't happen from the inside!
Speaking of durability, I have total faith in this tent and has survived many a horrible night of British weather. I've never pitched without it, but I would always recommend the footprint as it keeps the groundsheet dry and abrasion free. The only issue I've had on the tent is the glue on one of the grommets on the inside of the rainfly came away. I emailed MSR and they sent me some glue, free of charge. It took me 2 minutes to repair and have never had a problem since. Excellent service. I would say though that I have also looked after the tent. Stored it properly, always used the footprint, solar proof it from time to time, and keep it clean. But then I have also put it through some horrible weather, so I have total confidence that this tent will still last me for many more years. 
Tent makers seem to be going away from this kind of design now, which is a shame as this has been bombproof and totally reliable and will literally squeeze into the smallest of spaces and has so many guy out points that it'd take a hurricane to move it. I mentioned the Gear Shed earlier, which is a great add-on to give you extra storage and if you want more room if you have to stay in your tent for longer due to bad weather. This shed has also been as reliable as the main tent, although I only use this when I go cycle touring so I can store my extra stuff. It barely adds much more weight on either. 
So would I recommend this tent? Absolutely! Of course this is subjective and will depend on your own circumstances. But for me, it works great for my multiple purposes and is thoroughly reliable. I'd buy another one in a heartbeat if this one ever failed me. 
Source: bought it new
Price Paid: £300 approx (incl footprint)

You May Like
Recently on Trailspace