Snugpak Ionosphere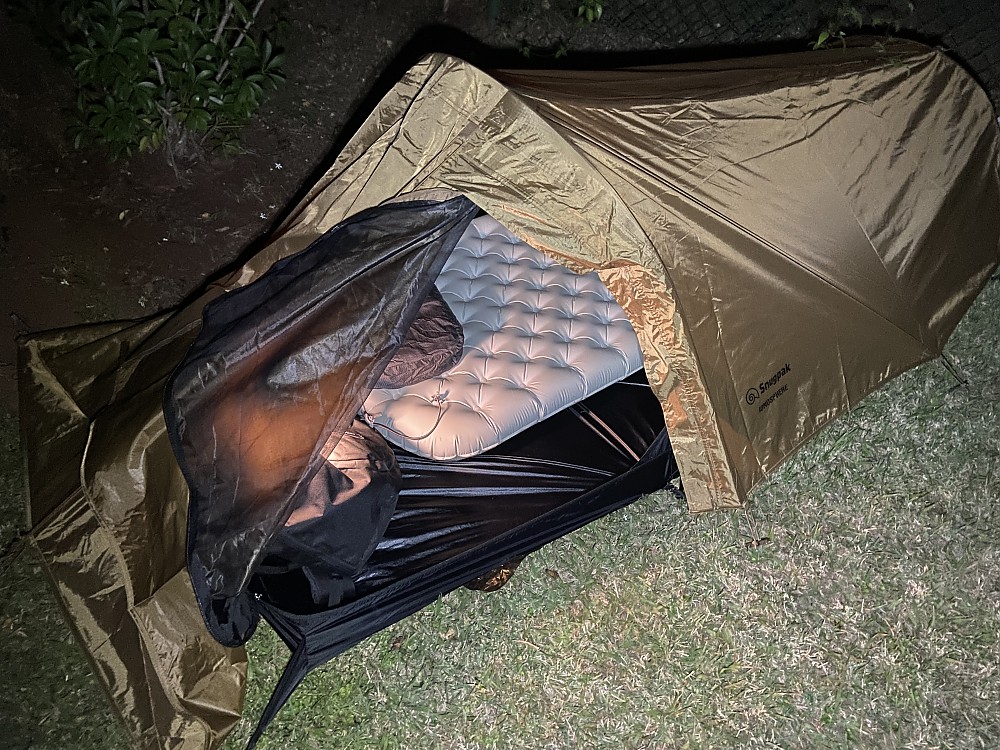 The most popular and perhaps the best one-man bivy-tent, especially for tactical purposes. The Ionosphere has a longstanding tradition among the military, survivors and bushcrafters. It's not the lightest, but it's spacious, well built, super-stable, easy to assemble and take down, stealthy, and will last forever even if abused. It can hold two in an emergency and doesn't cost a fortune.
Pros
Ample interior
Low profile
Super stable
Durable
Stealthy
Good ventilation
Easy and quick to assemble and take down
Repair kit included
Alloy stakes also included (14 + 2 extra)
Cons
Not freestanding
Needs a bunch of stakes
No porch
Can't sit down like in a tent
Not the lightest (but also not the heaviest)
I consider the Ionosphere a sleep-only shelter.
I only get into it to rest, or when forced by the weather (rain, cold, wind) or bugs. This is not a tent to hang out.
If I want, or need, extra protected space to cook or do any other chore around camp, I have to pitch a tarp. As I do often, to improve convenience, comfort, and also to add protection from direct sun light, especially during summer. 
But I do this only when camping, or when the weather is really bad. Otherwise, I like to take advantage of the Ionosphere's biggest positives: its low-profile, small signature, and high stealth factor.
It can be easily concealed and camouflaged unlike any other shelter options.
Thanks to its low-profile, small packing size, light weight, durability, and ease of use, the Ionosphere is the ultimate survival shelter, in my modest opinion. It's weatherproof, has decent ventilation, and offers excellent protection from insects and crawlies. 
This is great for safety, which is critical when I'm traveling around less safe/more populated areas and want to stay as invisible as possible. It's a very tactical shelter, perfect for quick stealth camp.
Also, with a few mods and improvisations, it can be used as a four-season shelter. I haven't used it in snow but in sub-zero temps (°C) mountain trips and was able to stay warm inside it. Just increase ventilation sealing and floor insulation and it will hold its own when the thermometer drops. 
No other shelter offers all these positives in one package.
There are lighter ones, but not as durable, as spacious, as protective, or as inexpensive. I've used one-pole DCF tents before, which weigh a third of the Ionosphere. But those can be noisy, aren't as low-profile, and cost three times.
Sure, tents have more space. Hammocks and tarps can cost less and can be lightweight, also very practical and quite comfortable. But they aren't nearly as stealthy. A bivy and tarp can be both low-profile, lighter weight, and easier to deploy, but won't offer the same protection against weather and bugs.
I'm not bashing these other options.
Each has its strengths and weaknesses, and the best purposes too. I appreciate a roomy, comfortable camping tent. And hammocking is my preferred sheltering option for backpacking and camping.
But the Ionosphere is practical and fun, and I admit feeling safer by being more hidden.
Construction is top notch throughout. 
Snugpack has a good reputation among survivalists, bushcrafters, and military style types in general. Their gear is never among the lightest, and their designs and line of products don't change much throughout the years.
But everything is built to last and function well in rough conditions, with proven materials and excellent craftsmanship. I value that.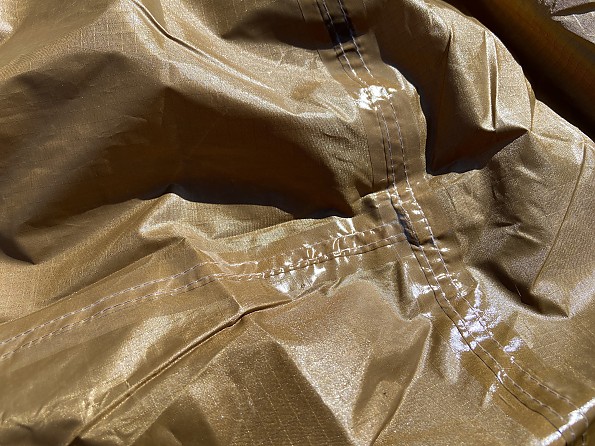 All seams are taped sealed. Floor is made from 210T tough 50D polyester No-See-Um mesh is used on the inner bathtub style floor. This forms the main structure of the tent, which is kept up with two sets of DAC Featherlite NSL aluminum poles with press fit connectors.
Floor is made from 190t 100% nylon. The rainfly is  210t 100% polyester ripstop, both are 5000mm HH waterproof PU coated. Can't get water in no matter what. Maybe not the most advanced fabrics around, but proven to work and rather durable long-term too.
The Ionosphere may not win praises nor prizes for lighter weight either, but it's no whimper and will stand some serious abuse and trashing.
I use it to do stealth camping in the wilderness, and also town on my street survival training.
In the bushes, it's just like any other tent. In the city, I find a hidden spot or high ground in a park or at the border of a bike path here and pitch the Ionosphere with some foliage over it to keep it well camouflaged. If someone sees me, they'll just think I'm a homeless.
It's also my preferred shelter to do bug-out dry-runs and other survival training trips around rural areas, backroads, and roadside trails. Sometimes I even use it for normal camping, with a tarp for extra space as mentioned above.
Setup is easy and quick.
This is another big plus. It usually requires no more than two or three minutes to assemble, and between three and five to disassemble and pack. The Ionosphere is inner-first pitch: just open the floor, assemble the poles, insert them into the sleeves, stake everything and throw the flysheet on top. Stake and adjust it, it's ready to use.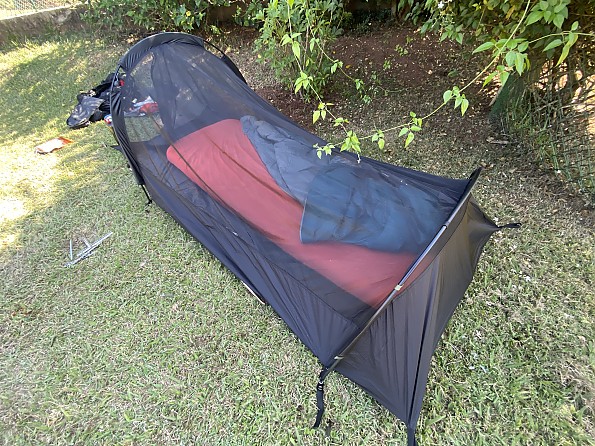 Once you do it three or four times, assembling takes even less than that. The DAC poles are color-coded and come with shock cord. Though colors are dark and need light to identify, sizes are different and this helps. Care must be taken not to step on these. They're not fragile, but can bend or even break if forced. 
The pressfit connectors need regular cleaning, too. They're smooth and precise, but mud and dirt will make them harder to connect/disconnect with time. Also taking care not to deform the connectors will keep them smooth to use.
The Ionosphere is not freestanding, and requires quite a few stakes (14 in total) to pitch, or anchoring points if those are available. Snugpack provides 16 aluminum Y-stakes (14+2 extras) with the Ionosphere, and also a repair kit just in case. Neat. 
Packed, it fits (just) inside my 50L backpack along the rest of my gear.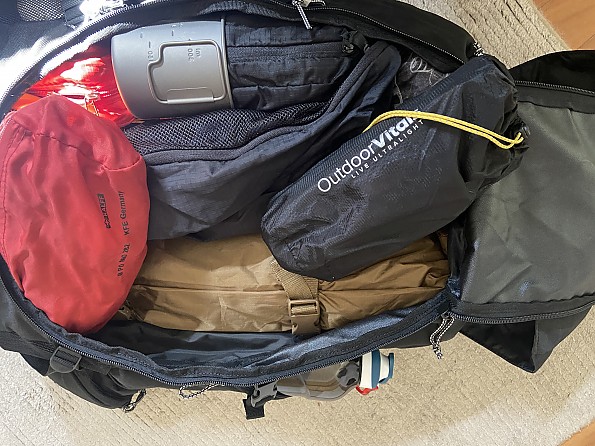 It may not in lower capacity bags, though. Alternatively, it can be folded and stored in another sack to go inside, and the sack that holds the poles tied to the outside.
Otherwise, it must be strapped somehow to the outside of the bag. No big deal, we already take a lot of stuff strapped anyway. 
Life inside the Ionosphere is "good".
The Ionosphere is the roomier and most comfortable one-person bivy tent I've ever tried. I'm 6'/180 and have no problem entering or exiting it, though it requires crawling.
Signature is mummy-shaped, 104"/ 265cm long and 39" (100cm) at the wider portion. Inner tent space is 94"/104cm and 39"/90cm, 18"/45cm high. Total weight is 1,49kg/3,3lbs. on my scale (1,52kg/3.34lbs advertised).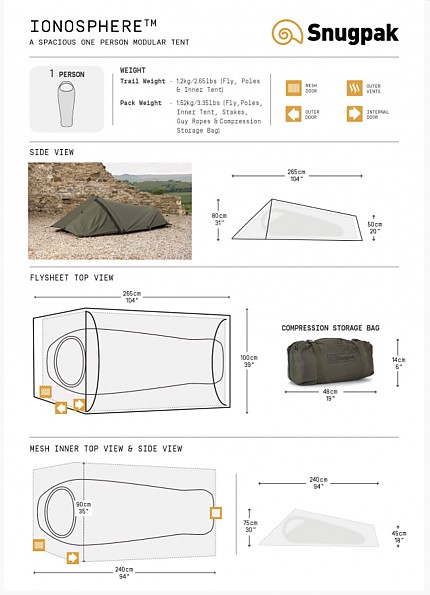 Inside, I can sleep comfortably with my backpack and my two (small) dogs. It's a low-profile tent, though. There's space to wiggle, turn and move a bit inside. Maybe even change clothes, if you've some practice. I can stay on my elbows but not sit down, there's no headroom for much.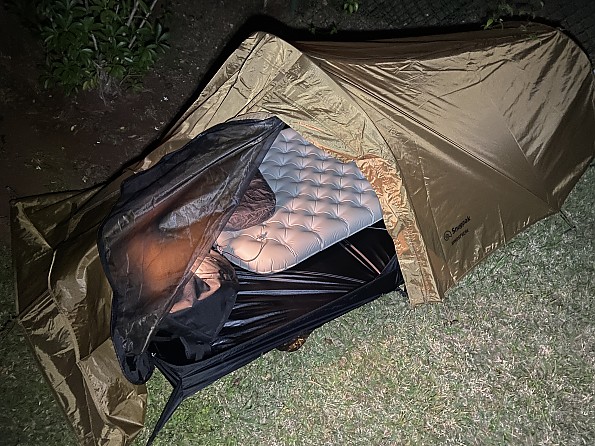 It has a side pocket but I honestly don't get much use for it, because I just organize (actually spread) my stuff around my "bed", or my sleeping pad, with the bag sitting at the upper part near the access port, as shown bellow.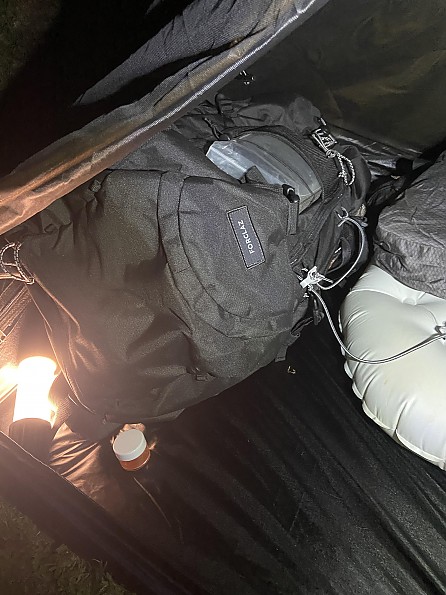 I've added some mods to allow for hanging a headlamp and small peak storage gear bag, but don't use them much anymore either.
 Thermal management is decent.
Ventilation is provided by the space between the rainfly and ground, with the bathtub style floor keeping things dry and holding colder lower drafts from entering the habitacle. Snugpack got this right from the go.
If temps are too low or winds too strong, I'll close down the slot with leaves, dirt, logs or other stuff to prevent wind from entering. We don't have snow here, though in high mountains at the height of winter it can get frosty. This requires an extra layer for insulation, like a closed cell pad under my inflatable pad, or a higher R-value pad.
It's a two-layer tent so condensation is not an issue, even in the cold. The No-see-um mesh is strong and provides perfect protection from bugs, as long as no skin is touching it. But the poles keep things ample and there's enough headroom at the bottom to prevent the feet from touching the fabric. 
During summer, I'll search for a shadow or pitch a tarp to protect from direct sunlight. It can get really warm inside if air is still, and I look for ways to increase airflow, like keeping the rainfly port open during the night for instance.
I've only used the Ionosphere without the rainfly a couple of times, as temps can vary wildly between day and night even during summer. What I do more often is keep the rainfly rolled 1/3 down, with the top (head) part of the tent open. I've added some velcro and shock cord mods to make this practical.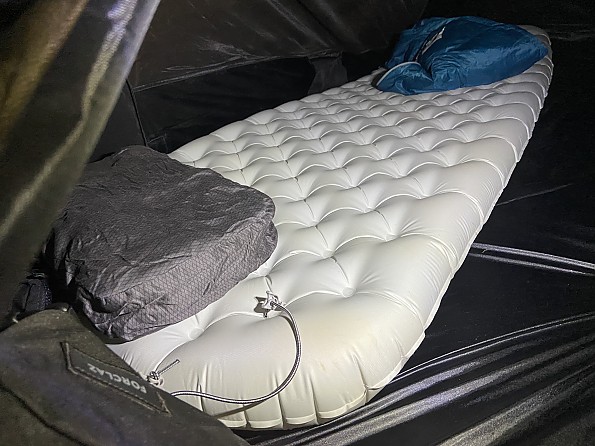 When used with a nice inflatable sleeping pad, like my S2S Ether Light XT Air, it's very comfortable to sleep in, though the pad's 4 inches robs more headroom than a thinner pad does. I always use a mylar, Tyvek, or even a thick plastic bag as footprint, to increase protection and insulation from moisture, dirt, cold and also debris.
After years of abuse, I'm yet to perform some repair on any part of my Ionosphere. It looks and works like new.
Improvement in some features could make it the perfect shelter.
Making it freestanding would greatly improve the Ionosphere. If just less stakes were required (like using the same set for the floor/structure and the rainfly for instance) would already be an advancement, and save some weight.
Somehow adding a small usable porch accessible from the inside would also make it much more versatile. If  cooking was made possible it would be a huge plus.
Lowering weight to sub-3 pounds would be perfectly possible and not take much. Just dropping or slimming down the compression sack would save a few ounces. A lighter rainfly would also help, though maybe take some from resistance and durability, and probably add to the cost as well. Who knows. 
Other than that, I really have to push hard to think of some improvements. Dimensions are very good, the design is near perfect, craftsmanship and attention to detail are high, price is fair. It's built like a tank while not weighing as much, everything works well, and it's fast to deploy and take down. 
Snugpack now offers a camouflage rain fly option (they call it Terrain), to add to the usual olive and coyote. Hardcore folks may want one of each pattern to cover different environments, and it's worth the extra cost if you can afford. I've ruined my original rainfly a while ago, and replaced with the one shown in these images recently, but I'm already considering an olive or the new terrain pattern to blend more with the vegetation.
Also, having a spare set of poles at home may be a good idea, in case they get ruined.
Alternatives.
I'll stay with Snugpack's alternatives to make a direct comparison. The Stratosphere is also a one-person bivy tent, with a pack weight of only 1,13kg (2.49lbs). Weight savings come at the expense of a double layer, so it's significantly more simple, less breathable, and less roomier (only 48cm at the head line) than the Ionosphere, though easier and quicker to pitch. The Stratosphere is one step above a pure bivy sack.
The Journey Solo is double-layer. It's newer and very similar to the Ionosphere, but 500g or more than a pound heavier (236g from the included footprint protection). There are also a few differences in hydrostatic capacity, though it's minor and shouldn't account for significant variation in performance.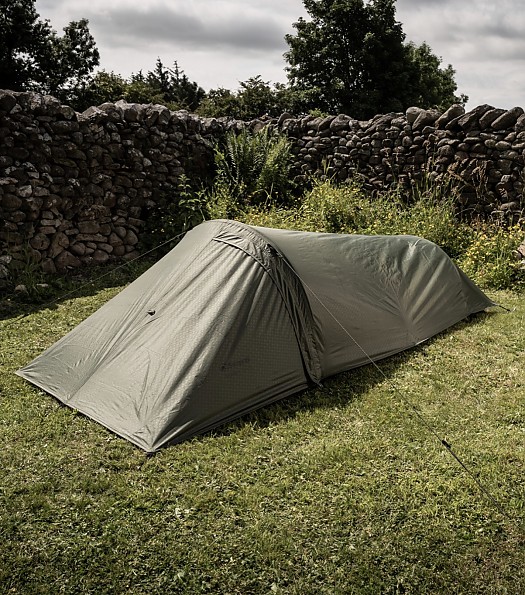 Experience
After using most types of tents and shelters throughout the years, I've settled for my hammock and tarp setups and my Ionosphere. These cover most of my needs, whether for leisure outdoor trips or more tactical training in the woods or in the city. In my modest option, the Ionosphere is the ultimate survival shelter, but it's also a great no-frills resting bivy-tent.
Source: bought it new
Price Paid: US$ 160 + shipping and importing fees

I've used this tent for three-season camping in Minnesota. Lightweight (54oz or 3.4lbs), durable, easy to pack and set up. I'm 5'11'' and 160lbs. It houses me and my pack comfortably. It's more of a 1.5-man bivy than strictly a one-man. And if you really needed to, two people could snuggle up tight inside. Seams are sealed and I haven't had any water intrusion when camping on damp ground.
Pros
Light (54oz)
Houses pack
Durable
Low-profile
Packs small (19x5.5)
Cons
Crawling in/out is a little awkward
Setup: A little more tedious, as the poles do not support the shape of the tent on their own. Staking or guy lines are required.
Stability: Once up, tent is very stable. Low profile shape helps with wind/water resistance. I never get water intrusions. Haven't had any issues with the structure caving in at all.
Weather Resistance: Polyurethane coating on the wind/rain fly does its job and keep the tent light. keeps wind and water out. Floor of the tent rises 3.5-4 inches along the perimeter. Mesh keeps the bugs out. Without some sort of insulating barrier, I've gotten cold through the floor when camping with blankets (no sleeping bag or sleeping pad).
Ventilation: Excellent. Haven't had the issue of feeling damp and sticky in the morning after a night of sleep in the tent. Breathes nicely and isn't cold.
Room and storage: Excellent for a tent this size. Houses my bag and I comfortably. Doesn't feel claustrophobic at all. It feels bigger on the inside than it looks from the outside. You won't feel like you're sleeping in a coffin. My girlfriend and I need to test its two-person usability... That might be pushing it for space, but it'd be nice to only need the one, small, tent.
Packability: Excellent.
Ease of Use: Everything works as reasonably expected.
Features: This tent, its size/weight/dimensions seem to fill a niche among shelter products. Many bivies are so small and minimal that you have to find a solution for protecting your gear. Others are a bit too big and take up too much space/weight. A lot of this tent is "juuust right," as Goldilocks might say.
Construction & Durability: This is kind of a subjective category. I have had no durability issues with the tent at all. Is it as durable as 1000 denier cordura? Probably not, but it's a hell of a lot lighter and weather resistant. Would I use the rain fly to drag a deer out of the woods? No... When considering the size, weight, cost, and the designed purpose of the item, the durability is excellent.
Conditions: I have used this tent over a year of camping in various locations in Minnesota.
Experience
I've owned and used various tents in my life Coleman/Ozark Trail/Kelty/Clark Jungle Hammock... I have a Kelty I really like for 2-3 person camping. I moved around (military) and have camped in Virginia, Alaska, Texas, and now Minnesota. This tent would have been more ideal in several past situations but I survived.
Source: bought it new
Price Paid: $130

A large bivy, not a hiking tent.
Pros
Light for a small tent
Pitches quickly and easy
Small packed size
Very warm in summer
Bug proof when fully closed
Cons
No headroom
Cooking inside the vestibule in the rain
impossible.
I bought this a couple of years ago for section hiking part of the Te Araroa Trail in New Zealand South Island. Though it did the job keeping me dry and snug it became very claustrophobic after a while especially when confined by rain.
If the ground sheet tray is fully pegged down which covers the vestibule area too, cooking in wet weather is dangerous and therefore impossible. It can be unpegged and drawn back inside the main body but cooking is still not a safe option.
My conclusion is this is great for an overnighter in dry weather on flat ground, just bearable for three nights, anything more my tarp or a Trailstar is a vastly superior choice and both are 2/3rds the weight.
Experience
60 plus years of outdoor activities worldwide
Source: bought it new
Price Paid: $125

Your Review
Where to Buy
Help support this site by making your next gear purchase through one of the links above. Click a link, buy what you need, and the seller will contribute a portion of the purchase price to support Trailspace's independent gear reviews.
You May Like
Specs
Price
MSRP: $229.00
Current Retail: $164.99
Historic Range: $164.99-$254.15
Reviewers Paid: $130.00-$160.00

Capacity
1

Weight
3.4 lbs / 1.5 kg

Pack size
19 x 6 in / 48 x 14 cm

Fly Sheet
Lightweight 210t Polyester RipStop PU with a 5000mm waterproof PU coating

Inner Tent
190t Nylon with Polyester Mesh

Ground Sheet
Bathtub Style 190t Nylon w/5000mm PU coating

Poles
DAC Featherlite Poles made from TH72M aluminum

Vents
Full mosquito net inner