Hilleberg Nallo 2 GT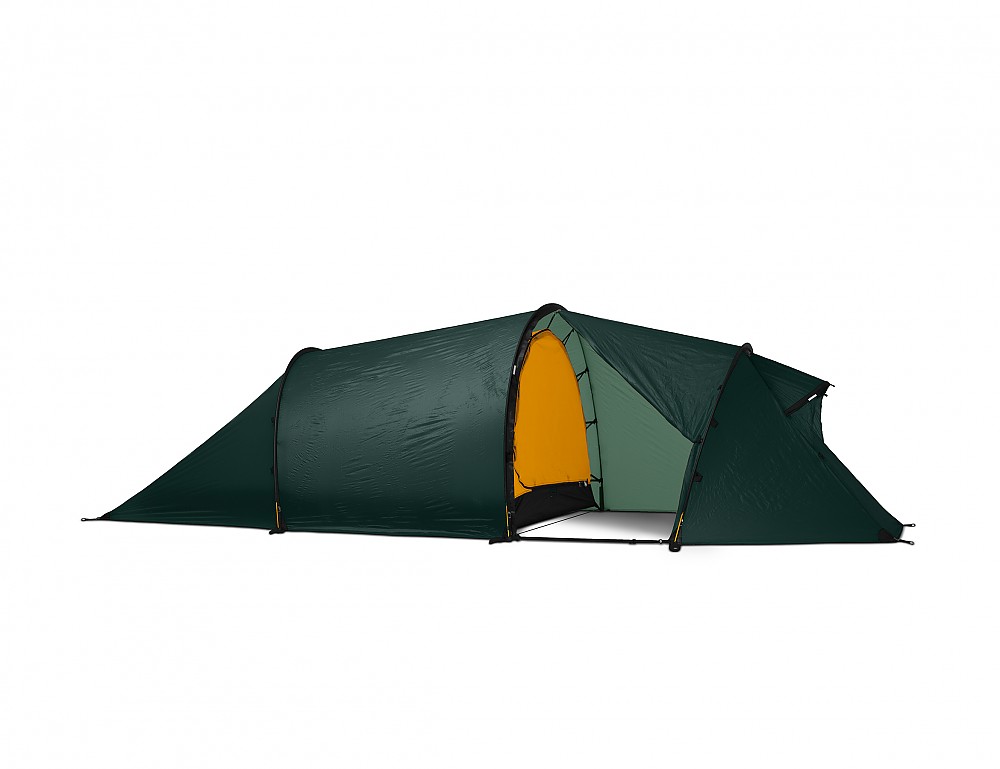 I bought this tent (after a lot of research and comparison with others) with the hope that it would be versatile enough to go anywhere and do anything (within reason) while still being light/compact enough to be taken on less serious trips, yet still be comfortable for 2/3 people to spend potentially an extended period in.
I was not disappointed. With all spares etc it weighs in at a laughable 2.6kg, lighter than most one man tents when split between two - it packs up smaller than most two man tents I've come across - it pitches easier (and more sensibly, outer and inner simultaneously, avoiding a wet inner or extra time wasted) than any tent other than the laughable 'pop-up' tents which I wouldn't trust in a mild shower - it has more internal space than seems reasonable for a 4 season tent of its weight - and last but not least, it is incredibly versatile.
I have taken it on a variety of expeditions since purchase, ranging from gentle hill walks with beginners (it is great for dispelling the concept that camping has to mean hardship, being wet through, cramped conditions, etc...), through to up (and thankfully down!) a couple of mountains. I have yet to pitch it on snow, but have had to pitch it on a very exposed section in 70mph+ winds (which carried on all night) which, while a little challenging (but less so than other tents might have been), was unbelievably comfortable and solid feeling once inside. It stood up to the battering without showing any sign of difficulty, and the only real upset was from the level of noise produced, but this is to be expected with a tunnel tent, and a price gladly paid for the weight saving.
Even though the GT2 is sold as a two man tent, I have had three (plus packs) sleep in relative comfort inside it - the key is to get the groundsheet and sleep the third in the porch (though if expecting rainy/wet conditions a bivi bag may be necessary to avoid the third person getting wet toes - but it is both possible and realistic for three to share if weight is the highest concern and comfort can be compromised on.
If I had to complain about anything in relation to this tent it would be that the vent system is far from self explanatory, and neither are all the options re door opening etc... however, the essentials are self explanatory and obvious if you read the handbook - 6 pages with pictures ;) - and beyond that you can have endless hours of fun discovering yet another ingenious option provided for your comfort. That said, unless you leave all the vents closed (and I do mean all) in inappropriate conditions, condensation should not be much of a problem.
For me this tent has done everything I wanted from it, and it oozes quality while it does it. I would highly recommend it to anyone who is out regularly/need a highly versatile tent, despite the high price tag, as it should, if looked after, provide over a decade (or so I'm told) of reliable service, and so is money well spent.
Design: four-season tunnel
Sleeps: 2
Ease of Setup: laughably easy even for one...
Weight: 2.6kg (less if remove spares, 500g more if include ground sheet)
Price Paid: £446.25

Hands down the best tent I've ever owned or even used. I live in the Southeast, and I wanted a tent that would handle the humidity of a Southeastern summer but that I could use four seasons here and three elsewhere. I was initially unsure that, without a mesh inner, the Hilleberg would be tolerable in the South -- but it's not just tolerable, it's palatial, and I think I could probably use it four seasons just about anywhere.
The tent is enormous (for its weight), not cramped at all even with two tall guys sharing it, and the best part of course is the vestibule, which can fit an ungodly amount of gear. In a worst-case, true survival situation, the tent could probably serve as shelter for four or five people. The fabric is light but, so far as I can tell, tough, and the tensioning lines you can stake out allow flexibility in pitching. The tent is also loaded with functionality; there's a clothesline running through the sleeping compartment to hang stuff on (great for hanging an headlamp from for illumination at night) and pockets in the body of the tent. The vestibule can be opened and rolled up in several ways, so you can have the tent as open or as battened-down as you like. And of course the thing that ties everything together is the unbelievably low weight.
The only downside is you have to find a piece of flat ground large enough to pitch on. What a great tent. Never buy from another company.
Design: Four-season tunnel
Sleeps: 2
Ease of Setup: Very easy to pitch, vestibule rigged around inner tent for simultaneous pitching.
Weight: 4 lbs 14 oz (minimum)
Price Paid: $285

Rain proof, warm for Brazilian south highlands and only 2,6kg. Much better than famous brands. I recomended for everybody from Brazilian south highlands freezing humid in winter to Patagonia south.
Pros
Weight
Waterproof
Rugged
Big avancée
People think of Brazil as hot weather country, untill you pitch a tent at minus 5-10° Celsius and 99% humidity. It's cold to the bones, and it's wet to the soul.
With the Nallo GT you have a big space to cook at night, you can remove the inner tent from the inside and everybody could come in to cook out of the rain. It's great.  And it's only 2,6kg.  
We spent some 3 bad weather days in Bariloche mountains in Argentina, with a lot of confort too. People couldn't believe the space-weight ratio of the tent. With the footprint you could pitch it without the inner tent, and you could handle 4 person in it. It's very easy to hand the condensation too.
Best tent in 30 years. 
Source: bought it new
Price Paid: near 500 USD

I use this exclusively for snowshoeing and winter mountaineering. The pros are its weight, vestibule and ease of set-up. Ventilation was a challenge in the beginning and condensation build-up was a bit much until I figured it out. If you button it up, it will get very warm and you'll get wet.
It would seem that Hilleberg pared the tent size to bare minimum for two (30 sq ft on any tent is snug for two adult males). This is my first tunnel tent. Changing from a dome to a tunnel tent shaved 4-5 lbs off and for me it was worth the extra expense. The vestibule more than makes up for the snug tent fit. EVERYTHING can go into the vestibule with still room left over to cook (great in a storm).
Set-up in a blizzard is a breeze, once staked out and guyed this tent is bombproof. Hilleberg does provide some pretty cheesy tent stakes for the msrp of $530. I changed to winter ones anyway. The tent and fly fabric is lighter than one would initially feel comfortable with yet it truly performs as advertised.
I am very happy with this purchase. I saved a little $$ by buying directly from the Hilleberg website. I've spoken with Petra Hilleberg at the Washington store on numerous occasions and am very confident that they stand behind their product and sincerely attempt to remedy any and all problems.
Design: four-season tunnel tent
Sleeps: 2
Ease of Setup: 3 poles into sleeves, snug retention straps, 2 stakes one end, pull-it's up, 2 stakes other end and your done, guy it, snug the slack out and crawl in
Weight: 4 lb 8 oz "skinny" 6 lb with 10 winter snow stakes
Price Paid: $475

I have had this tent for nearly three years, and like Peter Thomson's review, I too had trouble with the poles. They also snapped on me three times, and once it went through the flysheet, and the tent was sent away for weeks on end.
I have now had all the poles replaced at their expense. I have also had problems with severe condensation, the worst I've experienced in any tent I've owned. I have the vestibule footprint to try to reduce this but no change.
Update: March 9, 2006
I have had it with this tent, I spent a very damp and cold couple of days, in the Scottish borders, and it rained most of the time. Now I expect my tent to keep me and my equipment dry, but it didn't manage that. The condensation trouble again reared its ugly head, and dripped onto the inner tent, and then onto me or my friend. Hopeless! Also when I open the entrance all the rainwater flows into the vestible, I see Hilleberg has changed the design this year, I feel like taking my tent to them and asking for my money back. I will stick to Vango tents in future.
Design: 4 season tunnel tent
Sleeps: 2
Ease of Setup: okay
Weight: 2.9kg?
Price Paid: £330

This is a 2 person tent with a HUGE vestibule. The inside tent is the same as the regular Nallo (a good amount of room for two, but not much gear), but an additional pole and vestibule extension gives you room for gear plus dog, cooking, boots, snowshoes and then some. Set up is as quick and easy as other Hillebergs, just slide the poles in the sleeves, and stake it down on the ends. The fly and the tent go up as one unit like other Hillebergs, making it a dream to set up in nasty weather. Ventilation is handled by a large vent over the door. The usual high quality and strong but light materials throughout. These tents can go anywhere. The only negatives I might have is that it does take up a lot of space to set it up because of the vestibule. Also the supplied stakes, while better than most manufacturers supply, are very light but easily bent if you don't install them just right.
Design: 4 season tunnel tent
Sleeps: 2
Ease of Setup: Extremely easy
Weight: 4lbs 12 oz
Price Paid: $480

For the first four weeks this was the best tent I have ever used, after that it was the worst.
The tent was supplied with straight poles that started to become curved with use, after which every single pole segment either broke or the segment split when being used in calm weather.
On my early return to the UK partly due to the tent becoming unusable I sent the tent off for repairs to the flysheet and to have the poles exchanged. The tent was returned to me one day short of TWO calendar months later with the fly repaired and the poles exchanged for slightly pre-bent poles marked " DAC 9mm" and their length. There was no charge for the exchange of poles or repair but I would have prefered to have a tent with usable poles in the first place, especially given the price of the tent.
If you have a tent with unmarked poles you may want to change them before using the tent.
Design: Tunnel
Sleeps: 2
Ease of Setup: Very easy
Weight: % Lbs
Price Paid: £375

I have owned and used a number of other tents over the years....What was I thinking?
This tent is comparable to driving a high end sports car, sure you pay alot for it but it is worth every dime. From ease of set up to the design and craftmanship of things as small as guy line tighteners. It beats all other brands I have come in contact with.
I will never purchase a tent from another co.
Also this is a stated 2-man tent that would fit 3 in a pinch.
Design: 3 pole non freestanding hoop
Sleeps: 2
Ease of Setup: very simple
Weight: 4.5 lbs
Price Paid: $550 US

This has to be the best tent I have ever owned. Very light for its size and easily erected the large vestible gives a hugh amount of space. I use it for cycle camping and the vestible is handy for stowing panniers. At a push the bike with the front wheel removed, could go in there.
Design: Tunnel tent
Sleeps: 2
Ease of Setup: Very easy
Weight: 2.4kg
Price Paid: £360

Your Review
Where to Buy
Help support this site by making your next gear purchase through one of the links above. Click a link, buy what you need, and the seller will contribute a portion of the purchase price to support Trailspace's independent gear reviews.
You May Like
Specs
Price
MSRP: $910.00
Current Retail: $925.00-$970.00
Historic Range: $682.50-$970.00
Reviewers Paid: $285.00-$550.00

Minimum Weight
2.4 kg/5 lbs 5 oz

Packed Weight
2.9 kg/6 lbs 6 oz

Outer tent fabric
Kerlon 1200

Poles (9 mm)
1 x 305, 2 x 260 cm / 1 x 120.1, 2 x 102.4 in

Pegs
20 V-Peg