Therm-a-Rest NeoAir XLite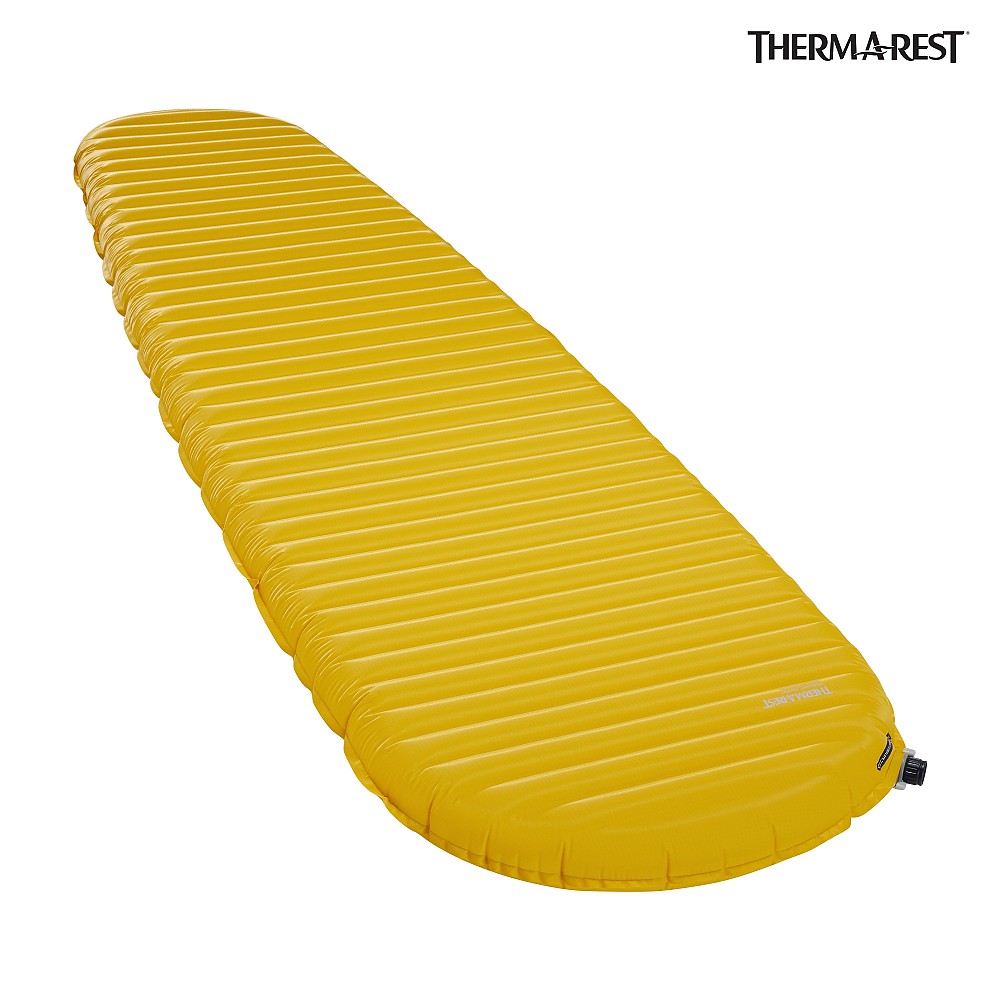 The Therm-a-rest NeoAir XLite mattress is the perfect balance of warmth, size, and weight for a light backpacking kit. The pad weighs just 12 ounces with an R-Value of 3.2 in a profile the size of a one-liter water bottle.
Pros
Warmth
Small size
Lightweight
Cons
Crinkly noise is minor but noticeable
The Therm-a-rest NeoAir XLite inflatable mattress is a marvel of warmth in a small package. I was still using the very first NeoAir model, which was revolutionary when it came out but only had an R-Value of 2. The NeoAir XLite has an R-Value of 3.2. It doesn't sound like much but it was noticeably warmer and best of all, it's significantly smaller and lighter than my classic NeoAir.
Field Test
The first thing I noticed about the XLite was the small size. When deflated and rolled up, this pad is tiny. It really is the same size as a liter-sized Nalgene water bottle. At 12 ounces, it is quite a bit lighter than my old NeoAir that weighs in at 1 pound, 3 ounces. That's nearly half a pound of weight savings.
I tested the pad on four different trips including two at Point Reyes National Seashore, one in Yosemite National Park, and one at Lassen National Park. I paired the pad with a Sierra Designs Nitro 800/0 degree sleeping bag. We had everything from blustery, cold temps at the coast to typical Sierra chill in the high alpine and warmer than expected temperatures at Lassen. It didn't get below freezing on any of the trips and probably ranged from the high 30s to low 40s at night. My husband still has the old NeoAir model so I could test the XLite side by side on the bare pad. The XLite felt markedly warmer.
The nylon fabric felt comfortable on bare skin. I've heard a lot about how some newer pads can be quite noisy due to the reflective materials inside the pad. The XLite sounds a bit crinkly to me, but my husband, who is a light sleeper, was not bothered by it when sleeping. I didn't notice it either but when I compare them, it does sound different from my old pad. I think it is more noticeable because the crinkling is higher pitched than the fabric on the old pad.
R-Value
R-Values provide a standard measure of the ability of a sleeping pad to insulate you from the cold earth. Pads generally have R-Values of 1-10. For summer temperatures an R-Value of 3 or 4 should be adequate. With an R-Value of 3.2, the XLite is suited to summer temperatures in the Sierra.
I debated long and hard last year about how much to upgrade my pad. I occasionally go backpacking in snow but only in the spring, not the dead of winter. A higher R-value is appealing, but when I compared the weight of pads with higher ratings, I was disappointed in how heavy they were. Some were a pound or more.
After a thorough investigation I decided to stick with a reasonable R-value of 3-4 that would be ideal for 80% of my trips or more. I purchased an inexpensive foam pad to pair with my inflatable pad for the small number of snow camping trips I take. The XLite fit my expectations perfectly. It is warmer than my old pad but is still lightweight and small.
XLite Features
The XLite has a Triangular Core Matrix that uses a design of two stacked layers of triangular baffles that creates hundreds of individual cells. In addition to minimizing heat loss, this also makes the pad more stable. ThermaCapture refers to a proprietary reflective coating that is applied to the surface of the pad. This allows heat to be reflected back at the body. 
I tested the regular sized pad, which is 20 inches wide and 72 inches long with rounded edges. It was similar to the width of my old pad, which was an inch wider and a rectangular shape. I didn't notice anything different with the width and it felt fine to me. I'm 5 feet, 8 inches tall and weigh 135 pounds for reference. The small version is 20 inches wide, 47 inches long (for the torso) and weighs 8 ounces. The large version is wider at 25 inches, 77 inches long and weighs 16 ounces. The large version is good for those desiring a wider pad. When inflated the pad is a full 2.5 inches thick.
The pad comes with a stuff sack and repair kit. However, I find that a rubber band works fine to secure the pad so I don't use the stuff sack. I blew up my mattress the old fashioned way, but Therm-A-Rest offers several devices to assist. 
The Therm-a-rest NeoAir XLite mattress is the perfect balance of warmth, size, and weight for a light backpacking kit. The pad weighs just 12 ounces with an R-Value of 3.2 in a profile the size of a one-liter water bottle. This is an ideal 3-season pad for all but the coldest sleepers looking for good insulating power in a lightweight package. 
Source: tested or reviewed it for the manufacturer (I kept the product after testing.)

Disclosure: The author of this review received a sample of the product from the brand or its representative in exchange for a review.
The NeoAir XLite ranks as the longest-lasting and most familiar item in my pack...going on 7 years of use. It has earned its 5-star rating more than any other gear I've owned. I have gotten some of the best sleep in my life on this pad…it becomes more appealing and familiar than a bed by the end of a long thru-hike. I've updated my 2012 review to reflect the longevity and thoroughness of my experience. I still stand by my original summary… this pad is light, warm, and comfortable! I would add that it's also incredibly durable, as it has never gotten a leak.
Pros
lightweight
compact
durable
warm
Cons
not self-inflating
pricey
Background: I initially shared my thoughts on the XLite in 2012 (only my 3rd review on Trailspace), after having the pad a few months. I bought it the very first year that it was released, so you'll notice that it is made of the original semi-transparent material. Therm-a-Rest made some changes over the years, responding to complaints that the first material was too noisy. Newer versions come in a non-transparent 30D ripstop nylon that is said to also be more comfortable against the skin.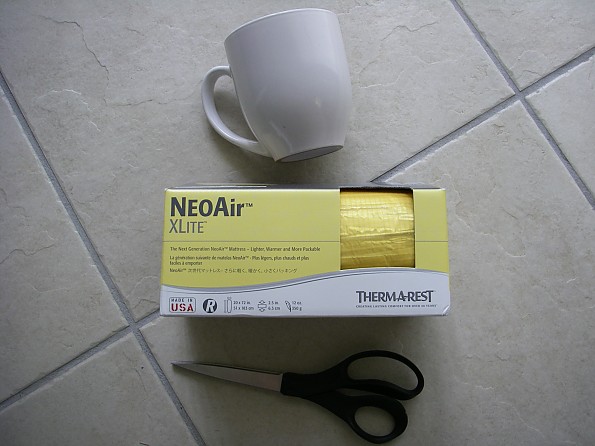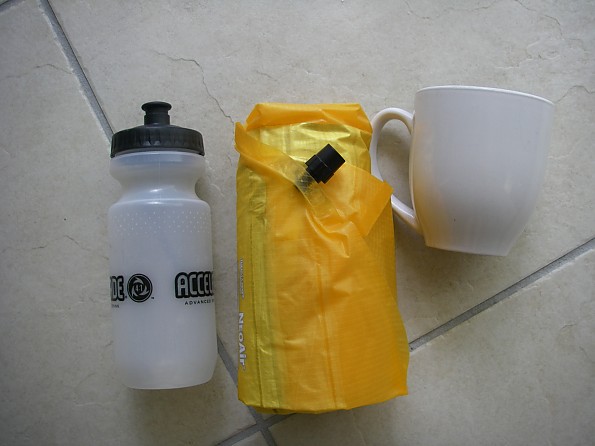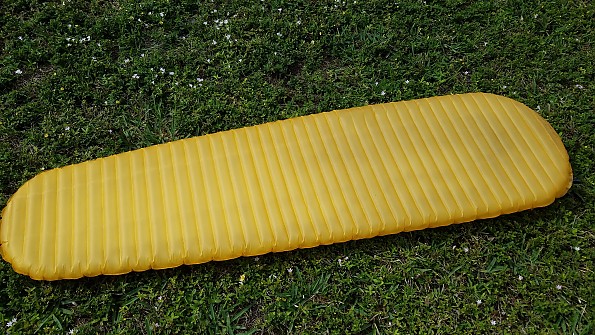 Personally, I have never found the noise or comfort to be an issue, but maybe some of my companions would beg to differ (when I've disturbed their sleep by my rustling around). I've been using the pad for over 7 years and on multiple thru-hikes, so figured it was time to do a thorough update.
Ease of Use: At first, I struggled with the amount of breaths it took to inflate this pad. I was used to a self-inflating pad that only needed one or two breaths to firm-up once it had done all the work. The NeoAir XLite requires between 20-30 full breaths, which can leave a person light-headed. At elevation, it can be downright exhausting.
Fortunately, I discovered an alternate method. I now use an Exped Schnozzel Pumpbag (which doubles as a pack liner) to inflate my pad. I can inflate it fully by filling and squeezing the Pumpbag about 4 times. This way, I minimize the amount of moisture going inside the pad and also don't get out of breath. There are other inflation options available, such a mini-pump.
The pad is otherwise very easy to use. The valve opens and closes smoothly and I've never had a malfunction (I've owned 2 other Therm-a-Rests with the same kind of valve). It doesn't appear as if the company has changed the valve design in 20 years…if you got something that works, roll with it. Getting air out of the pad is efficiently achieved when I simply open the valve while lying on the pad. This is the first thing I do in my morning ritual, as it forces me to have to get up. I do some final squeezing and then fold the pad into 3rds to roll it into a compact package. It's small enough to fit into a stuff sack with my quilt.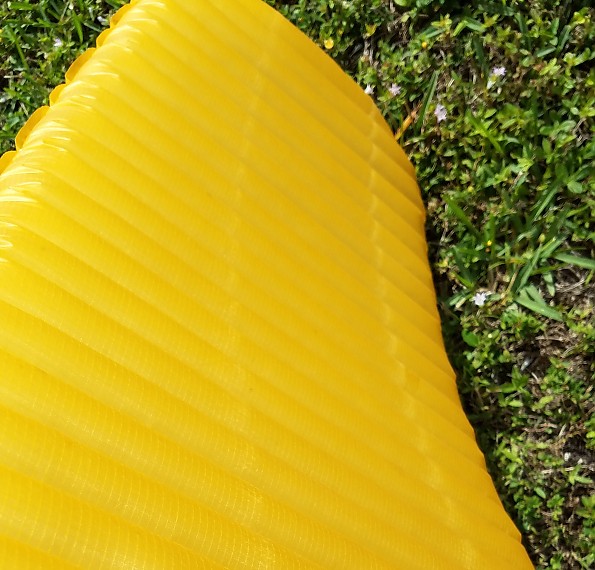 The material shows lines from folding it the same way over so many years.


Comfort: I have tried many other sleeping pads but have yet to discover one as comfortable (and light) as the XLite. With a thickness of 2.5", I can lay on my side and stomach and never bottom out on the ground. The baffles are very stable, such that I don't feel like I'm wobbling around on an air balloon when I roll over or shift. I find that it is at its best when letting out just a little bit of air after full inflation, but this is of course personal preference.
This pad pairs well with a variety of sleeping bags and quilts that I have owned: Enlightened Equipment Revelation, Katabatic Gear Alsek, and Sierra Designs Backcountry Bed. Some sleeping bags have integrated pad sleeves. The XLite has a streamlined profile so that it easily slips into these pad sleeves. It can also be tucked inside a larger sleeping bag. Since I mostly use a quilt these days, my skin is often in contact with the pad. It can be a bit sticky against bare skin, especially since I sweat at night, but usually I wear long underwear and it is not a problem. I have even used it with success inside a hammock…not necessarily for comfort but more for thermal protection. On that note…
Thermal Protection: A big part of the XLite's long-term reign as the best sleeping pad on the market, based on many backpacker polls, comes from its excellent R-Value (a measure of thermal resistance per unit of a pad's exposed area). A men's regular has an R-Value of 3.2 and the women's version is 3.9 (it weighs the same as the men's regular but is shorter in length). Such high values are usually achieved by adding foam, down or some other kind of insulation. But the XLite keeps the weight and bulk down by utilizing a thin reflective sheet of what is essentially mylar. This is what makes the pad sound so crinkly. A triangular core matrix baffle design also traps heat. This brilliant bit of engineering has produced one of the warmest yet also lightest pads on the market.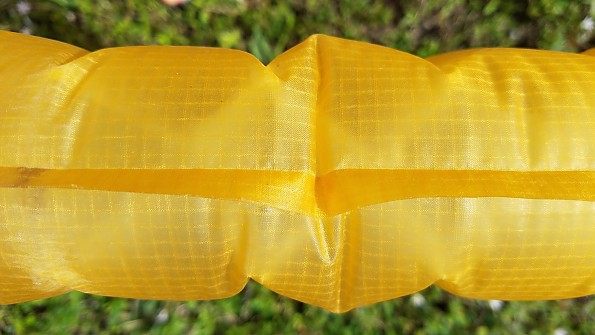 I actually own both a men's and women's pad and can attest to how delightfully warm they are. There have been many nights when my quilt or sleeping bag was not quite sufficient for the temperatures but I remained warm in a large part due to the pad. I cannot think of a time where I ever felt a chill rising up from below the pad. More often than not, I am too hot and have even had to forgo using the pad a few nights in Florida.
Shape and dimensions: Aside from the excellent R-Value, the XLite sports a very efficient profile. In rounding the corners, all unnecessary excess has been eliminated. This also results in the pad taking up minimum space inside a tent. Not all will find the svelte 20" width to be sufficient (the men's long is 25" wide) but I am most happy with the dimensions.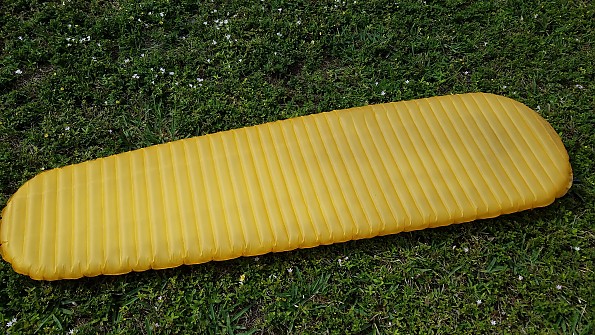 Construction & Durability: When I first examined the XLite, I wondered about the durability of such a thin, see-through fabric. I really didn't expect it to last long. On its inaugural night, it even partially deflated by the time I went to bed. I was relieved to figure out that it was the falling night-time temps that caused the decrease in volume, not a leak. I need not have worried. After 7 years and perhaps more than 300 nights of use, including 2 thru-hikes of the PCT and Te Araroa, my XLite has never gotten a hole or leak! I feel like that is unheard of for an inflatable pad. I joke that it is indestructible.
I will also concede that I am very gentle with my gear, generally getting much more than the expected life-span out of things. I try not to use my pads outside my tent (i.e. for glissading, as a chair, packraft, or Frisbee, etc.). I am careful to use a ground sheet under other circumstances. After spending so much money on gear, I think it's worth the effort of treating it well.
And yes, there are other signs of wear, as is to be expected. Namely, the mylar insulation has broken down over time. When I hold it up to the light, I can see a lot of disintegration. It still seems to work but the pad's R-Value is probably not what it used to be. Oddly, the pad also seems to have gained about an ounce of weight, though it's hard to say since I didn't weigh it when I first received it. It now weighs 13 oz. It could be that moisture and other particles have accumulated inside. Some have had issues with mold but I can detect no such odors and have been careful to dry it out after each use (though, this isn't much possible in the duration of a thru-hike).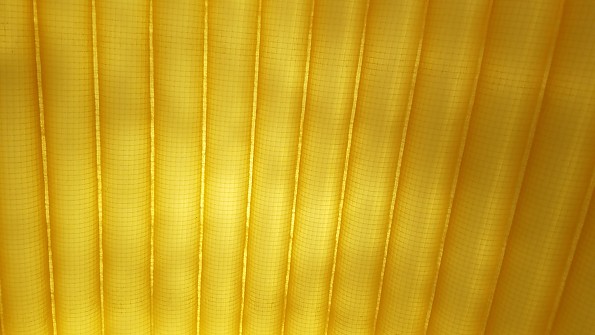 When held up to the light, you can see that the insulation is pretty much gone in places
The only other fault is a small bulge where a baffle has partially come apart. This doesn't affect the performance whatsoever but may spread over time. The pad is still perfectly functional. My women's pad has been used a lot less but also remains intact. I will be using it for the CDT this summer.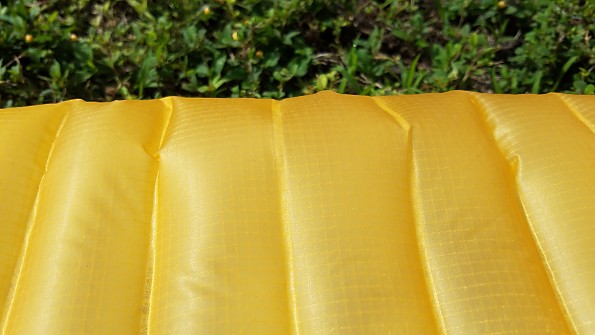 The one spot where a baffle has come apart and created a small bulge

Conclusion: The NeoAir XLite is one of my top 5 favorite pieces of gear. I never expected it to last so long and am pleased that it has given me some many years of reliable, comfortable sleep. As much time as I have slept outdoors on it, my experience far exceeds the pricetag. Priceless would be a good description.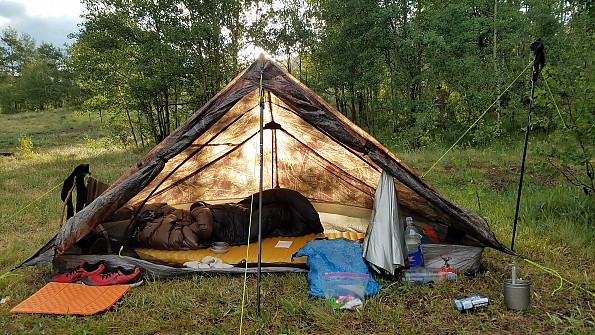 Experience
Over 7 years of use, including thru-hikes of the Te Araroa and PCT. Temps have ranged from the 80's to below freezing.
Source: bought it new
Price Paid: $115

The Thermarest NeoAir XLite is one of the most popular backpacking sleeping pads on the market due to comfort and packability.
Pros
Lightweight
Great customer support
Comfortable
It floats
Compact
Cons
Pricey
Noisy
Inflation time
If you've done your research, you've probably heard of the Thermarest Neo Air XLite sleeping pad. It's one of the most popular sleeping pads on the market due to its lightweight design and comfortable support. It isn't difficult to fall in love with a sleeping pad like this one because it holds you in all of the right places, and keeps you warm all night.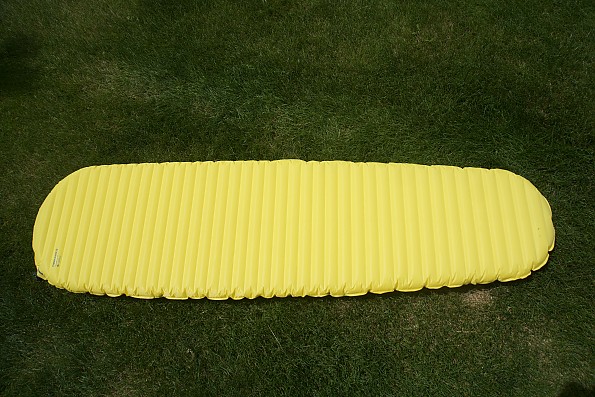 As a side sleeper, I've always struggled to get comfortable on closed foam sleeping pads. It doesn't take very long for my hips to dig into the Earth, which makes me feel worse when I wake in the morning. But investing in a quality sleeping pad like the Thermarest NEO Air XLite was a game changer for me. 
Weight:

12 ounces (regular)

Cost:

$184.95

R Value:

 5.4

Thickness:

2.5 inches
The Thermarest NeoAir XLite comes with a pump sack, a stuff sack and a repair kit, giving you everything you'll need to sleep comfortably in the backcountry. With a baffled design, this sleeping pad traps heat where it counts. Weighing 12 ounces, this product falls on the lightweight side of inflatable sleeping pads. And it's warm too! 
Warmth

With an R Value of 5.4, this sleeping pad is incredibly warm for its weight. Some backpackers even use this product for winter backpacking by pairing a warm sleep system with this pad. But, if you'd prefer, you can opt for the men's NeoAir XLite, which is less insulated (4.2 R Value). 
Sleeping Pad Size
I opted for a regular size sleeping pad. But most people can get away with a small version. In fact, a regular sized sleeping pad felt quite bulky to me. And I'd probably opt for a shorter size if I were to do it all over again. As a 5'7" female, I found that I had more than enough space while using a regular sized NeoAir XLite.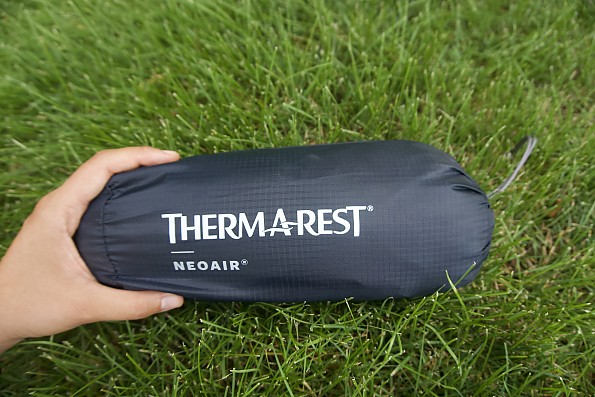 Backcountry Testing
I conducted a few months of testing in the Colorado Rockies. Temperatures were moderate, ranging from 35-60 degrees. Other than the inflation time, this sleeping pad has very few drawbacks. It's warm, terrific for boney people like me, and it has proven itself to be reliable. It's possible to find lighter sleeping pads or warmer sleeping pads, but this is a really solid middle ground product. It doesn't compromise comfort or functionality. 
About Thermarest
 A team of collaborators came together in 1971 to build a brand that's dedicated to sleep comfort. Jim Lea, Neil Anderson and John Burroughs were unemployed engineers with a climbing background when they decided to start Thermarest together. Today, their products are some of the most reliable products on the outdoor gear market. But one of the greatest qualities about Thermarest is their desire to make continuous improvements. As technology progresses, so do their products. 
Experience
With over 3500 long-trail miles behind me, I've had the chance to test quite a few different sleeping pads. The Thermarest NeoAir XLite is among my favorites.
Source: tested or reviewed it for the manufacturer (Kept it)

Disclosure: The author of this review received a sample of the product from the brand or its representative in exchange for a review.
Small, light, Therm-a-Rest pretty much says it all. An industry leader brings quality and function in a small package.
Pros
Light and packs small
Comfortable
Durable
Cons
Manual inflation
Limited thermal protection
Purchased as part of my go lighter to go higher effort last year, the Therm-a-Rest NeoAir XLite has worked quite well for me.  Replacing a 2.6lb TrailPro the XLite lives up to its name at 12.7 oz on my scale, including stuff sack and repair kit included with purchase.  After use in all four seasons I've found it surprisingly comfortable for an air mattress and have had no issues with leaks or other failures.
On first unrolling the NeoAir I was struck by how thin and light the material felt.  That made me a bit nervous about durability and I was really careful rolling over the first time I used it.  Since then I've grown confident it won't pop if I roll around a bit at night since there have been no problems.
The next thing that struck me was that unlike my trusty TrailPro, which mostly inflated itself, this one would require me to blow it up.  I learned quickly that getting some air inside, closing the valve and then pushing that air around to open up the cells a bit before trying to fully inflate made things easier by far.
Research prior to purchase had shown a lot of folks talking about how noisy this pad was.  Having been on a trip with someone using a Big Agnes pad that squeaked all night long I was expecting the worst but have found the XLite to be quiet enough not to really bother me.  It has quieted over time though still makes some noise and that can be damped if I use my Therm-a-Rest Fitted Sheet.
As a quilt user insulation is important to me in a pad and I have found the NeoAir XLite to work well enough for me down to about the freezing point. If I am expecting temps around there or colder I use the XLite on top of the Trail Pro. Combined I have used them down into the teens with great success.
Over all I have been very pleased with my purchase of the Therm-a-Rest NeoAir XLite and would definitely recommend it to anyone in the market for a full length inflatable pad.  I've found a lot of comfort on it and the weight/space savings have been worth the expense.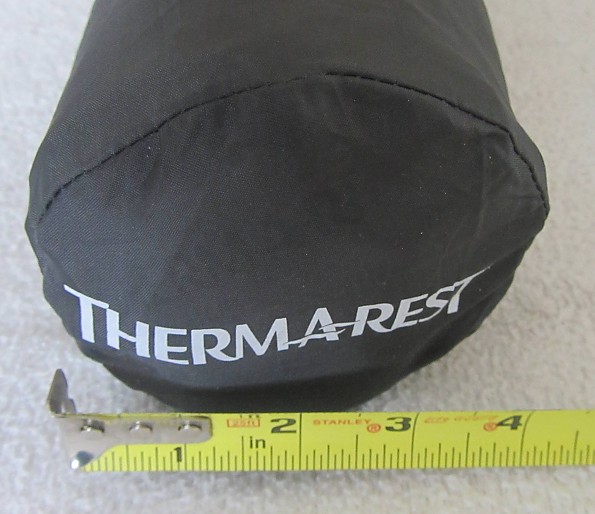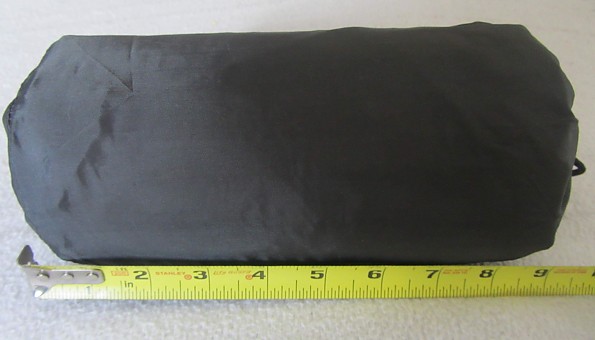 Folded and rolled to 9" x 4" it tucks easily into the sleeping bag compartment with my quilt.
The valve design has long made me a fan of Therm-a-Rest pads. Used properly it really works to prevent damage to this vital part of the pad. I was glad to see it was carried over to the modern inflatable pads.
Source: bought it new
Price Paid: $120 (on sale)

Version reviewed: 2015 Model
Ultralight and highly compact, this pad is exceptionally warm for its weight. It doesn't merit five stars because I don't feel personally confident about its longterm durability, and it's crackly enough that very light sleepers will need earplugs at night. At $159, I consider it worth the money. The 2016 model has new material and is rectangular, so check that out as well.
Pros
Ultralight—12 oz
Compact—rolls to 9"x4"
Warm for its weight—R 3.2
Durable for its weight
Cons
Crackly (may be less in newer models)
Not cheap—$159
Narrow—20" shoulder
This pad rocks for ultralighters and isn't half bad for the creature-comforts crowd. How do I know? I'm a picky, cold-sleeping, side-sleeping insomniac who sleeps well on this pad, and my two-week pack's skin-out weight is just over 9 lbs. 
I picked up this pad new, full price, at REI about two years ago because I was in aggressive ounce-shaving mode for ultralight backpacking, and liked it so much I later bought a friend the same one at the REI garage sale for 50% off. It's been worth it at full price. I've used it a dozen times--every time I don't use my Hennessy hammock.
Here are the pros and cons:
Pros:
It's very light for its warmth—at just 12 oz, it has an R value of 3.2. Compare that to some of the next steps up (Sea to Summit Comfort Light Insulated is 20.5 ounces, R 4.2, and Big Agnes Q-Core SL is 19.5 oz, R 4.7). If you're OK with a few more ounces, need to be really warm, and don't mind shelling out a 50 more clams, then go with the newer Therm-a-Rest NeoAir XTherm, which weighs 15 oz, insulates at whopping R 5.7, and costs $200.

It packs small: It rolls into a 9"L x 4"T cylinder, about the size of a Nalgene bottle

It's exceptionally comfortable for an ultralight inflatable: Despite the horizontal-only baffles, it works well for side-sleeping, at least for me (I weigh about 125 lbs). 

Durability: I'm very, very nice to my gear, so my personal experience with it is all tent-based. However, in my community of gear heads, I don't know one person who's had a leak from tent use, and some folks have put it on pine needles and dirt and still had no leaks.
Cons:
Narrow: The men's version, which I have, is just 20" wide (72" long, 2.5" thick). If you're a burly person, you'll need to go with their size Large, which is 5" wider. Because of those horizontal baffles, it also compresses more toward the edge.

Crackly: The 2015 version I have, which is mummy-bag shaped, is made of a plasticky material that feels OK to touch, but rustles and crackles when you move on it. I'm a very light sleeper, so I have to sleep in foam earplugs to keep from being woken up by it. I've read that the 2016 version is made of a new material that's both softer and quieter, but that folks still occasionally comment on the sound.

Not cheap: Buy new for $130-$160.
Source: bought it new
Price Paid: $160

As badly as I hated to lose the Cadillac-comfort of my Big Agnes inflatable, I needed to shed a full pound from my pack even more. The NeoAir XLite was just the solution I needed. Ultra lightweight, with a weight of only 12 oz, it did the trick.

There's an annoying crackling sound that presents itself initially, but it's a quick adjustment period and the pad provides more than adequate insulation. I was so pleased with my purchase that I purchased a second NeoAir women's version for my spouse.
Cons
Crackling sound initially from the materials used
I recently purchased the Therm-a-Rest Men's NeoAir XLite as part of an overall effort to lower my total trail weight. (My knees are thankful!) We're preparing for a trip to Glacier and I wanted to cut several pounds from my pack weight.
I was replacing a much heavier but ultra-comfortable Big Agnes inflatable pad, so I was very skeptical that I could get as much comfort out of a 2-inch pad like the NeoAir.
Well, color me skeptical no longer. I took the NeoAir on a shakedown 2-night trip to the Ellicott Rock Wilderness test out several pieces of gear. The pad inflated easily, and deflated quickly when breaking camp. It packs compactly to the size of a wide mouth Nalgene bottle and surpassed my weight objectives nicely at 12 ounces.
Upon initial use, I was slightly annoyed with the crackling sound the pad makes when trying to settle-in. However, I didn't notice it much after the first 10 minutes, and I barely noticed it all all the second night.
This pad is a bit pricey, at $150+ for size Regular, but it was a price I was willing to shell out for the lighter weight objectives I required. I was pleasantly surprised with the pad's comfort level.
I would recommend the Therm-a-Rest NeoAir XLite to any backcountry enthusiast that desires to achieve lower pack weight without sacrificing a good night's sleep.
Source: bought it new

Great when you are going ultra-light!!! SO much more comfortable than the egg-crate foam we took last year! A little noisy and sticky on warm nights. Takes up barely any room in my pack!!
Pros
Ultra-light
Packs very small...water bottle size
Comfortable...plenty of cushion between you and the ground.
Cons
Noisy....crackles when you move
Sticky on warm nights
A little too narrow to sleep on your side
My friend and I went on our first backpacking trip last year...we're both 50. We went 35 miles out into the canyons in Utah by ourselves to see ancient ruins. We drove her car up 18 miles of the most hair-raising road you will ever drive on to get to the trail head.
Even after removing stuff from the packs we hadn't even tried on they weighed 62 pounds each...and we're not big girls...LOL. We thought we needed all that stuff!!
Because we'd already laid out so much cash on backpacks, etc we skimped on pads. We didn't even know if we'd want to go again, so instead of laying out big money on expensive pads we simply took cheapo egg crate foam.  Ten minutes after laying down for the night we both sat up and looked at each other...this was NOT working! Who knew the clay in Utah was going to be harder than a paved road???  Not us! 
We wound up overlapping our foam, then we overlapped our sleeping quilts and then we put on ever stitch of clothing we'd brought with us to stay warm...we still ended up pulling the tarp we'd brought into the tent and using it for a blanket...needless to say a sleeping pad was one of the very first things we put on our new gear list!! 
I researched for a week all the types and styles of pad...all the while determined to also cut the weight!! What I found was the Therm-a-Rest X-Lite pad....2.5 inches between us and the ground....packs VERY small and most importantly LIGHT...and priced right! We actually put them on our Christmas lists and made our husbands buy them...LOL!!
I would definitely recommend them!!
Source: bought it new
Price Paid: $80

Incredibly light, very packable, and very warm!!! So far it is pretty durable, but I wouldn't sleep on anything unless there is a groundsheet or tarp of some sort. Crinkles when you move around, but you get used to it. I would still buy it again for its ultralightness. Consider the Regular size...I tried to save an ounce and got the Short, but now I wish I had more length!
Cons
Crinkly sounding (like a potato chip bag)
Expensive
This is incredibly packable and light, just as it was reported to be. I got the "short" women's but I wish I'd gotten the regular one. A few extra inches of insulation at my feet would have been worth the extra ounce. (I am 5'4").
So far it has held up pretty well and I've used it in a bivvy, on a wood floor and a tent. It is not as durable looking as the old (and heavy) self-inflating pads but definitely worth it if you want ultralightweight and warmth!!! And who knows, it may prove just as durable a few months or years from now!
As a woman-specific pad, the R rating is a little higher, which I do appreciate. Fully inflated I find it too hard and almost too high and tend to roll off. Deflate it a little and it is more comfortable. It is a little loud (crinkles like a potato chip bag, but that's just a minor annoyance). Unless you are very petite, get the regular size.
Don't be fooled by the flowery design...it barely shows!
Source: bought it new
Price Paid: between $100 to $200 I can't remember

Exceptional super lightweight sleeping pad that offers a great night sleep.
Pros
Lightweight
Very comfortable
Warm
Cons
Crinkley sound
Expensive
Narrow
I recently had the privileged to borrow a NeoAir Xlite from a friend for an overnight trip after he was raving about it. I must say I am blown away by this product! Not only is the NeoAir super light, it's also thick and warm — the perfect trifecta when it comes to a sleeping pad on the trail. 
Lightweight: As any backpacker will tell you, it's very important to keep your weight down when putting your feet to the trail. At well under a pound and super packable this pad will not burden you over the long haul.
Comfortable: For years I have conceded that I would wake up with sore hips and back every morning after a long hike, because I sacrificed comfort for a lighter pad. The NeoAir is incredibly thick and still manages to stay warm even without the added weight of insulation. By far the most comfortable pad that I'd be willing to strap to my back.
Warmth: Just about every other pad is either cold, or heavy. This pad reflects your body heat back at you to stay reasonably warm without any heavy/bulky insulation!
While I do love the NeoAir, I have to mention a few things...  First of all it's expensive — about $120-150. Also, it can be pretty loud when you are moving around and can wake you or others up with 'crinkle' sounds. Also, while I didn't have any issues sleeping on it, it is a bit narrow. 
My final concern is the durability. Because it's so lightweight, it concerns me that it could get punctured or possibly pop a seam. While it does come with a repair kit, I would hate to be out the $120-150 that it would cost to replace.
Source: borrowed it

Great pad.
Pros
Weight
Ease of inflation
Comfort
45 now and love backpacking still but not the ground. Have tried a number of different pads but have been unwilling up until this point to try the NeoAir, mostly due to price. Based on recommendations from others I decided to give it a try and have enjoyed my first good night's sleeping in a long time.
I'm a side sleeper, 6'1" and 220. I found filling it up and laying on it and then slowly letting out air until I'm almost touching ground at the low spot makes for the most comfortable bed.  
Concerned about durability but having a 4 year old jump on it didn't seem to phase it (probably not recommended).
Long trip planned this summer, interested to see how it holds up.
Source: bought it new
Price Paid: $130

Extremely packable, lightweight sleeping pad. Great for those who love getting the most efficient gear. Would recommend it for those who sleep still and want the best lightweight, comfortable option out there.
Cons
Crinkles a lot
Not self-inflating
Narrow bottom
This pad is extremely packable and lightweight. It's great for those who don't want to compromise comfort for weight and packability. I thought I could find a way to pump up the pad without having to blow into it and without buying the additional accessories, but I couldn't. Tried different methods that were recommended in different forums and reviews, but nothing beat blowing it up. Didn't purchase the inflating accessory because it was too expensive.
Though the pad is super light, I didn't like the fact that it narrowed at the bottom. Sleeping on the pad itself was very comfortable, but I tend to move around a lot when I sleep and kept falling off of it. The crinkling noise that a lot of people referred to didn't bother me or my husband much, but it did bother my friend who was in the same tent as us.
If pad is not fully blown up, I found it not to be comfortable. It needed to be fully blown up for it to be firm and comfortable enough to sleep on. Partially blown up left sagging spots and an odd distribution of air in the chambers.
Would recommend it for those who sleep still and want the best lightweight, comfortable option out there. Just not for me.
Source: bought it new
Price Paid: $100 (irregular)

Better than other pads, still not perfect if you have back pain.
Cons
Comfort for back pain
Price
I invested in this sleeping pad because I have a tough time sleeping well in the back country. This sleeping pad was a vast improvement over my last one and if you have a pain-free back it will probably be perfect for you.
It takes no time to blow-up and does a great job insulating from cold and protecting hips and shoulders from the ground. However, I still had pretty intense back pain using this mat and may look into a hammock to solve this issue in the future.
Source: bought it new
Price Paid: $137

This is a very comfortable and lightweight sleeping pad, good for sleeping in any position. Take basic precautions in where you set it down, as with any air pad, but it generally holds up well.
Cons
Can be noisy
Might need to be careful of material
The first time I used this sleeping pad, I got two holes in it. It was getting dark and starting to rain, and I was in a very rocky area. I tried my best to find a rock-free spot to set up my tent, but once I was inside, it turned out there was one very sharp rock underneath me.
I patched the two holes however, and the patches have held up and no more have appeared in two years, including three months of constant use on part of my Appalachian Trail thru hike. So the first two holes were very obviously user error and I believe the material is sturdy despite its light weight.
I've always set it up either in my tent or on a wooden shelter floor, sometimes with a tyvek ground sheet underneath, and sometimes on yet more rocks, roots, or what-have-you, and it's held up just fine.
Setup takes about 20 breaths and is quick. I like the horizontal baffles for comfort. I've slept on this pad on my side, back, and stomach. It's a bit crinkly in the noise department, compared to some other air pads, but it's not enough noise to bother me. It's very lightweight for a full length air pad.
Source: bought it new

The real benefit is the warmth it adds.
Pros
Light weight
Weight-to-warmth ratio
Ease of use
Comfort
This is true space age gift....light weight, rugged, and warm.
I am a big guy...250 lbs and a side sleeper. I do not have any issues with hard spots. I've been backpacking since 1971, and this by far is the best pad ever. I use a quilt and this pad keeps me comfortable well into the 20s.
This is a must buy addition in my humble opinion and extended experience.
Source: bought it new
Price Paid: $149

Love this pad! It's durable, comfortable, lights, and the kicker...it rolls up easily (my favorite part, because we all know how bad it sucks to spend ten minutes trying to get a pad back into its sleeve.

Overall I'd say it is the best pad on the market, and I have tried many. Plus, it doubles as a raft for the lake, however I doubt this is recommended. See below for a great story.
Pros
Lightweight!!
Quick inflate
Easy to pack up
Small package
Perfect size
Yellow!
Durable
Love this pad and I will tell you why! One night while backing in Colorado, I went to bed and like to bring my water bladder in my tent for easy access in the night, something I will never do again. I woke up to a tent full of water.(Now I know my tent is waterproof). Not only was I bone dry! I was floating on the inch of water that was in my tent. My down bag was dry and all of my sleeping gear, thank goodness because it was very chilly that night. This pad made that all possible. Sleeping pad and life raft! Get yours today! Cheers. 
Source: bought it new
Price Paid: $100

Light, but fragile and uncomfortable.
Cons
Fragile
Small sized
Uncomfortable
Too thin for easy adjustment
Noisy
It is a relatively light pad, but you get what you ... ask for.
My pad had a leak on the first night. Just luck of the draw but it brought home the problem with this type of design: one tiny leak means your sleeping night is over. I am 172 cm (5'8"), relatively broad shouldered, and the pad was not large enough for my arms if I slept on my back; it is thin, and it has a very narrow range of inflation that somewhat works for comfort. Too little and you hit the floor, inflate a bit more and it is too stiff.
It might not matter much but it is very noisy, to the point of getting self-conscious about moving during the night and risk waking up my companion.
I sold it after four trips and seven very uncomfortable nights and I purchased a Sea To Summit Comfort Plus. This has two independent air chambers (no risk to sleep on the ground), it is incredibly comfortable, and as a bonus completely silent. Best pad I ever owned. Heavier but I want to sleep at night!
Experience
A large number of pads in the last...many many years. Foam, rigid, First generation self-inflatable, Therm-a-Rest self-inflatables, Neo-Air, Sea-to-Summit Comfort Plus
Source: bought it new
Price Paid: $149

Light, easy, comfortable, but SLIPPERY!
Pros
Lightweight
Small
Easy to deflate
Comfortable
Cons
Noisy — crackling, crinkling sounds with movement
Sleeping bag slides off.
Expensive
I was impressed with the tiny size and light weight. But it took many more than the "20 breaths" to inflate! Quick and easy deflate. Comfortable, even though it looks too thin when inflated.
BUT very slippery, despite using same brand sleeping bag with the "system" of two straps meant to keep sleeping bag on the pad. I woke every morning with some part of me on the ground — shoulder, hip or entire trunk of body — while head was on pad! Very expensive system to end up sleeping on the ground.
I used the pad on a 6-day canoe trip.
Source: bought it new
Price Paid: $159 USD

Best sleeping pad for the weight with incredible warmth. Very comfortable.
Pros
Comfort
Warmth
Lightweight
My wife and I own two NeoAir XLites and have used them for four seasons now. Both were purchased used from eBay and both have functioned exceptionally.
It's quick to set up, taking 2-3 minutes to inflate. Comfort is superb, like being an actual mattress. Does a great job of keeping me warm even on cold nights.
I'm somewhat paranoid about punctures and have been very careful with it. That being said, it has performed without issue despite about 60 nights on the trail.
I would highly recommend it for anyone looking for a decently priced, very comfortable, inflatable sleeping pad.    
Source: bought it used
Price Paid: $75

Perfect: ultraight, packs small, comfy, and not noisy.
Pros
Light
Packs small
Low noise
Valve
Comfy
You will not find a lighter more comfy air pad at 12oz and 3 R-value. They updated the material so it hardly makes any noise and is slightly grippy so you don't slide off. I also like the old school simple screw valve. Dropped 7 oz from my previous air pad. I wouldn't change a thing.
p.s. I blow mine up with an older style Big Agnes Pumphouse that fits over the valve, which prevents moisture/mold inside the pad, and it doubles as a dry bag.
Source: bought it new
Price Paid: $103 on sale

A better night's sleep than my expensive latex mattress at home!
Pros
Comfort, comfort, comfort
Very lightweight
Very warm
I love this pad!!! I would love to sleep on this at home (if only I had one wide enough for both me and my husband). The crinkle noise doesn't matter because you won't move an inch all night. (OK, no intimate encounters on this pad...guess that's a con.)  
Get one. If you don't love it, I'll eat my shoe.
Source: REI Clearance

Best pad I've ever seen or used hands down.
Cons
Goofy color?
Manual inflation
Packs smaller and lighter than anything I've seen. Insulates well. Long enough to fit me easily (6'1"). Tacky enough to keep my slick bag (HyperLamina) from moving around. Price isn't crazy, either. 
Only used it a few times, so I can't comment on durability. 
Source: bought it new
Price Paid: $179.95

Super comfortable—the best in my 45+ years of backpacking.
Cons
Have to blow it up, no big deal
This was a large step up from the old Therm-a-Rest I got in early 1980. It packs so much smaller, is lighter, and fits in my Big Agnes bag. It is more comfortable and lighter than any other backpacking pad I have used. My best acquisition in 2011!
After seven years of extensive hard trail use from 9,000 to 14,500 feet, it has performed excellently.
Source: bought it new
Price Paid: $120 on sale

All that and a bag of chips...
Cons
Sounds like your sleeping on a bag of potato chips
Price
Other reviews seemed spot on. It is noisy and not sure how it will hold up over the seasons, but for backpack camping, this style is the way to go.
Source: bought it new
Price Paid: around $100

Your Review
Where to Buy
Help support this site by making your next gear purchase through one of the links above. Click a link, buy what you need, and the seller will contribute a portion of the purchase price to support Trailspace's independent gear reviews.
You May Like
Specs
Men's
small
regular
large
regular wide
Price
MSRP: $144.95
Current Retail: $134.99-$199.95
Historic Range: $84.87-$1,400.00
Reviewers Paid: $75.00-$179.95

R-Value
4.2

Weight
8 oz / 0.23 kg
12 oz / 0.34 kg
1 lb / 0.46 kg
15 oz / 0.43 kg
Width
20 in / 51 cm
20 in / 51 cm
25 in / 64 cm
25 in / 64 cm
Length
47 in / 119 cm
72 in / 183 cm
77 in / 196 cm
72 in / 183 cm
Height
2.5 in / 6.4 cm

Packed dimensions
9 x 3.5 in / 23 x 9 cm
9 x 4.1 in / 23 x 10 cm
11 x 4.6 in /28 x 12 cm
11 x 4.6 in / 28 x 12 cm
Fabric
30D rip HT Nylon

Country of Origin
USA*Built of U.S. and Global Materials

Women's
Price
MSRP: $174.95
Current Retail: $159.95-$199.95
Historic Range: $95.97-$224.95
Reviewers Paid: $80.00-$159.00

R-Value
5.4

Weight
12 oz / 0.34 kg

Width
20 in / 51 cm

Length
66 in /168 cm

Height
2.5 in /6.4 cm

Thickness
2.5 in / 6.4 cm

Packed dimensions
9 x 4.1 in / 23 x 10 cm

Fabric
30D rip HT Nylon

Country of Origin
USA*Built of U.S. and Global Materials