Sea to Summit Comfort Light Insulated Mat


The Comfort Light Insulated Mat is part of Sea to Summit's new line of air mats, which feature quilted patterned "Air Sprung Cells" as opposed to traditional baffles. The Comfort Light is a hybrid between the Ultralight and the Comfort Plus in the series, meaning that it isn't the lightest or the warmest of the group, but it is the lightest of the group with a "three season" R-Value (4.2 or about 10 degrees F).

It uses a single layer of cells and insulation in the head and leg zone and dual layers of cells and insulation in the shoulders and torso zone for a total of 331 cells.
Pros
Very easy and quick to inflate/deflate
Holds air well/does not leak
Very stable
Rolls/packs away very easily
Cons
Could have more cushion
Slick surface
Length: 

72 in /184 cm

Width: 

21.5 in/55 cm

Weight: 

20.5 oz/580g

Packed Size: 

4.5 x 9 in/11 x 23cm

R Value: 

4.2 (approximately 10 degrees)

# of Air Sprung Cells: 

331

Fabric: 

40 D TPU laminated nylon
(source: www.seatosummit.com)
About the tester
I am a 5'4" female hiker/backpacker from Columbia, S.C. I primarily day hike and overnight hike in the southern Appalachian Mountains of South Carolina, North Carolina, Virginia, and Tennessee. Comfort is my highest priority when considering gear.
I have a hard time sleeping anywhere away from home, so I am very picky when it comes to my selection of backcountry air mats. I mostly am a side-sleeper, but I do sleep on my stomach, as well.
Ease of Use
Ease of use was one of the primary concerns in the design of this new series of mats. I found the Comfort Light very convenient because it is very simple and fast to inflate and deflate the mat. It has a fine tuning button that is strategically placed to be able to adjust the amount of air in the mat anytime you'd like, and it is very easy to roll and stuff.
Inflation/Deflation
This pad is the easiest and fastest pad to inflate AND deflate that I have ever used. Sea to Summit utilizes a high flow-rate multi-function valve in all their mats and pillows. It serves three purposes: rapid inflation, instant deflation, and fine-tuning of the amount of air in the mat. This is easily my favorite and the most technologically advanced valve I have used to date. I am very skeptical about valves on air mats because I have spent many nights on the ground due to valve problems.
Sea to Summit sells two pumps that are used to aid in inflation, the Jet Stream Pump Sack and the Air Stream Pump Dry Bag. I do not have either one of these, but I do have an Exped Schnozzel Bag, which is thankfully compatible. Using the Schnozzel, I was able to inflate the Comfort Light with just one bag of air. I like the convenience of using a pump sack, but if you don't have one, the Comfort Light is still much less painful to inflate by mouth than any other pad I have inflated by mouth.
Should you inflate the Comfort Light by mouth, you can be comforted in knowing that the inside of the mat uses an anti-microbial treated TPU (material that make up the air bladder) so you don't have to worry about moisture from your lungs and breath creating bacteria or mold in the mat.
 Inflation Demonstration
Rolling/Stuffing
I found the most efficient method to roll the mat was to place it on the ground with the valve side facing the ground and at the top of the mat, then fold the mat into thirds lengthwise (keeping the valve open and in the middle of the fold) and tightly rolling it. If you do this, it will easily stuff and all of the air is completely evacuated.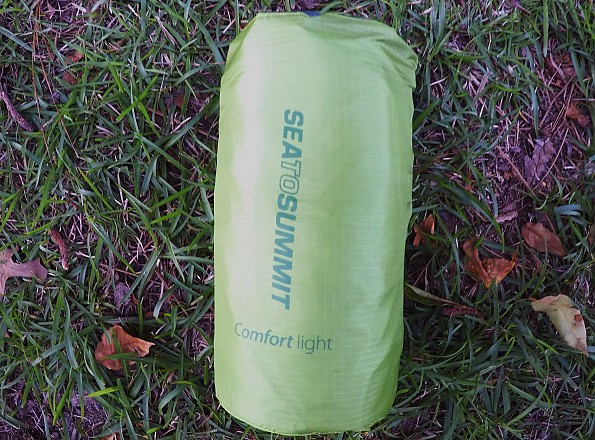 People who don't want to spend a lot of time preparing their air mat for bed or who have to pack up camp very quickly will really appreciate this mat.
Features/Design/Technology
Air Sprung Cells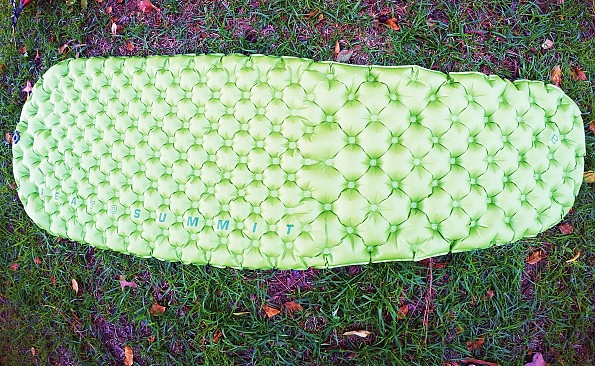 All of the new series of mats use a new technology of small point dot-weld divided air chambers, called "Air Sprung Cells," which function like coil springs on a traditional mattress, transferring your body weight without affecting the other cells. Each cell absorbs pressure, eliminating a rebound effect that vertical baffled mats have. This creates an extremely stable sleeping platform.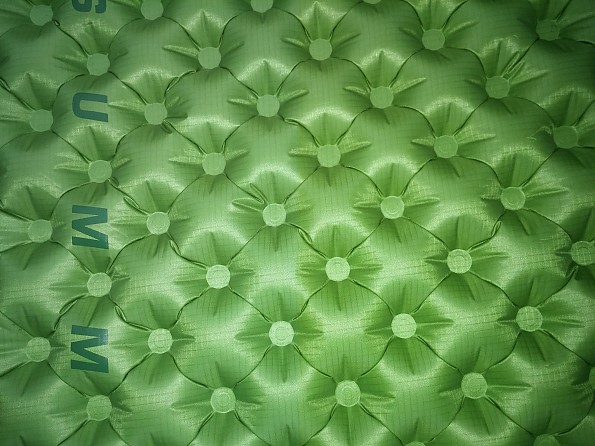 Torso area smaller cells (dual layer)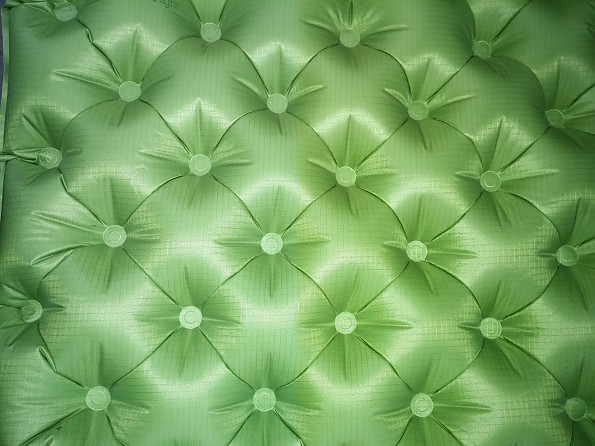 Head and leg area larger cells (single layer)
The Comfort Light uses a hybrid construction of cells, using a single layer of cells on the head and leg area and a dual layer of cells and insulation for the torso and shoulder area for added comfort and support. If you look at the opposite side of the mat, you can see that the larger cells in the head and leg area match up, but the torso area, which has a more concentrated amount of smaller cells, does not match because it has an additional layer of cells.
Valve
I discuss the valve throughout the review, so I am not going to spend much time on this section, other than visual aids.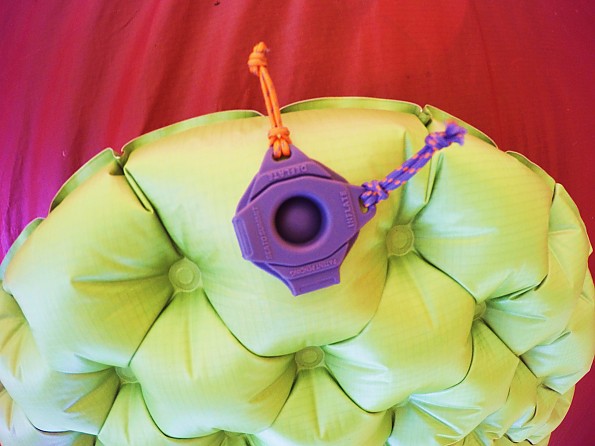 To inflate and or fine-tune air pressure, lift the top tab.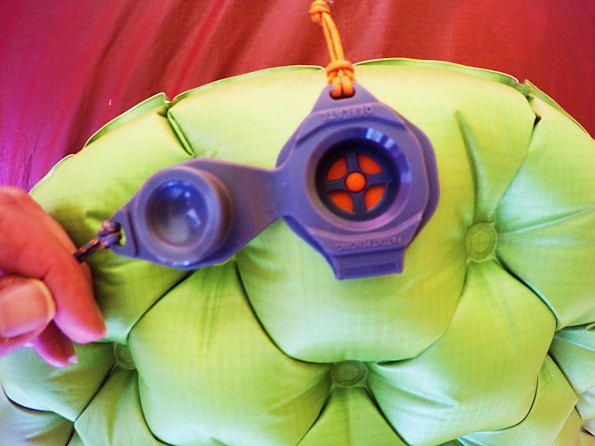 The orange button is for fine tuning. To deflate, lift the bottom tab.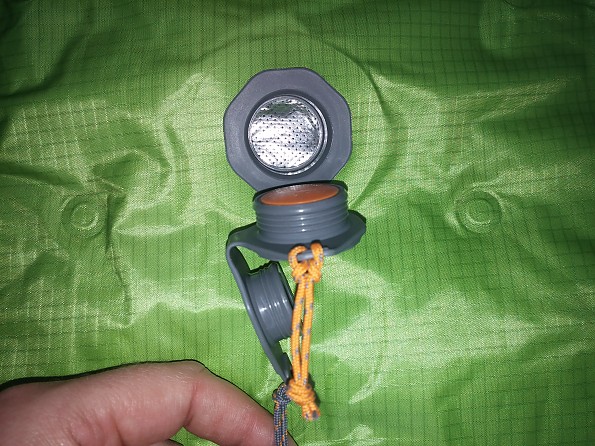 When you lift the bottom tab to deflate, air rapidly expels from the mat. Here, you can also see the Exkin Platinum (silver lining), which aids in thermal regulation.

Qualities
Comfort
I found the Insulated Comfort Light to be comfortable because it is warm, supportive, stable, and well-cushioned. I really think that any pad in this series would be comfortable.
One note though, is that it is only 2.5" thick, so there isn't any excess cushion.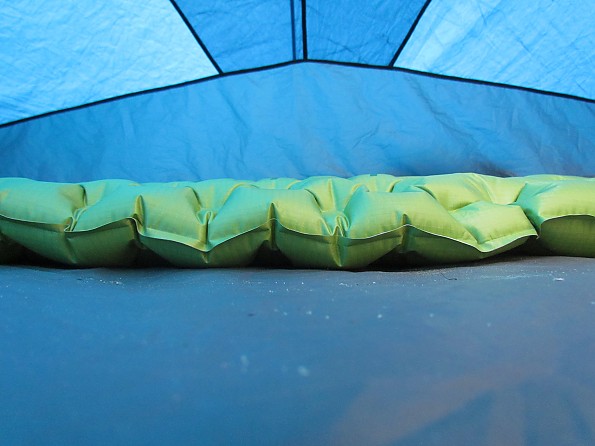 If you have an opportunity, I recommend testing it in a store before purchasing so you can know if that is the appropriate amount of cushion for you. As I mentioned above, I did find it to be comfortable, but I personally prefer a higher cushion pad. Two and a half inches is a very common air mat thickness, so I don't think this is a flaw by any means.
Thermal Regulation
The Insulated Comfort Light is rated to about 10 degrees Fahrenheit because it utilizes two different types of insulation, Exkin Platinum, which reflects radiant heat back to the body (similar to the Omni-Heat Reflective Technology that Columbia uses), and Thermolite Insulation, which prevents convective heat loss. The torso area of the mat, which has an additional layer of cells for comfort also has an extra layer of Thermolite to keep you warm where you need it most.
Air Retention
This is one of the highest performing mats that I've tested as far as air retention goes. It held air for weeks without losing any air. I haven't even noticed it leak air in temperature changes, which impressed me greatly. I feel sure this is due to the general construction of the pad, as well as the design of the valve, which seals in air.
Construction & Durability
The Comfort Light is built with a durable 40 denier rip-stop nylon shell. I did not hesitate to take this mat outside the tent because the fabric is tough enough to handle rough ground. There are a lot of air mats that I would not use even in a chair kit because their fabric is so delicate, but this one would be perfectly fine in a chair kit. Of course I still was observant of the area where I placed the mat to make sure that there weren't any sharp objects around and far enough from a campfire so that no embers can reach it, but I would do that with any mat. If it were to puncture, a repair kit is included.
Another good thing about the construction of the pad is that the rip-stop nylon exterior is water-resistant and is very easy to clean. All you should need to do is wipe it with water and a sponge or paper towel. If need be, you can also use a gentle non-scented soap to supplement if it is dirty enough.
I did find the rip-stop nylon outer shell to be slick. I struggled to stay on the pad one night when I was sleeping on a slight slope. 
Sleeping Positions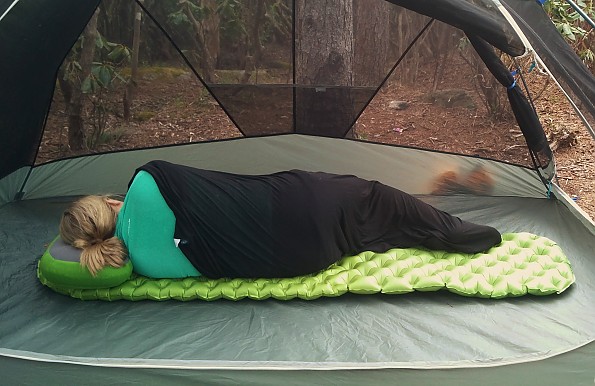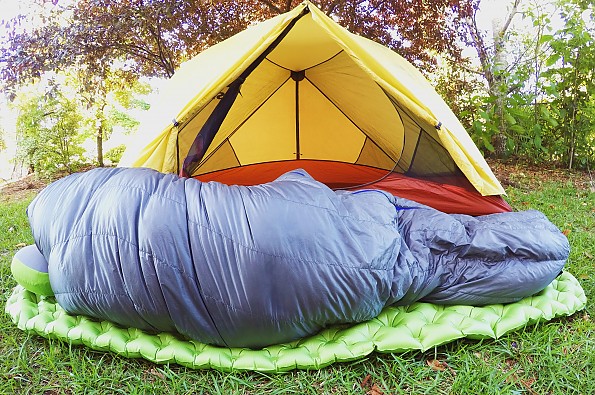 I primarily slept on the Comfort Light on my side. When I did sleep on my side, my hips and shoulders did not touch the ground.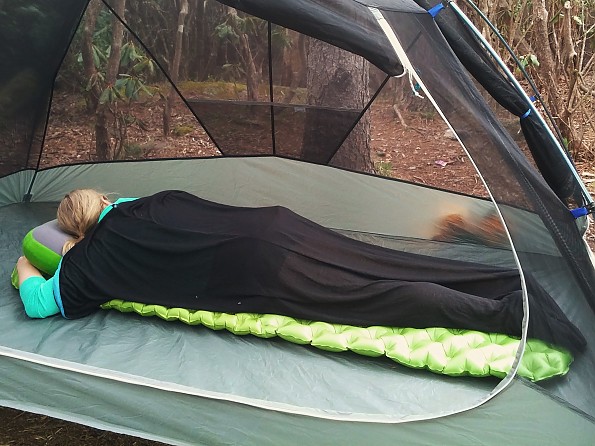 When I slept on my stomach, I found it to be comfortable, but my elbows frequently contacted the ground. I was not a fan of this because it made me feel like I was sleeping on the ground. This would not bother some people, but I did not like it. I am used to sleeping on taller mats, so my opinion is probably different than most.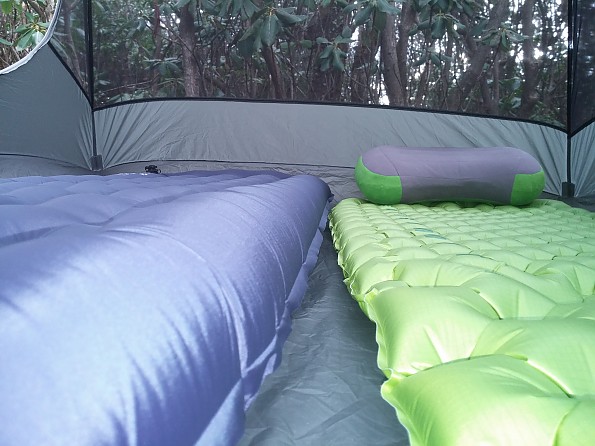 Here, you can see a major difference in the height of the 4" Big Agnes Insulated Double Z and the 2.5" Insulated Comfort Light. For what it's worth, there is also a huge difference in the stability of these two pads - the Comfort Light is substantially more stable.
Testing Conditions/Performance  
I tested this mat from late March through early June in the Blue Ridge Mountains of Western N.C. and S.C. and in the low country in S.C. Temperatures ranged from about 35 degrees to 65 degrees. Each time, I used my Montbell U.L.Super Spiral Down Hugger #3 sleeping bag and the Sea to Summit Aeros Premium Pillow. On the colder nights, I also used a Sea to Summit Thermolite Reactor liner for added warmth because I always use it on nights below 40 degrees in that bag.
I was never cold on any night. I wish I had been able to access some colder temperatures, but it has been pretty warm in the south. 
Purchase Consideration Q's and A's 
Is this comfortable enough for me? Yes, although I would rather it have more cushion.
Is this warm enough for me? Yes.
Is this light enough for me? Yes.
Is this the appropriate size for me? Yes.
Is this supportive enough for me? Yes.
Did I sleep well on this mat? Yes.
Does the mat hold air throughout the night? Yes.
Does this mat have a lifetime warranty? Yes.
Is it worth the price? Yes.
Do I recommend this mat? Yes.
Who do I recommend this for? Virtually anyone, except those who prefer more cushiony, 3-4 inch thick mats.
What I liked
I was really impressed with the Comfort Light's ease and speed of inflation and deflation, comfort of the air cells, temperature regulation, and weight. For the record, I also really like the variety of colors that it is available in. I also really like that the series offers a variety of pads of different prices, weights, and temperature ranges so that each person can select the pad that fits them best.
What I didn't like
To me, the pad felt too close to the ground. I do not like to feel like I am sleeping on the ground. I wish that Sea to Summit would add one more mat to the series that had a higher cushion (3-3.5") option.
Thank you so much for taking the time to read my review. I will gladly answer any questions that I can should you have any. Thank you also to Sea to Summit and Trailspace for the opportunity to test this pad. I enjoyed it!
Source: received for testing via the Trailspace Review Corps (Sample provided by Sea to Summit for testing and review)

Comfortable, easy to inflate and pack, reasonably durable. Packs similar to the Ultralight Insulated, but is more comfortable to sleep on.

Noisy, narrow, feels like arms are going to drop off the sides when not using sleeping bag.
Pros
Great warranty
Comfy!
Warm enough for sub 0 temperatures
Light and packable
Cons
Can be difficult to find puncture while on trail
Noisy
It was tough choosing between the Comfort Plus Insulated, Comfort Light Insulated, and Ultralight Insulated sleeping mats.
Ultimately I chose the Comfort Light Insulated as it seemed like the best tradeoff between comfort, weight, and warmth.
Ease of Use:
Super easy to blow up with your mouth. 1-2 minutes. The valve works great, and it's easy to adjust to give you the right amount of air pressure. It's also way easier to pack into the stuff sack then most self-inflating mats.
Good Stuff: 
Wasn't too warm to sleep on in summer. Never felt the cold through it in conditions up to -6° Celsius. Comfortable both inside a hammock and on the ground. Initially exceeded my durability expectations. It survived many a night sleeping directly on twigs rocks, dirt, and being trampled on by my dog's unclipped nails. Easy to wipe down, and I can side sleep on it without feeling the ground.
Issues: 
After about a year's worth of trouble-free use a friend borrowed the mat, slept in a tent, and returned it with a leak somewhere. I would go to sleep with the mat full, it would be fine for 3-4 hours, and I'd wake up in the middle of the night with a flat mat.
I submerged the mat in a tub, but was unable to find any leaks. Having brought it back to the retailer, they sent it back to STS who replaced the mat two years after initial purchase (5 year warranty). Excellent customer service.
Comparison:
sleeping on it 
Source: bought it new
Price Paid: $172

Your Review
Where to Buy
Help support this site by making your next gear purchase through one of the links above. Click a link, buy what you need, and the seller will contribute a portion of the purchase price to support Trailspace's independent gear reviews.
You May Like
Specs
Men's
Price
Current Retail: $134.96-$209.00
Historic Range: $79.00-$209.00
Reviewers Paid: $172.00

Weight
20.5 oz / 580 g

Packed Size
4.5 x 9 in / 11 x 23 cm

R Value
4.2

Women's
Price
Current Retail: $134.96-$209.00
Historic Range: $125.93-$209.00

Recently on Trailspace