Big Agnes Insulated Double Z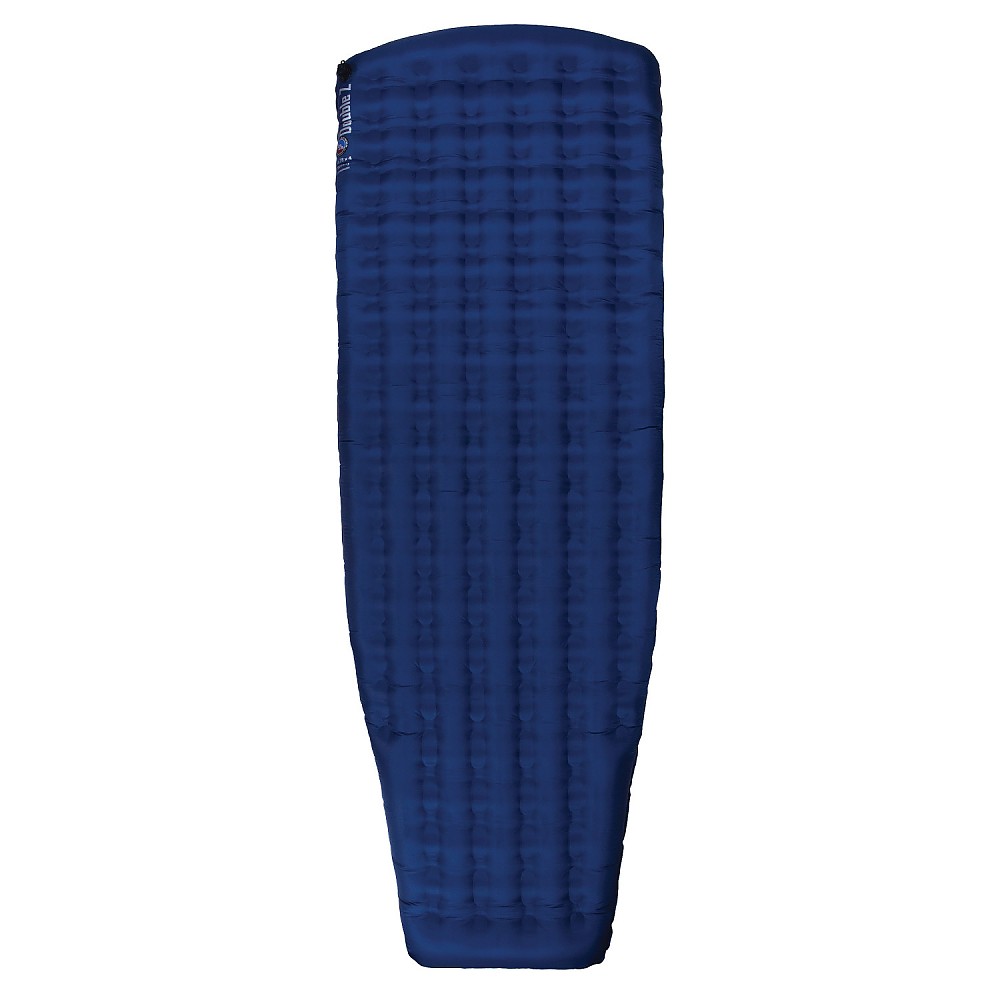 The Big Agnes Insulated Double Z sleeping pad is a moderately lightweight full length sleeping pad that is very comfortable for limited 3-season use. It falls a bit short of its temperature specification, so is a bit on the cool side for early spring or late fall.

The interesting internal "guy-line" structure makes it very stable against rolling off in the middle of the night, but potentially can shorten its usable lifetime. Overall, the Double Z is very good, though it does have some flaws.
Pros
Comfortable
Shape minimizes rolling off the pad during the night
Full length
Fairly lightweight
Primaloft fill helps with insulating capability (BA rates at R-4.5, temperature to 15°F
Cons
Hard to inflate by mouth
Inflation pump is extra cost and weight add-on (Big Agnes does not make one)
Packed size is bulkier than my other pads with higher R-values
Interior construction has hard, sharp-cornered spacers/clips ("I-beam" construction) that may produce internal wear over time (and did puncture the pad).
R-rating is insufficient without adding a closed cell foam pad for early and late 3-season use
Background: When I started camping, backpacking, and horse packing with my family, we usually just slept on the ground with a ground cloth of some sort under us, wrapped in a blanket that was your bedroll (that's what you did when growing up in the middle of the Sonora Desert). But, as the times changed and people got soft, foam pads and air mattresses became commonplace. Some even began using hammocks and small, foldable, lightweight cots. As I expanded my horizons and began going into the backcountry in winter, plus adding glaciers as campsites, insulation from that cold snow and ice became an important consideration.
 Now I look for the following features in my sleeping pad:
Comfort
Light weight
Compactness when carried in my pack
Durability
Puncture resistance and no leakage (for inflatables)
Well insulated when used on cold ground or snow and ice
Easy and rapid inflation (for inflatables)
Surface of pad not too slippery (prevent sliding off in middle of night)
Some History: As mentioned in the Background paragraph above, I generally prefer not to sleep directly on the ground these days, especially not when the "ground" consists of several feet of snow or a few hundred feet of glacial ice.
Over the years I have acquired a large variety of sleeping pads (and even a queen-sized "air bed" that we got for visiting relatives and friends), including the classic air mattresses, several generations of self-inflating Therm-a-Rest pads, various closed cell foam pads (including the famous "Blue Foam), open cell foam (sponges), several inflatable pads insulated with various fibers, and multi-chambered relatives of air mattresses.
The big problem with the traditional air mattresses is that the large, interconnected chambers allow a lot of convective cooling. This makes such pads very undesirable for camping in cold weather, especially on snow or ice, such as during winter camping. Open cell pads, while comfortable when dry, tend to soak up water "like a sponge" (which is what they basically are unless enclosed in a waterproof shell).
The self-inflating Thermarest pads are just an open-cell foam pad enclosed in such a shell plus a closable valve that allows the foam to pull in air as it expands (hence "self-inflating"), while still allowing the pad to be compressed for compact packing by opening the valve and rolling the pad to force the air out, then closing it. Since the foam is open-cell, air can be readily forced in by lung power or squeezed out for packing, while restricting any convective cooling while camping on snow or ice.
Closed cell foam pads, including the very inexpensive and lightweight 3/8 inch Blue Foam pads, work well for 3-season, although providing only a little insulation from cold snow or ice, and are not very "cushiony" unless very thick and bulky. Many of us cut a seat pad from Blue Foam to carry in our summit packs to provide a somewhat insulated rest seat on summit day. Closed cell foam pads can be stacked for more insulation or used in combination with conventional air mattresses for more comfort and a bit of extra insulation.
In recent years, several manufacturers have introduced what are basically conventional air mattresses that are filled with a compressible material, such as down or synthetics such as Primaloft, to restrict convective air flow. This is the approach taken by Big Agnes in the Double Z. The Primaloft in the Double Z is Primaloft's Silver Hi-Loft synthetic material. Since sleeping pads are often inflated by breath blown in by the user's lung power, the silver in the material deters buildup of bacteria, mold and other growths that speed deterioration of the insulating material and shell.
First impressions: Big Agnes, a relative newcomer to the outdoor product field (incorporated in 2000), has established a reputation for high quality, well-designed products, which made me eager to test this product. Because of their reputation, I had high expectations for the Insulated Double Z. I have two other Big Agnes pads that I got by winning a drawing.
One of the Big Agnes pads makes use of recycled materials (Diversion Insulated Air Core), while the other is a transparent pad of "old-school" plain old air mattress design, the type notable mostly for being easy to puncture. The Diversion Insulated Air Core has proven so astoundingly hard to inflate when blown up by mouth (95 deep breaths) that it usually just sits on the sleeping pad shelf in the garage.
So, despite my eagerness to test this pad, I did have a bit of trepidation as I opened the box that the FedEx guy delivered with the Double Z in it. Since the Double Z is described in the Big Agnes catalog as a 3-season pad, good to 15°F/-9°C, I looked up the R-values of several popular pads in my collection in the tenpoundbackpack website and confirmed as the manufacturers' ratings:
Double Z R-4.5 (on tag and in catalog) (23.375 oz/663gm)
Therm-a-rest Z Lite SOL closed cell foam R-2.6 (14.125 oz/400 gm)
Thermarest NeoAir All Season inflatable R-4.9 (21.75 oz/618 gm)
Thermarest NeoAir Xtherm     inflatable R-5.7 (15.5 oz/443 gm)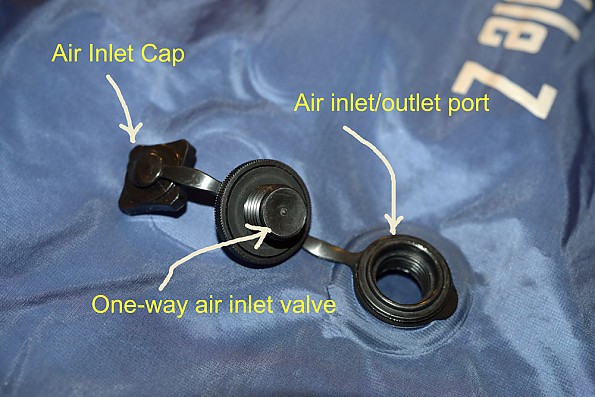 The inflation/deflation valve is an interesting design that combines a one-way valve with a removable screw-off assembly to allow rapid deflation for packing. With the cap unscrewed and removed, leaving the one-way air inlet valve in place, you can inflate the Double Z by blowing in by mouth or use one of the inflator bags that are becoming popular.
Unfortunately, the inflator bag that Big Agnes makes for some of their other pads does not fit on the Double Z. Because of the volume of the pad, it takes a lot more full-lung puffs to inflate the Double Z than many other thinner pads (50 or more). The Primaloft filler is so readily compressible that, unlike the closed cell foam inside the old dependable Thermarest pads, the filler provides no help in inflation (My full-length self-inflating old cushiony, fully insulating, but heavy and bulky Thermarest takes only 2 puffs to make it firm to my taste – suitable only for car camping and snow camping when hauling a sled, not backpacking).
Luckily, I have been able to collect several Instaflators (a thin plastic bag that is intended for inflating pool toys). As the accompanying videos show, this bag fits the Double Z and allows fairly low effort inflation. 
When you remove the air inlet valve, also by unscrewing it, the inlet port is completely open and allows rapid deflation of the pad. This also facilitates rolling up the pad for packing in the provided mesh bag. The packed pad is much more compact and lighter than the common self-inflating pads. The self-inflating pad I have used the most in polar and high altitude situations weighs 1 pound 9 ounces or 712 grams, paired with either a Blue Foam or a Zrest.
The following image compares the bulk of my most commonly used pads: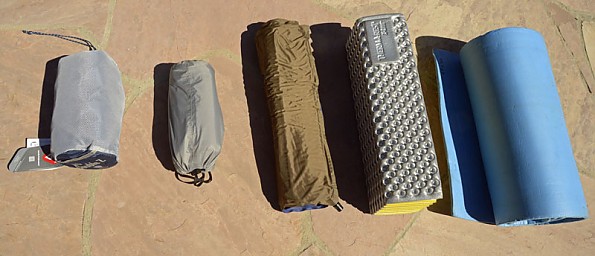 From left to right: Double Z (23.375 g), a multichambered internally reflective pad (14.125 g), a self-inflating pad (712 g), and 2 closed cell foam pads (23.375 g and 303g).
The internal structure of the multichambered pad is similar to the following photo of a "blackout" insulating window covering, rather different from traditional inflatable pads as well as from the Double Z: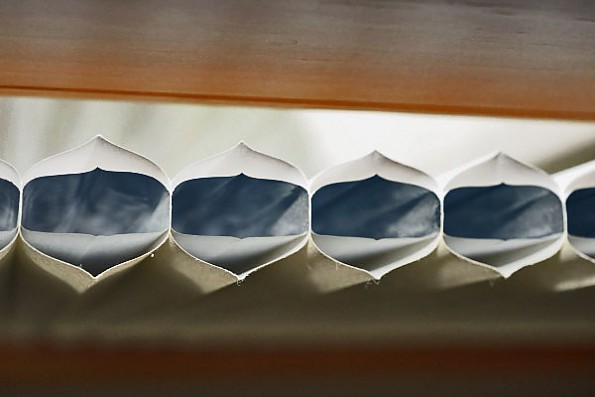 The innermost chamber of a competitor's multichamber pad is aluminized mylar, while the outer chambers are enclosed with the standard nylon fabric with leak-proof coating.
Details: The Double Z is a tapered shape, intended to match the tapered shape of popular mummy sleeping bags. This makes the pad somewhat lighter than a rectangular design.
The Big Agnes Double Z Insulated has an interesting inner construction to stabilize the inflated pad plus reduce convective flow in addition to the Primaloft insulation. It includes welded sections with a network of cord and fabric loops plus small plastic blocks as joining pieces to provide a fairly rigid structure inside the inflated pad (much as expedition tents often provide for internal guying to add to the structural strength of the poles and external guy lines).
To get a view of this guying structure, I used my wireless inspection scope to insert the probe inside the pad. The first image shows one of the fabric loops and plastic blocks that hold the "guy-cord" in place.
The second image shows more clearly the "guy line" passing through one of the attachment loops and some of the Primaloft insulation. The internal fluffy insulation material helps restrict the convective air flow. In principle, this will help insulate the sleeper from the cold surface of snow, ice, or cold dirt.
The following two images taken through the inflating/deflating valve shows the components of this structure.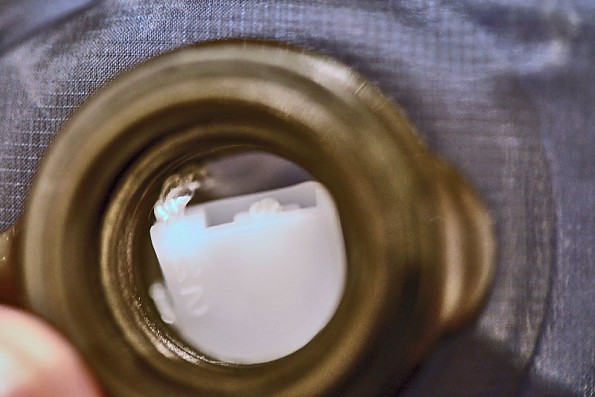 One of the plastic anchors for the cord
Note the sharp corners on the plastic block. In his review of the Uninsulated Double Z , Vince (pillowthread) noted feeling the hard, sharp edges of the blocks through the shell material and worried about the potential for long term damage to the shell. As I will note later, the potential is real and, with the first pad sent to me, became real.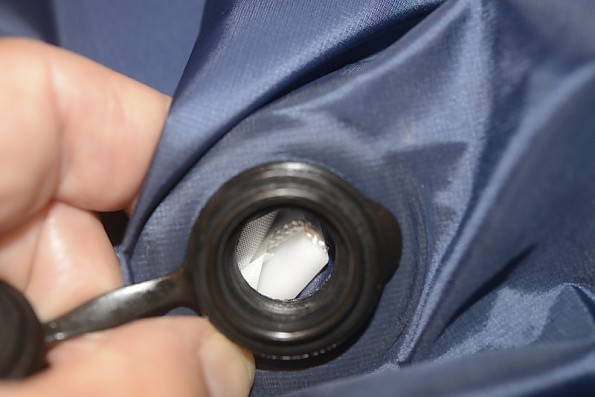 The cloth "guyline" attachment, guyline, and anchor.
 This "guyed"structure produces the "quilted" appearance with a slightly raised edge to the sides and head of the pad and lessens the tendency of the air to shift to the opposite side as you roll a bit during the night. Be sure to blow the Double Z up until it is very firm. When "very firm", the larger side tubes cradle you nicely in the center. But when less than "very firm", if you kneel on the pad (such as when you are moving things around in the tent), your knee will sink to the ground, sometimes bumping into one of the plastic blocks inside (the spacing is only a few inches).
Because of the sharp-cornered shape, it can really hurt when your knee hits one of those. Also, when sleeping on less than "very firm", the Double Z acts like one of those old-school parallel tube pads, where all the air goes to the other side if you roll to one side, which rolls you right off the pad onto your tent partner. I found that the pad lost firmness due to cooling during the nights on snow or ice or even just cold ground, with the result that a less than firm inflation can still result in rolling off the pad. 
Inflating the pad by mouth, as mentioned previously, took a lot of puffing. This is due to the much larger volume in the fully inflated pad than in most pads. I found that it often took over 50 lungs-full to inflate the pad fully, compared to 1 or 2 to top up a self-inflating pad or 20-30 for the multi-chamber pad I use often.
Another comparison is when using an Instaflator, a plastic tube-like device that was invented for pool toys. While my multi-chamber pads take 1 to 1.5 full Instaflators, the Double Z always took at least 2.5. The following video compares the Double Z to a "Brand X" multi-chamber pad. The big reason for the difference is that the volume contained in the Double Z as I measured is close to double that of "Brand X".
After the first few nights on the first pad sent to me for review, I found that it was not holding air. I did an investigation to find the leak, which was increasingly rapid.  A search found the right-angled hole in the following image. I have mentioned and illustrated in the photos above the small, rectangular plastic blocks that have sharp corners. I had been using the pad in a tent with a plastic drop cloth which has always protected against punctures.
In fact, this is the first time in 7 decades of backpacking and climbing on 6 continents that a pad used by me has punctured. I did have a valve fail many years ago, but never a puncture in an air pad itself. My first attempt at patching the hole (using the supplied patch kit) did not seal completely, allowing tiny bubbles to leak at 2 points on the patch edge. My second attempt (removing the first patch, cleaning the area, then applying a new patch and curing for 24 hours) seems to have worked.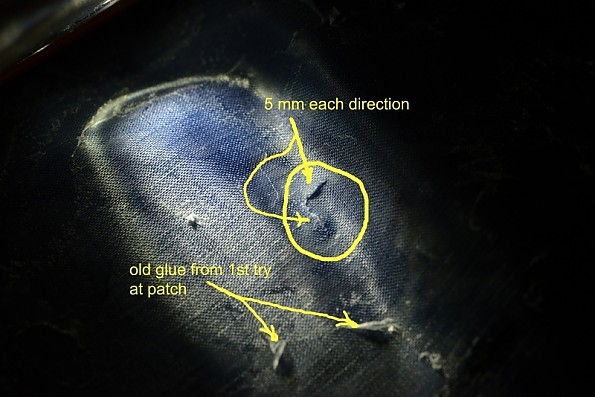 Living up to their "Satisfaction guaranteed with full refund", Big Agnes sent a replacement pad, which seems to be holding up well. It still softens overnight on cold nights, but maintains sufficient firmness, as long as the temperature is above 40°F or so. The replacement pad does not perform any better on really cold surfaces than the original pad sent to me for testing. The solution to this might be to resort to the winter camping practice of using a closed-cell foam pad to provide some extra insulation.
The following video demonstrates features of the Double Z. It includes a comparison of a timelapse segment inflating the Double Z with an Instaflator, which requires almost 3 full bags, versus a timelapse of inflation of a "Brand X" pad, which takes one and a half bags. I have a couple of verbal errors in the video – what I call a "Stop-motion" video is really "time-lapse". The other is mis-stating the number of lungs-full to inflate the Double Z - the "100 lungs-full" is actually what it took to inflate another BA pad, the Diversion (100 puffs). The Double Z takes me about 50 lungs full, vs "Brand X" 20 lungs-full, still a lot of puffing when you are at altitude.
One big complaint I have heard from a number of people is that "Brand X" is very noisy to sleep on because of the "crackling". So there is a short comparison of the noise level of "Brand X" and the Double Z. The Double Z does make enough "crackling" noise that some people complain about it's noise, which is a fair amount less than "Brand X".  To me, though, that is a "Princess and the Pea" question. After a long day of hiking or climbing, I am usually tired enough that noises like a bit of "crackling" do not bother me.
In the Field:
The ultimate test of any piece of gear is how it does in the field. I slept on the Big Agnes Insulated Double Z in tents from my sea-level location up to snow fields in the Sierra and on Mount Shasta. On Shasta in particular, where I was on ice, the pad became cold to the touch despite my sleeping in my Western Mountaineering 0°F bag (which was quite comfortable in the Andes on a standard 3/4length Thermarest), inside my Soulo tent.
I started the night in my long johns. Within a fairly short time, I found that when I was laying on my back, my back got significantly cold. I measured the air temperature at 20°F. I ended up putting on my MicroPuff jacket and a merino top, but still remained cool during the night.
The Big Agnes rating on the pad is 15°F. The pad definitely does not meet that rating. It also softened a fair amount during the night, due to the temperature drop. Readers will remember that the perfect gas law says that pressure times volume divided by temperature for a closed container is a constant. In other words, if the temperature drops, so will the pressure.
I did a calculation and determined that there would have been a roughly 5% drop in pressure in the pad, enough to make the pad noticeably softer, and allow readily rolling off the pad. The remedy is to get up during the night and blow a few lungsfull of air into the pad.
During nights when the temperature dropped only a few degrees during the night, the pad stayed fairly firm, and thus very comfortable. I also left the pad fully inflated for a week in my house and found that it stayed fully firm. My latest use of the pad was during the Climb-Unity weekend at Donner Pass that the American Alpine Club Sierra Nevada Section holds each year. During the day in the tent, the pad would become very firm, then soften during the cool evening, followed by firming the next morning as the sun came up.
Summing Up:  How well did the Big Agnes Insulated Double Z meet the criteria I listed at the start of the review?
1) It did very well on comfort.
2) Although it is light, there are other pads that are significantly lighter while meeting the comfort criterion.
3) It is compact, though there are other pads that are more compact while meeting the comfort criterion.
4 & 5) The long-term durability is still in question. The puncturing that was apparently due to the internal sharp-edged plastic support structure blocks and potential long-term extra wear due to those blocks hints at long-term problems. In the short time I have had the Double Z for review, I cannot rule out the puncture as being a fluke (perhaps a rare manufacturing defect), though the shape of the hole matching the shape of the plastic block edges is suspicious. The cover material seems to be reasonably puncture and abrasion resistant, however.
6 & 7) The two major weak areas are criteria 6 and 7: The pad fell well short of meeting its claimed 15°F comfort range, hence is somewhat questionable for early and late 3-season use; and without adding the extra cost and weight of some type of inflation device, is slower and harder to inflate by mouth than most pads I have used (with the exception of the BA Diversion Insulated Air Core pad).
I can't figure out where the current, post-patching leak in the original pad is, since I can't find even tiny bubbles with the old "immerse it in water" method. The replacement pad has stayed firm, though, sitting in the living room for a week or more during a couple tries.
8) The pad surface was reasonably non-slippery, aided by the larger side tubes.
The Big Agnes Pumphouse inflator bag, made for other versions of their pads, does not fit the Double Z pads.  Several companies make inflator bags or battery powered pumps that fit their own pads, but do not fit other company pads, with the exception of the Instaflator, as far as I have found. Instaflators work quite well in inflating the ZZ. Unfortunately they are pretty hard to find. You can order them off the web at $3.95, but around the SFBay area, pool stores have been clearing them out at 60 cents each.
Source: received for testing via the Trailspace Review Corps (Sample provided by Big Agnes for testing and review)

Make some room in your pack for this insulated sleeping pad. It might be a bit bulky and heavy, but what's it worth to you to sleep like a baby?
Pros
Good quality
Warm
Extremely comfortable
Easy to inflate/deflate
Okay, so I'm all about making trips into the backcountry as comfortable as possible, but I really don't want to haul everything including the kitchen sink with me to make that happen. I'm not an ultralight thru-hiker so I'm willing to sacrifice a bit of weight and space (the only two negatives about this pad) in my pack for a few comforts, and this BA Double Z is totally worth it.
I had a BA Insulated Air Core pad that I stupidly lent to someone who destroyed it. It packed down a bit smaller than the Double Z but was about the same weight. Even as angry as I was about my Air Core being ruined, in retrospect I'm kind of glad it happened. Otherwise, I wouldn't have my own backcountry cloud to sleep on.
I'm a cold sleeper so an insulated pad is pretty much a must for me. The BA Insulated Double Z is not only incredibly warm, it's unbelievably comfortable. The air chambers are constructed so that you have zero wave motion from breathing or turning, and at 4 inches thick you never risk hitting the ground in the middle of the night.  I bought the 25" x 72" pad which is more than enough wide enough to accommodate me rolling around like I have a tendency to do. I've never rolled off it once.
The quality is everything I've come to expect from Big Agnes. My second time out with it I scraped it on the bark of a tree and was certain I'd punctured it. Nope, not even a scratch.
About inflating/deflating...  It's got a dual valve system that requires about 20-25 puffs to fill it and about 10 seconds to deflate it. That's a HUGE improvement over my old Air Core!
I've only used the Insulated Double Z five times since I got it—three of them were warm weather camping and two of them cold (<25°F).  Even though it's an insulated pad, it wasn't too warm during overnight lows of 60°F and even though it's listed as a 3-season pad, I wouldn't hesitate to use it for a winter campout too.
Source: bought it new
Price Paid: $129 USD on sale

Your Review
Where to Buy
Help support this site by making your next gear purchase through one of the links above. Click a link, buy what you need, and the seller will contribute a portion of the purchase price to support Trailspace's independent gear reviews.
You May Like
Specs
Price
Historic Range: $54.73-$149.95
Reviewers Paid: $129.00

Rated to
15° deg F

Recently on Trailspace