Big Agnes Insulated Air Core

The Insulated Air Core has been discontinued. It was replaced by the Big Agnes Insulated Air Core Ultra.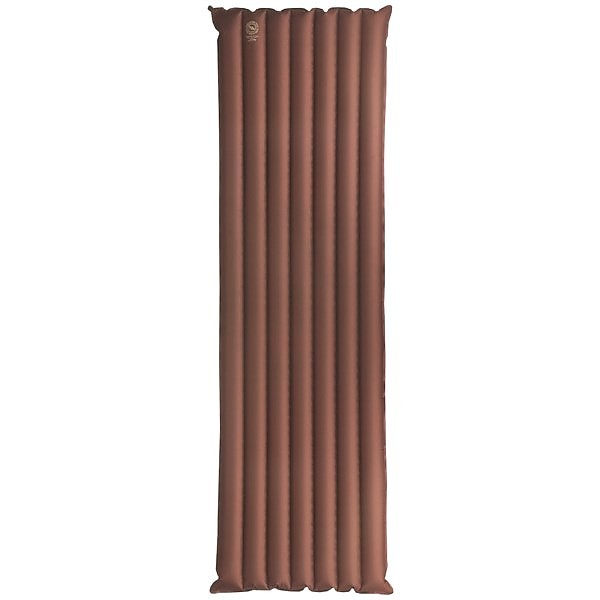 The Insulated Air Core pad is a great value for a 3+ season sleeping pad. Comfortable, warm, light and compact it is a great upgrade from a bulky, leak prone self inflating pad or a lumpy ccf pad.
Pros
Small size
Thick inflated size
Durable
Price
Warm
Cons
Inflating it
Not for subzero temps
Staying on it
I have the rectangular regular length BA Insulated Air Core for 2 years now. I got it to use when my wife started to accompany me on hiking trips and took a tent instead of my hammock. I wanted to get a nice thick pad because my hammock has spoiled me. Money was definitely a factor in my decision as always.  At $55 with student discount it included a stuff sack and repair kit, which many other brands dont.  So cost value wise it won by a land slide.
It is well constructed. The material is much more durable than the material used on most self inflating pads which were always leak prone for me.  I have used the pad 25 to 30 times and it is still in great shape and I'm not one to baby my equipment too much. 
It inflates fairly easily. I use lung power to inflate my pad which seemed inconvenient at first but it really only takes a few good breaths to fill it up. 
It is comfortable. With 2.5 inches of air it allows me to sleep on my side nicely.  It is usually over inflated at first buy when I lay down I gently open the air valve and slowly release air until its just right. Occasionally I go past that point and have to re add a little air but its usually less than a breath. I have slid off the pad occasionally, if it was over inflated or especially when the tent was on less than perfectly level ground.  I have since invested in BA sleeping bag with a sleeve for the pad and am extremely happy with that combination.  I can turn over and roll around and stay right on top of my pad the whole night.
It is warm. There is a light layer of insulation on the inside of the top of the sleeping pad for cooler nights.  I have discovered that on very hot nights you can actually put that side to the ground and have a cooler sleeping surface to beat the humidity.  It's rated to 15 degrees and that is variable. When using a BA quilt like bag with no insulation on bottom it has a bit of a chill at 15 degrees. But I have used it with my -15 degree down bag to 5 below and been quite warm.
I'm happy with my BA sleeping pad especially since I added the BA bag with pad sleeve to the system. It's compact, durable, comfortable and it didn't break the bank.
Source: bought it new
Price Paid: $55

Most comfortable pad I've used. Durability may be a problem.
What I love the most about this pad is that it's so comfortable. Despite my 230 pound frame, the 2.5 inch thickness ensured I never touched the ground. Even on really rocky or hard ground this pad will ensure a comfortable night's sleep.
My girlfriend has been using this pad lately and she sleeps like a baby on it. Other hikers I know who own one all rant and rave about how comfortable it is. The insulation seems to work well too. It keeps me warmer than other pads that I've tried, even on snow or frozen ground.
Inflating the pad is pretty easy, once you get the hang of how the valve works. At first it can be a bit tricky, but once you get the hang of it, the pad blows up in just a couple minutes. It packs up very small too. Certainly much smaller than a self-inflating or foam pad. With that being said, on long multi-day backpacking trips I have found inflating the pad everyday annoying, and prefer the simplicity of a foam pad.
Another reason I would choose foam on a long trip, is that I'm not convinced of this pad's durability. I've had mine for 3 years now and have used it regularly, for both backpacking and car camping. This year however I was waking up in the middle of the night with a flat pad. At first I thought it was a valve issue. Maybe I wasn't tightening it enough. But after I ruled that out I submerged the pad in a bath tub to check for holes, there were none. Instead I found that the seam that holds the top and bottom together had failed, and air was leaking from dozens of holes in that seam, a spot entirely un-fixable with a patch kit.
Needless to say, I'm taking mine back to REI, and have yet to decide if I'll buy a new one, or go an entirely different direction. I've heard nothing but good things about the Big Agnes Air Core, so it could be that I just bought a faulty one.
Summary: This bag offers the best comfort in backcountry camping, and is particularly good in the cold, and on rocky/hard ground. The problem is that because it's an air mattress, it's only a matter of time before it develops holes, and it sucks waking up in the middle of the night with a stone jabbing you in the back because the pad went flat.
Source: bought it new
Price Paid: $60

I have to say at first I was skeptical at the idea of a mini-air-mattress insulating me. BUT, after using it for a while now, I can't say enough about this pad.
First, this pad feels and is durable. My brother and I hike the AT in NJ and PA. This equals rocks protruding from underneath the soil no matter where you setup camp. Inflate it lay it down where ever. Sleep comfortably. It's as easy as that. As a side note, it comes with a patch kit integrated in the stuff sack. Haven't needed it yet, but real convenient.
With regards to insulation properties, last weekend we got 15 degrees at night and I could not feel ground cold at all. I noticed this when I put my hand on the ground and it was freezing compared to the space between my bag and the pad. I was actually warmer underneath than on top.
Inflating it? As a chronic Asthmatic I can share that inflating this is no big deal at all, 1-2 minutes at most with minimal effort and my understanding is that all pads need inflating at some point. It packs up real small (I fit it with my bag in my pack's bag pocket) and quickly. I strongly believe its worth the $$ over the non-insulated version.
Advice: 1) Make sure to deflate it a little before you lay down. You nestle right into it and this doesn't affect the insulation properties at all. 2) Buy the rectangular one, I've heard from many people it doesn't make sense to buy the mummy version. 3) Along these lines also buy the regular size. It's long enough and my brother (6'2") wished he had bought the regular instead of long.
Pros: Comfort, packability, insulation, quality.
Cons: Higher end cost, but provides more value than the $100+ pads, and is a massive upgrade from non-inflatable pads.
Bottom line: If you're looking to get a good night's rest, you can't beat using this pad.
Price Paid: $80

I bought this after reading the above review, from the reviewer who borrowed her husband's pad on Mt. Adams. I was about to buy the other model but glad she pointed out that this one has insulation! AND It IS wonderfully insulated, unlike my therm-a-rest self-inflating open celled one.
I have lots of pads and have not found one this comfy yet! This will be my pad for good now, I can stop searching. No more hip pain and waking up early...
Pro: Very, very comfy 2.5" padding (even sleeping on side)my body did not touch the ground at all. (and I didn't fall off it, like the old army kind...thanks to the closed cell design probly)
Pro: lightweight and VERY compact (mine is 21oz)
Pro: comes with stuff sack
Pro: fits easily into my Kelty women's Redcloud backpack sleeping bag compartment, next to my compressed sleeping bag and even has a little room for raingear, and compressed pillow left over.
Pro: easy enough to blow up (only about 2 minutes of moderate deep breaths)
Con: harder to get the air out than a self-inflating open celled pad (tip: lie on pad while you let the air out then roll it up to get the air out, then unroll it... then fold it like they sent it, into the stuff sack) (( I am quirky and like to keep things folded the way the manufacturer sent them))
Next model wishes: if they make another model of this, I would hope that they add an attached blow up pillow, and maybe two valves...just for deflation to go a bit faster. Although my sweatshirt (or whatever) works well as a pillow, and the deflation time wasn't bad at all...IMO the 4 or 5 minutes to deflate is WELL, WELL worth the extra, heavenly comfort. I would recommend getting this pad if comfort and compactability are important... it is even comfy enough for base camping.
-Stephanie in Cincinnati (backpacker for 15 years)
Price Paid: $59.95

Excellent! Warm and comfy! Light and compact to carry!
Pros
Warm and comfy
Light and compact
Cons
Could puncture, though I haven't experiences that yet.
I have two of these. One for me and my wife. We use them for both car camping and backpacking. They keep us insulated from the cold ground below. That is incredibly important. 
A lot of times people complain of a sleeping bag not being good enough, but the problem is really the sleeping PAD used, not the bag. Sleeping bags are made to insulate us from the cold air around us. But they compress beneath our weight and the cold ground can make us chilly. This is where the Insulated Air Core pad really earns its keep. It insulates from the cold ground very well. I've used it on snow, and none of the snow under me was melted in the morning. The true test of how well I was insulated from the cold below. 
It's also soft enough to provide a very comfortable sleep. This is also very important.
The best feature of the IAC pad is it is compact and light.  It takes up very little room in the pack, and that is a HUGE plus in my book.
This is an awesome pad. We've had ours for 5 years now, and not had either one puncture or leak. We store them under our bed lying flat with the valves open when not in use. Others who complain of leaks I think store them all wrapped tight. I think this makes a difference because they're more prone to mildew on the inside [moisture from your breath]. This degrades the material from the inside out, and you get leaks.
I love these pads, and expect they'll last another 5 years with proper care.
Source: bought it new
Price Paid: $80 each

Big Agnes Insulated Air Core is a very comfortable, rugged sleeping pad for car-camping as well as backpacking. Spending a bit more money on a high-quality sleeping pad beats cheap discount store sleeping mattresses in the long-run.
Pros
Depth: 3.5 inches of comfort
Rugged
Ease of inflation: I was able to adapt a Coleman rechargeable air pump
Cons
Great for car camping: not an ultralight sleeping pad
I already threw out two queen-sized air mattresses on car-camping trips at a cost of about $70. Since I already own two Big Agnes Q-Core sleeping pads for backpacking, I decided to buy the cheaper, heavier Big Agnes Insulated Air Core for car-camping at a cost of $80.
Settling into my Big Agnes Tensleep car-camping tent for the night, I inflated the Big Agnes Insulated Air Core using the Coleman rechargeable air pump that I already had purchased with previous mattresses. The depth of the Air Core offered very comfortable sleeping platform and the pad did not fail with temperatures at the freezing point.
The cheap vinyl camping mattresses simply do not hold-up under extreme conditions, nor add up to the value for the dollar that is found in a high-quality sleeping pad. Furthermore, Big Agnes stands behind its products on warranty replacement, as I discovered with a previous, discontinued Dual Core sleeping pad that developed a slow leak after a few years of heavy use.
Source: bought it new
Price Paid: $80

Comfortable and thick, provides excellent insulation from the ground. Nice small size, takes very little room in my pack. Takes a bit to inflate.
Pros
Comfortable and warm
Rolls up small
Great for backpacking
The pad provides great support for my back and lower body. It is extremely comfortable and the prima loft insulation helps prevent heat loss in colder temps.
I have used it on the trail and car camping and it has held up perfectly. No leaks or any other problems. The inflation valve is very easy to use. It is a good idea with any air pad to check it out before you hit the trail to ensure that it has not acquired any leaks since its last use. The pad also comes with a stuff sack and repair kit.
I purchased the large model for the extra width and do not regret it. The 25 inch width is worth the added weight.
Inflating this pad takes a bit, about 35 breathes. When I have used it car camping I just use a small pump to blow it up.
A great 3-season pad, definitely not for subzero use though.
I recommend this pad to all.
Source: bought it new
Price Paid: $116.95

As comfortable as air pads get, but small air leak during a week-long camp trip.
Pros
Packs small
Fairly lightweight
Thick, comfortable
Cons
Leaking first week, possible user error
I used this pad for a one week camping trip and it was very comfortable throughout — very thick and cushiony. I have the mummy-cut which felt narrow but caused no problems (my sleeping bag has straps that tie around the sleeping pads so you can't fall off, very useful).
I did lose about a third of the air each morning, but this pad seems pretty bomb-proof and I'm guessing that is not a normal occurrence with these pads. Not a big deal to top-off the air daily- I might just hang on to this one. I would probably get the regular width over mummy-shaped if I got another. I'd also like to see a pad with a built in inflatable pillow area (why not?).
I have to say, this was an expensive pad and although it is very comfortable, I'll probably try different brands at lower prices in the future. I'll update this post if I get more excited about the BA insulated air-core sleeping pad with future use.
Source: bought it new
Price Paid: $100

Awesome lightweight sleeping pad for three-seasons.
Pros
Weight
Comfort
Price
Quiet
The Big Agnes Insulated Air Core sleeping pad is a great product, especially when you take in to consideration that it only costs $70 for a long, which may not have been necessary but it is more comfortable (I am 6 foot 170 lbs).
This pad is really comfortable for temperatures as low as 30 degrees. But that is dependant upon the circumstances in which you use it. I like to use it in my L.L. Bean Ultralight 30 degree bag with an L.L. Bean yukon suit. With that setup and the pad inside my bag to reduce air pockets in the bag, I stay wicked toasty.
That being said I believe that the product does have a few drawbacks.  It is not the lightest or most space saving pad out there, nor should it be for the price. It rolls up fairly small and it is not cumbersome but it needed to be mentioned. 
Overall I like it and I think it is a great value. 
Source: bought it new
Price Paid: $70

I recently purchased this pad because it was the wider model and it had the Prima Loft inside for better insulation from ground temperatures. I should have double checked my sleeping bag size (BA Lost Ranger) because the pad I ordered was the "long" size and my bag was not, though, I could swear I ordered the long when I first purchased it. Hmmm... Wierd. Anyway, beside the pad being a few inches too long, it's worked great.
I tested it out at home the other night in just below 40 deg F and the pad worked much better than the original pad I had which had no insul. So far I am very please.
The only thing I do not like is the fact that BA tends to lean more toward air chambered pads rather than self inflating. They only offer one type of Self Inflating (foam filled) pad and those are not near thick enough to fill the pad pocket on the bottom side of the sleeping bag, leading to cold spots during the night.
Other than that small flaw, I foresee this pad lasting many adventure and hikes with me. Its not a UL, but definitely not a heavy (car camping) type pad. I'd definitely recommend this to anyone using a BA brand bag system. Hope this helps with your decision to purchase your bag. If so, please rate me a thumbs up below.
Price Paid: $45

Great pad that's kept me camping in comfort, but this review is more about Big Agnes' outstanding warranty support.
Pros
Large enough not to roll off of
Effective in weather down to around 0 degrees for me
Outstanding service and warranty support
Cons
Takes me about 30 good breaths to inflate it
My experience with this pad is like many other folks. It packs down smaller than a 1l bottle, is lightweight, and offers an amazing amount of comfort. It's one of the items I won't do without, as my back doesn't appreciate sleeping on anything else. It even kept me dry one night when I had a lot of water seep through the floor of an old tent. 
However this review is also about Big Agnes' warranty service. After 6 years of use, my pad started losing air during the night and I couldn't find a leak anywhere. I contacted the company and they said send it on in. About a week later I got a brand new pad for free under warranty. The process could not have been easier.
So great product and great service. Doesn't get much better.  
Source: bought it new
Price Paid: $80

This is a great, lightweight, comfy pad.
Pros
Comfort
Lightweight
Compacts small
Cons
It takes a few minutes to inflate.
I bought the Big Agnes pad because of its light weight and 2.5" thickness. I hate not sleeping well while backpacking.  
One does not have to sacrifice comfort with this pad. I sleep so much better with this pad than on my old 1.5" self-inflating pad. Sure, it takes a few minutes to blow up, but so what?  It's totally worth it. It also compresses down smaller than a loaf of bread.
If you are over 6' tall, get the long version. I'm glad I did.
I was concerned about warmth. I've camped twice in 20 degree weather and have not felt cold from the ground yet. The construction seems solid. 
I bought mine for $80. It includes a stuff sack and patch kit. You have to buy those separately with a lot of other brands. I consider this pad a deal. 
Source: bought it new
Price Paid: $80

I bought an Insul-mat X-lite, which is really comfortable, until the temperature drops. I nearly froze on Mt. Adams one night, until I used my husband's Big Agnes Insulated Sleep Core the next night. I did not realize at the time of my first purchase that for two more ounces, I would get 20 degrees in insulation value.
My husband and son bought theirs at the same time...I am still trying to talk my teenager into swapping pads with his mother...(I gave up trying to talk my husband out of his :))
At 24 ounces that rolls to the size of an oversized nalgene, I would buy this pad over. I am a middle aged, matronly lady who would not survive on some of those cute excuses of sleeping pad. I rest very well on this, and I never wake up feeling like I slept on the ground. Without it, I could not backpack!
These pads are lighter and more compact to carry than any comparable Therm-a-rest style pad, and cushy to sleep on. Very nice in those regards.
But Big Agnes has a lot of nerve selling them on their insulation value. Except in low altitude summer conditions, they're unacceptably cold. Mine is a 25 inch wide model using "M3" insulation, btw. If the temps. drop into the 50s, I'll be carrying a closed cell foam pad to slip between the air mattress and sleeping bag. So much for the weight savings. Campers with synthetic sleeping bags may fair better, but those with summer weight down bags like mine should think twice.
Update: June 3, 2008
I'd like to know how people are staying warm with these pads:
1) Are your bags down or synthetic?
2) Are your bags summer weight or warmer?
3) What clothing do you sleep in?
Here's my report: When using the Big Agnes Insulated Air Core pad, any time temps dip into the 50s, I can feel the heat wicking right out from under me. I have two 650 fill goose down sleeping bags. One is rated for summer use only, the other is 3 seasons.
Admittedly these bags rely on a warm pad. The Big Agnes doesn't fit that bill. My Air Core is one of the "Wide/Longs" that has "M3" insulation. Maybe not as warm. I dunno. I sleep in tee shirt and boxers. Am I doing something wrong?
Comfort on these is every bit as good as their billing. Top shelf. Just like sleeping on a big heavy air bed. And the light weight and small packing are great ... but if you have to carry a closed cell pad to stay warm, you're giving back the weight and small packing advantage.
Knowing what I know about these, I would only recommend the Insulated Air Core to someone with a synthetic sleeping bag, who says they sleep hot to begin with.
Price Paid: $99

I guess I'm a little confused as to why people are getting cold using this pad. I used it at -17 degrees F in my -20 bag and was comfortable all night. Worked great in my experience in cold weather.
The reason I didn't give it 5 stars is because if it did pop and I could not find where to repair it I'd have absolutely no insulation, however that's part of what makes it so great is the fact that it is LIGHT!!!
Had a Prolite 4 from Thermarest and it is not even in the same league as far as comfort goes. All those little hills and bumps you sometimes feel with a insulated air mattress that is only 1-1.5 inches thick seem to vanish in the BA-IAC. Great pad!!!
Price Paid: $56

Pros: Ultra-comfy. Insulation works (at least for me!). Very packable. Oh, did I mention ultra-comfy?
Cons: The valve can be fickle.
Bought the large mummy several years ago for my aging back. Wow!!! The only pad more comfortable is my down air mat (DAM) for deep winter use or car camping. This puppy is excellent.
Now, many people have complained about insulation value, but I have had no such issues. Used it into the teens and was fine - no cold spots. The valve has come a little lose causing a leak; however, simply pushing it back together solved the problem.
No other problems with leaks or failures. Totally worth it and highly recommended.
Price Paid: $65

This sleeping bag has a great concept and is very good on paper. But it is not so good out camping. In the first year, I had to return it to get it replaced -- it had 10+ pin holes in it. You could not find them either. You need at least a hot tub to locate the holes, even then it is hard.
Then I got it replaced for free (great customer service at BA!!!!), and received their newest model with diamond rip stop. Yet again another hole. Believe me it was not my carelessness, I always use another pad under it to protect it, and it goes into the slot of my sleeping bag. This time I had to use clothes to keep me warm, it was in the middle of a big trip.
Now I am returning to Therm-a-rest. They are much more reliable, and their ProLite 4, is as lite and as small. But that is my opinion, you can give this pad a shot if you want! Good luck!
Price Paid: $85

New version is COLD. I was cold in Florida with temps in the low-50's and so returned it.
Pros
Packs small
Lightweight
Good cushion
This pad sleeps COLD. Took it to Florida where I woke up cold at 50 degrees Fahrenheit. I returned it because if I can't sleep nothing else matters. Otherwise, the pad is very comfortable, lightweight, and packs small.
I took it back and bought a Therm-a-Rest Neoair mummy, which is just as light, compact, comfortable and warmer (down to 30). The mummy Neoair also works with my BA mummy sleeping bags.
Source: bought it new
Price Paid: $90

Light, small, comfortable. Great pad, never had an issue — but now I have a small slow leak somewhere... :(
Pros
Small
Light
Comfy
Insulated
Great pad — takes 20 breaths... a bit of a pain, but really not bad. Super comfy.  
Only issue is I have developed a small leak, maybe too much desert sand in the valve. I wake up to a mostly flaccid pad now-a-days. Packs to the size of a Nalgene bottle.  
Source: bought it new
Price Paid: $80

Packs very well..supplements sleeping bag even better. Not as comfy as some out there though.
Pros
Very small footprint in bag
Good price point
Low weight/high comfort
Cons
Could be more supporting for big guys
Slippery when not secured to sleeping bag
Good small light choice. The Q-Core is much nicer. The Expeds are much nicer, but they cost twice as much and dont really pack any smaller than this. This kills the Therm-a-Rest pads in packability and is just as comfortable. 
Great product for backpackers...maybe not as comfy for family campers.
Extremely comfortable. I've used closed-cell foam, then self-inflating pads, and then this one, and the amount of comfort is amazing. I camp mostly early to late summer, and have not had issues with coldness. Once it felt a little chilly, but I just blew more air into it and it was fine.
Bottom line, if you camp in the cold, you need to augment this pad with a closed-cell pad underneath. Big Agnes skimped on the insulation - there's very little to insulate. As long as you do not depend on this pad to keep you warm in colder temps, you'd probably love it. I had always slept brokenly in the wild until I got this pad. Very very peaceful.
Price Paid: $60-ish

Nothing really wrong with the pad I just would choose differently in the future, especially if camping in really cold weather.
I bought the mummy shaped pad and it is about half the width of my sleeping bag, so sliding off and always being half on-half off is inevitable. Also despite the insulation the pad does not insulate very well. I went camping in Canada this past March and was up the entire first night shivering (Despite having a -15 bag). I could literally feel myself losing heat from the ground up. My friend, with a much lighter sleeping bag but using a foam pad, was much warmer.
It does compress pretty tiny though, about the size of a Nalgene.
Price Paid: $55

An excellent and comfortable sleeping pad. Went from a Therm-a-Rest 3/4 Ultralite to this, and believe me, I don't quibble about the extra weight. The insulation works quite well at least into the lower 20s. I find that slightly under-inflating the pad seems to yield the most comfort; it's not necessary to bounce a quarter on the thing.
It only takes a minute to blow up and a bit longer to deflate. It has thus far proven quite durable as well, though I'd think twice about areas with lots of cactus or sharp rocks. I have lightened my pack considerably in recent years, but this is one item that is worth lugging around.
Price Paid: $55

Finally, a good night's sleep!!! The little extra weight doesn't matter when you are talking about real sleep. Why suffer?? Bought one for myself last year for Mt. Whitney, then my husband had to have one after he slept on it. It takes just a couple minutes to inflate. May need to add a short closed cell pad for very cold weather. One of my best backpacking investments.
Price Paid: $69

I give props to this pad. It kept me warm and comfy. I am sending mine back though because it is the mummy style. IMO it is too hard to stay on that style. I kept sliding off. The mummy would be great for flat land camping but there isn't much of that where I'm from. I'm upgrading to the insulated rectangular version.
Price Paid: $55

Overall a good pad for weight, packability, strength, and fair weather camping. However, not a 4- or even 3-season pad if you plan on mountain camping. This pad does not keep your heat in and I usually use a backup foam pad if possible to retain some heat...am going back to Therm-a-rest.
I camped for nearly a month in France and Spain on this pad. It was the most comfortable and compact pad I have ever used. Very light and unobtrusive, this was my first choice until a bear tore it. Nother story.
Price Paid: $80

Your Review
You May Like
Specs
Price
Historic Range: $20.83-$139.97
Reviewers Paid: $45.00-$116.95