Big Agnes Q-Core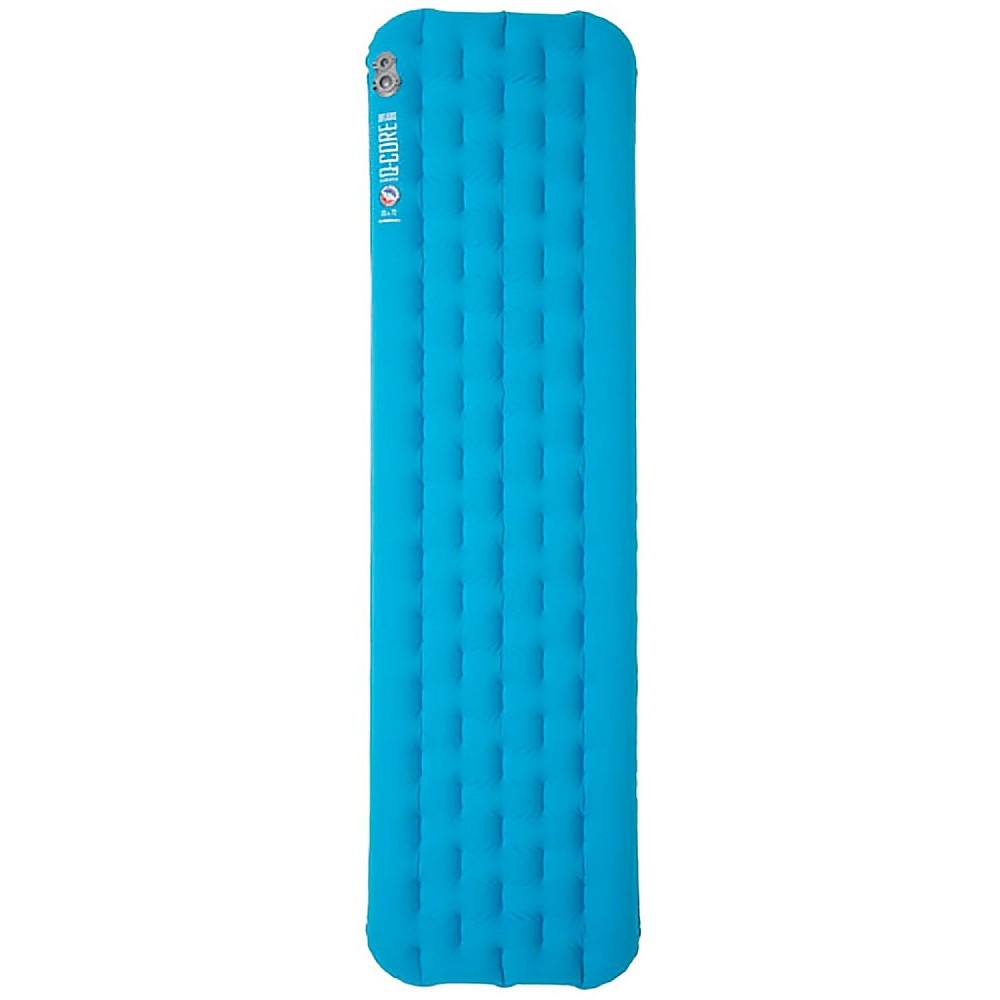 Tired of miserable, sleepless nights in the backcountry? Give the four-season Big Agnes Insulated Q-Core a try. Big Agnes claims that its Insulated Q-Core is the most comfortable pad on the planet. Is it? Well, I can't answer that, but I can tell you that it is the most comfortable pad I have ever slept on.

Because it is 3.5" thick, you'll never know you're sleeping on the ground. The Q-Core features a quilted pattern of alternating vertical and horizontal baffles that provides even weight distribution and raised side beams to prevent rolling off the mat in the middle of the night. It may be a little bit on the heavy side at 27oz, but to me, a good night's sleep is well worth a carrying few extra ounces.
Pros
Warm (5 R-Value, rated to 15 degrees)
Incredibly comfortable
Raised side beams to cradle body and prevent roll-off
Cons
Heavier for an Air Pad 27 oz
Requires more air to inflate due to its 3.5" thickness
I have owned my Big Agnes Insulated Q-Core for about a year and a half now. I have slept on it in temperatures ranging from 15 degrees to 75 degrees and on surfaces ranging from rocky, granite ground to plush grass. No matter the temperature or the surface I slept comfortably on the Q-Core.
The Q-Core offers superb support, no matter if you are a side, back, or stomach sleeper. It can be made very firm for extra support or more soft to cradle your body. Even when it isn't firm, your hips still don't touch the ground.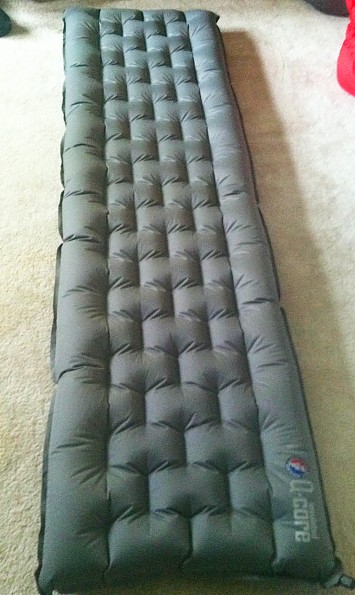 Filling the Q-Core to 3/4 capacity provides a cradling effect on the body when you lie on it.
It does take a little bit longer to inflate the Q-Core than a typical pad because it is 3.5" thick, compared to the typical inflatable mats that range from 1.5"-2.5".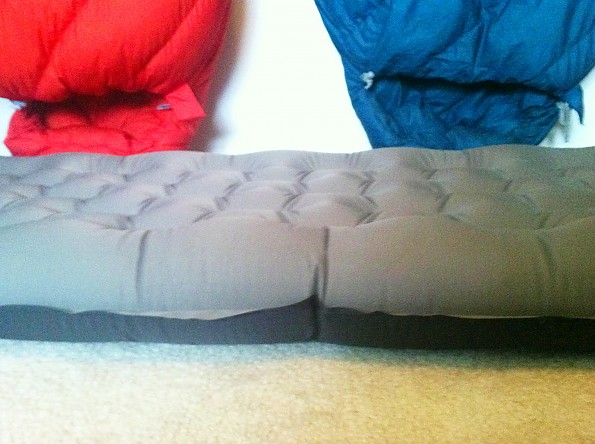 Here you can see the 3.5" of thickness and the raised I-beams.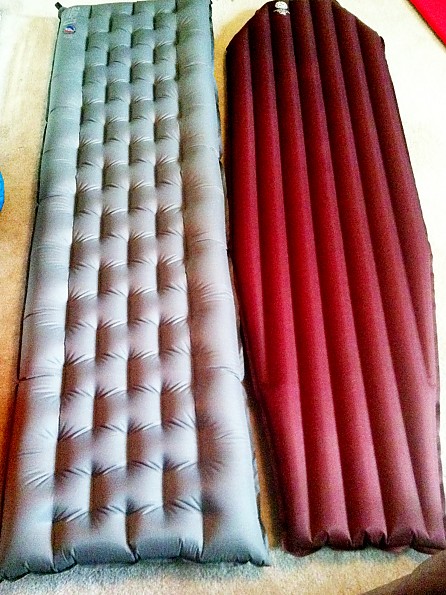 Here you can see the quilted baffles in the Q-Core compared to the vertical baffles in the Insulated Air Core.
I have inflated it by mouth and I remember it taking less than 2 minutes. I found it to be a little bit more difficult to inflate than my previous Big Agnes pads, but it wasn't really a major difference. I use the Big Agnes Pumphouse to inflate it now though. When I use it, I don't have to re-inflate it before going to bed because the air inside it is not moist. When properly inflated using the Pumphouse, I have found that it takes around 11-13 pumps to fully inflate it.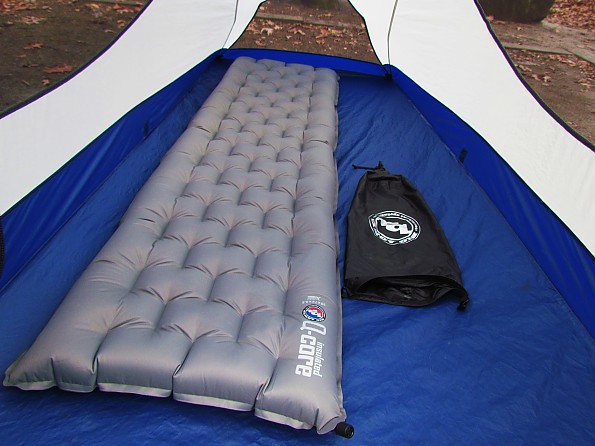 Q-Core firmly inflated and the Big A Pumphouse
Size and Specifications:
The Q-Core is available in the following sizes:
20" x 66" x 3.5" – 25oz (5"x9.5" rolled)
20" x 72" x 3.5" – 27 oz (5"x9.5" rolled)
20" x 78" x 3.5" – 29 oz (6"x9.5" rolled)
25" x 78" x 3.5" – 36 oz (6"x11" rolled)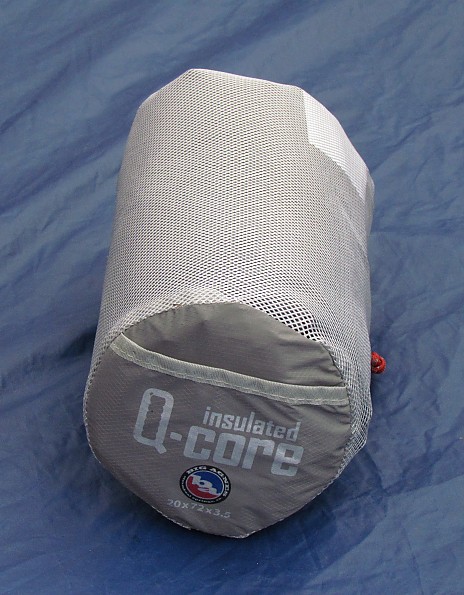 I own the 27 oz 20" x 72" x 3.5" size. I am 5'4" and it is plenty long enough for me. If you are concerned about its weight, Big A does make a lighter version, the Q-Core SL. It is 10 ounces lighter, but substantially less comfortable. It is still comfortable, don't get me wrong, but the Q-Core's comfort is in another league. I personally am very happy with my decision to carry the heavier and more comfortable Q-core.
Warmth:
The Insulated Q-Core sports an impressive 5 R-Value. It is filled with X-Static synthetic insulation and silver filament that boost thermodynamic, anti-microbial and anti-odor properties. I have found that it regulates temperature very well. It kept me warm one night on top of snow at 15 degrees and I wasn't too hot sleeping on it at 75 degrees.
Durability:
Both the bottom and the top of the Q-core are very durable. It is made of thicker material than typical pads that I have seen. The valve is also new and improved from the previous valves. I have found it to be very durable and have not had any leaking issues.
I previously had an Insulated Air Core Pad (Big A) and it had leaking issues with the valve. I sent it off to Big Agnes to be replaced and the new one also had a leaky valve, so I asked them to send me the Q-Core this time. Of course I paid the difference in price, but it was well worth it!
Big Agnes has fabulous customer service. Each time I sent one for replacement, I had the new one within 10 days of sending it ( I shipped it via Priority Mail). For the record, they have redesigned and improved the Insulated Air Cores now.
Should your Q-Core need minor repairs, there is a repair kit that comes along with the pad.
Conclusion:
The Q-Core is without a doubt the most comfortable pad I have ever slept on. I have had my best backcountry sleep on it. I highly recommend it. Yes, it might weigh a little bit more than I would prefer, but it is totally worth it. Guys - if you want to get your lady to come out into the backcountry with you, the Q-Core is a great way to ensure she has a comfortable night's sleep.
Source: bought it new
Price Paid: $139

This is hands down the most comfortable sleeping pad I have ever bought! With that said...it is not the one I currently use due to its weight.
Pros
Comfortable
Warm
Pump sack available for purchase from Big Agnes
Thick mattress
Soft mattress feels luxurious
Cons
On the heavier side
Blowing up pad could be better
Pump sack not the best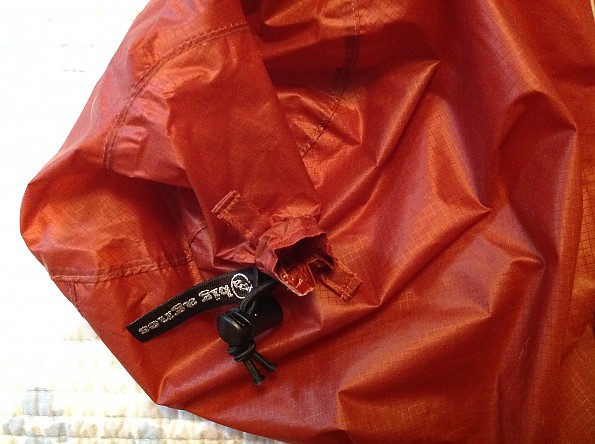 Big Agnes Pump sack: This is the part that hooks on to valve on pad, as you can see it not ideal but does work. In freezing temperatures good luck fidgeting around with this. One of the reasons it's just a stuff sack for me now and I bought a flat valve pad.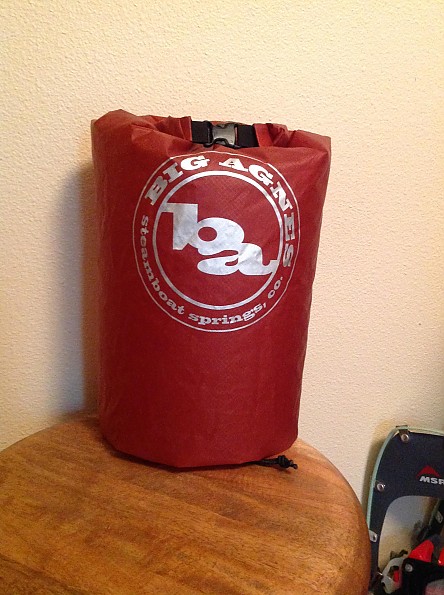 This is what it looks like with air in it.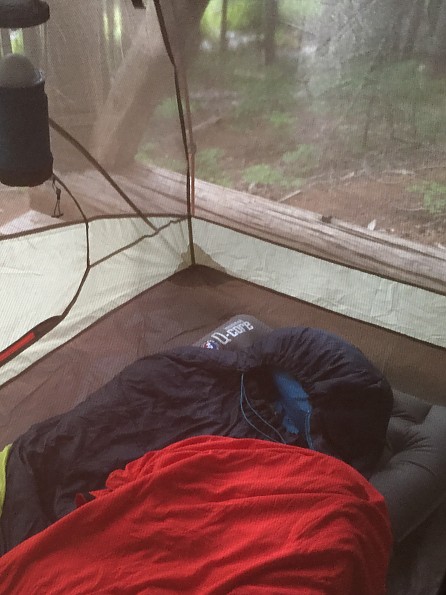 On this trip I used the Q Core with a cheap ($20) 45°F bag and the Sea to Summit Thermolite Extreme and I was toasty on a night with a low temp of 45°F. This mix of sleeping gear worked beautifully for me on this trip!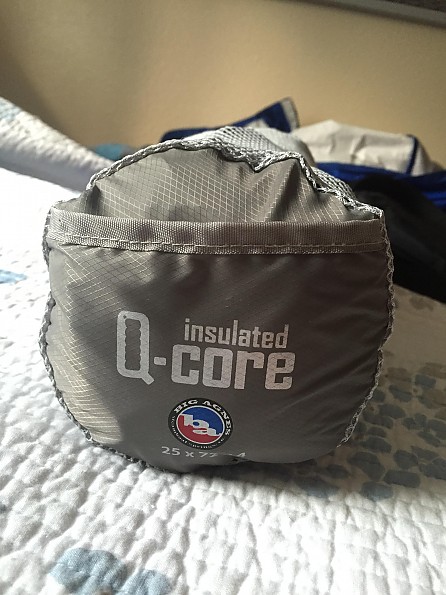 5.5 X 10.5 
This was sleeping pad #4 in my pursuit for a warm pad that wasn't too heavy to backpack with. I thought I found "the one" with this pad, but after a few trips I went back out searching for something even better and lighter For a reasonable price. 
The Good:
This pad proved to be very warm staying true to its advertised R value of 5. I used it in temperatures of 38°F. I am a cold sleeper though so I definitely need a high R value pad. 
The size of the Regular Wide version is 25" X 72" and 4" thick was super roomy and comfy.
The pad packed down pretty small at 5.5" X 10.5"
The Regular size was plenty long enough for my height 5'3"
The price I paid for the pad on sale of $113.95 was worth it for warmth, comfort, and weight at the time with no other pad on the market meeting my needs for that price! The lighter pads with comparable R value were twice the price and rarely were on sale at the time. 
The Bad
The weight of the Regular Wide pad is 2 lb 1oz. which if you are trying to be light but not ultra light is OK, but if you a really trying to shave off pounds this is a little more on the heavier side. If comfort and warmth is your #1 Goal on your hike then this pad might be for you. Also if you are a side sleeper with arthritic hips this bag is definitely for you because of its thick 4" supportive cushion.
Inflating the pad is interesting. I took it out the first three times and blew it up myself which at the end of an exhausting hike felt like one more chore to set up camp. Then I went out and bought the pump sack advertised to blow up this mattress and other Big Agnes mattresses. I was not super impressed with the part of the bag that hooks to pad valve to inflate (picture shown). They could have done better with this device. It is tricky to make it stay on the valve during inflation. After using it a few times it got a little easier but still flimsy and just not the best fit for what it is supposed to do. 
Big Agnes advertises the pump bag to be used as stuff sack as well and I actually use this to put my sleeping bag in because it is quick and light and the very part of the bag that I hated for pumping my pad up. I love how it works as my sleeping bag sack because once I put the bag in and push all the air out of the bag and fold down the top, I then can open the bottom and push out even more air compacting it down to a very small size. I love it and use it for this reason, who knew!!
Source: bought it new
Price Paid: $113.95

Very comfortable, very warm. Lighter than any self inflating pad, heavier than most air pads.
Pros
Comfort
Warmth
Lightweight
Cons
Hard to inflate/deflate
Heavy for ultra-lighters
I used the long/wide Big Agnes Q-Core pad on an early April hiking trip in Northern Michigan. Not only was it the most comfortable back country sleeping experience I've ever had, it helped keep me warm on a low 30 degree weekend.
This is my first experience with an inflatable pad but I tested a few of them in the store. I couldn't justify upgrading to any of those 2.5 inch air pad that was only slightly more comfortable than my 2 inch Therm-a-rest Self Inflating Trail Comfort Large until I found this pad.
Compared to my Therm-a-rest 2-inch self inflating, the Q-Core is about 50% more comfortable, especially when laying on your side. And while the Q-Core is thicker, it is also lighter and packs smaller than the self inflating pad. So increased comfort plus lighter weight equals no-brainer.
Compared to the other inflatable pads I tested, the Q-core was thicker than most. The "quilted" surface of alternating horizontal and vertical baffling is absolutely genius. It supports your back while keeping warm air against your body. The Q-Core is also very quiet, no crackling.
On the downside, compared to the other inflatable air pads, this pad is heavier than most of them. If you are going for ultralight, you're going to have to trade off some comfort for a lighter pad that may also pack down smaller.
Compared to self inflating pads, the Q-Core is a pain to inflate and deflate. It took me about 25 big breaths to fully inflate the large/long pad. Do yourself a favor and try to find the Big Agnes Pumphouse pump or other compatible pump to inflate it. Using a pump instead of your breath will also prevent extra moisture building up in the pad. Deflating is less of a pain, but certainly takes twice the time and effort to get all the air out in order to pack it up tightly.
I found that I did slip a bit on the pad during the night, a little more so than on my Therm-a-rest. The Q-Core is made of a lighter and more slippery material. The slipping was minimal and it didn't bother me much.
I feel like this pad is as durable as any other of the inflatables. The material is thinner than what you would find on a self inflating pad, but this is tradeoff is what makes it so much lighter. Overall, I am not worried about puncturing it under normal conditions and while being generally careful.
The Q-Core appears to be on the higher end of the price scale for a sleeping pad. For me, it was completely worth the cost for such a comfortable pad. It truly added to the enjoyment of a long hiking weekend in the back country when I slept so much better than normal.
Source: bought it new
Price Paid: $170

Comfortable sleeping pad — not your grandfather's sleeping pad!
Pros
Comfortable
Firm if you fill it, soft if you don't fill it all the way
Fits Big Agnes sleep systems (slides into base of BA Sleeping bags)
Lightweight
Packs small
High value item
Cons
LOUD! Roll over and it makes noise!
Cost—These are a little pricy
So we have a Big Agnes King Solomon sleeping bag and were always FREEZING... Why, because the bag has no insulation on the bottom and on the cold ground, we often slid off our old pad. Looking for a solution, we bought into the "sleep system" philosophy where you could integrate a pad into the sleeping bag by sliding it into the designated space.  
With the Q Core, you can slide it in, blow it up, and adjust it as you like. More air for firm, less for fluffy! It sits about 2-3 inches tall, blows up relatively fast manually, works great in the back country where you can pack it in, pretty light and packs small. Worth the effort to get a good night's sleep. 
Gone are the days of the foam cell pad. That was for me in my teens!! Therm-a-rest folding pad or RidgeRest—for me in my 20s. Old School Therm-a-Rest air pad—my 30s. NOW I am in my 40s and I see the need for a deeper sleep, and comfort is important to me. Q Core does the trick! Warm but not too warm. Cool during the summer. 
First thought was that I was buying an air mattress. Why would I want to do that? They pop! They are bulky. They smell like plastic!!!
This is way more than an air mattress. Seems to be abrasion proof. We've camped on pointy rocks without issue. No punctures after 5 years of heavy use. I have been very pleased with the performance. It's not cheap, but as in most gear, you get what you pay for. 
Now for the bad news... When you move on the pad—roll over, turn—it makes a rather loud noise. If alone, this is no problem. When camping with others it can be so loud it disrupts their sleep (but so does my snoring—so if they can deal with that, Q Core sqeaks are nothing!). 
I would very much recommend this product to my closest friends and even my enemies! (I will sleep well on my Q Core regardless!).  Well worth the money!
Source: bought it new
Price Paid: $135

They don't call it the most comfortable sleeping pad in the world for nothing! I tried almost every sleeping pad on the market and this one fit the bill.
Pros
Comfortable
Warm
Easy to inflate
Ease of Use: Inflate and sleep...not too much to it. It takes me about 2 minutes to inflate (I have the long). You can also purchase a very small compact pump that runs on batteries. About the size of a deck of cards....can't remember the name off hand, but it worked amazing in the high country of Colorado.
Features: A little thicker than other pads and a higher R value rating.
Construction and Durability: Very durable. I have had this all over the country and spent many a night on the trail with it and it hardly look used.
Conditions: I have been using this for a bout two years now and it still looks new.
Source: bought it new
Price Paid: $140

Excellent pad, designed to be fairly small and lightweight but big on comfort. Slippery finish makes it hard to stay on. I was able to modify this problem by getting a tube of Aquaseal or e-6000 polyurathane glue and putting small dots and strips of sealant on the high spots. Works great.
I use this for backpacking replacing a Big Agnes Insulated Air Core (which is also very good!). This has an inch more loft and a slightly warmer "R" rating.  Lightweight sucks if you are stiff and sore in the morning, or lost a lot of heat to the ground! This is a nice compromise.
I also have an Exped down mat 9 (large/wide) for car or boat camping that is warmer and more confortable yet but too big and heavy for packing far. 
Recomended!  A little more comfortable slightly deflated.
Source: bought it new
Price Paid: $119

Comfortable pad.
Pros
Lightweight
Comfortable
Compact
I recently purchased this pad as an upgrade, after handing off my Big Agnes Insulated Air Core Pad to a family member. I have had the opportunity to use it for four nights so far.
One of my favorite enhancements to this pad is the slightly higher side tubes, making it easier to stay on the pad without rolling off; and it just felt more comfortable to "lean" against something, however small, while side sleeping. The quilted pattern felt more comfortable than the straight tube design also, and helped avoid sliding off the end of the pad.
I was surprised that this pad, with the 3 1/2" thickness when inflated, in addition to the insulation, still packed down to about the size of a 1L bottle, and weighed only a few ounces more than my original air core pad. Inflating the pad was not too strenuous, even at 12,000 ft., and only took a few minutes.
During the 4 night trip the temperature would drop into the thirties, and at one point I woke of with ice in my cooking pot. However I never felt cold from underneath the pad, while sleeping in a 20 degree down bag with a thin base layer.
Overall I am happy with the pad so far, and assuming it will last like my other pad, I would recommend it to anyone looking to upgrade or get a new pad.
The downside of course is the rather high price, but may be worth it depending on how much backcountry comfort your looking for.
Source: bought it new
Price Paid: $139.95

Pros
Comfortable
Warm
Fits in BA sleeping bags
Cons
Heavy
A little bit narrow
I own the Q-Core SL long/wide, which I've reviewed on backcountry, and I like it a lot. I recently got married, and it was time to buy a new pad. I went through all the typical options: Therm-a-Rest, Exped, even a second Q-Core SL. The NeoAirs just didn't do it for me and my wife, and the Expeds to me seemed a bit gimmicky, and not quite as comfortable as the Q-Core.
I could have bought a second Q-Core SL, but with their narrow pad fiasco, the only one worth buying is the long/wide, which is expensive, and, after trying both of them out, not quite as comfortable as the standard Q-Core. Even though it's a bit heavy for backpacking, it's worth it.
I've since paired it with a lightweight BA sleeping back, the Horse Thief 35, and love the system, really well thought out. In the end, I almost wish I had two regular Q-Cores rather than my other SL version, as it's more durable, more comfortable, and cheaper. Oh well, one will do.
Source: bought it new
Price Paid: $120

Luxury in the backcountry.
Pros
Super comfy
Insulated
Lightweight
Compact
Doesn't crinkle like a trash bag (Neo-Air)
Cons
Heavier than ultralight options (Neo-Air)
Little slippery
I love my Q-Core, this thing is more comfortable than my bed at home. It's very well insulated and the 3.5 inch thickness is amazing. I'm a side sleeper, 180lbs and 6-2 and this thing is the most comfortable pad I've used.  
It makes very little noise when you move around on it at night (in comparison to the NeoAir which sounds like you are flopping around on a pile of plastic bags). It's a little heavier than ultralight options but the luxury is much appreciated it. It rolls up into its stuff size just a little bigger than a Nalgene and I think the regular size which I have weighs in at 25oz.
My 70 lb dog has stomped on it quite a bit getting in and out of the tent and it holds up fine, pretty durable pad. After a 25+ mile day, this pad is much appreciated.
Source: bought it new
Price Paid: $139

The Big Agnes Q-Core is an ideal backpacking sleeping pad, lightweight and durable.
Pros
Lightweight
Durable
Comfortable
After experiencing the slow-leak failures of several sleeping pads and searching for a durable, lightweight, comfortable sleeping system, I discovered the Big Agnes Q-Core.
I have given the Q-Core a rigorous testing under extreme temperature conditions from near-zero temperatures with snow in my dispersed wilderness camps, such as Willow Lake at the base of Fourteener Kit Carson, to the sweltering summer heat of Odessa, Ukraine, with great performance.
The Q-Core is expensive, but made of lightweight materials that seem to hold-up through many nights providing deep cushion support and maintaining comfortable pressure.
Source: bought it new
Price Paid: $200

Great sleeping pad for those who sleep on their side. Great insulator from the cold ground. Very durable. Highly recommend.
Pros
Once inflated ... very thick
Durable
Warm, good insulator
Packs fairly small and comes with mesh bag and repair kit
Cons
It takes me about 25-30 breaths to inflate. Free headrush!
Slightly heavier than other sleeping pads but thicker.
I've used this Big Agnes Q-Core sleeping pad in excess of 30 nights now. Still holding up greatly. Trips to Zambia, Alaska, and recently Iceland have given me comfortable nights' sleep.
I have the widest and longest version of this pad. I am a 'side sleeper' at 180 lbs and do not contact the ground.
Source: bought it new
Price Paid: $170

Best pad I have ever owned. Had the best camping sleeps ever with this pad. Hip pain I usually get was gone.
Pros
Warm
Comfortable
Keeps you in place
The best pad I have ever slept in. Hip pain is gone with this pad. 
Source: bought it new
Price Paid: $120

Your Review
Where to Buy
Help support this site by making your next gear purchase through one of the links above. Click a link, buy what you need, and the seller will contribute a portion of the purchase price to support Trailspace's independent gear reviews.
You May Like
Specs
Price
Current Retail: $159.95-$169.95
Historic Range: $63.73-$249.95
Reviewers Paid: $113.95-$200.00

Recently on Trailspace