Exped DownMat 9

The DownMat 9 has been discontinued. If you're looking for something new, check out the best air-filled sleeping pads for 2023.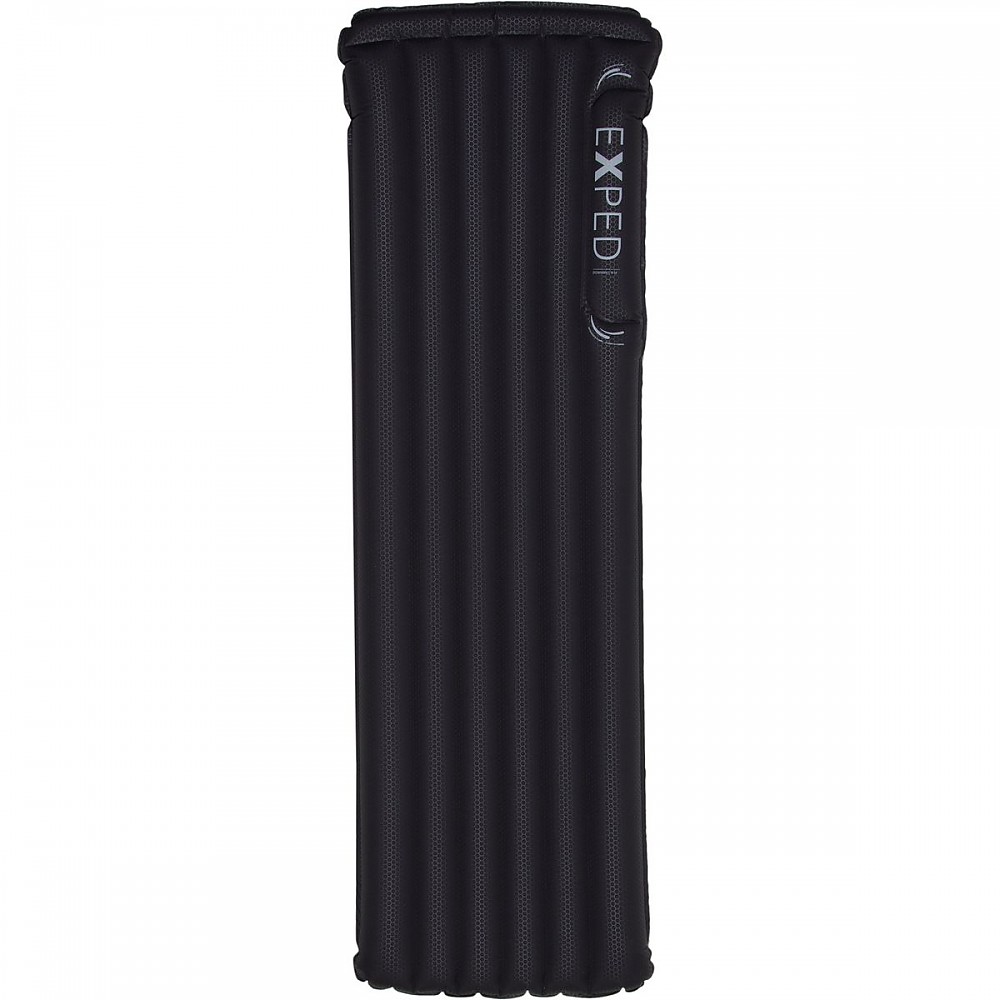 Very comfortable, well built and warm pad.
Pros
Thickness
Comfort
Warmth
Dual purpose
Cons
Slow to inflate / deflate
Expensive
If you want to be comfortable and warm in the backcountry this is the pad to get! In fact it is good enough to replace your car camping pad, making the price more acceptable and may be the last one you ever buy.
This pad has a built-in pump system, and has some down filling making it very warm. The pump system takes a while to inflate, but keeps moisture out of the pad. The comfort level far out weighs the minor hassle of taking longer to inflate. When car or boat camping I take a small battery operated pump with me that will inflate in seconds.
It comes in different sizes. I got a long, wide model, as comfort was my main goal but I still take this backpacking over my other smaller but only slightly lighter 20" pads as I don't feel like I am falling off it as much in the night.
I also got the available cover and chair kit for the pad. This is also a great product. It provides a less slippery and protective surface, for the base pad, and has a rod and strap system that alows you to pull a few straps and lounge with a backrest in your tent, or make into a chair fit for a king at the campsite! Just be very carefull around the fire! (I also bring a small wool blanket to cover and keep sparks off, does double duty for keeping the dog warm!) 
This setup Works Awesome! When backpacking many times I will ditch the tent to save enough weight to be able to take this combo instead. I use it with just a tarp or bug hat so I can just sleep under the stars.
Highly recomended!
Source: bought it new
Price Paid: $200

Super comfortable and warm. Not fun to pump without Schnozzle.
Pros
Extremely comfortable
Extremely insulatative
Cons
Inflation takes a long time
This is one heck of a nice mat. I sleep better while using it than I do in our bed at home. Really! I'm not sure what it is, but it is extremely comfortable. 
The package weight and packed sized are not really all that different from my ultralightweight Therm-a-Rest CampLite, but the sleeping experience is worlds apart. 
I am a naturally frugal person. Some call me cheap. Extremely cheap. I was lucky to find this at a flea market, buried under a pile of junk. The seller wanted only $5 for it. He had purchased a storage unit and had no idea what it was. Yeah, I know. Deal of the century.
Had I walked into REI and seen the price tag, I would never have purchased this mat. But now that I know what I know, I have to say, this thing is worth it. By that I mean, a good night's sleep is priceless on a long trip where physical exertion is the difference between making it or turning back. I've had my share of both experiences. So, as much as it kills me to know that I could sell this thing on Ebay for $180, I am keeping it. If you knew me, you'd know that there is no greater compliment.
The only downside is the fact that the two-handed pump takes a long time to inflate the pad.  We are planning a long-ish Andean climbing trip and I will get the Schnozzel. Again, it kills me to pay that much for the pump, but I will pay it to sleep like a baby. 
Source: bought it used
Price Paid: $5

It will be your favorite pad ever.
Pros
Quiet
Supportive
Warm
Doesn't leak
Cons
Hard to roll back up
Schnozzle takes a bit of time
Bulky
I had bought one for myself and was so impressed I bought one for a friend. I live in Alaska and backpack all year around; It can be -30°F with no heat source, so I need the best pad. This is it.
And it's quiet too. I had used a popular pad out there that felt lumpy and crunchy and really loud. It was not as lofty as EXPED's. I also own a Dura 8R by EXPED and it is pretty close to being the same high quality mat. Well engineered products. And very, very comfy.
The only thing is I can not get it rolled into the original configuration like it just came out of the factory. It's a bit heavier than some brands. If you are backpacking in the snow you are probably not an ultra lighter. Winter requires more gear, and the colder it is the heavier your pack will be, or maybe you will drag a sled through the snow.
Experience
I have owned this past two years and I sleep on it 2-3 times a week. I have had many pads in my 60 years. I've used it backpacking and camping most of the year—we don't have much of a summer in Alaska. I have been taking shorter hikes this year than last due to a time constraint.
Source: bought it new
Price Paid: $249

Pros
Extremely comfortable
Durable
Very warm
Cons
Somewhat loud if moving around in sleeping bag
Takes a fairly long time to inflate
I bought this mat about a year ago and so far it has performed admirably. The built-in pump is vastly superior to the 2-way valve used on self-inflating mats, though it does take a pretty long time to inflate. When inside a tent, it can be a bit difficult to use depending on space. 
This mat packs down smaller than any self inflating mattress I have ever owned or seen. The stuff-sack is large enough that even with a little bit of air inside, it still fits nicely. 
Even having been used in temperatures around -25° Celsius, the Exped manages to keep the bottom of your sleeping bag warm and comfortable. Having said that, the mattress is very loud if you move around in your sleep. This seems like a fairly minor thing, but if you are a light sleeper, the scraping between mattress and sleeping bag could wake you up. 
Source: bought it new

Hot stuff in cold weather.
Pros
WARM
Lightweight for the R value
Schnozzle inflator is efficient and...amusing. Also serves as a stuff sack.
Soft touch exterior
Cons
Makes a lot of racket when you turn in it against the tent floor. But so does every mat.
A little wider would be nice, but adds weight so it's a toss up.
$$$$
I am a small framed person (5'4", 140 lbs) and run cold. This mat is the only way to sleep if you run cold. I'm not using this for Everest like most users. I use it for temps just above freezing. Which is ridiculous. But if that's what you need, look no further. 
Only downside is it's very narrow, so your elbows will be off the mat. Solution? A bag with enough down to coat a flock of geese. But other than that, if you have to pack for cold, don't go with synthetics for your mat.
Use this and save yourself the trouble of trying four or five different mats before finally committing the money.
Source: bought it new
Price Paid: $200

I winter camp, in the snow down to -11° and this is my only "barrier" between my bag and the snow. This is THE BEST sleeping pad if you want to survive cold and live to tell about it. I have photos to prove. Love Exped, will always have one now, no going back, after my "young years" camping with other brands.

Pros
Warmth
Durability
It's been 10 years my only camping pad and I LOVE it, especially for winter camping.
Cons
After 10 years, the valves are still good but a little finicky, they must be right to hold the air (look year-round use for 10 years in summer and snow....I can see how the polymer gets a little picky with placement.)
Experience
Year-round backpacking in summer and snow. Love this down mat for SO many reasons.
Source: bought it new
Price Paid: Full Price

I bought this excellent 9LW goose down mattress to use at home for a cure to an injured back! The 3 1/2 inch thickness is perfect not quite fully inflated, on a straight flat, hard surface, Smile! Have used this mattress every night for about 5 years. I have been able to somewhat cure an extremely painful back injury. I keep two!

Also slept outside on my friend's Cadilac! porch at 7000 feet all winter! Never got cold once, with all my cold weather gear! This to me is a must-have item for everyday use or emergency bedding. Customer service is the very, very BEST. They have been kind and efficient to me!!! THANKS, EXPED.
Very comfortable. Get the 9 LW, highly recommended! You wake up feeling so refreshed. These downmats are warm, unlike other air mattresses. Bring a ground cloth and you will be set!
Source: bought it new
Price Paid: $230

This pad is both warm and comfortable. Packs down relatively small.
Filling a pad with down is such a great idea. It insulates very well and as I have slept on snow and ice multiple times, I haven't felt the cold underneath me at all. It is very comfortable. With the outside baffles being slightly larger than the interior ones it helps keep you from easily rolling off the pad.
Inflating pad is time consuming and takes the most patience. The pump is part of the pad and it can be a little awkward to line your hands up to pump it up efficiently, but it gets the job done. It also takes some time to deflate.
It seems to be made well, so far after a half dozen outings with it there are no real signs of wear and tear and I also bought it slightly used. 
Source: bought it used
Price Paid: $80

I LOVE THIS SLEEPING PAD!!!
No it's not the lightest nor does it roll up into a tiny little package, but it's the most comfortable thing I have ever slept on (next to my bed at home of course) and it's easy to inflate/deflate. It also fits into my Big Agnes sleeping bag sleeve. 
For those of you who have a hard time sleeping on the trail this is a huge step in the right direction.  THANK YOU, Exped... you are my heroes!
Price Paid: $190

Your Review
You May Like
Specs
9 M
9 LW
Price
Historic Range: $134.96-$249.00
Reviewers Paid: $5.00-$249.00

Size
183 x 52 x 9 cm / 72 x 20 x 3.5 in
197 x 65 x 9 cm / 77.5 x 26 x 3.5 in
Weight
990 g / 34.9 oz
1270 g / 44.8 oz
Packed
24 x 16 cm / 9 x 6 in
27 x 16 cm / 11 x 6 in
Fill Weight
250 g / 9 oz
320 g / 11 oz
Temperature
- 38° C / - 36° F
- 38° C / - 36° F
R-value
8
8