Therm-a-Rest NeoAir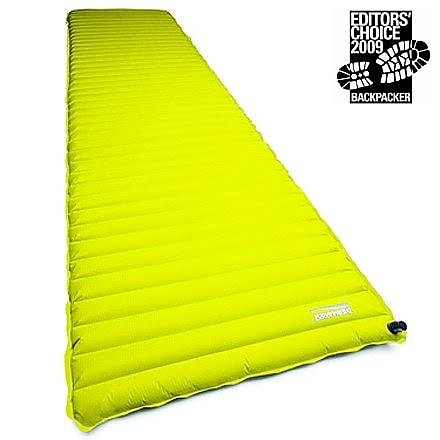 Light, comfortable, packs up small.
Pros
Comfortable
Lightweight
Compact
Reliable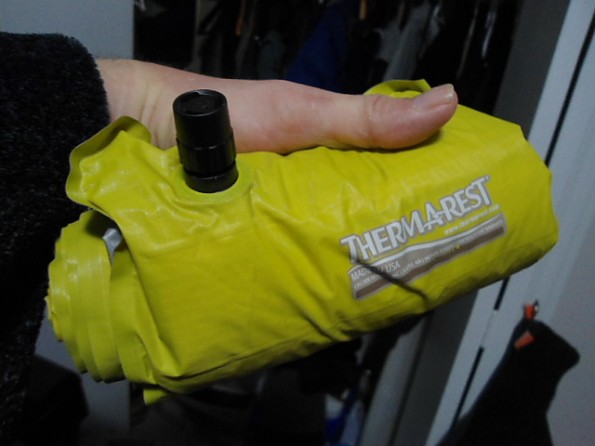 Basically, there are three different types of backpacking mattresses, the familiar blue or yellow closed-cell foamies, the 'self-inflatable' ones pioneered by Therm-a-Rest such as the Trail-Lite, and the traditional air mattresses like those you'd use on a lake.
The foamies have been a standard for a long time, combining light weight with decent insulation. They're very cheap, but they are bulky and large enough that they usually have to be strapped to the outside of a pack. For true 3-season use, many backpackers will carry a couple of them for the extra insulation.
The self-inflatable ones include baffles to restrict air flow and a foam structure inside both for insulation and to help them inflate. That offers better warmth, but they are more expensive. They are, however, just as bulky as the foamies, and while they offer better padding, they rarely self-inflate after the first few times. They are also relatively heavy.
It's dead air space that provides the best insulation, and the problem with traditional air mattresses is that there is nothing between the top and bottom surface to stop the heat from getting lost through the ground. No dead air = no insulation. Warm air from your body flows freely away, and dissipates through the sides and bottom. Made of rubber backing a cloth surface, standard air mattresses are also quite heavy. Good for car camping if you bring along a quilt to take care of the heat loss, but not for backpacking.
A couple of years ago, I was doing my annual Backpacking Prep group at Cooking Lake. For a mattress, I was using my old Therm-a-Rest Prolite, comfortable enough but bulky and heavy. One of the people who came along had the new NeoAir, and when I saw it in use, I was amazed!
Very small and light, and it seemed pretty comfortable (or so I heard from the guy who was using it). The design is a cross between an air mattress and the standard Therm-a-Rest, with a thin and very light air-filled mattress (2.5" thick, 12.5 oz.) with connecting baffles and an interior reflective layer to bounce the heat back. The advantages of an air mattress with all the problems solved. Lots of extra air space to keep you off the ground, and if you don't overfill it, you'll find it quite comfortable.
I checked the online reviews, though, and while everybody said it was a great mattress, there seemed to be a few concerns about durability. A few people reported baffles popping or leaks, and I started having second thoughts. I put off buying one, and decided I'd wait until they got the kinks out.
Then at a local Club Night, I saw them on sale for under $100 – with the 10% discount, I wound up paying just $86! I was aware that they were dumping the first model because of the quality concerns but at that price, I thought "What the heck!".
Best decision of my gearhead life.
I've used it now for a couple of years, and I've had no problems with it. No popped baffles, no leaks, and I've found it to be the most comfortable mattress I've ever had. I'm a side sleeper, and while the 20" width might be tight for some, I don't have a problem with it. The R-value is 3.2 and that's plenty for 3-season use.
The trick is to not fill it too full. I can blow it up with between 30 and 35 breathes, and I usually wind up letting a bit of air out for the most comfort. As others have pointed out, the NeoAir packs up to about the size of a Nalgene bottle, which means I can stow it inside my pack instead of hanging it off the back of the pack to get wet.
I've used it on backpacking trips in the mountains at temperatures down to 0°C, and for general-purpose summer use when camping. No problems and I've always been warm and comfortable.
But of course the model I have is no longer available. Therm-a-Rest wisely redesigned the original to address the quality concerns, and to make a few improvements. In some of the new designs the corners have been trimmed off to reduce the weight by up to 15%, and they've added models that have softer surfaces for more comfort and less noise.
Look for the NeoAir Trekker and All Season, and the Xlite and Xtherm, as well as heavier ones meant for use at a base camp. As you'll see from a quick look at their website, Therm-a-Rest is investing heavily in the new designs – expect to see fewer of the old style in the future.
Source: bought it new
Price Paid: $86

This is a very good choice for my needs for MX (plated) dirt bike camping.
Ultra light, with NeoAir stuff sack wt = 14-1/8oz
Ultra small packed (rolled) sized, if I roll tightly it is even smaller than stated and I then pack a Cocoon Ultra Light Pillow (2-5/8oz in its own stuff sack) in the top of the NeoAir Stuff Sack.
I use less air pressure than I thought and the pad is way more comfortable and moves around less.
to assist with reducing pad movement I added about 2 dozen pea size drops of Shoe Goo tot eh bottom of the pad, strategically placed to help.  I wish that Therm-A-Rest did this with the siliconized dots that use on other pads.
I have other Therm-A-Rest's, 2x Base Camp, 1x ProLite, 1x ProLite Plus. This NeoAir will replace them all, even if car camping.  Less bulk and less weight to carry is very nice.
$, a little pricey.
Could be minutely 5" wider and this would help keep the elbows onboard.
Yes, I recommend to get one BUT use on a ground sheet or inside a tent/bivy, NOT directly on the ground.
Update: July 21, 2011
This is an OK choice for my needs for MX (plated) dirt bike camping.
Ultra light, with NeoAir stuff sack weight = 14-1/8oz
Ultra small packed (rolled) sized, if I roll tightly it is even smaller than stated and I then pack a Cocoon Ultralight Pillow (2-5/8oz in its own stuff sack) in the top of the NeoAir Stuff Sack.
I use less air pressure than I thought and the pad is way more comfortable and moves around less.
To assist with reducing pad movement I added about two dozen pea size drops of Shoe Goo to the bottom of the pad, strategically placed to help. I wish that Therm-A-Rest did this with the siliconized dots that use on other pads.
I have other Therm-A-Rests, 2x Base Camp, 1x ProLite, 1x ProLite Plus.  This NeoAir will not replace them all. Less bulk and less weight to carry is very nice, but the pad is not as stable to sleep on as the ProLites nor the BaseCamps. It could really do with a second blowup cap which would fill side chambers so as to assist with keeping my on the pad rather than rolling off while in my sleep when I get within a few inches of the sides.
$, a little pricey.
Could be minutely 5" wider and this would help keep the elbows onboard and reducing the rolling off factor.
NO I do not recommend to get one until a side tube on each side is added.
Use on a ground sheet or inside a tent/bivy, NOT directly on the ground.
Update: December 10, 2011
Changed my opinion and now 4 stars.
Only difficulty is the amount of breathes to inflate, but a trash bag inflation system is a good and to be tested option.
Update: February 3, 2012
Re-wrote with positive comments. Even used this as my only pad in the snow at 11k ft and 0degF. It worked well and was not where I was feeling the cold from.
Looking forward to trying the plastic bag inflation tool. If the bag inflation trick works I would give the stars rating a little bump up.
Price Paid: REI

I have yet to find more comfort in sleeping rough than can be found on top of a NeoAir.
Pros
THICK comfort
Super light
Packs down TINY
Sooo waaaaaarm
Cons
Limited lifespan
Bigger footpad than anticipated
The NeoAir changed my ability to sleep out in the wild.
Rewind 6 years and you'd find me hallucinating in the bush on day 20 or so of a major trip. My vision was a complete blur, I was unable to communicate and I would cry one second and laugh the next all due to attempting to survive on less than 1 hour of sleep a night due to being soo uncomfortable.
How I wish I'd had a NeoAir back then.
Using a NeoAir allowed to adventure out without the dread in the back of my mind that every day I would be mentally exhausted and it would only get worse until I was back in a real bed.
So Pros:
It's actually comfortable. Seriously... it's f***ing amazing!
It is light, but not foam mat light (but lets be honest, foam sucks)
It packs down really small, consistently smaller than my Nalgene.
It reflects a ridiculous amount of your heat BACK up at you.
LIFETIME Warranty.
Any one of those Pros would make a sleeping mat purpose built for some use, but to have all of them in a SINGLE mat is plain ridiculous good. I've been doing the outdoors for 21 years (and counting) and never thought such a thing would exist.
And that being said, the Cons:
The NeoAir has a limited lifespan, it simply seems to wear out.
The footpad is bigger than expected.
I'll start with the second one first, because it's a bit of a nit pick. Essentially if you try to put two of these suckers side by side in a 2-person tent, especially tents that taper at one end, they won't necessarily fit. I'm only saying it, because I haven't found that with any other sleeping mat, and mine was STANDARD size.
The reports that a few others here have stated is true, after a while it starts to leak. So how long is a while? It's about 100 days.
Yup, 100 nights of glorious sleep later you'll suddenly notice that you wake up and the mattress won't quite be as firm as it should be (even allowing for cooler air reducing internal air pressure over night).
At 130 days you'll wake up with your ass (I'm a back sleeper) touching the ground. But EVEN THEN IT IS THE MOST COMFORTABLE SLEEPING MAT I'VE EVER USED, it's just no longer suitable for using in freezing temperatures for safety reasons.
So yes, the weld points very slowly leak air, but it's COVERED BY LIFETIME WARRANTY, so I have a new one, and all it cost me was a little postage. Perhaps it shouldn't do this, but I will never ever use something less comfortable than this NeoAir.
In short, if you're going on trips less than 100 consecutive days, forget the cost, GET a NeoAir and camp in the type of comfort you wouldn't have believed possible. 
If you go on trips longer than 100 consecutive days, plan about that time to spend a couple of weeks relaxing in civilization while you send the NeoAir to get replaced under warranty.
Source: bought it new
Price Paid: 60 Pounds

Still one of the lightest and most comfortable backpacking pads on the market. It is a bit noisy narrow, but works better than other pads. Great for all activities, but especially backpacking.
Pros
Lightweight
Comfortable
Relatively warm
I have been using the NeoAir mattress (size regular) for over 2 years now. It has served me extremely well through warm summer nights to freezing alpine camps. This is my go to mattress for all trips and only when I am out in the winter do I even think about bringing along something to supliment the ablilities of my NeoAir. 
I love this pad so much I got one for my wife. When we go backpacking together we use a pad coupler so we can cuddle up more effectively under our 2P quilt. We haven't had any warmth issues in this configuration (mostly going April through Oct in UT, WY, and ID below treeline). And this is the only configuration that brings attention to the narrow width of the pad. My wife and I are both side sleepers and when deflated to the right level this mattress is amazingly comfortable!
I also go on climbing trips throughout the year and usually don't cuddle on those trips unless something went severly wrong. I have taken this pad up Rainier, through the Wind River range in the winter, and all over UT through all seasons. The most I have had to do is add some closed cell foam underneath on those occasional -20 deg nights.
The only real downside is the heat reflective layer that is sandwiched inbetween the horizontal air chambers. It crinkles. I remember it being fairly annoying at first — thusly I have mentioned it — but, lately I can move around at night without waking my spouse or really waking myself (I am a light sleeper and wake up a little to turn over). So it isn't a deal breaker for me that I get a little extra noise.
As a side note. We've taken our son backpacking 5 times now and he seems to like the NeoAir as much as my wife and I do. He sleeps soundly and doesn't wake up to the crinkling when one of the three of us moves... and currently have never had a hole (though I have been really careful when crampons are needed for the trip).
Source: bought it new
Price Paid: 150

A wonderful, small, light and thick air mattress that can be a little tricky.
I sleep badly in the backcountry. I wish I didn't, but I do. I'm a side sleeper, too, which means that I always bottomed out even on my old Thermarest.
I read good things about the NeoAir: it's thick, it's less than half the weight of my then-current foam pad (but thicker), it's small. But it's pricey. So I waited for the annual REI dividend and used that on the pad.
I've now used it for most of a hiking season on several overnighters and a weeklong trip. It's done well, but not perfect.
The good bits about the pad:
- When blown up thoroughly, it's thick enough to where I don't bottom out, even when I'm sleeping on my side.
- It's light. I haven't actually weighed it but it is far lighter than my old foam pad. More importantly...
- It's small. When packed up, I can cram it into the sleeping bag compartment on my pack and use the sleeping bag straps for other things.
- It's sticky on top. By which I mean I don't tend to slide off of it and onto cold ground.
- It's really quite warm, I never felt cold spots when fully inflated, which I used to feel on my ancient Thermarest 'ultralites'.
- I have not had any of the durability issues reported by others, but I've only used it inside a tent with a footprint.
The bad bits are:
- It takes a lot more air to inflate than the self-inflating ones (duh), which can be a real pain at 11,000 feet (at least for this sea-level dweller).
- It's not sticky on the bottom and more than once I've awakened in the morning to find that I was on a slope and now the downhill side of the pad has made its own little mountain.
- The cooler the night the more the air seems to condense and the less thickness there is by morning. On slightly chilly nights I HAVE awakened to find that I'm starting to bottom out and the pad is nowhere near as thick as when I started. There's a reason this is not recommended for winter use.
For the weight and space savings, this is a great 2.5 season sleeping pad, and worth the price. I'm not sure if I'd recommend it for nights in the 30's or below.
Price Paid: $149

A friend and I have used the Neoair for about 12 months. We noticed that the mattress was losing air overnight and assumed that it was due to the change in air pressure that people talk about. Just the other day I inflated the mattress and placed it in some water, small bubbles were leaking from the weld seams on top of the mattress.
I'm not sure if the latest mats have this problem but the reduction in pressure overnight is due to air seeping through the weld seams at the top of the mattress and I would assume the seams underneath, not a drop in air pressure. I have sent an e-mail to the company for an answer.
The mattress is extremely comfortable and light so I hope that Cascade Designs have/will sorted out the issue. If I can get my mattress replaced with one that does not leak air then I will give it five stars.   
Update:
Since my review a few days ago several things have happen which have changed my mind on the Neoair. Cascade Design contacted me to advise that I should check for holes in the mattress, so I did. I have found lots of very, very small holes, all on the welded seams.
There is a major design fault with these mattresses or maybe just the earlier released mattresses, they leak.  
If your mattress is losing air overnight then check that there are not very small leaks along the welder seams, you have to look very carefully to find them. No doubt that the mattresses can lose some firmness due to the change in pressure and the cooling affect but not 50% of the air like mine.  
My friend brought his at the same time as me and has had the same problem with the mattress losing up to 50% of the air overnight. He will be checking his mattress for leaks, if he has the same issue then there is a design issue. 
Price Paid: 150 AUD

I've used this pad, or I should call it an air bed, several times and am continually impressed with the comfort it affords me. I always use it in a one person tent with a coated floor and ground sheet under so I cant vouch for its durability i.e. abrasion resistance but it has held up well so far as air pressure and my weight is concerned and I am a tosser and turner. I could see where, if you are a quilt user the sticky surface would be a discomfort but I'm not.
It takes me around 3 minutes to inflate (3/4 length). I saw initially a lot of reviews before I purchased this pad and see that most people reported a slow overnight leakage. I initially did an in room test the first night I recieved mine and found it indeed did lose some loft overnight. The next morning I blew it up again to its fullest and went to work all day. Upon returning after I discovered it was even tighter. How could this be, I wondered?
After a few more experimental trys I came to the conclusion that it was simply the changing temperatures that caused the difference. When I first inflate it my breath is warm, as the evening goes on it cools inside the pad causing a slight loss in pressure. The reason it got tighter on the day I inflated it with just a couple of puffs after all night is as said it only took a couple of puffs so it was still cool. I had my air conditionar on all night in the bedroom and turned it off during the hours I was at work. As the day was a warm one the air expanded making it tighter.
I'm certainly no physicist but I believe most things expand as they get warmer and contract as they cool, including air. In some circumstances I've had to add a few puffs towards morning when the nights are chilly, but I don`t believe it is from leakage anywhere on the pad.
I would give this pad a 4.5 rating overall for comfort, but as most people also have stated for that price, they could have thrown in a stuff sack and maybe even a repair kit. But all in all I really love mine as I just can't sleep anymore out there without it. The claims of warmth radiating back to you on a cold night seem also to be true, although I have yet to take it below 45deg.
Price Paid: $119

I was excited for my NeoAir! At first, I filled it, laid on it, put into a trekker chair - LOVED IT!
I took it on a 6 night canoe camping trip in the North Maine Woods. The first time I blew it up and put it in the chair, sat down, I hear POP! It was LOUD too. Like a 22 pistol went off in camp. It freaked me out, I frantically searched the mattress for leaking and heard or saw none.
Day two, in the flat position POP, then POP again. Still no sign of a leak. Day three brought two more and I had written it off as the sticky fabric of the mattress getting caught on itself then slipping. By evening of night four, I realized I could barely fit the mattress in the trekker chair, cause of the pillow part of the mattress.
Wait, Pillow? I don't remember a pillow. Turns out the thin horizontal chambers of the NeoAir were separating from themselves. I had to spend night five and six sleeping on only 2/3rds of the mattress because the pillow had gotten so large.
I wish this worked for me. I loved the compactness and weight. But even before it started popping I felt the mattress was way too fragile(being use to the older indestructible style Therm-a-rest). I don't think I'll return it for the same item. I wouldn't want to take chances with on the trail again with my camp chair and most especially my night's sleep.

Price Paid: 140-ish?

So, this is for the NeoAir four season, supposedly the one with improvements over the original design.
Day one, before I take it anywhere. I inflated it for a trial and, yes, it is warming and comfortable. Then I put my hand down to support standing up—and POP. I think it was an internal baffle. I laid back down again ($160 or not, this thing bloody well has to survive my living room if I'm taking it on the trail) and POP at my elbow.
Not a big pop as others have described, but a small pop like popping bubble paper.
I wasn't trying to break it, hell it was expensive. The pad as a whole seems to hold air. But, did I break this thing after sitting down on it? Did I sort of break it and, a week into my hike, it fails entirely?
I am immediately not happy. The old Thermarests were bomb-proof and if you had a hole you could put it in a tub and repair it. Why should I have to worry about my wildly expensive SLEEPING PAD ever—EVER—breaking?
I bought this thing from a shop I trusted, and from a company I trusted. I'm gonna take it on a test hike and make it a point to...well not break the thing, but simply to demand as much from it as an old Thermarest would do. I'm gonna sit on it, maybe on a picnic table, maybe on sand, and I hope I won't have to worry about it.
Bottom line: this thing is advertised as the best of all worlds, packable and light and with a huge insulation rating. I am suspicious of it  for even a light hike, and even after a day I wouldn't dream of taking it where my life depended on it.
Price Paid: $160

Bought this expensive pad to help me sleep, as I don't sleep well on the trail. The pad took longer than I expected to blow up and was a chore every evening, but worth it.
I bought the large which was the perfect size for me (5' 11") and my small tent (Eureka Spitfire). The coating worked well and I never slipped off. It gets a bit sticky with bare skin, but once asleep it didn't matter. I usually used a silk liner as a sheet.
I am a side sleeper and this had plenty of cushion and no hard spots like on my hip or shoulder. I would blow it up full, get in and then adjust the air until I felt comfy. I was paranoid about puncturing it so I also brought an old egg-crate type foam pad to put under it to keep sticks and stones at bay.
If this was a little less expensive I might give it 5 stars. If I have to carry some weight, this is weight well worth it. A luxury, but my legs deserved a good rest.
Price Paid: $130

I have been eyeing reviews of the NeoAir mattress for a while, and decided to give it a try with the help of a gift certificate waiting to be used. I got a medium length pad (I'm a 5'9" male, 175lbs). I used it for the first time this week over three days in the high country of the Alpine Lakes Wilderness in Washington State.
I must say I was very impressed! Much more comfortable than my Prolite 3 pad. Some folks have thought the Neo fabric was 'noisy,' but that was not my reaction, especially when laying on it.
It took me about 20 puffs to blow up fully. Then, it held volume without any reduction for two consecutive nights in camp. Very nice cushioning. Whatever they coat the surface with is very effective at controlling slippage, yet isn't too sticky either.
All in all, while avoiding the expense for a while, it was a welcome surprise, at least for my 50-something bod.

I have to disagree....
Cons
Valve is of inferior quality—it sticks
Thin, porous material—it leaks
Not as thick and twice the price of competitive brands
I had the older yellow versions of this pad. It was not a good experience. The pad leaked and had to be re-inflated during the middle of each night on its first excursion.
When I sent it back to Therm-a-Rest, they said it was "to spec" and "that's normal". The next time I used it was the last  time. The valve wouldn't open to deflate it, and needed assistance in the form of my multi-tool. I sent it back to Therm-a-Rest. They replaced t and I sold it on that e auction site.
Experience
I can't recommend it...
Source: bought it new

Last year we bought two of these (expensive, but oh how light and compact they are) mattresses. We used it to hike through Iceland for three weeks, and they worked great. Compared to the old (original) Thermarest we also had for some other members in our family they certainly are great.
This year on a simple weekend camping, my son sat on on one, and it went POP, and POP, and two of the small chambers delaminated leaving a pillow-like bulge at one end. I brought it back to the store, and got another one without even showing it. Popped?, do you want a replacement, or maybe another type (apparently it wasnt they first one they saw returned).
We decided to have a replacement, and actually bought another one (so we now have three).
Two nights into our holiday this year, I was lying on it, almost sleeping, and suddenly POP, POP, another nice pillow appeared. Eventually this happened 6 more times, making the pad impossible to use for me (I am 1.92m). I exchanged it with my wife's Exped down 7 that we also bought just before our holiday for comparison.
I just loved that one, and am now uncertain if I want to change the broken NeoAir for the Exped, or give the NeoAir another try, just because it is so compact and light.
In short, sleeps great, if it doesn't break. I think there is something wrong with the lamination process, making the pad very vulnerable. You shouldn't have to worry if you want to turn over on it, but just lie down and don't worry, but sleep.
I am not sure if I would like to recommend this one. We had a 50% failure rate on the 4 mattresses we owned so far.
Light, small, comfortable, warm. Loses air about 4 hours into a deep sleep; have to wake up and re-inflate. Really sucky part.
Cons
Loses the bleeding air outta the thing in the middle of the night. grrrrrrrrrrr
Looking for a better product.
Source: bought it new
Price Paid: $150

Version reviewed: XL
Best ultralight night of sleep, especially in the cold, also doubles as a fun raft!
Pros
Lightweight
Comfortable
Suprisingly durable
Sticks coating helps it stay put
This pad is an all-around winner, providing excellent support for a side sleeper like myself. I've heard others complain about the noisiness of the lightweight material, but between the floor of the tent, my sleeping bag, pillow and the rush of the wilderness, it's not distinguishable to me.
Another issue that may arise is the extra few minutes of inflating, but with a pump sack, it only takes two and a half pumps. Deflating is made relatively easy with a large, open valve and flexible material to squeeze out every last bit of air.
I've had my XL for several years, pulling double duty as a camp seat on all types of terrain and even a float on a number of ponds, and it's held up without leaking overnight. Using a pump sack instead of your own breath helps with that too. It packs up to the size of a tall boy and weighs almost as little as an empty!
Source: bought it new
Price Paid: $130

Who needs self-inflatable? This pad is so light, packs down so small, and is so comfortable. So, so, so...It's just a bit noisy. Oh well.
Pros
Comfort
Compressible
weight
I bought this pad to replace my traditional self-inflatable pad. I purchased the regular size, and the stuff sack. It floored me that a full sized sleeping pad could be this packable. Inflating is very easy, and the tradeoff of not having to designate the left exterior of my backpack as a "sleeping pad" side is great.  
I would say this pad is more comfortable, albeit more noisy than the traditional Therm-a-Rest self-inflating pad.  Also, I recommend getting size regular. Just let your legs hit the floor. It's ok, they'll survive. Also, be nice to this pad.  It may not last if you mistreat it or let teenagers use it.  
This is about the size of a can of soda, and much lighter. You may find yourself waking up at night and re-inflating it.  
Source: bought it new
Price Paid: $110

For a three-season pad it is warm, very comfortable, reliable, light and packs small.
Pros
Light
Small
Comfortable
Reliable
Warm
I have used this pad for over a year with no problems. I feel it is the best pad I have ever owned.  Using the NeoAir out in 25 degree weather it preformed well (I purchased the All Season for winter and late shoulder seasons, its great for cold but to warm for summer usage).
Both pads become quite after using them a few times. The NeoAir is great for fast and light packing. The weight affords you the ability to carry a full length pad or reduce significant weight with the short and still have comfort. 
I found using the Big Agnes Pumphouse (weight 1oz) works great with the pad. It eliminates condensation and bacteria in the pad.  Using the pump is not much slower than blowing it up. 
I would not recommend using the pad on the bare ground without something under it. 
This pad is well worth the price.
Source: bought it new
Price Paid: $149 @ REI

I recently upgraded my old Therm-a-rest to this model. I have one of the old self inflating pads that they first made. To my surprise, the NeoAir has a lot of added features that my old sleeping pad can't compete with.
First of all, let me tell you that I inflated my old pad and the new NeoAir pad and laid them side by side on my dining room floor which is oak (I figured I would get the effect of a hard surface that way). In comparison, the old pad was harder, bigger to carry when deflated, and weighs much more than the NeoAir.
When I then laid on the NeoAir I instantly noticed that my body heat was radiating back at me which is great since I often get cold when the temps dip below freezing when we are out backpacking. It also was a lot softer than my old pad which is great so that I won't get stiff while camping. The NeoAir is extremely light weight and compacts very easily.
I have only taken it out on one camping trip so far, but it held up great!
Design: 13 ounces

ABSOLUTELY LOVE THIS PAD! I have been through Thermarest (both regular and ultralight), Slumber Jack (my first, busted now) etc. and this is, by far and away, the best night's sleep I've gotten under any circumstances. 
I haven't had any 'delamination' issues as others have reported and I've logged about 40 nights on it since purchasing last November. 
The truest test - I camped on snow pack during the East Coast's worst storm at 4250 ft elevation with a recorded temperature of -12 and an apparent temperature of -19.  I did not use any pad underneath or in between my bag and the ground.  I was sleeping in a -20 deg. Big Agnes Battle Mountain (600 fill plus bamboo synthetic).  I was so hot at night w/o long johns that I had to crack my sleeping bag to let out the moisture from sweating.  Since then, nothing has been as cold but I think that speaks for itself. 
Also, I'm a side sleeper and this is the only pad that I've ever gotten comfortable on and STAYED comfortable throughout a night.  It's so pleasing to sleep through a whole evening.
Price Paid: $140

Version reviewed: 3/4 Length
I couldn't find anything about the 3/4 length NeoAir but that is what my review is about.
Cons
Still takes a fair amount of air to blow this up
I did have the full size NeoAir and found I couldn't stay on it. So I decided to give the 3/4 length a try and it works perfect for me. I sleep with my head off the top end with my head on my pack and my feet then just rest off the end of the pad and when I turn over it is easy to push off from the ground.
At only 9oz it's very nice to have that 2 inches of comfort to sleep on rather than a self inflating pad which gives you 1 to 1.5 inches that's still very hard and weighs two times as much as this. Sleep well my friend.
Source: bought it used
Price Paid: $50

Very comfortable, but it sounds like you're sleeping on a bag of chips—crinkly noises every time I moved on it.
Pros
Very comfortable
Small rolled up
Easy to inflate, very small packed up, BUT very noisy when you roll over. It sounds like you're sleeping on a bag of chips. I tested it in my living room and it was loud. I can't imagine the noise it would make on a quiet night in the woods. If somebody I camped with had this in my tent I wouldn't be too happy.
I ended up returning it and getting the Therm-a-Rest ProLite Plus. It's a little bigger rolled up and half the thickness, yet makes no noise.
Source: bought it new
Price Paid: $130

Light, compact, and very comfortable.
Pros
Lightweight
Compact
Very comfortable
Will insert in Big Agnes bags
Cons
Noisy, outside bag
Pricey
Have to blow up
I have used my NeoAir for several years, having purchased it when they first came out. They are noisy when outside a bag but are the most comfortable pad I have packed. It is about 1/4 the size of my old Thermarest standard. 
I now put it in my Big Agnes down bag pouch where it makes no noise and works beautifully. Blowing it up is not too much work. I leave it inside my Big Agnes, deflating it and stuffing it in the bag sack where it is easily re-filled.
Source: bought it new
Price Paid: $125

I love mine and can't imagine backpacking without it! Below is a cut and past from a review I did on my trailpotato blog.
Pros
Very light (19 oz)
Super compact (takes up about as much space as a Nalgene bottle)
The insulating thickness (2.5") helps keep you warm
Way more comfy than sleeping on rocks
Cons
It does not self-inflate… pucker up baby
The material makes an annoying crinkling sound (I think the newer ones are better)
It ain't cheap (about $140 now)
A luxury well worth indulging. Visit the TrailPotato for a more detailed review.
Source: bought it new
Price Paid: $125

I get the best sleep on this thing.
I thought I was sleeping in my bed until I opened my eyes to to find myself in my tent. This is the most I've ever spent on a sleeping pad and it was so worth it. I have other Therm-a-Rest pads that are comfortable, but the NeoAir is like sleeping on a cloud and I've seen others us theirs as a floaty on the lake.
Source: bought it new
Price Paid: $135

I can't find much fault with this pad (price, but then again a good night's sleep is worth something!).
I'm a side sleeper and all other pads have always left my shoulders and hips aching- until now that is the NeoAir is very comfy, it also happens to be light- my regular (20x72) weighs in at 13.1 oz, it also is VERY low volume- packs into a tiny bundle.
I've had it down to around freezing and was still comfortable. This is consistent w/ it's 2.5 r value (~ 30 degrees).
I wish it was a little less costly, but I can't complain - comfy AND light AND small - not too shabby.

Price Paid: $125

I waited until the large size was released, which is 5" wider and 6" longer. Suffice it to say that this mattress is incredibly comfortable and provided the best sleep I have ever experienced on a backpacking trip.
Sleeping on your side is no problem with the NeoAir. It is also super light and packs down to the size of a small loaf of bread. I was able to carry it in the sleeping bag compartment of my pack along with my bag. I will never sleep on anything else.
The only caveat is the painful price, but a comfortable nights sleep is almost priceless on the trail.
Price Paid: $170

I've used a Z-rest for as long as I can remember, and I've been very happy with it. 
But eventually I wanted more comfort and a more compact pad. I've now been spoiled by the comfort of NeoAir. I went with the large after trying the regular (I'm 6'). It is well worth the few extra ounces and dollars.
Yes,  I do hate the time it takes to air up and down, but resting after a 5-15 mile hike... You just can't beat this comfort.
Price Paid: $128

I am 6'4" so I got the large size.  I got it for 20% off from Altrec. 
It is very comfortable to sleep on, light weight, tight packing, has to be blown up rather than self inflating, and noisy when you move. The noise is more of bother to others that might sleep next to you. 
What I don't get is why something made of thin plastic costs so much. At most it should be half of what they charge.
Price Paid: $135 for size large

It is comfortable, light and easy to pack and fit into your pack. On the downside the material it is made out of is noisy. You don't notice it as bad with a sleeping bag.
I bought the pad for my daughter and she is 6 so it is perfect. It is so small and light it doesn't add much weight to her pack, and being a kid she sleeps sound enough she never notices the noise.
I took this on a 10-day backpacking trip to Philmont. Very lightweight, worked fine. A little costly but well worth the weight savings.
Price Paid: $149

Your Review
Where to Buy
Help support this site by making your next gear purchase through one of the links above. Click a link, buy what you need, and the seller will contribute a portion of the purchase price to support Trailspace's independent gear reviews.
You May Like
Specs
Price
Current Retail: $199.95
Historic Range: $69.95-$199.95
Reviewers Paid: $50.00-$170.00