Therm-a-Rest ProLite Plus

The Therm-a-Rest Women's ProLite Plus is my dream four-season expedition sleeping surface. It is comfortable, durable, warm, and reasonably light and compact.
Pros
Very comfortable
Durable dependable construction
Excellent ground-cold insulation
Cons
The four Prolite models can be confusing. They need greater differentiation in appearance.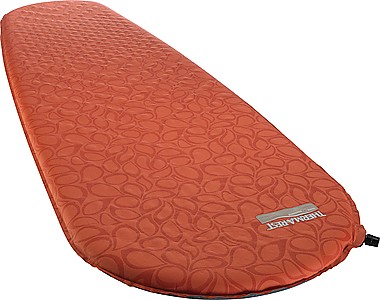 Therm-A-Rest Women's ProLite Plus
What an incredible cornucopia of sleeping surfaces today's climbers and trekkers have to choose from! Therm-a-Rest makes such a dizzying array of types and styles that this abundance often leads to confusion and difficulty when shopping.
Sleep surfaces boil down to three basic types; all foam, all air, and a combination of air and foam. While it is impossible to strictly categorize type by price, one may generally observe that all foam tends to be the least expensive, all air the most expensive, and air and foam somewhere in-between. The Women's Prolite Plus is an air and foam model.
Therm-a-Rest makes both a Prolite and Prolite Plus pad as well as unisex and women's versions of each, for a total of four different Prolite models. (I call the non-women's versions 'unisex' because Therm-a-Rest does not refer to them as 'Men's.') There are actually more than four because Therm-a-Rest has over time made various upgrades to these models, and as some of the older versions are still available, things can get even more confusing. By the way, from this point forward, I shall refer to the Women's Prolite Plus simply as the W.P.P.
According to Therm-a-Rest, the women's versions come with more padding than the unisex versions in both the feet and the torso areas. I am certain that they also contain more padding in the hip area as well. The upgrade from the Women's Prolite to the W.P.P. provides a second increase in padding, which increases both thermal insulation and weight. In this case the differences are, 4.6R versus 2.8R and 1lb 5oz versus 1lb.
Discerning between the two women's models (not to mention the two unisex versions) can be a bit difficult as the pattern is the same and they are both orange. However, the Women's Prolite is a very light orange color called Daybreak Orange Pattern., while the W. P.P. is a very dark orange called Burnt Orange Pattern.
The unisex versions also come in light and dark orange, but without the print pattern. These four models look far too similar in appearance, so much so that I don't wonder if people might sometimes get the incorrect model. Therm-a-Rest needs to differentiate more so as to reduce confusion and possible error.

Daybreak Orange Pattern Left, Burnt Orange Pattern Right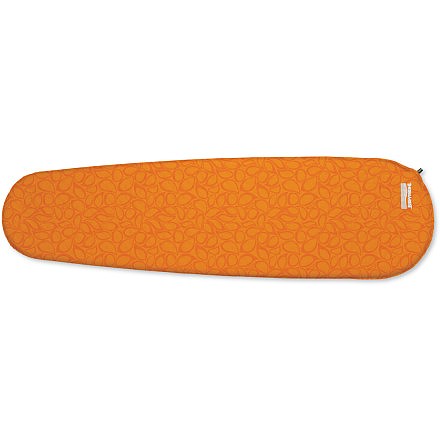 Now in my fifties, I have had more than my fair share of back, hip, and shoulder problems. This makes it quite difficult for me to sleep in the field and consequently I toss and turn throughout the night, I have tried all foam, but these provide precious little comfort. I have tried all air, such as the Therm-a-Rest NeoAir, but have found all air to be only a modest comfort upgrade from all foam. Without foam, air pads still put quite a bit of stress on the hips and shoulders, and while air may entirely isolate you from the ground, it does not support and cradle the body very well.
I worked for many years in the sleep industry where it is generally well accepted that a combination of air with foam provides more comfort than air alone. In fact, the most expensive home air mattresses, some costing many thousands of dollars, use a combination of air and foam. 
While the Therm-a-Rest website does not specify what type of foam is in the W.P.P., which is much more important than you might expect, they do state that they use "high performance foams," As a former sleep professional, I tend to interpret this to mean 'visco-elastic' foam, an expensive, high quality, long lasting, and in my opinion, very comfortable foam. It is often referred to as memory foam. While it is impossible for me to state for certain, that is short of slicing the pad open, the feel of the foam in the W.P.P, as well as the slow rebound after compression, leads me to believe that it is visco-elastic foam.
The bottom and top surface materials are durable, non-sliding, and relatively quiet. It is highly unlikely that you will get a puncture as only very sharp objects will penetrate this mattress. It is designed for extreme environments. Of course, you should still carry a patch kit on every outing, just in case.
Unless you are on a very steep surface, you will slide very little. I see that they are now making pad-sleeping bag attachment straps, which I consider to be unnecessary for this model. Whereas pads such as the Therm-a-Rest NeoAir are God-awful loud when you toss and turn, I have never had a noise complaint with the W.P.P. It is fairly silent.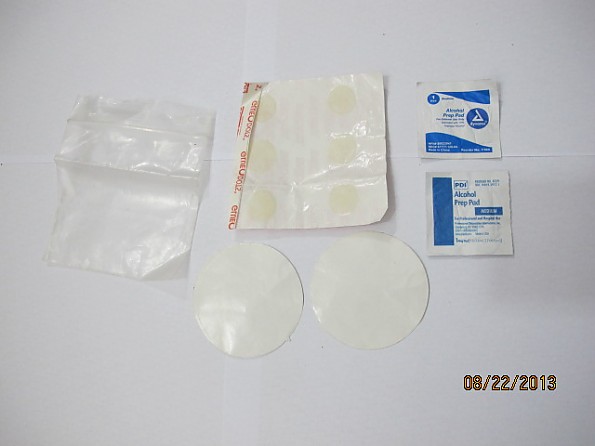 Repair Kit
 
The W.P.P has an R-value rating of 4.6, which is very high. I have used it in the dead of winter over 15,000 feet, and also during my recent attempt of Cerro Aconcagua. This pad's insulation ability is incredible. Even with temperatures of -25°C I feel almost no ground cold. I think it could be used with confidence at minus 40° and below.
Pads generally weigh anywhere from slightly under a pound to about two pounds. At 1lb 5oz the W.P.P. is neither light nor heavy., though the weight is reasonably low when one considers its very high R-value rating. At 5'11" I find its 66" length perfectly adequate, and it measures only 10.5" x 6" when rolled, so it occupies little space in my pack, which is where I always carry it, in its own stow sack.
When shopping for a pad, I can not overemphasize the importance of trying many different types and styles, each for a few minutes, not just a few seconds. Do not be shy about asking the store employee to allow you to try various models nor about other customers milling around you. If you can, even forget about price for a moment. A good night's rest in the mountains is much more crucial to your health and safety than sleeping at home, so this should be an informed purchase. Do your homework in advance and take your time in choosing. Treat this as seriously as you would a boot purchase.
When it comes to my own comfort, I am quite difficult to please. Until I tried the W.P.P., every other option I had used had been somewhere between acceptable and tolerable. The W.P.P, however, is downright comfortable. Happy trails, and hopefully, pleasant dreams as well!
This is a very light compact comfortable mattress. Rolls into a small package for easy storage in pack. Great for long haul backpacking trip or just the weekender.
Pros
Self inflating
Size verses comfort is good
Small compact size
Cons
Slow to inflate
Can be hard to compress down
This is a great product either for the weekender or long haul 4- to 8-day trip in the backcountry mattress. The Pro-Lite holds up to the standards one would expect from Therm-a-Rest.
The mattress once unrolled and valve opened begins to inflate. It is slow to inflate and have had to add couple of "puffs" to fully inflate. This is not a real downfall though given the comfort of this mattress. Fits nicely in my Zagroi bivy sack due to its mummy bag shapes. 
The nice thing about this is the compact design when it is deflated making for easy packing. Takes little effort to get it down to size but this is offset by the comfort of the mattress. The mattress meets the same quality standards of my previous Therm-a-Rest mattress as far as construction, but time will be the ultimate test. 
My first use was in the small primitive campsite in Newfoundland this June temps running down to as low as 27 deg F. The mattress provided good insulation from the ground and was far more comfortable then my 10-year-old Therm-a-Rest Trail version.
I have used Therm-a-Rest products based on their quality and recommendations from other more experienced hikers. Therm-a-Rest builds a quality product based on my first and this new, which was a gift, was still quite happy with my old one, but this one exceeds the first one in size and comfort. 
Source: received it as a personal gift

Great pad, comfortable, and warm.
Cons
Requires multiple foldings to pack the pad for backpacking
I sleep cold. I remember being comfortable only when I was sharing a double bag with my husband. With a renewed interest in backpacking we decided to upgrade our sleeping systems. I tend to go toward the ultra light way of thinking and so I chose to purchase a short version of the ProLite Plus. My pad weighs 17 ounces which is more then my old closed cell pad, which I cut off short as well. Some folks will say they don't like their feet hanging off but it doesn't bother me. Of course I am not sleeping in sub-zero degree weather.
Recently we did a short weekend trip. The overnight temperature dipped to 28 degrees Fahrenheit and we were using a tarp shelter. I have to say that under these conditions in the past I would have been mighty cold and I probably would have put more clothes on but the combination of my sleeping bag, an REI 20 plus degree down fill, and my Therm-a-Rest ProLite Plus kept me toasty.
I really like the way you can air up the pad so that it is very firm. I tend to blow extra air in and adjust after laying down for a while to get the right comfort.
On the down side it takes several foldings and air being let out for the pad to get small enough for packing. I see that is a regular complaint, so I think it is just the extra foam that causes this problem. 
Overall I would recommend this pad. Therm-a Rest pads are a little pricey which is one reason why I have not purchased one in the past. If you are going to spend more then a couple of nights on the ground you deserve a sleeping pad that will help you rest better.
Source: bought it new
Price Paid: $40 (Hot Deal)

I love this bit of kit. Never leave on a camping trip without it.
Ive had this pad for 3 years, and have climbed Mt Blanc and Mt Lhotse with it. On my last trip, I slept 2 nights at 26,000 ft and did not feel the cold creeping through from underneath. I have also slept in the open forests, under a tarp. The pad has never failed me. The valve has never leaked and is as good as new. I tend to leave the pad rolled up when not in use, and that hasnt adversely effected the pad at all.
Source: bought it new
Price Paid: $150

Prior to purchasing this I only had a cheap foam pad, so I don't have a lot to compare it to in real outdoor use. The difference between my old pad and this one is like night and day.
I sleep on my side and my hip has never touched the ground in the past year of using this pad. I find it to be very soft and warm to sleep on, which is great after a long day of hiking. I have a much easier time falling asleep while using it.
The top and bottom of the pad are both textured so that it doesn't slip around and that your sleeping bag doesn't slip around. The pad is not noisy at all like the NeoAir. It packs up relatively small, and I didn't have any difficulty attaching it to my pack with a single strap. I also find it to be very light weight considering it's thickness.
There are two minor issues with this product. One is that the stuff sack is excessively small. I just bought a different one at REI that it slips into easily, problem solved.
The other is that it is a bit narrow, I would prefer it to be just a couple of inches wider. However, the consequence for this would be increased weight and bulk.
Overall, I think this is the best thing I could have purchased. I tried a number of pads at REI and none of them fit the bill like this one.
Price Paid: $89

Not the lightest, but definitely one of the more reliable and must have for any pack.
Pros
Quite comfortable
Reliable and well constructed
Self inflating
Breaks down easily
Cons
Slightly on the heavy side
I have owned my sleep pad for several years now and have enjoyed its reliability, comfort, and ease to use. It easily inflates and deflates when done with and while it is a little cumbersome to deal with when deflated I have found it is not a problem to roll up and stuff into my pack which I use it as a back cushion (between my gear and back).
It is a little on the heavier side and of my standard gear it is one of the heaviest. The weight I have for it (minus bag) is 1 lb. 6 oz. That said I have no other complaints.
Source: bought it new
Price Paid: $115

Very light, comfortable, and durable.
Pros
Very light
Comfortable
Warm
Cons
Bulky size even with uninflated
I bought two years ago, used. The owner had had it for several years and was an avid camper. I've used it more than a few times myself and it shows no signs of stopping!
I have honestly used this more on a hard floor than I have in a tent, thanks to some crazy commuting I was doing for awhile. That being said, this thing is very light and quite comfortable. It shows no signs of leaking but the design is such that even if it did, you would still have some padding (and warmth) between you and the ground if something were to happen on a camping trip.
My only complaint is that it's a little bulky when compared to some inflatable pads.
Source: bought it used
Price Paid: $25

This is the best mattress around. For those of you who like a semi-firm bed, this is the mattress for you. The baffling system is amazing. The pad doesn't bulge out on the sides when you sit on it, either. I usually let some air out and never hit the ground.  
I have had some problems with little small punctures in the bottom but I sealed them right up with some Seam Grip. That's why there's only 4 stars.  
Also, some people have noted how the stuff sack is too small. You all obviously don't know how to roll it up. You have to open the valve, fold it in half, and sit on it gently. Next, fold it in half again, and sit on it again, and so on... Then you have to close the valve, and roll it up how you got it.
The stuff sack is not too small, nor too big. By all means, get the stuff sack. It's worth the money.
Price Paid: $69.95

Very warm, but a bit bulky when packed and compressed. Durable and non-slip. Tested 2011 version.
Can't attest to the durability yet (1 trip, so far) but should last a while with good care. I'm a cold sleeper and the R-value was great. I'm a guy and a side sleeper so the extra padding was great, the height matched me exactly also so I wasn't carrying any extra pad.
Downer: Bulky when packed (plan to store in a dry sack lashed outside my pack)
Tip: Blow it up with a few breaths early on in camp and adjust the valve while lying on it. Store inflated under your bed. 
Source: bought it new
Price Paid: $67

Great pad!! I would buy again for sure!
Pros
Superior comfort
Compact
respectably light
Cons
Still waiting to find any
I don't give a lot of "5" stars because there is usually some sort of Con to the product. This pad has none. It is beyond words comfortable. 
You fill it up, close off the cap, lay down on it and open the cap to purge air until you find your comfort. Simple. It is light and compact. When you roll it up, once you get to the end, close off the cap. That makes it very easy to work with when putting it back in the bag.
Source: bought it new (Google "shopping" tab)
Price Paid: I don't remember

After 14 years I needed to replace my old Thermarest. I first tried the new Neo air mattress, but decided against it because of the bounciness and air-mattress feeling.
The choice than fell upon the Prolite Plus. Weight was one of the prime issues. When I came home and weighed the mattress it showed 772 grams instead of the claimed 680 grams (+14%). I think this is an unacceptable difference for a product that has weight as one of its prime marketing issues. I probably will return it for a money back.
I just tried out my new Therm-a-rest women's ProLite Plus sleeping pad - it's awesome! It's extremely comfortable and very warm. 
Price Paid: $75

I own ProLite Plus Sleeping Pad. It's wonderful. Comfortable. I love it and warm. It's great in winter.
Price Paid: $5

Your Review
Where to Buy
Help support this site by making your next gear purchase through one of the links above. Click a link, buy what you need, and the seller will contribute a portion of the purchase price to support Trailspace's independent gear reviews.
You May Like
Specs
Men's
Price
MSRP: $104.95
Current Retail: $104.95-$144.95
Historic Range: $39.95-$144.95
Reviewers Paid: $40.00-$115.00

R-Value
3.2

Women's
Price
MSRP: $104.95
Current Retail: $124.95
Historic Range: $53.97-$124.95
Reviewers Paid: $25.00-$75.00

R-Value
3.9

Recently on Trailspace